Intro
In this very complete guide, I tell more about the different techniques to reapply your sun protection during the day, whether you wear makeup or not!
Maintaining good sun protection during the day can be a challenge. When you like to wear a full face of makeup every day, but you're also concerned about preventing skin aging, it's definitely something to consider. But how to reapply sunscreen properly without ruining your makeup? In this article, I'll give you my tips on how to stay protected from the sun all day long, whether you're wearing makeup or not!
On the packaging of any sunscreen product, you always have this statement somewhere: "You must reapply your product every two hours to remain effectively protected".
Sunscreen manufacturers usually mention this because they know that most consumers don't use a sufficient amount of product to be effectively protected. So, if they reapply regularly, they will eventually get the amount that really protects them!
But it's also true that sunscreens don't remain in place on the skin all day. They end up degrading when exposed to UV rays, or being rubbed off because of the friction with clothes, hair, when you touch your face, etc. If you sweat a lot or go for a swim, the protection of your UV filters will also be significantly diminished.
It's therefore necessary to reapply them regularly to keep a good protection.
But how can you do this (especially if you wear makeup)? I'll explain how I do it in this guide!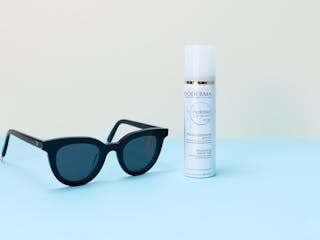 Skincare
Sun protection: Q&A and common myths
Even if sun protection is relevant all year long, I definitely feel this topic interests more people at the moment, with summer just around the corner…
Read more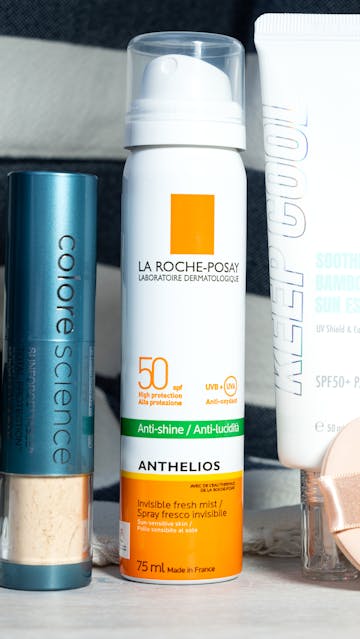 Layering sunscreens:
First of all, let's start with a basic principle: no, the protection index doesn't add up, especially above 50, which is the maximum protection index.
So if you apply a BB cream SPF35 over your sunscreen SPF50, you don't get an SPF85, this is not how it works.
However, it's a good idea to combine several products with sunscreens (or layering) because, as we'll see below, you need to use a certain amount of product on your skin to obtain the protection indicated on the bottle of your sunscreen product.
It is well known that most consumers don't apply enough sunscreen product and that, as a result, the protection they actually have on their skin is well below the value indicated on their bottle. They are less protected than they think.
So using several products with sunscreen (for example, a sunscreen cream on the face, followed by a sun mist and/or a sun powder) can add protection to the skin, or at least complete the first application of sunscreen.
Furthermore, it' s not easy to apply a product evenly everywhere the first time, so layering products with UV filters increases the chances of having sufficient protection on the entire surface of your skin!
Note: Avoid combining a sunscreen product containing avobenzone and another with zinc oxide, as these two are not compatible. For other filters, no problem 😉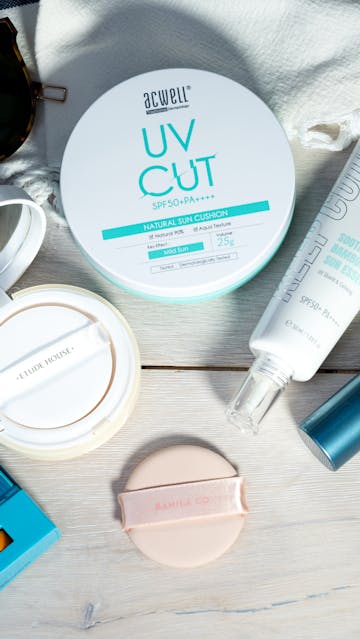 In which case should you reapply your sunscreen?
According to purists, you should reapply your sunscreen systematically every day, all year round, but for me, it all depends! Let me give you some practical examples:
∎ If I stay at home and don't spend any time next to my sunny windows:
I don't reapply my sunscreen during the day. I consider that with my generous application in the morning, I have enough protection.
In winter, when the weather is gray and the sun exposure you're getting is lower, I think a good amount of sunscreen applied in the morning should be enough too, usually (well, not for me in Dubai, because here, I get strong sun exposure all year round!).
However, if I get more sun exposure, I reapply my sunscreen regularly, whenever I know that I am going to be out in the sun (or next to a sunny window). And there are several possible scenarios:
∎ If I spend just a few minutes outdoors and I'm wearing makeup:
I try to use products in mist or powder format but clearly, I'll give you the detail below, it's difficult to apply a sufficient quantity to guarantee a real protection with these kind of products. For me, these are just touch-up products and I'm especially careful to apply enough sunscreen in the morning before going out to guarantee a good base of protection for the day.
∎ If I wear makeup but spend a lot of time outside:
I will reapply my sunscreen with a puff, over my makeup, (I also talk about this technique in detail below). I prefer to use liquid sunscreen textures or even better, I use a sunscreen cushion. If necessary, I add a sunscreen powder on top for a more polished makeup result.
∎ If I go to the beach, the pool or the mountains:
I simplify things and I don't use makeup. That way, I can generously reapply sunscreen products in cream or fluid texture during the day. Or even better, I use a sunscreen stick that is perfect for use on the go on bare skin!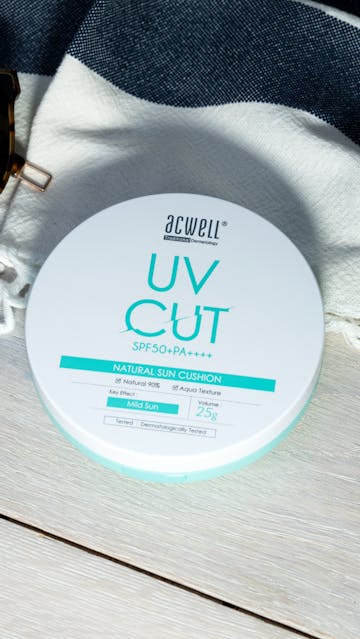 Using the right amount of sunscreen for a strong protection:
To be effectively protected all day long, it all starts in the morning with your first application. You gotta start strong!
Again, the question of the quantity of product used is really important when we talk about sunscreen. When I see people who say that with sunscreen, a little goes a long way, I just makes me want to scream! Be generous with your sunscreen application, I insist, the health of your skin depends on it!
To be protected up to the level of the protection index that appears on the packaging of your sunscreen, you have to apply a lot of product. More exactly, 2mg of product per cm2. This quantity is the one that the sunscreen manufacturers use to measure their protective effect against UV radiation.
More concretely, this is the equivalent of 1/4 teaspoon of product for the face alone (or 1.25ml), and then 1/2 teaspoon (or 2.5ml) for the face, neck, nape of the neck and ears (this is the quantity I use on me every day).
A little tip to apply this amount of product easily: do it in several layers (I do 3 layers of product), massage it well and you'll see that it absorbs much better 😉
A reminder from one of my other articles to show you what this amount of sunscreen looks like in pictures for a creamy and fluid texture:
And in the case of a reapplication, should I use the same amount of sunscreen?
If you are very exposed, the answer is yes! Especially if you are swimming and/or sweating a lot, you can imagine that the protection you used in the morning has almost completely disappeared.
If you are less exposed during the day, and you applied a good quantity in the morning, you can get away with a smaller quantity of product, but you must keep in mind that the protection obtained in this way will necessarily be less important…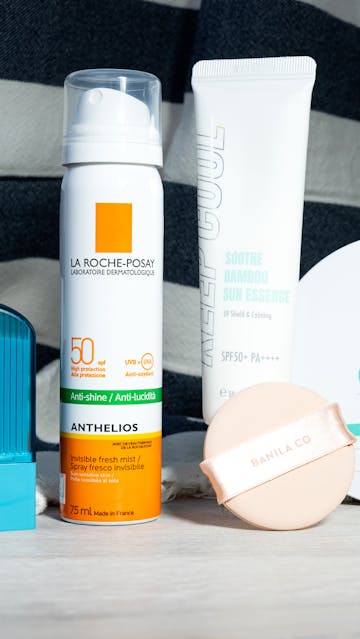 Which products to use to reapply sunscreen during the day?
a/ Sunscreen products to reapply on bare skin:
Technically, it's less complicated than if you wear makeup, but since the re-application is done during the day, you are not always in optimal hygienic conditions (= you don't necessarily have a bathroom to hand). I usually prefer on-the-go products, which can be applied directly on the face, or accessories that avoid using my hands.
In general, I always start by "prepping" my skin a little before reapplying sunscreen. I use a mattifying paper on my T-zone first, to avoid applying product on greasy skin (yikes!).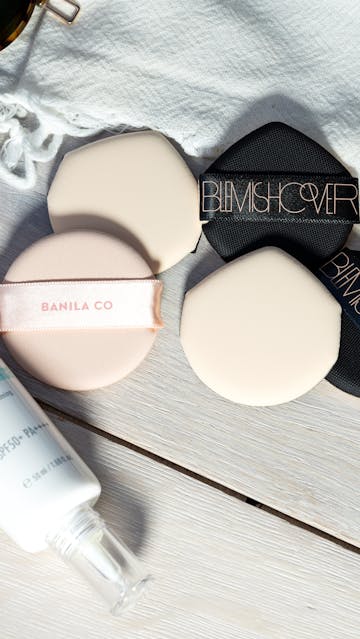 ∎ Your sunscreen applied with a Korean cushion puff:
Let me introduce you to your BFF if you want to reapply your sunscreen during the day in a hygienic and efficient way: the Korean cushion puff!
This small round polyurethane sponge is designed to avoid excessive absorption and to evenly redistribute liquid products (such as foundations or, in this case, sunscreen!).
In Korea, they are mainly used to apply compact or cushion foundations, but they are often used to apply sunscreens as well!
To apply your sunscreen, simply apply some product on the back of your (clean!) hand and take the product with the cushion puff and then, apply it on the area you want to protect by dabbing quickly (tap tap tap, Korean style!).
Big plus, you can really manage the quantity of product you use and the application is really even, thanks to the cushion puff!
This technique works particularly well with sunscreens that have a rather liquid texture, or fluid cream.
When I go to Korea, I always purchase a lot of them, because I use them very often! I advise you to choose the ones that are designed for a "Covering" application because they are the ones that absorb the least.
You can find them in economy packs of 2, 5 or even 7. I try to use a clean one every day (it's more hygienic!). But if I don't have time to wash it, I like to have an extra one, and I always have several ones in a small kit in my bag!
You can find these puffs everywhere on Korean beauty shops, like for example these ones by Banila Co (affiliate link).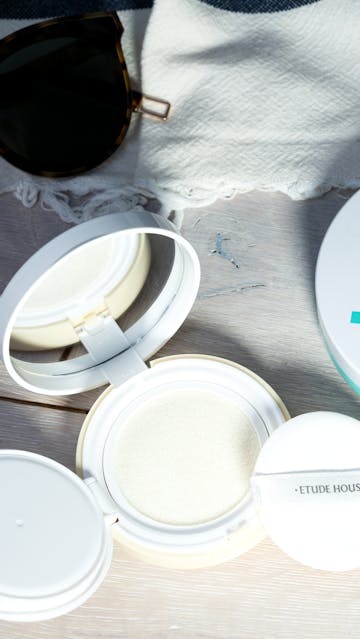 ∎ A sunscreen cushion:
It's exactly the same principle we've just seen, but in a luxury version! You can adjust the quantity you use without any problem and the puff allows an even application of the product.
And, a big plus compared to the previous technique, you have here a ready-to-use compact, with the sunscreen cream in a sponge (= the famous "cushion" that gives its name to the product) and the puff, all this in an easily portable packaging, with a mirror.
It's very practical and the Korean people love this concept, which means that you can find them at any price, in a mineral or chemical sunscreen version, as you prefer!
I would like to point out that it's always interesting to have extra puffs because if you want your product to remain hygienic, you should wash the puff you use every day. So remember to take a pack of puff puffs the next time you validate your basket on YesStyle or wherever 😉.
I have tried a few of them like the Acwell UV Cut Natural Sun Cushion SPF50+ PA++++ which is based on a mineral sunscreen (beware of the whitening effect if you have a darker skin tone). It's very practical because it's huge (and it has a big mirror). It can therefore be reapplied on a large surface more quickly.
As a chemical sunscreen cushion, I tried the Etude House UV Double Cut Clear Sun Cushion SPF50+ PA++++ which is completely transparent and leaves a rather glowy finish (not ideal for oily skin, but on me and my combination skin, it works). This one is more compact than the Acwell, and therefore easier to slip into your small handbag 😉
The formulas of these two sunscreens are both very good, I've looked at the reviews and they both received the "seal of approval" from my favorite Korean beauty journalist, Director Pi (in Korea, she regularly puts products out of stock when she says good things about them 😉 ).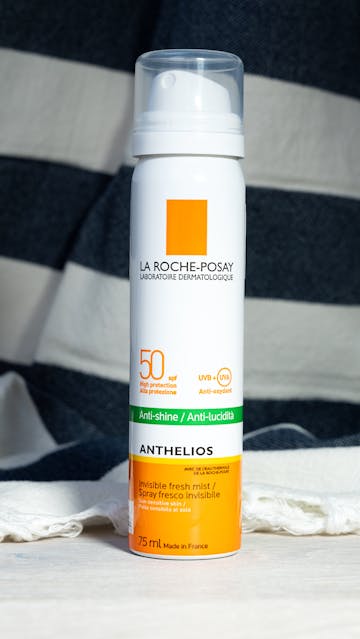 ∎ A sunscreen mist:
Clearly, this is not my favorite re-application technique as I'm really not at all sure I'm well protected with this type of product.
Indeed, I don't have the impression that the mist system can guarantee a sufficient and evenly applied coverage everywhere on the skin… But I must admit that it's very practical and it's also quite discreet as an effect on the skin (well… it depends on the mist!).
I've tried a lot of them: French, Korean and Japanese mists. I didn't manage to find a great one. They are often full of perfume, alcohol and some of them leave a sticky and viscous layer on the skin, which doesn't look cute. Usually they're based on chemical filters.
The least worst I've tried is probably the La Roche Posay Anthelios Sun Protection Face Mist SPF50 which has a very fine texture compared to the others. It's quite fragranced however, and I still don't feel like I'm really well protected, but its texture is quite elegant at least.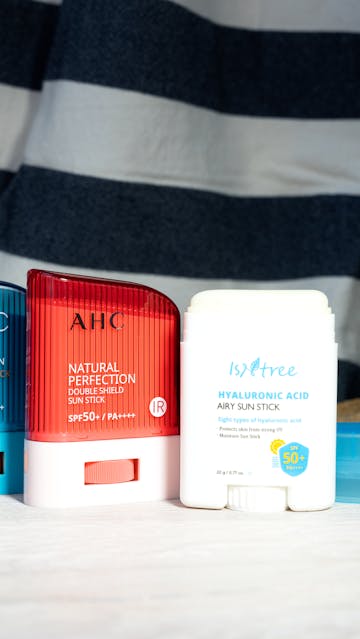 ∎ A sunscreen stick:
This is an ideal solution if you don't wear makeup. The key reasons for the sunscreen stick being ideal are:
– practical (no need to have clean hands),
– super easy to use: it glides on the skin in the blink of an eye,
– easy to travel with (it's still very compact and doesn't take up much space),
– buildable, you can really increase the quantity without any problem if you want more protection,
– and if you choose Korean formulas, the textures are very elegant: you can barely feel them on the skin, they are transparent while remaining comfortable…
I've been trying a lot of them for the last 2-3 years, especially Korean ones.
And they are getting better and better every year! They are super lightweight on the skin, they glide effortlessly and are super easy to apply.
On me, who wears a lot of makeup, I don't risk using them during the day on my face, but if you don't wear much makeup, I think it should be okay!
My favorites at the moment, which are all based on chemical filters:
– the AHC Natural Perfection Pro Shield Sun Stick SPF50+ PA+++ : best seller in Korea for years. I tested the blue, moisturizing and red version which is more suitable for combination skin. They are both great!
– the Isntree Hyaluronic Acid Airy Sun Stick SPF50+ PA++++* (gifted by the brand) : probably my favorite this year! It's super light weight, leaves a very natural semi-matte effect and it's moisturizing! On the plus side, it's unscented (which I prefer with this type of product).
I use them on my face, neck, décolleté, arms, legs… and the back of my hands! It's my favorite sunscreen product to protect my hands because it's just super convenient, and perfect for this usage.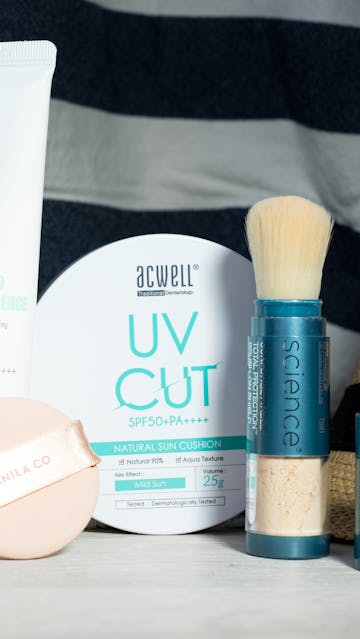 b/ Sunscreen products to reapply if you're wearing makeup:
That's where it gets complicated! And fair warning, I don't have a miracle solution, unfortunately…
If I go for the strong protection, and therefore reapply a sufficient amount of product to be well protected, I know that it will inevitably damage my makeup a little.
If I absolutely want to preserve my makeup, the products at my disposal will only give me limited protection, because the quantity I will use doesn't allow me to obtain a strong protection.
Certainly, it's better than nothing. But it's a strategic choice 😉
So here are the sunscreen options available to reapply on top of makeup:
∎ Your sunscreen applied with a Korean puff or a sunscreen cushion:
You'll use the same technique as seen above, but it's important to know that this will inevitably damage the makeup (especially your blush which is usually completely erased in the process; you've got to plan a backup blush if you want the result to remain impeccable).
I don't usually apply a huge amount of product on my makeup so I know that protection isn't very important (but it's still something!).
Note: I tried to use a classic cushion foundation (tinted and with SPF) but I didn't like the result; since it adds pigment and coverage, I thought it looked very cakey.
∎ A sunscreen mist:
Depending on the mist used, it's a good alternative if you're wearing makeup! But, as I said above, the protection is probably not the most homogeneous with this technique…
In addition, on me, especially when I'm wearing makeup, the sunscreen mists tend to make my peach fuzz stand out 😂😂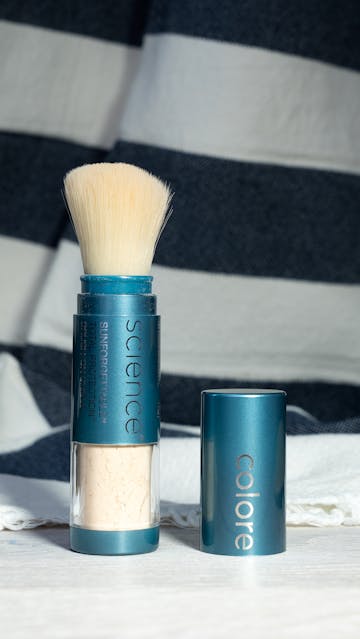 ∎ A sunscreen powder:
This is my favorite method of re-application! Of course, it's not the most protective, because you would really need to use a lot of powder to be sufficiently protected, but if I know that I'm not getting a lot of sun exposure (which is the case for me most of the time), this is the technique I prefer.
In addition, I have a combination skin, so it gets shiny on my T-zone in the middle of the day, so I've always been used to apply powder on my nose in the middle of the day, since I was a teenager 😉
I insist, the protection obtained with this type of product is weak! It's just a touch-up, and if there's a lot of sunshine, it won't be enough.
As a reminder, here's a picture of the quantity you would need to use to have a strong protection: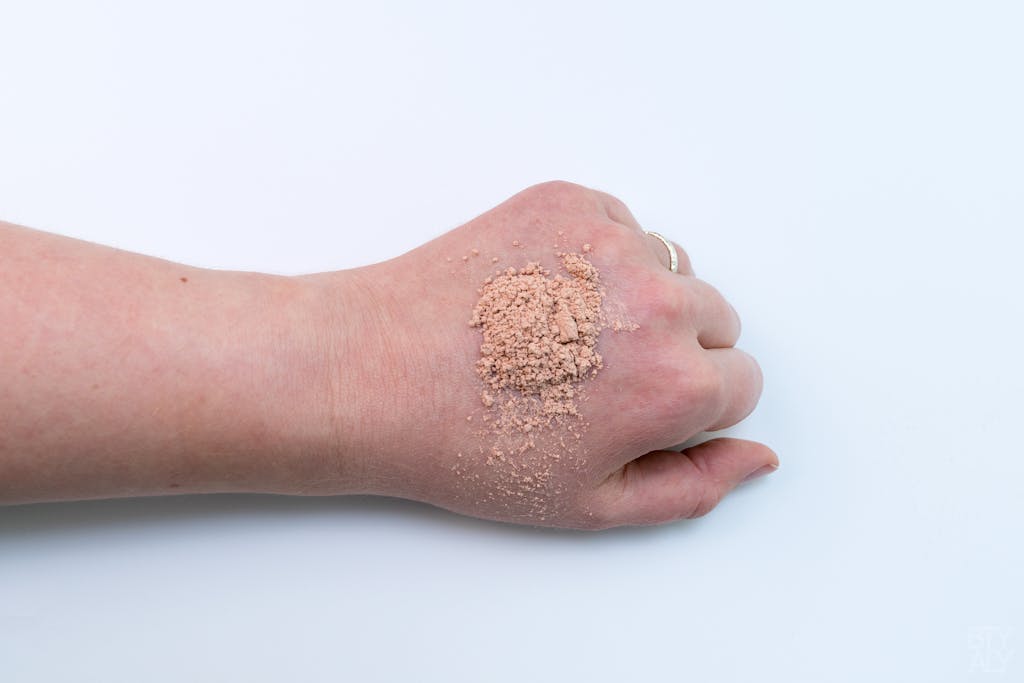 I've tried several of them and I can already tell you that it's complicated to find one that can suit everyone because there is a serious shade problem.
These sunscreen powders are usually based on mineral filters, and if they are not tinted, they can leave a strong white cast, especially if you have dark skin.
And if you have fair skin like me, the color chosen by some brands to be "universal" (yes, there are still brands doing this in 2020 🙄) will give you a very nice orange result :/
In short, these powders have to be really transparent (and few are) or have a wide range of shades to work on everyone.
I tried the one from Paula's Choice and wasn't convinced. Already, there is only one shade, which is not transparent and the color didn't fit me at all (too orange).
I liked the Kokuryudo Privacy UV Face Powder SPF50, a very fine and transparent Japanese powder, but it's not easy to carry, and most of all, it's not available 3/4 of the time because the brand only produces it in spring for sunny days (why?). So it is out of stock half of the year… Not very practical!
My favorite is without a doubt the one from Colorescience, the Sunforgettable Mineral SPF 50 Sunscreen Brush which is waterproof and exists in 4 shades (I use the shade Fair). Its packaging is very practical, it's easy to carry in your bag. It's not flawless, because it's very expensive (especially for the quantity of product: 6g), not at all easy to find if you don't live in the United States and the top of the brush is not removable, so cleaning it is a bit complicated… (I usually sanitize the bristles with alcohol once a week). The brand advises to make two passes for a better protection. The effect obtained is rather natural, not too thick on the skin and the finish is semi-matte. It's a very good option, probably the best product in its category.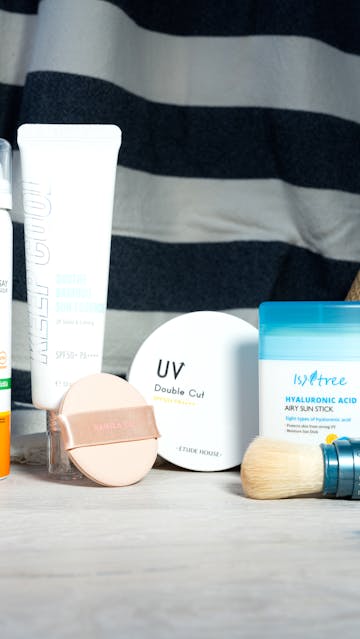 In conclusion:
When it comes to reapplying sunscreen products, as you can see, there is no ideal solution… You just do what you can, and above all, you try to adapt to the situation and the amount of sun exposure you're facing!
I always try to have a small sunscreen re-application kit in my handbag, with my mattifying papers, my sunscreen cushion, at least one extra puff, a sunscreen stick and my sunscreen powder! It also allows me to touch up my makeup at the same time, which I've always been used to do, so I don't see it as a burden too much 😉
And you, how do you reapply your sunscreen during the day? Any tips to share? 😉