Recently, I spent two days in the largest trade show dedicated to beauty professionals in the Gulf: Beautyworld Dubai. This huge event is usually the opportunity for me to discover new brands, very promising product concepts, and especially to meet and exchange with passionate and exciting beauty professionals!
If you work in the beauty or wellness industry and you are considering doing business in the Middle East region, this show is for you! You will find packaging manufacturers, product development labs, raw material suppliers, cosmetic brands of course, but also distributors, established or not in the region.
There are also a lot of startups that offer digital technologies around beauty, but also manufacturers of cosmetic devices, or hair tools, and retailers of various accessories.
In short, all the trades related to cosmetics are represented. And of course in Dubai, an extremely cosmopolitan city, they come from all over the world!
I usually visit this show every year, and I always enjoy going there. It's a good way for me to feel which trends are coming, and to see which ones are popular in different countries, as many nationalities are attending.
This year, I didn't have as much time to stroll around as usual, unfortunately. So I kind of chose the parts of the show that interested me the most, to be more effective. I actually didn't take the time to explore the fragrance, hair, nails and packaging sections as much as I would have liked. I went through them in a rush!
I focused on the skincare section, and I also did a lot of walking around the aisles of the different countries, especially France and Korea, because, well if you know me a little, you won't be surprised! They're my favorites!
Trend-wise, I noticed some big phenomena being confirmed and others emerging. This show is really a good place to check if the trends that are announced to us every year are confirmed or not on the ground. 😉
Here are the 6 beauty trends that struck me and interested me the most:
1. The virtuous natural beauty:
Natural beauty was everywhere, and I expected that. And this trend of brands and suppliers emphasizing naturality has been present for years. It's not a recent phenomenon.
But this year, I found that the emphasis was more on the ethicality and the transparency of the ecological impact of the products. It was very distinct. From now on, the consumer wants virtuous products and wants the ability to verify that the brand is not just communicating about it. Consumers want to see something concrete! At least, the French and Korean consumers. 😉
I loved chatting about all this with the representative of the company Sorga Technology. This startup uses blockchain technology to allow brands to communicate about their products in a different way.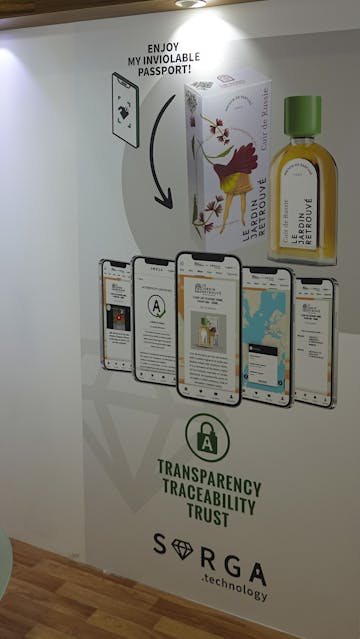 In a nutshell, Sorga allows brands to establish a digital passport in the form of a tag/QR code on product packaging that can be scanned directly with a phone. This tag is full of information about the traceability of ingredients, or about the recyclability of packaging, for example. Like a kind of certification of information, in short.
Basically, this tag can really help brands to be more transparent with their customers, and also to update their information in a more agile way. I strongly advise you to visit their website, it's very interesting. And it allows you to better appreciate all the possibilities offered by the blockchain that we will probably see more and more on our products' packaging! If you want to see what it could look like, you can scan the product tag in the picture below. 😉
2. Magnified skin diagnosis:
Skincare must be very personalized. We know that, that's the whole principle of it. You want a custom-made routine, adapted to your needs. And to determine your needs precisely, you need ultra-sophisticated diagnostic tools to observe your skin as closely as possible.
For several years, skin analysis machines have been popping up in beauty salons. You might remember the Visia machine, this big box in which you had to put your face and which analyzed different aspects of your skin; it was notably in Paris in the late Dermacenter in the Marais, which has since become a Skinceuticals store (and I think they still have the machine).
But the other current trend is also the study of the microbiome and the addition of "biotic" ingredients that help to take care of it in order to rebalance the skin in an efficient way (I already talked about this trend in this Focus article dedicated to the microbiome a few years ago 😉 )
Well, if you cross the two trends, you get the "microbiome tests", proposed by the Korean laboratory, Soft Genomics! It's the same principle as a Covid test with cotton swabs to take samples, but this time, you don't put them into your nose but on the skin, in different areas of the face.
The lab then analyzes these samples and can tell you the state of your microbiome, which gives you a more precise indication of the state of your skin. This time, it's the study of our micro-organisms that takes the diagnosis one step further!
I took the test when I visited the salon and Soft Genomics is supposed to send me the results by email, I can't wait to see what they found! 🙂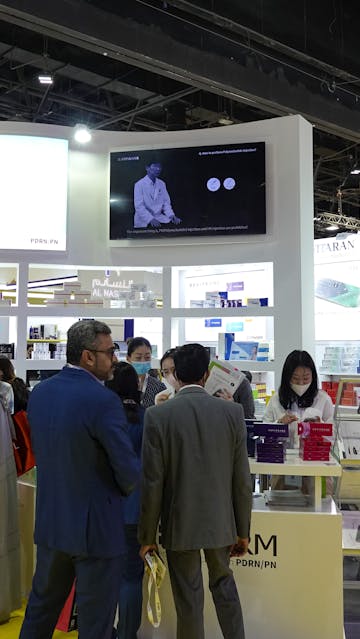 3. Edible beauty:
The beauty food supplements were also much more represented at the show than in the previous years. This market is booming right now, probably a post-Covid effect, and some brands are very creative in this category!
I enjoyed the concept of the French startup phyltres which offers "rituals", or beauty shots to drink during one week, and which allows to bring all the nutrients that the body and the skin need to glow, from the inside!
The recipes were designed by chefs, and you can feel it! These are gourmet shots. This is a French company, let's not forget that. 😉
The recipes feature amazing natural ingredients, with a special focus on the Damask rose, as the co-founder, Corinne Péronne, is also a horticulturist and rose enthusiast. This variety of rose is very well known and used in cosmetics, whether for skincare or fragrance, but it also happens to be edible and has many benefits for the skin!
To complete the shot ritual, the brand also offers a skincare line around the Damask rose, with particularly sensorial textures and scents, especially when you're a fan of roses like me.😉
The brand just launched in France and you can find more info on their website.
4. Beauty filters for your bathroom:
I had seen them in Korea the last time I was there, and I was delighted to find them at Beautyworld. I'm talking about the filter-skincare treatments that can be installed on your shower head or your bathroom faucet!
They have been all the rage in Korea for a few years now. And I think the concept is great knowing that cleansing with water is an essential step in the skincare routine. Unfortunately, most of the time, water is not a friend of our skin's beauty.
It's often very hard, full of limestone or in my case, full of chemicals that are quite harsh because in Dubai, we use desalinated sea water in our homes.
These new generation filters capture limescale and pollution, but also allows the water to be "treated" with skincare capsules that are integrated directly into the filter. There is a version for the shower head and another for the bathroom faucet.
Some booths on the show were selling them, so I bought some from the brand Neul Sseum brand, which I can't wait to try 😉
5. Expert treatments at home:
If you read BTY ALY regularly, you already know that beauty is now very high-tech, with a lot of beauty devices but also more technical treatments that now are not just available at the beauty salons but in the comfort of your home.
This year, I've seen a lot of small microneedling pens that can be used in conjunction with the mesotherapy technique, these small ampoules of cosmetic treatments that are usually injected in the surface of the skin.
These techniques are generally restricted to professionals because they involve injections, but brands are competing with each other to make them accessible to ordinary consumers!
As a reminder, micro-needling is a technique to push the skin to regenerate faster thanks to micro perforations with an electric pen or a roller (derma roller) made of micro needles, very short and very thin. This technique creates a mechanical stimulation that will boost the production of elastin and collagen in the dermis and, therefore, redensify the skin over time.
Micro-needling also creates micro-canals on the skin that deliver active ingredients such as vitamins, hyaluronic acid or peptides required to generate collagen to the surface layers of the dermis. Hence the idea of combining micro-needling and mesotherapy in order to have a more effective and deeper treatment of the skin!
I don't have any specific examples of companies to show you for this technique, because I have seen dozens of them! Some of them were aimed more at beauty salons, or skin clinics, but others also had home versions, which I found interesting (but also a little creepy, I must admit!).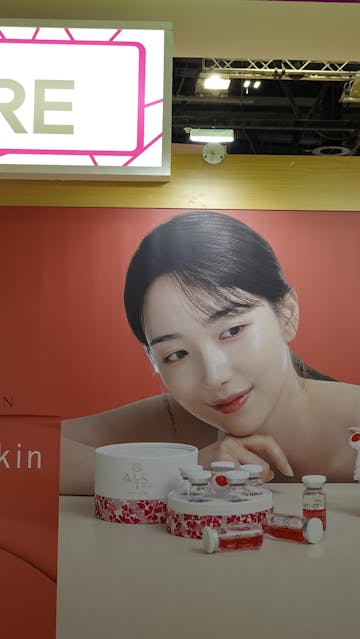 6. The unique creation:
I'm not sure that what I'm about to tell you about is really a trend, but I want to mention it anyway because the product was spectacular and really deserves a mention in this article!
Here, it's more of a one-of-a-kind concept. It's almost artisan, like fine craftsmanship and it highlights all the beauty of the French know-how in the luxury industry that fascinates me so much!
The French brand Temyris is very new, and this is their first product. The Temyris "minaudière" is a portable compact for touching up makeup and fragrance during the day.
The "minaudière" is made of milk stone, or galalith, which gives it a soft and silky touch. The marquetry of semi-precious stones on the compact are unique pieces and the refills are made of 24-carat gold-plated brass. It really is a very precious and unique item.
There are several colors of lipsticks and powders available and the bottle for the perfume is sold empty, so you can add your favorite fragrance.
The story behind the creation of the brand is as fabulous, just like the object itself. It's a story of love and transmission. Imagined in the last century by the grandfather of the founder of the brand as a present for his wife. History and especially the war caught up with him, and the project of creating this "minaudière" was left aside. It is much later that the granddaughter of the founder, fascinated by this story that her grandfather told her in the evening of his life, brought into existence this project, while modernizing and adapting it to our times.
This absolutely gorgeous piece totally blew me away, and I wasn't the only one, if I'm to believe your reactions to my Instagram stories when I showed it to you!
Of course, it's very luxurious, with the price tag that goes with it. But to me, it's an exceptional item, so I wasn't really surprised and I kind of expected it. 😉
In conclusion:
I loved my visit to Beautyworld this year. I wish I could have spent more time there, but I still got to meet some fascinating beauty professionals and it's always great to interact with passionate people.
See you next year, Beautyworld! 😉