Intro
Disclosure:
We, or the author, purchased this item.
We may receive commission (from a sale) if you click on and purchase from affiliate link(s) below. You'll be helping to support the magazine.
Here's my review of the Theramid Ceramide Treatment reparative serum from the Spanish skincare brand group Niche Beauty Lab. And I'll also tell you about the concept behind the brand!
Since retinoids have become a major part of my skincare routine, I've had to adapt the routine considerably. I've actually added products that repair the skin's barrier, so that I don't have to suffer the sometimes drying effect so severely. Products such as this wonderful repair serum from Niche Beauty Lab Theramid Ceramide Treatment, for example. Let me introduce you to it!
I first heard about the brand Theramid a few months ago. I was travelling in Spain at the time, and a few very knowledgeable people pointed out to me that, as I was on the Iberian Peninsula, I could try out some local skincare products. And the name of this brand came up several times!
And then, as I went on my usual pilgrimage to all the cosmetics shops I encountered, I ended up stumbling across a shelf of the Niche Beauty Lab group, which owns the Theramid brand. And, of course, I decided to do a bit of shopping!
Niche Beauty Lab is a group of different brands (they own five of them!), all of which have a bit of a 'scientific skincare brand' feel, à la Deciem (Deciem owns The Ordinary and NIOD, which I love!). And Niche Beauty Lab is a Spanish company!
Niche Beauty Lab was created in 2016, and from the start, their aim was to change the rules of the cosmetics industry. Their concept? To democratise cosmetics and bring them within everyone's reach by offering affordable products, without affecting quality.
By studying the cosmetics market in advance, they had observed that the process involved a multitude of different players, from laboratories to developers, marketing, etc. They also realised that the more steps involved, the more costly the product was. Niche Beauty Lab wanted to stand out from the crowd, so they decided to integrate the entire production and manufacturing process in-house, from their laboratory to the delivery to their customers' homes.
Indeed, with Niche Beauty Lab, according to their slogan, everything starts with science. They formulate their products in their own laboratories, with innovative active ingredients developed in-house, which sets them apart from many other players in the industry, and they're very proud of it.
They have five brands, ranging from acne-prone skincare to hair care.
Theramid is their most premium brand, if you can put it that way, because the prices are still pretty affordable. In the Theramid products catalogue, you'll find mainly treatment serums (I think they've also recently launched an eye contour cream and sunscreens). These serums come in glass bottles of different colours and feature the key ingredients of their formulas directly on the bottle.
I've bought several, and tried a few, but my favourite at the moment is clearly the Ceramide Treatment repair serum, which I've already repurchased twice! Let me tell you more about it…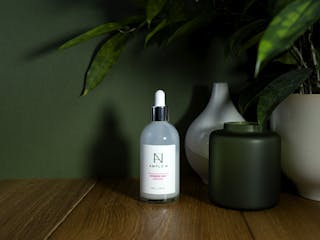 Skincare
Review: AMPLE:N Ceramide Shot Ampoule
Does your skin feel drier because of the upcoming winter? Have you introduced retinol into your routine recently and your skin feels tighter than usual? Do you find the word "ceramide" appealing? The AMPLE:N Ceramide Shot Ampoule will no doubt pique your interest! Let me tell you all about my extensive test of this oh-so effective treatment with an unbeatable price/ quantity ratio!
Read more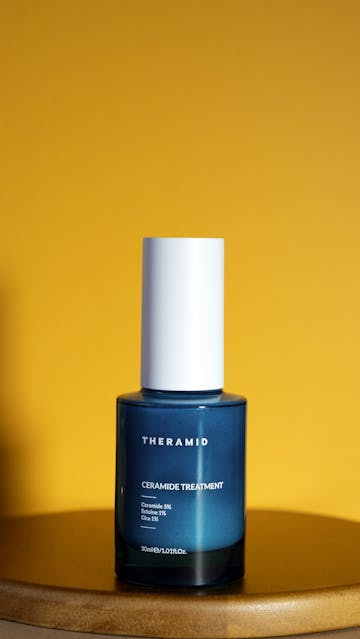 Niche Beauty Lab Theramid Ceramide Treatment, product presentation:
I knew what to expect when I started using tretinoin again. I know that adjusting your skin to this very effective but very strong anti-ageing and anti-acne medication can take time…
And I knew in particular that I was going to have to build up a routine designed to support my skin barrier, because tretinoin can really dry out the skin in the beginning. I've been using it for several months now, and I still feel that my skin hasn't completely adapted yet.
These periods of adjustment are always complicated for my skin! It can tend to peel, it's quickly irritated and sometimes I even get pimples because of the irritation…
That's why it's a good idea to include more soothing products in your routine, to help repair the skin barrier.
And that's exactly what the Niche Beauty Lab Theramid Ceramide Treatment repair serum does!
I call it a serum, but in reality it's an emulsion, a sort of very liquid cream, which contains a mixture of a watery phase and fatty elements, as well as quite a few repairing ingredients. You can use it under your day or night moisturiser, but I believe you can also use it instead of your moisturiser, given its texture.
As a reminder, I regularly mention the skin's natural hydration barrier, which is a sort of mixture of fats in the upper layers of the skin that helps it retain moisture.
When the skin is dry, sensitised, or very dehydrated, this barrier function is no longer effective. This famous "barrier" is not strong enough, and the skin loses hydration much more quickly.
The formula in the Theramid Ceramide Treatment serum restores this barrier thanks to a special blend of ingredients: ceramides + cholesterol + fatty acids, the three key ingredients in our skin's moisture barrier.
These ingredients help to repair the epidermis intensely, without making it greasy, and the skin tolerates them perfectly (as they are ingredients that it naturally contains).
The serum also contains soothing Centella Asiatica and hydrating glycerin.
The brand highlights the percentage of ingredients a lot in its communication around this product, but I admit I don't pay too much attention to them any more; I'm well aware that these percentages are given for marketing reasons, rather than to vouch for the true quality of the product… A high percentage of ingredients doesn't guarantee the effectiveness of a product, you have to bear that in mind! 😉
Finally, I have to point out that the texture of this product is absolutely superb! A silky emulsion that literally melts into the skin on application. It leaves the skin perfectly comfortable and soothed, and it doesn't make me look shiny (I'm using it in the morning at the moment).
Niche Beauty Lab Theramid Ceramide Treatment, my experience:
I started using the Niche Beauty Lab Theramid Ceramide Treatment Repair Serum last spring, just before I started using tretinoin again.
And since then… I've repurchased it several times, because I didn't want to stop using it! I love its silky, comforting texture. I find it perfect for my skin, which is more in demand than usual. It nourishes it just right, without being heavy or feeling greasy. I even use it in the morning under my day moisturiser, and it's great!
This serum really does the job, it really helps my skin to cope with tretinoin better and it soothes it very quickly, as soon as it's applied.
The bottle is 30ml, so it usually lasts me almost 3 months, bearing in mind that I use 2 pumps per application, and that I only apply it once a day.
If your skin is very sensitive, or even sensitised, but you don't like textures that are too heavy, I believe that this super-soothing and restorative treatment might really appeal to you!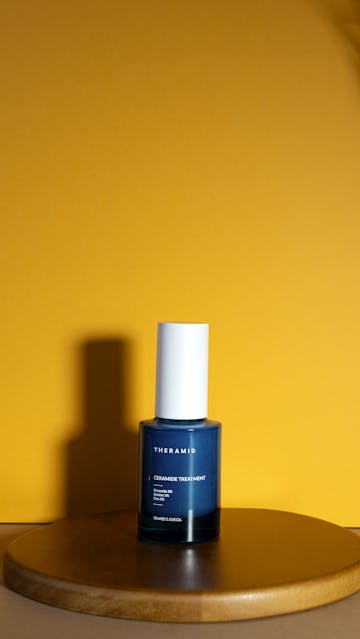 In conclusion:
Clearly, I really enjoy this product, and I've already repurchased it several times.
I find it ideal for my skin at the moment, and it's also perfectly suited to the season and my particular skin needs (sensitised skin, dried out by air-conditioning and tretinoin, but extreme heat which makes it difficult to tolerate any rich textures).
I also purchased other Theramid products that I might bring up in my content in the future! 🙂
The Niche Beauty Lab Theramid Ceramide Treatment retails for $38 for 30ml.
Product Review in detail
Summary
Niche Beauty Lab Theramid Ceramide Treatment
"A Ceramide-enriched treatment designed to replenish the skin with long-lasting hydration. Also used to strengthen the skin's protective barrier for deeply moisturized, softened and protected skin."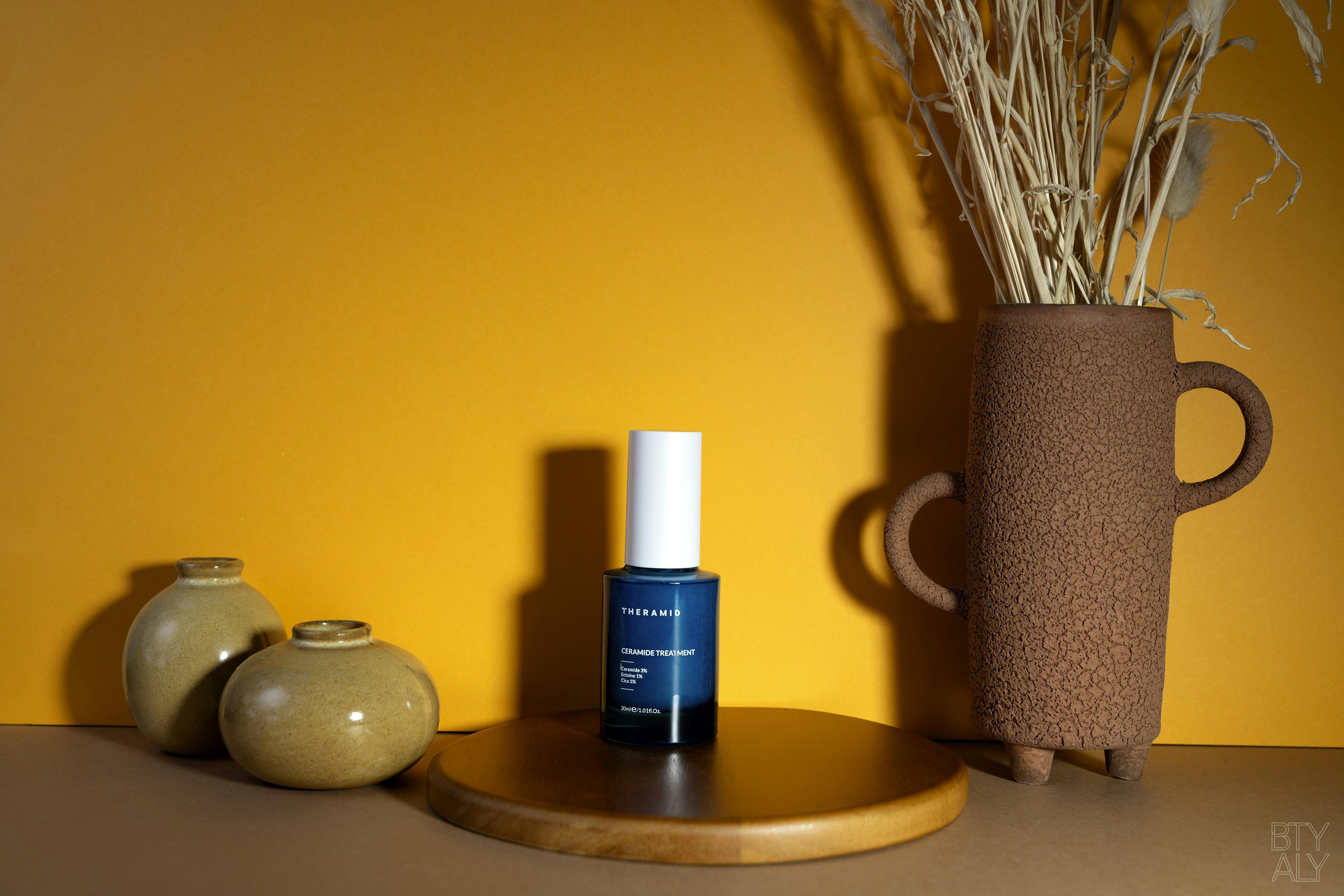 Pros
- the packaging is very pretty, in my opinion,
- the formula is really well done, with lots of interesting skincare ingredients, ideal for skin repair,
- the texture melts on the skin, but it's not too emollient, and leaves the skin feeling comfortable without feeling greasy or sticky,
- the almost immediate soothing effect,
- the repairing effect on the skin barrier thanks to ceramides, cholesterol and other emollient ingredients,
- it moisturises and nourishes lightly, leaving skin feeling comfortable without feeling "heavy",
- the formula is suitable for even the most sensitive and sensitised skin,
- no added fragrance.
Cons
- the brand isn't widely distributed, only on their website, but at least their website delivers internationally!
product name
Theramid Ceramide Treatment
brand name
Niche Beauty Lab
packaging
A dark blue glass bottle with a white pump and cap. Very minimalist and simple, but elegant!
fragrance
It's fragrance-free, but it does have a slight cereal/yeast scent, which is very subtle.
texture
A silky emulsion texture that leaves the skin feeling comfortable for a long time.
For Who
– all skin types,
– all ages.
Concerns
– damaged skin,
– irritated skin,
– sensitive and/or sensitized skin,
– dry and/or dehydrated skin areas,
– skin in need of comfort,
– mature skin.
Method
The Theramid Ceramide Treatment can be used morning and night. At the moment, I use it in the morning, and it's perfect to soothe and protect my skin barrier during the day. But sometimes I also use it in the evening if I feel the need.
After applying my aqueous serum(s), I take the equivalent of 2 pumps and massage my face and neck with it for a few seconds. Once it's absorbed, I apply my moisturizer on top. And in the morning, I always finish with my sunscreen, of course.
Key Ingredients
The formula is very complete and focuses on soothing and repairing the skin. It contains:
– hydrating glycerin,
– ectoine, a fascinating amino acid that is both antioxidant and soothing,
– soothing Centella Asiatica,
– and lots of repairing ingredients, perfect for a damaged skin barrier: ceramides, arginine (an amino acid), cholesterol, beeswax and macadamia, sunflower and jojoba oils.
Ingredients
Aqua (Water), Coco-Caprylate/Caprate, Glycerin, Caprylic/Capric Triglyceride, Propanediol, Coco-Caprylate, Polyglyceryl-6 Distearate, Ceramide NG, Cetearyl Alcohol, Macadamia Integrifolia Seed Oil, Ectoin, Ceramide NP, Ceramide EOP, Ceramide NS, Ceramide AS, Ceramide AP, Madecassic Acid, Asiaticoside, Asiatic Acid, Gossypium Herbaceum (Cotton), Callus Culture, Plankton Extract, Tocopherol, Ethylhexylglycerin, Cholesterol, Jojoba Esters, Helianthus Annuus (Sunflower) Seed Oil, Hydrogenated Lecithin, Lecithin, Pullulan, Xanthan Gum, Sclerotium Gum, Sucrose Distearate, Potassium Cetyl Phosphate, Phosphoric Acid, Cetyl Alcohol, Glyceryl Stearate, Caprylyl Glycol, Silica, Alcohol, Polyglyceryl-3 Beeswax, Dipropylene Glycol, Phenoxyethanol, Citric Acid.
Ingredients not included
– silicone,
– mineral oil,
– fragrance,
– essential oils,
– dyes.