Having your own "Beauty Clinic" at home, wouldn't that be the dream if you're a skincare addict? Well, that's precisely the idea behind LG's brand new anti-aging device, the LG PraL Intensive Multi-Care BLP1!
For a while now, I've been interested in anti-aging devices (or skincare devices) and this week, I wanted to share with you my latest discovery in this area!
When I came across it, I was really excited. I've never seen a skin device like this anywhere!
But first, let me tell you more about the context which, I believe, made the launch of this super innovative multi-modality device possible!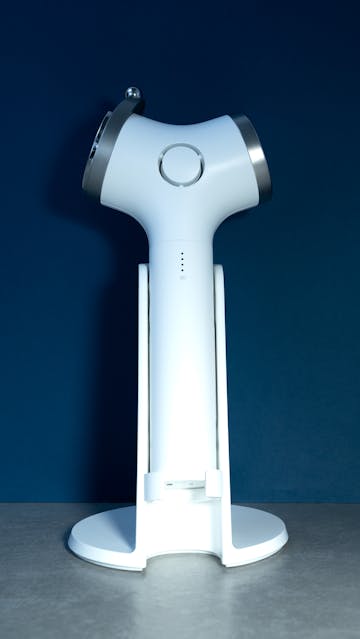 South Korea and Skin Clinics:
When I went to Korea a few years ago, I was struck by the number of Skin Clinics I was seeing everywhere (= these are medical centers dedicated to skin treatment, which offer all kinds of services, not only cosmetic surgery). And when talking with friends who live there, they also explained to me that very often, Korean people have a "family dermatologist" that they visit regularly to take care of their skin.
Another thing to know is that in Korea, most medical skincare treatments are much more affordable than elsewhere. Going for an anti-aging laser treatment or a peeling session costs much less compared to other countries!
In short, Koreans can go to these places rather easily, and they usually take advantage of it! Or rather… before the pandemic, they were taking advantage of it.
Because, with the Covid crisis, most of Skin Clinics had to close their doors. And Korean people had to change their habits to take care of their skin efficiently.
They turned to stronger cosmetic treatments (like retinol for example, which was a big success in 2020) but also to… anti-aging at home skincare devices.
Last January, I attended a webinar held by the Korea Institute of Design Promotion which talked about the upcoming trends for the year 2021 in Korea. And during this conference, the phenomenon of increasing demand for skincare products or pro-type devices for at-home use was actually mentioned. That's why I was expecting to see some interesting releases that would support this trend this year 😉
A Skin Clinic at home?
Not only has the demand for skin devices increased a lot, but companies have increased their efforts to offer more and more complete and efficient devices.
This demand has not only exploded in Korea, there has been a real boom of skin devices in 2020 everywhere in the world!
But in Korea, as is often the case, cosmetic innovation is definitely happening. And the devices available are usually a step ahead of what you can find elsewhere.
If you follow me on my Instagram account, you must have seen my stories where I talked about my research to find efficient and innovative anti-aging devices a few weeks ago. I've already tested a few of them in the last couple of years (see my dedicated reviews) but I must admit that I was very curious to see what Korea had to offer, so I decided to focus my search towards that market (what's new, lol; we all know I often look there for cosmetics in general! 😆)
I spent several weeks looking at the devices available (in Korea and elsewhere, I really wanted to see what was new and innovative!). I was particularly interested in radio frequency, and I was looking at the options available. And a few weeks ago, I came across a super complete device from a brand I already know, the Korean LG (yes, yes, LG, the company that makes your fridges and TVs!).
In the West, we know LG as a household appliances company. But in Korea, LG is a vast conglomerate, with branches in almost every sector of the economy. They have several cosmetic brands (including the brand Belif, which can be found at Sephora, among others) and for a few years now, they have also been doing high-tech beauty accessories!
I have to admit that the fact that it was a brand I was familiar with made me feel better. Their LED mask is still my favorite, and it still holds up even though I've had it for almost 3 years!
And this brand new LG device was exactly what I wanted to find: a multi-technology anti-aging device for a Skin Clinic experience in the comfort of my own home!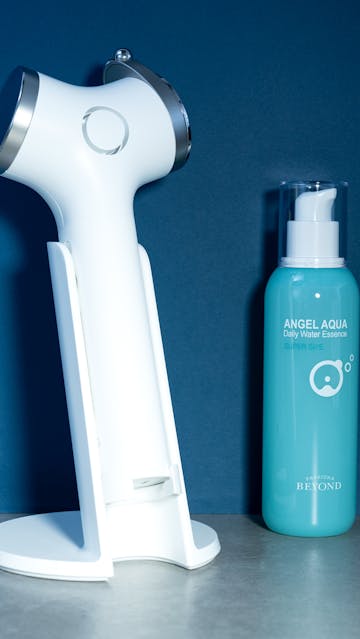 LG PraL Intensive Multi-Care BLP1 anti-aging device, product presentation:
Before going into details, I have to tell you that for the moment, this device isn't really available outside of Korea (it was released mid-October) but I was determined to get it because I thought it was really interesting to do a review about it here!
Even if it's a complicated device to get if you live outside Asia, I suspect the concept will probably be copied and taken over by other brands (that's often what happens when there's real innovation!) and I thought it was interesting to show you a little of what's to come in the field of anti-aging devices!
My post today is not really a review, because I received it only a few days ago. I mostly wanted to introduce it to you, let's say it's cosmetic news, so to speak 😉
I'm definitely going to take the time to test it properly for a few months before I give you a proper review. And hopefully, by then, it might be easier to find online!
But in the meantime, I'd still like to introduce it to you!
The LG PraL Intensive Multi-Care BLP1 is a device that combines several technologies, five to be more exact!
This device uses two technologies to improve the elasticity of the skin, two others that improve the absorption of skincare ingredients applied before, and a last one that refreshes, soothes the skin, and helps tighten the pores.
All these technologies are divided into 3 heads located on the same device.
Here are the details:
The first head (Intensive Care) uses:
– Radio frequency, which helps to improve skin elasticity by generating deep heat inside the skin tissue (it doesn't burn at all, no worries!).
– Microcurrent, which improves elasticity by stimulating skin tissue and muscles with low-level electrical currents (less than 1000 µA), similar to the bio-electricity circulating in the body.
– Sonophoresis (ultrasound treatment): improves tissue oxygenation and stimulates the synthesis of collagen and elastin, helps optimizing the absorption of skincare ingredients.
– Iontophoresis: allows the active ingredients to penetrate the epidermis by using a continuous current called galvanic. The device generates a low-intensity direct current (galvanic) designed to help the skincare ingredients penetrate to the dermis.
The device also includes a specific eye treatment head (Eye Care), which allows you to work on more specific areas. The eye treatment uses the same technologies as above, except for radio frequency.
And finally, the device has a third head (Cooling Care) that uses cold / a cooling mechanism to soothe the skin and to help tighten the pores.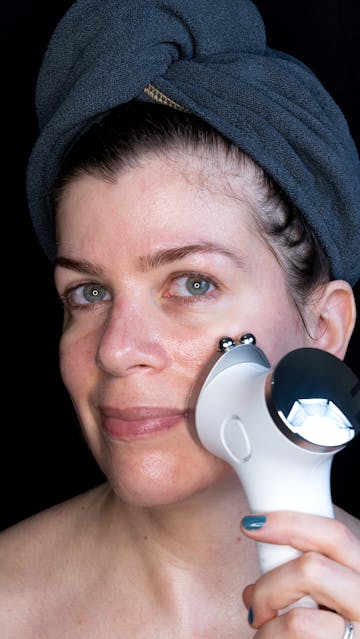 LG PraL Intensive Multi-Care BLP1 anti-aging device, the different treatments:
They designed the device to be used 3 times a week, and the treatment comprises 3 steps.
The intensive anti-aging step, which uses the Intensive Care head (the one with the 4 modalities seen above). The treatment lasts for 6 minutes for the face and neck.
The eye contour step (and mouth contour if you want too), with the Eye Care head, which takes 3 minutes.
And finally, the cooling treatment with the Cooling Care head, which lasts for 3 minutes as well.
All in all, with these three steps one after the other, you get a 12 minutes treatment, three times a week. Quite practical!
The device has voice guidance (in English, Korean or Chinese), so you know which treatment you are doing.
The device can be used on a cleansed skin, and you have to use a conductive product with it, either a gel or a water-based serum. No oil at all, as with all devices that conduct electricity. LG doesn't sell any conductive product with it, but there are several options.
Personally, I think I'll use a hydrating essence with a gel-like texture, which I can wet if needed with a thermal water spray (the latter improves conductivity thanks to the minerals it contains). And I'm not going to rinse it off after the treatment, I'll just finish my routine after my treatment.
I think I'll introduce it into my morning routine, but you can use it at night if you prefer.
That's what I can tell you so far about the LG PraL Intensive Multi-Care BLP1! For my user experience and results, check back in a few months 😉
If you're too impatient to wait, I found an eBay link to the device but as you probably guessed already, it's not cheap: