Intro
A focus post on copper peptides, these ultra effective and innovative anti-aging ingredients that target cell regeneration and skin healing!
According to some, copper peptides are one of the most effective anti-aging ingredients available on the market! However, they remain relatively unknown to the public at large and rarely used by cosmetic brands… Today, let's discuss copper peptides, shall we?
I wanted to write a post about peptides in general at first but it's really a very large category of ingredients, there are so many of them!
And I think copper peptides really deserve their own article because, as you will see, they are very interesting and promising ingredient, even if they're not yet widely used.
Considered by some as an anti-aging ingredient, as or even more effective than retinoids, exfoliating acids or vitamin C, they fascinate and intrigue a lot of skincare addicts!
Many brands are starting to take an interest in them, so we might see them more and more often in our skincare products.
Let me tell you why I think these ingredients are interesting and also which products I tried that contain copper peptides!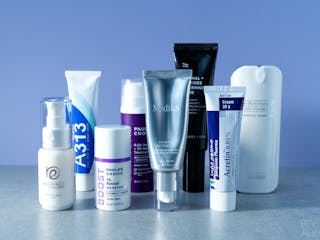 Ingredients
Focus on: retinol
Over the past year or two, retinol made a huge comeback in our skin care products. And this is only the beginning, you can expect to be inundated in the coming months! This ingredient is supposed to be the most effective for a true, proven and recognized anti-aging action. But sometimes sensitizing, it can also frighten beginners. Let's take a closer look at retinol, or rather the family of retinoids!
Read more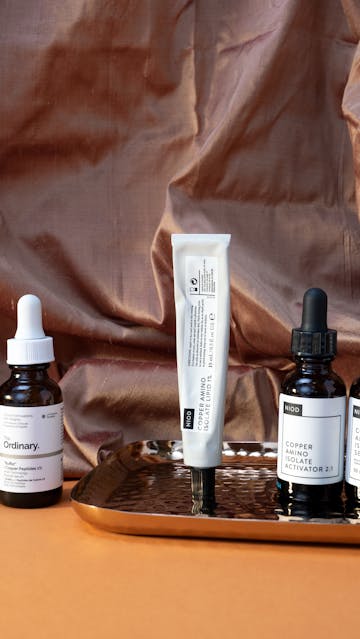 What are copper peptides?
Copper peptides belong to the large family of peptides, these tiny molecules made of amino acids (= precursor components of proteins).
Peptides are widely used in cosmetics because they're able to mimic the signals from the brain sent to the epidermis via natural peptides. For example, some of them send the signal to the skin to renew itself; they can also stimulate the production of collagen and elastin.
Copper peptides (or GHK-Cu) are a copper-peptide complex found naturally in the human body, including some of our body fluids (plasma, saliva and urine). The copper peptides used in cosmetics are synthetic replicas, obviously.
They were discovered in 1973 by Dr. Loren Pickart, who has since created his own brand of copper peptide-based cosmetics, Skin Biology (apparently, he isn't too interested in marketing yet, though… 😬).
During the first 15 years of his studies on copper peptides, Dr. Loren Pickart discovered that they helped the wound healing process and had anti-inflammatory properties. His work led to the Iamin Moisturizing Gel, a topical treatment used in the United States for acute and chronic wounds.
A particularity of these copper peptides: their pretty royal blue colour, which naturally colours the products that contain them (without staining the skin!).
They're also quite expensive ingredients, which partly explains why they're not used super often by cosmetic labs (or only in small quantities).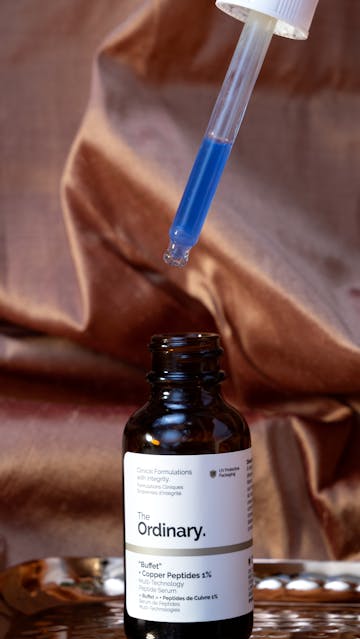 What are their skin benefits?
The reason why cosmetic brands are so interested in copper peptides is that they have unique wound-healing properties. Indeed, they stimulate the degradation of collagen that is too large in the scar tissue and then boost the production of healthier collagen for a more harmonious skin healing process.
They also have the property of stimulating the production of several important ingredients in the preservation of the skin's youthful appearance, such as collagen, elastin and glycosaminoglycanes present in the dermis and responsible for maintaining the skin's firmness.
And have important anti-inflammatory and antioxidant effects.
Some promising scientific studies show that copper peptides can:
improve the elasticity, radiance and firmness of the skin,
reduce wrinkles and fine lines,
reduce damage caused by the sun,
smooth skin texture.
They can also improve hair growth by enlarging hair follicles (larger follicles produce longer, thicker hair).
They've been accused of causing facial hair problems (personally, I've never experienced it on myself; I've been using them for a long time and I still have no beard lol).
Copper peptides have been the subject of many studies (mostly in vitro), and the most interesting one was done in 1988 on several people and compared the results on collagen production between vitamin C, tretinoin and copper peptides. After one month of use of these ingredients, an increase in collagen production was observed in 70% of people who used copper peptides, while those who used vitamin C had only a 50% increase, and those with tretinoin, 40%.
So, as you can see, copper peptides are very promising anti-aging ingredients! If we add to that their soothing, anti-oxidant and anti-inflammatory properties, it makes you want to investigate more about them and introduce them into your skincare routine (at least it does with me 😅)!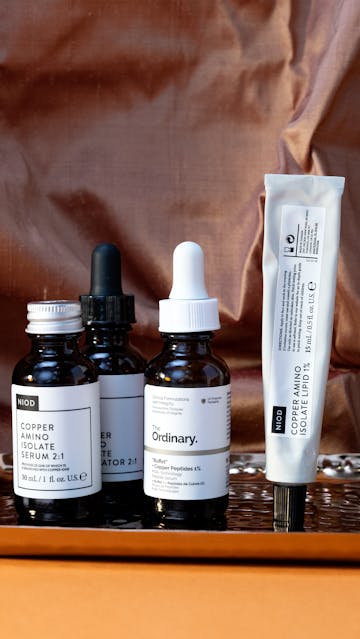 Product examples:
Disclaimer, all the products I'm going to talk about come from Deciem. The brand sent me some of them to try but I repurchased most of them (or I intend to do so when it's finally back in stock…).
If you're curious to know more about the Deciem company (especially about its most famous brand The Ordinary), I suggest you take a look at the article I wrote 3 years ago on my blog, where I talk about the history of the company and their debuts:
The Ordinary: presentation and buying guide.
Here are the copper peptides I tried:
The Ordinary "Buffet" + Copper Peptides 1% :
A serum with a formula super rich in anti-aging, moisturizing and restorative skincare ingredients:
– some hyaluronic acid (several molecular weights),
– several restorative amino acids,
– a soothing probiotic,
– several anti-aging peptides (Matrixyl, Argirelox…)
– and 1% of copper peptides.
The texture is a slightly viscous gel, and it has a subtle "metallic" scent that can be surprising at first, but it doesn't last.
I used this serum for 2-3 months and found it quite soothing and moisturizing. Regarding the anti-aging effect, I think it should be tested over a longer period of time, I haven't seen a noticeable difference on my skin.
The price is very decent for such a complete formula: $29 for 30ml.
It's a good start if you want to discover copper peptides, IMO!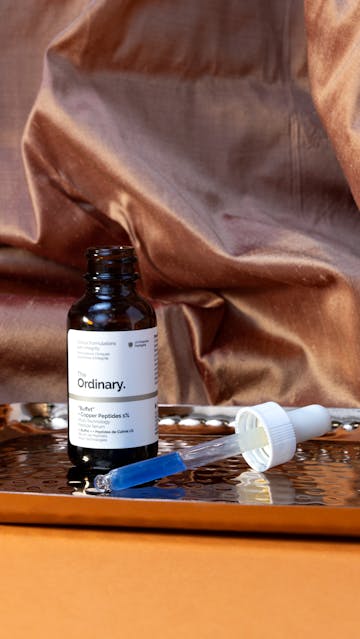 NIOD Copper Amino Isolate Serum 2:1 (CAIS2) : (gifted by the brand and then repurchased twice since)
Yes, you're not dreaming, it's the first time I talk about a NIOD product here. I really like some of the brand's products, but their communication is so… obscure, that I was always discouraged to write reviews about their products 😅
NIOD is also a company from Deciem, like The Ordinary. But unlike The Ordinary, which mainly uses ingredients that are already very well known and researched in the cosmetic field, NIOD is more focused on innovation, with more original formulas and ingredients that are not necessarily used elsewhere!
NIOD (Non-Invasive Options in Dermal Science) prides itself on being a skincare brand for the "hyper-educated" and frankly, even for me who worked in the skincare industry for 15 years, I don't feel particularly comfortable with their communication!
I love when skincare is a bit technical, but I have found myself holding my head in my hands when I read the description of NIOD's products. If you knew Deciem from the beginning and followed them on social media in 2017-2018, you won't be surprised to know that NIOD was the baby of Brandon Truaxe, the CEO of Deciem (who sadly passed away too soon). If there was one skincare brand that could capture the essence of the complex character that was Brandon Truaxe, it has to be NIOD…
However, if you get past the complicated product descriptions, NIOD products are usually super interesting and innovative.
And this is clearly the case with this CAIS2 serum (2 because it's the second reformulated and improved version of this product launched a few years ago).
The NIOD Copper Amino Isolate Serum 2:1/ CAIS2 is a firming serum based on copper peptides. It helps the skin to keep a firmer appearance by boosting the synthesis of its collagen while stimulating its healing functions. It also has a soothing and anti-inflammatory effect.
It comes in 2 bottles: the Copper Amino Isolate Activator bottle which should be mixed in the Copper Amino Isolate Serum bottle and shaken for 30 seconds. This way you can be sure to get a super fresh treatment when you use it!
The main benefit of this product is clearly its high concentration of copper peptides: 2% pure copper peptides of which 1% is in free form (I beg you, don't ask me to explain what that means, I'm absolutely incapable, I'm not good enough at chemistry 😂😂😂)(but in short, it means a lot of copper peptides!).
Also, there are other anti-aging peptides in the formula and hyaluronic acid. All this in a very liquid texture (like water)!
I used it for about 6 months last year (I used 2 bottles of 30ml) and I really liked its soothing effect which I was able to notice quite quickly. And I definitely appreciated it because at the time, I upgraded my skincare routine with more powerful but potentially more irritating anti-ageing ingredients.
As far as the anti-aging effect goes, it's going to be hard for me to tell you that I saw a real difference on my skin. I know that others have experienced it (you can read the super detailed review of one of my personal skincare gurus, fiftyshadesofsnail) but I use so many other treatments that I'm not going to be able to be affirmative about it.
However, I feel that CAIS2 helps to smooth the texture of my skin and I also find it more resilient when I use it, which are definitely great benefits!
What I can tell you, however, is that I like it enough to repurchase it and continue to use it in my routine on a regular basis (despite the fact that it's quite pricey)!
But for the past few months, I've been unfaithful to it…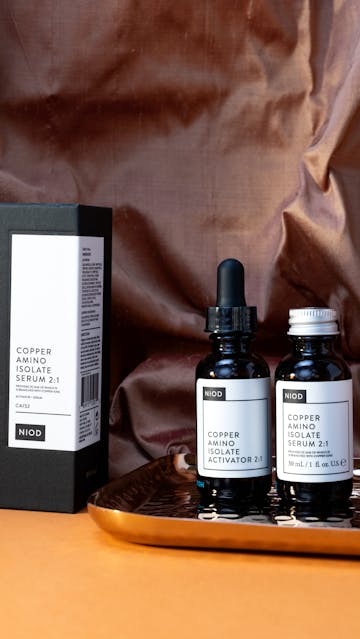 … with the latest launch from Deciem, NIOD Copper Amino Isolate Lipid 1% (CAIL 1%) : (gifted by the brand)
NIOD CAIL is a firming oily gel-balm that is supposed to slow down the loss of volume and density of the skin.
Based on the principle that young, healthy skin maintains an ideal balance of glycosaminoglycans (or GAGs, they're skin support molecules found in the deep layer of the skin), proteins such as collagen and elastin, and lipids found on the skin's surface, CAIL 1% has been designed to target all of the above skin components to improve skin volume and resilience.
In short, CAIL wants to make your skin look like it was 20 years ago! Big claim here 😉
CAIL targets loss of volume/firmness as well as the loss of fatty elements, which are essential to the health and youthfulness of the skin and without which the skin tends to age much faster. Indeed, drier skin is more fragile and "wrinkles" more.
CAIL's formula contains a special form of copper peptides that is unique to the brand:
Tripeptide-1 (Palmitoyl) Copper (concentrated here at 1%) which acts synergistically to restore and maintain a youthful appearance of the skin. Palmitoyl-GHK-Cu is a version of GHK-Cu (the one I've been talking about so far) with a palmitoyl group attached to the structure of the peptide that works to improve its lipophilic properties for a better affinity with the skin. Because your skin loves fat and the fact that GHK-Cu is combined with a fatty substance like palmitoyl will help it to penetrate deeper into the skin layers!
CAIL's formula also contains a selection of other great ingredients such as zizanoic vetiver (which is very aromatic, I love it!), a patented dihydrodiisoeugenol complex (lol whaat?) and a blue algae (Aphanizomenon Aquaflo), all of which work together to plump and firm the skin.
It also contains squalane oil, which is great for nourishing the skin without greasing it!
NIOD has an anti-ageing but also a very anti-inflammatory and healing effect. CAIL would also be perfect for acne-prone skin!
Its texture is a little unusual: a kind of oily gel that transforms into oil on contact with the heat of the skin.
A tip for application: you should not use too much (a pea size amount is enough) and massage it well and allow it to absorb for a few minutes. Contrary to what one might think with its texture at the beginning, it absorbs very well and doesn't stay on the surface of the skin!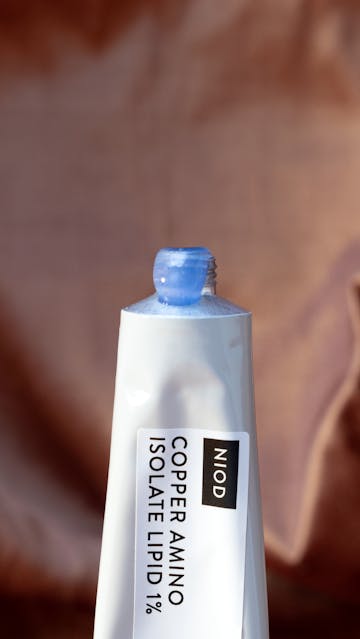 My experience with CAIL:
Funnily enough, when the brand suggested I try it, I initially refused because I couldn't see how I would be able to incorporate it into my routine!
Its oily balm texture confused me, and the fact that the brand recommends using it alone in the evening, without acids, retinol, vitamin C… For me, as a skincare ingredients maximalist, I found it too complicated (lol, I know!).
And then, after listening to the raving reviews of those who had tried it, I thought that I was probably missing something and that it might be a good idea to try it after all…
Good thing the brand ended up sending it to me despite my decline 😂 So I started it at the end of March and I can tell you that I didn't regret it at all! I fell head over heels in love with this product, which I would never have bet on…
I've been using it for 6 weeks and it's a bit early to observe an anti-aging effect (usually, I wait several months until I can tell something about it) but I can already tell you about its soothing and anti-inflammatory effect which is absolutely FANTASTIC!
At the moment, my skin is quite sensitized from trying different retinoid products (I've upgraded my use of retinoids quite a bit these last few weeks) and wearing a mask when I go out doesn't help.
However, if I just apply my CAIL in the evening, my skin is miraculously soothed the next morning.
If you're a regular reader, you know that I'm not at all the kind of person who's usually overexcited about a cosmetic product. It's quite the opposite, I'm the first to tell you to lower your expectations, that the results are visible in the long term and that you should never expect miracles. Well, even with my usual caution, this product really amazed me!
CAIL really soothes the skin. And I also feel that it helps my skin to be more resilient and it can take all my anti-aging actives better (retinoids and acids are certainly effective but can be irritating, especially when, like me, you absolutely want to use them all at the same time) (yes, I know I've told you over and over again not to do this with retinol… Do as I say, not as I do 😜).
Anyway, I'm halfway through my tube, and as soon as it's in stock on Deciem's website, I'll repurchase it (despite its dissuasive price)!
Another product that is on my radar but that I haven't tried (yet?):
Dr Roebuck's Ningaloo Firming Serum:
A very minimalist formula with only 6 ingredients, and an oil-free texture, I'm quite intrigued by this serum. And it's available at Sephora! 🙂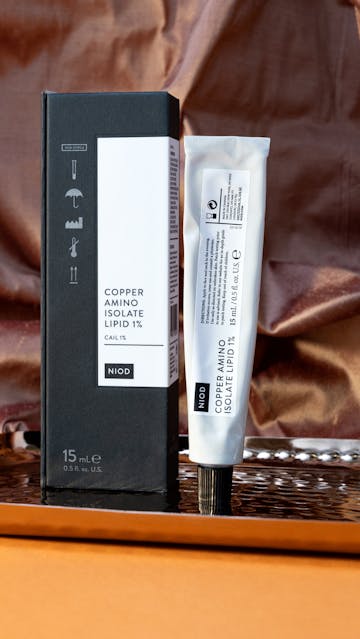 How do I use them in my skincare routine?
As copper peptides are rather fragile ingredients, it's better to use them separately in your skincare routine, to isolate them.
They don't combine well with vitamin C products, exfoliating acids and retinoids.
That's one of the reasons why it took me a while to start using products with a high concentration of copper peptides: I didn't know how to incorporate them into my skincare routine and I didn't want to give up my other powerful anti-aging actives!
Then I tried NIOD CAIL and I told myself that I absolutely wanted to find a place for it in my routine because I was really impressed by the results on my skin!
So I decided to use it in the evening, alternating with my retinoid-based product. So far, this is more or less what I was doing with my acid exfoliating products, but I had to stop using my acids at night (big change for me)!
Basically, here's what changed in my weekly skincare routine regarding the application of my most active anti-aging ingredients:
Morning:
I still use my vitamin C serum in the morning as usual. I decided to use my exfoliating acid products in the morning 2-3 times a week (I'll have to tell you about it in an upcoming post, but for now I'm still in the testing phase). Of course, I still use a sunscreen every day, as you can imagine!
Evening:
I apply a retinoid product three nights a week. And the remaining four evenings of the week are dedicated to the application of my copper peptide product.
So that's basically how it looks now:
| | |
| --- | --- |
| Days of the week: | Actives ingredients: |
| Monday evening | Retinoide |
| Tuesday evening | Copper peptides |
| Wednesday evening | Retinoide |
| Thursday evening | Copper peptides |
| Friday evening | Retinoide |
| Saturday & Sunday evening | Copper peptides |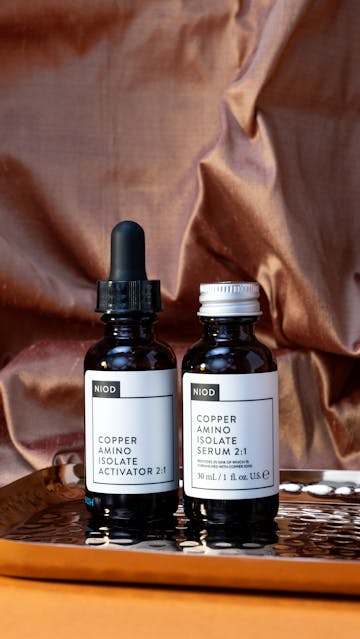 And about the order of application of my copper peptides product in my evening skincare routine, I mainly rely on the texture of the product! Taking the example of the products I mentioned above, here's how it goes:
Concretely, if it's a serum with a gel texture, such as The Ordinary "Buffet" + Copper Peptides 1% , I use it at the same time as my other serums (so after my essences and before my facial oil and/or my night cream).
For a very liquid serum (super watery) like NIOD CAIS2 , I use it first thing in my evening routine, before anything else. Ideally, I leave it on for one or two minutes so that it is completely absorbed and I can move on to the rest of my routine (essences, serums, oil/night cream).
For a balmy treatment like NIOD CAIL , I use it after my other moisturizing serums. Sometimes I don't apply anything else on top and my routine stops there, sometimes I feel that my skin needs more. In which case, I use a facial oil and/or my night cream on top of it.
EDIT August 2021:
After doing a lot of research on the subject, it seems that it's best to avoid using copper peptide products with formulas that have a pH that's too acidic (as is the case with acids and L-Ascorbic Vitamin C products) but it's okay to use it in the same routine with a retinoid product.
So when I use NIOD's CAIS serums and The Ordinary's Copper Peptides Buffet, I now use them in the same routine as my retinoid product, I don't alternate anymore.
For CAIL, it's still out of stock as I write this but I think because of its richer texture, if I have to use it again in my routine, I'll probably still alternate like I was before 🙂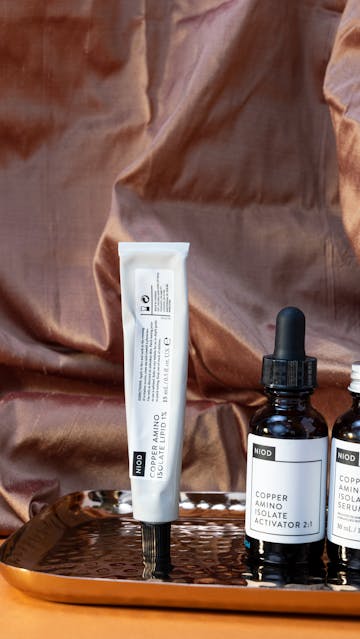 In conclusion:
Copper peptides are definitely great anti-aging ingredients and I think they have a lot of potential! That's why I wanted to give them a dedicated space in my skincare routine.
Now let's make it clear, I'm not going to throw away my retinoids, acids and vitamin C and rely solely on copper peptides, because I always tend to think that the combination of different ingredients is good in an anti-aging routine. As you know, I rarely bet on just one horse! #moreismore 😉
And I also believe that copper peptides are not the only cool peptides in town (that's the stance of Paula's Choice and I rather agree with them on that). I'll probably have the opportunity to tell you more about it in upcoming posts 🙂.
But copper peptides are clearly promising ingredients and I find their soothing and anti-inflammatory properties really interesting.
Especially for me at the moment with all my retinoid tests and the fact that I have to wear a mask when I go out, which makes my skin hate me and break out like when I was 15…
And you, have you tried any copper peptide products? Which ones are your favorites? 😉