Intro
Disclosure:
We, or the author, purchased this item.
We may receive commission (from a sale) if you click on and purchase from affiliate link(s) below. You'll be helping to support the magazine.
My review of the soothing and brightening Propolis Energy Active Ampule by the Korean skincare brand CNP Laboratory!
CNP Propolis Energy Active Ampule is a hydrating, soothing, repairing and antioxidant serum that looks very promising on paper! It's a propolis-based serum that's been ultra-popular in Korea for years. According to the brand, they are selling 3 every minute. As a big fan of propolis-based products, I had to see if this best-selling product lived up to its reputation! Here's my detailed review.
The brand is even claiming to have sold 6 million bottles since its launch, so clearly we're dealing with a bestseller!
I've already mentioned it several times in my reviews: propolis, the plant resin produced by bees, is a very interesting ingredient for the skin, and is widely used in cosmetics, especially in Korea.
Notably, propolis has a powerful effect on skin healing. Its anti-microbial action purifies the skin and prevents the proliferation of bacteria. It boosts skin regeneration by stimulating collagen production, and its antioxidant effect makes it an effective anti-ageing agent. And personally, I like it so much that I dedicated a whole Focus article to it a few years ago!
When I started to take a closer look at propolis, a few years ago, I wanted to try as many propolis serums as I could (and I did! Check it out: propolis on BTY ALY). And I knew that the CNP Laboratory ampoule was missing from my overview of the topic. As mentioned above, the CNP ampoule is a bestseller in this category, and I know quite a few people who mention it as their favourite!
I'll be honest, if I hadn't tested it until now, it was because of its price. When I compared it to other propolis serums, I thought it was expensive. And I found its price a bit hard to justify, based simply on its list of ingredients.
Because when you compare it with other similar products (such as this serum from Skinfood, or this ampoule from By Wishtrend), the formulas and product concepts are quite similar.
Of course, I'm well aware that a list of ingredients doesn't tell the whole story, and that nothing beats a real product test. When you actually use it, you often have more to say than if you just comment on an INCI list. It's much more tangible, of course!
A few months ago, I finally decided to break my piggy bank and purchase a set containing two CNP Laboratory Propolis Energy Active Ampules! I've been using the product for over 4 months now and here's my verdict.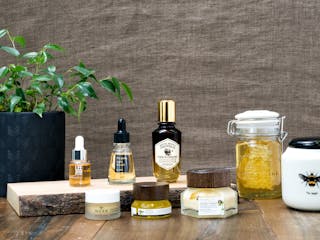 Ingredients
Focus on: Honey and Propolis
Skin products rich in hive ingredients such as honey and propolis have always been popular, especially amongst sensitive skins. The use of these ingredients in cosmetic is definitely not new, but skincare products made in Korea put a spotlight again on these very powerful and effective natural ingredients.
Read more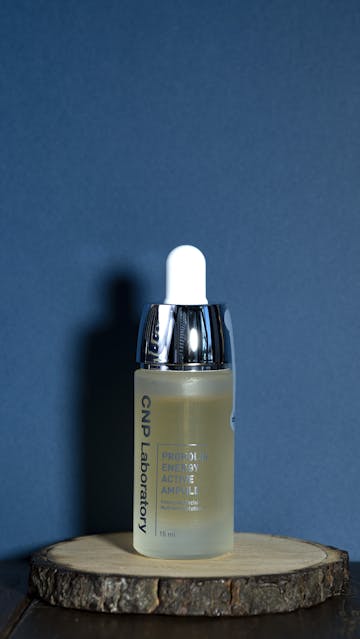 CNP Laboratory Propolis Energy Active Ampule, product presentation:
The brand CNP Laboratory was founded in 1996 by a dermatologist, Dr. Lee. He owned a dedicated skin clinic in Yangjae, South Korea. After over twenty years of treating their patients' skin, Dr. Lee and his team wanted to develop a skincare routine to optimise the results achieved in their clinic, so they launched CNP Laboratory to offer customers post-treatment skincare at home.
CNP Laboratory products emphasise the pharmaceutical quality of their products. With their products, the focus is on gentleness and effectiveness to treat sensitive and/or sensitised skin, as well as specific needs such as acne or redness.
CNP Laboratory has become one of the best-selling cosmetics brands in South Korea and has won numerous international beauty awards, demonstrating its success and popularity on a global scale. In fact, one of Korea's largest cosmetics groups, LG H&H Co. acquired the brand in 2014.
CNP Laboratory believes that true beauty begins with healthy skin, and it gives priority to natural ingredients when formulating their skincare products. The brand's most popular product is undoubtedly the CNP Laboratory Propolis Energy Active Ampule serum, and they sell three every minute in South Korea.
Note:
I should point out that for me, the names 'serum' and 'ampoule' are quite interchangeable. In general, marketing suggests that an ampoule is more concentrated than a serum, but in reality they are very similar product categories.
The Propolis Energy Active Ampule serum is aimed more at sensitised skin, but also at the skin that lacks comfort and radiance.
The brand uses propolis, which often targets skin prone to acne. But here, it's more the regenerating aspect of propolis that is highlighted in this formula!
The formula is really comprehensive, with many really interesting ingredients besides propolis, including:
– lots of hydrating ingredients like honey, hyaluronic acid and glycerin, Beta-Glucan and purslane (or Portulaca Oleracea), both of which are also anti-oxidants,
– Madecassosside extract, from Centella Asiatica, a highly soothing, purifying and antioxidant plant, with calming allantoin.
– Ascorbyl Palmitate, an antioxidant vitamin C derivative that enhances the complexion's radiance,
– Arginine, an amino acid with antioxidant properties,
– and anti-ageing peptides: Palmitoyl Tripeptide-1, Palmitoyl Tetrapeptide-7.
In short, this formula encourages regeneration as well as soothing and brightening the complexion! So if your skin is tired and sensitised, and you also want to work on the anti-ageing aspect, this formula is made for you! 🙂
The texture is pleasant. It's a slightly thick gel serum. It leaves the skin feeling comfortable without being greasy! And there's a very light aromatic fragrance, which you can barely smell but which gives a feeling of freshness on application. I quite like it!
This serum comes in two sizes, 15 or 30/ 35ml.
CNP Laboratory Propolis Energy Active Ampule, my experience:
I've almost used two bottles of this CNP Laboratory Propolis Energy Active Ampule serum, and I have to say that I'm satisfied with the results, but not blown away.
Let me explain: I find it pleasant to use, it moisturises, it soothes, it's not heavy on the skin, it gives me a nice glow over time… In short, it does the job. And I think it's a good, effective product if, like me, you have sensitive skin and a strong need for hydration and soothing, and you prefer textures that don't leave your skin too oily.
However, I wonder about the price of this product. It costs about twice as much as the equivalent serums on the market. And frankly, I'm struggling to understand why…
Whether it's the By Wishtrend serum, the Skinfood serum or the Dr. Ceuracle serum, they've all given me similar results and they all cost up to half as much as the CNP Laboratory Propolis Energy Active Ampule serum.
My only guess is that CNP Laboratory Propolis Energy Active Ampule was probably one of the first propolis serums on the Korean market, so it has remained popular ever since. Cosmetics consumers can be quite loyal, and some good but not spectacular products, which are certainly no longer innovative at all, can remain in the best-seller lists. I guess because people are satisfied with them and continue to buy them out of habit. It's a bit like the Advanced Night Repair effect, you know what I mean? (if you don't, I talked about it in my ANR review 😉 ).
I'm glad I tried it, but I don't think I'll repurchase it again. I'll probably go back to the By Wishtrend serum as I've got a spare bottle of it (it's changed name since then, it's called the Propolis Energy Calming Ampoule, but the formula is the same as the one I reviewed 😉 ).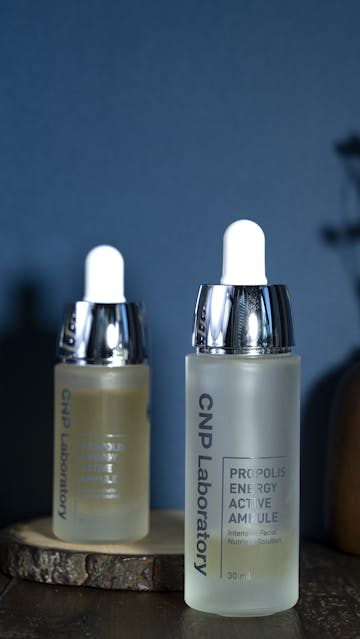 In conclusion:
CNP Laboratory's Propolis Energy Active Ampule is clearly a decent product. On my skin, it gives good results and I understand its initial popularity.
But honestly, I don't think I'll buy it again. Other Korean propolis serums are just as good, and more affordable, so why bother?
But if I see it on sale, I could repurchase, why not? It's still a good option, regardless! 🙂
The CNP Laboratory's Propolis Energy Active Ampule retails between $25 and $55 depending on its size (15 or 30/ 35ml) and the distributors.
Product Review in detail
Summary
CNP Laboratory Propolis Energy Active Ampule
" Achieve healthy and naturally glowing skin with this highly-concentrated ampoule! Infused with madecassoside to soothe, hyaluronic acid to hydrate skin and propolis extract to enhance skin's vitality. "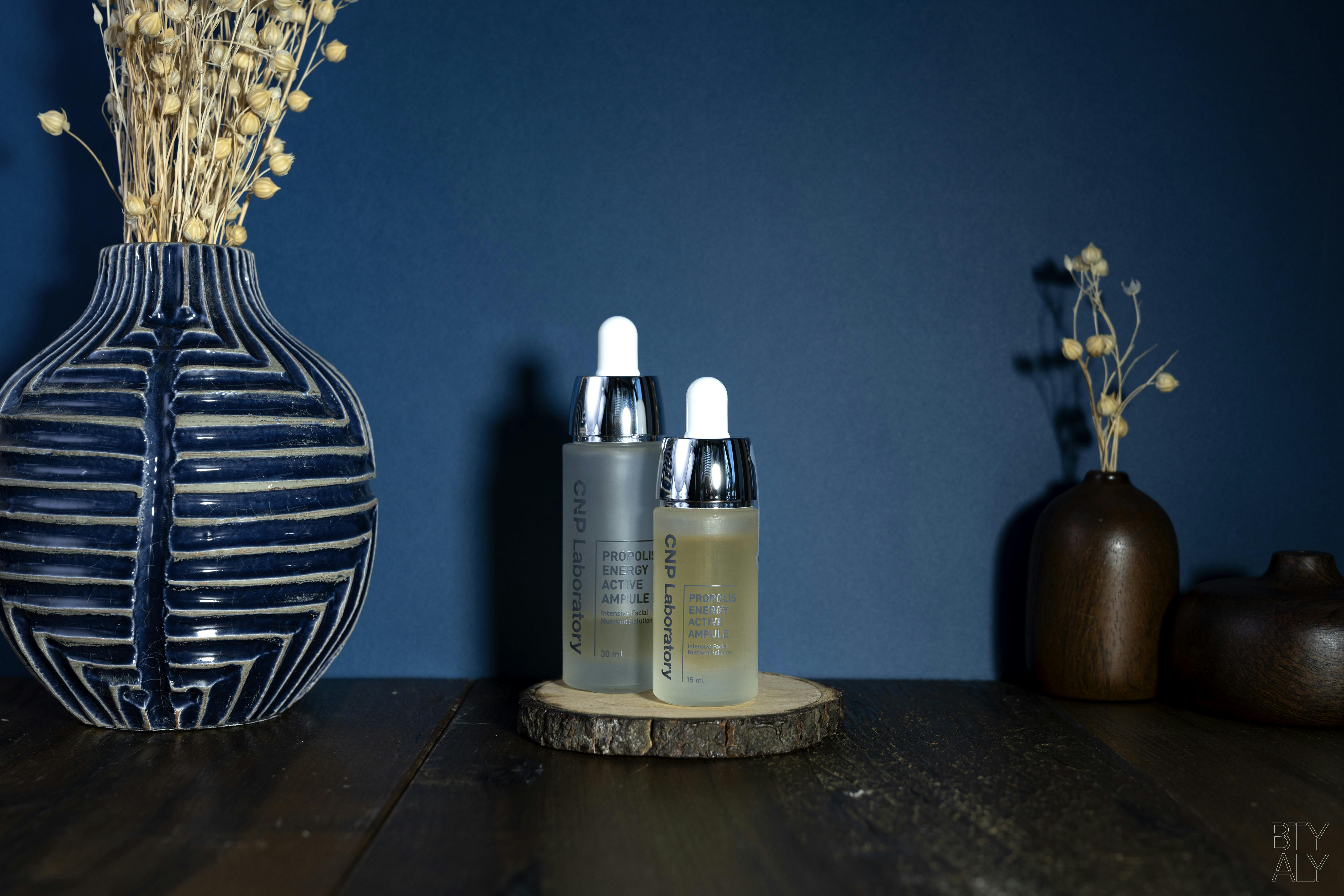 Recommendation
B+
Good, but a bit too expensive!
Pros
- the formula is very rich in active ingredients that are good for the skin,
- its repairing and hydrating effect makes it the perfect product for damaged and sensitised skin,
- a very comforting texture for the skin, without being greasy,
- the immediate plumping effect, it provides comfort right away,
- the anti-ageing and radiance effect, which is visible over the long term,
- the purifying effect thanks to the propolis.
Cons
- I think it's quite an expensive product, especially when you look at the size. There are quite a few other products in this category that are more affordable.
product name
Propolis Energy Active Ampule
brand name
CNP Laboratory
packaging
A polished clear glass bottle with a silver cap containing a pipette. Very simple and sleek.
fragrance
A very light, aromatic scent that you can barely smell.
texture
A slightly thick liquid gel texture. At first, the product feels a little rich, but in just a few seconds, the skin absorbs it, leaving no greasy, or sticky feeling.
For Who
For all skin types, especially sensitive skin! All ages.
Concerns
– acne prone skin,
– redness, inflammation,
– irritated, sensitised skin,
– dehydration,
– dryness,
– dull skin.
Method
I apply the CNP Laboratory Propolis Energy Active Ampule in the morning at the moment, but you can use it morning and/or evening.
After applying my essence(s), I take the equivalent of 1/3 of the pipette and massage my face and neck with it. Once it's almost absorbed, I finish with some hand pressures on my skin and continue with the rest of my routine.
Key Ingredients
A fairly comprehensive formula, with a number of interesting ingredients, such as:
– soothing, repairing, anti-bacterial and purifying propolis extract,
– hydrating honey,
– madecassosside extract, from Centella Asiatica, a highly soothing, purifying and antioxidant plant,
– Purslane (Portulaca Oleracea): a hydrating, anti-oxidant ingredient,
– Beta-Glucan: a hydrating, soothing and antioxidant ingredient,
– hyaluronic acid and glycerin: hydrating ingredients,
– Ascorbyl Palmitate, an antioxidant vitamin C derivative that enhances the complexion's radiance,
– arginine, an amino acid with antioxidant properties,
– anti-ageing peptides: Palmitoyl Tripeptide-1, Palmitoyl Tetrapeptide-7,
– allantoin, a soothing ingredient.
Ingredients
Water, Butylene Glycol, Glycerin, 1,2-Hexanediol, Polysorbate 20, Sophora Angustifolia Root Extract, Imperata Cylindrica Root Extract, Hydroxyethylcellulose, Propolis Extract (1932Ppm), Arginine, Carbomer, Allantoin, Madecassoside, Codonopsis Lanceolata Root Extract, Melissa Officinalis Leaf Extract, Ficus Carica (Fig) Fruit Extract, Punica Granatum Fruit Extract, Pentylene Glycol, Sodium Hyaluronate, Pelargonium Graveolens Flower Oil, Beta-Glucan, Caprylyl Glycol, Sodium Citrate, Hydroxyphenyl Propamidobenzoic Acid, Honey Extract, Sodium Lactate, Acrylates/​C10-30 Alkyl Acrylate Crosspolymer, Citric Acid, Ascorbyl Palmitate, Biotin, Palmitoyl Tripeptide-1, Palmitoyl Tetrapeptide-7, Disodium EDTA, Citronellol, Geraniol.
Ingredients not included
– alcohol,
– dyes.