Intro
Disclosure:
We, or the author, purchased this item.
We may receive commission (from a sale) if you click on and purchase from affiliate link(s) below. You'll be helping to support the magazine.
Here's my review of the Pure Artemisia Watery Calming Cream by the traditional Korean skincare brand Hanyul, a perfect soothing moisturizer when it's hot outside!
Before summer really comes to an end, let me tell you about my favorite night moisturiser for the season! Your skin is sensitive and overheated, and you don't like heavy or overly rich textures? Look no further than Pure Artemisia Watery Calming Cream from the Korean skincare brand Hanyul! You're gonna love it!
Dubai's interminable summer is finally fading (well, not completely, there's still a good two months of heat to go, but we're on the right track!). Basically, this means that the air conditioning has been continuously drying out my skin for over three months now. And at this stage, I really need to adapt my routine precisely to avoid my skin ending up in shambles.
I talk about it every year around this time, but I understand that it's hard to imagine when you live in a more temperate climate. Where I live, the air is parched (and drying) inside because of the air conditioning, but it's still too hot outside to tolerate skincare products with very rich textures.
So a routine that would probably work in winter in France for example doesn't work at all here. I have to find products that are able to repair my skin but aren't too greasy either, and if they're refreshing, that's definitely a plus!
If you add to the equation the fact that I'm using some pretty hefty retinoids (I've gone back on tretinoin, to tell you the truth), I also need some soothing effect.
In short, I have a lot of skin needs that could be contradictory! But as is often the case, K-Beauty rose to the challenge brilliantly, and it was in South Korea, obviously, that I found the perfect hydrating moisturiser for my suffering skin.
Let me introduce you to the Pure Artemisia Watery Calming Cream from the Korean skincare brand Hanyul!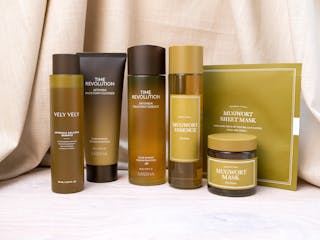 Ingredients
Focus on: Mugwort/ Artemisia
When South Korea comes up with a new miracle ingredient for skin damaged by pollution, you can be sure that I want to tell you more about it! After the huge popularity of the Cica trend in skincare, let's focus today on Mugwort (or Artemisia), which will be everywhere this year, at least in K-Beauty products.
Read more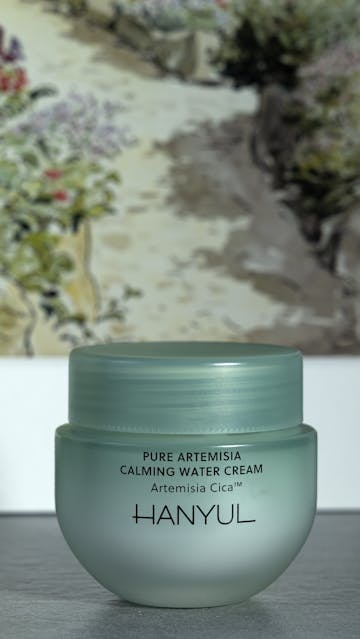 Hanyul Pure Artemisia Watery Calming Cream, product presentation:
Just a quick reminder to introduce you to the lovely brand Hanuyl, which I love!
Amorepacific, one of Korea's largest beauty conglomerates, is the parent company of the brand Hanyul. Compared to other luxury names from Amorepacific, like Sulwhasoo for example, Hanyul would be more of a mid-range brand. Beware, it certainly isn't cheap, however! But if you want to discover the magic of Korean hanbang skincare, starting with Hanyul is a good entry point.
Indeed, the brand Hanyul likes to emphasize that its formulas are inspired by "traditional folk remedies handed down from generation to generation". The brand thus reinterprets "the wisdom of nature and tradition" to modernize them and ensure they are desirable to a younger clientele.
Hanyul's identity is indeed deeply rooted in the principles of traditional Korean medicine. It's clearly a "hanbang" brand, which means it uses local remedies and natural ingredients.
Korea still maintains deep ties with its past. When you visit the country, this is really something you can feel. The architecture of Korean cities reflects this. In the middle of all the huge skyscrapers, it is not uncommon to see a temple or a hanok, the typically Korean traditional houses.
This convergence of two worlds, modernity and tradition, is really what makes Korea special, and we could say that the Hanyul brand is an excellent representation of this! With its packaging both design and inspired by the past, its very innovative formulas but that use traditional ingredients and ancestral recipes, this duality is totally part of Hanyul's identity.
Each range highlights a particular ingredient or complex of ingredients, and in the Hanyul Hanyul Pure Artemisia Watery Calming Cream, Artemisia/ Mugwort is in the spotlight!
Hanyul's Artemisia range is aimed at sensitised, overheated skin that is uncomfortable because of irritation but still seeks fresh, not heavy, textures suitable for higher temperatures.
The entire range comes in a stunning aqua-green packaging, very fresh and elegant, which is always a plus when you have a sense of beauty! 😉
And the undisputed star of this Artemisia range is this wonderful Pure Artemisia Watery Calming Cream, which isn't quite a cream in the traditional sense of the word…
Its texture almost reminds me of a sleeping mask, because it's literally bursting with water. It's closer to a gel-cream, but there's still a 'bouncy' aspect that will make the skin looking plumped!
And clearly, I tend to have a heavy hand with it. It's hard to resist diving into the jar and applying a generous dose of this delicious, fresh moisturiser!
Because the big plus of Pure Artemisia Watery Calming Cream is its sensoriality! Its texture is everything you love when you have sensitive combination skin or dry skin, but don't like textures that are too heavy. It's melting, comforting and immediately soothes overheated, sensitised skin.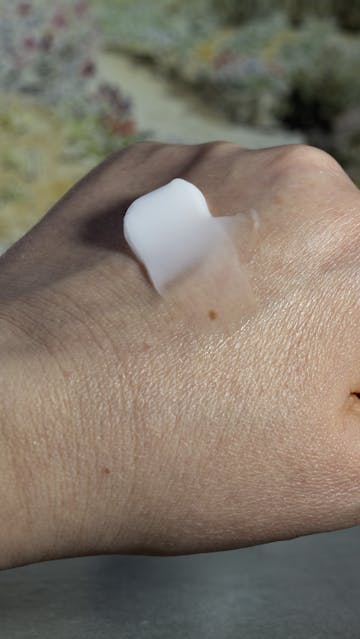 It's fragranced, too. And really, I'm sorry for all the fragrance-haters out there, but I'm literally enchanted by the smell! A fresh, green scent, like cut grass, with a subtle, discreet floral base. A real treat for the senses!
I'd like to take this opportunity to remind you that fragrance isn't always irritating if you have sensitive skin. Brands can develop fragrances that are suitable for sensitive skin, and not everyone is allergic to fragrance either. I think it would be a shame to deprive yourself of scented skincare products just because you have sensitive skin!
The formula contains a good number of soothing ingredients, including:
– niacinamide: soothing, but also antioxidant, purifying, improves the radiance of the complexion… A real multi-tasker!
– panthenol, a derivative of inulin, a prebiotic ingredient, and soothing Lactobacillus Ferment,
– Mugwort (or Artemisia), a Korean plant widely used in traditional Asian medicine for its soothing properties (see my Focus article on Artemisia for all the info),
– antioxidant and soothing Centella Asiatica,
– hydrating glycerin.
You can use it in the morning and/or evening. And its texture is absorbed very easily.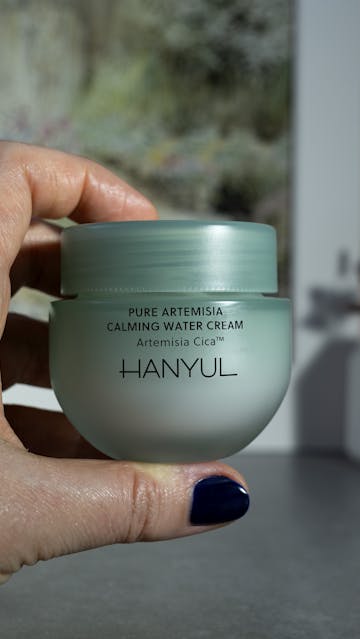 Hanyul Pure Artemisia Watery Calming Cream, my experience:
I have a confession to make. I discovered this Hanyul Pure Artemisia Watery Calming Cream last summer. And I've already used it in combination with the Aestura Atobarrier 365 Hydro Soothing Cream Gel, because it's a combo I love at this time of the year!
The Aestura gel cream in the morning, and the Hanyul Pure Artemisia Watery Calming Cream in the evening, as a night cream/sleeping mask version (given the quantity I use!). This combo is a godsend for helping my skin survive the torrid Dubai summer!
I've mentioned it earlier, but the heat and humidity coupled with the air conditioning are generally fatal for my skin. I really needed to soothe my skin effectively at night, and this Hanyul Pure Artemisia Watery Calming Cream isn't just a joy to use, it's also very effective at calming my demanding skin!
Its refreshing, melting texture is really pleasant, and it's a genuine pleasure to apply it to my skin in the evening. It's fresh, ultra-soothing and comfortable enough. And even with my sensitive skin dried out by tretinoin, it's perfect for me at the moment!
The brand reformulated it this year, but to be honest, I didn't really feel any difference from the previous formula. Maybe a tad more comfort in this 2023 version, but it's subtle, and I have to admit that I think it's all for the best if the cream is slightly richer. That's fine with me! 🙂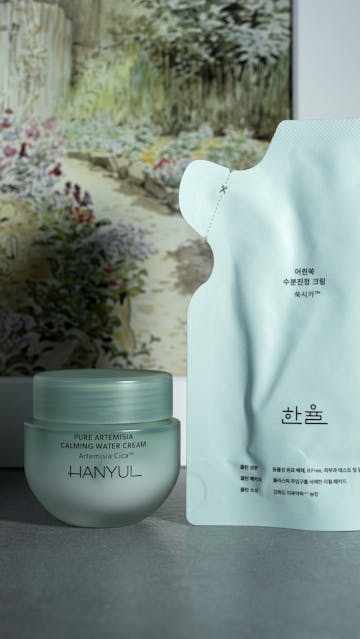 In conclusion:
I've already used up a whole jar of this Hanyul Pure Artemisia Watery Calming Cream since the start of the summer, and I'm on course to use up a second one before real autumn arrives!
It's a good thing that the brand regularly runs special offers with refill sets, because if you're like me, you won't want to save it up because this moisturiser is so irresistible to use!
I think I've found my favorite night moisturiser for the warmer months! 😀
The Hanyul Pure Artemisia Watery Calming Cream retails between $33 and $50 for 55ml depending on the retailers.
Product Review in detail
Summary
Hanyul Pure Artemisia Watery Calming Cream
"A product that provides soothing comfort even for weakened barriers even against high stimulation.
With 24-hour moisturization, it keeps your skin moist throughout the day."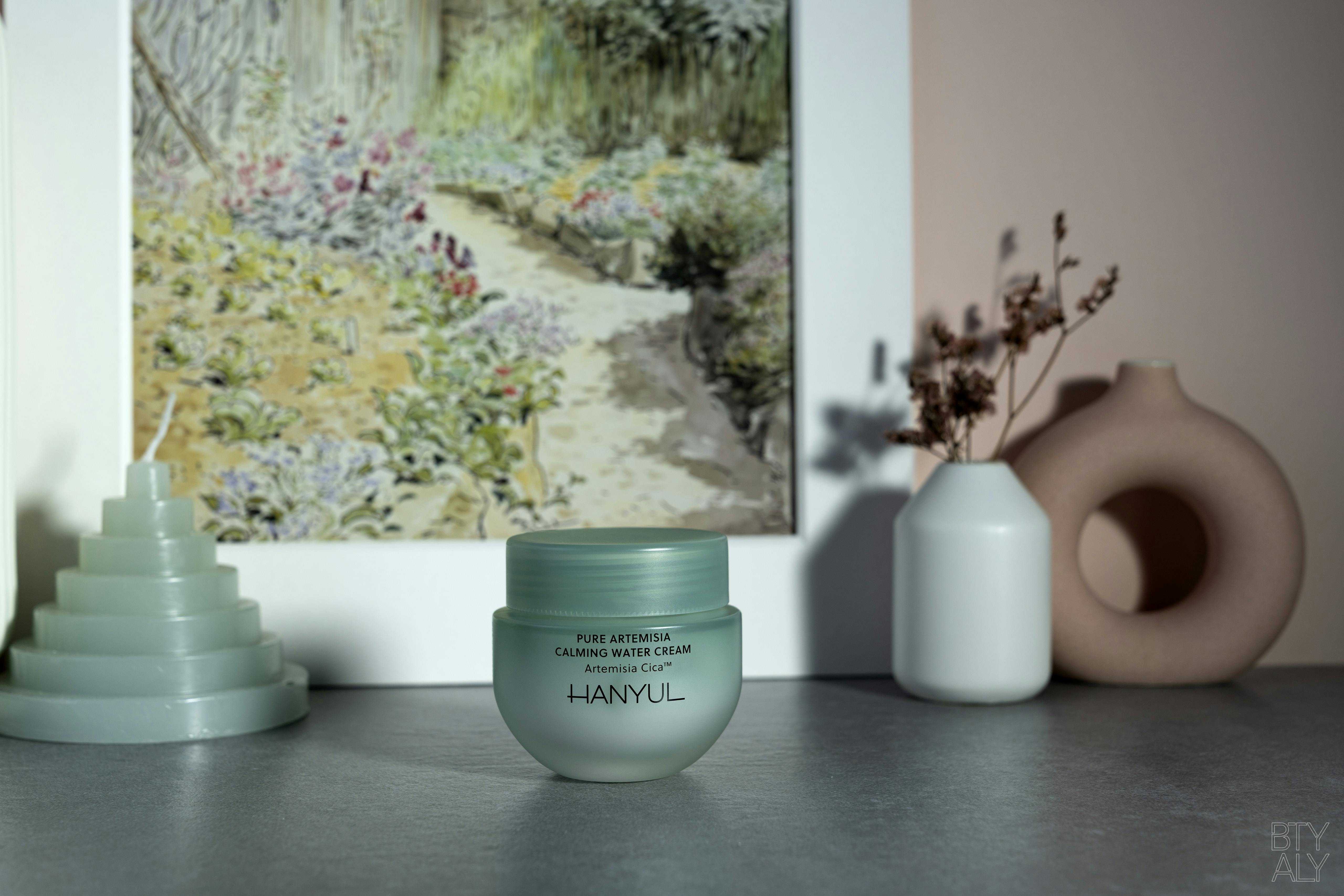 Pros
- the formula contains several interesting soothing and repairing ingredients,
- the immediate cooling and calming effect,
- the soothing effect is long-lasting,
- a reparative effect without heaviness, the fresh texture is very pleasant to apply,
- the sensation of comfort is immediate and long-lasting, with no greasy feel,
- its sensorial aspect: the texture and fragrance are delightful,
- the scent of fresh cut grass is an absolute joy,
- I love Hanyul's packagings, and this one is no exception.
Cons
- the price is a bit high,
- the brand isn't available everywhere, even online.
product name
Pure Artemisia Watery Calming Cream
packaging
An adorable aqua green round jar, reminiscent of traditional Korean pottery.
fragrance
The fresh, green scent of cut grass is pure delight!
texture
A melting, refreshing gel-cream texture that feels delicious on the skin.
For Who
All ages.
For all types of combination skin, even those with a tendency to dryness, and especially:
– sensitive or sensitised skin, with a damaged protective skin barrier,
– reactive skin that gets red easily.
Concerns
– tightness, discomfort and dryness,
– redness,
– sensitized, damaged skin,
– overheated skin,
– sensation of discomfort due to irritation.
Method
I use the Hanyul Pure Artemisia Watery Calming Cream more in the evening for its soothing effect, but it can be used morning and/or night.
I pick up the equivalent of a large dab of cream with a spatula and apply it to my face and neck at the end of my routine, after my serums.
Key Ingredients
The formula focuses mainly on soothing the skin, in particular with:
– niacinamide: antioxidant, purifying, improves the complexion's radiance… It's a star cosmetic ingredient!
– panthenol, a derivative of inulin, a prebiotic ingredient, and soothing Lactobacillus Ferment,
– Mugwort (or Artemisia), a Korean plant widely used in traditional Asian medicine for its soothing properties (see my Focus article on Artemisia for all the info),
– antioxidant and soothing Centella Asiatica,
– hydrating glycerin.
Ingredients
Water, Glycerin, Butylene Glycol, Dicaprylyl Ether, Artemisia Argyi Leaf Water (35,724Ppm), Methyl Trimethicone, Niacinamide, Bis-Hydroxyethoxypropyl Dimethicone, 1,2-Hexanediol, C14-22 Alcohols, Cetyl Ethylhexanoate, Panthenol (5,000Ppm), Glyceryl Stearate Citrate, Hydrogenated Poly(C6-14 Olefin), Hydroxyethyl Acrylate/​Sodium Acryloyldimethyl Taurate Copolymer, Stearic Acid, Ammonium Acryloyldimethyltaurate/​VP Copolymer, Glyceryl Polymethacrylate, Glyceryl Stearate, Polymethylsilsesquioxane, Palmitic Acid, Arachidyl Alcohol, C12-20 Alkyl Glucoside, Fragrance, Glyceryl Caprylate, Behenyl Alcohol, 2,3-Butanediol, Arachidyl Glucoside, Ethylhexylglycerin, Disodium EDTA, Sorbitan Isostearate, Propanediol, Lecithin, Lactobacillus Ferment, Glucose, Tocopherol, Inulin Lauryl Carbamate, Artemisia Argyi Leaf Extract (10 Ppm), Centella Asiatica Flower/​Leaf/​Stem Extract.
Ingredients not included
– alcohol,
– dyes.