Intro
A thorough review of the cult favorite product from Biologique Recherche, the Lotion P50W. This exfoliating acid toner is indeed known as a very effective product. I share my experience with this product and also explain the formula and the ingredients.
Very few products are able to truly transform your skin like the Biologique Recherche Lotion P50 can. In my case, this treatment helped me get rid of the hormonal acne I had been dragging around for years. No wonder the Lotion P50 has a 'cult favorite skincare product' status in the skincare addicts community!
"A cult favorite product? Really?" If you were reading this in France, I would not be surprised if you had never heard of it. Quite surprising, because the brand is as French as it gets!

This can be quite funny as a French person reading about the brand in American magazines. Side note: Biologique Recherche, that many pronounce Biologique Recherché, like Beyoncé. Tip: there is no é here, the "e" is mute (I know, the French language is everything but logical ah ah). So these magazines usually describe the Lotion P50 as the best-kept beauty secret of French women. Well, indeed, it's a secret, and it is so well kept, that most French women don't even know it exists!

Initially, I thought it was just me, who had never heard of the brand. I assure you that I'm not boasting here, when I say I know a lot of beauty products. I mean really, a lot. Biologique Recherche is a 'professional' skincare brand for beauty salons, and spas, and I worked for a competing brand for beauty professionals in France for 10 years. So, I definitely should have been in the know! (Can you tell that I hate when it happens? Ah ah ah)

So oddly enough, before reading British and American skincare blogs, I had never heard of this product and that brand. Do a Google search, type "Lotion P50 Biologique Recherche avis" and you will see that most reviews you will find are in English. There are almost no reviews in French.

It's a little weird, especially for a French brand. When some say that no one is a prophet in their country, I believe that this precept applies perfectly to Biologique Recherche!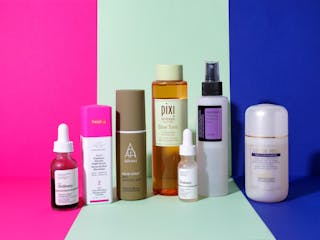 Ingredients
Focus on: exfoliating acids (AHA, BHA, PHA)
Some cosmetic ingredients are notoriously great to give the skin a true glow from within. And exfoliating acids are definitely amongst these ones!
Read more
The brand: Biologique Recherche
Biologique Recherche is typically the kind of brand I love: very technical, independent, family owned and quite confidential. One of those brands that have a great reputation solely due to the exceptional quality of their products. The antithesis of big companies like L'Oréal or Estée Lauder, who will spend millions on stars, huge advertising campaigns you see everywhere.
Usually, when you hear about Biologique Recherche, it's always through someone who has really tried the products, and who isn't paid to promote them. The old-fashioned and trusty way of word of mouth. In a nutshell, someone like myself, who hasn't been paid a cent to tell you about it!
So you will mainly come across Biologique Recherche among beauty professionals, spas and beauty salons. This will nearly always be through people who have been well trained to follow the brands technical protocols. The cabin treatments are very high end and the brand is generally distributed in very beautiful places, along with a super chic clientele.
When the laboratory was created, 40 years ago, Biologique Recherche wanted to address skincare professionals, disappointed by the existing beauty products on the market. Their approach was to create not only ultra-concentrated products, but also technical and rigorous cabin protocols. It's this clinical skincare approach that has forged the brand's serious professional reputation and effectiveness around the globe.
A beauty professional has done a lot for the reputation of the brand in the United States, her name is Aida Bicaj. She's very well known in the New York fashion scene. She takes care of the skin of all the fashion VIPs in New York and she has among her clientele a considerable number of models and fashion designers who share her name with their friends as they would an insider secret.
Aida Bicaj has been working with Biologique Recherche for years and has contributed in seeing their skincare products become popular, especially their bestseller, the Lotion P50.
In Europe, and worldwide on the internet, it's the English blogger Caroline Hirons who helped the Lotion P50 to become well known. Through her reviews on her blog and on her clients when she does facials (she has a skincare cabin in London). She swears by acid lotions and the Lotion P50 is definitely one of her favorites.
Product presentation: Biologique Recherche Lotion P50W
It's an exfoliating acid toner, not to be confused with a classic toner. Exfoliating toners are a treatment for the skin, generally recommended if you have uneven complexion or a lot of texture and if you want an anti-aging effect. You can also consider these kind of products as a "peeling treatment".
Regarding the Lotion P50, the term "exfoliating toners" is probably too reductive.
According to the son of Biologique Recherche's founders, Phillipe Allouche (source: the podcast Breaking Beauty), P50 is not only an exfoliating product but it also helps to strengthen the skin barrier for a more resistant skin and it also gives a lot of radiance.
About the name P50, according to Phillipe Allouche, "P can be like Peeling and 50 can be also 2 epidermal cycles because we found out that after 2 epidermal cycles, 50 to 52 days, we really get great results with the P50."
Basically, it means that the best results are visible on the skin after 2 months of using the Lotion P50, which correspond to 2 complete cycles of skin renewal.
The W version is intended for sensitive skins or if you're not used to exfoliating with chemical acids. This is usually the first lotion recommended by Biologique Recherche, if you apply this kind of product for the first time. When your skin gets used to it, you can then switch to the other versions of the Lotion P50.
There are 8 different versions of the Lotion P50, depending on your skin type but also in some cases, the legislation of each country (the acids are regulated differently from country to country and the original version of the Lotion P50, P50 1970, which contains phenol, an ingredient that is now forbidden in Europe, is still allowed in the US).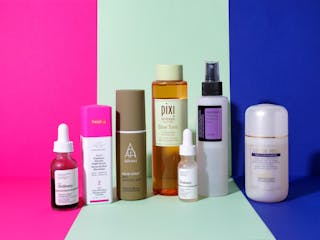 Ingredients
Focus on: exfoliating acids (AHA, BHA, PHA)
Some cosmetic ingredients are notoriously great to give the skin a true glow from within. And exfoliating acids are definitely amongst these ones!
Read more
My experience:
Exfoliating acids have been part of my skincare routine for years. It's essential for me and my dehydrated and dull combo skin! I heard a lot of great things about the BR Lotion P50 and it's considered one of the most efficient exfoliating products. It had been on my wishlist for a while.
I always hesitated taking the plunge because it seemed a little too strong to me compared to the other exfoliating products I had used up until then. I was even afraid it would irritate my skin!
However, after I did some research about it, and as explained above, I realized that depending on the version of the P50 Lotion you chose and especially according to its application method, it makes a big difference on how it should effect your skin. I decided that I should probably buy it from a counter where I could get proper advice, from someone well trained, and who is used to working with the brand.
Last year, I took advantage of a trip to London to visit the beautiful Liberty department store, which is one of the few resellers of Biologique Recherche in England. I came across an adorable sales assistant who took the time to explain the concept of the brand and the best way to use the products.
Indeed, I didn't really know which version of the P50 Lotion was the best for me and I was also wondering what was the best way to integrate it into my skincare routine.
She recommended the sensitive skin version, the Lotion P50W, and told me that as soon as my skin was used to it, I could change to the vitamins enriched version, the Lotion P50V for mature skin (because yes, it's official: I'm now part of the mature skin club!).
She also told me that I could apply it every day if I wanted, but because I told her that I also used a retinol treatment, she advised me to use it only 2 or 3 times a week, preferably on the evenings I don't use my retinol treatment.
Important:
While I'm using the Lotion P50 or any other exfoliating products with AHA, BHA and/or PHA, I never forget to apply a sunscreen in the daytime (SPF20 minimum but in Dubai, I use at least an SPF30). And I apply it every day, not just the day after I used the Lotion P50. The reason is that exfoliating acids are great ingredients but they render the skin more sensitive to the sun.
I'm going to be brutally honest here, but if you're not ready to apply a sunscreen product every day, it is not a good idea to be considering this treatment. Yes, even if you live up in the northen parts of the UK. Yes, even in December. And no, sorry, your foundation with an SPF is not enough. Unless you put a super thick layer, the kind that makes you look super cakey (not a good look). A foundation is also not designed for that purpose, nor BB creams, nor the cushions foundations (sorry). Only sunscreens can give your skin the protection you need, admitting that you use enough, of course (= 1/2 teaspoon for the face, neck and ears).
Result :
I saw the result on my skin after a few weeks. To be certain that it was indeed this product, I stopped using it for 1 month after I used it for 2 months straight, then resumed and now, I have no doubt about its effectiveness. My skin definitely looks different while I'm using it!
My skin is much smoother and most importantly, my hormonal acne has gone. Even during that typically tricky week of the month, I have almost no pimples.
I also had a skin with a lot of "texture", not smooth at all. The texture areas are much less apparent now. My pores are still there, always visible but they clog up much less than before.
I saw the result on my skin after a few weeks. […]
I have no doubt about its effectiveness.
Regarding the anti-aging effect claimed by the brand, I think the results may show in the very long term, and I personally believe in the preventive action of a product. And it's fine for me. I believe that protecting your skin makes a big difference.
I saw a blatant effect on the balance of my skin and it's not often that I come across a cosmetic product able to do that! Most cosmetic products maintain a skin condition or improve it a little but very few products are able to transform it. Lotion P50 is truly a game changer for my skin.
I even find my skin stronger than before and I really see the difference with other exfoliating products that I've used before, which even if they helped me to keep my acne at bay and clear out my skin, have also irritated it a lot. With the Lotion P50, after the first two weeks of use, my skin doesn't feel "weak" like it has with other exfoliating products.
In short, for me, Lotion P50 fully deserves its cult favorite skincare product status.
Value for money:
If you consider that it's an exfoliating and anti-age treatment and not a toner (as many still believe), the price is decent. Well, at least, in France because abroad, the Lotion P50 retails at least 30% more (in Dubai, it's ridiculously more than double the price).
For me, its result fully justifies its (normal) price.
The Biological Research Lotion P50W retails in France at the price of 19 euros for 50 ml (travel format), 48 euros for 150ml and 83 euros for 250 ml. In the UK, the 150 ml retails for £55. In the US, the 150 ml retails for $65.
One detail: as I use the Lotion P50 only 2 to 3 times a week, my bottle lasts me about 6 months.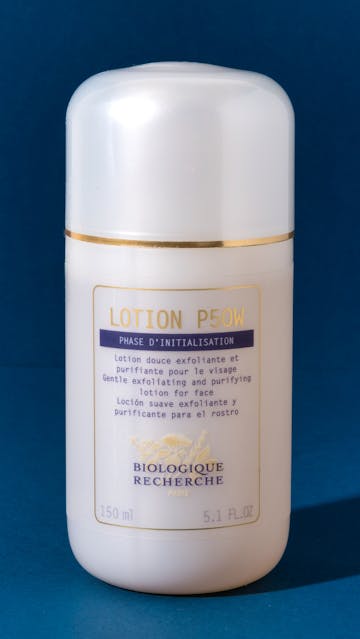 Availability:
But, there's a but. This miracle product is extremely complicated to find. In France, it's not available online, at all.
You have to physically go to the beauty salons that work with the brand. If you're in Paris, you can go directly to their Ambassade de Beauté, 32 Av. des Champs-Élysées, 75008 Paris.
You can also contact them to find out if there is a Biologique Recherche distributor near where you live by calling +33 1 42 25 02 92. They are extremely helpful and share information easily. (I also contacted them via Instagram and the person who answered me was lovely and gave me all the info I needed).
I bought my bottle of Lotion P50 in London, at the Liberty department store where the brand is distributed (I paid around the equivalent of $55) and in the United States, the product is available at Shoprescuespa.com for $65.
In summary:
It's definitely not an easy product to find and also not the most pleasant to use, but in my opinion, it's totally worth the hassle!
Product Review in detail
Summary
Biologique Recherche Lotion P50W
« The P50, P50V and P50W balancing exfoliators are the unique fruit of 30 years of reflection and experience.
P50 balancing exfoliators speed up the epidermis' natural exfoliating process and the reconstruction of the epidermal shield. The fortified epidermis can then fulfil its protective functions completely, enhancing skin's self-regeneration potential. Lotion P50, our most famous and coveted product, is the keystone to Biologique Recherche skin care treatment. All Biologique Recherche skin care treatments, whether administered at home or in a beauty institute, start with the P50 ritual.
It is applied in the morning and in the evening. It gently exfoliates the skin, regulates excessive sebum secretion, moisturizes and helps maintain the epidermis' acid pH. It prevents and treats in-growing hairs, and is therefore ideal for pre and post shaving skin care.»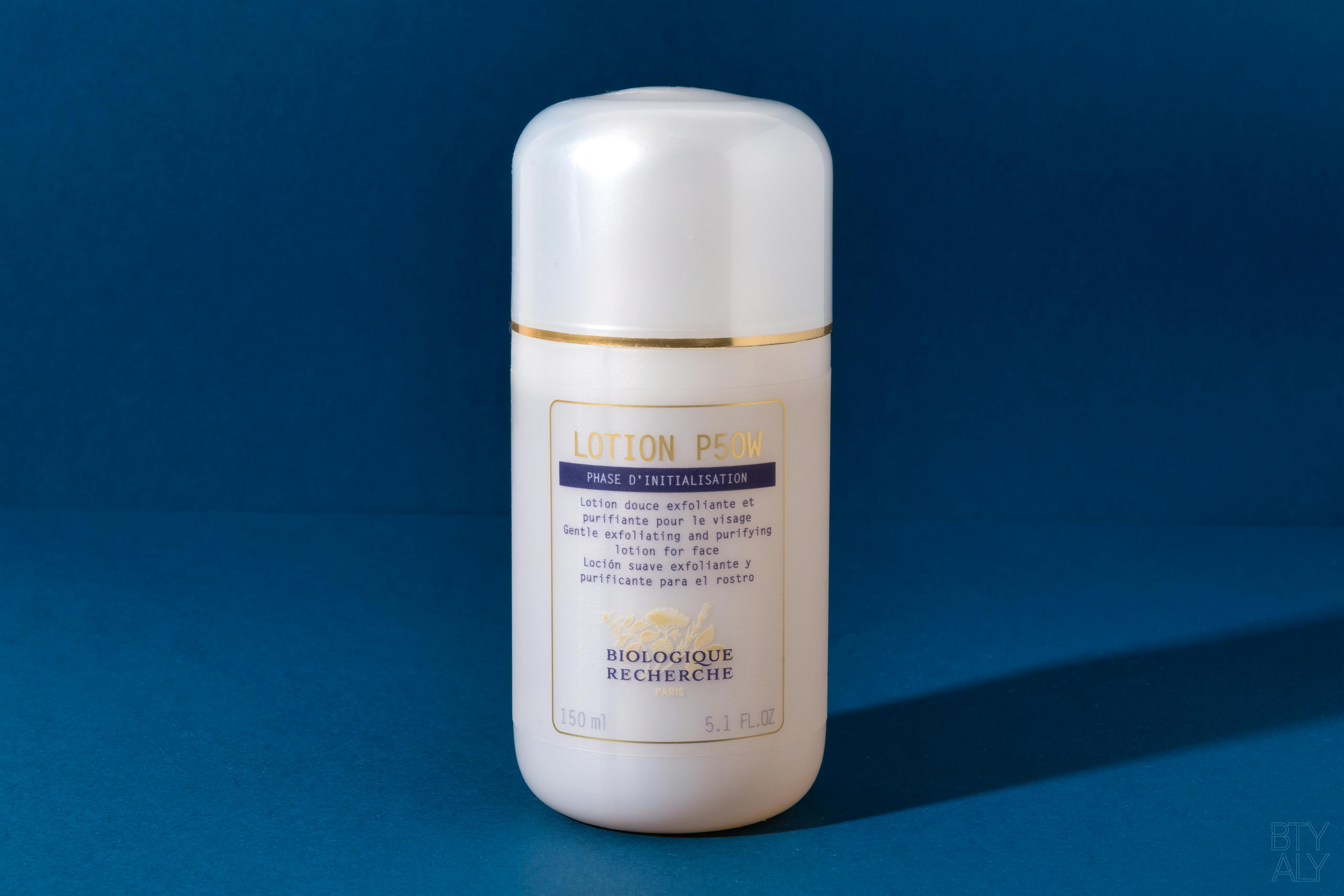 Recommendation
A-
I don't want to be without it.
Pros
- its impressive efficiency, it really works!
- its boosting effect on radiance,
- it helps to even the skin tone,
- it helps to smooth the uneven skin texture,
- the very well balanced acids formula,
- it doesn't contain glycolic acid (so it's less harsh on the skin in the long-run),
- its shelf life, a bottle lasts a very long time.
Cons
- the packaging is not very modern, nor pretty,
- the smell of the product: it stinks (sorry),
- the feeling when you use it is not very pleasant,
- the very selective distribution makes it difficult to find. For example, it's insane that even in France, its country of origin, it's not available online!
brand name
Biologique Recherche
packaging
A white plastic bottle, which opens by unscrewing its stopper.
fragrance
Not very nice, strong vinegar smell.
For Who
For every skin type and mainly if you a have a
– mature skin,
– dull skin,
– a tired skin,
– an acne prone skin.
Concerns
– tired skin
– dull skin
– smoker
– skin exposed to the pollution
– mature skin
– sagging skin
– wrinkles and fine lines
– scars
– dark spots
– hyperpigmentation
– large pores
– uneven texture
– blackheads, whiteheads, pimples
Method
I use the Lotion P50W in the evening, 2 to 3 times a week.
I apply it after cleansing my face with a soft, low pH cleanser (the acids work better with a low pH environment) on a clean and dry face. As much as possible, I let my face dry a few minutes before applying the product because a wet skin is more sensitive to acids (if you have a very sensitive skin, it's even recommended to let the skin dry completely for 20 -30 minutes).
For the first applications (the first two weeks, in my case), it's better to use a wet cotton pad to apply the lotion (with the objective of diluting a little its effect) and then, after 2 weeks, you can apply it with a dry cotton. You can also use a gauze if you don't want to waste too much product, it works as well.
I always apply Lotion P50W by dabbing the product on the skin, never rubbing or swiping to not irritate the skin. I avoid the fragile area of the eye contour but I don't forget the neck and décolleté.
Once I have applied the Lotion P50W, I let it sit on the skin a few minutes (usually 2-3 minutes, but sometimes more, I can go up to 20 to 30 minutes). It's not mandatory but I find it more effective on my skin when I wait a little. Indeed, applying immediately another product on top would raise the pH of your skin and the acids would be less effective.
During this waiting time, my skin becomes quite red and warm but according to everything I could read here and there, it's perfectly normal. This feeling has decreased a lot compared to when I started to use this product. I've been using Lotion P50 for several months and my skin is quite used to it now so the redness is less obvious.
After the waiting time, I usually continue with a spritz of hydrating toner and then go on with the rest of my skincare routine.
Key Ingredients
The lotion P50W contains a mix of AHA, BHA and PHA which allows it to have a great exfoliating action on the skin, on the surface and in depth.
The exfoliating acids it contains are:
– several AHAs:
lactic acid, malic acid, citric acid, all three exfoliating, moisturizing and quite soft.
– cider vinegar:
which naturally contains citric and malic acid. It's also purifying and astringent (it helps reduce the pore size).
– a BHA, the salicylic acid:
an acid able to penetrate into the pores, ideal to avoid blackheads. It's also anti-inflammatory.
– a PHA, the gluconolactone:
an acid with a large molecular weight, less penetrating and irritating to the skin. It's an antioxidant and has an anti-inflammatory effect.
Note: the Lotion P50W doesn't contain glycolic acid, a very effective AHA but which can be a little too harsh on the skin. On me, it always irritates my skin and leaves me with redness and dryness in some areas, even if I use the product for a long time.
But the Lotion P50W also contains many other beneficial ingredients for the skin, such as:
– niacinamide:
a complete antioxidant ingredient that hydrates, helps to homogenize the complexion, reduces the size of the pores and also has anti-inflammatory properties.
– horseradish:
it has antibacterial properties and regulates the production of sebum.
– capsicum:
a purifying and antiseptic ingredient.
– burdock:
calming, balancing and soothing.
– magnesium chloride:
soothing, sebo-regulating and antiseptic.
– sulfur:
antibacterial and sebo-regulating.
– arnica:
soothing and anti-inflammatory.
– and some moisturizing ingredients such as glycerin, allantoin, urea, sorbitol.
Ingredients
Water (Aqua), Gluconolactone, Glycerin, Niacinamide, Propylene Glycol, Lactic Acid, Ethoxydiglycol, Magnesium Chloride, Malic Acid, Vinegar (Acetum), Phytic Acid, Citric Acid, Quillaja Saponaria Bark Extract, Cochlearia Armoracia (Horseradish) Root Extract, Arctium Lappa Root Extract, Capsicum Frutescens Fruit Extract, Arnica Montana Flower Extract, Sulfur, Allantoin, Sodium Salicylate, Serine, Urea, Sorbitol, TEA-Lactate, Sodium Lactate, Sodium Benzoate.
Ingredients not included
– glycolic acid-free,
– alcohol-free,
– mineral oil-free,
– silicone-free,
– synthetic fragrance-free,
– paraben-free.