Intro
Discover my detailed review of the vitamin C serum C15 Super Booster, from the American skincare brand Paula's Choice.
The quest for the perfect vitamin C serum is still going strong! The Paula's Choice C15 Super Booster is one of the top contenders for this title.  Let's check it out!
As you know, vitamin C serums are one of the staples of my skincare routine.

I couldn't find anything more effective to give my skin a glow plus a solid antioxidant protection!

But as I have already explained several times, it's quite difficult to find a vitamin C serum that meets my demanding specifications.

In a vitamin C serum, I'm looking for:
– a liquid, non-greasy, water-based texture, for better absorption and effectiveness on my skin,
– a formula that contains vitamin C L-Ascorbic (I prefer this ingredient to its derivatives, which are less effective on me),
– a sufficient concentration of L-ascorbic acid (between 10 and 20%),
– ideally, I prefer when there are other antioxidant ingredients in its formula (vitamin E, ferulic acid…) to make it more stable,
– a formula with a pH of 3.5 or less to ensure better stability of the formula,
– a bottle that protects the formula from air and light (no transparent glass),
– a good price, and a decent quantity of product (ideally 30ml).

Reminder: If I'm so picky and have all these criteria, it's because L-ascorbic acid/ vitamin C is certainly the most effective form of vitamin C but it's also the least stable in a water-based formula (which is the case for a lot of vitamin C serums). And a non-stabilized formula has the opposite effect to what I expect from a vitamin C serum, which is mainly great antioxidant protection. A non-stabilized formula tends indeed to be pro-oxidant instead of anti-oxidant. Hence the importance of its stability!

Unfortunately, it's quite difficult to find vitamin C serums that tick all these boxes!

Paula's Choice is a brand I discovered quite late, when it became more accessible in France.

I already tried and loved their 10% Niacinamide Booster, so I decided to try their C15 Super Booster, which is their version of the vitamin C serum.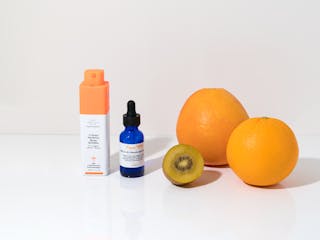 Ingredients
Focus on: Vitamin C (L-ascorbic acid)
Vitamin C (L-ascorbic acid) products are everywhere at the moment. It's not really surprising because this ingredient is really magic to give radiance to the complexion, the famous glow that everybody wants these days. But it's also a very unstable ingredient that needs a certain environment to be able to deliver all its benefits.
Read more
Mini-review:
I already explained in detail the philosophy of the brand Paula's Choice in my 10% Niacinamide Booster review.
If I had to summarize it, I would say that the brand uses scientifically recognized ingredients in its formulas for better effectiveness (vitamin C, retinol, exfoliating acids, hyaluronic acid, niacinamide, peptides, sunscreen…) and that they systematically discard any ingredient that may be irritating to the skin (alcohol, perfume, essential oils…).
You probably noticed it if you're a regular BTY ALY reader, I really like this approach to cosmetics, especially the part on effective ingredients (for the so-called "irritating" ingredients, I'm a little more flexible than Paula, I have nothing against essential oils, I actually like them!).
I also like the idea of "boosters", these treatments that you can add to your skincare routine to jazz it a little bit and to treat your skin when it needs it (or you can just do like me and use them all the time because #moreismore 😉 ).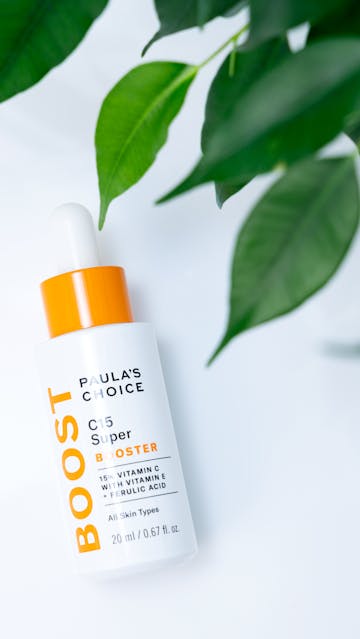 I consider the C15 Super Booster as a serum and I use it every morning to give my complexion a glow and also to help my skin protect itself from environmental aggressions.
With its 15% vitamin C L-Ascorbic concentration, it's supposed to be effective on dark pigmentation spots (but I don't really have any, so it's hard to give you my thoughts on this specific topic) and also on boosting collagen production.
For the boosting collagen effect, the results are visible in the very long term so I'll probably talk about it again in ten years ?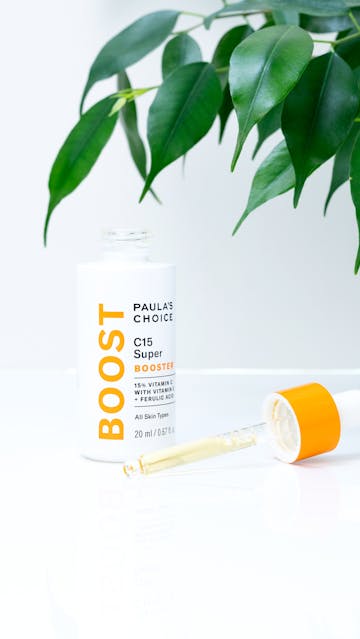 If you check the specifications of the perfect vitamin C serum I gave you earlier, the C15 Super Booster is doing a pretty good job!
– its texture is liquid and non-greasy,
– it contains 15% L-ascorbic acid,
– it also contains vitamin E and Ferulic acid, and even a peptide and hyaluronic acid,
– its pH is 3.0,
– its bottle is not transparent (it's an opaque white tinted glass).
However, when it comes to the quantity/price ratio, it's not really the best… It retails for $49 for 20ml.
Not cheap for a product that lasts me a maximum of 2 and a half months, by using it once a day in the morning on my face and neck (I also apply it to the eye area as recommended by the brand).
Regarding my user experience, I appreciated it! I use it at the very beginning of my morning routine, before the rest of my products. It's very liquid and absorbs quickly into the skin (it tends to be a little bit sticky, but nothing too bad).
It didn't irritate my skin, despite its low pH, wasn't drying either, thanks to its moisturizing ingredients (a peptide and some low molecular weight hyaluronic acid).
It also gave me good results on the radiance of my complexion, which is always good!
I also appreciate that it's quite easy to find online.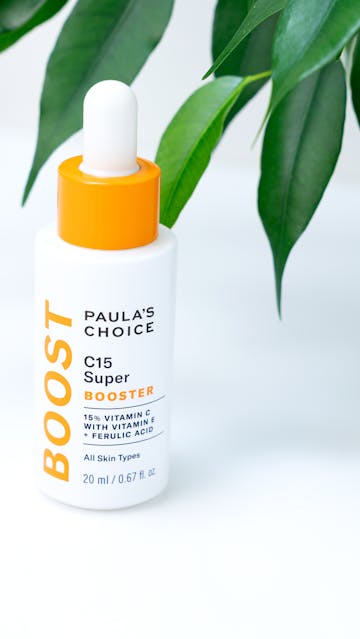 In conclusion:
I really like this C15 Super Booster from Paula's Choice. Its formula is very well made, as often with Paula's Choice products, with all the essential ingredients for a good result on the skin, and without unnecessary fillers.
But I still find that its price is quite high, especially considering its size (20ml). Fortunately, the brand often offers discounts so I usually wait for these to purchase it.
I must admit that I tend to prefer other cheaper vitamin C serums that I get delivered from the US (like the Maelove serum, for example).
That being said, I still enjoy using it so I would continue to watch for offers on Paula's Choice's website to repurchase from time to time ?
The Paula's Choice C15 Super Booster retails for $49 for 20ml.
Product Review in detail
Summary
Paula's Choice C15 Super Booster
"This concentrated booster with 15% pure vitamin C dramatically brightens uneven skin while improving the appearance of wrinkles and fine lines.
- Reveals a more radiant complexion.
- Vitamin C visibly brightens skin.
- Feather-light, liquid formula absorbs quickly.
- Use alone or add to your moisturizer or serum."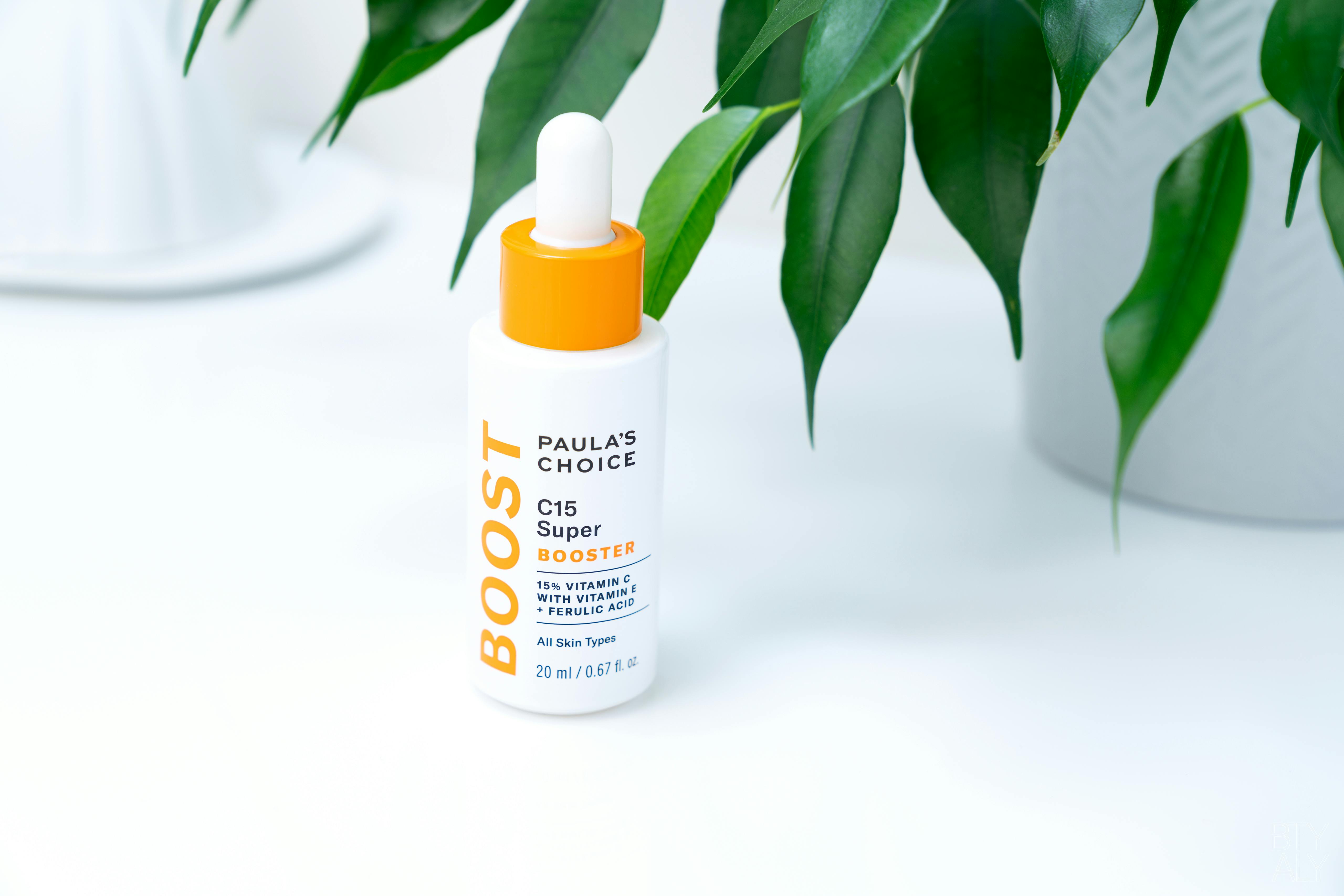 Recommendation
A-
An excellent product but not cheap, given its size.
Pros
- it contains 15% of vitamin C L-ascorbic,
- the low pH which allows the formula to be effective (3.0),
- the presence of vitamin E and ferulic acid, both of which stabilize vitamin C,
- it doesn't dehydrate the skin (thanks to some moisturizing active ingredients in the formula),
- it protects the skin thanks to its antioxidant properties,
- it maintained the radiance of my skin,
- it also helps to smooth the texture of my skin,
- I appreciate its boosting protection effect when combined with a sunscreen product,
- the super-liquid texture is easily absorbed, even with my combination skin,
- no added fragrance or dyes,
- it's easy to find online.
Cons
- it leaves a slightly sticky effect,
- its price, especially for its size, it's quite expensive,
- this goes for all the vitamin C L-ascorbic acid serums, but you can't keep the product very long (6 months maximum after opening) because this ingredient isn't very stable,
- you have to apply a high SPF during the day when you use this product (personally, it's something I do regardless but some may see it as a con).
product name
C15 Super Booster
brand name
Paula's Choice
packaging
A white opaque tinted glass bottle with a pipette.
fragrance
It smells a bit like orange, yet there is no added perfume in it.
texture
Very liquid but tends to be a little bit sticky.
For Who
– all skin types, including the most sensitive,
– tired, dull skin, smokers or people living in a highly polluted environment,
– skins with uneven texture,
– skins with hyperpigmentation,
– skins with a lack of firmness and elasticity.
If you have acne prone skin, just be aware that vitamin C can sometimes trigger a reaction. It may vary according to people. I personally have acne-prone skin and this product didn't make me break out.
Concerns
– tired skin
– lack of radiance
– smokers
– skins exposed to pollution
– mature skin
– lack of firmness
– wrinkles, fine lines
– scars
– pigment spots
– hyperpigmentation
– if the skin is exposed to UV (but you have to pair it with a sunscreen)
Method
I use it every morning on my face and neck after I have cleansed my skin with a low pH foaming cleanser and toned my skin. Usually, I wait a few seconds for my face to dry a little because the skin moisture can decrease somewhat the effectiveness of vitamin C.
I apply 7 to 9 drops of product on my face and neck and I let it absorb for a few minutes before carrying on with the rest of my routine.
I particularly appreciate that it absorbs very quickly in my skin because I layer several skincare products in my routine, so I really like this very liquid texture.
Key Ingredients
The formula of this serum is very well made, each ingredient is super useful to the skin here. Inside, you can find:
– an antioxidant complex containing 15% L-ascorbic acid, ferulic acid, and vitamin E: these three combined ingredients boost the antioxidant effects of vitamin C and also make it more stable (paired vitamin C is more effective and can be used over a longer period of time without it oxidizing too quickly).
– Glycerin: a humectant ingredient that retains the skin's natural moisture.
– Low molecular weight hyaluronic acid: deeply moisturizes the skin, reduces the appearance of fine lines and wrinkles.
– a peptide (Hexanoyl Dipeptide-3 Norleucine Acetate): anti-aging effect.
– Bisabolol: soothing.
– Panthenol: soothing, moisturizing, repairing.
The C15 Super Booster serum also has an acidic pH (3.0) which allows vitamin C to be more stable and effective for longer. Despite this acidic pH, I didn't feel any irritation when I was using it.
Ingredients
Water, Ascorbic Acid 15%, Butylene Glycol, Ethoxydiglycol, Glycerin, Ppg-26-Buteth-26, Peg-40 Hydrogenated Castor Oil, Pentylene Glycol, Tocopherol, Sodium Hyaluronate, Hexanoyl Dipeptide-3 Norleucine Acetate, Lecithin, Ferulic Acid, Panthenol, Bisabolol, Oryza Sativa (Rice) Bran Extract, Hordeum Vulgare Extract, Propyl Gallate, Sodium Gluconate, Sodium Hydroxide, Phenoxyethanol, Ethylhexylglycerin.
Ingredients not included
– parabens,
– alcohol,
– mineral oils,
– silicones,
– synthetic fragrance,
– dyes.