Intro
Spotlight on the new trendy ingredient in Korean cosmetics: Mugwort/ Artemisia, with a focus on its history, skin benefits, plus some product recommendations.
When South Korea comes up with a new miracle ingredient for skin damaged by pollution, you can be sure that I want to tell you more about it! After the huge popularity of the Cica trend in skincare, let's focus today on Mugwort (or Artemisia), which will be everywhere this year, at least in K-Beauty products.
I already mentioned the issue of pollution and its impact on our skin in my previous articles, especially in my Focus on Centella Asiatica. People with skin sensitized by pollution and stress has been constantly increasing in recent years.
It's a global trend, but in Korea, where fine-particle pollution from China is really damaging to health in general and, of course, to the skin, there is a huge demand for soothing products from beauty consumers.

Routines and products are becoming simpler to avoid overloading the skin with too many ingredients that can cause reactions (cosmetic formulas in Korea are traditionally quite long, but it's definitely starting to change at the moment).

Regarding the ingredients to calm and soothe, we all know that the best broths are cooked in the oldest pans! Applied to Korean cosmetics, it means that companies are looking to ancient formulas of traditional Asian medicine to rediscover herbs and medicinal plants that have proven their worth in treating and soothing the skin.
That's what happened with Mugwort/ Artemisia, a medicinal plant known and used for centuries in Korean culture to treat different ailments and also widely used in their traditional cuisine!
With the contribution of modern technology from Korean cosmetics laboratories, these companies that are leaders in cosmetic innovation, have been able to refresh the fairly traditional image of this ingredient and create very effective formulas. As you'll see, they are very minimalist too (with only one ingredient in the formula, in some cases!).
In Korea, it's clearly the most popular ingredient at the moment. After the Cica madness that has been going on for several years and has even been exported all over the world (I talked about it in detail in my Focus on Centella Asiatica), now, it's all about Mugwort! Last year, there were only 2 or 3 brands that had this ingredient in their ranges but they were so popular that everyone wanted to release their own Mugwort essence!
2018 was definitely the year of Cica products. I can already announce that in Korea, 2019 will be the year of Mugwort?
Even if my skin is not particularly affected by pollution, I was interested in Mugwort products because I started using stronger anti-aging ingredients in my skincare routine, which tend to make my skin more sensitive than usual (unfortunately this is the price to pay, as with retinol, for example).
As you will probably notice, at the end of the article, Mugwort and its skin benefits are a relatively recent discovery for me. I haven't tried most of the products yet. But this doesn't stop me from finding this ingredient very interesting and that's why I wanted to tell you more about it today!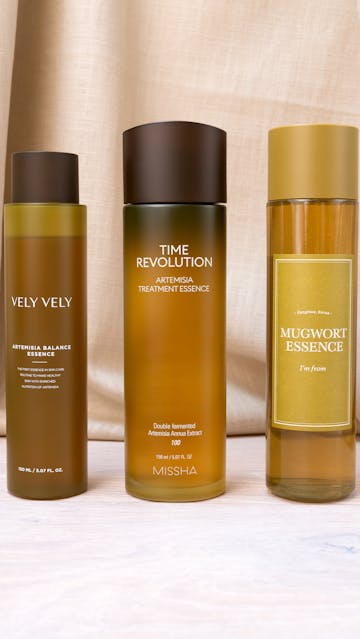 What is Mugwort:
There are several hundred species of Mugwort (also known as Artemisia or Wormwood). This family of plant includes herbaceous plants and shrubs, usually aromatic. They are part of the Asteraceae family.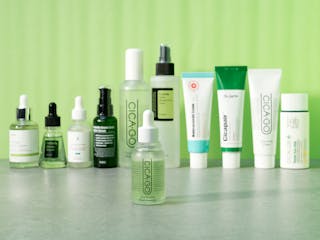 Ingredients
Focus on: Centella Asiatica (and the "cica" trend)
A huge trend in Korea, Centella Asiatica-based "cica" products are absolutely everywhere at the moment. Today, let's focus on this ingredient adored by sensitive skins!
Read more
The name "Artemisia" is associated with the ancient Greek goddess Artemis, goddess of wilderness, hunting, but also childbirth, and is associated with the protection of women and girls. Knowing that some species of Mugwort are used as an infusion to soothe menstrual cramps, you can see the connection ?
In Asia, Mugwort is used mainly as a medicinal herb for its antibacterial, antifungal and protective skin properties. It's used in traditional baths for its detoxifying properties, but also in infusions to help with digestion. It's also a common plant used in traditional Asian cooking recipes.
In short, Mugwort is well known and appreciated in Asia, and has been for centuries!
The 3 Mugwort/ Artemisia species I have seen in cosmetic formulas so far are all plants that grow mainly in Asia, especially in Korea, China, and Japan. These are the three species in question:
Artemisia Capillaris: this herbaceous plant has been used in Chinese botanical medicine for over 2000 years. It's prescribed in particular to treat hepatic problems (for the liver) and to relieve fevers.
In cosmetics, leaves and young shoots are mainly used for their antibacterial and antioxidant properties.
This is the type used in the Vely Vely Artemisia range.
Artemisia Princeps, known as "Japanese Artemisia". This Asian wormwood, well known in Japan as yomogi, and in Korea as ssouk, is a vigorous perennial aromatic plant, easily invasive. Its leaves and seeds are consumed or integrated into various traditional, culinary or medicinal preparations.
On the skin, it has anti-bacterial, anti-inflammatory and calming properties.
It's in the I'm From Mugwort range I'm going to tell you more about below.
Artemisia Annua, or Chinese wormwood, is a herbaceous plant species used in traditional Chinese medicine to fight fevers. It contains several active substances, including artemisinin, effective in controlling parasites of the genus Plasmodium, which is responsible for malaria/malaria disease. It's also used for the treatment of dermatitis.
In cosmetics, it has soothing and calming effects, and it also helps to retain moisture in the skin.
This is the variety you can find in Missha's Artemisia range.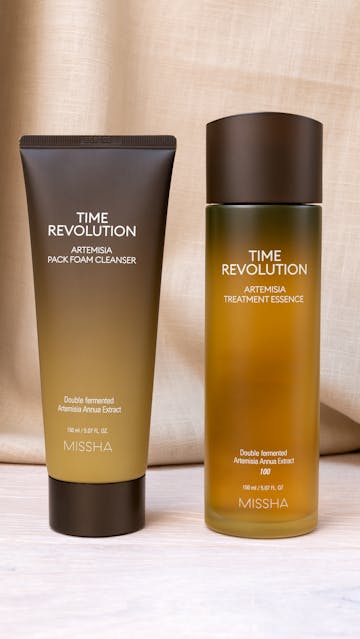 Mugwort is also closely linked to the history of Korea.
According to Korean mythology, about 4000 years ago, the son of the Lord of Heaven, Hwanung, descended from Mount Baekdusan, which lies on the border of present-day China and North Korea. He founded his own city and became its governor.
During his reign, a bear and a tiger asked Hwanung to make them human.
The latter promised that he would only grant their wish if they lived on garlic and Mugwort without sunlight, in a cave for a hundred days.
The tiger gave up in less than a month, but the bear endured the ordeal and Hwanung turned him into a woman.
Later, Hwanung married her (how convenient!) and she gave birth to a son, Dangun Wanggeom, who was the founder of the first Go-joseon dynasty in 2333 BC.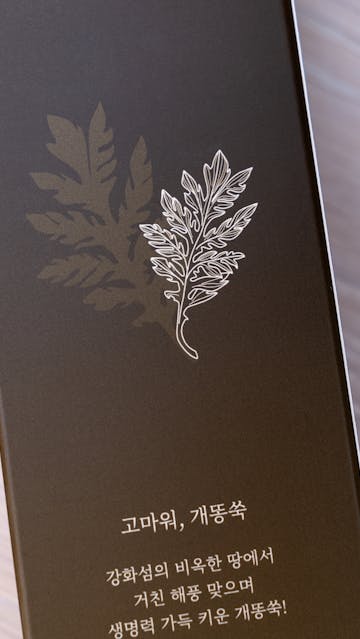 The benefits of Mugwort on the skin:
In cosmetics, Mugwort is therefore mainly used for its calming properties.
But it also has antibacterial, antifungal, anti-inflammatory properties and helps to calm rashes, itching, and skin irritation.
It has an antioxidant effect, for a daily anti-aging preventive action.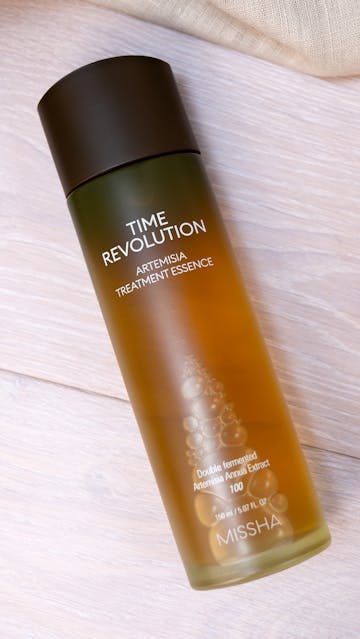 Mugwort cosmetic products are for me if:
– My skin is freaking out:
Mugwort products help to relieve skin reactions such as itching, flush, redness and small pimples…
They provide important relief and help to calm damaged skin.
– I have a sensitive skin:
Mugwort products help to relieve all the symptoms of sensitive skin: redness, flush, tightness… They soothe and refresh as soon as they are applied and also help to strengthen the skin barrier for a more resilient skin against external aggressions.
– My skin is acne prone:
Their anti-bacterial and anti-inflammatory properties are perfect for acne-prone skin!
Mugwort products can be used as a spot treatment on the pimple directly, or on the entire face for an intense purifying and soothing effect.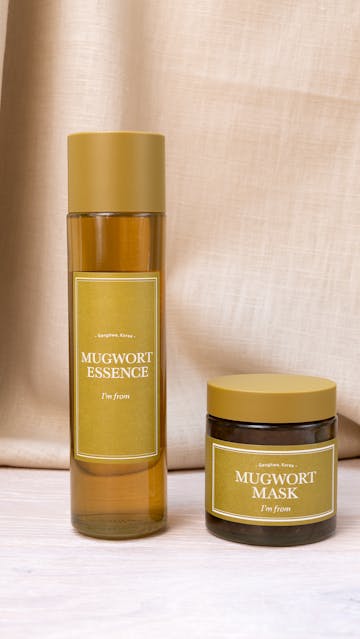 – I live in a very polluted environment:
Pollution has very damaging effects on the skin:
– dehydration,
– dryness and desquamation disorders (= the skin begins to peel),
– dull complexion, clogged pores,
– redness,
– burning sensation, tingling,
– eczema,
– accelerated skin aging…
Mugwort products help to calm sensitivity but also to strengthen the skin barrier for a more resistant skin against aggressions from pollution, such as fumes, fine dust, etc.
– I'm using sensitizing skincare treatments (acids, retinol):
Some active ingredients are very effective in preventing and treating the signs of aging but can be irritating to the skin. Retinol or exfoliating acids for example, which can cause redness, irritation, and flaking.
Mugwort products have a very interesting calming effect which make them a perfect ally for this type of treatment.
A few examples of Mugwort cosmetic products: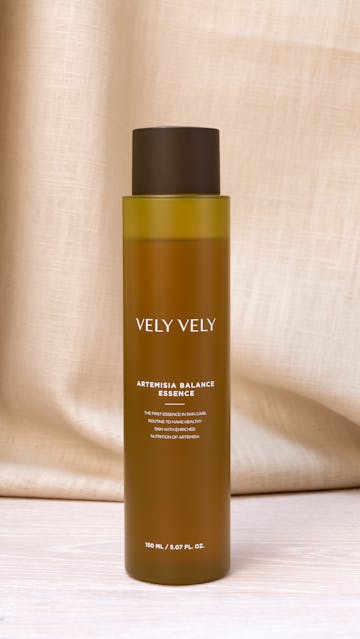 Vely Vely Artemisia Balance Essence:
This essence is a true phenomenon in South Korea. It's become one of the most popular products in Korea for several months now.
Vely Vely started off as a clothing brand, founded by a famous Korean actress and model Im Ji Hyun. She also launched her cosmetics brand in 2017 and was quite successful with her makeup line, particularly her cushions foundations. But it's really their Mugwort skincare range that helped the brand take off, thanks in particular to this Artemisia Balance Essence, which is definitely its most popular cosmetic product!
Despite its rather high price ($45-50 for a 150 ml bottle), more than 130,000 bottles were sold in the month following its launch, without the company having to advertise. Vely Vely Artemisia Balance Essence has quickly become the best-selling product in duty-free shops in Korea. (source: Korea Herald)
The brand benefits of course from the celebrity of its muse/CEO but it's also popular thanks to the word of mouth of users. That's really how this product became a bestseller.
With this product, the brand highlights the high concentration and purity of its formula.
Indeed, when you look at the INCI list, it consists of one single ingredient, 100% Artemisia Capillaris extract.
What is a plant extract?

Plant extraction is a process to extract certain constituents from plants. In practical terms, it is a solid/liquid separation operation: a solid body (the plant) is brought into contact with a liquid (the solvent).

The plant components are then dissolved and contained in the solvent. The solution thus obtained is the plant extract. The solvent will then eventually be removed to isolate the plant extract.

But not always. In the case of this essence, I assume that the solvent has been preserved to give it its liquid form. Some solvents used for this operation can also have a conservative and moisturizing effect on the skin.
Unfortunately, I did not get any confirmation of this theory from the brand because information available on this product is in Korean.
I've been using the Vely Vely Artemisia Balance Essence for a few weeks now and I really like its calming effect! Its texture is very liquid, it penetrates immediately and leaves my skin nicely soothed and hydrated.
The Vely Vely Artemisia Balance Essence retails for $45-50 for 150ml.
EDIT 05/04/19:
Vely Vely just announced via their Instagram account that there is potentially a conservation problem due to the bottle container of their Artemisia essence, and that some customers found that their essence was contaminated. The brand is investigating this issue at the moment and will report back in the coming weeks.
I'll keep you informed as soon as I know more about this issue.
Missha Time Revolution Artemisia Treatment Essence:
If you are interested in essences, Missha is probably a brand you know! Its essence Missha Time Revolution First Treatment Essence has been a best-seller of the brand for several years.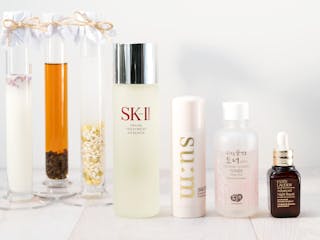 Ingredients
Focus on: fermented ingredients (ferments, yeasts, probiotics)
Like probiotic cures that are recommended at each change of season, cosmetics use more and more bacteria, yeasts and other fermented ingredients in skincare products to take care of the skin and its micro-bacterial flora, the microbiome.
Read more
So when I saw that the brand was releasing a new essence with the trendy ingredient of the moment, I was super interested!
Time Revolution Artemisia Treatment Essence is like the Vely Vely essence, made with one single ingredient. Here, it's Artimisia Annua extract, which comes from Ganghwa, a South Korean island in the estuary of the Han River.
The particularity of this formula is that the Artimisia Annua is naturally fermented twice, once in a warm environment and a second time under a cooler temperature inside a traditional terracotta jar.
If you read my article Focus on fermented ingredients, you know that these are perfect to strenghten the skin's barrier function, an interesting action when the skin is sensitized.
Artemisia Annua, which already has a natural soothing and calming effect, will, therefore, further boost its repairing effect thanks to this fermentation!
I haven't started using this essence yet but I will write a proper review after I try it!
The Missha Time Revolution Artemisia Treatment Essence retails for $32-52 for 150ml.
Edit:
Here is my detailed review: Missha Time Revolution Artemisia Treatment Essence.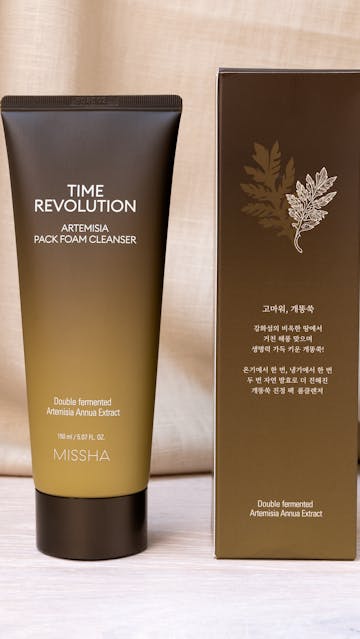 Missha Time Revolution Artemisia Pack Foam Cleanser:
In the same range as the essence, Missha also launched a 2-in-1 cleansing mask that uses the soothing and anti-bacterial properties of Artemisia Annua.
This product can be used either as a foaming cleanser or as a face mask that you can apply for a few minutes for a deeper cleansing effect.
Same thing, I haven't had a chance to try it yet, but I'll probably tell you more about it soon!
The Missha Time Revolution Artemisia Pack Foam Cleanser retails for $13-26 for 150ml.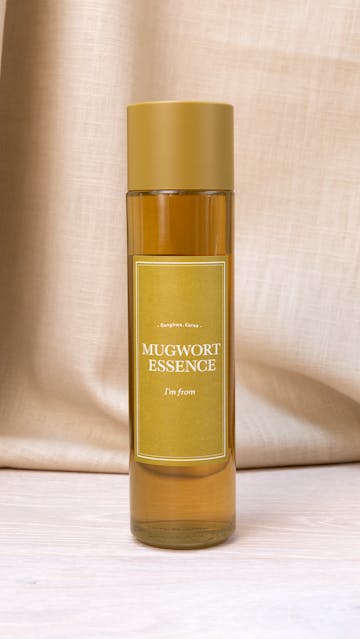 I'm From Mugwort Essence:
I'm From is a brand that has been on my radar for a long time!
I'm From wants to distinguish itself from other brands by its high transparency. Each product proudly lists all its ingredients, as well as the origin of its main ingredient and the name of the farm where it was harvested. Hence the name of the brand, "I'm From".
I'm From manufactures all its products in Korea and belongs to the same group as the SKIN&LAB and CHICA Y CHICO brands, which some of you K-Beauty enthusiasts may recognize ?
Their range of Mugwort products (another name for Artemisia) uses the benefits of Artemisia Princeps, known to relieve sensitive skin, with its anti-bacterial, anti-inflammatory, and calming effects. This one also comes from the island of Ganghwa, like the variety of Artemisia used by Missha.
Again, it's a single ingredient essence, containing 100% Artemisia Princeps extract.
I haven't tested it yet, and I'll tell you more about it in a future review ?
The I'm From Mugwort Essence retails for $35-40 for 160ml.
Edit:
My review is now available: I'm From Mugwort Essence.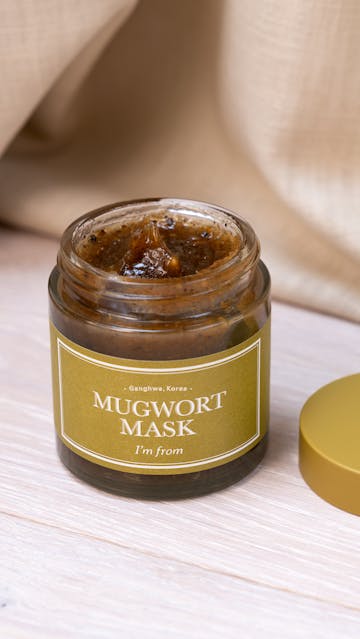 I'm From Mugwort Mask:
The Mugwort Mask, on the other hand, I have tested. I have not only finished a whole jar, I've already repurchased it!
It's a wash-off mask with a calming and soothing effect. Thanks to the extract of Artemisia Princeps (2.1%) it contains, it quickly soothes irritations and rednesses while having a refreshing and calming effect. It also has a mild detoxifying and purifying effect.
Its gel texture contains mugwort powder to help regulate the skin temperature. It's ideal in case of inflammation for an immediate refreshing effect!
It also helps the skin to heal faster, so it's an ideal mask if you have acne-prone skin like me.
I use it as a medium layer on my clean skin, once a week. I leave it for about 20 minutes (it doesn't dry out) and rinse it off with warm water. It contains small pieces of Mugwort (they look like twigs), so it's a little difficult to rinse, but if you do it in the shower for example, it won't be an issue!
I think it also smells very nice; it's a natural earthy smell that I really enjoy.
In short, it's a very pleasant and perfect mask if you want a detoxifying effect without drying your skin out!
The I'm From Mugwort Mask retails for $29-35 for 110g.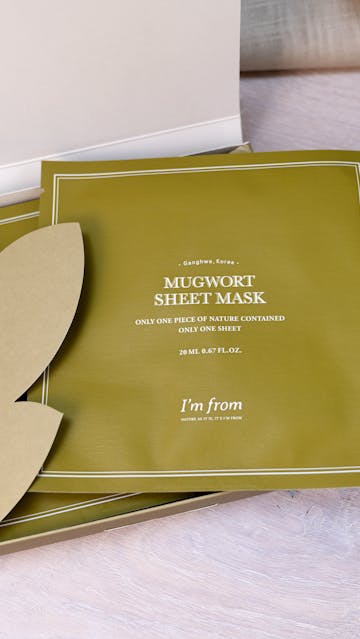 I'm From Mugwort Sheet Mask:
You already know how much I love sheet masks… I couldn't miss a Mugwort sheet mask, obviously!
The sheet mask I'm From Mugwort contains 91.45% Princeps Artemisia extract for a moisturizing and refreshing effect, but also soothing and calming.
This Mugwort Sheet Mask is made of 100% vegetable fabric to reduce the risk of skin irritation. It's also very thin to adhere as much as possible to the face.
I tried it and I really liked the soothing and fresh effect on my skin. On the other hand, a small word of advice, don't make the same mistake as me: don't leave it for more than 20 minutes, because the thinness of the fabric makes this mask dry fairly quickly!
The I'm From Mugwort Sheet Mask is sold between $4 and $5 per unit depending on the resellers.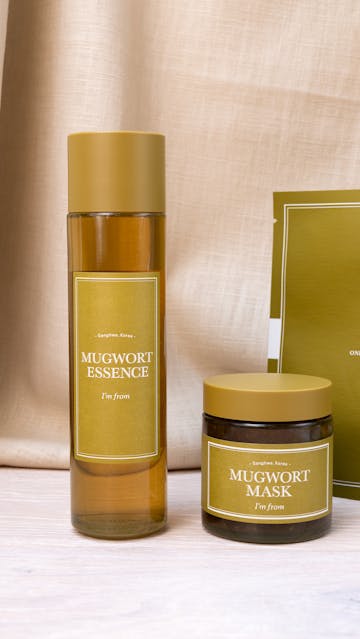 In conclusion:
Whether you need a calming effect against various skin rashes and/or redness, or simply have dry and irritated skin, Mugwort could very well be the magic ingredient to solve all these skin problems!
With the ever-increasing pollution, both in Korea and unfortunately all over the world, I feel we'll see more and more of these types of calming ingredients that help to strengthen the skin barrier!
Have you ever tried Mugwort products? Are you interested in this ingredient?
Other reviews:
Missha Time Revolution Artemisia Treatment Essence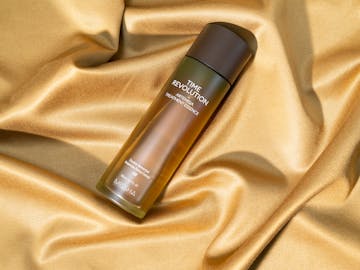 "A concentrated, soothing essence that formulated with double fermented Artemisia Annua Extract to soothe, balance skin."

Pros
– the simple, elegant packaging, which has a luxurious touch,
– the super simple formula with just one ingredient,
– the liquid texture that the skin absorbs like water,
– the clarifying and soothing effect,
– the moisturizing effect,
– I also like its herbal scent.
Cons
– the price, a little more expensive than other essences,
– you have to order it online to buy it if you live outside of Korea.
I'm From Mugwort Essence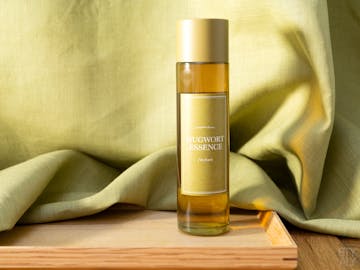 "This is a soothing essence made with the single ingredient of Mugwort Extract. The refreshing fluid formula adheres and absorbs into the skin to soothe sensitive skin and recharge moisture from within."

Pros
– the simple minimalist packaging,
– the super simple formula with just one star ingredient,
– the liquid texture that the skin absorbs very quickly, but which leaves it comfortable,
– the clarifying and soothing effect,
– the moisturizing effect,
– I like its herbaceous scent, quite strong, but in a good way.