Intro
Let me tell you about the I'm From Honey Mask, a honey-based rinse-off mask. This K-Beauty product is a cult favorite, and you will quickly understand why 😉
My new "dry skin" allowed me to rediscover this wonderful wash-off face mask! And I'm glad because the I'm From Honey Mask is a cult favorite for very good reasons. Let me tell you more about this Korean cosmetic honey-based delicacy!
The I'm From Honey Mask has been super popular for years. In Korea, it's one of the best-sellers in the wash-off mask categories every year, and in most K-Beauty's online stores that target a more international clientele, it's also a hit.
There's definitely a consensus here! (yes, clearly, there won't be any suspense with this review, it's a raving one lol).
I already mentioned my appreciation for honey and propolis products. I particularly like using these ingredients, especially in winter. Their calming, anti-inflammatory and purifying effects are always welcome on my dehydrated mixed acne prone skin. At the moment, as a bonus, my skin is sensitized, so beehive ingredients are definitely my friends!
But it's not just the formula that makes this product a winner in my book. Its sensorial aspect clearly met with unanimous acclaim; it's quite simple: you could eat it! (don't try this though, it's not an edible product 😅)
If you are lucky enough not to know about this incredible face mask yet, let me tell you why it's such a great product and why you need it in your life. Let's share the honey love! 😉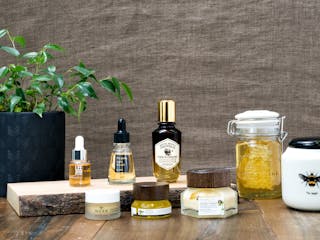 Ingredients
Focus on: Honey and Propolis
Skin products rich in hive ingredients such as honey and propolis have always been popular, especially amongst sensitive skins. The use of these ingredients in cosmetic is definitely not new, but skincare products made in Korea put a spotlight again on these very powerful and effective natural ingredients.
Read more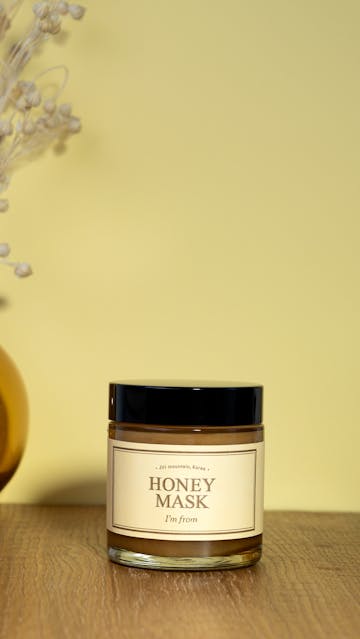 I'm From Honey Mask, product presentation:
I'm From Honey Mask is a moisturizing and repairing face mask.
Basically, if you have dry, dehydrated, sensitive, acne-prone skin and/or a weak skin barrier, this mask is for you! It's ideal for quick relief and maximum comfort.
I already mentioned several times in other reviews, the products from the Korean skincare brand I'm From are inspired by natural ingredients sourced exclusively from South Korea.
The brand makes a point of using very high quality ingredients, and the purest possible in its formulas.
Each range highlights a particular ingredient and its geographical origin. The brand name is "I'm From" after all 😉
Note that for the production of its ingredients, the brand favors environmentally friendly farms, because they want to preserve the natural resources of their beautiful Korean regions!
For this I'm From Honey Mask, the brand used honey from Jiri Mountain in South Korea. This region is known for the richness of its ecosystem, with more than 1500 listed plants growing there! The honey that comes from this area is rich in vitamins and minerals.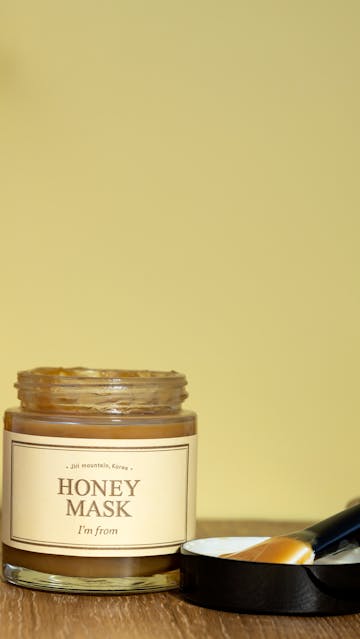 Honey is an ingredient widely used in cosmetics because of its high content in sugars, proteins, amino acids, vitamins, enzymes and minerals makes it a fantastic ingredient to treat all kinds of skin problems.
It's very humectant (aka hydrating), has soothing and antioxidant properties as well as a strong antibacterial effect. It also helps with the healing process, a very interesting property for acne-prone skin!
In short, it has the potential to do a lot of good for a lot of people!
And in this formula, I'm From didn't joke: the Honey Mask contains no less than 38.7% honey. And I'm not talking about an extract, but pure, organic honey!
Just open the jar and you'll see: the texture looks like real creamy honey. This mask also smells like a delicious caramelized honey that you want to eat (don't try it, I did the experiment for you and it's not edible lol).
The rest of the formula is not bad either. It also contains:
– anti-inflammatory and purifying propolis,
– repairing bee venom,
– snail mucin, glycerin and Aloe Vera, all three very hydrating,
– and finally a mixture of nourishing vegetable oils: macadamia nut, jojoba seed, hazelnut and sunflower oils.
Clearly when you look at it, it's what you see: it looks like a mixture of honey and oil, and personally, especially in this season, it makes me want to dive into it!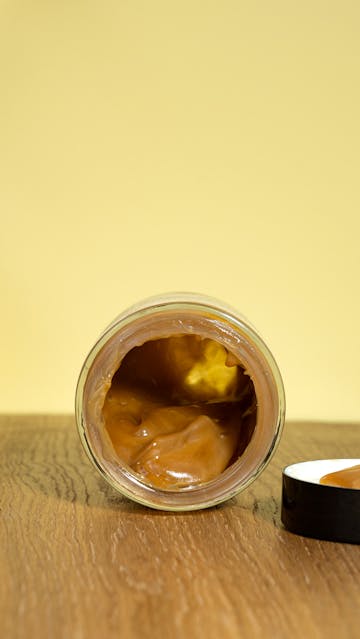 I'm From Honey Mask, my experience:
I shared this with you several times in my last reviews, my skin has changed lately.
It's still combination and dehydrated, but it has gone from a rather oily to a drier tendency. I completely stopped using clay-based purifying masks one or two years ago, and even though I'm not against a purifying effect with my acne prone skin, I clearly need more comfort than before!
I already used this I'm From Honey Mask two years ago, and I found it very pleasant to use, but I wasn't blown away with the results on my skin. But I figured I could try it it again, since my skin doesn't really have the same needs anymore. And really, it was a great idea!
If I may, this is an example of where I've explained that you need to listen to your skin, and test different products, adapt them when your skin changes.
At the moment, I use it once a week, usually on Saturday or Sunday morning. I apply it after cleansing my face (no scrubs before, I don't need these with all the retinol and/or acids I use) and I leave it on my skin for as long as possible (usually, one hour).
The brand speaks in its product description of an exfoliating effect, but really it's very, very mild. Actually, I don't even feel it on my skin so if you thought this mask had a peeling effect, it's not the case at all 😉
The texture is quite creamy, not especially sticky. Once it's applied on the skin, it's very comfortable and it doesn't drip at all (not like real honey which is super messy used as a face mask 😅).
It's a joy: it smells divinely good, I feel like I'm applying caramelised honey on my face!
When I rinse it off (usually in the shower because it's more convenient and quick), my skin is super comfortable and completely soothed! It leaves a very light film on the skin, it's true. But it's not an oily or heavy film at all. Rather a feeling of comfort (which lasts all day long).
I can do my skincare routine afterwards without any issues, it doesn't prevent them from absorbing at all.
By using it once a week on my face and neck, I think this mask should last me 2-3 months. It's a bit expensive to buy, it's true, but the jar is not small, it lasts a while!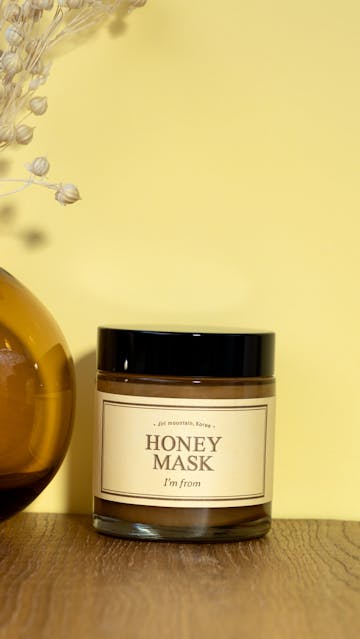 In conclusion:
In short, this I'm From Honey Mask is an absolute delight, and I can see it becoming my best winter ally in the future!
When a product ticks all my boxes (= efficacy, pleasure of use and decent price), it goes straight into my ride or die products 😉
The I'm From Honey Mask retails between $35 and $40 for 120g.
Product Review in detail
Summary
I'm From Honey Mask
"This wash-off mask contains 46.44g of natural honey to offer deep moisturization and nourishment. Real honey makes the skin supple while also providing elasticity and soothing care. The mask also effectively removes whiteheads and provides exfoliation create the look of a clear complexion."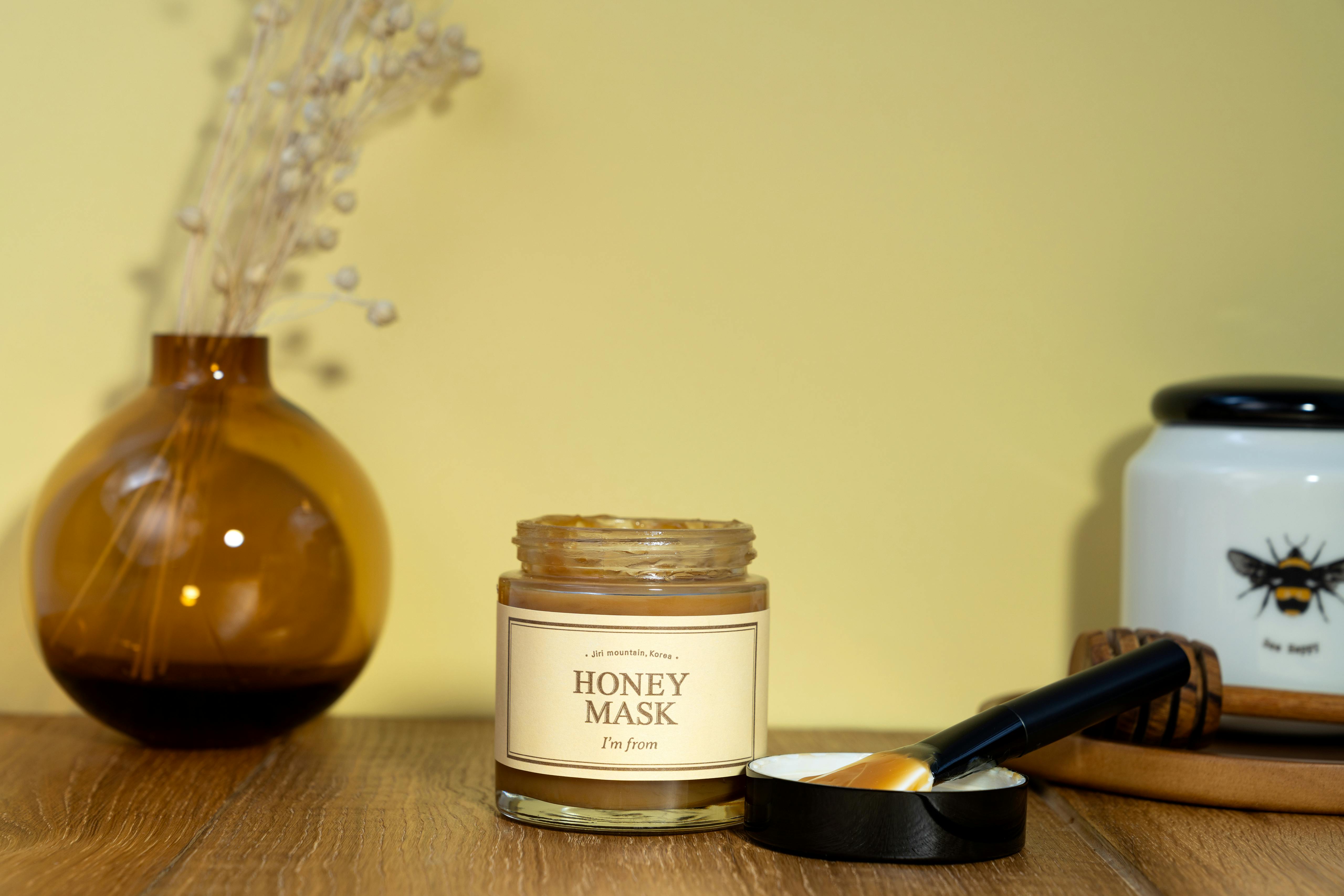 Pros
- the formula, rich in good skincare ingredients (starting with organic honey from Jiri Mountain in Korea, which represents almost 40% of the formula),
- the sensorial aspect: the texture and the scent of honey are absolutely divine, you could eat it! (don't do it, I tried, it doesn't taste like honey lol)
- you can keep it a very long time (up to 1 hour) on the skin if you want, it doesn't dry down,
- the result: a clean, soothed, comfortable skin, but not "heavy",
- its effect on imperfections: it really helps to calm inflammation,
- its repairing effect on the skin barrier,
- the skin's calming effect is immediately visible.
Cons
- I prefer to rinse it in the shower, it tends to get a little sticky when I rinse it,
- it is a bit expensive at first (but the jar contains 120g of product so it lasts a while).
packaging
A transparent glass jar with a black cap, rather simple and "pharmaceutical".
fragrance
A delicious caramel honey scent, it's so yummy and divine! It's a natural perfume, there's no added fragrance in the formula.
texture
A toffee caramel-like texture, quite creamy (yummy!).
For Who
For all skin types, even sensitive skin and more particularly:
– dull skin that lacks radiance,
– damaged skin,
– dry and/or dehydrated skin,
– sensitive, sensitized skin with redness,
– acne-prone skin.
Concerns
– tired skin
– sensitized, damaged skin
– redness, sensitivity
– lack of radiance
– dryness
– uneven skin texture
– acne, inflammation.
Method
Once or twice a week (morning or evening), I scoop out the equivalent of one teaspoon of product with a spatula. I then apply it in a medium layer on my clean skin (face and neck), avoiding the eye and lip area. I either use the spatula or I simply use my fingers to apply it.
The product doesn't dry, you can leave it on for between 10 minutes to one hour (I usually leave it on as long as possible, on weekends).
After one hour, I simply rinse it off with warm water. Usually, I rinse it in the shower, it's easier. I pat my skin dry and continue with the rest of my routine.
Key Ingredients
The formula of this mask is a joy! See for yourself:
– 38.7% of natural honey from the Jiri mountain in South Korea, known for the richness of its ecosystem (more than 1500 plants grow there) so this is a very rich in minerals and vitamins honey (and it's not an extract, it's pure organic honey here),
– but also anti-inflammatory and purifying propolis,
– repairing bee venom,
– some snail mucin, glycerin and Aloe Vera, all three very hydrating,
– and finally a mixture of nourishing vegetable oils and butter: macadamia nut, jojoba, hazelnut and sunflower seed oils, and shea butter.
Ingredients
Honey, Caprylic/Capric Triglyceride, PEG-7 Glyceryl Cocoate, Disteardimonium Hectorite, Macadamia Integrifolia Seed Oil, Helianthus Annuus (Sunflower) Seed Oil, Pentylene Glycol, Microcrystalline Wax, Polysorbate 20, Butyrospermum Parkii (Shea) Butter, Beeswax, Tocopheryl Acetate, Argania Spinosa Kernel Extract, Corylus Avellana (Hazel) Seed Oil, Simmondsia Chinensis (Jojoba) Seed Oil, Snail Secretion Filtrate, Water, Bambusa Vulgaris Water, Nelumbo Nucifera Flower Water, Aloe Barbadensis Leaf Water, Propolis Extract, Beta-Glucan, Bee Venom, Citrus Paradisi (Grapefruit) Fruit Extract, Sophora Angustifolia Root Extract, Eugenia Caryophyllus (Clove) Flower Extract, Eucalyptus Globulus Leaf Extract, Punica Granatum Fruit Extract, Bambusa Vulgaris Extract, Butylene Glycol, Glycerin.
Ingredients not included
– alcohol,
– silicones,
– fragrance,
– dyes.