Intro
A detailed review of The Honey Mud, a 2-in-1 cleansing treatment from the luxury green brand May Lindstrom.
I was quite surprised by the May Lindstrom The Honey Mud treatment. To be honest, I wasn't expecting to love it as much!
The product I wanted to try the most in the May Lindstrom's range was the purifying mask The Problem Solver that I reviewed a few weeks ago.

However, even if I really enjoy it, I was even more impressed by The Honey Mud cleanser/mask.

I considered it as a complementary product to add to The Problem Solver, and then I started to use it alone and I saw real results on my skin!

It's also a real treat to use, so I definitely think I found a new favorite skincare product!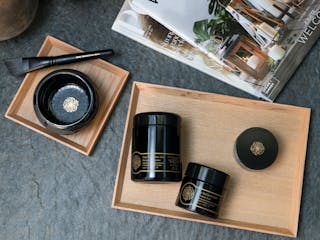 Brands
Focus on: May Lindstrom, luxurious green skincare
When you think of a green skincare brand, that doesn't compromise on the quality of its formulas but remains very sensory and luxurious, only one name comes to mind: May Lindstrom.
Read more
Let's take a closer look at this very desirable treatment!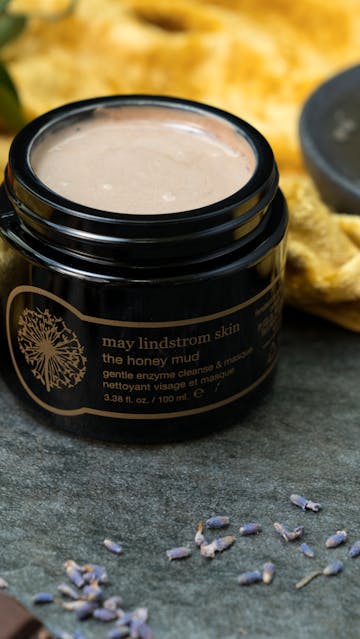 Product presentation: May Lindstrom The Honey Mud
The Honey Mud is, as its name suggests, a product that is based on honey and mud/clay. It's a hybrid treatment, an ultra-soft cleanser and a soothing/nourishing mask 2 in 1.
Used as a cleanser, it helps to remove the impurities (the brand also claims it can be used as a makeup remover but I didn't try), without stripping the skin (it doesn't foam at all) and it has an enzymatic action (i.e. slightly exfoliating) which allows it to have an effective purifying effect on all skin types.
Used as a mask, it also cleanses and absorbs impurities but it's above all the soothing and anti-inflammatory properties that make it an exceptional treatment. It nourishes the skin without greasy residue and leaves it silky soft.
It's ideal for fragile and/or sensitive skin that needs to be purified very gently.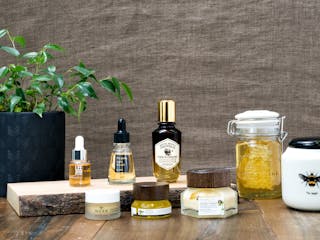 Ingredients
Focus on: Honey and Propolis
Skin products rich in hive ingredients such as honey and propolis have always been popular, especially amongst sensitive skins. The use of these ingredients in cosmetic is definitely not new, but skincare products made in Korea put a spotlight again on these very powerful and effective natural ingredients.
Read more
Honey, which composes the majority of The Honey Mud, is both suitable for very dry skin that will benefit from its nourishing and repairing effect as well as acne-prone skin with its anti-bacterial and anti-inflammatory action.
I love using it when my skin "behaves", if it breaks out a lot.
May Linsdtrom talks about an enzymatic action with this product, therefore a very slightly exfoliating effect. Clearly, this product has a different action to that of a chemical acid for example, but the enzymatic effect gives a visible brightness to the skin.
The Honey Mud only contains natural ingredients, without any preservatives (the colloidal silver in the formula is used to preserve the formula naturally). This product is hand-made by May Lindstrom and her team and also includes a label with a lot number at the bottom of the jar, with the date of preparation as well as the best use by date after opening.
It comes in a glass jar in the May Lindstrom's signature dark purple packaging. It's very beautiful and luxurious, like the rest of the range.
The size is pretty generous: 100ml. It's twice the equivalent treatment of most competitors.
My experience:
I've been using it for several weeks now. At first, it was more of a complementary product in my face mask The Problem Solver but lately, I've been particularly enjoying it on its own, as a soothing treatment.
I don't use it as a daily face cleanser because it would bother me to use such a precious (literally!) product this way. I prefer to use it as a mask, once a week or just when my skin needs it.
The texture is quite sticky, it definitely feels like applying pure honey to the face but once it's on, it's quite comfortable. I keep it longer than the recommended 10-20 minutes (at least 30 minutes, even 45 if I can). It smells divine, like a cake, yum!
It's very easy to rinse, you just need to add a little bit of water and it emulsifies without any issue.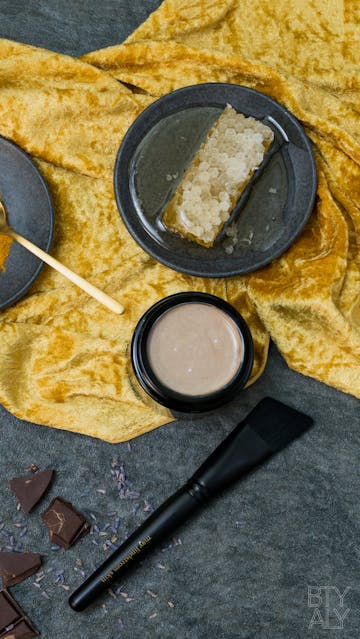 Result :
The first thing I notice after rinsing The Honey Mud is how soft my skin is. It leaves a light film on the skin but not at all like a greasy residue, rather like a comfortable and a little bit "powdery" film. The skin feels protected and it looks matte (it's probably due to the clay in the treatment).
The glow is also immediately visible. The skin is brightened and calm, without any residual redness.
The feeling of comfort lasts several hours after rinsing the mask. I also noticed that my skin is much less shiny on the days following this treatment (#winwin).
Value for money:
OK, $100 for a face mask/ cleansing product, I'm not gonna lie, it's an expensive product.
The quantity of product (100ml) is quite generous compared to other competitors on the market (a face mask is generally around 50ml). But it's still a very expensive product.
For me, the quality of the product, the pleasure I feel while using it (it smells so good!) and of course, the result on my skin… with all of that, I don't regret my purchase at all. The Honey Mud is the one May Lindstrom product I will most likely repurchase when I finish it.
I won't repurchase it immediately after I finish it (even if I definitely want to!), but let's say that it's the kind of product I could splurge on once a year, as a real luxurious treat (and on top of that, super effective on my skin!).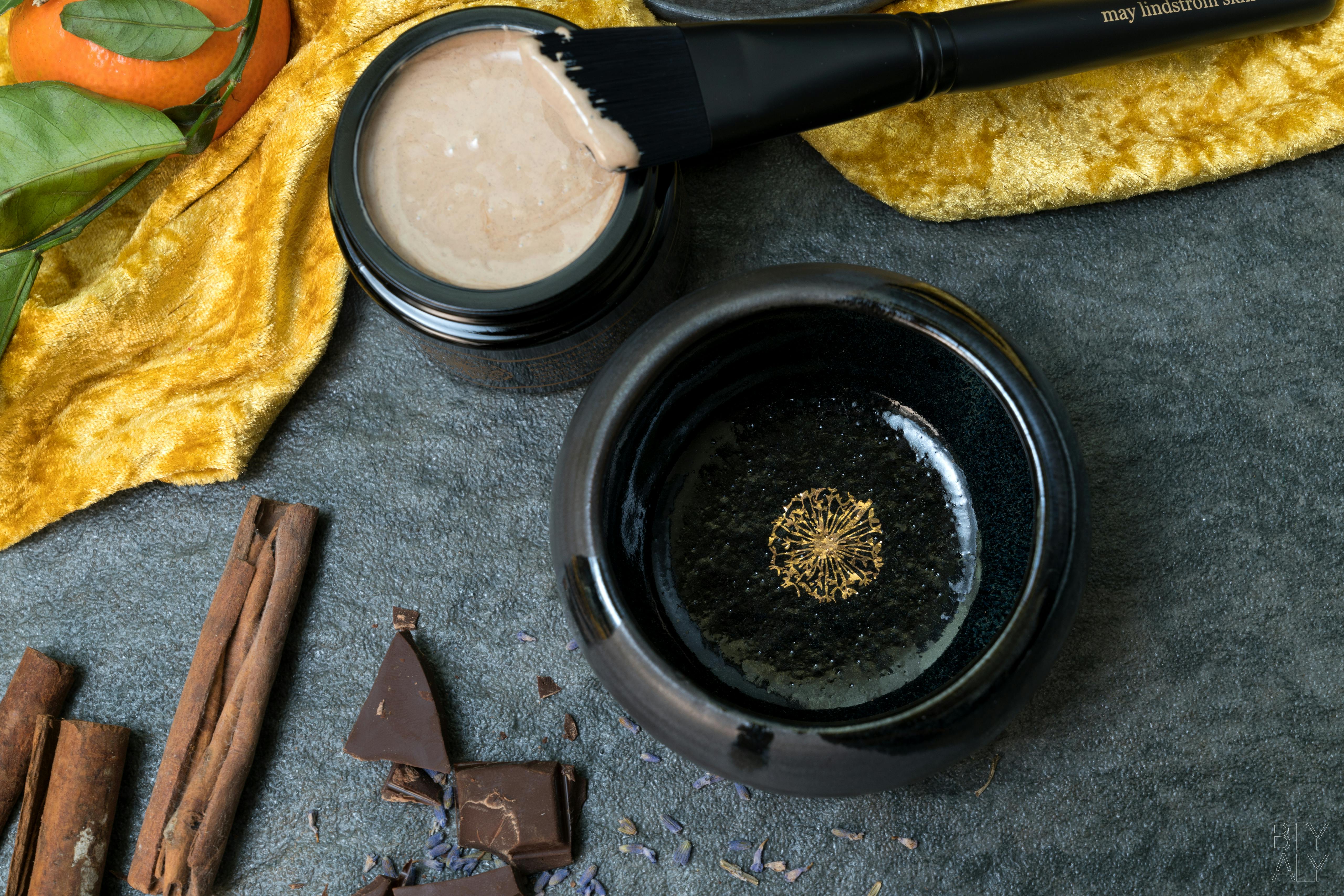 In summary:
The Honey Mud is an instant favorite. Using it on its own as a mask was a revelation. Not only is it a particularly pleasant moment thanks to its delicious smell of spicy chocolate vanilla but the result on my skin, it is also immediately visible, which is definitely a plus.
The composition is a real dream, all the ingredients are beneficial for the skin and the quality is particularly remarkable.
Yes, The Honey Mud is clearly a luxury product and if you can afford it, go for it, it's definitely a gem!
May Lindstrom The Honey Mud retails $90 for 100ml.
Product Review in detail
Summary
May Lindstrom The Honey Mud
"An exquisitely distinctive union of raw honey, white halloysite clay, silver, and aromatic plant oils marry to envelop you in an intoxicating and highly addictive ritual.
This silken, pudding-like treat infuses skin with active enzymes while restoring your optimal hydration and individual rhythm."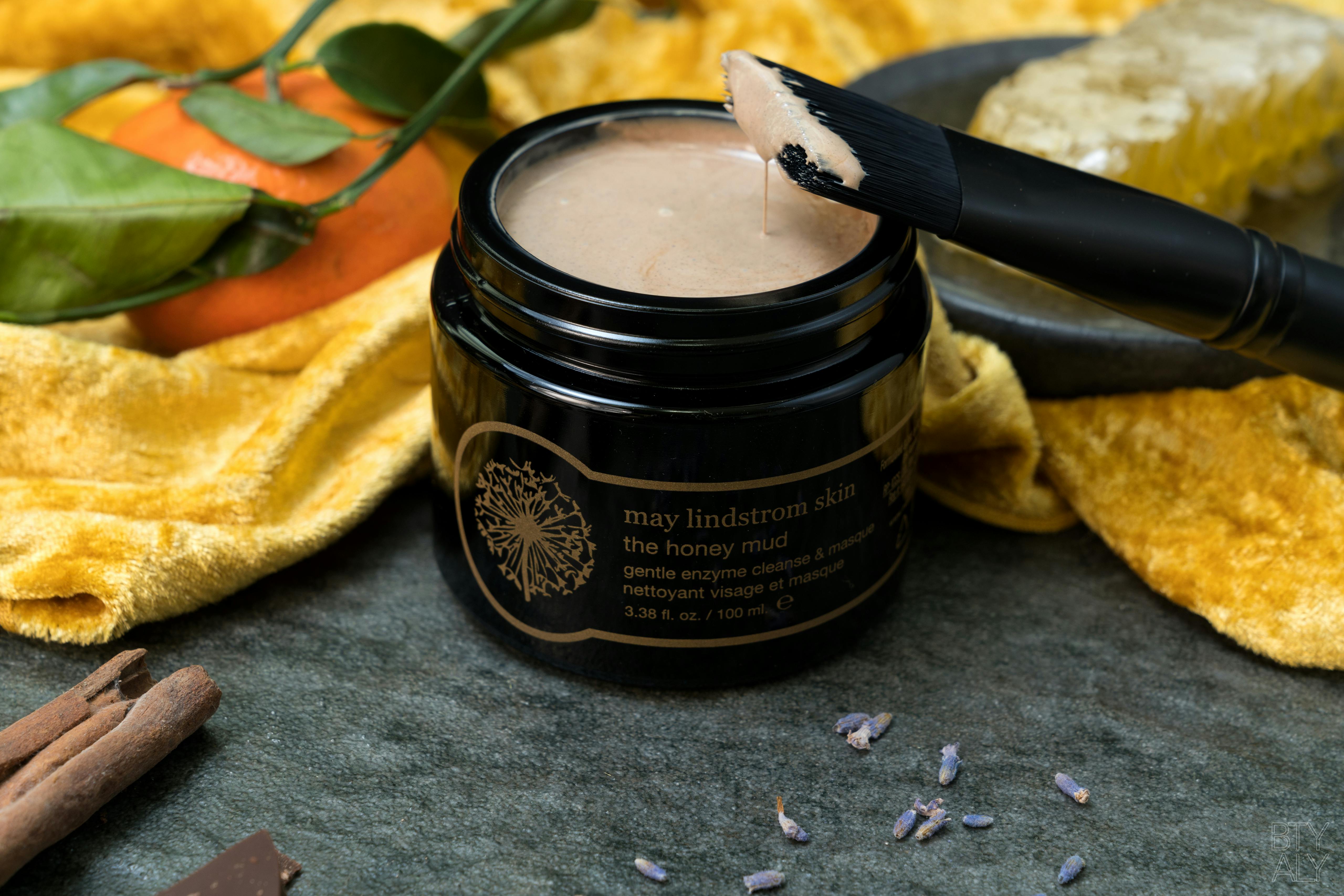 Recommendation
A+
A luxurious and efficient treat!
Pros
- the gorgeous, very luxurious packaging,
- the super "clean" formula, with very high-quality natural ingredients,
- the delicious scent (honey, chocolate, orange and vanilla, oh I could eat it!),
- it doesn't really dry, it remains very comfortable during the treatment,
- it visibly brightens the complexion,
- it's very gentle, the skin is clean without feeling stripped,
- the softness of the skin after the treatment,
- the soothing effect, the skin is really calmed after the treatment,
- the comfort, the skin is nourished durably but without any greasy residue.
Cons
- the texture is a little sticky when you apply it, you have to get used to it at first,
- the retail price but the quality/price and quantity/price ratios are excellent,
- I'm very clumsy, I'm always afraid with heavy glass jars (they look nice and fancy but they're likely to break easily!), I think maybe I need a protective case like for my phone!,
- the distribution is quite selective, it's not an easy product to find (it's mostly available online).
product name
The Honey Mud
packaging
A stunning and luxurious glass jar in a very very dark purple color (it looks black). It's lacquered with the logo of the brand in gold edging.
fragrance
A delicious smell of honey, orange, chocolate, vanilla and spices.
texture
Quite sticky, you can definitely feel the honey in the formula.
For Who
For all skin types, even sensitive skin and more particularly:
– dull skin that lacks radiance,
– damaged skin,
– dry and/or dehydrated skin,
– sensitive, sensitized skin with redness,
– acne-prone skin.
Concerns
– tired skin
– sensitized, damaged skin
– redness, sensitivity
– lack of radiance
– dryness
– uneven skin texture
– acne, inflammation.
Method
It can be used in two different ways: as a daily face cleanser or as a treatment face mask.
– As a face cleanser:
Morning and/or evening, I take a small amount of product that I massage directly on my wet face and neck. The product transforms into a light milky emulsion that cleanses the skin without stripping it out (the product doesn't foam at all).
It's very easy to rinse and leaves the skin clean and very comfortable. If you like the "squeaky clean" feeling, maybe you won't like this product. But if you want a very gentle cleanser that doesn't strip your skin at all and still cleanses it perfectly, you'll love this!
– As a treatment/ face mask:
Once or twice a week, I take the equivalent of a teaspoon of product with a spatula. I then apply it in a medium layer on my clean face and neck, avoiding the eye and lip area. I use my brush or just my fingertips.
The brand recommends to leave it for 10-20 minutes but I sometimes keep it on for 30 minutes (the product doesn't dry).
To remove it, I usually apply my wet hands on my face to emulsify the product (it turns into a kind of very fluid milk), I massage it for a few seconds and I simply rinse it with lukewarm water. The Honey Mud is very easy to remove, no need to rub it. Then, I usually apply a toner and the rest of my skincare routine.
Tip: for a more complete treatment, I love mixing The Honey Mud in my purifying mask The Problem Solver, also from May Lindstrom. The mix of the two products is really effective to clean the skin thoroughly without stripping it.
Key Ingredients
The Honey Mud is entirely composed of active and beneficial ingredients for the skin, no filling ingredients in this composition!
– Honey and Propolis: I have already written a focus on the honey and propolis ingredients, they are anti-bacterial and anti-inflammatory. They're excellent to repair damaged and sensitive skin. Naturally rich in vitamins, enzymes, and amino acids, they also boost skin regeneration,
– Kaolin clay: it gently absorbs, cleanses and exfoliates the skin without stripping it,
– Macadamia oil: a nourishing and repairing oil, rich in essential fatty acids. It's also naturally rich in squalane, an antioxidant oil close to the composition of the skin sebum,
– Witch Hazel: a purifying, astringent, anti-bacterial and anti-inflammatory ingredient,
– Colloidal Silver: healing, anti-bacterial and also acts as a natural preservative for the product formula,
– Cocoa: a powerful antioxidant that also has anti-inflammatory properties,
– essential oils of Orange, Ylang-Ylang, Vanilla, Cedarwood, Frankincense, and Myrrh: they have various skin benefits and they're also anti-bacterial and anti-inflammatory.
Ingredients
***Raw Honey with Bee Pollen and Propolis, Kaolin (White Halloysite) Clay, *Macadamia Ternifolia Seed Oil, *Hamamelis Virginiana (Witch Hazel), Colloidal Silver, Theobroma Cacao (Cocoa) Oleoresin, *Citrus Sinensis (Sweet Orange) Oil, *Cananga Odorata (Ylang-Ylang) Oil, *Vanilla Planifolia (Vanilla) Co2 Total Essential Oil, *Juniperus Virginiana (Cedarwood) Oil, **Boswellia Serrate Gum (Frankincense) Oil, **Commiphora Myrrha (Myrrh) Oil
*Certified organic **Wild harvested ***Collected from unsprayed & unfertilized local California wildflowers
Ingredients not included
– parabens,
– propylene or butylene glycols,
– mineral oils,
– sulfates,
– PEG, TEA, DEA,
– phthalates,
– GMO,
– silicones,
– pesticides,
– artificial colors,
– synthetic fragrances,
– soy, wheat, gluten.