Intro
A detailed review of the best-selling product from the Korean luxury skincare brand Sulwhasoo, the First Care Activating Serum EX.
I only mentioned it as a passing comment in my article about the Sulwhasoo flagship store last spring. Yes I definitely took my time to do a review of the famous Sulwhasoo First Care Activating Serum EX.
But in retrospect, I don't regret it. Because if there is one thing I learned from all the cosmetic products I use, it's that some of them require a little more time to reveal themselves.

That doesn't mean they're less effective than others, not at all. Rather, that there are some products you'll only miss when you stop using them. You can definitely feel a difference in your skin. It's less radiant, less soft, less "clear"…

And I know that some people will think (like I thought myself the first time I read it): "What is this nonsense! A product is effective or it's not! That's all!"

But since then, I discovered the principle of a "balanced" skin and it has given me a different perspective on such products. 'Cause I can be a little too binary sometimes…

Rebalancing the skin is precisely the goal of the Sulwhasoo First Care Activating Serum EX, a cult-favorite Korean cosmetic product. And, like many good things, it can take a little bit of time for the principle to sink in…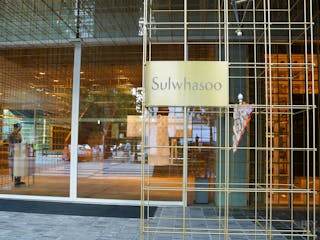 Travel
Sulwhasoo flagship store, Seoul South Korea
During my trip to Seoul last September, I was lucky enough to visit this architectural gem that is the sublime flagship store of the very prestigious Korean skincare brand Sulwhasoo. Today, let me introduce you to Sulwhasoo, a true flagship of the Korean cosmetic industry. I will also tell you more about the wonderful "shopping experience" I tried out in this beautiful place.
Read more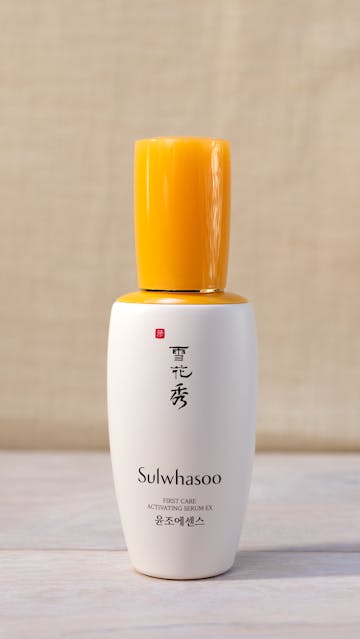 The brand Sulwhasoo:
I can't resist telling you again the history of Sulwhasoo, because, well, it totally fascinates me! (If you already read about it in my previous article, you can jump directly to the next paragraph from the menu on the top at the page 😉 ).
The other day, I was listening to the Fatmascara podcast, with an interview of the executive chairman of the Estée Lauder Companies group (don't ask me what it means, I don't know! I guess that means he's very important). He talked about two possible definitions of luxury cosmetics brands:
– the aspirational luxury brands, which refer to external signs of wealth, social success (makeup brands like Tom Ford or Louboutin for example),
– and the heritage luxury brands, that have a real history (they can be a family affair but not always). They're often considered as the flagships of a country's industry ( like Estée Lauder in the United States, Chanel, Dior or Sisley in France but also Valmont or La Prairie in Switzerland… There are many examples!).
Sulwhasoo clearly belongs to this category of heritage luxury brands. It has become a crucial part of South Korea's history of beauty and it's considered one of the emblems of Korean cosmetics. Its products are even gifted to first ladies from all over the world when they come to visit Korea at major international events!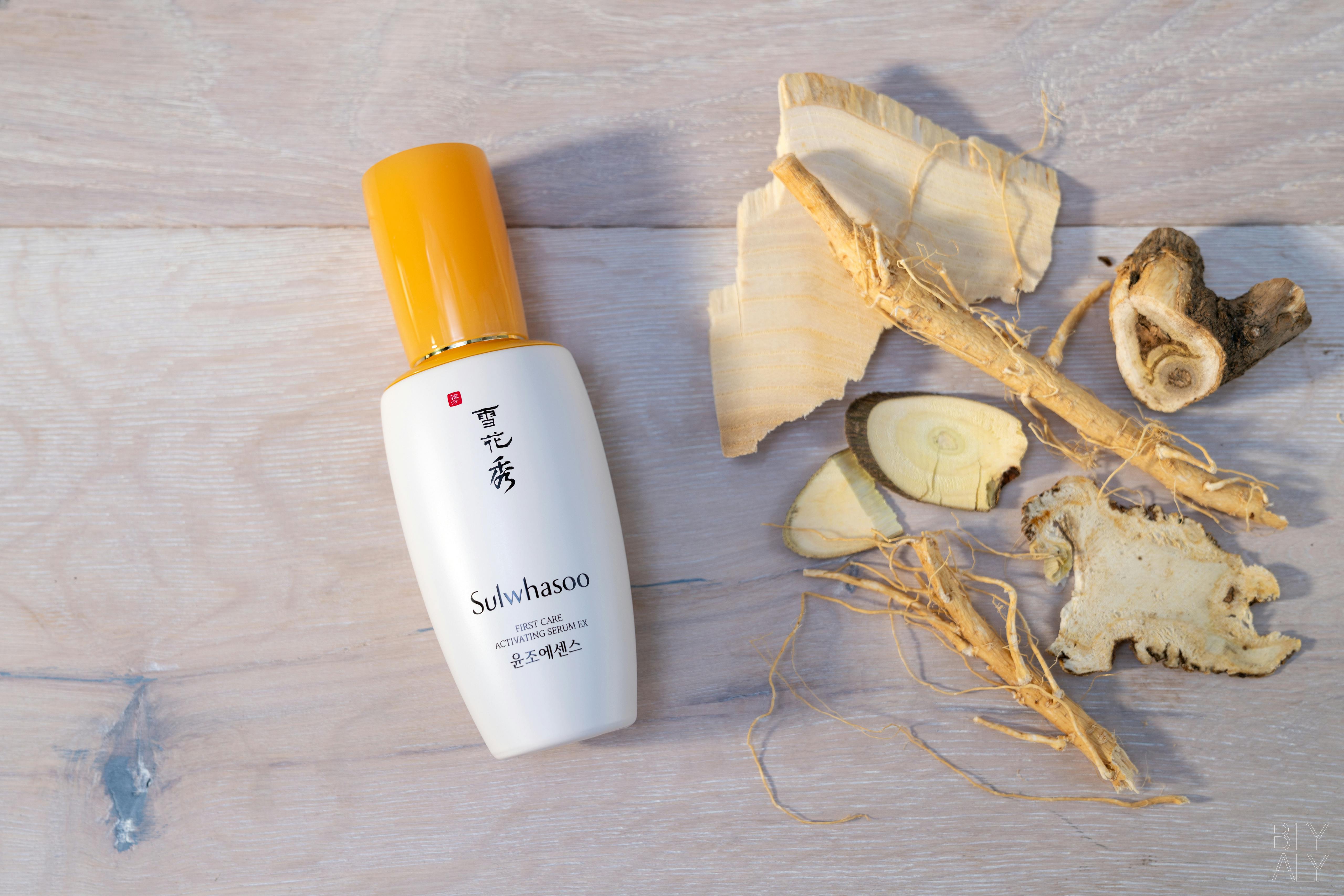 Sulwhasoo's history:
Nowadays, Sulwhasoo is one of the symbols of Korean luxury cosmetics, but its origins are very modest. As often in cosmetics' brand stories, it all started in a kitchen more than 80 years ago…
Yun Dok-Jeong, a mother of six, decided to use camellia oil to create hair treatments. She chose the best camellia flowers and spent hours extracting oil from them to make her treatments. Her camellia oil haircare products became quite popular, so she was able to open her first shop in the village of Kaesong, a city that is now part of North Korea.
Her second son, Suh Sung-Whan, worked with her from an early age. He learned the ropes, going with his bicycle to collect bottles and labels needed for conditioning hair oils all around Kaesong. Later, he also started to concoct face creams alongside his mother and he sold them in their shops.
Suh took over the family business in 1945, just after the end of the second world war. He began by renaming the company "Taepyeongyang", which translates as "Pacific Ocean", a name that says a lot about Suh's international ambitions, who saw the future of his company well beyond the borders of Korea.
To develop the company, he decided to focus on a cosmetic range based on ginseng. This inspiration came directly from his childhood in Kaesung, famous for the high quality of his ginseng. This plant has indeed been used throughout Asia for centuries for its many medicinal benefits. It's also very popular nowadays for its energizing, balancing and stimulating properties of the immune system.
Suh Sung-Whan had a very specific idea in mind. He knew that eating ginseng was good for your health. But its use as a cosmetic ingredient was still unprecedented. He set up his own laboratory in the 1960s and his team of lab researchers studied each part of the ginseng plant, from the flowers to the roots, to be able to provide proof of its effectiveness on the skin.
In 1966, the research was successful, so he launched the ABC Ginseng cream, a real innovation combining the modern technology of cosmetological research and the use of traditional Korean herbal medicine. The brand became "Ginseng SAMMI" in 1973, and started to export its ginseng products worldwide.
Then, in 1987, the brand decided to expand its research to other valuable ingredients from traditional Korean herbal medicine and took the opportunity to change its name. It became "Sulwha", which means "the flower of snow" in Korean. This flower is still used as their logo today.
Eventually, the brand became Sulwhasoo in 1997. The term "Soo" means "phenomenal" in Korean. Sulwhasoo's research focused on the study of the synergy between thousands of ingredients from traditional Korean herbal medicine. This gave birth to the JAUM Balancing Complex, a unique formula to rebalance the skin and optimize the results of products.
The JAUM Balancing Complex is at the heart of the First Care Activating Serum EX formula, which I'm reviewing today!
Now, Sulwhasoo is distributed in 12 countries around the world: South Korea, China, Singapore, Hong Kong, Thailand, Indonesia, Malaysia, Taiwan, Vietnam, the United States and Canada, and finally France since September 2017.
Sulwhasoo belongs to one of the largest South Korean cosmetics group, Amorepacific, founded in 1997 by Suh Sung-Whan's second son, Suh Kyung-Bae.
Product presentation: Sulwahsoo First Care Activating Serum EX
Its concept:
Skincare
Do you need an essence?
Recently, and probably thanks to the influence of Asian beauty, a new type of product appeared on most skincare addicts radar: essences. Like a kind of "beauty water" or "liquid skincare", an essence is a hybrid liquid product that is a cross between a toner and a serum. Can it replace them or do you have to add it to them? I'll tell you everything you want to know about essences!
Read more
The concept of the Sulwhasoo First Care Activating Serum EX is not easy to understand if you're not familiar with the principle of Asian skincare rituals. Especially since Sulwhasoo has very specific ones!
The First Care Activating Serum EX is called "serum", but it's not really a serum in the classic sense of the word. If I had to put it in a category, I would probably describe it as an essence, and more precisely a "first essence", this liquid treatment that you apply at the very beginning of your routine. And again, you'll see it, it's not completely right because it's a quite unique product.
With Sulwhasoo, there's a very specific "system" of skincare, with always the same steps. This system works for all the brand's ranges and the First Care Activating Serum EX is the only common product in all these ranges.
It's a 5 steps skincare routine:
– cleansing the skin with a cleansing oil and/or a cleansing gel,
– the "awakening" of the skin with the First Care Activating Serum EX,
– the skin balancing step with 2 products here, the "Balancing Water" and the "Balancing Emulsion" that help to restore the skin's hydrolipidic film (=the skin's water-oil balance) before applying any serum or treatment,
– the treatment step with the serum(s) and/or moisturizing cream (face and eye creams),
– the finishing step with, depending on the time of day, a protective sunscreen or a repairing sleeping mask that you can leave overnight.
This system is quite different from a traditional Asian layering routine, with an "oily" product (the "Emulsion") applied before the serum rather than after, like it's usually the case.
The First Care Activating Serum EX is part of Sulwhasoo's "Essential" range (with white and yellow packaging), designed for dehydrated, unbalanced skins to start preventing the first signs of aging.
But as I said earlier, the First Care Activating Serum EX is a specific product because it can be used with all the other Sulwasoo products from the other ranges. It's also the best-selling Sulwhasoo products and it's clearly one of the brand's signature products.
Basically, the First Care Activating Serum EX is a product that should be used before all other skincare products to balance, rehydrate and give skin radiance.
This product also optimizes the results of the treatments applied on top. Its booster function allows a better absorption of products for a more effective skincare routine!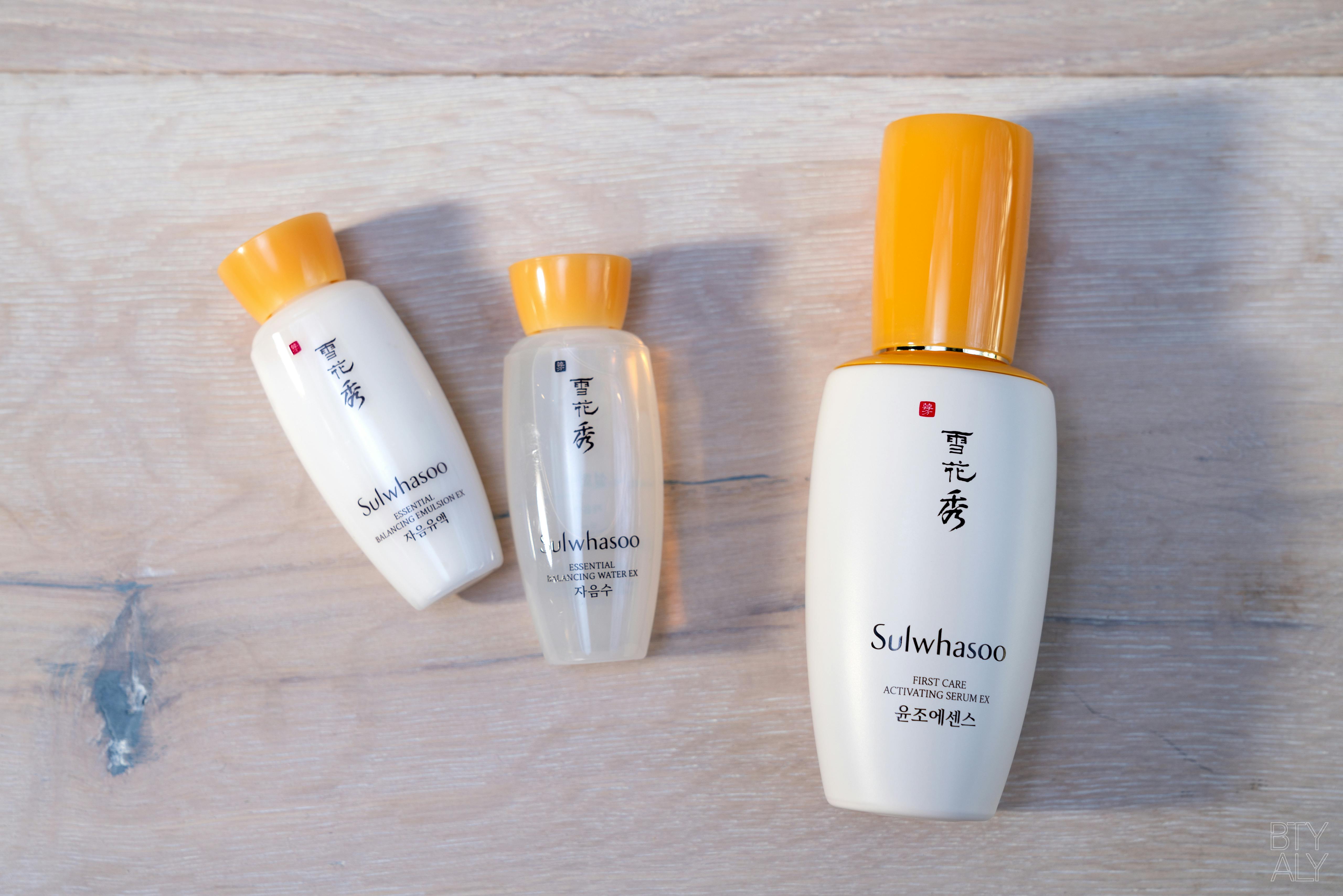 Its composition:
The First Care Activating Serum EX is filled with botanical extracts and medicinal herbs used in traditional Asian medicine.
The use of herbs and plants to treat is an ancestral practice in Korea, where there are many traditional hanbang doctors (the name of this medicine).
There is also a whole hanbang cosmetic in Korea, inspired by this medicine and Sulwhasoo is probably its most prestigious representative.
To design the First Care Activating Serum EX, Sulwhasoo researchers selected 5 plants from more than 3000 ingredients traditionally used in hanbang medicine. It took them thousands of trials to find the perfect formula!
This complex of 5 plants forms what Sulwhasoo calls the JAUM Balancing Complex. To manufacture each batch, it takes Sulwhasoo chemists 18 hours. This formula also evolves as technology advances and has already been improved 4 times since its launch in 1997.
The 5 plants contained in the JAUM Balancing Complex:
– peony, which has a regenerating and smoothing action on the skin,
– sacred lotus, which helps to slow down the aging process and to preserve the hydration and radiance of the complexion,
– white lily, which has brightening properties,
– Solomon's Seal, to nourish and improve the skin's resistance,
– Rehmannia, which soften and helps to firm the skin.
The rest of the formula contains many other plant extracts, such as roots, herbs etc. The First Care Activating Serum EX is a real hanbang concentrate treatmant!
Despite the presence of many natural extracts in the formula, Sulwhasoo cannot really be considered a "clean" brand (I don't feel it's really their will, anyway). The formulations also use conventional chemical ingredients. There is alcohol in the formula, placed quite high in the list of ingredients (it's used to extract plants and it also helps to improve the penetration of the active ingredients into the skin) but on me, it didn't cause any irritation. Instead, I felt like the First Care Activating Serum EX formula had a calming effect on my skin.
There is also a little bit of silicone but in a very small amount so my skin didn't react to it at all.
Regarding the formulation of Sulwhasoo products, an interesting aspect to note is that the brand has complete control over the production chain of its ingredients.
The plants used in the formulas are cultivated and harvested by Sulwhasoo, enabling them to control the quality. The brand also takes care of their extraction so that it's as gentle as possible in order to preserve their integrity and obtain an ultra-efficient extraction.
Finally, the formulation made in the Sulwhasoo laboratories takes into account the action of all these plants in synergy for a product that performs in the best possible way on the skin.
My experience:
I started to use the First Care Activating Serum EX last winter, in December. When I went to Seoul last year, I bought several Sulwhasoo products and received as a gift a whole routine from the Essential range in travel size (the Korean sales assistants are super generous!).
I decided to test all the products in this range for a few weeks. After a month of use, the results were quite impressive: a clear, clarified skin (no more pimples), no redness (I don't usually have a lot of redness but it can happen, especially in winter) and a great glow that almost made me ditch my foundation (I said "almost"! 😉 ).
I used other products earlier after this trial and reintroduced the First Care Activating Serum EX alone in my routine a few months later. This time I tried a limited edition, with plum extracts, which had been released in the spring. It was a real delight, which unfortunately did not remain on sale for very long, victim of its success!
After the summer, I let a few weeks go by without using the First Care Activating Serum EX and I missed it. It wasn't a dramatic change but I found my skin prettier when it was in my routine!
I have since reintroduced it in my routine and there's no doubt, I prefer my skin with it than without it!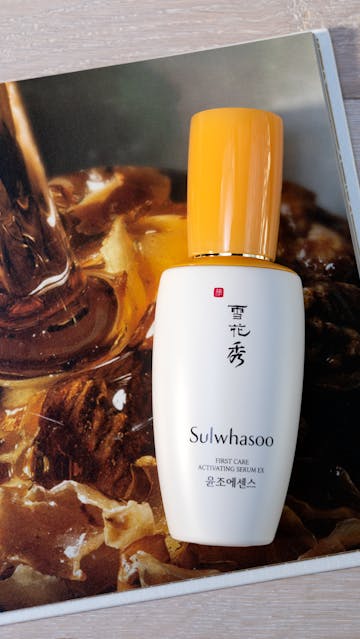 Result:
After a few weeks of using the First Care Activating Serum EX, my skin is clearer, more purified, more beautiful and above all more balanced. I find it more resistant than usual. It reacts less to external attacks (stress, climate, hormonal changes, etc.).
I was able to see this especially during the change of seasons which my skin usually hates (yes, even if I live in Dubai, it seems that my skin is conditioned to make me look terrible in Fall, wherever I live!).
Could it be the effect of a better circulation of energy, the famous "yin" of traditional Asian medicine, that I can feel on my skin? I know that this is one of the claims of hanbang cosmetics (and the First Care Activating Serum EX was designed with the precepts of this traditional medicine in mind), but I must admit that I know almost nothing about this concept so I couldn't really confirm it! 😉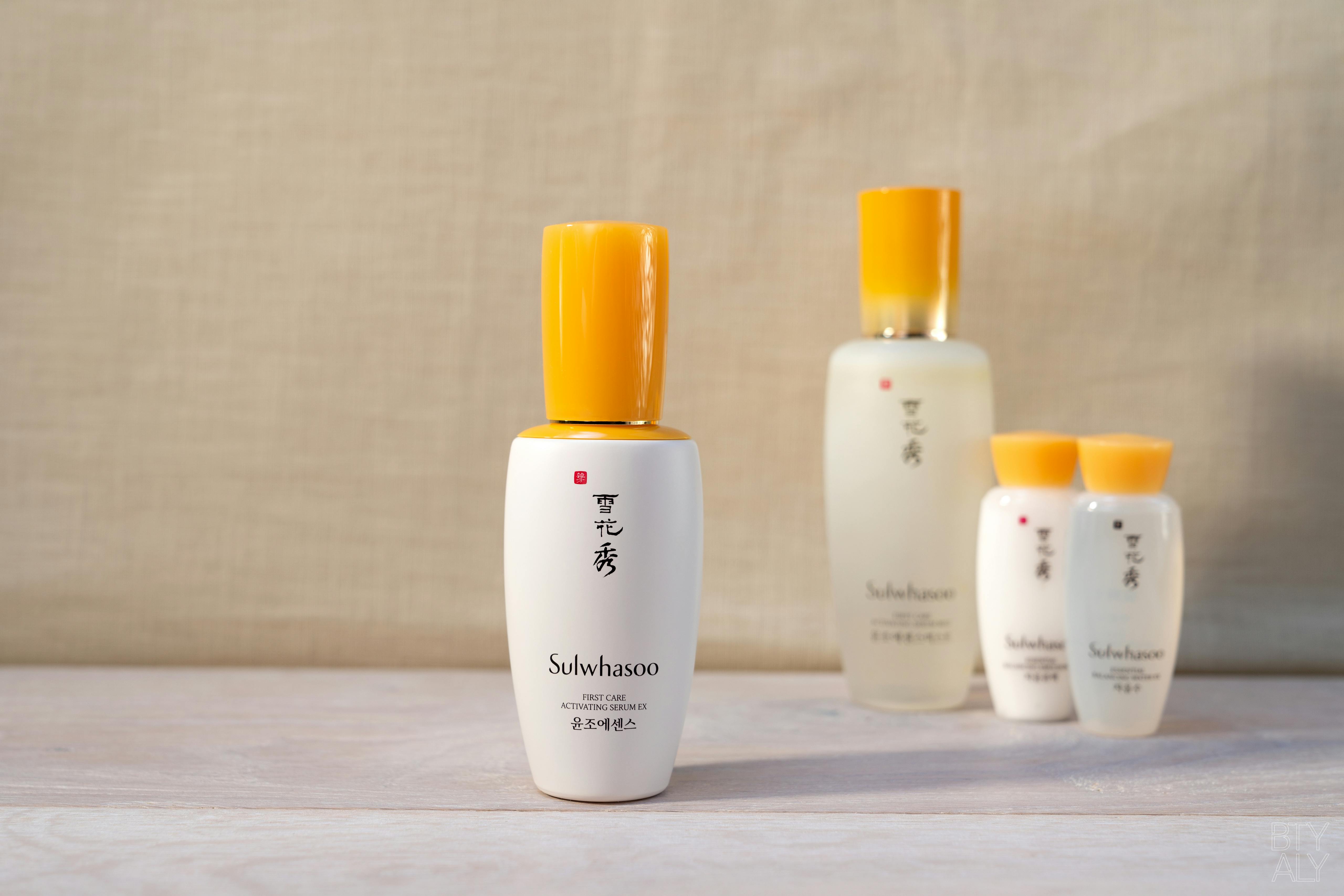 Value for money:
I think you've understood now, I'm a big fan of Sulwhasoo, especially thanks to the attention to the smallest details when it comes to their products.
The packaging of the First Care Activating Serum EX is absolutely gorgeous: simple but luxurious, the shape of the bottle is inspired by the old "celadon" ceramic vases, very popular in Asia since the 11th century.
You can definitely feel that it's a luxurious object when you use it. It's also quite heavy (which is often synonymous with luxury).
The product itself is a hanbang concentrate on its own with its oriental herbal scent (I know that it's not for everyone but I love this kind of smell!) and its lovely caramel color. It's a concentrate of plants, and you can smell it! You can definitely feel that the formulation is successful, it's very pleasant to use and all of these details come at a price.
I use the First Care Activating Serum EX in my evening routine and by using it once a day, the 60ml bottle usually lasts me 6 months (I use 2 to 3 pumps).
For me, the value for money is good. It's an excellent product and it's in the luxury cosmetic category, so it's priced accordingly.
A word of advice, however, watch for the daily promotions on Beautytap, they regularly do promotions on Sulwhasoo products and I was able to buy a bottle of First Care Activating Serum EX on sale once! 🙂
Availability:
The First Care Activating Serum is quite easy to find online. You can also find the brand in various duty-free shops, because it's a product that is extremely appreciated by Asian customers, and they're very fond of airport shopping!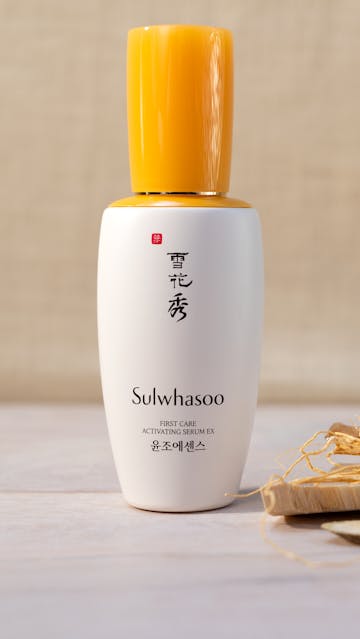 In conclusion:
The First Care Activating Serum EX is a unique product in its approach: helping the skin to regain its own balance and boost the efficiency of your other skincare products.
In short, of course, it's not an essential cosmetic product (which one is?) but for me, it's a very nice touch of effective luxury that makes my skin look good. So why go without it? 😉
Product Review in detail
Summary
Sulwhasoo First Care Activating Serum EX
"An essential first-step serum formulated with JAUM Balancing Complex™ assures a glowing and healthier look by harmonizing the balance of skin. "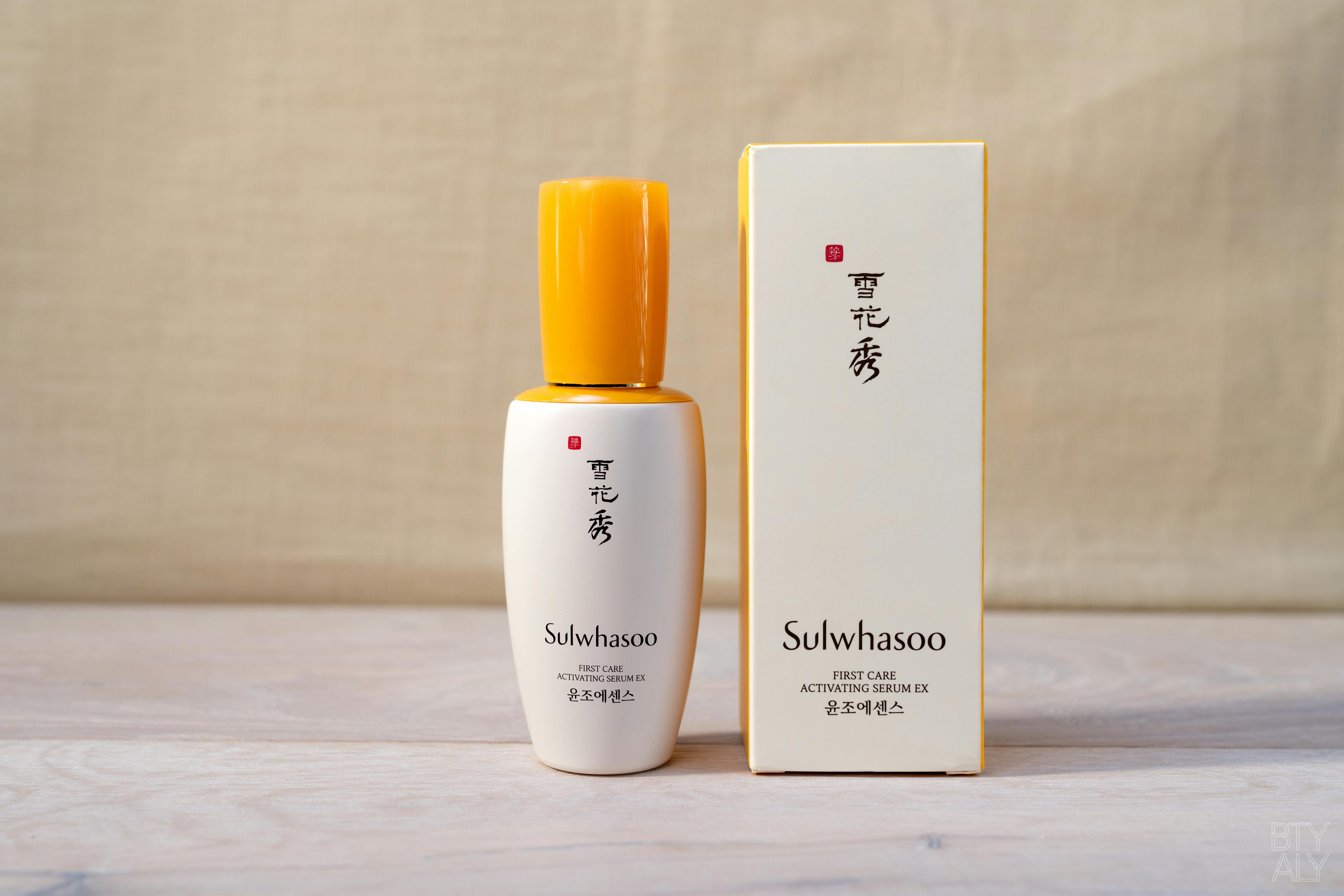 Recommendation
A
An excellent product if you can afford it.
Pros
- the clean, very simple and luxurious packaging,
- the formula, very rich in botanical ingredients, a true hanbang cosmetics' dream comes true,
- the very herbal scent, that I love,
- the fresh and quickly absorbed texture, which helps to stimulate the skin,
- the calming and soothing effect,
- the comfort it provides, the skin is immediately hydrated,
- the balancing effect in the long-term, my skin feels clearly better with it than without it,
- a little goes a long way so the bottle lasts a long time.
Cons
- the presence of silicones in the formula (that being said, they have no negative effect on my skin),
- the presence of alcohol can a little bit concerning, especially if you have a sensitive skin but the formula is so well formulated that I find it very soothing, actually,
- it's expensive, it's definitely a luxury (but it lasts a long time and it's effective, so for me it's worth it).
product name
First Care Activating Serum EX
size
60 ml (it's also availble in 90ml)
packaging
A very beautiful bottle with a pump in matte white glass with a golden yellow cap (there are also some limited editions with different packagings).
fragrance
A herbal scent, quite typical of hanbang cosmetics.
texture
A fairly liquid gel, in a golden/caramel colour.
For Who
Every skin types, all ages.
Concerns
– dehydrated skins,
– devitalized skins,
– dull skins,
– sensitized skins,
– mature skins.
Method
I use the First Care Activating Serum EX in the evening (but it can be used morning and evening) after I have cleansed and quickly dried my face. If I use acids or retinol, I use it after that step (I usually allow my skin to dry for about 20 minutes before using the First Care Activating Serum EX).
I press 2 or 3 pumps of First Care Activating Serum EX and apply them on my face and neck. I press in the product (it goes fast, the product is absorbed rather quickly). I then continue with the rest of my routine (in my case: essence, serum, oil and night cream most of the time)
I don't really follow the "system" recommended by Sulwhasoo but I still try to follow a certain logic in the layering of my products. (However, if I use the rest of the Sulwhasoo range, I follow the steps of their system.)
Key Ingredients
The 5 plants contained in the JAUM Balancing Complex:
– peony, which has a regenerating and smoothing action on the skin,
– sacred lotus, which helps to slow down the aging process and to preserve the hydration and radiance of the complexion,
– white lily, which has brightening properties,
– Solomon's Seal, to nourish and improve the skin's resistance,
– Rehmannia, which softens and helps to firm the skin.
But there are also other plant extracts traditionally used in hanbang cosmetics, such as root extracts (ophiopogon japonicus, licorice, but there are others), which have an effect on blood circulation (and are also good to give radiance to the complexion and soothe redness), honey for its soothing, nourishing and antibacterial benefits.
There is also a good dose of antioxidants such as green tea and cocoa extract and moisturizing ingredients such as hyaluronic acid and beta-glucan.
In short, a beautiful formula, filled with botanical extracts and traditional medicinal herbs, a dream for hanbang cosmetics fans like me!
Ingredients
ophiopogon japonicus root extract, glycyrrhiza uralensis (licorice) root extract, water, butylene glycol, alcohol, glycerin, betaine, camellia sinensis leaf extract, paeonia albiflora root extract, nelumbo nucifera seed extract, polygonatum officinale rhizome/root extract, lilium tigrinum flower/leaf/stem extract, rehmannia glutinosa root extract, chrysanthemum morifolium flower extract, paeonia suffruticosa root extract, citrus unshiu peel extract, adenophora stricta root extract, lycium chinense root extract, coix lacryma-jobi ma-yuen seed extract, angelica tenuissima root extract, honey, astragalus membranaceus root extract, biosaccharide gum-1, natto gum, beta-glucan, sodium hyaluronate, juglans regia (walnut) shell extract, portulaca oleracea extract, zizyphus jujuba fruit extract, theobroma cacao (cocoa) extract, peg/ppg-17/6 copolymer, glyceryl polymethacrylate, bis-peg-18 methyl ether dimethyl silane, potassium carbomer, peg-60 hydrogenated castor oil, dextrin, cellulose gum, ethylhexylglycerin, chondrus crispus (carrageenan), phenyl trimethicone, propanediol, hydrogenated lecithin, propylene glycol, disodium edta, phenoxyethanol, fragrance.
Ingredients not included
– Mineral oil,
– SLS,
– Dyes,
– Parabens.