Intro
A detailed review of the Pressed Serum Tundra Chaga by the Korean skincare brand Blithe, a 2-in-1 nourishing, moisturizing and anti-aging product made with mushrooms and fermented ingredients.
A two in one hybrid skincare product which contains 60% mushroom extract? There is no doubt, it has to be a Korean skincare product!
When I first discovered K-Beauty a little over a year ago, I noticed a lot of cool skincare products and the Blithe's Pressed Serum Tundra Chaga definitely caught my eye.

The concept already seemed different to me: a two-in-one product while people always talk about Korean women's very long skincare routine, I thought to myself, well that flies in the face of preconceived ideas.

And then there were also those intriguing natural ingredients, mushroom extracts, and fermented oils. Of course, it piqued my curiosity!

Finally, the texture sealed the deal: I have a dehydrated oily skin but I must have had a dry skin in another life. I love nothing more than comfortable cream textures!
So, if someone tells me that I can apply a super-rich product without clogging my pores because the product is too greasy for me, I'll sign up right away!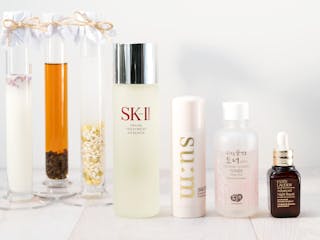 Ingredients
Focus on: fermented ingredients (ferments, yeasts, probiotics)
Like probiotic cures that are recommended at each change of season, cosmetics use more and more bacteria, yeasts and other fermented ingredients in skincare products to take care of the skin and its micro-bacterial flora, the microbiome.
Read more
So I finally bought it a while back and I must say the Blithe's Pressed Serum Tundra Chaga exceeded my expectations, I'm already on my third jar! It was really about time I told you more about it.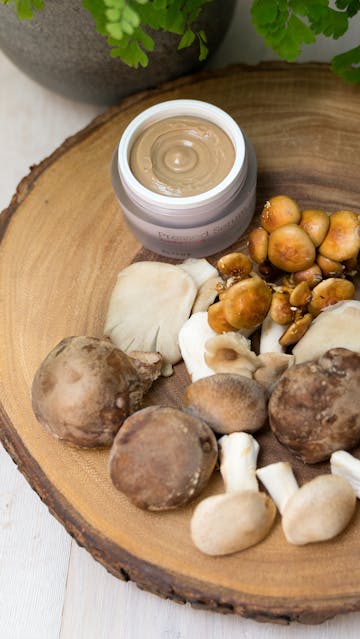 Product presentation: Blithe Pressed Serum Tundra Chaga
Blithe is a South Korean brand. It's not really high-end but definitely not cheap and they're known for their very original products. They have no less than four pressed serums like the Tundra Chaga (with different textures and actions) but also liquid face masks, to "splash" on the face for a maximum effect in a very short time. It's definitely a very innovative brand!
Blithe's Pressed Serum Tundra Chaga is, therefore, a hybrid product that can be used in many ways.
It's a pressed serum, which means you can use it instead of your serum and moisturizer. Very practical if you don't have much time, or if you don't want to use too many products, but you still want to take care of your skin! For this last reason, I like to take it with me when I'm traveling, and besides, its texture is perfect because it doesn't smear everywhere.
It can also be used instead of your serum, for a very nourishing effect (it has a thicker texture than a classic serum). Personally, I tried to use it that way, and it doesn't work on my combination skin. The other products I apply on top don't absorb very well. But on a very dry skin, it may be worth the try!
And finally, it can simply replace your moisturizer (day or night)! That's the way I prefer to use it. Its texture is ideal as a night cream for my very dehydrated combination skin: the product literally melts on my skin but without leaving an oily residue. I usually apply Pressed Serum Tundra Chaga over my current face oil or balm, and I have a perfectly nourished and hydrated skin (here in Dubai, it's already summer which means my AC is on all day, the air is super dry and my skin is super thirsty so I need all the hydration I can get).
Regarding its target, the Pressed Serum Tundra Chaga can be suitable for all skin types. It's particularly great for damaged skins because its primary function is to repair, thanks to the Chaga mushroom, which represents 60% of the product and is naturally an anti-inflammatory.
The Chaga mushroom is a well-known and very appreciated ingredient in Asia where it's widely used in oriental medicine, particularly in the form of tea for its powerful antioxidant properties.
The Blithe Pressed Serum Tundra Chaga also contains fermented olive and argan oils, which are very nourishing and repairing.
This product also has an anti-aging benefit, thanks to its ingredients rich in antioxidants (still the famous Chaga mushroom, but also the adenosine, which has anti-wrinkle properties).
In short, a complete treatment and a versatile product!
My experience:
I absolutely adore the Blithe Pressed Serum Tundra Chaga!
I started using it about a year ago, so I was able to experience it during the very hot Dubai summer. At this time of year, as explained above, my skin is very dehydrated because of the AC which is constantly on everywhere (even in taxis and bus stops).
I particularly appreciate this product which gives me a deep hydration but without being oily!
The texture is an absolute joy, I even think it's what I prefer in this product. Saying this is extremely pleasant to use is an understatement.
This creamy gel has a rather weird color (it's caramel brown)! When you apply it, its texture changes completely: it literally melts into the skin, I love this feeling! I can definitely feel how rich it is but it's not greasy at all.
I like it very much used as a night cream because it leaves a slight film on the surface of the skin. I tried using it during the day and I like it as well. It doesn't make me look more shiny than usual and it really retains moisture throughout the day.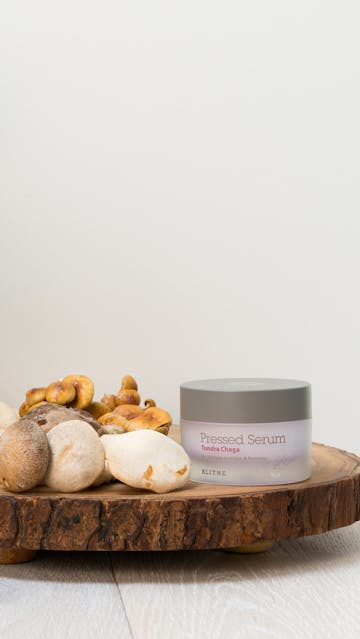 Result:
My skin feels bouncy and well hydrated with the Blithe's Pressed Serum Tundra Chaga. It has an undeniable plumping effect and as a small bonus, I don't wake up with an oily looking skin in the morning like with other night creams I tried in the past.
For the anti-aging result, clearly, this product falls into the category of products where the results are visible in the very long run. Its action is rather preventive (which it's totally OK with me).
Value for money:
For me, it's a good value for money because the concentration of active ingredients in the Pressed Serum Tundra Chaga formula is really high (60% Chaga mushroom extract, that's a lot of mushrooms in there!). You're definitely paying for a good formula, here.
It is also a very pleasant product to use and my skin seems to appreciate it a lot.
I like the fact that it goes beyond simple hydration, it's also anti-aging and repairing, which is great (especially when my skin is completely thirsty in the middle of summer, I need the extra-boost it gives to my skin).
The packaging is practical even if I would have preferred an air-less jar (but I'm not sure that the texture of the product allows it). A 50 ml jar will generally last me between 3 and 4 months if I use it once a day.
In summary:
To sum it up, Blithe's Pressed Serum Tundra Chaga is a real great discovery which became an instant favorite. I adore it, especially used as a night moisturizer. I already bought it several times and I intend to continue using it in the future! Sephora Middle East just started to distribute it in the Emirates, which makes it super accessible for me (I was so excited to see it in my local Sephora!).
The Blithe Pressed Serum Tundra Chaga retails for around $50 for 50ml.
Product Review in detail
Summary
Blithe Pressed Serum Tundra Chaga
"A hybrid serum and moisturizer combined in a 'pressed serum' format that is packed with 60% Chaga Mushroom extract harvested from the pristine tundras."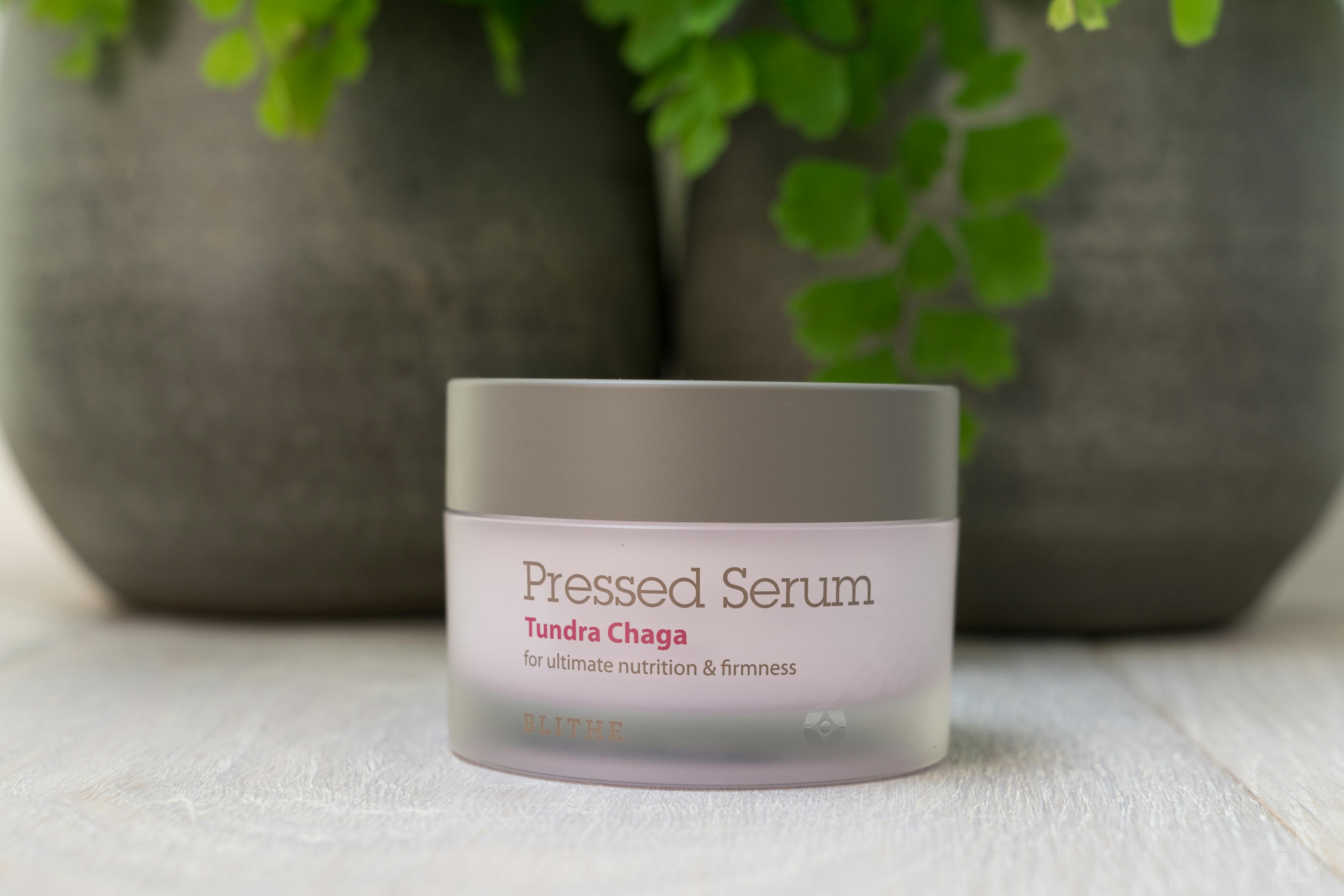 Pros
- the very pleasant melting texture, which transforms on the skin when applied,
- the deep hydrating effect without being greasy and heavy,
- the high concentration of active ingredients (60% of the product is Chaga mushroom extract),
- the presence of fermented ingredients for a better absorption into the skin,
- the minimalist and simple packaging,
- you don't need a lot (even if I admit that I tend to be very generous in my application purely because I love this texture so I clearly apply too much),
- you can use it as a serum, instead of your moisturizer, or even as a 2-in-1 serum + cream product. It's a true hybrid product.
Cons
- maybe it's because of my skin type (I have a combination skin), but I don't find it very suitable used as a serum. It doesn't absorb as well as a more liquid serum and the products I apply on top don't absorb very well,
- it's a matter of preference here, but I would have preferred an air-less packaging, I'm not a big fan of jars (the product contains preservatives and I use the spatula that comes with it and I clean it after each use, so it's not that big of a problem).
product name
Pressed Serum Tundra Chaga
packaging
A rather heavy plastic jar, which feels high-end, very minimalist and simple.
fragrance
A slightly fresh and pleasant scent.
texture
A delicious custard-like texture, creamy and slightly gel-like. Applied onto the skin, it literally melts into it.
For Who
All skin types, including mature and sensitive skin. It's an ideal product for dehydrated skin.
Concerns
– dehydrated skins,
– combination skin (especially if you don't like heavy textures),
– dry skins,
– mature skin,
– wrinkles, fine lines,
– discomfort.
Method
I use the Blithe Pressed Serum Tundra Chaga in the evening instead of my night cream. I apply it at the end of my skincare routine. I use the spatula (I don't like to put my fingers directly into products, I'm a bit OCD about hygiene).
No need to use a lot, the size of a pea is enough (even if I tend to use more because I love this texture, but it's definitely not necessary!).
I massage it for a few seconds and let it absorb on my skin. It's a little sticky at first, but my skin absorbs it after a few minutes
Key Ingredients
A very high concentration of active natural ingredients such as for example:
– 60% of Chaga mushroom extract:
Widely used in Asia and Russia, this mushroom grows on trees in cold, arid climates (especially in the Siberian tundra). It's a very repairing ingredient and it's packed with antioxidants. It contains a lot of polysaccharides, which have the property of binding to immune cell receptors, which increase the skin's resistance to bacterial infections while protecting it from daily environmental stress. This extract has been cold extracted to preserve the optimal nutrients of the Chaga mushroom.
– Fermented olive and argan oils:
They nourish and prevent skin dehydration durably while protecting it from climatic aggressions and pollution. They also help to minimize the visible signs of aging.
Ingredients
Inonotus Obliquus (Mushroom) Extract(60%), Water, Glycerin, Diglycerin, 1,2-Hexanediol, Triethylhexanoin, Polyurethane-39, Cetearyl Alcohol, Caprylic/Capric Triglyceride, Limnanthes Alba (Meadowfoam) Seed Oil, Olea Europaea (Olive) Fruit Oil, Argania Spinosa Kernel Oil, Candida Bombicola/Glucose/Methyl Rapeseedate Ferment, Citrus Medica Limonum (Lemon) Peel Oil, Cedrus Atlantica Bark Oil, Pelargonium Graveolens Flower Oil, Alteromonas Ferment Extract, Sparassis Crispa Extract, Hydrogenated Vegetable Oil, Hydrogenated Lecithin, Lecithin, Butylene Glycol, Acrylates/C10-30 Alkyl Acrylate Crosspolymer, Polyacrylate-13, C12-16 Alcohols, Caramel, Palmitic Acid, Pentylene Glycol, Caprylyl Glycol, Polyisobutene, Glyceryl Acrylate/Acrylic Acid Copolymer, Potassium Hydroxide, Adenosine, Polysorbate 20, Disodium EDTA, Dipropylene Glycol, Methyldihydrojasmonate
Ingredients not included
– mineral oils,
– silicones,
– parabens,
– synthetic dyes and perfumes,
– sulphates,
– phthalates.