Intro
Disclosure:
A sample or samples were provided by the brand / company.
Discover my review and thoughts on the Salicylic 2% Acid Masque from the Canadian skincare brand The Ordinary.
The Ordinary is back in full force with the launch of its first-ever cleansing mask, the Salicylic 2% Acid Mask. A 2 in 1 exfoliating mask, very practical and not abrasive at all!
Apparently, I'm in a salicylic acid phase!
I really find this ingredient particularly effective and my skin really enjoys it. I almost never feel irritated with it, unlike some of the most active AHAs that can still tingle quite a bit on application, even if I'm used to them.
However, this is the first time I used it as a rinse-off mask. Usually, I've come across it more as a treatment I leave on my skin.
I was a bit suspicious when I saw this new The Ordinary Salicylic 2% Acid Mask, I'm not gonna deny it… I was scared it was some kind of harsh scrub mask, and therefore not really my cup of tea
But on closer inspection, I understood that it was more of a 2 in 1 product, exfoliating thanks to acids (therefore without grains) while being also a deep cleansing mask!
With my combination skin, this is the type of product I use regularly, especially in summer when my skin gets clogged faster with pollution and extra layers of sunscreen! But I usually use an exfoliant first, then a cleansing mask.
So I was very curious to try this practical 2-in-1 version and when the brand suggested to send me one to try, I quickly jumped at the opportunity!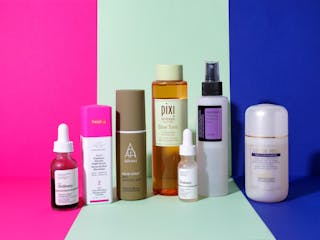 Ingredients
Focus on: exfoliating acids (AHA, BHA, PHA)
Some cosmetic ingredients are notoriously great to give the skin a true glow from within. And exfoliating acids are definitely amongst these ones!
Read more
The Ordinary:
For those who are not yet familiar yet, The Ordinary is a fairly recent Canadian skincare brand (2016).
It belongs to an umbrella company distributing a wide range of skincare brands, the Deciem group, created in 2013. The Ordinary is one of their brands, and it is probably their most resounding success.
The Ordinary was launched with the stated aim of revolutionizing the world of skincare. Yes, nothing less!
Indeed, The Ordinary products have nothing ordinary, starting with their ridiculously low price! A lot of their products retail on average around $6-$10 for the most part. They are super affordable and this is probably the main reason for their popularity.
The Ordinary products focus on 1 or 2 key ingredients maximum per formula. They can be synthetic ingredients, or natural ingredients derived from plants. The rest of the formula is quite simple, no added fragrance, few ingredients to improve the texture, just the essential that makes it easy to use (some of the products are not the most cosmetically elegant, just so that you are warned).
The brand focuses on well-researched ingredients, recognized by the beauty industry, which have proven their effectiveness!
They also have a real approach of transparency towards their consumers.
Just looking at the names of the products, they emphasize their formulas and especially the key ingredients you can find in them.
Salicylic 2% Acid Mask, for example, says all you need to know: it contains salicylic acid, concentrated at 2% and its a mask. Of course, it's not the sexiest name ever, but at least with The Ordinary, you know exactly what you're buying!
On their website, it's very easy to know what the product contains, or doesn't contain, and the ingredient lists are generally quite short and simple.
Finally, the packaging is also very simple, almost pharmaceutical (it's trendy, so it's great!).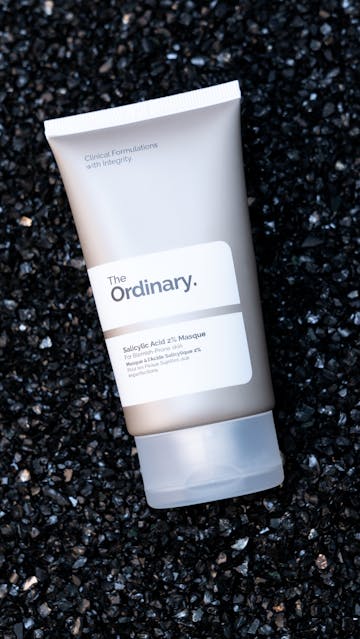 Product presentation: The Ordinary Salicylic 2% Acid Masque
The Ordinary Salicylic Acid 2% Masque is a 2 in 1 exfoliating cleansing mask.
In its formula, the key ingredient is salicylic acid (or BHA) concentrated at 2% for an exfoliating effect particularly suitable for combination to oily skin.
BHA removes dead cells and debris from the skin's surface. It's lipophilic, which means it's also able to go inside the pores to deeply cleanse them! Like other exfoliating acids, it also accelerates skin renewal, which stimulates the skin and gives it more radiance.
The Salicylic Acid 2% Mask also contains purifying and absorbent ingredients such as charcoal powder and Amazon clay (kaolin).
It's not drying at all thanks to the presence of moisturizing ingredients such as glycerin and squalane, which is a big plus for me and my dehydrated skin!
The brand already had a peeling "mask" with 30% AHA and 2% BHA in its range ( The Ordinary AHA 30% + BHA 2% Peeling Solution ) but its action is a little different. Here, with the Salicylic Acid 2% mask, the goal is rather to cleanse the skin deeply, while the peeling is more of a renovating function, which smoothes the skin on the surface.
Both are interesting to me because they don't meet the same skin needs.
My experience:
I was very curious to try the very first cleansing mask from The Ordinary. I knew it was coming (they announced it on their Instagram) and I was looking forward to its release! I was lucky enough that the brand sent it to me when it came out and I was able to test it as soon as I received it!
I've been using cleaning masks since I was a teenager. I have always suffered from acne and using a cleansing mask once a week is something that has remained one of my habits since, even if my skin has changed quite a bit over the past 25 years!
I still need this feeling of deep cleansing on a regular basis. My skin tends to get clogged very quickly if I don't clean it properly.
With this Salicylic Acid 2% Mask, I was especially interested in the practical 2 in 1 aspect, no need to do any exfoliation beforehand, it's included in the mask!
I would like to point out that it's not at all a scrub mask with grains that should be massaged before you rinse it. I hate those, I find them super harsh and I avoid them like the plague!
No. Here, you use it on very clean and dry skin, leave it on for a maximum of 10 minutes and rinse it with plenty of water. That's all! No need to massage and scrub!
During the time it was sitting on my skin the first time I applied it, I was surprised that it didn't tingle more. On the contrary, I felt a pleasant refreshing feeling. And it also dries very softly. In 10 minutes, it's dry but not hard like some other clay masks. It's quite easy to rinse and doesn't leave the skin completely dry and thirsty.
Of course, it's better to properly hydrate afterward, but this is fairly normal after a cleansing mask.
The result on my skin: it's clean, clear and very soft. I really like the absorbent effect and I even have the feeling that my skin doesn't look as shiny as usual the next day.
If I compare to their other Peeling Solution, this Salicylic Masque doesn't give me as much radiance. But these 2 products don't really serve the same purpose.
The Ordinary Salicylic Acid 2% Mask is especially great for acne-prone combination to oily skin. The AHA 30% + BHA 2% Peeling Solution is aimed more at people who want a renewed and radiant skin effect.
Both are not really recommended for sensitive skin, but if you have dry skin, the Peeling Solution will probably be more suitable for you.
I use the Salicylic Acid 2% Mask once a week maximum, more in the evening. In reality, it's actually more like once every two weeks because I alternate it with my Drunk Elephant Babyfacial peeling (it's a similar product to The Ordinary AHA 30% + BHA 2% Peeling Solution). It allows me to have the best of both worlds!
Obviously, all these acid products require good sun protection to use every day, I won't repeat myself 😉
I have a small complaint about the packaging, which I don't like very much. I would have preferred a larger tube. My 50 ml tube will be empty in no time since I apply a certain amount of product each time!
And the dispenser cap is not practical at all, IMO. Personally, I take it off otherwise it tends to "spit" when I try to take some product.
Rinsing the product is a bit "messy". If you can, remove it in your shower, it's way easier!
As always with The Ordinary, the price tag is great. The Salicylic Acid 2% Mask retails for $12 for 50ml.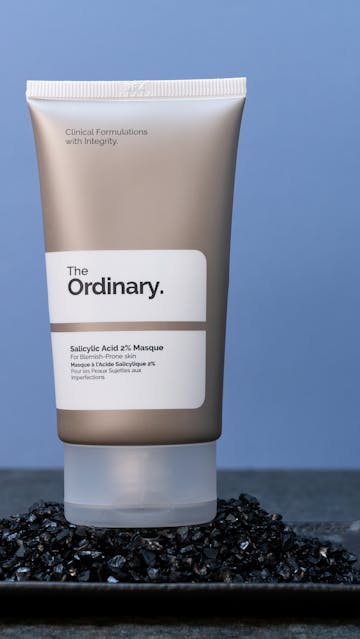 In summary:
The Ordinary Salicylic Acid 2% Mask is a good cleansing mask if you have like me, a skin that is easily clogged and tends to be acne-prone.
It's convenient to use and I was pleased to see that it did not cause me any irritation. Now, I don't really have sensitive skin and I'm used to using acids on a regular basis, so it could explain why my skin feels fine with it.
But for the season, I find it great and I even think I'll bring it in my suitcase during my next holidays!
The Ordinary Salicylic 2% Acid Masque retails for $12 for 50ml.
Product Review in detail
Summary
The Ordinary Salicylic 2% Acid Masque
"Salicylic Acid 2% Masque is formulated to target lackluster tone and textural irregularities. The formula, infused with charcoal and clays, aims to enhance the appearance of smoothness and clarity, leaving the skin feeling refreshed. The structure of salicylic acid facilitates its lipophilicity and miscibility with the lipids located on the surface of the skin. It is a suitable ingredient for targeting the removal of dead skin cells on the surface of oily and blemish-prone skin, with the purpose of revealing more radiant skin beneath. Charcoal and clays are ingredients renowned for their deep cleansing abilities due to their porosity and large surface area available for adsorption. They aid the removal of facial impurities that would otherwise remain on the skin surface and clog pores. In comparison to Salicylic Acid 2% Solution, Salicylic Acid 2% Masque is a rinse-off formula. Leave on for no longer than 10 minutes in order to maximize the exfoliating benefits."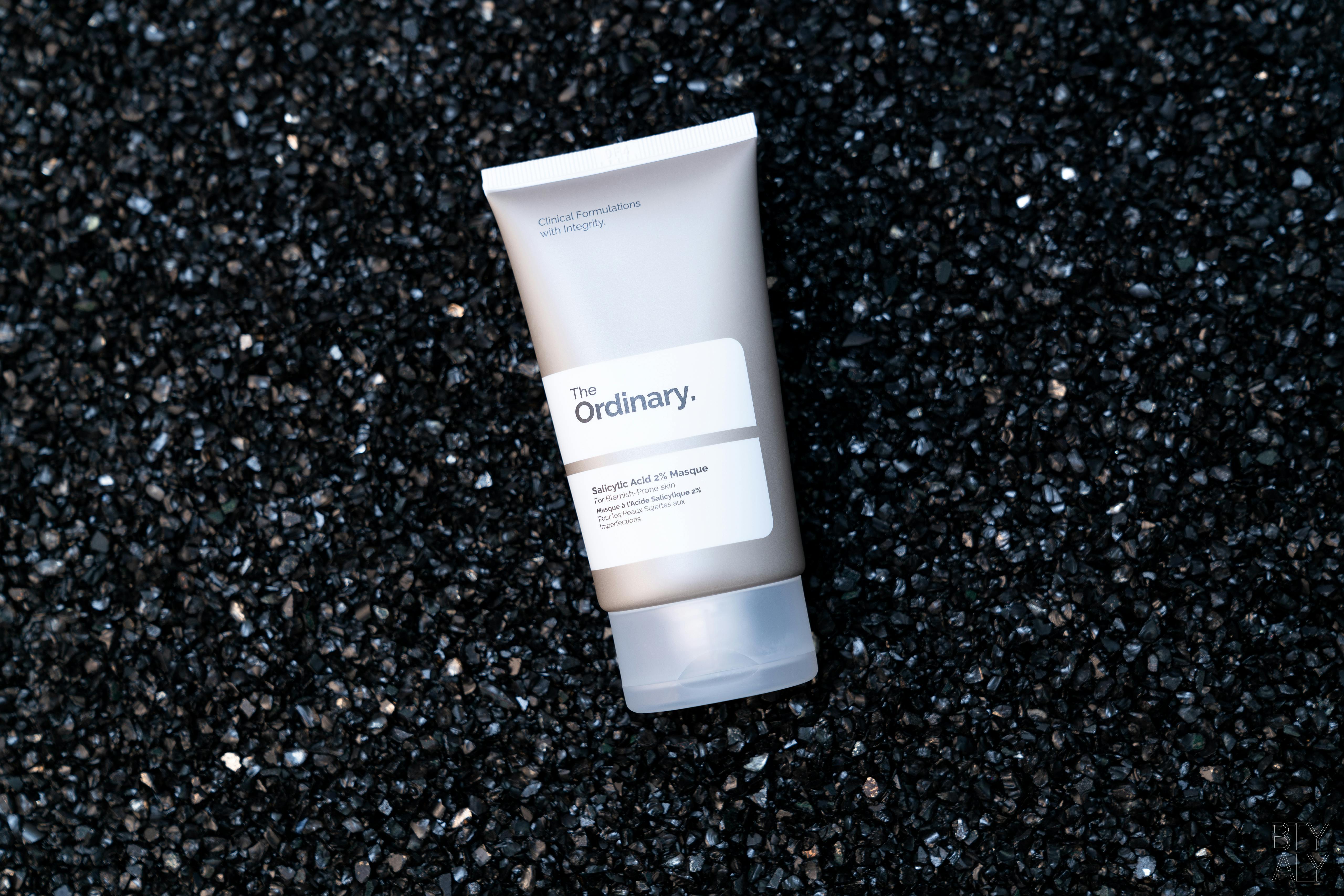 Recommendation
A
A good effective product!
Pros
- the formula, simple and effective,
- the result: a clean and thoroughly cleansed skin, without being irritated,
- it's a 2 in 1 mask: it exfoliates and cleanses perfectly in 10 minutes,
- it's pretty easy to rinse, it doesn't stick too much to the skin,
- it doesn't dry out my skin.
Cons
- the packaging is not very practical: I find it too small, and the flap cap isn't the best. I remove it to take some product, it's easier that way.
- it has just been released so it's not yet available in all the brand's distributors (but it should be soon).
product name
Salicylic 2% Acid Masque
packaging
A grey plastic tube with a flap cap.
fragrance
A rather indefinable smell, a bit chemical (but not too overpowering).
texture
A black paste, not too thick, and that contains powder (it's a bit grainy, but not like a scrub, it's much finer).
For Who
– combination skin with visible pores,
– oily skin,
– dull skin,
– acne-prone skin (especially with blackhead problems).
Concerns
– dull skin
– smoker
– skin exposed to the pollution
– large pores
– uneven texture
– blackheads, whiteheads, pimples.
Method
I apply the Salicylic 2% Acid Masque on well cleansed and dry skin in the evening. Dry skin helps to limit irritation. I use it on my face and neck, but I avoid the eye contour and mouth area.
I apply it in a medium layer, not too thick. I'll let it sit for 10 minutes. It dries but does not harden too much and remains quite flexible.
Then I rinse it with plenty of water (it's even easier in the shower) and pat my skin dry before going on to the rest of my evening routine (I avoid using my acid toner and retinol the same night so I don't irritate my skin).
I use it once a week maximum, or even once every two weeks (at the moment, I alternate with my Drunk Elephant Babyfacial Peeling mask).
Key Ingredients
The formula is rather short but it still contains several interesting ingredients. Like for example:
– salicylic acid concentrated here at 2%, for an effective exfoliating effect, especially on combination to oily skin,
– charcoal powder and kaolin for a deep cleaning effect,
– glycerin and squalane for moisturizing and comfort effect,
– SymSitive, a very soothing synthetic ingredient.
Ingredients
Aqua (Water), Kaolin, Squalane, Glycerin, Dimethyl Isosorbide, Silica Cetyl Silylate, Salicylic Acid, Sodium Polyacrylate, Pentylene Glycol, Charcoal Powder, 4-t-Butylcyclohexanol, Sclerotium Gum, Acacia Senegal Gum, Xanthan Gum, Phytic Acid, Polysorbate 20, Trisodium Ethylenediamine Disuccinate, Chlorphenesin, Phenoxyethanol.
Ingredients not included
– alcohol,
– mineral oil,
– silicone,
– fragrance,
– essential oils.