Intro
My review and thoughts on the Cica Sleeping Mask, a repairing face mask from the K-Beauty skincare brand LANEIGE. Discover why I love this product!
LANEIGE latest releases were definitely a big hit for me. Their latest sleeping mask, the LANEIGE Cica Sleeping Mask has even become a true favorite of mine! Here is my detailed review.
I thought nothing new could be launched now in the Cica products department, but I forgot the creativity of the Korean skincare brand LANEIGE!

Their Cica Sleeping Mask was indeed launched rather late compared to the other Cica products, early 2019, knowing that the Cica trend has been raging in Korea for almost 2 years now!

It was definitely worth waiting for because, as you'll see, I think it's a fantastic product!

LANEIGE is a legitimate brand in the Sleeping Masks department. I don't think they invented this product category, but they surely helped making it super popular!

The Water Sleeping Mask, a moisturizing sleeping mask, has been a bestseller for them for years and is now available in several versions.

Personally, I've never been a fan of the original formula, which I found quite uninteresting when you look at the list of ingredients. This Cica version however is much more appealing!

Let's see what's so special about it!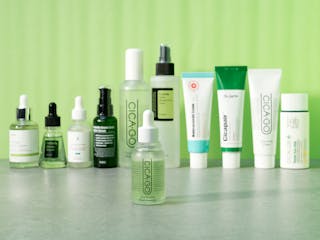 Ingredients
Focus on: Centella Asiatica (and the "cica" trend)
A huge trend in Korea, Centella Asiatica-based "cica" products are absolutely everywhere at the moment. Today, let's focus on this ingredient adored by sensitive skins!
Read more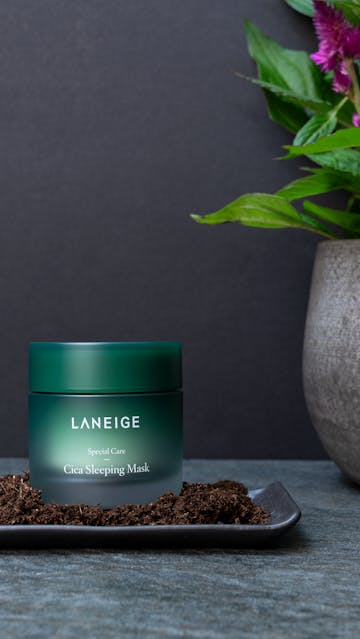 Product presentation: LANEIGE Cica Sleeping Mask
LANEIGE is well known in Korea (and around the world) for their famous Sleeping Masks. The brand has 6 different ones, including one for lips, that is almost as popular as the ones for the face.
Although they are relatively new in the rest of the world, Sleeping Masks have been very popular in Korea for almost 10 years now!
Lack of sleep is a widespread problem all over the world. The concept of a beauty product that promises a nice, plumped skin like you get after a good night's sleep, is therefore very attractive to many of us!
We know that good sleep is one of the keys to skin beauty, and in Asia, people talk a lot about "Golden Time" (=the first 3 hours of sleep), which would be the most repairing for the body.
A lot of Korean skincare brands developed a specific product to imitate the effect of this "Golden Time", and even boost this night repair to make the skin look well rested, even if you don't get enough sleep.
The texture of Sleeping Masks is quite specific. They're quite different from the good old night cream that's usually very rich and heavy.
Sleeping Masks are usually lighter in texture, with a water concentration that is often quite high because you must be able to apply them on top of your evening moisturizer if you want to. The aim here is to "trap" skin moisture with emollient active ingredients, for a fresh, smooth and plumped skin when you wake up.
During my last trip to Korea, I obviously wanted to try LANEIGE's cult product, the Water Sleeping Mask (the famous blue jar). I tested a sample to get an idea, but I must admit that I wasn't really convinced.
I didn't find it unpleasant to use, but I wasn't really seduced by its formula (some good moisturizing ingredients but also a lot of silicones, perfume, dyes.. meh).
However, when LANEIGE launched this Cica version, I was already much more interested in its ingredients list!
In this Cica Sleeping Mask, you won't find silicone, perfume, or dyes. I'm not going to say that the list of ingredients is completely natural, it's not, but I do find it really interesting!
The Cica Sleeping Mask contains many repairing and soothing ingredients because it's primarily intended for damaged and sensitized skin.
In the sleeping mask, you can find some Centella Asiatica (here, there are even its 3 components: madecassoside and asiaticoside, and Asian acid) but here, it's paired with a soothing active ingredient developed by the brand LANEIGE: Forest Yeast.
This famous Forest Yeast (or Aureobasidium Pullulans Ferment) is a patented ingredient by the company Amorepacific, which LANEIGE belongs to. It's a microorganism (or ferment) from a specific species of split peas growing in the Gotjawal forest on Jeju Island in South Korea.
According to the brand, this ferment has extremely good regenerating power on the skin, even more than Centella Asiatica. That being said, they decided to combine the two in the formula for a super repairing effect! ?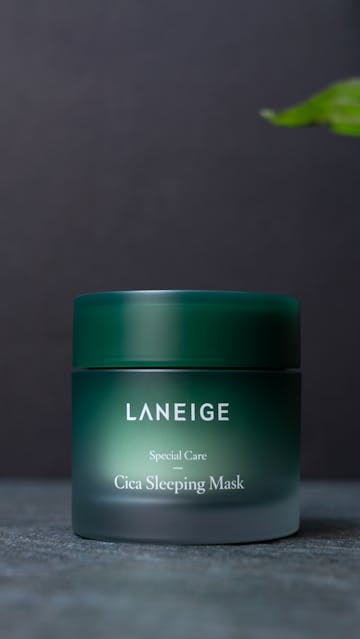 My experience and the result on my skin:
I bought the Cica Sleeping Mask as soon as it launched, mid-March. So I've been using it for a little over 2 months now.
I have been mentioning it over and over again for a few months now, but my skin is more sensitive than usual because of the retinol I started using more seriously at the beginning of the year. The Cica Sleeping Mask was therefore just perfect for me!
At first, I thought maybe I could use it instead of my night cream, each night. But from the first time I used it, I realized that 2 to 3 times a week would be more than enough to have an effective restorative effect. Given its very thick texture, I'm afraid it's a little too much for my combination skin used every night.
So I decided to apply it on the nights I used my Biologique Recherche P50 acid toner and I find the combination of the two products really ideal! I usually use the Cica Sleeping Mask at the end of my evening skincare routine, instead of my night cream.
The P50 Lotion is very effective on me and I love it, but it always tends to leave my skin a little red (it's a strong product!). The Cica Sleeping Mask gives me comfort again as soon as I apply it and I wake up the next morning with very smooth skin (thanks to acids) and also calm thanks to the LANEIGE sleeping mask!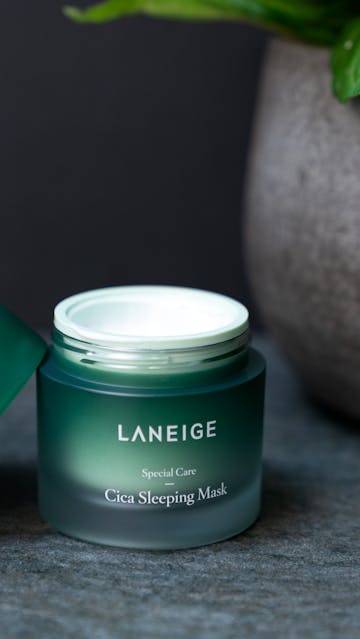 I don't apply a thick layer, a fine one is more than enough with my combination skin.
The texture of this mask is, as always with LANEIGE, incredibly nice! At first, this very creamy texture seems quite thick but very quickly, it melts and literally blends into the skin. The next morning, my skin doesn't feel oily at all, on the contrary. It looks very velvety and feels very comfortable and repaired.
In short, it's a real joy to use!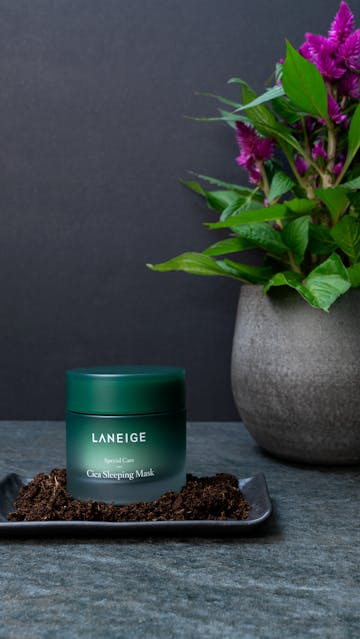 Value for money:
As often with LANEIGE, the quantity for money is interesting because for 60 ml and considering the amount of product I use with each application, I expect that the jar will last for a long time, probably at least 6 months.
The green jar of the Cica Sleeping Mask also feels very nice. Even if it's made of plastic, it gives a luxurious feeling and I think it looks very pretty in my bathroom! The user experience is also extremely pleasant. For me, it definitely worth its price!
It retails $30, for 60ml.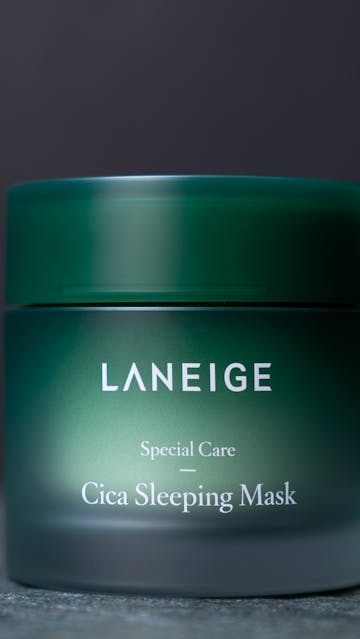 In summary:
As you can see, I really like this LANEIGE Cica Sleeping Mask.
Of course, I wouldn't describe it as an absolutely essential product in your skincare routine, rather as a very pleasant additional step. But you know I'm all about this #moreismore approach!
That being said, it is a very pleasant product to use, and also very effective, so really, what more could you ask for? 😉
The LANEIGE Cica Sleeping Mask retails for $30, for 60ml.
Product Review in detail
Summary
LANEIGE Cica Sleeping Mask
"A skin barrier strengthening mask, that helps to improve the skin's natural strength
to create healthy skin that withstands external irritation with the natural growth effect of
powerful cica ingredient 'Forest Yeast' during the sleeping golden time."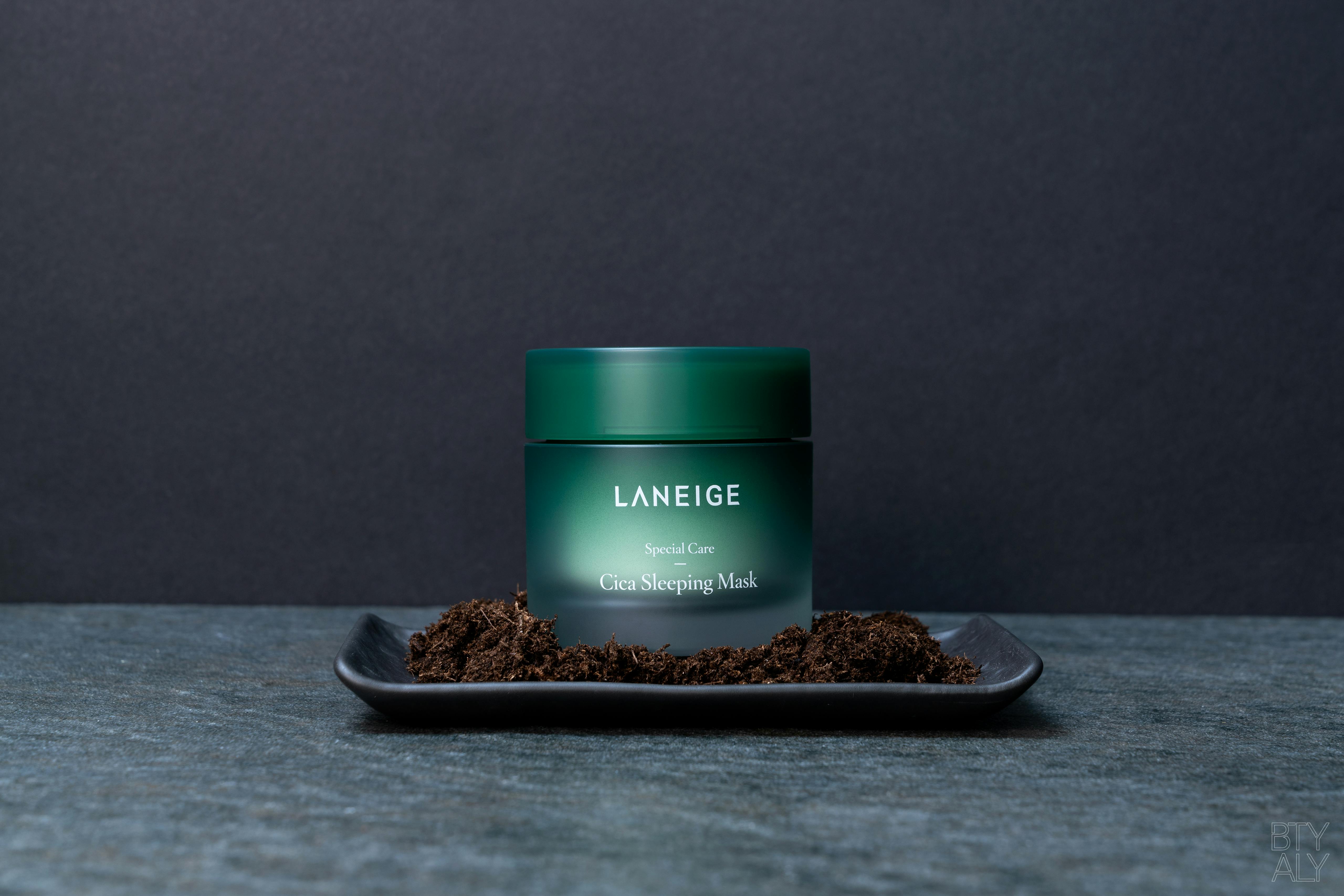 Pros
- the packaging is super pretty, sleek and it gives a feeling of luxury,
- the texture is incredible: soft, "hugging"... The skin absorbs it very well and it's super comfortable without being too rich. In short, a real joy to use!
- you don't need to apply too much, a fine layer is more than enough (a little goes a long way, and the jar will last forever),
- it doesn't contain any fragrance (to avoid irritating sensitive skin),
- its formula is super well done and suitable for many cases of sensitized skin: it contains many repairing, soothing and purifying ingredients (it's very good for acne prone skin, also),
- compared to other LANEIGE products, the formula is quite simple and natural (well, it's not an organic product, but you get the gist),
- it's perfect paired with some anti-aging treatments that can be sensitizing (like acids, and retinol),
- the result: a comfortable, calm skin but without any greasy effect.
Cons
- it's not yet very easy to find, you have to order it online on Korean shops (or YesStyle).
product name
Cica Sleeping Mask
packaging
A superb plastic jar (which looks like glass) with a frosted glass effect, dark green. Very simple and elegant.
fragrance
It's fragrance-free, and it doesn't have a strong or specific smell.
texture
An incredible soft and hugging texture, which seems rich and thick when you apply it but absorbs into the skin very quickly. It doesn't leave a greasy feeling.
For Who
For all skin types (even oily), and more particularly:
– sensitized skin, with a damaged protective barrier,
– reactive skin, with redness,
– dry and/or dehydrated skin,
– acne prone skin.
Concerns
– redness,
– sensitive, damaged skin,
– acne,
– feeling of discomfort due to irritation,
– very dry areas due to irritation.
Method
LANEIGE Cica Sleeping Mask is, as its name suggests, a night mask, which you use before going to bed.
I apply it on my face and neck at the end of my evening routine, usually instead of my night cream (for very dry skin, you can even apply it over it), in a fine layer. No need to apply a lot of product, it would just be a waste IMO.
After 2-3 minutes, my skin has absorbed the excess, I usually don't even need to massage it, and I just sleep with it! I rinse it in the morning when I cleanse my skin.
I use it 2 or 3 times a week at the moment, usually the same evening I use my Biologique Recherche P50 acid toner. I find the Cica Sleeping Mask particularly pleasant and soothing on my skin, which is always a little "stressed" by strong acids 😉
Key Ingredients
A nice formula, very rich in soothing and repairing ingredients, perfect to strengthen and repair a damaged skin barrier! The main ones:
– squalane oil: an oil that is very close to the skin's sebum, and therefore very well tolerated by all skin types, for a protective and anti-dehydration effect,
– moisturizing glycerin,
– repairing vitamin B5 (Panthenol),
– repairing and nourishing shea butter,
– Centella Asiatica, the famous Cica (Asiaticoside, Madecassic Acid, Asiatic Acid): soothing, repairing, calming, regenerating,
– Tea Tree oil (Melaleuca Alternifolia): purifying and anti-inflammatory,
– the famous "Forest Yeast" (Aureobasidium Pullulans Ferment), an ingredient patented by the company Amorepacific, to which LANEIGE belongs. It's a micro-organism (a ferment) that has extremely good regenerative power on the skin (even more than Centella Asiatica),
– an extract of Japanese Cypress leaf (Chamaecyparis Obtusa) for its anti-bacterial and antiseptic effect,
– Palmarosa essential oil (Cymbopogon Martini) for its anti-microbial and anti-inflammatory effect.
Ingredients
Water/​Aqua/​Eau, Propanediol, Cetyl Ethylhexanoate, Squalane,Hydrogenated Poly(C6-14 Olefin), Glycerin, Panthenol, Cetearyl Alcohol, Butyrospermum Parkii (Shea) Butter, Glyceryl Stearate Citrate, 1,2-Hexanediol, Polyglyceryl-3 Methylglucose Distearate, Polyglyceryl-10 Stearate, Hydroxyethyl Acrylate/​Sodium Acryloyldimethyl Taurate Copolymer, Butylene Glycol, Acrylates/​C10-30 Alkyl Acrylate Crosspolymer, Glyceryl Caprylate, Ethylhexylglycerin, Disodium EDTA, Asiaticoside, Madecassic Acid, Sorbitan Isostearate, Asiatic Acid, Melaleuca Alternifolia (Tea Tree) Leaf Oil, Aureobasidium Pullulans Ferment, Chamaecyparis Obtusa Leaf Extract, Cymbopogon Martini Oil, Tocopherol.
Ingredients not included
– alcohol,
– mineral oil,
– silicone,
– synthetic fragrance,
– dye,
– parabens.