Intro
I tried the Korean anti-aging at home "Skin Clinic" device, the LG PraL Intensive Multi-Care BLP1 for several months and I give you my detailed review.
After several months of use, I can finally give you my verdict on the at home "Skin Clinic" device, the LG PraL Intensive Multi-Care BLP1 from the Korean tech brand LG. Did it keep its promises, which were quite ambitious? My answer is in this post!
I introduced it to you shortly after receiving it, at the end of 2021, in the LG PraL Intensive Multi-Care BLP1 Memo article.
To summarize, the LG PraL Intensive Multi-Care BLP1 is a multi-technology anti-aging device for a "Skin Clinic" effect at home!
What I call "Skin Clinic" are medical facilities dedicated to skin care, which offer all kinds of services to improve the beauty of the skin, not only cosmetic medicine. These are very popular in South Korea.
Another thing to know is that in Korea, most medical skincare treatments are much more affordable than elsewhere. Going for an anti-aging laser treatment or a peeling session costs much less compared to other countries!
In short, Koreans can go to these places rather easily, and they usually take advantage of it! Or rather… before the pandemic, they were taking advantage of it.
Because, with the Covid crisis, most of Skin Clinics had to close their doors. And Korean people had to change their habits to take care of their skin efficiently.
They turned to stronger cosmetic treatments (like retinol for example, which was a tremendous success in 2020, especially among younger people) but also to… anti-aging at home skincare devices.
Not only has the demand for skin devices increased a lot, but companies have increased their efforts to offer more and more complete and efficient devices.
This demand has not only exploded in Korea, there has been a real boom of skin devices in 2020 everywhere in the world!
But in Korea, as is often the case, cosmetic innovation is unavoidable. And the devices available are usually a step ahead of what you can find elsewhere.
And typically, the option presented here by LG seemed to me super complete and very innovative with its various anti-aging technologies grouped in a single device. The device was released in October 2021, and I ordered it a few weeks later.
I started using it at the beginning of 2022 and I am now ready to tell you all about my experience with the LG PraL Intensive Multi-Care BLP1!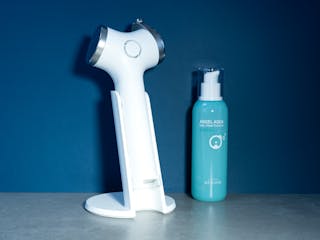 Skincare device
New In: LG PraL Intensive Multi-Care BLP1 anti-aging device
Having your own "Beauty Clinic" at home, wouldn't that be the dream if you're a skincare addict? Well, that's precisely the idea behind LG's brand new anti-aging device, the LG PraL Intensive Multi-Care BLP1!
Read more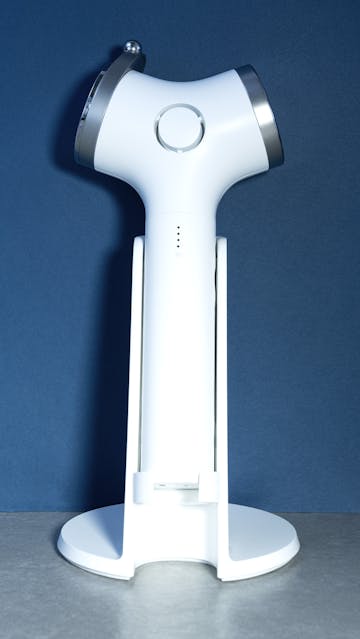 The anti-aging device LG PraL Intensive Multi-Care BLP1, product presentation:
The LG PraL Intensive Multi-Care BLP1 is a device that combines several technologies, five to be more exact!
This device uses two technologies to improve the elasticity of the skin, two others that improve the absorption of skincare ingredients applied before, and a last one that refreshes, soothes the skin, and helps tighten the pores.
All these technologies are divided into 3 heads located on the same device.
Here are the details:
The first head (Intensive Care) uses:
– Radio frequency, which helps to improve skin elasticity by generating deep heat inside the skin tissue (it doesn't burn at all, no worries!).
– Microcurrent, which improves elasticity by stimulating skin tissue and muscles with low-level electrical currents (less than 1000 µA), similar to the bio-electricity circulating in the body.
– Sonophoresis (ultrasound treatment): improves tissue oxygenation and stimulates the synthesis of collagen and elastin, helps to optimize the absorption of skincare ingredients.
– Iontophoresis: allows the active ingredients to penetrate the epidermis by using a continuous current called galvanic. The device generates a low-intensity direct (galvanic) current designed to help the skincare ingredients penetrate to the dermis.
The device also includes a specific eye treatment head (Eye Care), which allows you to work on more specific areas. The eye treatment uses the same technologies as above, except for radio frequency.
And finally, the device has a third head (Cooling Care) that uses cold / a cooling mechanism to soothe the skin and to help tighten the pores. Depending on the intensity, this head will be at 17°C, 11°C or 5°C.
Before using it, you just have to charge it (for about 3 hours); one charge corresponds to four uses of the three programs. I usually charge it once a week when I use it often.
To clean it after using it, just wipe it with a slightly damp cloth or a wet wipe (you should avoid using alcohol to not damage the device).
The anti-aging device LG PraL Intensive Multi-Care BLP1, how to use:
LG designed the device to be used 3 times a week, and the treatment comprises 3 steps.
The intensive anti-aging step, which uses the Intensive Care head (the one with the 4 modalities seen above). The treatment lasts for 6 minutes for the face and neck.
The eye contour step (and mouth contour if you want too), with the Eye Care head, which takes 3 minutes.
And finally, the cooling treatment with the Cooling Care head, which lasts for 3 minutes as well.
With these three steps one after the other, you get a 12 minute treatment, three times a week. Quite practical!
The device has voice guidance (in English, Korean or Chinese), so you know which treatment you are doing.
The device can be used on a cleansed skin, and you have to use a conductive product with it, either a gel or a water-based serum. No oil at all, as with all devices that conduct electricity. LG doesn't sell any conductive product with it, but there are several options.
I first used it with a hydrating essence that was slightly gel-like (Hada Labo, the classic one), which I re-humidified with a thermal water spray during the treatment (thermal water improves conductivity due to the mineral salts it contains). I usually didn't rinse it off after the treatment, I just finished my routine with my richer, emollient products on top.
Then I felt like testing it with a conductive gel (the one from NuFACE and these days, that's how I do it. I find it easier to massage and I don't have to re-humidify too often, it's convenient. I usually rinse or remove the excess after my treatment, but it can be left on the skin if you wish 🙂
I prefer to use a conductive product that contains interesting skincare ingredients because many of the technologies in this device facilitate the penetration of the active ingredients, so an Aloe Vera gel is not really super interesting with this device, for example (even though technically it works, you can massage over it). This is the case of the NuFACE gel and I find that it is ideal to massage over it for a dozen minutes (I use 4 or 5 pumps if I do the neck with it).
The massage protocol:
The massage with the device consists of sliding one of the heads on the skin, from the inside of the face to the outside. It's very simple, there is no sophisticated protocol. You just avoid staying on an area without moving, especially when you do the Intensive Care massage that heats up. The device is always in motion and you slide it over the skin. No need to apply strong pressure, it only needs to be in contact with the skin.
The brand advises against using it on the neck, but I admit to doing it anyway, carefully avoiding the trachea area.
No risk of getting burned with the Intensive Care program, rest assured. It uses a maximum heat of 35°C. The great thing is that it heats up super fast. No need to wait for it to be effective, in less than 30 seconds, it reaches the desired temperature.
You can choose the intensity you want, for the different programs. The first few times I used it, I stayed on lower intensities, but I quickly increased them because my skin was already more or less used to them thanks to the regularity with which I use my other devices.
Personally, during the massage, I focus on the areas that I want to tone up more, such as the oval of the face, the nasolabial folds and the forehead (especially between the eyebrows). I also massage the area around my dark circles, which I find to be quite pronounced, with the specific eye contour tip.
And for the refreshing massage step, I really like to insist on the areas where my skin is more sensitive (my cheeks for example), and also on my T-Zone (forehead, nose, chin) for the smoothing and astringent effect. The available temperatures are 17°C, 11°C or 5°C degrees, depending on the intensity chosen.
There is no timer in the device (I actually regret it), but you have time to go over the areas you want to massage several times.
I prefer to use it during my morning routine because I like its immediate draining and de-puffing effect, but you can use it in the evening if you prefer. And it's recommended to use it 3 times a week.
Precautions and contraindications:
Do not use if you have a history of epilepsy or seizures.
Do not use if you have had recent facial surgery or other surgical procedures – consult your doctor.
Do not use if you have any active cancer or any suspicious or cancerous lesion – consult your doctor.
Do not use if you are pregnant.
Do not use on infants and children under the age of 18, and keep device and attachments out of the reach of children.
Do not use if you have a cardiac pacemaker.
Do not use if you have an implanted defibrillator or stimulator.
Do not use if you have an electronic implanted device.
Do not apply stimulation across your chest as introducing electrical current into the chest may cause rhythm disturbances to your heart, which could be lethal.
Do not use your device on the breast area, midline of neck or groin.
Do not apply stimulation to the temples.
Your device should not be used on broken, swollen, infected or inflamed skin.
Do not get your device wet or use in the shower / bath.
Do not use with skincare products that contain ingredients that diminish its effectiveness (such as alcohol, oily/greasy ingredients, retinol, sunscreens…).
My experience with the anti-aging device LG PraL Intensive Multi-Care BLP1:
In the West, LG is known as an electrical household appliance company. But in Korea, LG is a giant company with branches in almost every sector of the economy. They have several cosmetic brands (including Belif for example, among others) and for a few years, they have also been offering a range of tech skin devices! I already have an LED mask from the brand, purchased 5 years ago, which I still use and love.
That it was a brand I knew was reassuring to me about the quality of the product. However, the drawback with LG devices is that they are hard to find if you don't live in Korea or China, even online. I feel like the LG PraL Intensive Multi-Care BLP1 is not available outside of Asia, even almost a year after its release.
If I wanted to try this device, it's mainly because I found the concept rather clever and very innovative: an all-in-one device, it's really practical! (yes, the LEDs modality is missing, it's true, but it wouldn't have been easy to add in a device intended for massage 😉).
And using it 3 times a week, for 12 minutes per session, I found it easy to consider in my routine. In fact, this is something you should always keep in mind before investing in a device: are you going to use it diligently or not? If you buy it, use it twice and leave it in the cupboard after that, there's no point. You can keep your money. Devices are only effective if you use them 😉.
I really enjoy using my devices in my morning routine, because the draining and de-puffing effect of the massage is always immediately noticeable, and it really helps when you wake up a little bloated after a night of sleep (like I do!). So this is how I decided to use the LG PraL Intensive Multi-Care BLP1.
There is not really a very precise treatment protocol with this device, so I find it very simple and quite intuitive to use. The massage itself is extremely pleasant.
The first step, Intensive Care, heats up, but it never burns. I even find it relaxing. The second step for the eyes does not heat up. It's not my favorite part but at least it's quick! And the cooling step is super refreshing, and I particularly liked it this summer. The cool effect is really noticeable, and the head stays cool for the duration of the massage, which is very nice!
However, I must point out that the device is quite heavy. I almost got sore arms the first few times I used it!😉
But in short, I'd say it's still a device I enjoy using, and I know that's important for consistency, as mentioned above.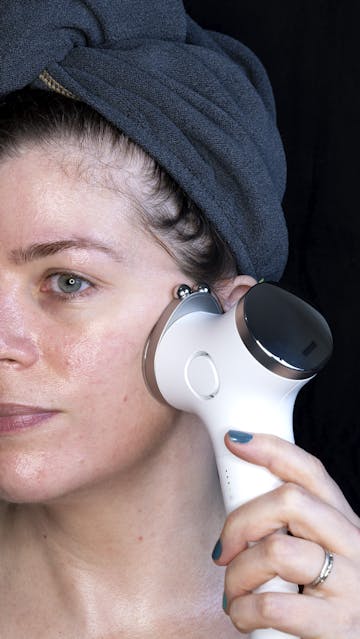 The results after 9 months of use:
So, to be very clear, I was not starting from scratch when I started using this device. Out of the 5 technologies it includes (radio frequency, microcurrents, sonophoresis, iontophoresis, and cooling care), I've been using microcurrents for years. I have two devices: the NuFACE, which I now use only on weekends, and the Ziip, which I use 3 times a week.
Basically, here are the results I was hoping for when I started using my LG PraL Intensive Multi-Care BLP1:
– a better overall skin tonicity for my face, since several technologies target collagen production,
– a targeted action on my sagging skin areas (in my case: the oval of the face, nasolabial fold, the hollow of my dark circles and the upper eyelid),
– a better microcirculation and drainage thanks to the massage for a more visible radiance of the complexion, and a less "puffy" face in the morning,
– and finally, a smoothing effect on the texture of my skin (especially on my dilated pores), and more radiance.
I was counting on the technologies that I did not know yet, in particular on the radio-frequency that I hear so much about everywhere, to give me good results.
Of course, I know the results are always very subtle. I never expect a spectacular lifting effect with any at home anti-aging devices. But the ones I normally use are working for me and I can see a real difference compared to a few years ago when I didn't own any.
To do a proper trial, I started by stopping using my other devices for the first month of my trial. I wanted to see how it went using the LG PraL Intensive Multi-Care BLP1 on its own.
And… I have to say that after a month, I missed my regular devices. As a reminder, I use an LED mask every day (I alternate between my LG and my CurrentBody) and a microcurrent device 3 or 4 times a week (the Ziip or the NuFACE depending on the time I have).
The LG PraL Intensive Multi-Care BLP1 was supposed to be able to replace all of them,it was the whole point of this device really, but after this month of testing, I was not convinced. I felt it especially on the level of the tonicity of my face; something was missing.
So, after the month of testing the LG alone, I decided to reintroduce my other devices. I wanted to see if the LG could add something to the other technologies I was already using. I went back to using my LED mask every morning, just like before. And I decided to alternate 4 sessions a week of massage between my different devices (the Ziip or NuFACE, and the LG). I don't really have a schedule, sometimes I do two Ziip sessions and two LG sessions. But it can be 3 sessions of LG, one session of NuFACE. It doesn't really matter. As long as I do 4 sessions a week, I'm fine and I know I'm using my devices enough to be effective.
After several months of use, I honestly can't say that I see a huge difference in the tonicity of my skin compared to before, when I only used microcurrent devices. I don't find that I get more results. It's basically the same thing. For me, the introduction of the LG PraL Intensive Multi-Care BLP1 has not really brought a plus when it comes to skin toning.
However, my skin's radiance and texture have been improved, which I greatly appreciate. My complexion has kept its radiance, and by continuing to use the LG device for several months, I even find that the result has increased. There's no denying that!
I know many people like them so I took some before-and-after pictures to show you how my skin looks. I'm not sure they are really useful because it's very complicated to take pictures in the same exact conditions, especially with several months between pictures…
I took the first pictures at the beginning of January 2022, when I was just starting using my device, and the others at the end of October 2022. You'll see, I didn't manage to get the same lighting and I don't have quite the same skin color in the middle of winter and in autumn, so don't rely on it 😉.
What I'm mostly trying to look at in these photos is the overall look of my skin, and if my signs of aging are more or less pronounced, especially in my oval, nasolabial folds and dark circles.
Front view:
Right side view:
Left side view:
As you can see, the difference isn't exactly blatant 😂😂😂.
Regarding tonicity, personally, I don't really see any. If there was a change, it's really extremely subtle. However, I see a result of the radiance of my complexion. Which is always great, yes, but for a device that uses so many technologies, the result is still a bit disappointing IMO.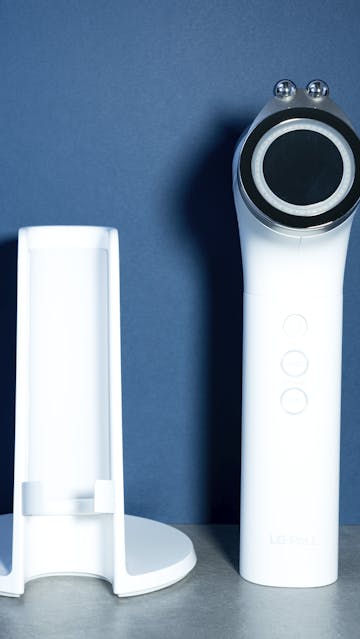 In conclusion:
I realize that it's getting hard for me to do super objective reviews on anti-aging devices, because I rarely use them on their own anymore, and I also don't really start from scratch when I start with them. So, the more I think about it, the more I think that this LG PraL Intensive Multi-Care BLP1 device is probably more interesting for someone who has never used any other anti-aging device, and who wants something complete to start with.
I would be quite curious to hear the thoughts of someone who is starting with this LG device as their first complete anti-aging device.
I also feel that since it's a device that uses several technologies, they may not be optimized to their full potential; at least not as much as if I were using a device that uses only one technology. This is just a feeling. I don't know if it's really the case. So, if I want to continue my experimentation with radio frequency in particular, I think I'll probably have to invest in a device that uses only this modality. Let's see…
I also think that from now on, I probably want to introduce devices that treat the skin in a more " focused" way and that will work on a specific area. I have in my eyes on a particular device for the eye contour, I will probably have the opportunity to tell you more about it later.
I can't say that I regret my purchase, because I was very curious to try this LG device. And it's still a device that I enjoy using, which is always nice. There is a self-care aspect to all these devices, that's undeniable. Plus, this purchase gave me the opportunity to do a review, so it's not a waste!
But clearly, I'm not sure it's right for me. Especially considering that I already use other massage devices that give me good results. Less is more with anti-aging devices? Possibly… 😉?
The anti-ageing device LG PraL Intensive Multi-Care BLP1 retails between $450 and $900 depending on the retailers.
And the conductive gel I'm using with it, the NuFACE Hydrating Aqua Gel retails between $59 and $65 for 296ml.