Intro
Discover my mini-review of Paula's Choice 10% Niacinamide Booster serum, my opinion on the brand, as well as a mini-focus on niacinamide.
It's about time I tell you more about the American skincare brand Paula's Choice! I'll start today with one of their best-sellers: the 10% Niacinamide Booster serum.
I'd been hearing about Paula's Choice for many years. In France, it's not (yet) very well known but in the United States, where it comes from, it's a cult favorite skincare brand!

The Paula from the name of the brand is Paula Begoun, a true beauty guru in the US for over 30 years now. She created a beauty website considered to be a bible for all those who are interested in cosmetics ingredients (beautypedia), she wrote many books about skin and beauty, most of which are best-sellers, with millions of copies sold, and she launched her own brand in the 1990s, Paula's Choice.

At the time, Paula's Choice's concept was super innovative: simple products, with active ingredients known to be effective in good concentration, but without having an extensive list of ingredients. In the 90s, it was definitely the era of "the more you put in the formula, the merrier" and for Paula Begoun, it always has been an aberration.

For Paula, some ingredients can be very harmful to the skin. In her products, for example, you'll never find any perfume, essential oils or alcohol that she considers far too irritating to the skin, and which she believes can even cause long-term damages.

I would like to point out that in the current context of "clean beauty" and other "non-toxic" products that this is not Paula Begoun's approach at all.

She doesn't oppose "synthetic" and "natural" ingredients, she is even a fan of man-made cosmetics, because she favors ingredients with a recognized effectiveness in her products, such as UV filters (Paula is a great fan of daily sun protection, all year round, like me), retinol, exfoliating acids, hyaluronic acid, niacinamide… Not really "green" ingredients, as you can see 😉

It's definitely the guiding principle of Paula's Choice products: effective and non-irritating formulas above all.

That's what I liked about this brand, even if I don't adhere to all its principles. I like this rather "American" approach to cosmetics, with the emphasis on the use of very active, almost medical grade ingredients, with proven and recognized efficacy.

As you know, I have also been using this type of ingredients in my skin routine for a very long time, I also protect my skin from the sun everyday, and clearly, for me, the combination of both has been very effective. My skin looks better now, when I just celebrated my 40th birthday, than it did 10 years ago.
On the other hand, regarding Paula's big crusade against perfumes, I'm quite divided.
I agree to a certain extent with her in regards to synthetic fragrances, which for me don't do anything for the skin, are quite useless in a formula and can actually be irritating in the long term. I'm not against a cosmetic product that smells good, but I prefer if it's thanks to essential oils, for example.
This is actually one of my main points of disagreement with the founder of this brand because I definitely don't put essential oils in the same basket as synthetic perfumes, far from it. Essential oils, when used correctly in a cosmetic formula, can bring many benefits to the skin (I worked for a long time for an aromatherapy skincare brand, so I speak from experience).
I still think that Paula's Choice products are clearly worth trying and I was particularly interested in the brand's boosters category, which includes the 10% Niacinamide Booster serum!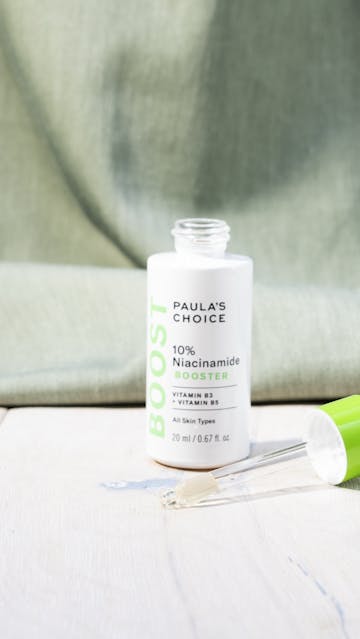 The niacinamide:
First of all, let's talk about the star ingredient of the serum 10% Niacinamide Booster, niacinamide!
Niacinamide, also known as vitamin B3 or PP, is a rockstar ingredient in cosmetics. It belongs to the category of antioxidants, and it's a very 'complete' ingredient that has a lot of different actions on the skin.
It's very widely used in cosmetics, and has been for years. If you take a look at the list of ingredients in the skincare products in your bathroom, it's very likely that some of them contain some niacinamide!
Its benefits on the skin:
– it helps to improve the skin's barrier function by strengthening the intercellular cement. In short, it means that the skin has a better protection from external aggressors,
– it prevents the formation of free radicals with its antioxidant action, so it helps to preserve the youth of the skin,
– it improves the skin's hydration by limiting its natural loss of water,
– it helps to reduce the sebum production and the size of the pores,
– it also helps to reduce white and blackheads,
– it also helps to even the texture of the skin for a smoothing effect,
– it improves skin elasticity and helps to reduce the appearance of fine lines and wrinkles,
– it also has a brightening effect on hyperpigmentation and dark spots,
-it is considered to also have an effect on rosacea acne according to several studies (don't quote me on this one, I'm not a doctor, so I strongly recommend doing your own research on the subject if you want to know more about it 😉 ).
I also use niacinamide in my routine because I've been using retinol for some time now and these two ingredients work really well together. Niacinamide helps to reduce the feeling of irritation that can occur when you use retinol. For me, it's definitely a great duo!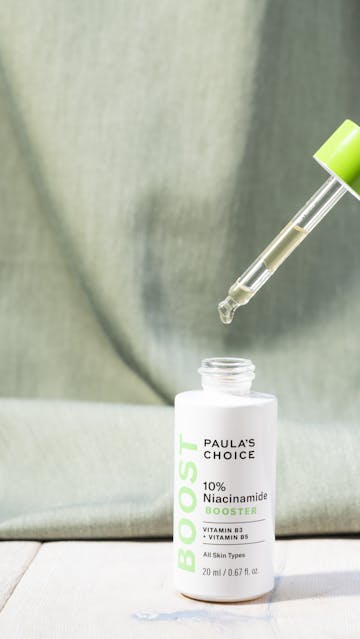 Mini-review:
I became interested in niacinamide with the serum from The Ordinary, which I discovered more than a year ago now.
I probably used a lot of products that contained it without paying attention before, but the one from The Ordinary had a high concentration of this ingredient (10%, like the one from Paula's Choice) and it remains to this day one of my favorite products from the brand (my detailed review is still on my blog if you want to know more).
But for the last few months, I've been using Paula's Choice's 10% Niacinamide Booster serum, and I definitely prefer it to The Ordinary's. Of course, the price is not the same but Paula's Choice's formula is better than The Ordinary's, in my opinion.
The Ordinary serum formula is very simple, with 2 main ingredients, niacinamide and zinc and the rest of the formula is made up of solvents, basically.
Paula's Choice's formula is more complete, with other beneficial ingredients to the skin (moisturizing, soothing and antioxidants), while remaining relatively simple as well.
I also prefer the texture of the Paula's Choice serum to The Ordinary one. It's indeed very watery, so it's perfect when you're a layering enthusiast like me. I use it alone or mixed with another serum (that's what the brand recommends).
Since I've been using it, I find that my skin is smoother (but I think it's probably a combined effect with retinol and exfoliating acids that I use religiously as well), and I also find that my skin is more "resilient" and has less redness. I didn't have a lot of redness to begin with, but now I don't have any left.
Regarding the purifying effect and the reduction of the size of my pores, I would also tend to say that the PC niacinamide is efficient but that it's probably also the cumulative result with retinol I'm experiencing. But hey, for the record, I did a facial a few weeks ago and the beautician congratulated me on my "clean" pores, which meant that she didn't need to do a blackhead extraction (because I didn't have any), and I considered it as a great achievement with my combination skin (which used to be quite oily and clogged)!
I use the 10% Niacinamide Booster every night, either alone or mixed with one of my other serums. The brand recommends to use it this way and its very liquid texture makes it easy to "mix" with other products.
The bottle is not huge (20ml) but since I only use 3-4 drops, it generally lasts me 4 months by using it once a day.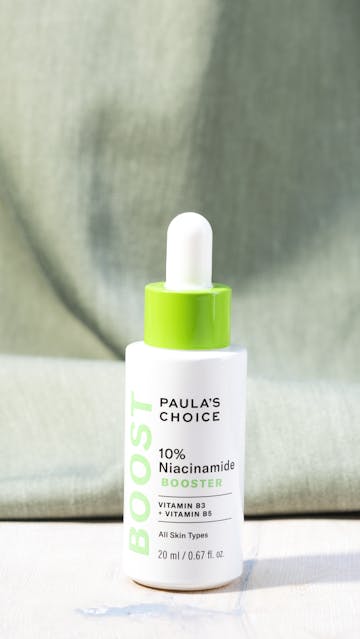 In conclusion:
It's a product that I really appreciate and that I've already repurchased several times. It completely replaced the Ordinary serum in my heart even though the price difference was a little difficult to swallow at first. But as Paula's Choice regularly does discounts on her site, I just watch out for them and stock up when they do some 😉
The serum Paula's Choice 10% Niacinamide Booster retails between $42 and $44 for 20 ml depending on the retailers.
Product Review in detail
Summary
Paula's Choice 10% Niacinamide Booster
"This concentrated 10% niacinamide serum booster dramatically improves uneven skin tone and refines the appearance of pore size, skin texture, and fine lines.
Promotes a brighter, younger-looking appearance.
- Niacinamide (vitamin B3) visibly minimizes pore size.
- Sheer, ultra-light liquid formula.
- Use alone or add to your moisturizer or serum."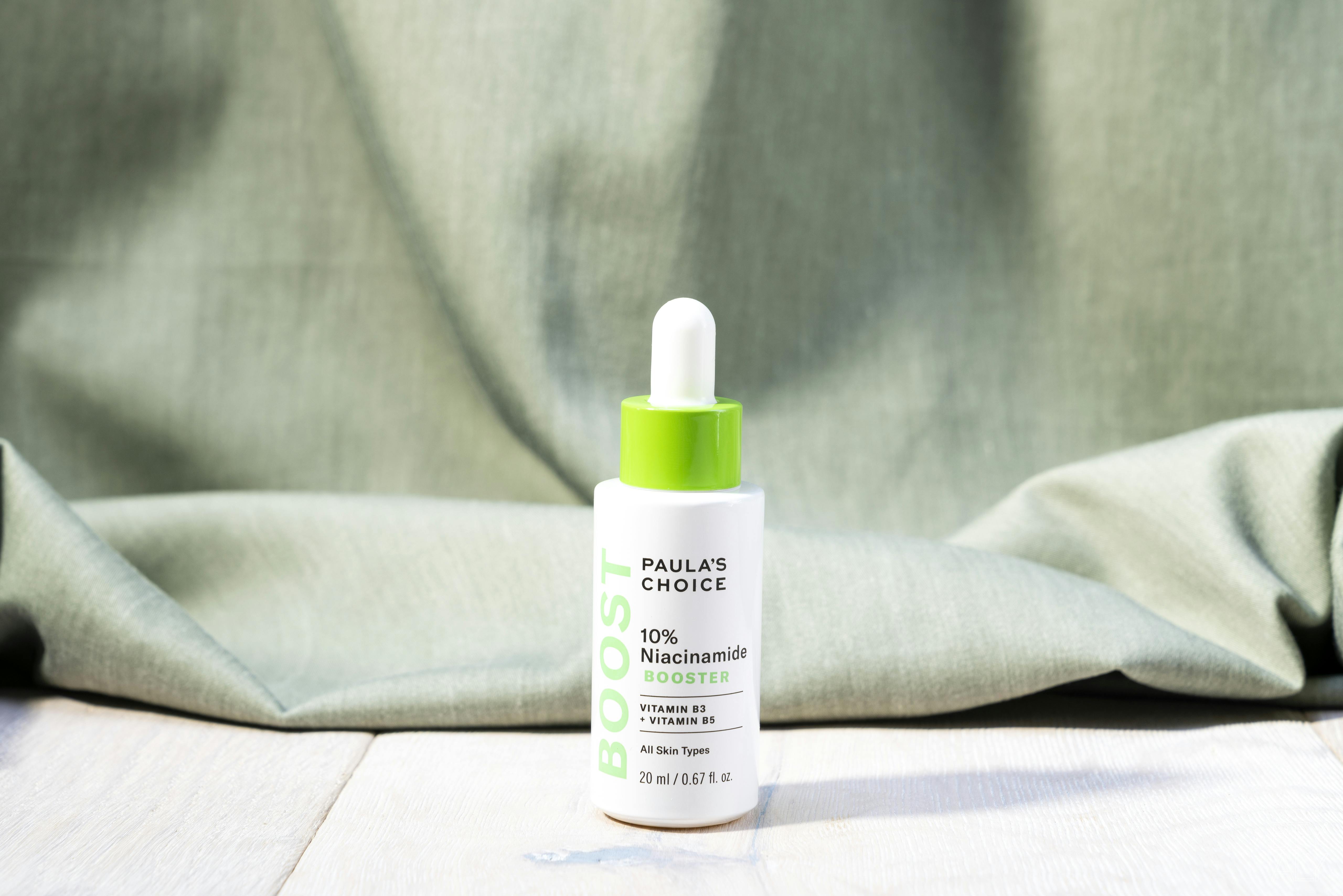 Pros
- the packaging (recently changed) looks very nice with its bright pop of green, (it's definitely more Instagram-friendly now ;) ) ,
- a great simple formula, but with well-chosen ingredients,
- the high concentration of niacinamide in this serum, a rockstar cosmetic ingredient,
- the soothing, moisturizing, purifying, brightening, anti-aging, anti-oxidant... effects of this serum: it's a great multi-tasker!
- the very liquid texture is perfect to mix in other products or if you like to layer products in your routine,
- fragrance-free,
- it's easy to find online.
Cons
- the size of the bottle, 20ml is small (that being said, it lasts me at least 4 months, since I only use a few drops every day),
- the price is not cheap, especially for 20ml. I usually buy it when it is on sale ;)
product name
10% Niacinamide Booster
brand name
Paula's Choice
packaging
A glass bottle with a dropper.
texture
Very liquid and watery.
For Who
All skin types, all ages.
Concerns
– dehydrated skin,
– sensitive skin,
– mature skin,
– wrinkles, fine lines,
– combination to oily skin,
– visible pores,
– acne prone skin,
– scars,
– dull skin,
– hyperpigmentation…
Method
I use it every night on my face and neck after applying my essences.
I apply between 3 and 4 drops of product either alone or mixed with another serum. My skin absorbs it very quickly, in a few seconds.
I then apply my facial oil and/or my night cream.
It can be used morning and evening if you like, alone or mixed with other products, that's how PC "boosters" work, they are quite easy to use!
Key Ingredients
Niacinamide is obviously the main ingredient of this formula, (I described the effects above), the concentration is 10% here. But the Paula's Choice 10% Niacinamide Booster also contains:
– Coenzyme Q10 (Ubiquinone): a famous antioxidant ingredient, popularized by the brand Nivea ;),
– Epigallocatechin Gallate (EGCG): a polyphenol which comes from green tea, very antioxidant and anti-inflammatory,
– moisturizing and repairing vitamin B5 (panthenol),
– acetylglucosamine, an antioxidant ingredient that repairs and brightens the skin,
– hydrating hyaluronic acid,
– antioxidant ascorbyl glucoside, a derivative of vitamin C,
– anti-aging beta glucan,
– carnosine, an anti-aging amino acid,
– and soothing ingredients such as allantoin and licorice root.
Ingredients
Water (Aqua), Niacinamide, Acetyl Glucosamine, Ascorbyl Glucoside, Butylene Glycol, Phospholipids, Sodium Hyaluronate, Allantoin, Boerhavia Diffusa Root Extract, Glycerin, Dipotassium Glycyrrhizate, Glycyrrhiza Glabra (Licorice) Root Extract, Ubiquinone, Epigallocatechin Gallate, Beta-Glucan, Panthenol, Carnosine, Genistein, Citric Acid, Sodium Citrate, Sodium Hydroxide, Xanthan Gum, Disodium EDTA, Ethylhexylglycerin, Phenoxyethanol.
Ingredients not included
– alcohol,
– mineral oils,
– silicones,
– synthetic fragrance,
– essential oils,
– parabens.