Intro
Find the process behind my skincare routine: how I choose my products, the essential steps and those that can vary. Along with examples of minimalist and more complex routines (layering).
Building a skincare routine tailor-made for your skin, your needs, your desires, and your budget… Not an easy task. In this article, I explain in detail how I do it!
How to build a skincare routine… It's probably the request I get the most in comments, MPs on social media, and also from my family and friends.

Even if I would like to have time to respond to everyone, it's quite complicated, time-consuming and I'm more than often uncomfortable as a skincare routine is something very personal.

So I thought I would write an article where you can find some ideas and, I hope, glean some recommendations and inspiration to help you build your own skincare routine, the one that is the best for your skin and your needs.

For me, finding the perfect skincare routine has definitely been a journey. Which means that there was necessarily a lot of trial and error on the road! A routine is not really set in stone anyway: the skin changes with the seasons, with age of course and you also generally learn which ingredients work better for you over time.
That being said, I'm not going to lie, I love this process and creating a new routine for myself every season is definitely not a chore. I love finding new products (or rediscovering older ones I used to like), trying them out, seeing the results on my skin…
But I'm well aware that it's not the case for everyone and fortunately, there are still some simple rules that can suit most people, regardless of your age, skin type and budget! By the way, my tips are totally unisex 😉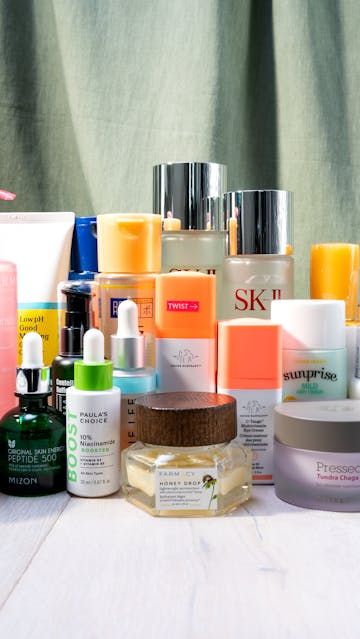 How I see my skincare routine:
A skincare routine can be very minimal (you wash your face, moisturize it and that's it) and it will be enough to maintain the health of your skin. Now if you want visible results, you'll probably need to do a little more than that.
It doesn't mean that a routine must be extremely complex to be effective! The number of products you use is quite personal. If your skin looks great with very few products, that's perfect! Personally, having tested several different routines, I know that my skin appreciates a long routine, I really see the difference with its texture and general appearance.
The skincare routine should always be personalized, in my opinion. It should be tailor-made to you, according to your skin type, its condition at the time and your goals (anti-aging, rebalancing it, protecting it, more radiance…).
Personally, I consider my skincare routine as a whole, over an entire day. So I don't use the same products in the morning and in the evening, because in my opinion, my skin doesn't have the same needs at these two different times of the day.
I also try to adapt to the environment in which I live, as well as the current weather. My routine is therefore different according to the seasons (OK, in Dubai, seasons are not really a thing but there still are some small climatic nuances!), so it changes about every 3-4 months.
That doesn't mean that you have to replace all your products with new ones every quarter! No, but you can add a more specific product during a season, or remove one to pick it up again a few months later, for example.
In this regard, it's very important to "listen" to your skin. If you introduce a new product into your routine and your skin turns as red as a tomato, has a lot of small (or big) bumps or looks shiny like a disco ball for no reason, for several days in a row, it probably means that this product may not be suitable for your skin. It's frustrating but it happens!
If a product doesn't suit my skin and I used it for enough time to be sure that it's the issue (usually between 1 week and 1 month), I don't insist. Usually, I recycle it and use it on my body or I give it to someone who will appreciate it more than me!
To build your personalized routine, it's important to start by taking a step back and defining 2 or 3 things before you start choosing your products.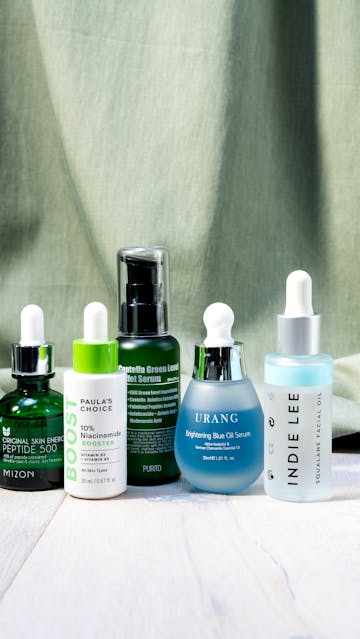 Building your skincare routine in 2 steps:
1. Determining your skin type:
I already wrote a whole article on the subject on my blog a few years ago, so you can check it out if you have any questions on this topic:
How to determine your skin type?
2. Defining your goals for your routine:
By clarifying your skin type and condition, you should have a clearer idea of what you want to treat first with your skincare routine.
As an example, I will give you my own goals for my skin and tell you how I divide them into steps in my daily skincare routine.
Here is a detailed description of my skin to begin with:
I have dehydrated combination skin, with large and visible pores and a tendency to be acne-prone. My skin is dull quite quickly (when I'm tired, you can see it on my complexion right away).
I have a few wrinkles (except the eye contour area, which is my "problematic" area) but I noticed a bit of sagging with a slight loss of firmness (I'm almost 40 years old, it's starting to show!). Another important detail is that I live in a very sunny environment all year round, so UV protection is an absolute must for me.
From there, I defined my objectives for my skin, which I divided into two types of steps in my care routine: the essential and the variables.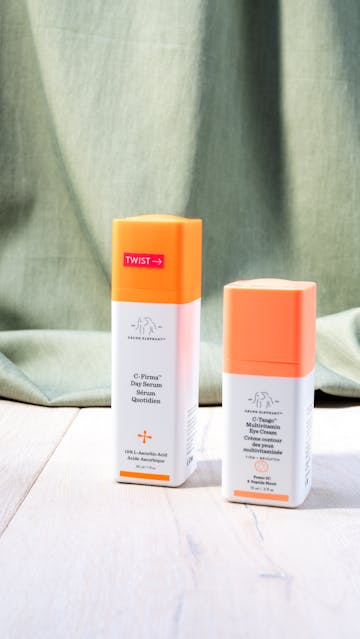 a) The essential steps:
Those I can do for my skin all year round.
– cleansing my skin religiously, morning and evening (I also use a different product to remove my makeup properly). Healthy skin starts with a good cleansing and for me, it's an essential step (I talked in depth about face cleansers in this article).
– moisturizing it (whatever your skin type is, everyone should moisturize, it's the keystone of every good skincare routine) with ingredients that maintain the skin's natural moisture (as for example, the hyaluronic acid I talked about on my blog, but you can definitely find some other great moisturizing ingredients on the market!).
– protecting it and preventing the signs of aging (again, this is something we can all do, from 20 years old and beyond) with anti-oxidant ingredients (vitamin C, vitamin E, green tea, polyphenols, resveratrol, ferulic acid… there are so many!) and a daily sun protection.
– giving more radiance to my complexion, usually through daily exfoliation and active ingredients like the exfoliating acids (which in addition, helps my skin to renew itself faster and, therefore, has an anti-aging action at the same time).
– improving the texture of my skin with ingredients that help to make my skin look smoother, with less visible pores (niacinamide is my favorite ally for this mission, but the exfoliating acids can also help).
– treating the visible signs of aging with well-researched and effective anti-aging ingredients (my best bets: retinol and peptides, but I use many others!).
b) The variable steps:
The ones I adapt according to my current needs.
– repairing my skin (especially in winter when my skin suffers from the cold) with more nourishing ingredients such as natural oils (Marula, Squalane etc), ceramides…
– soothing my skin when it's irritated (which doesn't happen very often, I'm quite lucky) with calming ingredients like the Centella Asiatica, for example.
– purifying it when I have acne (often at the change of season) with purifying ingredients (one example: the propolis).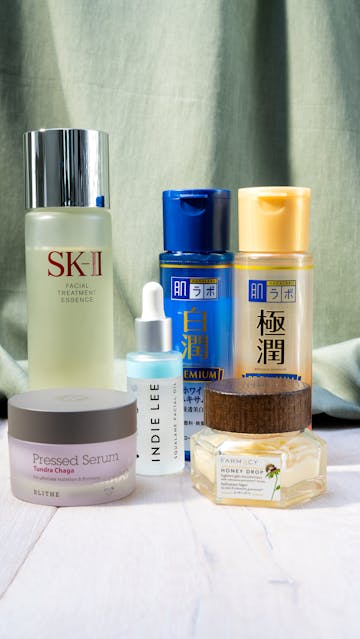 c) These steps spread out in one day:
Morning:
At the beginning of the day, I start by cleansing my skin and then focus mainly on moisturizing and protecting it with anti-oxidants and good sun protection.
(If necessary, I add 1 or 2 treatments to soothe and purify my skin, when needed).
Evening:
At the end of the day, I do a deep cleanse using the double cleansing method, I help my skin to renew itself thanks to exfoliating acids or retinol, I moisturize again and I also use different treatments (I alternate according to my needs or the season) in order to:
– give it more radiance,
– even its texture,
– treat the aging signs,
– repair,
– soothe,
– purify.
I clean and moisturize twice a day, but for the rest, I adapt my routine to the different times of the day and my skin needs.
In the morning, I know that my skin mainly needs protection against the sun, pollution, air conditioning or heating, stress… That's why I focus on protective ingredients!
In the evening, I have more time to do my routine, my skin is at rest and I also know that it will benefit more from specific treatments during sleep so this is when I choose to apply them along with anti-aging products at that end of the day.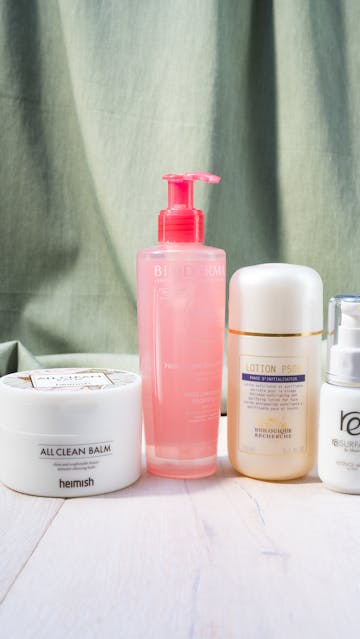 Choosing the products in your routine:
Now that we have discussed the goals of a skincare routine, let's talk about the products that you can find in it!
a skincare routine is a set of several specific steps that meet specific needs, which can be combined according to your current skin priorities.
That's where things can get a little complicated. There are many possible combinations, as you can imagine!
For me, a skincare routine is a set of several specific steps that meet specific needs, which can be combined according to your current skin priorities.
In fact, I'm the kind of person who loves to do a quite complete (and therefore a little complex) daily skincare routine (surprise surprise), which targets all my needs, but it can be more simplified if I decide to give priority to treating just one single need for my skin, for example.
If you prefer simpler skincare routines, you can alternate different minimalist skincare routines according to the seasons in order to have a complete treatment over a whole year. It works too! (well, obviously, I'm the kind of person who prefers to use a lot of different products at the same time and well, my skin seems to appreciate it a lot but I know it's not for everyone 😉 ).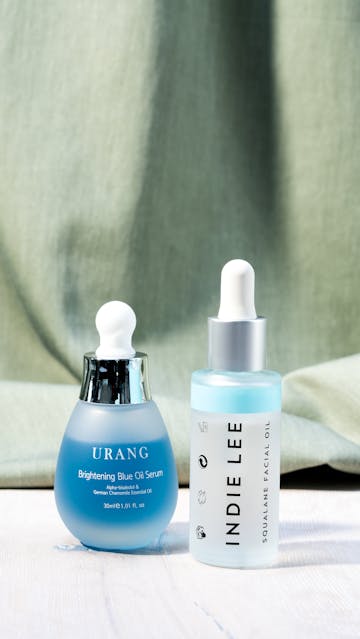 Building a minimalistic skincare routine:
Let's be clear. I'm a layering enthusiast, so I usually use at least 20-25 products every day to take care of my skin.
So when I talk about a "minimalistic" routine, it means 5 to 7 products per day. I'm sorry, but I couldn't do anything less than that!
Some steps will always be the same, but others will change depending on the need you have chosen as a priority.
Tip: you can use multitasking products to target several needs at the same time (a moisturizing AND antioxidant serum, a nourishing AND soothing cream, a moisturizing sunscreen…).
I would like to point out that the examples I give below are designed to suit my skin type and needs. It's to show you which steps are preferred with examples of products I use (but as I said earlier, the possibilities are quite endless in terms of product choice, as you can imagine!).
1. The essential products:
Morning:
Cleansing step:
I know that not everyone feels the need to clean their skin in the morning and that's totally fine, but I do because if I don't, my pores get clogged pretty quickly. So I always use a soft cleansing gel, with a physiological pH (I talked about pH and face cleansers in this article).
Examples: Cosrx Low pH Good Morning gel cleanser, Bioderma Sensibio foaming gel.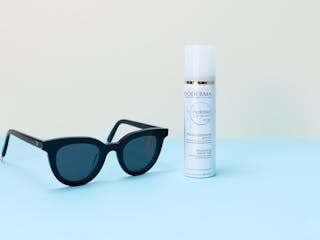 Skincare
Sun protection: Q&A and common myths
Even if sun protection is relevant all year long, I definitely feel this topic interests more people at the moment, with summer just around the corner…
Read more
Anti-oxidants step (vitamin C, vitamin E, green tea, polyphenols, resveratrol, ferulic acid…):
I have been using them for almost 20 years, they're a mandatory step in my skincare routine to help maintain my skin appearance. I wrote about them in this Paula's Choice serum review, you can read there what they're for and how they work. I actually usually choose a serum format, and I usually apply several, not just one (but that's me lol).
Examples of other serums: Skinceuticals C E Ferulic, Drunk Elephant C-Firma.
Moisturizing step:
It's essential to make my skin comfortable and plump! I use moisturizing ingredients (hyaluronic acid, glycerin, vitamin B5, sodium PCA, urea, honey, propylene glycol, butylene glycol, sorbitol, allantoin…) and emollients that preserve my skin barrier (ceramides, cholesterol, omega-type fatty acids found in natural oils…). It can be an essence, a serum, an oil and/or a cream.
Examples: Hada Labo lotions, Skinfood Royal Honey Propolis Enrich Essence, Drunk Elephant B-Hydra, Drunk Elephant Lala Retro, Farmacy Honey Drop… There are many different ones!
Sunscreen step:
As you know, for me, it's non-negotiable, all year round. I won't explain again why, I already did it in detail in my many articles about daily sun protection!
I gave some products options in this article and this one.
Evening:
Double cleansing step:
An essential step and has been for almost 10 years (and my skin thanks me for it!). First I use a balm or oil to help me remove makeup, sunscreens, and pollution from my skin, which can only be removed with oily substances.
Example: the Heimish All Clean Balm. And then I use a foaming gel to cleanse the impurities from my skin (the same as in the morning).
Moisturizing step:
The same thing as the morning, it can totally be the same product.
Note: these essential steps can be your whole skincare routine. If your skin has no particular concerns and your main need is hydration, it works!
In short, if you want to use only 5 products, it could be a routine like so:
Morning:
– a cleansing product
– an antioxidant serum
– a moisturizer
– a sunscreen
Evening:
– a makeup remover (oil or balm)
– the same cleansing product as the one used in the morning
– the same moisturizer as the one used in the morning.
With this simple routine, the skin is hydrated and protected, it's a great starting point!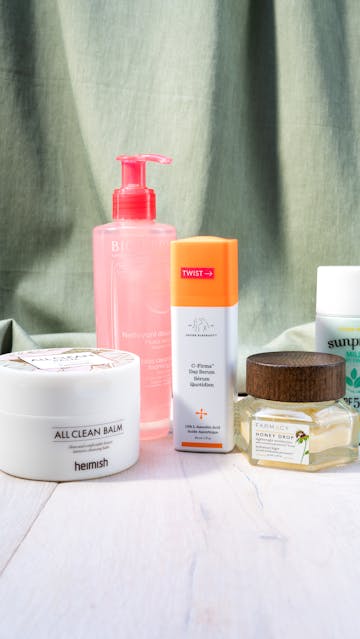 2. The optional products:
This is where personalization comes in. You just add steps/products according to your current needs.
A few examples: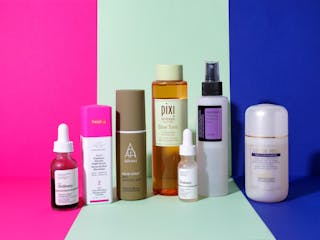 Ingredients
Focus on: exfoliating acids (AHA, BHA, PHA)
Some cosmetic ingredients are notoriously great to give the skin a true glow from within. And exfoliating acids are definitely amongst these ones!
Read more
A soothing step:
I add a serum, a cream or an oil-based on ingredients such as Centella Asiatica, propolis, blue tansy, chamomile… usually in the evening (but it can also be in the morning, it depends).
Examples: the Cosrx Propolis Light Ampule, the Brightening Blue Oil Serum Urang, the May Lindstrom The Blue Cocoon and all the Cica products.
A "glow making" step:
For me, exfoliation with acids has become a staple in my routine! I use an acid toner 3 times a week (the one and only Biologique Recherche Lotion P50 is my favorite). The vitamin C serum I use in the morning also gives me a lot of radiance!
The smoothing step:
The products I use to give radiance to my skin also help to smooth the skin texture (especially acids) and I also like to add a serum that is quite concentrated in niacinamide to my routine, usually in the evening (this one from Paula's Choice is great, I'll talk more about it soon).
The anti-aging step:
For several years now, I've been introducing products with ingredients known for their anti-aging action into my routine. The exfoliating acids and vitamin C I mentioned earlier, but also retinol and peptides, usually in the form of serums. I'll probably talk about the products I use in future reviews! I usually apply them in the evening.
The purifying step:
If I'm breaking out, I introduce a serum or cream made with antibacterial and anti-inflammatory ingredients such as propolis and Centella Asiatica to my routine.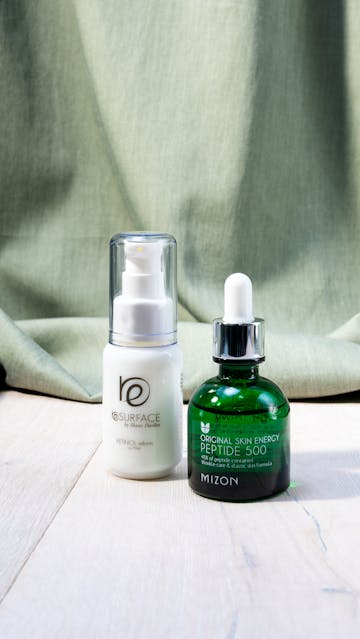 Building a complex skincare routine (with layering):
In the case of a layering skincare routine, the principle here is to apply more products, using textures to optimize the results on the skin. I'm not going to lie to you, and you probably already guessed it, I'm a fan. Not only because I love using a lot of different products (#moreismore), but especially because I've really seen the changes in my skin!
There are a few rules to follow when you have a routine with more products:
– The application order of the different textures counts!
Usually, you're supposed to start with lighter (or liquid) textures and end with thicker ones. In doing so, the products absorb better and more deeply in the skin.
An example of an application order:
1. a toner with a watery texture,
2. an essence with a slight gel-like texture,
3. a water-based serum with a gel-like texture,
4. a milky/ emulsion serum,
5. a facial oil,
6. a moisturizing cream (you can reverse the oil and the cream, it doesn't matter, it's according to your personal preference).
Note:
I "isolate" some products with very active ingredients in my routine to give them time to work their magic on my skin and optimize their effectiveness. I usually apply them at the very beginning of my routine, just after cleansing my skin and leave them to take effect for a few minutes before carrying on with the rest of my routine. This is the case with my L-Ascorbic vitamin C serum, my acid toner, and my retinol serum (especially because the one I'm using at the moment also contains an acid).
– Beware of incompatible products in the same routine::
There are not that many, but it's better to avoid bad associations. For example, be careful with acids and retinol in the same routine, especially if you have sensitive skin and use highly concentrated products, it can be quite strong for the skin!
– I have already mentioned it above, but a routine should be seen as a whole.
There is no point in wanting to use all kinds of products at once if you have very sensitive skin, for example. It's possible to act in a targeted way and use complementary routines according to the seasons and by adapting your products to the needs of your skin. Listen to your skin!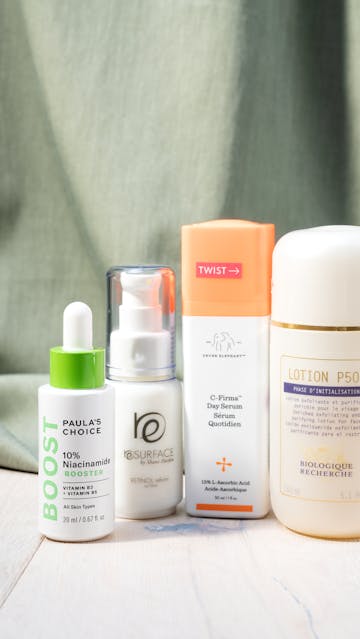 Example with my skincare routine:
I already mentioned all my skin needs above. My routine targets them all and I like to use different products in the morning and evening.
You'll see that I sometimes use several essences and several serums in the same routine. It's not mandatory at all, but it's what I like to do and my skin reacts very well to it. As I already said, a skincare routine is very personal, your mileage may vary!
My routine changes around every 3-4 months and I try to only introduce new products one by one as much as possible.
Morning:
– Cosrx Low pH Good Morning gel cleanser (I talked about here in this article about face cleansers),
– SK-II Facial Treatment Clear Lotion (toner),
– a vitamin C serum (I did several reviews of the ones I have used, you can find them through this Focus on vitamin C article),
I leave it for a few minutes.
– Facial Treatment Essence SK-II (first essence, my review is here)
– Hada Labo Goku Jyun Premium Lotion (more details in this article), 
– Purito Centella Green Level Buffet Serum (my mini-review is here),
– Squalane Indie Lee Facial Oil (my mini-review is here),
– Drunk Elephant C-Tango eye cream, ( my review is available here)
– Farmacy Honey Drop Light Moisturizer (my mini-review is here),
I leave everything to absorb for 10-15 minutes (that's usually when I use my LED face mask) and then, I apply my sunscreen.
At the moment, I really like the Shiseido Anessa essence UV sunscreen mild milk SPF50 (more details in this article)
as well as the Etude House Sunprise Mild Airy Finish (I did a mini-review here).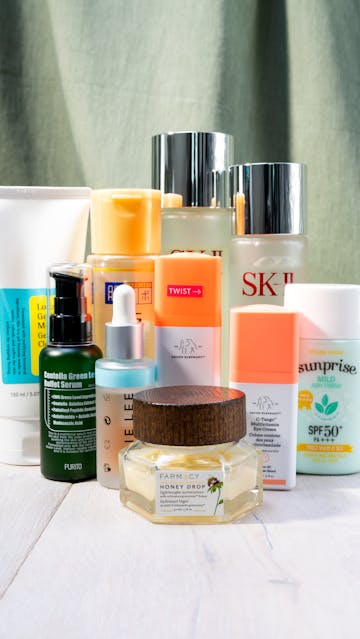 Evening:
– Heimish All Clean Balm (my mini-review of the All Clean Balm here),
– Bioderma Sensibio Foaming Gel (I talked about here in this article about face cleansers),
– every one night, Biologique Recherche Lotion P50 (acid toner, I did a P50 review here),
– every other night, Shani Darden Retinol Reform serum (it contains a retinoid derivative and lactic acid),
I leave these exfoliating acids products for a few minutes to allow the exfoliating process to take place.
– Sulwhasoo First Care Activating Serum EX (I did a review of the Sulwhasso first essence here),
– Lotion Hada Labo Shiro Jyun Premium (I talked about the Lotion Hada Labo Shiro Jyun Premium essence here),
– serum Paula's Choice Niacinamide 10% Booster (my review is available here),
– serum Mizon Peptides 500 ,
– facial oil Urang Brightening Blue Oil Serum (my mini-review of Urang Brightening Blue Oil Serum here),
– Missha Misa Geum Sul Vitalizing Eye Cream (my mini-review of the Missha Misa Geum Sul Vitalizing Eye Cream is here),
– Blithe Pressed Serum Tundra Chaga , I use it as a night cream (my review of the Blithe Pressed Serum Tundra Chaga is here).
I'll do more reviews and mini-reviews of some of these products in the future, so keep your eyes peeled 😉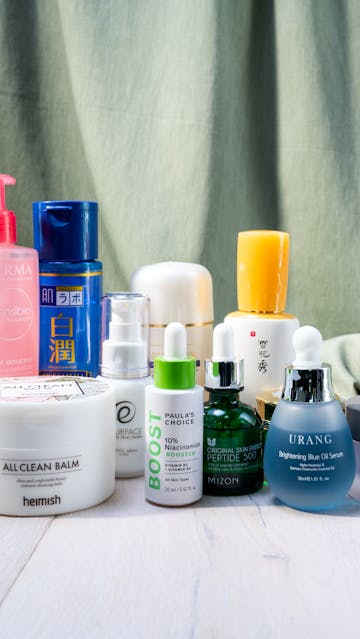 In conclusion:
I must admit that I was very hesitant to "reveal" my skincare routine in this article because, for me, it's a very personalized program, which corresponds specifically to my skin and of course its specific needs. So it seemed a little absurd to share it without explaining how I chose my products before.
I really hope that this article will help you to understand the process behind building a skincare routine and maybe inspire you to do the same for your skin!
You can also read the reviews I wrote to get more information about the products in this routine (I put the corresponding links in the article). They're not all available at the moment but I will make sure that this is the case in the future (I will update this post as I go along, and add reviews of the products mentioned each time).
If you have any questions, feel free to ask in the comments section below! 🙂