Intro
Disclosure:
We, or the author, purchased this item.
There are no affiliate links in the below content.
My test of the Avene Intense Protect SPF50+ sunscreen, the story behind the new TriAsorB filter, and the controversy over octocrylene.
A sunscreen with a brand new exclusive filter, created by a French cosmetic group? What an innovation! It deserves an article, doesn't it? And what if I told you that there was also a juicy story about the denigration of another filter used by the competition? As you can see, today's post is not just a simple review. Welcome to the backstage of the octocrylene-gate…
Those of you who follow me on Instagram (and can read French) already know a bit of the story, but I figured it deserved a post anyway.
And while I'm at it, I figured I would still do a review of this product, because here on BTY ALY, we like efficiency: two articles for the price of one!
This post will be a little preview of my sunscreen articles. Yes, articles with an S, plural, considering all the sunscreens I'm trying out right now, lol.
So I'm going to introduce you to this innovative new product from Avène (a brand from the French group Pierre Fabre), a sunscreen for face and body, suitable for the whole family (even babies and children), the Avène Intense Protect SPF50+ cream.
I'll tell you more about its formula, its famous exclusive sun filter and my experience with this product!
But I will also explain the current infamous controversy about the chemical sun filter, octocrylene, and the background of its denigration campaign…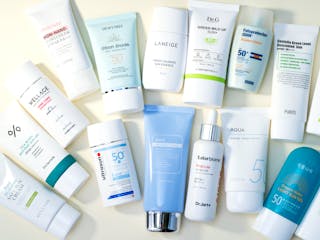 Skincare
Face Sunscreen Guide 2020
I know that some of you are just as obsessed with sunscreens as I am, and that you've been waiting impatiently for this article! So without further ado, here's an overview of my sunscreen face trials for this year 2020!
Read more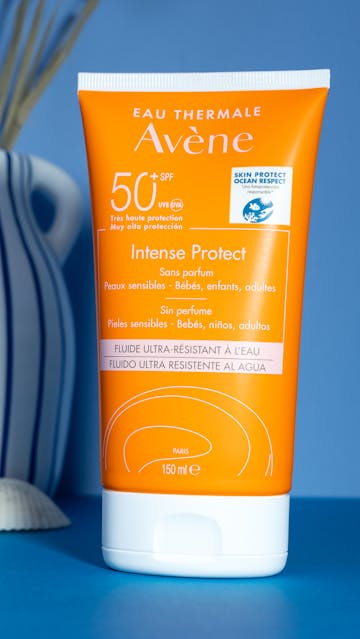 The new exclusive sun filter by Pierre Fabre, the TriAsorB:
Introducing a new sun filter is clearly an event in the world of cosmetics (and even health, after all we're talking about prevention of skin cancer!).
There are two types of sunscreens, whose ingredients can provide your skin with protection from UVA and UVB rays of the sun:
– mineral filters: Titanium Dioxyde and Zinc Oxide.
– chemical filters, there are many and they're undoubtedly the most used in the cosmetics industry.
For more information on these different filters, how they work etc, have a look at my article Sun protection: Q&A and common myths where I explain these points 🙂
For a few years, it's been brands pushing with innovations and bringing new sunscreens to the market. This was the case about 20 years ago with L'Oréal and its two exclusive filters Mexoryl XL and Mexoryl SX, which have the specificity of being allowed on the American market if I am not mistaken.
Because yes, there are geographical particularities!
In the United States, sunscreens are categorized as drugs delivered over the counter, but their use is nevertheless highly regulated by the FDA and the release on the market of new molecules takes a tremendous amount of time.
As a result, the United States lags behind the rest of the world in terms of the latest innovations in solar ingredients and the number of chemical filters authorized on the market in the USA is only 16 (against 26 in Europe), of which only 3 protect against UVA (there are 8 in Europe).
This explains why all American skincare addicts really want to try European and Asian sun care products, which they often find superior in terms of quality and texture to those they have at home! 😉
But let's go back to the discovery of the exclusive filter of Laboratoires Pierre Fabre, the TriAsorB!
Laboratoires Pierre Fabre are well known in France. It is a huge pharmaceutical and cosmetic company founded in 1962 by Pierre Fabre, in Castres in the southwest of France.
The company works on the development of drugs and cosmetics. And as often happens, it is medical research that leads to cosmetic innovation! The discovery of this TriAsorB filter illustrates this perfectly.
This filter comes from molecules discovered and patented by a Pierre Fabre medical research team as part of a program against migraine. The patent filed by the team mentioned a potential in sunscreen of the molecules, which gave the idea to a second team to focus on this anti-UV performance resulting in the discovery of TriAsorB.
In 2018, this molecule was added to the very closed list of allowed sunscreens in Europe. Currently, it's not yet allowed in other markets.
What is special about this sun filter? glad you asked! The TriAsorB is able of absorbing and reflecting the harmful part of the sunscreen spectrum, i.e. UVB, short UVA, long UVA but also the famous blue light (you know, the one from your screens!).
According to Laboratoires Pierre Fabre, this new filter is also environmentally friendly. It has passed numerous tests in experimental conditions to prove its lack of toxicity on three key species of marine biodiversity: species of coral, phytoplankton and zooplankton.
According to a statement from the Pierre Fabre Group:
" Since its first "Sun Block" sunscreen rolled out in 1987, Eau Thermale Avène has made constant advances in eco-friendly photoprotection. In 2010, the brand decided to launch a research program to remove octocrylene from its sun care formulations. In 2013, thanks to this program, octocrylene was replaced by a combination of four sun filters (Tinosorb S, Tinosorb M, Uvasorb HEB, and Parsol 1789), providing equivalent photoprotection, optimal biodegradability and a lesser impact on the marine environment. Today, the launch of Intense Protect 50+ crowns the efforts of over 20 years initiated by Mr Pierre Fabre."
In March 2021, Laboratoires Pierre Fabre launched a sunscreen product using this filter in the Avene brand. It's the Avene Intense Protect SPF50+ sunscreen, which I'm reviewing today.
It's definitely an innovation, moreover discovered by a French company. If I'd heard about the Avene Intense Protect SPF50+ sunscreen only because of this new TriAsorB filter, it would probably have been enough for me to want to try it!
But to be honest, that's not how I discovered it…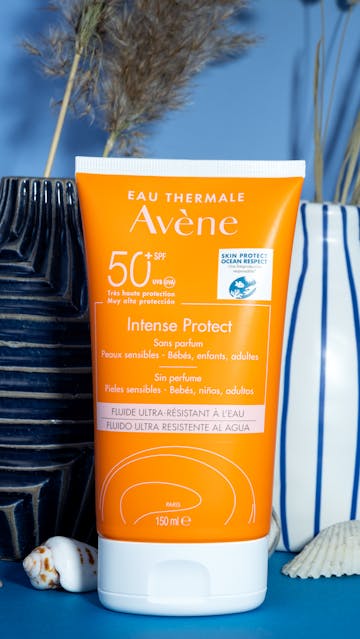 The octocrylene-gate:
I actually heard about the launch of this new sunscreen while chatting with my two scientist and cosmetic enthusiast friends: Sophie and Marie.
The three of us were talking about it, because we were very annoyed by the media coverage of a cosmetic study about octocrylene, a chemical filter widely used in the cosmetic industry.
Indeed, on Monday March 8th, I received a notification on my phone about a new article in the French newspaper Le Monde with the headline "A product suspected of being carcinogenic discovered in sunscreen and anti-aging creams". (here's one in English from the Telegraph)
I'm used to these kinds of headlines about cosmetics, so I didn't panic. Along with my critical mind, I clicked to see what was going on.
In a study published on March 7, 2021 in the American journal Chemical Research on Toxicology, conducted by the CNRS and Sorbonne University, researchers had recently found that octocrylene (a chemical sunscreen present in some sunscreens and anti-aging day creams) would degrade over time into benzophenone, a potentially carcinogenic substance. More precisely, it's when these cosmetics age that the active ingredient degrades and becomes problematic. The tests were done on prematurely aged products, which would correspond to products opened for over a year.
To conduct this study, the researchers tested creams from different brands of sunscreen and anti-aging products sold in Europe and the United States.
The hypothesis of this study is that the degradation of octocrylene into benzophenone in products that have been open for more than a year increases the level of benzophenone in the cosmetics. In some cases, the researchers note that benzophenone can cause irritation and atopic dermatitis, but it would also have a possible carcinogenic effect on the liver.
The study was published on March 7, 2021, and from March 8, it was everywhere in the French media. Take a look at the date of the scary headlines of the press which relays this study, if you're curious (I just typed the words "octocrylene" "benzophenone" and "cancerigenic" in Google France). I mention the dates, because you will see, they're significant for the rest of our story…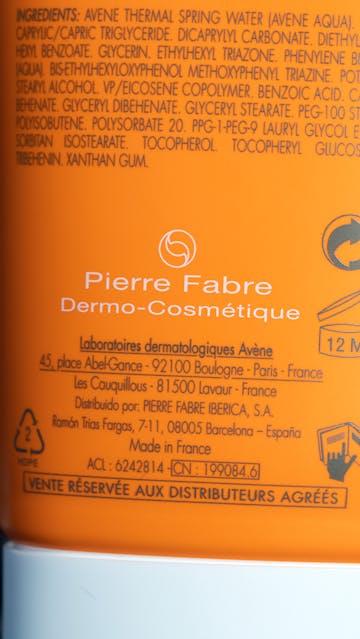 There is nothing new under the sun…
Before you panic, and go scan all your sunscreen products ingredients list, let me put things in context with the press release published by the FEBEA (a Federation of Beauty Companies in France) a few days after this study was published:
" Cosmetic products, including sun protection products, are subject to extremely strict regulations, the application of which is closely monitored by both European and French health authorities. All cosmetic products and ingredients placed on the market are therefore safe for health.
Among cosmetic ingredients, sunscreens are also subject to an additional specific framework: given their major role for health, the Scientific Committee on Consumer Safety (SCCS), an independent body attached to the European Commission, regularly checks their effectiveness and safety in depth.
Octocrylene, the sun filter questioned by the study, has just been re-evaluated by this committee (preliminary opinion of January 2021) which has reaffirmed its safety at the authorised doses.
The information contained in this study does not highlight any risk to the safety and health of consumers. It mentions the importance of controlling octocrylene throughout the life cycle of the product, which is already taken into account.
As regards benzophenone, this substance can indeed be found in minute traces in a product containing octocrylene. This is a known fact and has been taken into account for a long time in the safety assessment of octocrylene. Care is taken to ensure that the quantities are always below the toxicity thresholds in order to guarantee total safety to human health.
It should also be remembered that the carcinogenic potential of benzophenone by the cutaneous route has never been demonstrated. The IARC (International Agency for Research on Cancer) and the EFSA (European Food Safety Authority) clearly indicate this in the assessment reports on the substance. The exposure described by the study would be a maximum of 0.5 mg/day (if 18 g of sunscreen product per day is applied), three times less than the maximum tolerated oral dose. In all hypotheses, these traces of benzophenone therefore have no impact on health.
The use of some sun protection products within 12 months of opening, as recommended on the packaging, ensures the effectiveness of the sun filter and the stability of the formula.
Finally, the FEBEA stresses the importance of interpreting scientific studies related to sun protection products with caution and hindsight, no matter how serious they may be. Skin cancers are those that are progressing the most in France, with one in five French people never using sun protection at the beach despite regular warnings from dermatologists and oncologists. "
In short:
this is a long known fact and has been taken into account for a long time in the evaluation of this active by the security of cosmetics authorities. The concentration of octocrylene is always below the thresholds of toxicity, proven to guarantee its harmlessness for the health of consumers. So there is nothing new under the sun.
we're talking about sunscreen products that have been opened for more than a year. However, it is well known and even specified on the packaging of the latter that sunscreens must be used before this date. Sunscreens are not stable over time, as we know, and we have to throw them away if we haven't finished them from one year to the next (besides, if you haven't finished your sunscreen after 2 weeks of beach vacation, it's probably because you haven't used enough!)
in the study and in most of the press articles, there is no reminder that the sun is a REAL carcinogen and that using adequate sunscreen in the right amount is a good way to avoid skin cancer.
Anyway, you can understand why I was so annoyed (I even did a post about it on my Instagram feed because I was so upset!). Basically, they'd rather scare consumers than do real anti-cancer prevention by talking about the importance of using sunscreen products. Such a twisted thing to do!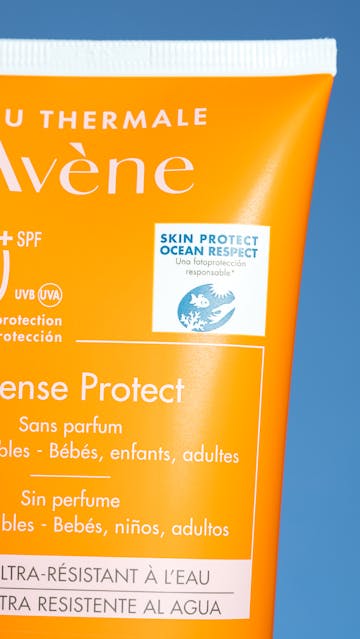 And what does all of this have to do with Avene, you'll ask me? Bare with me, I'm getting there!
So I was discussing all this with Sophie and Marie, who were in the same annoyed state as I was.
And looking at this study more closely, we discovered that some of the French researchers responsible for this study work for the Laboratoire de Biodiversité et Biotechnologies Microbiennes (LBBM) of Banyuls-Sur-Mer in France. And (it's mentioned in the study, you can check) that this organization has the particularity of working for over 20 years in partnership with the cosmetic and pharmaceutical company Laboratoires Pierre Fabre. More precisely, Pierre Fabre finances the LBBM within the framework of their action "Pierre Fabre Skin Protect Ocean Respect".
However, it's clearly stated at the end of the study that it was not commissioned by Laboratoire Pierre Fabre, even if it still lists them as a "source of competing financial interests".
So, with Marie and Sophie, we wondered what could be the relationship between Pierre Fabre and this study…🕵️‍♀️
And then we came across this press release from Laboratoire Pierre Fabre, dated March 10, 2021:
TRIASORB™: the launch of a new ultra broad-spectrum sun filter, proven to be safe for human use and eco-friendly for marine biodiversity
Here are the first lines of the press release for those who don't feel like clicking:
Patented octocrylene-free technology
A filter discovered by Pierre Fabre's R&D
A non-nanometric filter
Manufactured in France by Pierre Fabre
The launch of the Avene Intense Protect SPF50+ sunscreen containing this new "octocrylene-free" TriAsorB filter was announced in the same press release.
You can admit that all this is still quite troubling, especially when you look at the dates. All these announcements took place in the space of only a few days.
I'll let you draw your own conclusions. But personally, I'd just like to say that if I didn't have my BTY ALY website and this passion to tell the story behind the scenes of cosmetics, I wouldn't have really wanted to buy this sunscreen product after discovering all this…
But hey, I still have a sense of duty (and sacrifice lol). So here is my review and my test of the Avene Intense Protect SPF50+ sunscreen!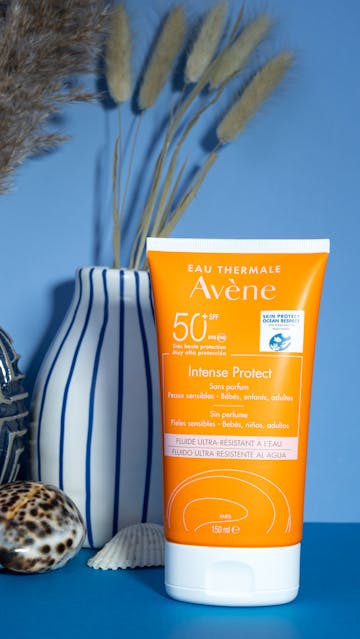 Avene Intense Protect SPF50+ sunscreen, product presentation:
This is definitely a sensitive-skin friendly sunscreen that is designed for outdoor use and will provide a very high level of protection, even when swimming (it's water-resistant). If you were looking for a comfortable sunscreen product to use on your face every day, I don't think that's the idea behind this one.
∎ Protection:
SPF 50+
(the PA is not mentioned, but based on the packaging, the brand states that the UV protection is strong, so I guess it's probably a PA ++++)
∎ Made in:
France
∎ Texture:
A fluid cream, but quite rich. It absorbs rather quickly when massaged in, leaving no white cast but the finish is super shiny. It leaves a greasy film on the skin.
∎ Sunscreens:
– Uvinul A Plus: filters UVA.
– Uvinul T 150: filters UVB.
– Tinosorb S: filters UVA and UVB.
– TriAsorB (exclusive filter by Pierre Fabre): filters UVA and UVB.
∎ Alcohol-free?
Yes.
∎ Fragrance and essential oils-free?
Yes.
∎ Silicone-free?
Yes.
∎ Presence of antioxidant ingredients?
Yes, vitamin E.
∎ Other notable skincare ingredients in the formula:
Moisturizing glycerin.
∎ White cast?
It is slightly tinted (beige) but it doesn't leave a white cast on the face. It has been developed to suit all skin colors.
∎ Irritant? Comedogenic?
No.
∎ Mattifying?
The opposite! It has a very greasy finish and makes me look very shiny.
∎ Drying?
No, it's moisturizing.
∎ How does it look with makeup on top?
It wasn't designed for that; it's very complicated to apply makeup over it because it's too rich.
∎ Would I repurchase?
Probably not.
∎ Price:
Between $13 and $18 for 150ml.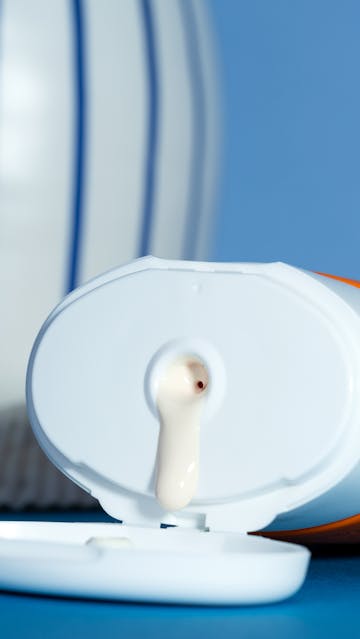 Avene Intense Protect SPF50+ sunscreen, my experience:
I use my sunscreens mainly to protect my face and neck, daily, because my primary goal is anti-aging prevention. Sometimes on my arms and legs when I go out. But it's true that I very rarely go sunbathing outside.
I feel like the Avene Intense Protect SPF50+ sunscreen was rather intended for an outdoor use, when you are very exposed to strong sun exposure. Its finish on the face is far too greasy to apply makeup over it.
Even with a drier skin than mine, I really have a hard time seeing how it could work.
When I tried it, I used it after my skincare routine, on my face and décolleté, and waited 30 minutes to let the product absorb before applying my foundation.
Unfortunately, the cream remained on the top of my skin; it felt like I had a layer of oil on my face (and it wasn't just an impression: my skin was really shiny!).
I had to use several blotting papers (yes, several!) and by the time I finished applying my makeup, the shine was back. I spent my day blotting the grease and my foundation ended up melting after a few hours.
In short, clearly, the product was not designed for this use. It's a beach product, which will give you a very high protection if you are exposed to the sun and will probably also suit you on the face if you like a very glowy finish. For even slightly combination skin, it will make you look shiny, no doubt!
I didn't find it suffocating to wear though; the texture isn't especially thick and I don't think it's comedogenic (I often get the question of whether a sunscreen causes breakout or not). It's just that the finish is not matte at all!
I'll probably continue to use it this summer (which is already here in Dubai; during the day, it's 30 degrees! After seven years though I'm more used to it), on my arms and legs when I go for a walk outside but for the face, I have other more interesting options! The promise of high protection is interesting, for sure. It's also water-resistant (all this grease has to be useful, I guess lol!), so it will be interesting if I want to go swimming.
Do I need to remind you that if you use it while out in the sun and swimming, you'll need to use it very liberally and reapply often? I guess it's always good to repeat it 😉
For those who are concerned, the brand says it is effective on blue light from screens, but since I won't be using it on my face, I won't have the opportunity to test it on that.
Avene also talks about the "reef safe" effect (or "ocean protect") but personally, I'm of the same opinion as my friend Dominique about this, ALL sunscreens impact marine life (his excellent article "Au soleil" from last year sums it all up, if you understand French, it's a great read!). And if you're still not convinced, the science blogger Michelle Lab Muffin explains very well (and scientifically) why, with sunscreens, we have to look at the big picture and stop making the consumer feel guilty. Her arguments are in this article.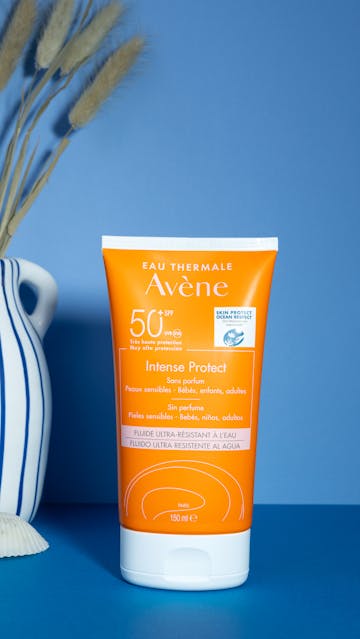 In conclusion:
As you can see, I'm probably not the best target for this product. Let's just say that for my personal sunscreen use, which is more daily and on my face and décolleté, it's not the best fit.
If you have a drier skin than mine and you want a very high protection to take with you on vacation for the whole family, it may be a good option (well, more like for a weekend if it's for the whole family, because if you apply enough to be properly protected, the 150ml tube is going to run out quickly!)
I imagine Avène is going to launch other products with this filter; I think I saw a mattifying sunscreen coming soon. But I admit I'm not sure I want to try it.
The communication of the Pierre Fabre group around the launch didn't leave me with a wonderful impression…
The Avene Intense Protect SPF50+ sunscreen retails between $13 and $18 depending on the retailers.
Product Review in detail
Summary
Avene Intense Protect SPF50+
"Sunscreen fluid with SPF50+ to protect the skin against UVA-UVB and blue light. Ultra water-resistant. Free from fragrance. Does not sting on the eyes. It is suitable for face and body, and also adapted to apply on pregnant, light skin, tattoos and after dermatological procedures."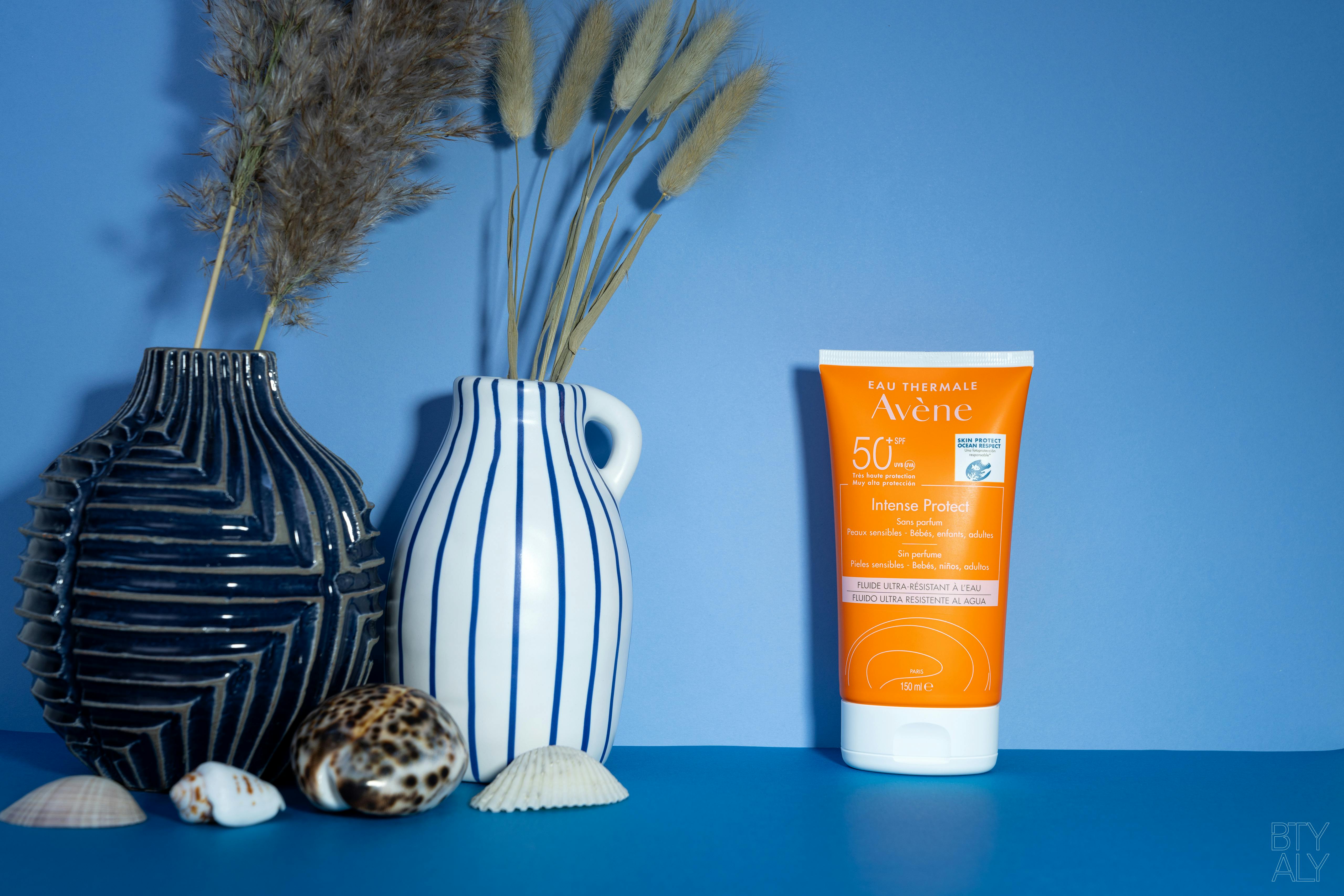 Pros
- its very high protection against UVA and UVB,
- it's suitable for the face, body and can also be used on babies and children,
- the use of several new generation chemical filters (including a brand new and exclusive to the Pierre Fabre group) which are very effective and suitable for sensitive skin,
- it also contains antioxidant vitamin E, which boosts anti-ageing prevention,
- its moisturizing effect,
- no white cast, it's inclusive for all skin tones,
- it doesn't contain neither fragrance, alcohol, silicones, for those who are sensitive to these ingredients,
- it's affordable.
Cons
- the finish is super greasy. For the body, it's fine but for the face, I don't find it pleasant to use at all.
- it's not suitable for daily use, it's almost impossible to apply makeup on top of it.
product name
Intense Protect SPF50+
packaging
An orange "beachy" plastic tube.
texture
A cream that absorbs quite quickly but leaves a greasy film on the skin. It's slightly tinted (beige).
For Who
For all those who want to protect themselves against UV rays. All ages, all skin types.
Concerns
– sun exposure,
– presence of UV rays,
– melanoma prevention,
– anti-aging prevention,
– hyperpigmentation.
Method
I apply the Avene Intense Protect + sunscreen after I have finished my morning skincare routine (after my moisturizer). Usually, I wait for a few minutes after applying my moisturizer (roughly the time to get dressed) before using my sunscreen.
Regarding the amount, I use about 1/2 teaspoon for my face, neck, neckline, and ears to be properly protected. I apply them in successive layers to make it easier and massage them a lot so that the cream blends, as much as possible, into my skin.
The product tends to stick a bit to the eyebrows and my hairline.
I usually wait for about ten minutes (at least) before applying my makeup. In the case of this product, applying makeup on top of it proved to be very difficult… The finish is far too greasy.
Key Ingredients
A rather simple formula, especially focused on sun protection:
– some remineralizing Avene water, moisturizing glycerin, anti-oxidant vitamin E,
– and several new generation chemical filters: Tinosorb S, Uvinul A Plus, Uvinul T 150 and TriAsorB, which is the brand new exclusive sunscreen by Laboratoires Pierre Fabre, which has just been released.
Ingredients
Avene Thermal Spring Water (Avene Aqua), C12-15 Alkyl Benzoate, Caprylic/​Capric Triglyceride, Dicaprylyl Carbonate, Diethylamino Hydroxybenzoyl Hexyl Benzoate, Glycerin, Ethylhexyl Triazone, Phenylene Bis-Diphenyltriazine, Water (Aqua), Bis-Ethylhexyloxyphenol Methoxyphenyl Triazine, Potassium Cetyl Phosphate, Stearyl Alcohol, Vp/​Eicosene Copolymer, Benzoic Acid, Caprylyl Glycol, Glyceryl Behenate, Glyceryl Dibehenate, Glyceryl Stearate, PEG-100 Stearate, Polyacrylate-13, Polyisobutene, Polysorbate 20, PPG-1-PEG-9 Lauryl Glycol Ether, Red 33 (Ci 17200), Sorbitan Isostearate, Tocopherol, Tocopheryl Glucoside, Tribehenin, Xanthan Gum.water
Ingredients not included
– alcohol,
– mineral oil,
– silicone,
– fragrance,
– essential oils.