Intro
I tried the serum C-Glow with L-Ascorbic Vitamin C from the Hungarian skincare brand Geek & Gorgeous, and I give you my thoughts!
My journey to find the best vitamin C serum continues, with a Hungarian skincare product this time. Hungary is not only the land of goulash, it's also the homeland of the very young brand Geek & Gorgeous that is currently making a lot of headlines! Let me introduce it to you and also tell you more about their best-seller, the C-Glow serum!
If you' re a regular BTY ALY reader, you already know that L-Ascorbic acid/ Vitamin C has been an integral part of my anti-aging routine for years now! I've tried many of the serums using this ingredient available on the market and you can check out them out as I've done quite a few reviews here.
I use vitamin C for its brightening effect, of course, but mostly because it's one of the most effective antioxidant ingredients available. If you add to that its booster effect of collagen production, you can see why it's essential in my routine 😉
Note, that many of the products available on the market contain only vitamin C derivatives that are not as effective and potent as L-Ascorbic acid/ Vitamin C (see my Focus on this topic for more details). But the latter version of Vitamin C, it is quite finicky and unstable, so I'm pretty picky when I choose a vitamin C serum.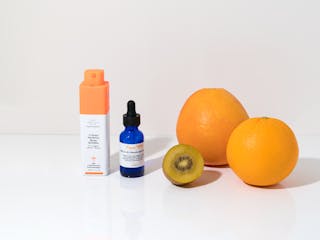 Ingredients
Focus on: Vitamin C (L-ascorbic acid)
Vitamin C (L-ascorbic acid) products are everywhere at the moment. It's not really surprising because this ingredient is really magic to give radiance to the complexion, the famous glow that everybody wants these days. But it's also a very unstable ingredient that needs a certain environment to be able to deliver all its benefits.
Read more
I even have a whole set of specifications for my vitamin C serums!
In my ideal vitamin C serum I want:
– a formula that contains pure vitamin C, meaning L-Ascorbic vitamin C (I prefer this ingredient to its derivatives, less effective on me),
– a concentration of L-ascorbic acid high enough to be effective (between 10 and 20%),
– other antioxidant ingredients in its formula (vitamin E, ferulic acid …) to make it more stable over time,
– a formula with a pH of 3.5 or less, to guarantee a better stability of the formula,
– a water-based, non-greasy, liquid texture for a better absorption and efficiency on my combination skin,
-a bottle that protects the formula from air and light (no transparent glass and a bottle that closes well),
– a fair price (ideally less than $40), and a decent quantity of product (ideally 30ml, more I'm afraid the formula will oxidize).
Indeed, a water-based vitamin C L-Ascorbic serum formula (which I prefer, I don't like oily formulas) is by definition unstable. Vitamin C L-Ascorbic doesn't like water very much, and it must be stabilized for the serum to remain effective throughout the entire treatment. So for me, all these criteria allow me to guarantee a better stability of my product, which will therefore be more effective!
At first glance, the C-Glow serum from Geek & Gorgeous seems to perfectly meet the specifications! Let's see how and get in to the details 😉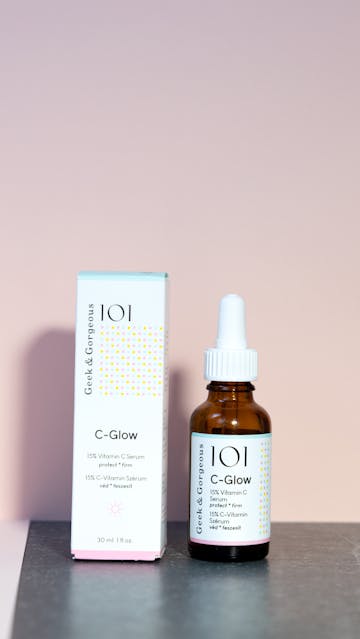 Who is Geek & Gorgeous?
Geek & Gorgeous began to make a name for itself on Instagram, as it's often the case in recent years. Some of my favorite skincare influencers are fans of the brand, and as a result I became curious about it!
Geek & Gorgeous was launched a few years ago by Judit Racz, a Hungarian beauty blogger.
Having experienced severe acne problems at a young age, Judit began searching for scientifically proven ingredients and active ingredients to help heal her skin. With her research, she gained expertise in this area and thought it might be useful to others. So she decided to create Kremmiania.hu, a kind of cosmetic ingredients dictionary (a bit like Beautypedia). It was a real success in Hungary!
She has since then founded another website, incidecoder.com, which is a cosmetic ingredients list decoding site, and this time, good news: it's available in English!
With all these achievements, and the expertise she acquired with the experience, she decided to create the brand Geek & Gorgeous.
As you would expect, Geek & Gorgeous is a skincare brand that focuses primarily on scientifically proven ingredients and active ingredients. And sensitive skin is clearly in for a treat! The formulas contain no alcohol, no essential oils and as few allergens as possible.
Geek & Gorgeous is clearly in the current trend of minimalist, very affordable, simple but effective skincare, which has become very popular in recent years thanks to Deciem and their success The Ordinary, or Paula's Choice before them.
The number of products available is still quite limited but the brand is evolving rapidly!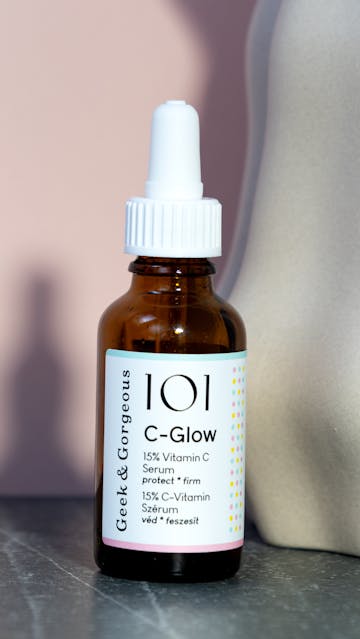 The serum C-Glow by Geek & Gorgeous, product presentation:
Since Geek & Gorgeous is all about simple and effective products, here is their best-seller: the antioxidant serum C-Glow!
A serum containing 15% vitamin C/L-Ascorbic acid, which I use every morning to give my complexion a glow and protection against environmental aggressions. As you know, I've said it over and over again, I consider my vitamin C serum to be an essential part of my anti-aging routine.
With its 15% concentration of L-Ascorbic Vitamin C, the C-Glow serum is also supposed to reduce pigmentation spots (but since I don't have any, I won't be able to judge its effectiveness on that one). It also helps to boost collagen production to keep the skin plumped and smooth, but we're talking about very long-term results here 🙂
So let's look at the formula in detail, to see if it meets my specifications quoted above:
– the C-Glow contains 15% L-ascorbic acid,
– it also contains vitamin E and ferulic acid, which help to stabilize the formula and also benefit the skin thanks to their antioxidant action,
– its pH is between 3.2 and 3.4,
– its water-based texture is liquid and non-greasy,
– its bottle is not transparent (it's tinted glass) so it protects the formula,
– it has a capacity of 30ml and retails around $13.
Clearly, the formula is very simple here. It has no other active ingredients in addition, it's simple and basic. But it works for me! I have a complex routine anyway, and I have all the active ingredients I need in the rest of the products I use 😉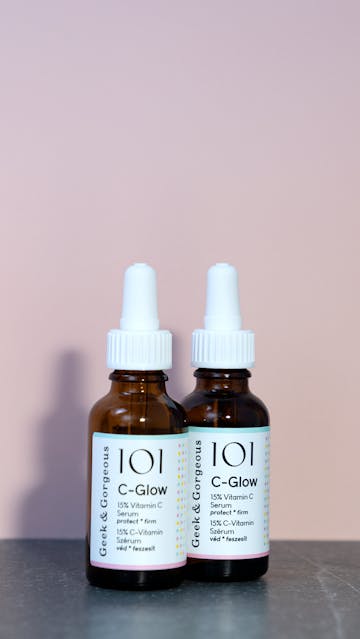 The serum C-Glow by Geek & Gorgeous,my experience:
I finally ordered my first bottle of C-Glow serum at the end of September and started it mid-October. So I have been using it for about 2 months.
I use it at the very beginning of my routine, after cleansing my skin and before the rest of my products. It is very liquid and absorbs quickly. I leave it on for about 1 minute and then I move on to the rest of my morning routine.
My skin tolerates L-Ascorbic Vitamin C very well, even when it's a bit sensitized with tretinoin, and no exception with this serum. It doesn't upset my skin at all.
I can see good results on the radiance of my complexion, which is the only visible effect on me, since the other benefits of vitamin C are usually very long term 😉
But considering the formula, no surprise to me, I was expecting an effective product. This type of serum always works for my skin, that's why I've been using it for years.
In short, the only question I had about this product was: is it stable? Because with a serum with L-Ascorbic Vitamin C, that's all that matters! If the product oxidizes quickly, clearly, you're wasting your money (even if it's only $13).
Note:
I don't think as I've read elsewhere (and believed at one point) that a serum with oxidized vitamin C is pro-oxidizing, I just think it's ineffective.
And how do you know that a vitamin C serum is oxidized, you may ask?
Usually, water-based vitamin C L-ascorbic serum formulas are transparent when you start using them. With time, and exposure to air and light, they gradually turn yellow, then orange, then brown. This indicates that they're oxidizing. Typically, a stable formula begins to turn yellow after 2-3 months of use. And a 30ml bottle lasts about 3 months, which means that you should have time to use up your product without it oxidizing, if the formula is well stabilized. If your formula has changed from transparent to orange, it means that it's oxidized and therefore no longer effective.
I'll lift the suspense right away: no, the formula of C-Glow is not stable. My serum started to turn yellow after 5 weeks of use, halfway through the bottle.
You can see in the pictures the difference between a bottle opened 2 months ago (and not kept in the fridge) and a brand new bottle: pretty obvious, isn't it? 😉
BUT! And it's a big BUT, the brand is aware of this and not only informs you about it, but gives you the means to fight against the oxidation of the formula.
Geek & Gorgeous prepares its vitamin C serum batches according to the orders received. This means that the product you receive is super fresh!
Also, on the packaging, they clearly mention that the formula lasts 3 months (30 ml is an average of 3 months of use) if it's kept in the fridge (which I didn't do with mine, my bottle was in my bathroom). A formula left at room temperature will begin to oxidize within 6 weeks.
And if you're like me, and you find it annoying to go and get your product in your fridge every morning, Geek & Gorgeous has a solution: they sell an empty 10ml mini-bottle (around $2), that you can fill with some of your C-Glow and leave in your bathroom, while the rest of your big bottle stays cool and well-preserved in your fridge.
That's pretty clever of them, IMO! It proves that they are aware of the limits of their product (which retails for $13, far from the $165 of Skinceuticals C E Ferulic!) and that they propose solutions for an optimized and efficient use of the C-Glow serum!
For me, it's a sign that the brand is listening to the needs of its customers, and it's a good sign!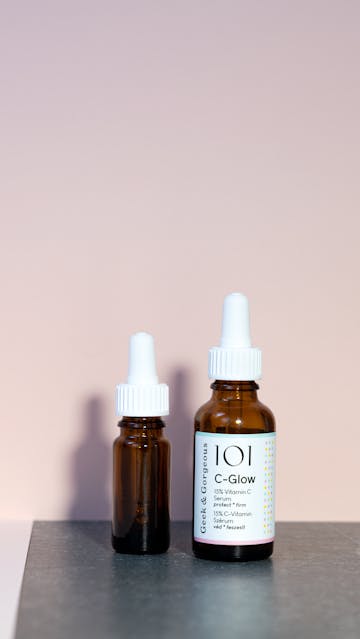 In conclusion:
The C-Glow serum is not perfect, as you can see, but it's certainly the best value for money on the market, and the brand helps us use it in the most efficient way possible, which I think is really a clever move on their part!
So I have already repurchased it and I can officially announce that it's on its way to become my favorite L-Ascorbic Vitamin C serum. Yes, it takes a little effort to keep it non-oxidized, but at this price, I won't be super picky!
The vitamin C serum Geek Gorgeous C-Glow retails for $13 for 30ml.
Product Review in detail
Summary
Geek & Gorgeous C-Glow
"A super-light, water-like 15% Vitamin C + extra antioxidants (Ferulic Acid & smaller amount of Vitamin E) formula to give the skin environmental protection, boost collagen and even the skin tone."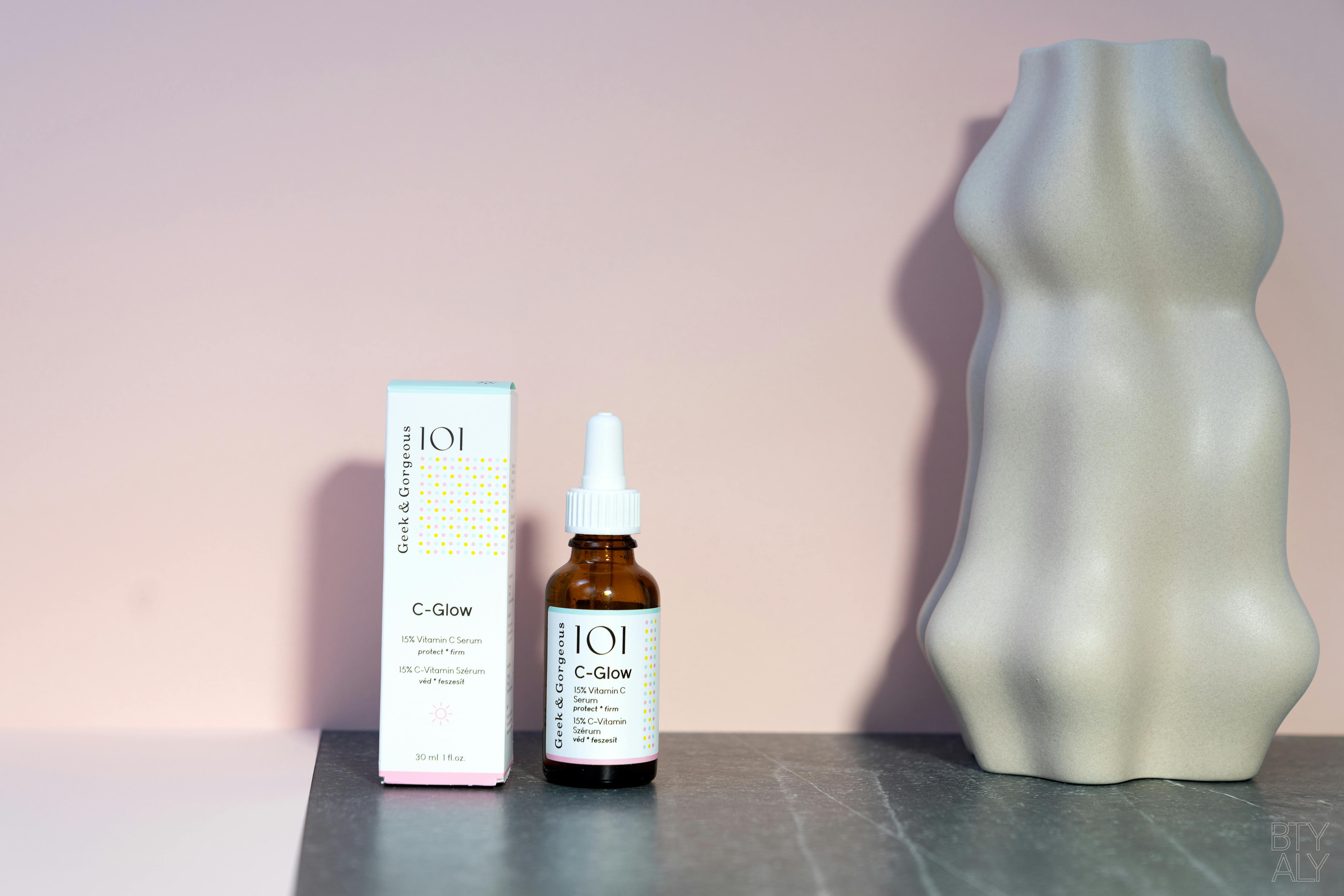 Pros
- the 15% concentration of vitamin C L-ascorbic, my favorite concentration,
- the presence of vitamin E and ferulic acid in the formula to stabilize vitamin C,
- its pH is between 3.2 and 3.4, which is ideal for this type of product, as it guarantees a better stability,
- its anti-oxidant, preventive anti-aging effect,
- its brightening effect,
- its freshness (the brand manufactures them based on the orders received),
- the fact that the brand has thought about the best way to preserve the product and sell small 10ml bottles to avoid having to keep it in the fridge during use (very clever!),
- its price, it's very affordable.
Cons
- it oxidizes rather quickly (in 6 weeks if you don't keep it in the fridge),
- the shipping costs can be high if you are not ordering from Europe.
brand name
Geek & Gorgeous
packaging
A tinted glass bottle with a pipette.
fragrance
It's fragrance free, but it smells like "bacon water with orange" like a lot of others vitamin C L-Ascorbic acid serums. It's not that bad, I promise.
texture
A liquid texture, quickly absorbed by the skin.
For Who
– all skin types, including the most sensitive,
– tired, dull skin, smokers or people living in a highly polluted environment,
– skins with uneven texture,
– skins with hyperpigmentation,
– skins with a lack of firmness and elasticity.
If you have acne prone skin, just be aware that vitamin C can sometimes trigger a reaction. It may vary according to people. I have acne-prone skin and this product didn't make me break out.
Concerns
– tired skin
– lack of radiance
– smokers
– skins exposed to pollution
– mature skin
– lack of firmness
– wrinkles, fine lines
– scars
– pigment spots
– hyperpigmentation
– if the skin is exposed to UV (but you have to pair it with a sunscreen).
Method
I use the C-Glow serum every morning on my face and neck after I cleansed my skin with a low pH foaming cleanser. I use it first in my routine, before my essences, because I want to enjoy its benefits without it being "diluted" by my essences that I apply on top.
I apply 5 to 7 drops of product on my face and neck and I let it absorb for a few minutes (1-2 minutes) before carrying on with the rest of my routine.
Key Ingredients
The formula is very simple and to the point.
It mainly contains an antioxidant complex containing 15% L-ascorbic acid, ferulic acid and vitamin E. These three ingredients combined help to boost the antioxidant effects of vitamin C and also make it more stable (combined vitamin C is more effective and can be used over a longer period of time without oxidizing too quickly).
The pH of the formula is between 3.2 and 3.4 which allows the vitamin C to be more stable and effective for a longer period of time.
Ingredients
Water, (L-)Ascorbic Acid, Dimethyl Isosorbide, Butylene Glycol, Peg/Ppg/Polybutylene Glycol-8/5/3 Glycerin, Ferulic Acid, Tocopherol, Phenoxyethanol, Ethylhexylglycerin, Sodium Hydroxide.
Ingredients not included
– alcohol,
– mineral oils,
– silicones,
– dyes,
– fragrance and essential oils.