Intro
A detailed review of Skinceuticals Vitamin C serum, C E Ferulic, a cult anti-aging product. Is it worth the hype?
Skinceuticals C E Ferulic is a cult favorite skincare product! Skinceuticals made Vitamin C L-Ascorbic its star ingredient and C E Ferulic is considered one of its most effective products.
I have already spoken several times about the famous vitamin C L-Ascorbic.

It's indeed a true glow giver, and it also has certain anti-aging effects: it's an antioxidant ingredient, so it protects the skin from free radicals that make it age prematurely, and it also boosts the collagen production. If you read my focus on L-Ascorbic Vitamin C, you'll know that a formula that contains this ingredient needs to be stabilized if you want it to be effective on the skin. Stability is, therefore, one of the key criteria for an L-Ascorbic Vitamin C serum! Skinceuticals C E Ferulic's formula is one of the most stable on the market.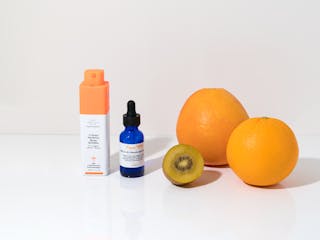 Ingredients
Focus on: Vitamin C (L-ascorbic acid)
Vitamin C (L-ascorbic acid) products are everywhere at the moment. It's not really surprising because this ingredient is really magic to give radiance to the complexion, the famous glow that everybody wants these days. But it's also a very unstable ingredient that needs a certain environment to be able to deliver all its benefits.
Read more
C E Ferulic also contains 2 other powerful antioxidant ingredients: vitamin E and ferulic acid. This antioxidant combo is patented by Skinceuticals and is the result of decades of research on this ingredient category. This patent partly explains the price of C E Ferulic.
Let us look at that in greater detail:
The brand Skinceuticals:
If Skinceuticals appears to be a very "medical" type of skincare brand, well, it's probably because it is!
Its name says it all: the word "cosmeceuticals" designates cosmetics that use some medical/ drug ingredients.
This cosmeceuticals trend is very popular in the US where aesthetic care and medical procedures blend quite easily.
Skinceuticals, the history behind the brand:
SkinCeuticals is a company founded in 1997 by Alden Pinnell and Russell Moon, two businessmen close to the medical and scientific circles in Dallas, TX in the United States.
SkinCeuticals' products were developed and patented by Dr. Sheldon R. Pinnell (Alden Pinnell's father, one of the brand's co-founders), Emeritus Professor of Dermatology at Duke University Medical University Center, in North Carolina. Dr. Sheldon R. Pinnell was specialized in the research on antioxidants and their actions on the skin.
The L'Oreal group purchased SkinCeuticals in 2005 and opened up its distribution network in a massive way.
Initially, SkinCeuticals was a brand recommended almost exclusively by dermatologist doctors but now the brand sells its products through a wider distribution network including dermatologists, cosmetic surgeons, spas but also pharmacies and even drugstores.
SkinCeuticals' headquarters are still in Dallas, Texas.
Skinceuticals' concept:
The Skinceuticals concept is "Prevent, Protect, Correct". Skinceutical products are indeed based on a combination of antioxidant ingredients, which are able to protect the skin and prevent the effects of free radicals (free radicals accelerate skin aging).
In fact, the discovery of the use of L-Ascorbic Vitamin C as an effective antioxidant ingredient on the skin is the result of Dr. Sheldon R. Pinnell's research.
Vitamin C serums are therefore completely part of Skinceuticals' DNA. The brand released a serum with 10% vitamin C L-Ascorbic in 1997.
In 2005, Skinceuticals went one step further with their antioxidant combination and launched CE Ferulic, which combined not only a higher concentration of pure L-Ascorbic Vitamin C (15%) but also Vitamin E and Ferulic acid from wheat extract (0.5% of Ferulic acid).
Product presentation: Skinceuticals C E Ferulic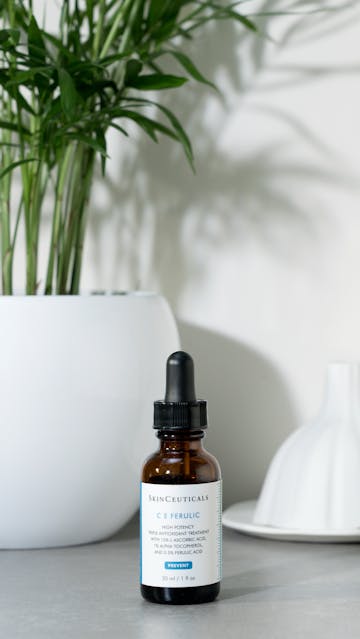 C E Ferulic is an antioxidant serum, ideal to use during the day for its protective shield effect against environmental aggressions.
It includes 3 different antioxidant ingredients: – 15% vitamin C L-ascorbic, – 1% vitamin E (1% alpha tocopherol), – Ferulic acid extracted from wheat (concentrated at 0, 5%).
These 3 ingredients act in synergy to help protect the skin from environmental damage which causes free radicals and premature skin aging.
A little bit of science:
Free radicals are caused by various factors: stress, pollution, UV rays, tobacco, fatigue, lack of sleep… In short, active life!
Concretely, free radicals are unstable molecules of oxygen that "want" to bind to other molecules in order to self-stabilize themselves and in doing so, results in chain reactions within the human body.
The consequence of these reactions is, among other things, the premature aging of the skin. Hence why it is interesting to protect the skin with products containing antioxidant ingredients to prevent the formation of free radicals!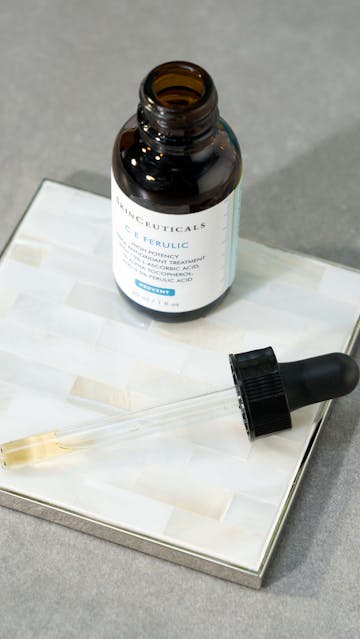 C E Ferulic is also considered as an anti-aging treatment because it can improve the appearance of wrinkles and fine lines, boost collagen production and reduce the loss of firmness of the skin. Last but not least, it has a brightening effect on the complexion.
C E Ferulic's formula has the reputation of being the most stable on the market.
C E Ferulic's formula has the reputation of being the most stable on the market.
The texture of CE Ferulic is very liquid, which makes it ideal for a daytime application as it leaves no greasy feeling on the skin.
However, it's not really moisturizing (at the same time, it's not really supposed to be). It's actually recommended to apply at least one moisturizer on top of it.
This very liquid texture can partly be explained by one of the ingredients used in its formula in a good amount (it's the second ingredient): the ethoxydiglycol, a solvent ingredient. It's not really an interesting ingredient for the skin (it's not bad either) but it helps to improve the texture of the product, to intensify its absorbing power and also to preserve the formula.
Because C E Ferulic's formula has the reputation of being one of the most stable on the market.
And it's often an issue with other vitamin C serums on the market. Despite some formulas that look attractive on paper, they tend to oxidize quite quickly (in a few weeks) and become in that case not only useless, but even bad for the skin. Indeed, applying an oxidized vitamin C serum is like using a dose of free radicals every morning, exactly the opposite of what you want!
C E Ferulic, therefore, enhances its patented formulation technology that guarantees an optimal use up to 6 months after opening.
To make it last longer, no need to put it in the fridge. Just keep it in a place not too hot or too humid and it should be fine.
C E Ferulic serum's size is 30 ml. It lasts about 3 to 4 months when you use it once a day.
In this regard, no need to use it morning and evening, because vitamin C L-Ascorbic has a reservoir effect of 72 hours, which means that once it has penetrated into the skin, it remains active for 72 hours. Even if you clean your face in the meantime.
However, I still prefer to use C E Ferulic every morning because I want to use the product within 6 months! (At this price, it would be a shame to waste it!)
My experience:
This is not my first vitamin C serum, I have tried several in the last 2 years. I was very curious to try C E Ferulic because of its great reputation.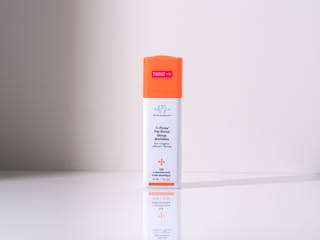 Skincare
Review: Drunk Elephant C Firma Day Serum
The Drunk Elephant Vitamin C serum, the C-Firma Day Serum is supposed to be one of the best vitamin C serums on the market. Does it deserve its excellent reputation?
Read more
Clearly, the price was holding me back, it's one of the most expensive vitamin C serums on the market by far. Skinceuticals justifies this price tag with their patented technology and the fact that this L-Ascorbic Vitamin C serum is very stable (a very important factor with this ingredient).
It's true that it's rather reassuring to know that your product will be effective during the whole treatment (which, I repeat, is not guaranteed with many other vitamin C L- Ascorbic serums).
I also like its texture a lot. It's ideal when like me, you like doing skincare layering and Vitamin C is the first product you're supposed to use before the rest of your routine (I swear by super lightweight textures for my serums!).
I don't find it irritating on my skin, despite its very low pH.
But I cannot help comparing it to other vitamin C serums I've tried before. Even if these other vitamin C serums did not have a patent like CE Ferulic, all were well-stabilized formulas (with a pH of 3.5 or less, a sufficient concentration of vitamin C, other anti-oxidant ingredients in their formula, bottles that protect them from the air and light…).
And honestly, regarding the result on my skin, I haven't seen a difference that justifies paying double (or up to five times in some cases) the price.
Result :
The brightening effect on my skin is undeniable. L-Ascorbic Vitamin C is always very effective on my skin, so no big surprise here.
I can't really talk about a visible effect on wrinkles because I don't have too many of these (I have other skin issues instead ah ah) and the result won't be visible for a long time, same for its antioxidant protective effect.
But, as I said above, if I compare it with other vitamin C serums I used recently, I couldn't really notice a difference. The effectiveness looks the same, at least regarding the immediate brightening effect.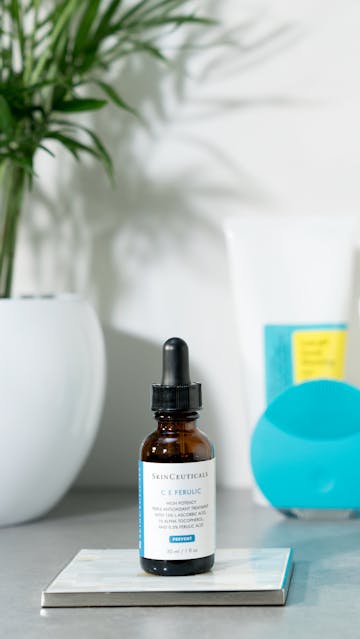 Value for money:
I don't intend to mince my words: in my opinion, C E Ferulic is a good product but it's far too expensive for what it is.
Compared to other vitamin C serums, including my favorite Drunk Elephant C-Firma, the price is difficult to explain. Of course, it's important to know that your serum will be effective and stable during all the time you're using it but, especially knowing that other formulas are now as stable as CE Ferulic for a lower price, do you still need to invest in Skinceuticals? The question remains.
Also, the formula is very simple, which is not a bad thing for this type of product, because the ingredients are quite powerful here but again you don't have anything fancy in the formula that could justify the price tag.
With Drunk Elephant, for example, C Firma's formula is also stabilized, and there are other great ingredients beneficial for the skin as a bonus that could explain its $80 price. C E Ferulic costs more than twice that of Drunk Elephant C Firma and its formula is less interesting in my opinion…
In summary:
In short, it's a very good product, formulated to be effective and stable, which is a great thing. But the price is really high and I think it's an expensive price to pay just for a patent. Especially since Skinceuticals no longer has a monopoly on this kind of formula and you can find effective alternatives at more interesting prices (see my focus on vitamin C L-Ascorbic).
Skinceuticals C E Ferulic serum retails between $165 and $200 depending on the retailer, for 30ml (it lasts me for 3-4 months if I use it every morning).
Product Review in detail
Summary
Skinceuticals C E Ferulic
"C E Ferulic features a synergistic antioxidant combination of 15% pure vitamin C (L-ascorbic acid), 1% vitamin E (alpha-tocopherol), and 0.5% ferulic acid to enhance protection against environmental damage caused by free radicals that can contribute to atmospheric aging. This vitamin C serum helps neutralize free radicals induced by UVA/UVB, infrared radiation (IRA), and ozone pollution (O3), which may lead to visible signs of accelerated skin aging. In addition to antioxidant protective benefits, C E Ferulic improves signs of aging and photodamage, the appearance of lines and wrinkles, and the loss of firmness, while brightening skin's complexion.
- Provides advanced environmental protection by neutralizing damaging free radicals,
- Visible anti-aging benefits, such as the improvement of the appearance of lines and wrinkles, loss of firmness, and brightens skin's complexion,
- Neutralizes free radicals on the upper layer of the skin to help prevent the impact of ozone damage to skin,
- Once absorbed, this vitamin C serum remains effective for a minimum of 72 hours,
- Paraben-free and ideal for normal, dry, and sensitive skin types,
- Tested suitable for use post-laser, always consult with a physician for individual post-procedure care."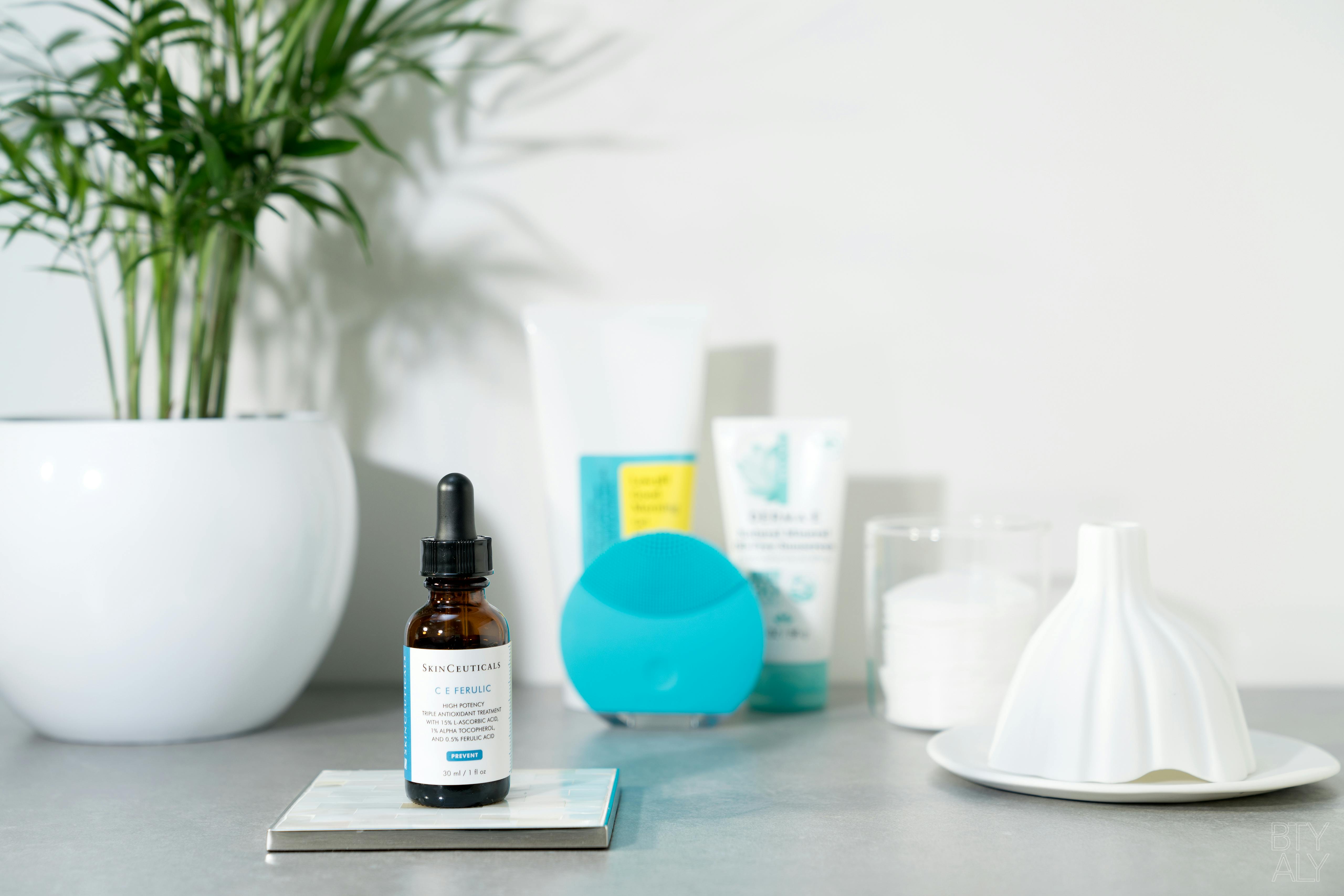 Recommendation
B+
Good product but I'm not sure it's worth the price.
Pros
- the vitamin C L-ascorbic concentration of 15%,
- the low pH which allows the formula to be effective (between 2.5 and 3.0),
- the presence of vitamin E and ferulic acid in the formula which stabilizes vitamin C,
- it doesn't dry the skin out (thanks to the hyaluronic acid in the formula), but I wouldn't say it's moisturizing though,
- it protects the skin thanks to its antioxidant properties,
- it's very brightening,
- it evens the skin texture,
- the boosting effect of the protection when it's paired with a sunscreen product,
- the texture is super light and easily absorbed by all skin types, even oily skin; it's great if you do skincare layering,
- non-comedogenic, it doesn't clog the pores,
- without added synthetic fragrance or dye.
Cons
- this goes for all the vitamin C L-ascorbic acid serums, but you can't keep the product very long (6 months maximum after opening) because this ingredient isn't very stable, even if C E Ferulic is one of the more stable vitamin C serums in the market,
- you have to apply a high SPF during the day when you use this product (personally, it's something I do regardless but some may see it as a con),
- the extremely high price; C E Ferulic is one of the most expensive vitamin C serums on the market,
- the packaging is not ideal, I would have preferred a pump for a better protection of the formula,
- the weird scent of the product, it smells like hot-dog (= a very chemical sausage). It's quite unexpected for a beauty product!
packaging
A glass bottle with a pipette.
fragrance
It smells like hot-dog (I know, it's very specific ;) ).
For Who
All skin types, including the most sensitive.
If you have acne prone skin, just be aware that vitamin C can sometimes trigger a reaction. It may vary according to people. I personally have acne-prone skin and this product never made me break out.
The main skin conditions which can benefit from this treatment are:
– tired, dull skin, smokers or people living in a highly polluted environment,
– skins with uneven texture,
– skins with hyperpigmentation,
– skins with a lack of firmness and elasticity.
Concerns
– tired skin
– lack of radiance
– smokers
– skins exposed to pollution
– mature skin
– lack of firmness
– wrinkles, fine lines
– scars
– pigment spots
– hyperpigmentation
– if the skin is exposed to UV (but you have to pair it with a sunscreen)
Method
I use it every morning on my face and neck after I have cleansed my skin with a low pH foaming cleanser and toned my skin. Usually, I wait a few seconds for my face to dry a little because the skin moisture can decrease somewhat the effectiveness of the vitamin C.
I apply 4 to 5 drops of product on my face and neck and I let it absorb for a few minutes before carrying on with the rest of my routine.
I particularly appreciate that it absorbs very quickly in my skin because I layer several skincare products in my routine, so I really like this very liquid texture.
Key Ingredients
The formula of this serum is super complete and allows to deliver maximum results on the skin thanks to carefully selected ingredients:
– the antioxidant complex contains 15% of L-ascorbic acid, 0.5% of ferulic acid and 1% of vitamin E: these three ingredients help to boost the antioxidant effects of vitamin C and make it more stable ( the vitamin C combined is also more effective and can be used over a longer period of time without it oxidizing too fast).
– Glycerin: a moisturizing ingredient that helps to keep the skin's natural moisture.
– Panthenol (= provitamin B5): a repairing and soothing ingredient. It also has a healing and anti-inflammatory effect.
– Low molecular weight hyaluronic acid: moisturizes the skin deeply, reduces the appearance of fine lines and wrinkles.
The C E Ferulic also has a very acidic pH (between 2.5 and 3.0) that allows vitamin C to be more stable and perform better for longer. Despite this very acidic pH, I didn't feel any irritation while I was using it.
Indeed, C E Ferulic is under the protection of a Duke patent on antioxidants, so it's a patented formula. The Duke Antioxidant Patent describes the characteristics of the preparation that allow vitamin C to be absorbed through the skin effectively:
– pure L-ascorbic acid, with a concentration of between 10% and 20%,
– an acidic pH of between 2.0 and 3.5.
Ingredients
Water, Ethoxydiglycol, Ascorbic Acid, Glycerin, Propylene Glycol, Laureth-23, Phenoxyethanol, Tocopherol, Triethanolamine, Ferulic Acid, Panthenol, Sodium Hyaluronate.
Ingredients not included
– parabens,
– alcohol,
– mineral oils,
– silicones,
– fragrance.