Intro
Discover my detailed review, and my test of the moisturizing and brightening essence the Rice Toner, from the Korean natural skincare brand I'm From!
I was very eager to try this Rice Toner, a rice-based essence from the Korean brand I'm From. It's indeed very popular among Korean product lovers and now I totally understand why!
Before testing it, its liquid milky texture reminded me a lot of Laneige's hybrid essence, the Cream Skin Toner & Moisturizer (which I reviewed a few months ago).
As a result, I approached it a bit like a replacement for the Laneige for the summer season.
But as I discovered later, there are quite a few differences between these two products. Even if they both have the same kind of "milky" texture, the I'm From Rice Toner essence is still much lighter. I don't really see myself using it instead of my moisturizer as I so often do with the Laneige one.
And above all, Laneige's Cream Skin Refiner is "only" a moisturizing product, while the I'm From Rice Toner essence has other beneficial effects on the skin!
Skincare
Review: LANEIGE Cream Skin Toner & Moisturizer
A product as liquid as water to replace your moisturizer? This is the claim of the Korean brand LANEIGE, with its Cream Skin Refiner, a product so innovative and popular right now in Korea that the brand is struggling to keep it in stock!
Read more
The brand I'm From:
"Nature as it is, it's It's From" This simple slogan perfectly embodies the identity of this Korean skincare brand. I'm From products are inspired by the purest natural ingredients.
The brand makes a point to source only the highest quality ingredients exclusively from South Korea.
Each range highlights one particular ingredient, and offers several products according to its benefits: there is the Rice range for regeneration and radiance, the soothing and purifying Artemisia range (which I mentioned in my dedicated Focus article), the stimulating and anti-aging Ginseng range…
I'm From is also characterized by its approach of transparency. Each product proudly lists all its ingredients, as well as their origin and the name of the farm where it was harvested. The brand favors environmentally friendly farms, because they're committed to preserving the natural resources of their beautiful regions!
The Rice Toner essence is one of the brand's most popular products!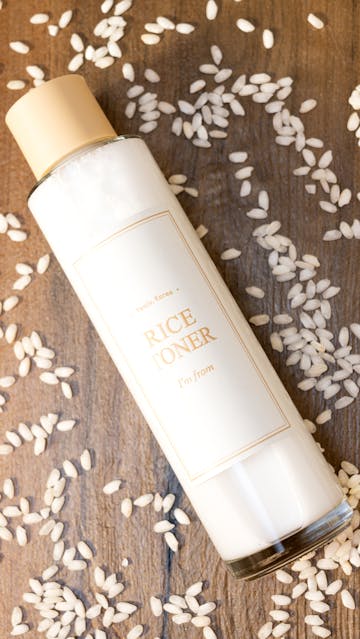 Product presentation: I'm From Rice Toner
I'm From Rice Toner is an essence, this pre-care liquid treatment, which boosts the effectiveness of the products applied on top.
What I find particularly interesting about this one is that it's directly inspired by an ancient beauty ritual practiced for centuries by women concerned about the beauty of their skin in Asia.
Indeed, instead of throwing away the water from cooking rice, the tradition is to put it aside and used it as facial ablutions by women, in order to preserve the fairness of their complexion.
Rice has brightening and regenerating properties for the skin. It's also a very affordable ingredient and an integral part of Korea's culinary heritage, so it's quite easy to find.
It's From has chosen a high-quality rice extract, Oryza Sativa rice from the Yeoju region in central South Korea. This area is very popular for agriculture because of the quality of its soils, which makes it a very prosperous region.
Oryza Sativa rice has a higher fiber content than conventional rice and contains active ingredients such as aminosine and lysine, which are protein derivatives, and excellent for the health of your skin!
The rest of the formula is quite simple, with a few other brightening ingredients (niacinamide in particular) and also hydrating (Purslane, Amaranth seed extract…).
The formula contains no perfume or dyes.
According to the brand, the Rice Toner essence acts mainly on:
the radiance of the complexion,
the texture of the skin (which it helps to smooth gently),
the hydration and comfort of the skin,
wrinkles and fine lines (smoothing effect),
the regeneration of the skin,
the firming effect,
reducing the hyperpigmentation.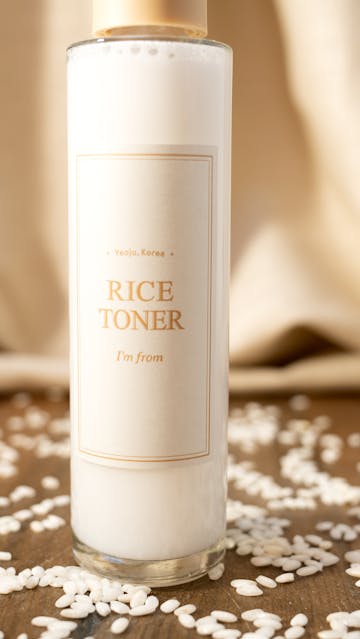 The texture of this essence has 2 phases. You need to shake it to mix the two phases before using it.
The Rice Toner doesn't leave any "rich" and emollient effect at all, if I compare it to the essence of Laneige for example. It leaves the skin comfortable but without feeling heavy or greasy. Its texture is really soft when I apply it, it's very pleasant to use!
On my dehydrated combination skin, it's very effective at keeping it moisturized for long periods of time without "greasing" it. I use it more in the evening at the moment, just before my treatment serums.
On drier skin type than mine, or if the skin is exposed to more extreme weather conditions, it will probably be perfect to use morning and evening!
My experience and the result:
I started using the Rice Toner in late spring. Summer in Dubai though: it's very hot, so I spend my days locked in the air conditioning that literally sucks up all the hydration of my skin.
This essence is a real joy to use at this time of the year, because it's very comfortable without being too rich (nobody wants to use heavy texture in summer).
Regarding the effect on the radiance of my complexion, I think it contributes to it but I use other ingredients in my routine that also help to brighten my skin so I didn't see a glaring difference based solely on starting to use this product!
The bottle is quite large, 150ml. So it will probably last me a few more months (I'm halfway through after 4 months to give you an idea).
That's good though, summer is not yet over in the Emirates, we still have a long way to go!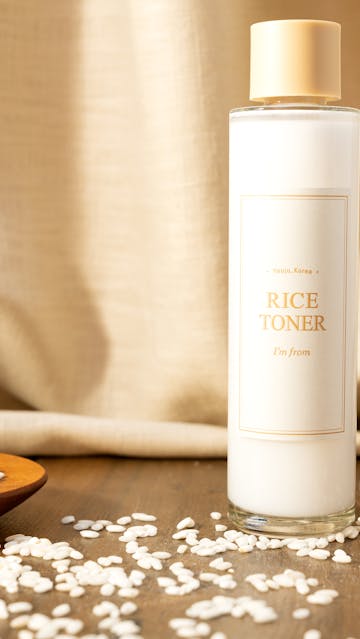 In conclusion:
I really like this Rice Toner essence. It allows me to spend the summer with a more comfortable skin and I find it really pleasant to use!
It's often on sale on websites that sell the brand, so if you live in a place where you have a proper winter, I think it can be a good investment for the upcoming cold season!
The essence I'm From Rice Toner retails between $20 and $28 depending on the retailers for 150ml.
Product Review in detail
Summary
I'm From Rice Toner
"The I'm From Rice Toner is a toner to hydrate and brighten dull, irritated skin. Created with ground Yeoju rice, this toner helps to get rid of impurities located deep in the skin, and exfoliates the complexion for smoother, hydrated skin. It also contains gamma oryzanol, helpful in brightening a dull complexion. This toner is effective for dull, fatigued skin, as well as dry, irritated skin. Simply apply to the whole face with your hands or a cotton round. It can also be used as a facial mist."
Recommendation
A
Very nice to use, and it does the job!
Pros
- the texture is really pleasant. It's completely liquid but you can feel that it still provides a lot of comfort to the skin,
- the simple and effective formula,
- it provides long-lasting hydration to the skin,
- the effect on the complexion's radiance,
- the versatility of this product, it can be used in many different ways,
- it lasts a long time, it can be used for several months (6 to 8 months),
- the fact that it's suitable for sensitive skin (rather short and fragrance-free formula),
- it's cost-effective.
packaging
A glass bottle, with a paper label and a plastic cap, very simple and sleek.
texture
A very liquid milky texture, with 2 phases that you have to shake to mix before using.
For Who
– dehydrated skin,
– sensitive skin,
– dry skin,
– dull skin,
– textured skin.
Concerns
– lack of comfort,
– lack of radiance,
– irregular skin texture.
Method
I use the Rice Toner in different ways:
– as an essence:
I apply it in the evening or morning after my acid toner, and before my serum, oil and/or moisturizer (like a regular essence).  I shake it over the palm of my hand to take 2 or 3 "drops" and apply them on my face and neck. I pat it in (it's quite fast, the product is absorbed rather quickly). I then continue with the rest of my routine.
– as an express moisturizing mask:
I soak several cotton pads with the Rice Toner, I place them on the driest areas of your face, on clean skin and leave them on for a few minutes (up to 20 minutes). No need to rinse, I just remove them and keep on with the rest of my skincare routine.
– as a moisturizing mist during the day:
You can pour the product into a bottle with a spray and mist it during the day if the skin suffers from intense dryness (perfect in winter or if you are exposed to heating or air conditioning all day).
Key Ingredients
The formula is quite short, but it still contains some nice active ingredients. The main ones:
– Oryza Sativa rice extract from Yeoju region in South Korea: softens, repairs and has an effect on the skin's radiance and comfort.
– Amaranth seed extract: emollient, comfort effect,
– Niacinamide: helps to reduce the visible signs of aging, improves skin firmness, reduces hyperpigmentation, helps to blur acne scars, regulates sebum production… One of my favorite ingredients!
– Portulaca Oleracea: moisturizing effect,
– Ulmus Davidiana root extract: moisturizing effect,
– Adenosine: soothing and regenerating.
Ingredients
Rice extract, Methylpropanediol, Triethylhexanoin, Hydrogenated poly (C6-14 olefin), Niacinamide, Pentylene glycol, Common Purslane extract, Rice bran extract, Japanese elm bark extract, Amaranthus caudatus seed extract, Hydrogenated lecithin, Distilled water, Polyglyceryl-10-myristate, Butylene glycol, Adenosine, Cellulose gum, Ethylhexylglycerin, 1,2-Hexanediol
Ingredients not included
– alcohol,
– mineral oils,
– synthetic perfume,
– dyes,
– parabens.