Intro
My thoughts on the Secret Essence from the Korean luxury brand su:m37, an essence with fermented ingredients very popular in Asia.
The su:m37 Secret Essence is one of the most popular essences in Asia. It's supposed  to be the Korean answer to the famous Japanese SK-II Pitera! Let me introduce you to this "secret" product 😉
I have already written several articles about fermented essences which are very popular throughout Asia.
The most famous among them, is the essence SK-II Facial Treatment Essence Pitera, it has been a true bestseller on the Asian continent for almost 40 years. Allegedly, there's one bottle of it sold every 30 seconds!
The other skincare brands, especially the Korean ones, were therefore quick to "find inspiration" from the SK-II concept in order to devise their own versions of this essence.
I've tried a few of them already, because my skin loves them! I really see a result in the brightness of my skin (and I love to use them, which is always a plus).
The su:m37 version is probably one of the most popular in Korea. Even if the brand was clearly inspired by SK-II's Pitera essence, their Secret Essence is a rather unique product, with a very interesting formula and a fermentation technology of their own!
I tried the su:m37 Secret Essence, and you'll find my thoughts on it below!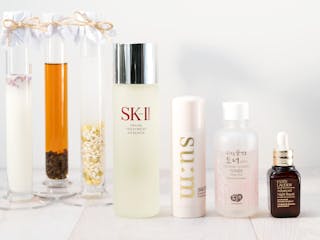 Ingredients
Focus on: fermented ingredients (ferments, yeasts, probiotics)
Like probiotic cures that are recommended at each change of season, cosmetics use more and more bacteria, yeasts and other fermented ingredients in skincare products to take care of the skin and its micro-bacterial flora, the microbiome.
Read more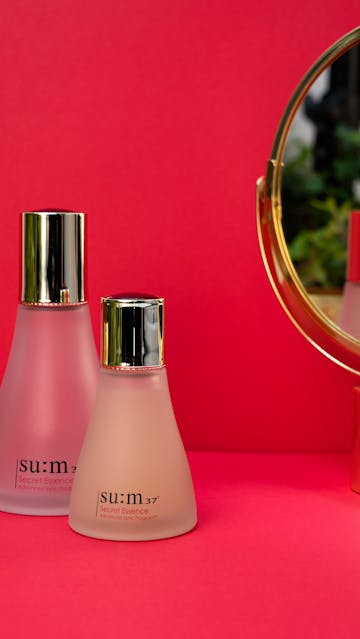 The brand su:m37:
The skincare brand su:m37 comes from South Korea and belongs to the South Korean group LG. Yes, LG, the same company that brings you phones and washing machines. In South Korea, this gigantic LG conglomerate has ramifications in numerous industries and products, including cosmetics.
Believing that "cosmetic fermentation" would be one of the next engines of growth in the cosmetics industry, LG launched su:m 37 in 2007, Korea's first fermented cosmetics brand. Indeed, in recent years, there has been a real demand for more natural products in South Korea. While the competing group, Amore Pacific, introduced skincare products using traditional Asian medicine ingredients (as you can see in my article on Sulwhasoo), LG wanted to stand out by focusing on naturally fermented ingredients.
Indeed, su:m 37 differs from artificially fermented cosmetic products already on the market because the brand offers products based on pure, naturally fermented ingredients. su:m 37 uses about 50 organically grown plant species in Hokkaido, a region of Japan, and ferments them at a temperature of 37 °C for 1102 days, or more exactly "3 years + 7 days" (hence its name, su:m 37) (sum means breathing in Korean).
su:m 37 uses a fermentation technique researched for over 80 years by the Japanese Otaka Research Center, a world-renowned establishment recognized for its research on fermentation. In the first stage of the process used by su:m 37, some undiluted solutions of pure plants are extracted and stored in a cedar, oak or earthen barrels for seven days. The extracted solution is then moved to a storage area in South Korea at Gangwon-do and left at a constant temperature of 37 °C. It's left there to ferment for several months or even years (up to 3 years).
This slow fermentation process produces new naturally fermented substances, which contain various amino acids, natural organic acids, and antioxidants. These are naturally non-irritating and stimulate the renewal metabolism of the skin, to smooth out its texture and help purify it.
su: m37 is a huge success in South Korea and all over Asia. The Secret Essence is their best-selling product!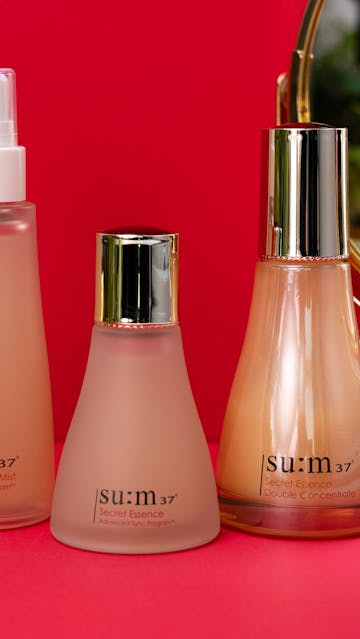 Product presentation: su:m37 Secret Essence
The su:m37 Secret Essence is an essence, this hybrid liquid skincare product typically found in Asian skincare routines. It is between a toner lotion and a serum. And this one belongs to the categories of "first" essences.
They're also called various other names: "fermentation essence", "facial treatment essence", "first treatment essence", "starting treatment essence"…
All these essences are quite common in Asia. They're usually part of a more complex skincare routine with a layering process and that their main claimed action on the skin is their brightening/ whitening effect, and this is a very important concern for Asian customers.
The Secret Essence is a "first essence", which is like a "pre-essence", to apply before everything else (including other essences) in your skincare routine in order to optimize the results of the other products you apply on top. Obviously, if you don't want to do a complex skincare routine with several steps, the Secret Essence can be your only essence.
According to the brand, the Secret Essence works on:
– hydration,
– evening out the skin texture (which it helps to smooth and soften),
– toning/firming action,
– wrinkles and fine lines (smoothing effect),
– skin brightening,
– reducing hyperpigmentation.
Usually, these "First" essences all have a rather similar composition, they're often very rich in fermented ingredients such as Galactomyces or Saccharomyces (which are yeasts, I talked about them in my Focus article on fermented ingredients).
It is the case with this Secret Essence, but here, the fermented ingredient is composed of 80 different plant extracts, which the brand calls "Cytosis".
This mixture of ingredients fermented for 365 days. It's supposed to significantly improve the skin in all aspects and is in every su:m37 product.
Fermentation transforms the ingredients so that they can penetrate deeper into the skin. During fermentation, new additional substances are also created that are beneficial to the skin, such as minerals for example.
su:m37 products are extremely rich in fermented ingredients, and they are not diluted as much as in other brands, which also explains their rather high price.
The rest of the formula includes other interesting skincare ingredients such as ferulic acid (antioxidant), and niacinamide (one of my faves!).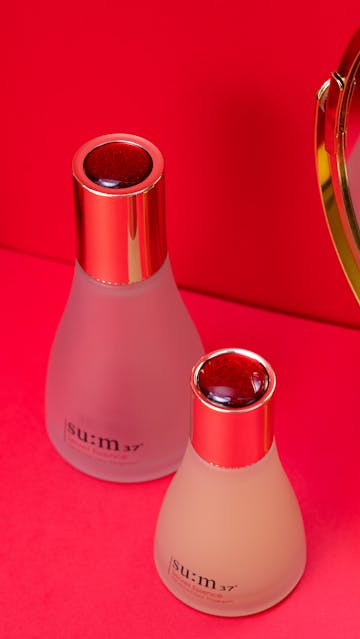 My experience:
I have been using essences with fermented ingredients in my routine for more than 2 years now.
My skin loves them! I see the difference in the hydration of course, but also on the radiance of my complexion, and also on the texture of my skin. I also like the way you need to use them (by pressing directly on the skin), very pleasant!
When I went to Korea two years ago, I decided to invest in the Secret Essence and the advantage when you are there is that you can find some kits with other products from the range (I was also able to try the lighter Secret Essence Mist and the Double Concentrate essence, a more concentrated version that looks like a serum) (both are good, but clearly for me, the Secret Essence is the star of the show).
The bottle I bought was smaller than the classic version because it was in a kit (and I have since bought it in travel format, so on my picture, there is an empty bottle and a full bottle 😉). It lasted me 4 months (its size was 60ml).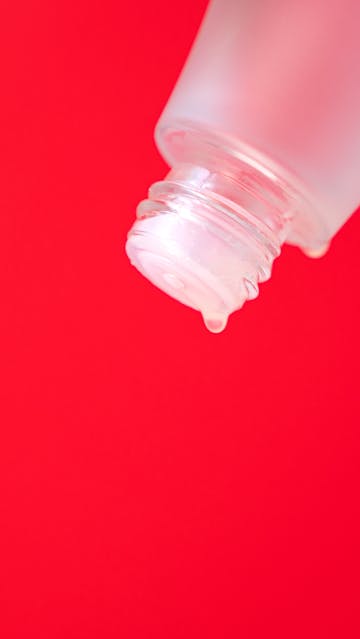 Result:
The su:m37 Secret Essence is one of the best fermented ingredients-based essences I have ever tried.
I find it very hydrating, as soon as I apply it. It also smells very good, which is always great (a rather fresh and lemony scent). The application is therefore very pleasant, which motivates me to use it!
I also saw good results on my skin with this essence.
It gives me a lot of radiance, my skin is more even, less prone to imperfections and my pores are tightened. For the firming, anti-wrinkle claims, well, I'm less convinced but I know it shows in the very long term!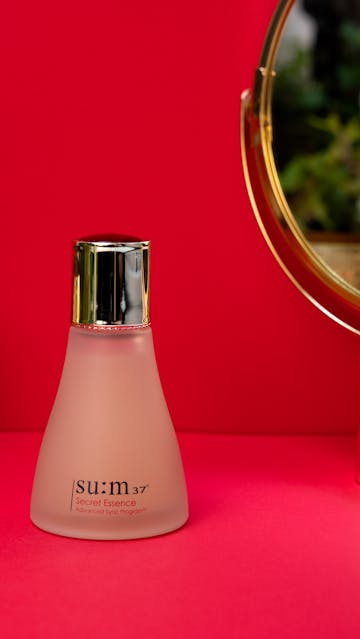 Value for money:
It's definitely not the cheapest fermented ingredient-based essence on the market!
Depending on its size, it prices varies between $70 and $95. If you want to try it, I strongly recommend you to look at the offers with kits, they are often more interesting than the product alone. And of course, if you happen to be in an airport in Asia, take a look at the duty-free shops, the su:m37 brand is usually there, and they have great offers!
When I use it, I can definitely feel that the fermented ingredients are present in a high concentration and this is one of the brand's selling points.
For me, it's an extra product, clearly a luxurious one. I wouldn't call it an essential step but I 'm pleased to have it in my routine and to use it every day! And I find it effective on my skin, so for me, it's worth the price!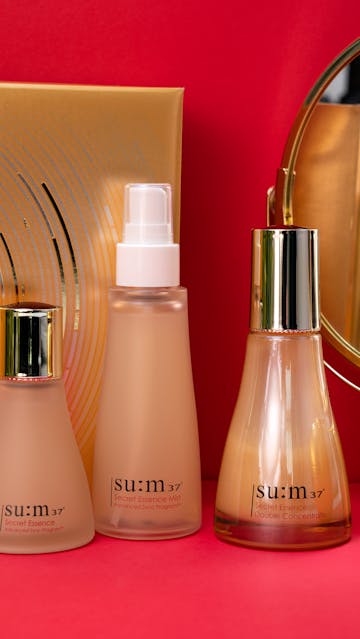 In conclusion:
I really like this Secret Essence. It's not only pleasant to use, I see results on my skin with it.
Of course, it's not cheap, but I think I'll stock up next time I see it in duty-free in Asia! 🙂
The su:m37 Secret Essence retails between $70 and $90 depending on the resellers (the size varies from 50 to 100ml).
Product Review in detail
Summary
su:m37 Secret Essence
"Enriched with fermented extracts from 80 botanical plants, this essence transforms and gives your skin a smooth, baby-like softness. Apply this essence after cleansing and toning to restore moisture and balance to your skin."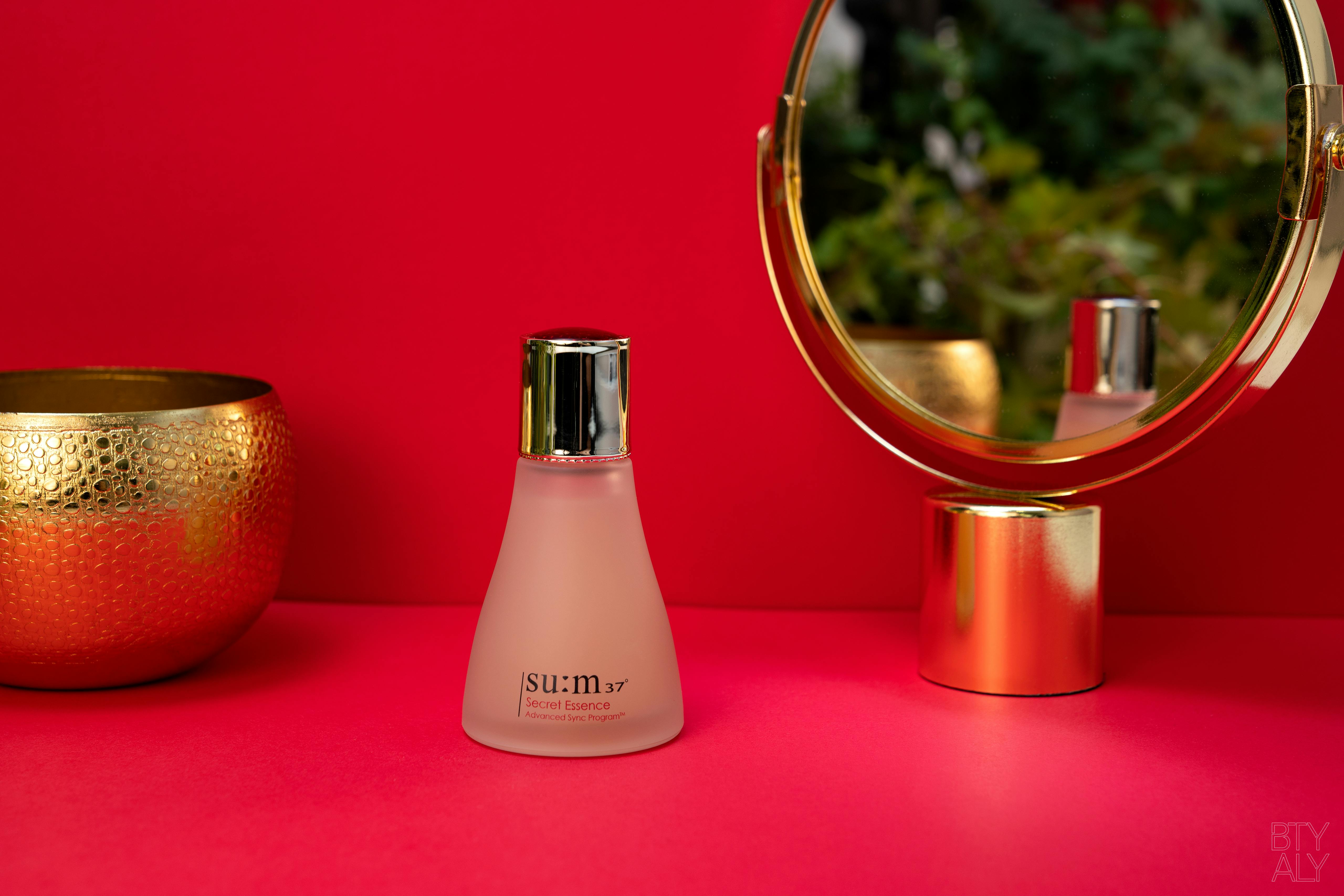 Recommendation
A
I really like this essence (even if it's not cheap)
Pros
- the elegant and luxurious packaging,
- the formula is rich in fermented botanical ingredients, a delight if you are a fan of hanbang cosmetics,
- the fresh aromatic scent, I like it very much,
- the refreshing and quickly absorbed texture, which stimulates the skin,
- the stimulating effect on the complexion's radiance,
- the comfort, the skin feels immediately hydrated,
- the effect on my skin color: it's clearer and brighter,
- the quantity/price ratio: you don't need a lot, the bottle lasts a long time.
Cons
- the formula is very long and contains quite a lot of essential oils, so be careful if you are sensitive to them (I'm not),
- it's expensive, it's definitely a luxury product (you can find it in special kits that are great value for money).
product name
Secret Essence
packaging
A matte glass bottle with a golden cap with a decorated top, very pretty.
fragrance
An aromatic and lemony scent, very nice.
texture
A gel-like liquid, neither greasy nor sticky.
For Who
All skin types, all ages.
Concerns
– dehydrated skin,
– devitalized skin,
– dull skin,
– hyperpigmentation,
– mature skin.
Method
I use the Secret Essence in the evening (but you can use it morning and evening), after I have cleansed and quickly pat dried my face. If I use acids, I use it after this step (I usually let 1 or 2 minutes pass to let the acids sit on my skin).
I take 2 or 3 "drops" (I don't know what to call the amount that the bottle pours into my hand) and apply them on my face and neck. I press them in (it's quite fast, the product absorbs rather quickly). I then continue with the rest of my routine (in my case, treating essence(s), serum(s), oil and night cream most of the time).
Key Ingredients
The formula is super long, it contains 80 (!!!) fermented plant extracts (which I won't list). These 80 fermented plant extracts form what the brand calls "Cytosis", a mix that has been fermented for 365 days. This blend of fermented ingredients is supposed to significantly improve the skin in all aspects and is in su:m37 product.
There are also other star cosmetics ingredients such as:
– ferulic acid: a powerful antioxidant,
– niacinamide, one of my favorite ingredients because it is multi-function,
– moisturizing glycerin and hyaluronic acid,
– and Centella Asiatica, the famous Cica, very soothing.
Ingredients
​Water, ​Dipropylene Glycol, ​Glycereth-26, ​Spiraea Ulmaria Extract, ​1,2-Hexanediol, ​Butylene Glycol, ​Glycerin, ​Methyl Gluceth-20, ​Ferulic Acid, ​Lactobacillus/​Pear Juice Ferment Filtrate, ​Saccharomyces/​Barley Seed Ferment Filtrate, ​Lactobacillus/​Wasabia Japonica Root Ferment Filtrate, ​Lactobacillus/​Water Hyacinth Ferment, ​Lactobacillus/​Ginseng Root Ferment Filtrate, ​Lactobacillus/​Soybean Ferment Extract, ​Lactobacillus/​Rye Flour Ferment, ​Monascus/​Rice Ferment, ​Saccharomyces/​Potato Extract Ferment Filtrate, ​Saccharomyces/​Xylinum/​Black Tea Ferment, ​Saccharomyces/​Grape Ferment Extract, ​Glycyrrhiza Glabra (Licorice) Root Extract, ​Diospyros Kaki Fruit Extract, ​Curcuma Longa (Turmeric) Root Extract, ​Actinidia Polygama Fruit Extract, ​Cassia Obtusifolia Seed Extract, ​Ipomoea Batatas Root Extract, ​Trichosanthes Kirilowii Root Extract, ​Lycium Chinense Fruit Extract, ​Citrus Unshiu Peel Extract, ​Lonicera Japonica (Honeysuckle) Flower Extract, ​Panicum Miliaceum (Millet) Seed Extract, ​Glechoma Hederacea Extract, ​Platycodon Grandiflorum Root Extract, ​Acer Palmatum Leaf Extract, ​Daucus Carota Sativa (Carrot) Root Extract, ​Codonopsis Lanceolata Root Extract, ​Camellia Japonica Leaf Extract, ​Rubus Idaeus (Raspberry) Fruit Extract, ​Melissa Officinalis Extract, ​Lippia Citriodora Leaf Extract, ​Rosmarinus Officinalis (Rosemary) Leaf Extract, ​Allium Sativum (Garlic) Bulb Extract, ​Portulaca Oleracea Extract, ​Chaenomeles Sinensis Fruit Extract, ​Raphanus Sativus (Radish) Root Extract, ​Ficus Carica (Fig) Fruit Extract, ​Musa Sapientum (Banana) Fruit Extract, ​Ocimum Basilicum (Basil) Leaf Extract, ​Citrus Aurantium Bergamia (Bergamot) Leaf Extract, ​Centella Asiatica Extract, ​Prunus Persica (Peach) Fruit Extract, ​Beta Vulgaris (Beet) Root Extract, ​Eriobotrya Japonica Leaf Extract, ​Pyrus Malus (Apple) Fruit Extract, ​Morus Bombycis Leaf Extract, ​Prunus Armeniaca (Apricot) Fruit Extract, ​Zingiber Officinale (Ginger) Root Extract, ​Taraxacum Officinale (Dandelion) Leaf Extract, ​Thymus Vulgaris (Thyme) Leaf Extract, ​Salvia Officinalis (Sage) Leaf Extract, ​Equisetum Arvense Extract, ​Citrullus Lanatus (Watermelon) Fruit Extract, ​Brassica Rapa (Turnip) Leaf Extract, ​Spinacia Oleracea (Spinach) Leaf Extract, ​Artemisia Princeps Leaf Extract, ​Brassica Oleracea Capitata (Cabbage) Leaf Extract, ​Allium Cepa (Onion) Bulb Extract, ​Houttuynia Cordata Extract, ​Sasa Veitchii Leaf Extract, ​Nelumbo Nucifera Root Extract, ​Cucumis Sativus (Cucumber) Fruit Extract, ​Plantago Major Seed Extract, ​Hemerocallis Fulva Flower Extract, ​Citrus Junos Fruit Extract, ​Akebia Quinata Extract, ​Ginkgo Biloba Nut Extract, ​Crataegus Cuneata Fruit Extract, ​Grifola Frondosa Fruiting Body Extract, ​Prunus Salicina Fruit Extract, ​Perilla Frutescens Leaf Extract, ​Geranium Robertianum Extract, ​Anemarrhena Asphodeloides Root Extract, ​Rehmannia Chinensis Root Extract, ​Sesamum Indicum (Sesame) Seed Extract, ​Undaria Pinnatifida Extract, ​Acorus Calamus Root Extract, ​Anthemis Nobilis Flower Extract, ​Carica Papaya (Papaya) Fruit Extract, ​Phaseolus Angularis Seed Extract, ​Mentha Piperita (Peppermint) Flower/​Leaf/​Stem Extract, ​Corthellus Shiitake (Mushroom) Extract, ​Helianthus Annuus (Sunflower) Seed Extract, ​Schizonepeta Tenuifolia Extract, ​Carthamus Tinctorius (Safflower) Flower Extract, ​Cichorium Intybus (Chicory) Root Extract, ​Vanilla Tahitensis Fruit Extract, ​Poloxamer 234, ​Betaine, ​Glycosphingolipids, ​Phospholipids, ​Niacinamide, ​Sodium Hyaluronate, ​Ceramide Np, ​Polyquaternium-51, ​Lauryl Dimethicone/​Polyglycerin-3 Crosspolymer, ​Cholesterol, ​Polymethylsilsesquioxane, ​Hydroxyethylcellulose, ​Cetearyl Alcohol, ​Acrylates/​C10-30 Alkyl Acrylate Crosspolymer, ​Peg/​Ppg-17/​6 Copolymer, ​Tromethamine, ​Lavandula Angustifolia (Lavender) Oil, ​Citrus Aurantium Bergamia (Bergamot) Fruit Oil, ​Anthemis Nobilis Flower Oil, ​Pelargonium Graveolens Flower Oil, ​Citrus Aurantifolia (Lime) Oil
Ingredients not included
– alcohol,
– dyes.