Intro
Discover my review and thoughts on the Midnight Blue Calming Cream by the Korean skincare brand Klairs.
A treatment cream, that is soothing, capable of calming inflammation, and also rich in anti-aging ingredients? This is the promise of the Midnight Blue Calming Cream, the multi-tasking (and blue!) cream from the Korean skincare brand Klairs!
I'm a bit late with this review as I started using the Midnight Blue Calming Cream several months ago, in early spring.
However, this pretty blue cream definitely deserves your attention!
In fact, I think I even owe it a great debt of gratitude, because it allowed my skin to survive the application of a very harsh retinol cream (the Drunk Elephant's retinol cream, I'll probably talk about it at one point).
For me, the Midnight Blue Calming Cream is great to have in your closet, even if I don't use it all the time (my skin feels much better, fortunately) because it's so good to soothe and repair sensitive skin!
At the moment, in summer, it's also perfect in the evening if you were outside in the sun during the day!
I'll give you all the details about this all-purpose blue cream in this review! 🙂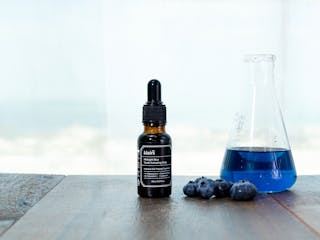 Skincare
Mini-review: Dear Klairs Midnight Blue Youth Activating Drop
With the current skincare boom, super effective anti-aging ingredients are all the rage. Vitamin C is on the rise, as is retinol, but peptides are also very popular! These also happen to be the star ingredients of the Midnight Blue Youth Activating Drop serum from the Korean brand Dear Klairs.
Read more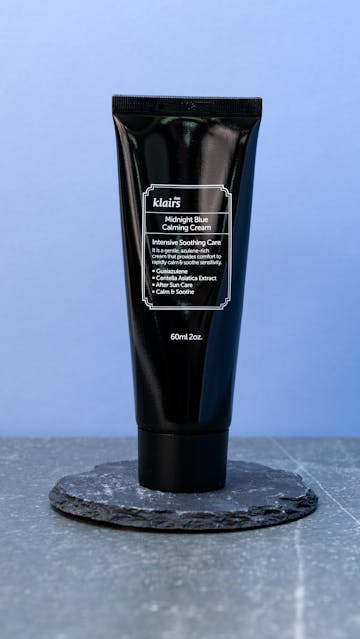 My review:
Klairs (or Dear, Klairs) is one of my favorite Korean brands right now. I love their vision of skincare!
Klairs offers simple, minimalist, eco-friendly products, with formulas that are usually rather natural. But they also contain plenty of sophisticated ingredients, which are scientifically recognized as effective.
The Midnight Blue Calming Cream represents this approach very well!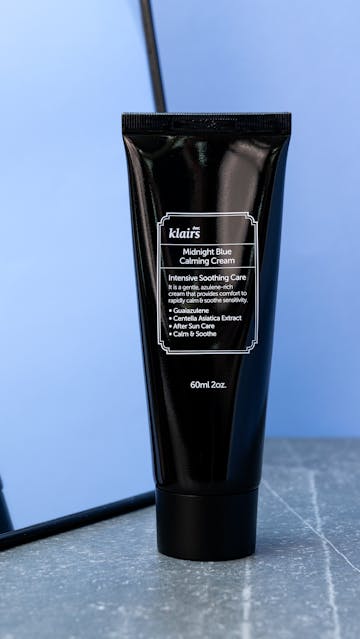 Its formula is indeed a concentrate of skincare ingredients that are soothing, anti-inflammatory, but also very repairing and anti-aging.
The Midnight Blue Calming Cream is primarily intended for irritated and sensitive skin.
Which means skin overly stressed because of harsh treatments or subjected to extreme weather conditions (cold weather, sun exposure, strong pollution)…
It contains very soothing ingredients such as the one that gives it its natural blue color, guaiazulene (a derivative of chamomile), but also the famous Centella Asiatica, which I have mentioned many times here.
And you can also find in its formula other regenerating and anti-aging actives, which makes it a truly complete treatment, in my opinion.
There are indeed no less than 6 peptides in its formula!
Peptides are very small protein precursor molecules that act on the skin as a trigger (they are also known as a "signal" molecule) to generate a specific reaction. In the case of the peptides used in this cream, they have an anti-aging effect, particularly on wrinkles, and they also stimulate cell renewal.
These peptides include the famous Epidermal Growth Factor/ EGF (which you hear a lot about at the moment) and bFGF, which is also very popular for its stimulating and toning effect on the skin.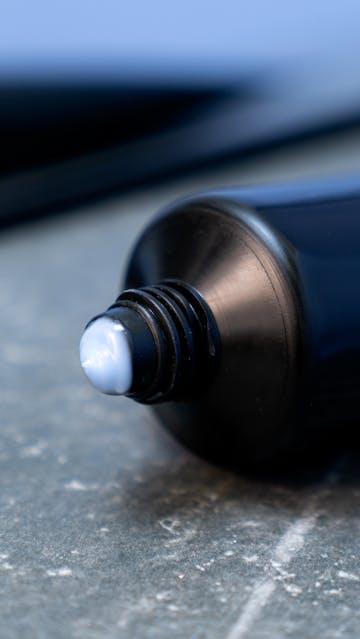 I used this cream for about 3 months in the evening.
It's quite rich, but not heavy and in the morning I never woke up with greasy skin.
I greatly appreciated its soothing effect. I could definitely see visible results on my skin, it reduced the irritation I had with this retinol cream that didn't work for me.
I stopped it when it started to get very hot outside because I wanted to switch to a cream with a lighter texture but I still use it from time to time as an SOS treatment. I apply it in a thick layer at night, only on my redness or on a breakout, at the end of my routine.
It's great for reducing inflammation and when I wake up in the morning my skin is more soothed and I have visibly reduced inflammation!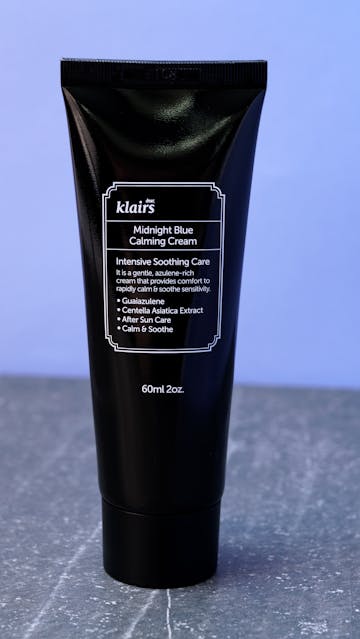 I also asked my husband, who has very sensitive skin, to try it. It works very well on him also to reduce his redness and he also uses it after shaving to soothe his sensitive skin.
I think I'll repurchase when I finish the tube. It's always nice to have this kind of soothing product at hand, especially when you're addicted to strong anti-aging ingredients, retinol and acids, like me!
In addition, I used this cream at the same time as the Midnight Blue Youth Activating Drops serum from Klairs, which I reviewed a few months ago, and I found that the two products complemented each other very well, and strengthened this anti-inflammatory effect!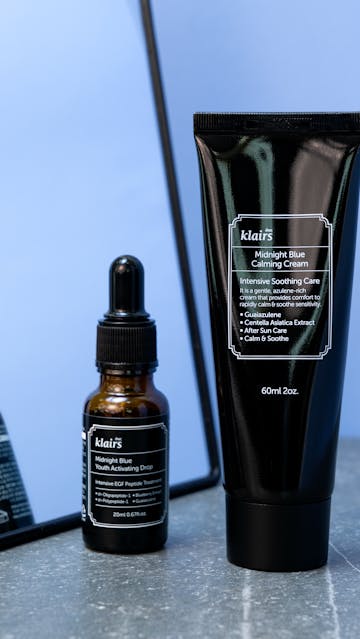 In conclusion:
I am quite pleased with this Midnight Blue Calming Cream, which seems to be a good SOS product to always have at hand if you need it. And if you have sensitive skin, it may also suit you as a daily moisturizer as well!
In short, I appreciate its versatility and the fact that it contains powerful anti-aging ingredients. That's the icing on the cake! 🙂
The Klairs Midnight Blue Calming Cream retails between $30 and $38 for 60 ml depending on the resellers.
Product Review in detail
Summary
Klairs Midnight Blue Calming Cream
"A cream to calm sensitive and irritated skin."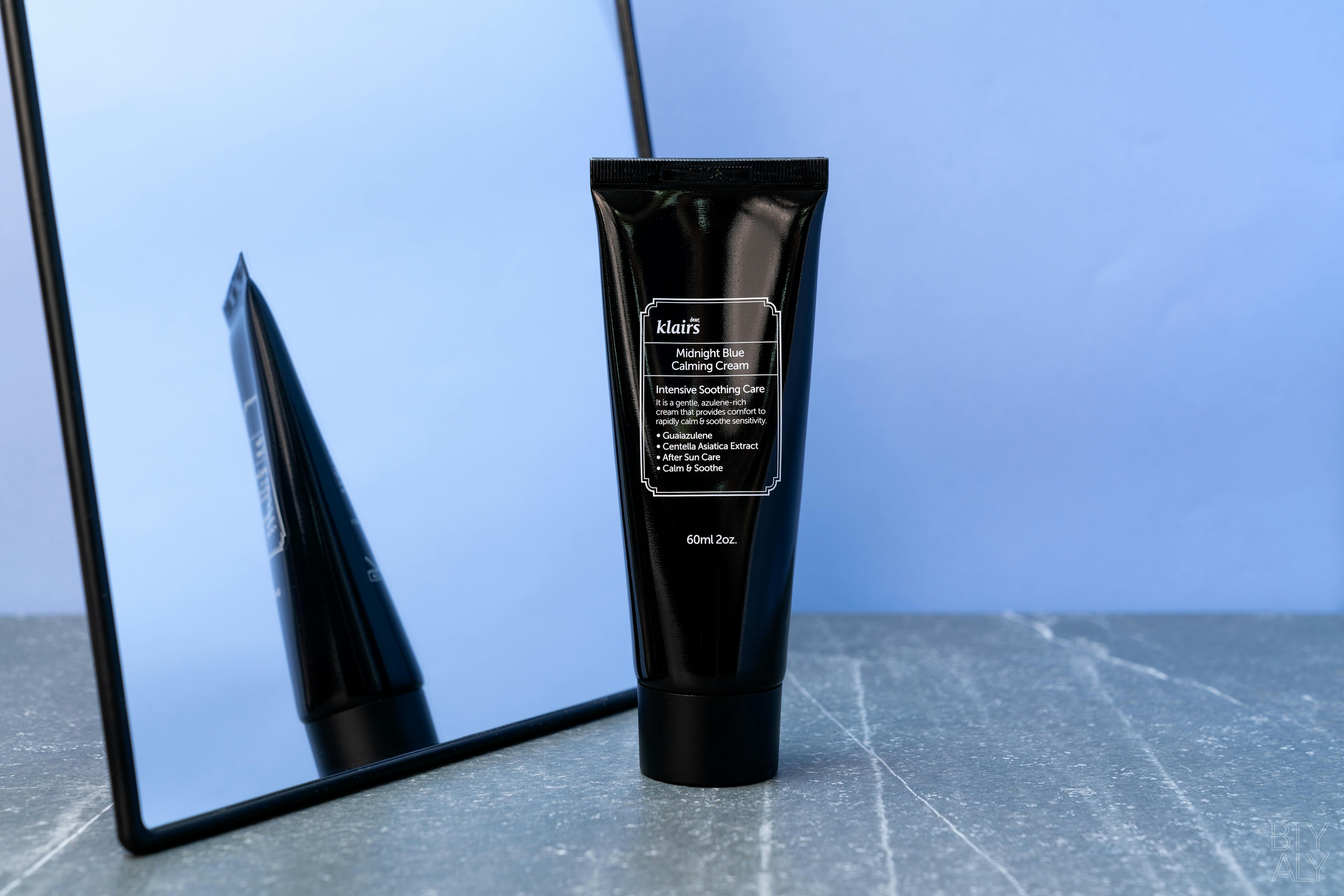 Recommendation
A
A great soothing treatment!
Pros
- the formula is top-notch, with a lot of great skincare ingredients,
- the packaging in a tube is very practical (it also exists in a jar version, in a smaller size),
- it's 2 in 1: moisturizer and anti-inflammatory SOS product,
- its very effective soothing effect,
- the powerful anti-aging ingredients,
- the pleasant texture, rich but well absorbed by my skin (a little goes a long way!),
- I love its blue color (which is completely natural!),
- the price is not too bad (especially for the quantity of product),
- the brand is easily available online.
Cons
- the texture may be a little rich for oilier skin types (I personally have to use it at night only).
product name
Midnight Blue Calming Cream
packaging
A black plastic tube, very practical
texture
A blue cream, rather rich and a bit waxy.
For Who
For all skin types (even oily), and more particularly:
– sensitized skin, with a damaged protective barrier,
– reactive skin, with redness,
– dry and/or dehydrated skin,
– acne-prone skin.
Concerns
– redness,
– sensitive, damaged skin,
– acne,
– feeling of discomfort due to irritation,
– very dry areas due to irritation.
Method
I use it more in the evening but you can use it morning and/or evening.
I take a small amount of product, which I apply to my skin at the end of my routine, after my serums.
I massage my face and neck for a few seconds until the cream is absorbed.
I also use it as an SOS product, if I have a breakout or redness. In this case, I apply it at the end of my evening routine, in a thick layer, on the area I want to soothe. It's very effective to calm irritated areas!
Key Ingredients
This formula is very rich in skincare ingredients. Here are the main ones:
– Guaiazulene (which comes from chamomile and gives it its blue color), Centella Asiatica, Portulaca Oleracea, chamomile extract: soothing ingredients,
– argan oil, jojoba oil, shea butter, ceramide, beeswax: for their repairing and nourishing effect,
– glycerin, hyaluronic acid: hydration,
– anti-aging peptides ( Sh-Oligopeptide-1, Sh-Oligopeptide-2, Sh-Polypeptide-1, Sh-Polypeptide-9, Sh-Polypeptide-11).
Ingredients
Water, Cetyl Ethylhexanoate, Butylene Glycol, Glycerin, Sodium Hyaluronate, Caprylic/Capric Triglyceride, Centella Asiatica Extract, Sorbitan Stearate, Cetyl Alcohol, Butyrospermum Parkii (Shea Butter), Argania Spinosa Kernel Oil, Simmondsia Chinensis (Jojoba) Seed Oil, Sorbitan Sesquioleate, Glyceryl Stearate, Stearic Acid, Portulaca Oleracea Extract, Anthemis Nobilis Flower Extract, Ceramide NP, Polysorbate 60, Bees Wax, Chlorphenesin, Tocopheryl Acetate, Xanthan Gum, Acrylates/C10-30 Alkyl Acrylate Crosspolymer, Morus Alba Root Extract, Tromethamine, Brassica Oleracea Italica (Broccoli) Extract, Guaiazulene, Acetyl Hexapeptide-8, Lecithin, Acetyl Glutamine, SH-Olgopeptide-1, SH-Olgopeptide-2, SH-Polypeptide-1, SH-Polypeptide-9, SH-Polypeptide-11, Bacillus/Soybean/Folic Acid Ferment Extract, Caprylyl Glycol, 1,2-Hexanediol
Ingredients not included
– alcohol,
– mineral oil,
– silicone,
– synthetic fragrance,
– dye.