Intro
Disclosure:
We, or the author, purchased this item.
We may receive commission (from a sale) if you click on and purchase from affiliate link(s) below. You'll be helping to support the magazine.
My test and review of the Revitalift Filler 2.5% [Hyaluronic Acid + Caffeine] Eye Serum by the French skincare brand L'Oreal Paris.
L'Oreal Paris Revitalift Derm Intensives 1.5% Pure Hyaluronic Acid Serum is one of the most popular facial hydrating serums of the past few years. In the United States, one bottle is sold every 60 seconds. Recently, L'Oréal Paris launched a version for the eye area, Revitalift Filler 2.5% [Hyaluronic Acid + Caffeine] Eye Serum. Let me introduce you to it and tell you all about my experience with it! 🙂
I know they're a bit controversial ("Do they really serve any purpose?"), but I, for one, love my eye serums!
My eye area is where my age is the most noticeable on my face, and if I can use products to help slow down the inevitable, that's great! I'll take all the help I can get 😆.
This area of the face has some pretty specific needs, so for me it makes sense to apply a specific product to the eye contour!
Indeed, it's usually the first place that betrays age and/or fatigue: bags under your eyes, dark circles, fine lines… Sometimes all of that at once! And if when we're young, a good night's sleep is enough to effectively repair the damage, with age, all these signs tend to become more permanent.
So clearly, a cosmetic product won't erase everything by miracle, but it can help to prevent the appearance of these signs, reduce them… In short, help limit the damage!
I haven't yet tried the famous L'Oréal Paris Revitalift 1.5% Hyaluronic Acid serum for the face, but the version for the eyes caught my eye (lol) when it was first released a few weeks ago.
The packaging of the Revitalift Filler 2.5% [Hyaluronic Acid + Caffeine] Eye Serum by L'Oréal Paris definitely intrigued me when I saw it (yes, I'm aware lol 😆). So I ordered it at the beginning of January and I've been using it in the morning for a little less than a month now.
I'll tell you more about it in today's review!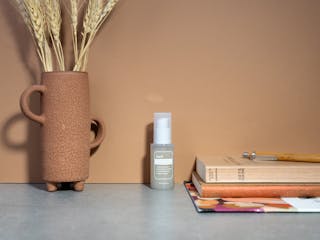 Skincare
Review: Klairs Fundamental Eye Awakening Gel eye contour serum
So, you thought I was done raving about Klairs' Fundamental range? Well, I'm not, because this skincare line has a few more tricks up its sleeve! It thrilled me last summer for my face with its super sensorial textures and its +++ moisturizing effect, and it will continue to take care of my eye area this year with the very fresh Klairs Fundamental Eye Awakening Gel!
Read more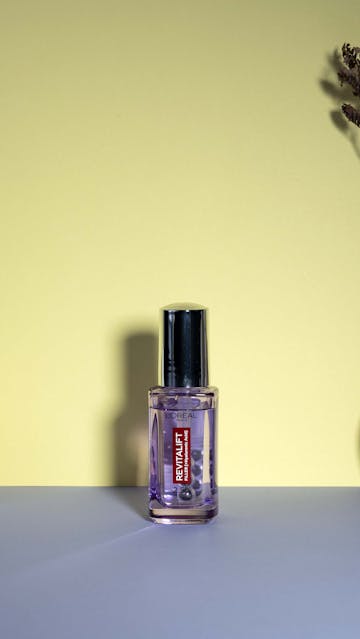 L'Oreal Paris Revitalift Filler 2.5% [Hyaluronic Acid + Caffeine] Eye Serum, product presentation:
You can tell by the name of the product, the star of the formula here is hyaluronic acid! It's concentrated here at 2.5% and it's composed of several molecular sizes of hyaluronic acid for a deep and superficial action!
The low molecular weight hyaluronic acid (= the particles are smaller) is able to reach the deepest layers of the skin for a more effective plumping effect, while stimulating the production of hyaluronic acid already naturally present in the skin. The higher molecular weight hyaluronic acid helps to temporarily smooth the skin's surface, keeping it fresh and hydrated.
Caffeine is the other great asset of this formula. It's known to actively stimulate blood microcirculation, reduce water retention and thus minimize the appearance of dark circles and puffiness. Hence, the benefit of using this product when you wake up is to help de-puff those morning eye bags 👍.
Other interesting ingredients in the formula:
– Niacinamide (or vitamin B3), a rock star in cosmetology, known for its soothing, anti-pigmentation and radiance-boosting properties.
– Ascorbyl Glucoside, an antioxidant and brightening vitamin C derivative
– Glycerin, a highly effective hydrating ingredient that, combined with hyaluronic acid, helps to minimize the appearance of wrinkles,
– and HEPES (hydroxyethyl piperazineethanesulfonic acid) (bless you!), a soothing ingredient that also helps to smooth skin gently.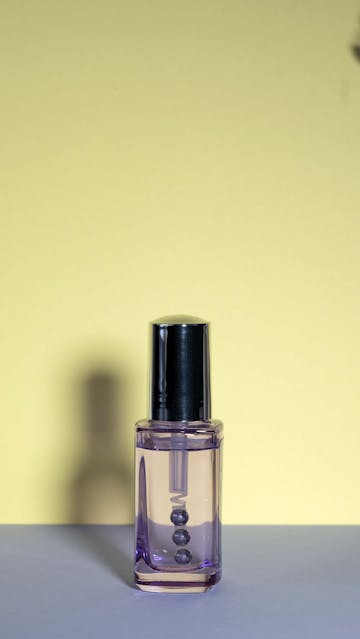 But also, as I said above, it's clearly the packaging, especially the stainless steel cooling triple bead applicator, that initially intrigued me about this product!
This is a patented applicator, inspired by traditional Japanese Shiatsu massage, which is supposed to stimulate the 6 acupressure points around the eyes. This applicator is slightly flexible, to exert a gentle pressure to delicately drain and stimulate the area. Pretty clever!
Note:
I've talked about this in my stories on my personal Instagram account, but I've long been turned off by this type of applicator for eye products, which I found unhygienic.
And then, as I thought about it, I realized that it was purely psychological. Indeed, when it comes to my concealer or lip gloss, I use them without batting an eyelid and without even thinking twice.
I think it's reasonable to assume that the people who make these types of products are thinking about how people use them, and are adding preservative ingredients accordingly, to protect the formula. Especially when it's a product intended for the eye area.
As for me, I always use it on clean skin, and I pay attention to the expiration date mentioned on the packaging. And most importantly, I stop stressing about it 😉.
L'Oreal Paris Revitalift Filler 2.5% [Hyaluronic Acid + Caffeine] Eye Serum, my experience:
I've been using the L'Oreal Paris Revitalift Filler 2.5% [Hyaluronic Acid + Caffeine] Eye Serum for just under 4 weeks.
Let's be clear, I wasn't expecting any miracles from it, mostly hydration and a nice experience thanks to its applicator.
As always, I'm quite dubious about the anti-dark circle and de-puffing effect promised by the brand. My dark circles have always been very hollow. I stopped believing that a little caffeine will miraculously make them disappear (I'm much more convinced by the effects of vitamin C and retinol on them, on the other hand!)
So I've been using it every morning when I wake up for a few weeks now, and I have to say that it does a pretty good job. It works great on hydration and this applicator is actually very fresh and nice to use, especially when you get out of bed all tired and puffy!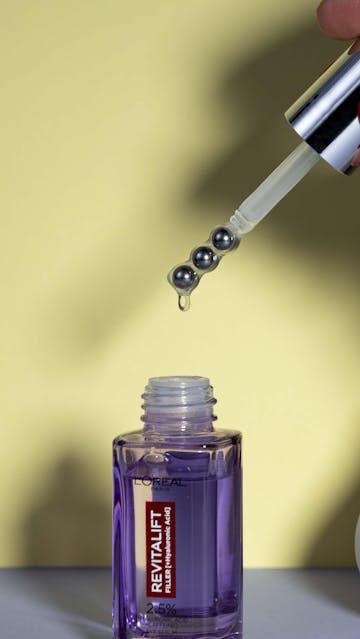 The directions of use given by the brand:
"Dip the applicator into the bottle once and smooth over your eyelid, massaging in small circles under the eye to the temple, repeating 4 times.
Gently tap in excess with fingers. Repeat for the other eye."
It's so simple and only takes a few seconds!
The very liquid texture surprised a bit at first. For me, it's almost more of an essence than a serum. I guess this liquid texture makes it easier to use the roller applicator 😉.
I'm not sure if you can use it without a moisturizer on top, especially if you have a very dry eye area. It does leave the skin around the eyes well hydrated and plumped up nicely, but if you need comfort, it'll probably fall a bit short.
It does refresh the eye area, and even though my dark circles are still there, I find that it helps to slightly brighten my eye area. I don't really have puffiness, so I'm not sure how effective it is on that aspect, but I guess the caffeine in it and the steel ball applicator should still help to decrease it!
The bottle is 20 ml, which is pretty generous. I think it will last me at least 6 months in total!
I find its price in France rather affordable, so I ordered it from there. Elsewhere, it costs double, just so you know 😬.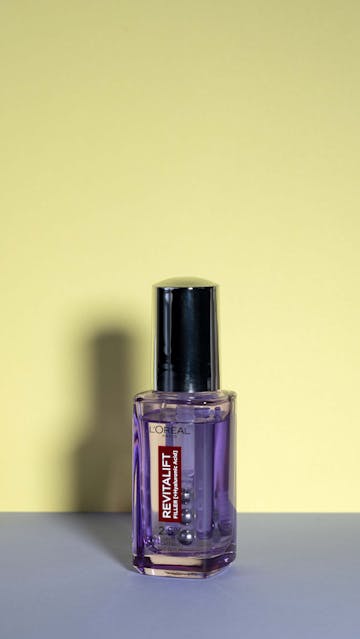 In conclusion:
For me, the L'Oréal Paris Revitalift Filler 2.5% [Hyaluronic Acid + Caffeine] Eye Serum is a good option if you like light textures, and you want to focus on hydration and anti-fatigue effect.
However, unless you have very oily skin or are very young, I think it's still better to use a moisturizer on top for a longer lasting comfort.
It's also a nice product to use, thanks to this innovative applicator. For me, it's rather effective and remains affordable if I'm ordering from France. In other markets, it's a bit too expensive IMO.
In short, I see it as a good basic hydrating product, ideal to use in the morning!
The L'Oreal Paris Revitalift Filler 2.5% [Hyaluronic Acid + Caffeine] Eye Serum retails between $25 and $30 for 20ml, depending on the retailers.
Product Review in detail
Summary
L'Oreal Paris Revitalift Filler 2.5% [Hyaluronic Acid + Caffeine] Eye Serum
"From the world's no1 serum comes an eye serum: Revitalift Filler Eye serum with 2.5% (Hyaluronic acid + Caffeine) is proven to visibly brighten dark circles and replump eye lines."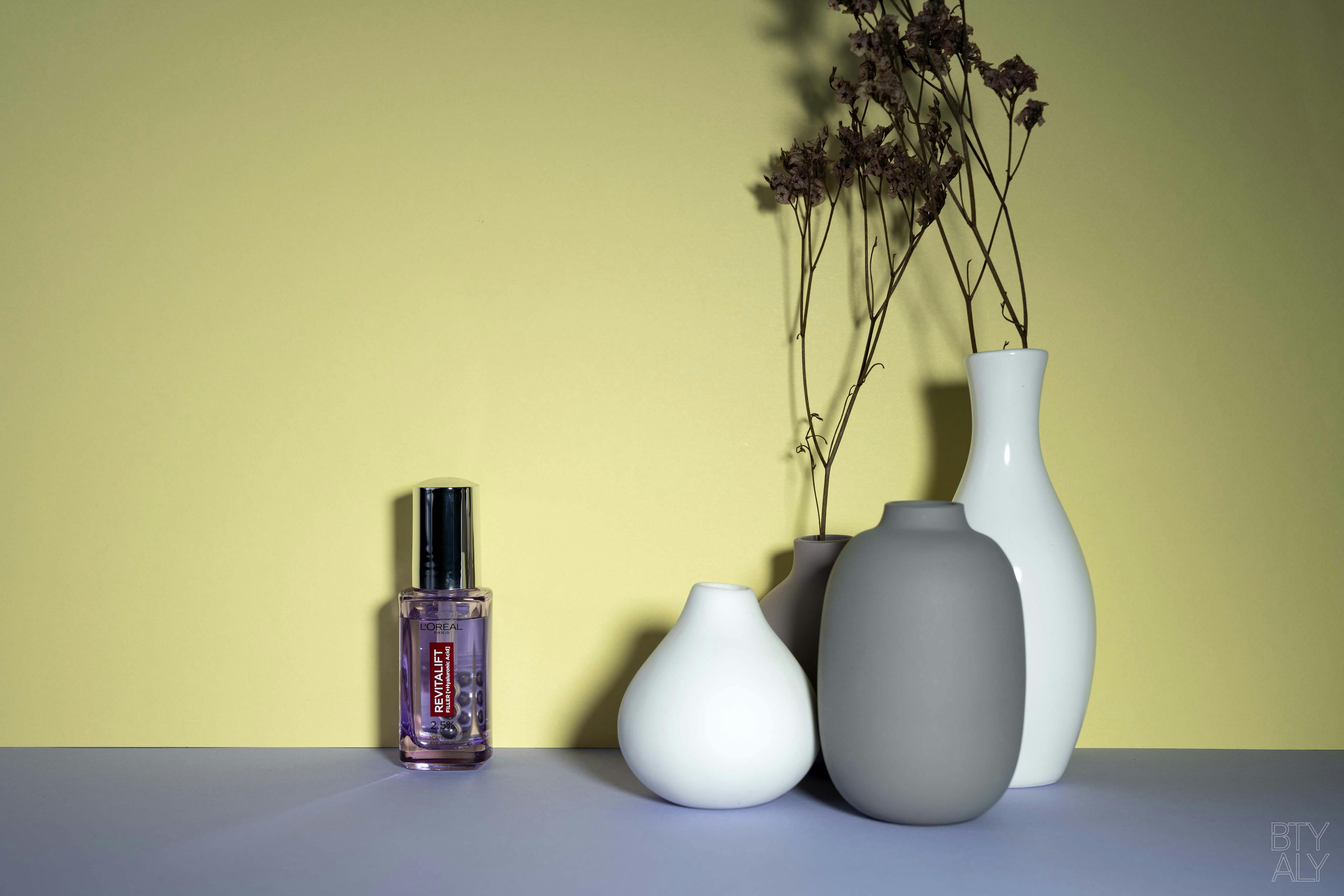 Recommendation
A
A bit expensive for what it is, but it's a good product.
Pros
- the formula is simple but complete,
- the fresh and lightweight texture, which hydrates well,
- the anti-fatigue and refreshing effect on my eye contour,
- it will last me a long time, it's a 20 ml bottle,
- the applicator is fun and adds to this refreshing effect during application.
Cons
- the texture is very liquid, it's a little surprising at first,
- it hydrates but doesn't really moisturize; if you have a dry eye contour, you'll have to apply a moisturizer on top of it,
- depending on the retailers (and the markets), it can be a bit expensive.
product name
Revitalift Filler 2.5% [Hyaluronic Acid + Caffeine] Eye Serum
packaging
A clear glass bottle with a stainless steel cooling triple bead applicator, to massage the eye area upon application.
fragrance
Fragrance-free (no smell)
texture
Very liquid, it reminds me more of an essence than a serum.
For Who
– dry and/or dehydrated eye contour,
– dull and tired eye contour.
Concerns
– dryness, dehydration of the eye contour.
– bags, dark circles,
– wrinkles, fine lines.
Method
I use the Revitalift Filler 2.5% [Hyaluronic Acid + Caffeine] Eye Serum more in the morning, but you can use it morning and/or evening.
I take a tiny amount of product (the equivalent of a grain of rice or 1 pump) and I gently massage it onto my skin, from the inside to the outside of the eye contour, smoothing the skin very delicately (this area is fragile so be gentle) and finishing with dabbing pressures. I usually apply it before my face serum(s), and before my eye contour cream. I simply use the roller applicator to apply it, on the eye contour (including eyelids). I massage very gently with the roller, without rubbing. I then finish by lightly pressing the product with my fingertips to help the product to absorb.
Key Ingredients
A rather simple but interesting formula, with interesting ingredients like:
– hydrating glycerin and hyaluronic acid (2.5%),
– caffeine to improve microcirculation, de-puff and brightens,
– niacinamide for the antioxidant, anti-aging and brightening effect,
– and a vitamin C derivative (Ascorbyl Glucoside) also for the antioxidant, anti-aging and brightening effect.
Ingredients
Aqua / Water / Eau, Glycerin, Hydroxyethylpiperazine Ethane Sulfonic Acid, Niacinamide, Sodium Hyaluronate, Caffeine, Citric Acid, Hydroxyacetophenone, Trisodium Ethylenediamine Disuccinate, Ascorbyl Glucoside, Caprylyl Glycol, Chlorphenesin Fil B274593/1.
Ingredients not included
– mineral oil,
– silicone,
– alcohol,
– fragrance,
– essential oils,
– dyes.