Intro
Discover my detailed review, and my test of the moisturizing eye contour booster Mineral 89 Eyes, from the French pharmacy brand Vichy.
I don't often talk about French pharmacy products, I know. But when I find a gem like the Vichy Minéral 89 Eyes, I have to share the love!
It's not that I don't like the products you can find in pharmacies in France, quite the contrary!
A few of them have been in my routine since I was a teenager and they will probably remain in it for the rest of my life (my Avène thermal water spray, Sérozinc by La Roche Posay, the Nuxe Rêve de Miel lip balm, most of my body and hair routine…).
But it's true that usually, pharmacy products don't excite me that much. I'm rarely amazed by their new releases and I have a slight tendency to find that the grass is always greener elsewhere (have you noticed?).
Lately, though, I've noticed that things are starting to change a little bit in pharmacy cosmetics, especially regarding the innovation aspect. I started to see cooler textures, formulas with tempting ingredients, nice product concepts!
Yes, there's a lot of "greenwashing" in the pharmacy too, since it's the big trend at the moment to make everything "clean" and "non-toxic" (insert a rolling eyes emoji here). You know how I feel about it.
But I have also seen the emergence of products that really remind me of Asian cosmetics!
Mineral 89 Vichy Eyes is clearly in this kind of spirit, very inspired by the "liquid skincare" K-Beauty style, and I'm totally on board with it!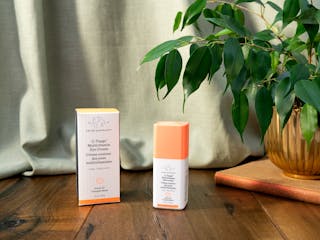 Skincare
Review: Drunk Elephant C-Tango Multivitamin Eye Cream
I'm on my third bottle of the C-Tango Multivitamin Eye Cream from the American skincare brand Drunk Elephant. I guess it's about time I told you more about it, don't you think? 😉
Read more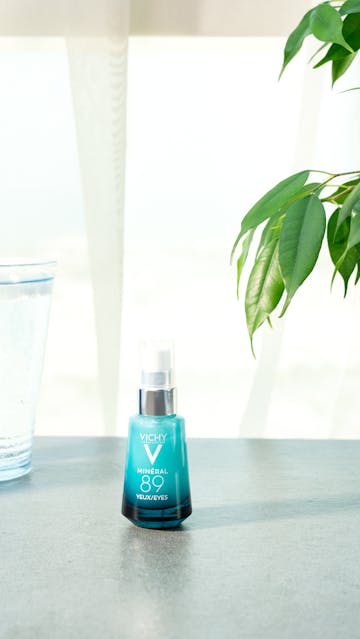 My review:
A few years ago, Vichy, a French skincare brand extremely popular in Asia released a product called Mineral 89 for its customers used to essences, these super moisturizing liquid skincare products that I also adore.
Minéral 89 for the face is now one of the brand's best-sellers, and not only in Asia!
In France, it's sold as a moisturizing face serum, and for me, even if I find that there are better options on the market (I definitely prefer my beloved Hada Labo lotion, much more complete and concentrated in hyaluronic acid), it remains a decent moisturizing product.
When the eye version of Minéral 89 was released in France last spring, I took a look at the ingredients list out of curiosity and actually, I didn't dislike what I read.
In Mineral 89 Eyes, you still find the 89% of Vichy mineral water, where it get its name. Personally, I'm a fan of mineral water, I see its soothing effects on my skin, I don't think like some people that it's just "fancy water".
But there is also glycerin, shea butter and hydrating hyaluronic acid (low molecular weight HA here, unlike the face version which only uses "big" Hyaluronic Acid, the one that remains on the surface of the skin).
It also contains a little bit of caffeine and Chlorella Vulgaris seaweed extract for the decongesting and antioxidant effects.
In short, on paper, it all seemed rather promising!
I bought the Mineral 89 Eyes in the spring and started to use it at the beginning of May, because I had the idea of using it as a kind of moisturizing serum under my Drunk Elephant C-Tango cream, which I like very much but which definitely doesn't hydrate enough.
I didn't expect more from it, only hydration.
I didn't really believe that this product could do much for my dark circles. They've always been very deep, I stopped believing that a little caffeine and seaweed will solve my problem (I'm much more convinced by the effects of vitamin C and retinol, actually!).
So I've been using it every morning for several months now and I must say that I'm quite pleased with it! It definitely does the job. My eye contour is much less dry and wrinkly than when I used the DE cream alone.
I think it can be used without any other moisturizer on top, especially if you are just interested in a hydrating effect. It leaves the skin around the eyes comfortable and plumped up, thanks to glycerin and hyaluronic acid!
The bottle lasts a very long time, since I only use one pump a day. The 15ml will probably last me another 2 months!
In France, it's not an expensive product but if you don't live there, the price may vary. In Dubai, it's much more expensive so I tend to stock up when I visit my home country 😉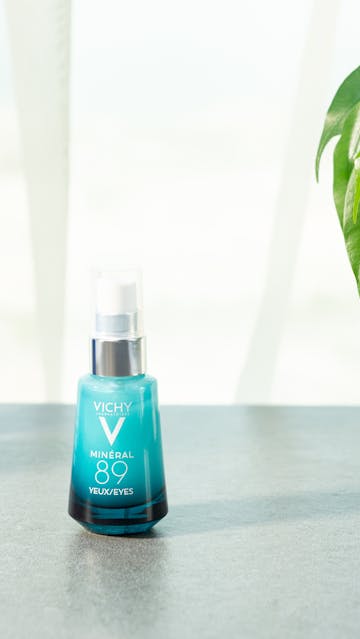 In conclusion:
For me, Vichy Minéral 89 Eyes is a good option if you want a long-lasting moisturized eye contour and if you prefer lighter textures.
It can be used alone (especially if you want a minimalist routine, or if you're young 😉 ), or under a cream that it will complement very well.
It's pleasant to use, efficient and rather easy to find because Vichy is available worldwide. In short, for me, it's a good skincare staple!
Vichy Minéral 89 Eyes retails between $16 and $24 for 15ml depending on the retailers.
Product Review in detail
Summary
Vichy Minéral 89 Eyes
"Your skin's daily dose of strength, now created exclusively for the sensitive skin around your eyes. Minéral 89 Eyes Hyaluronic Acid Eye Gel hydrates, brightens, and smoothes fine lines around the delicate eye area, which is especially sensitive to the impact of daily aggressors like lack of sleep, stress, and pollution. The formula combines 89% Vichy Mineralizing Thermal Water, Natural Origin Hyaluronic Acid and Pure Caffeine for a brighter and rested look."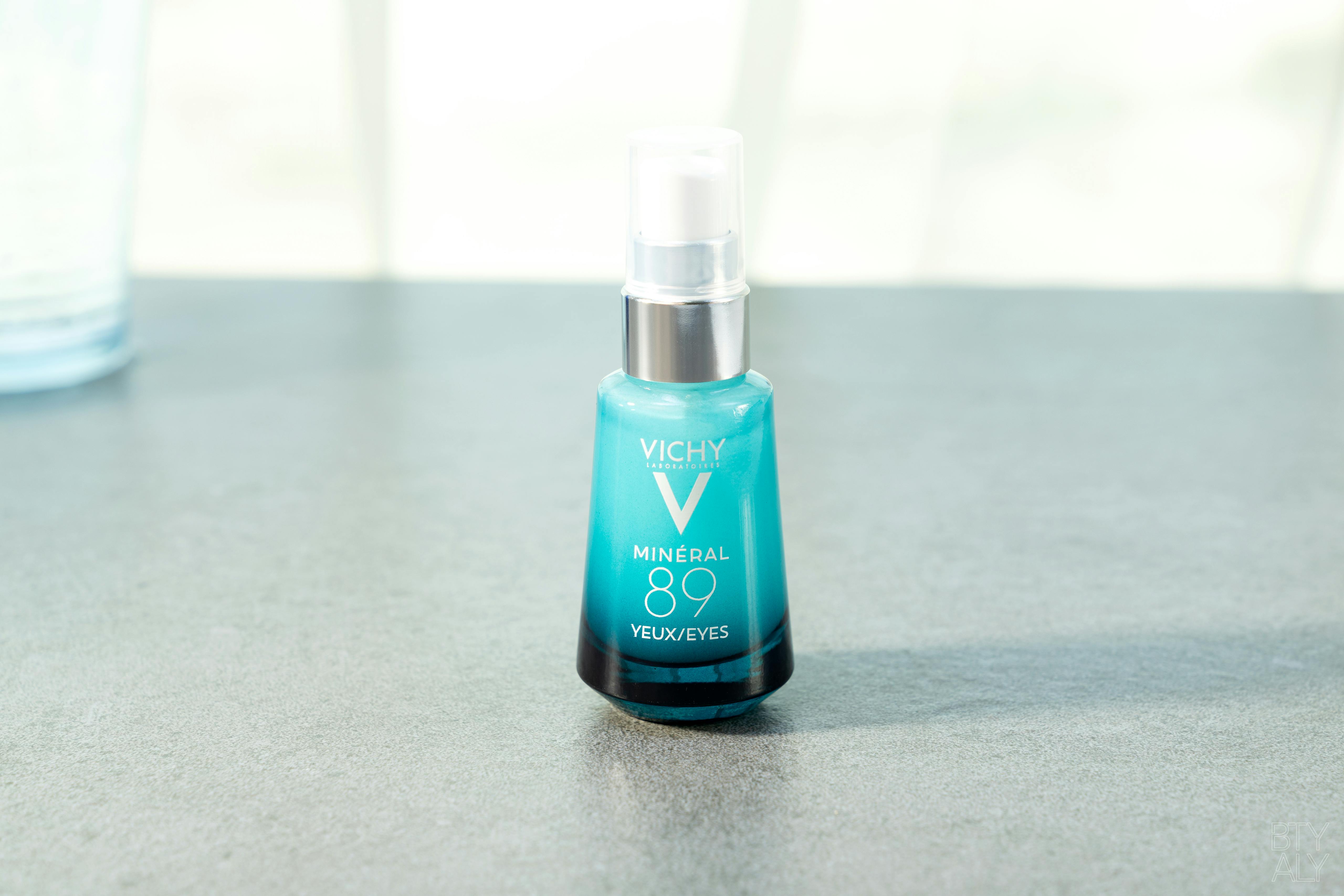 Recommendation
A-
A good moisturizing option
Pros
- I love the packaging, which I find chic, simple and elegant (and practical, because it has a pump),
- the simple, short and effective formula,
- the texture is a little viscous at first but absorbs quickly, leaving the skin comfortable without feeling sticky,
- the moisturizing effect, and in a long-lasting way,
- it can be used alone or as a moisture boost with another product (I love it with my Drunk Elephant C-Tango cream, for example).
Cons
- I didn't really see any effect on my dark circles (but to be honest, I didn't really expect any),
- the prices can go up if you buy this product outside of France (in Dubai, it's much more expensive, I refuse to buy it here!).
product name
Minéral 89 Eyes
packaging
A very pretty bottle made of transparent and tinted blue glass, simple and elegant. It also has a pump, very practical.
texture
A gel that feels a little viscous when you apply it, but absorbs very quickly and doesn't leave a sticky effect on the skin.
For Who
– dry and/or dehydrated eye contour.
Concerns
– dryness, dehydration of the eye contour area.
Method
I use Vichy Minéral 89 Eyes more in the morning but you can use it morning and/or evening.
I take a tiny amount of product (the equivalent of a grain of rice or 1 pump) and I gently massage it onto my skin, from the inside to the outside of the eye contour, smoothing the skin very delicately (this area is fragile so be gentle) and finishing with dabbing pressures. I usually apply it before my face serum(s), and before my eye contour cream.
Key Ingredients
The formula is really simple and short! It mainly contains:
– Vichy mineral water in large quantities, for the soothing effect,
– nourishing shea butter,
– moisturizing low molecular weight hyaluronic acid and glycerin,
– adenosine for the repairing effect,
– caffeine and Chlorella Vulgaris algae for their antioxidant and decongesting effects.
Ingredients
​Aqua/​Water,​ Propanediol, ​Butyrospermum Parkii Butter/​Shea Butter,​ Glycerin,​ Carbomer,​ Caffeine,​ Sodium Hyaluronate,​ Adenosine,​ Phenoxyethanol,​ Chlorella Vulgaris Extract, ​Citric Acid,​ Caprylyl Glycol,​ Biosaccharide Gum-1.
Ingredients not included
– alcohol,
– mineral oil,
– perfume,
– dye,
– paraben.