Intro
Disclosure:
We, or the author, purchased this item.
We may receive commission (from a sale) if you click on and purchase from affiliate link(s) below. You'll be helping to support the magazine.
We, or the author, have previously received this product from the brand / company.
I tried Klairs Fundamental Eye Awakening Gel and I'll give you my thoughts!
So, you thought I was done raving about Klairs' Fundamental range? Well, I'm not, because this skincare line has a few more tricks up its sleeve! It thrilled me last summer for my face with its super sensorial textures and its +++ moisturizing effect, and it will continue to take care of my eye area this year with the very fresh Klairs Fundamental Eye Awakening Gel!
In fact, if I'm not mistaken, I believe that this eye serum (as well as the nourishing cream) was one of the first products in the Klairs Fundamental line!
With this Fundamental line, the Korean skincare brand Klairs wants to go back to the basics of skincare! They simply want to rebalance the skin with a simple strategy: moisturize, repair and protect.
This may sound basic, but the idea here is to go to the core of skincare by highlighting the high quality of its formulations. Klairs describes the Fundamental line as "healthy, fundamental skincare with a premium formulation." The price of the products in this line is a little higher compared to the classic line (but remains affordable).
For me, it's a great skincare line to combine with powerful anti-aging treatments, which are certainly effective but tend to stress the skin a lot and sometimes leave it a bit irritated (like typical anti-aging treatments: retinol, acids, vitamin C…).
And since I use my tretinoin on the eye area, I'm all for an extra boost of hydration and repair!
It's also a perfect line if you like simplicity, or just want to keep your skin healthy and hydrated! In short, this Fundamental line won't transform your skin but it will keep it healthy, and you gotta love that!
Let me tell you more about my experience with the Klairs Fundamental Eye Awakening Gel!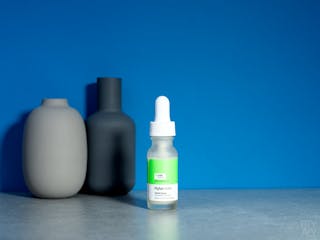 Skincare
Review: Hylamide SubQ Eyes
The SubQ Eyes anti-aging eye serum by the Canadian skincare brand Hylamide has been part of my skincare routine for years. I don't use it continuously, but I repurchase it regularly. Yet, I've never given it the honor of giving it a dedicated review. So I'm going to fix this mistake right away! 😉
Read more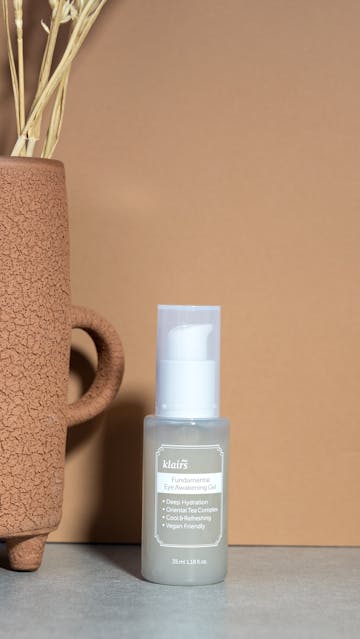 Eye contour serums, 101:
I'm a big fan of eye serums!
Are they essential to a skincare routine? No.
Do I enjoy using them and do I see results with them? Yes, absolutely, so why should I skip them? 😉
By the way, speaking of essential steps, I get the question from time to time if an eye contour product is essential in a good skincare routine and my answer is: it depends!
If your main concern is moisturizing this area and you don't have any particular sensitivity, you can totally use your moisturizer on that zone and it will be enough to keep it smooth and comfortable.
If you have a fragile eye area, it's always better to use a product that has been specifically designed and tested for this area, just to be safe.
Also, you may have specific needs in this area: dark circles, puffiness, hyperpigmentation, wrinkles, fine lines. In this case, using a product designed to meet these needs can also make a difference!
So, what is the difference between an eye serum and an eye cream? Well, it's like for the face, mostly a question of texture! Serum textures are generally lighter and more watery, and creamy textures are richer and more emollient.
Finally, can I use an eye serum without anything on top? Yes, if you don't have an excessively dry eye area, but in general, I prefer to recommend using a cream on top of it to properly seal in the hydration provided by the serum (and yes, you can use your face moisturizer, that's fine! 👍 )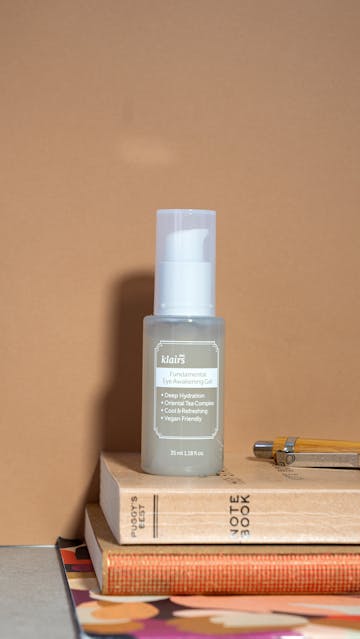 After all those recaps, let's talk a little bit about our hero of the day: the Klairs Fundamental Eye Awakening Gel Eye Serum!
It's an eye contour serum and when it was released, the brand launched it along with an eye contour moisturizer, the Nourishing Eye Butter. The idea behind this duo was to have an effective set of products to fight against dehydration and dryness of this fragile area of the face, but not only!
Both products contain anti-aging peptides for a repairing and anti-aging action (in the long term of course).
By the way, another digression from this article (I'm having a hard time staying focused on my topic today apparently!) but I would like to talk about the expectations raised by these kinds of skincare products!
Even more than for face moisturizer, I feel like there is a lot of hope and expectations for eye contour products. I often get questions asking me which cosmetic product can solve the concern of hollow dark circles or sagging upper eyelids…
And I really insist, I think it's important to be realistic! A cosmetic product will help with hydration and comfort, it can also reduce the dark appearance of dark circles (I said reduce, not make them disappear!), smooth out fine lines (not deep wrinkles) but that's about it!
To restore tonicity or volume in this area, you will need to see a dermatologist for injections or even a plastic surgeon in some cases!
But this does not mean that cosmetic products for the eye contour area are useless, but the results will never be as dramatic as a medical intervention, because a cosmetic product is not a miracle in a jar (or tube), sadly 😉
Klairs Fundamental Eye Awakening Gel eye contour serum, my thoughts:
"OK, is she going to tell us about the product now or what?" I can see you're getting impatient and I'll get to it, I promise!
As you probably guessed, I didn't have crazy expectations with this product: I was mostly hoping for a good moisturizing effect!
The anti-dark circles and decongesting effects claimed by the brand, frankly, I wasn't super hopeful at first. My dark circles have always been very deep, so I stopped believing that a little caffeine could solve my problem a while ago (I'm much more convinced by the effects of vitamin C and retinol on them, though!)
In addition to caffeine, Klairs Fundamental Eye Awakening Gel also contains:
– moisturizing glycerin and sodium PCA,
– red bean extract, which improves microcirculation to help to reduce puffiness and brightening,
– green tea and vitamin E for their anti-oxidant effect,
– anti-aging peptides,
– mugwort to soothe the fragile skin around the eyes.
All this in a fresh and melting gel texture and a generous 35ml pump bottle (yes, it lasts a while!)
I used it every morning for several months and I must say that I am rather pleased now! As far as hydration goes, it does the job, no doubt about that. My eye contour skin is plumper and also looks smoother with this product.
I think you can totally use it without cream on top, especially if you're interested in a hydrating effect. It leaves the skin around the eyes feeling comfortable and plumped up, and especially when it's hot, that can be enough!
But I must say that I particularly appreciated its refreshing and even its slight de-puffing effect for the eye area in the morning! I've never had a problem with puffiness, but I'm starting to wake up a little more puffy than I used to be (the joy of getting older!), so these types of textures and formulas are perfect for me right now!
And it's not too overpriced, especially when you look at the quantity 🙂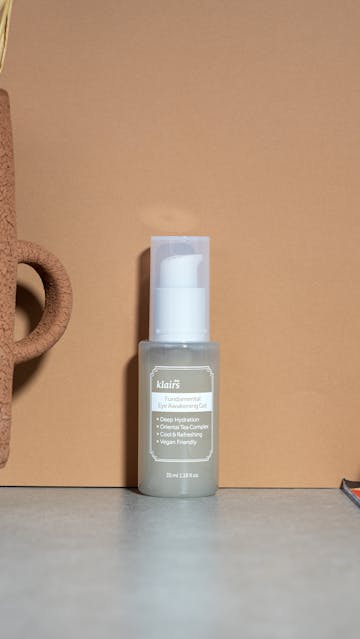 In conclusion:
In short, this product confirms my love for the Fundamental range from Klairs, which definitely doesn't disappoint!
I know someone is going to ask me this question, so I'll anticipate: yes, I tried the Nourishing Eye Butter eye cream and I thought it was fine, but I wasn't blown away. I didn't repurchase it, but I did repurchase this serum. So there you have it! There are better eye contour moisturizers out there IMO, and I'll have the opportunity to tell you about them soon, I promise! 😉
The Klairs Fundamental Eye Awakening Gel eye serum retails for around $23-$28 for 35ml.
Oh and great news if you're in Europe, it's easy to find in European based online stores so no need to wait weeks to receive it, and no customs fees 😉 (I put all the links in the purchase link in the page header 😉).
Product Review in detail
Summary
Klairs Fundamental Eye Awakening Gel
"A perfect dose of daily caffeine to wake up tired eyes."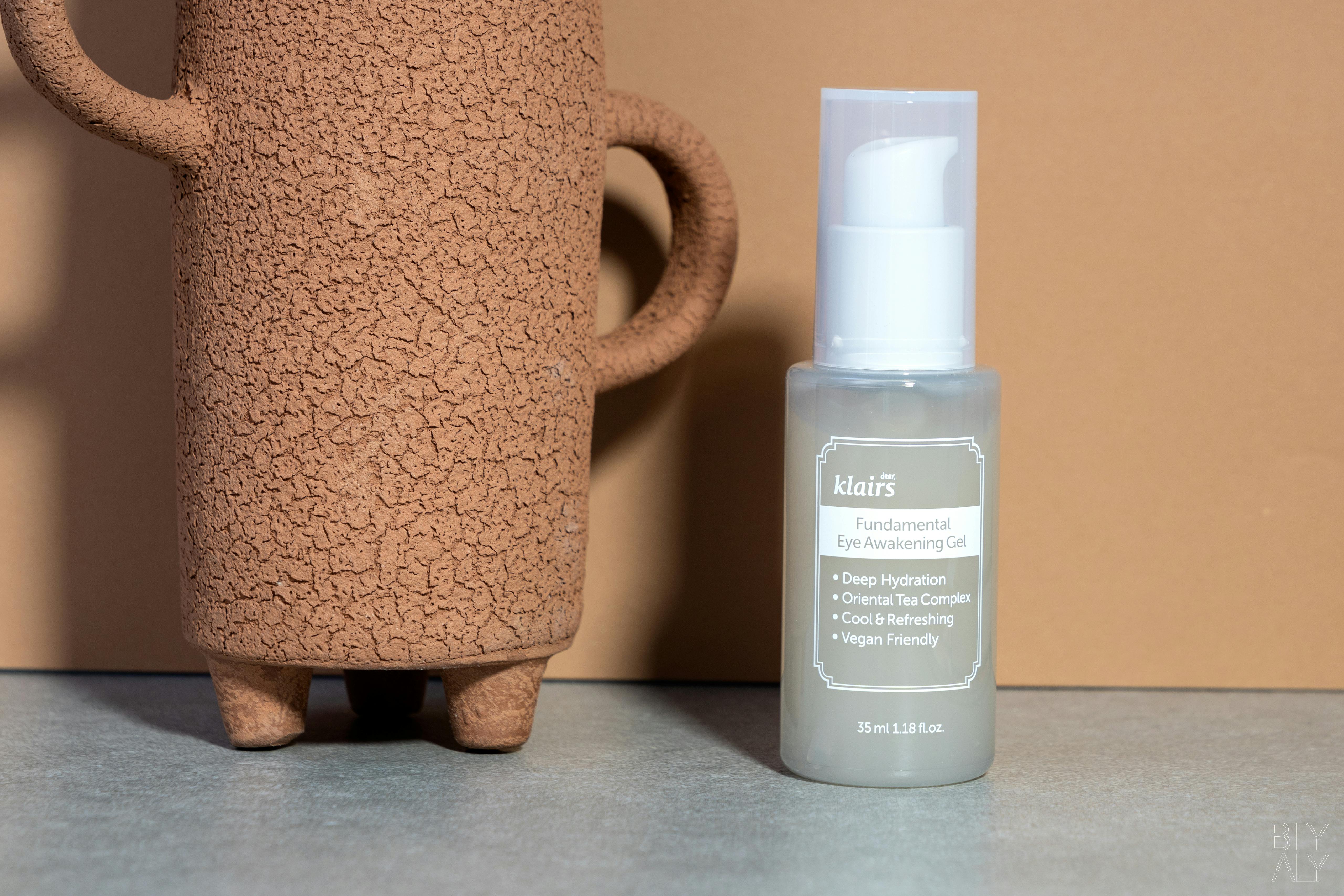 Recommendation
A
Great to refresh a tired eye contour!
Pros
- the formula contains a lot of interesting skincare ingredients,
- the fresh and lightweight texture, but still moisturizing,
- the complete effect on fine lines, dark circles and puffiness.
- the relaxing and refreshing effect on my eye area,
- it lasts a long time, it's a huge bottle (35ml!),
- it's affordable, especially when you consider the quantity.
- it's easy to find online, even in Europe.
Cons
- if you have a dry eye contour, you will probably need another moisturizer on top.
product name
Fundamental Eye Awakening Gel
packaging
A transparent plastic pump bottle, very simple.
fragrance
Fragrance-free (and it doesn't smell of anything)
texture
A fresh, moisturizing gel that leaves the skin hydrated and refreshed.
For Who
– ageing skin,
– dehydrated skin,
– pigmented dark circles and puffiness.
Concerns
– dark circles,
– puffiness,
– wrinkles, fine lines around the eye area,
– dehydration of the eye contour area.
Method
I use the Fundamental Eye Awakening Gel mainly in the morning but it can be used in the morning and/or evening.
I take about half a pump of product that I apply just before using my face serums, and before my morning eye contour moisturizer. I massage it very gently, without rubbing, to spread it around the eye contour (underneath, and also on the upper eyelid). I then finish by applying some light pressure with my fingertips to be sure that the product is absorbed into the skin.
Key Ingredients
A rather short formula but quite complete with:
– moisturizing glycerin and sodium PCA,
– caffeine and red bean extract that improve the microcirculation to reduce puffiness and brighten the eyes contour,
– green tea and vitamin E for their antioxidant effect,
– some anti-aging peptides,
– mugwort to soothe the fragile skin around the eyes.
Ingredients
Water, Glycerin, 1,2-Hexanediol, Butylene Glycol, Propanediol, Argania Spinosa Kernel Oil, Simmondsia Chinensis (Jojoba) Seed Oil, Tocopherol, Caffeine, Phaseolus Angularis Seed Extract, Artemisia Princeps Leaf Extract, Camellia Sinensis Leaf Extract, Chaenomeles Sinensis Fruit Extract, Chrysanthellum Indicum Extract, Cinnamomum Cassia Bark Extract, Diospyros Kaki Leaf Extract, Perilla Frutescens Extract, Portulaca Oleracea Extract, Acetyl Hexapeptide-8, Copper Tripeptide-1, Oligopeptide-29, Oligopeptide-32, Carbomer, Hydroxyethylcellulose, Hydroxyethyl Acrylate/​Sodium Acryloyldimethyl Taurate Copolymer, Polyglyceryl-10 Laurate, Sorbitan Isostearate, Caprylyl/​Capryl Glucoside, Sodium PCA, Tromethamine, Ethylhexylglycerin.
Ingredients not included
– mineral oil,
– silicone,
– alcohol,
– fragrance,
– essential oils,
– dyes.