Intro
My test and thoughts on the Matcha Pudding Antioxidant Cream, from the American (K-Beauty inspired) brand: Peach & Lily.
A moisturizing cream with a nice ingredients list that moisturizes, protects and looks like a Matcha dessert? This is the delicious promise of Matcha Pudding Antioxidant Cream, from the American (K-Beauty inspired) brand: Peach & Lily!
Peach & Lily is the beautiful project of Alicia Yoon, an American-Korean entrepreneur. It's with this name that she first founded an American e-commerce website, specialized in K-Beauty, where you can find all the best-selling beauty products from Korea.

Following the success of her online store, she decided to launch her own skincare brand, inspired by K-Beauty that she loved so much! Peach & Lily launched their first collection in 2018 with less than ten products.

Peach & Lily is a skincare brand inspired by K-Beauty, manufactured in South Korea but targeting an international clientele.

The brand promises uncompromising formulas:
– "clean", or at least free of unnecessary and/or sensitizing ingredients,
– effective, with well-researched ingredients and formulas at their service,
– a lot of sensoriality for a lot of pleasure when using the products,
– fair prices so the brand can be accessible to as many people as possible.

It's simple, I wanted to purchase the whole range!
But I had to restrain myself, and I finally decided to order their moisturizer, the Matcha Pudding Antioxidant Cream.
On paper, this corresponds exactly to what I'm looking for in a moisturizer: a light, non-greasy moisturizing action, a strong protective effect thanks to a lot of antioxidant ingredients, all this in a super pleasant texture to use!
Let's see if it kept its promises!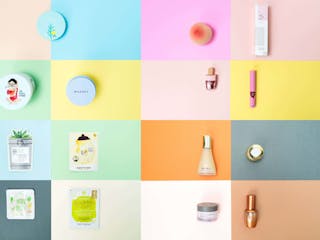 Skincare
K-Beauty: don't call it Kawaii Beauty!
K-Beauty (= Korean Beauty) is definitely not news to me but if I'm honest, until quite recently I just observed it from afar. Sure, I've noticed the interesting trends and products but it was all a bit too "kawaii" (= cute in Japanese) for my taste. Or so I thought!
Read more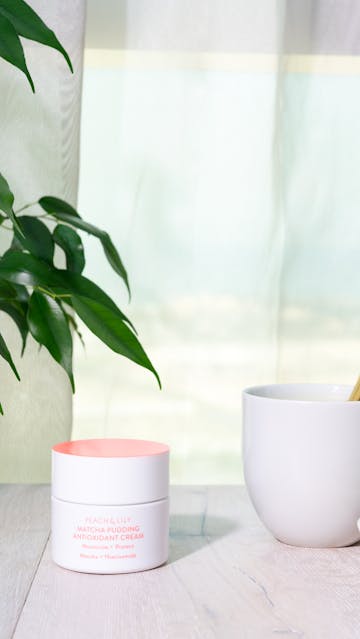 Product presentation: Peach & Lily Matcha Pudding Antioxidant Cream
You already know (well at least, I wrote it several times already 😉) that I don't ask as much from my moisturizers compared to the other skincare products in my routine.
For me, the ideal moisturizer leaves my skin hydrated without being greasy, it protects from pollution and environmental aggressions (ideally with antioxidant ingredients), it has a nice texture and it doesn't cost an arm and a leg. That's all.
I don't really believe in anti-aging creams (especially when they are at a ridiculous price), I trust my serums for that!
A moisturizing cream moisturizes the skin only at the surface. It's more like a protective product than a deep skin treatment. So for me, there's no point in investing too much!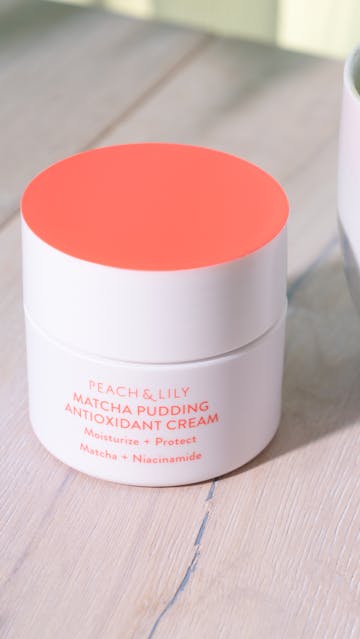 The Peach & Lily Matcha Pudding Antioxidant Cream is therefore completely in line with my definition of the ideal moisturizer!
– It moisturizes without being heavy, with a velvety texture that leaves my skin comfortable without feeling greasy.
– Its formula is full of antioxidant ingredients (Matcha tea, niacinamide, green tea, vitamin E, Cape Lilac extract) to help the skin defend itself against environmental aggressions that cause it to age faster.
– Its formula is very well done, with the right balance between natural and synthetic high-performance ingredients, and it avoids unnecessary and/or irritating other ingredients.
– It's an absolute joy to use: its texture is so delicious that I could eat it, its perfume is super pleasant, very subtle and yummy, and in addition, the jar looks very pretty in my bathroom!
– Its price is not too expensive, $40 for 50ml.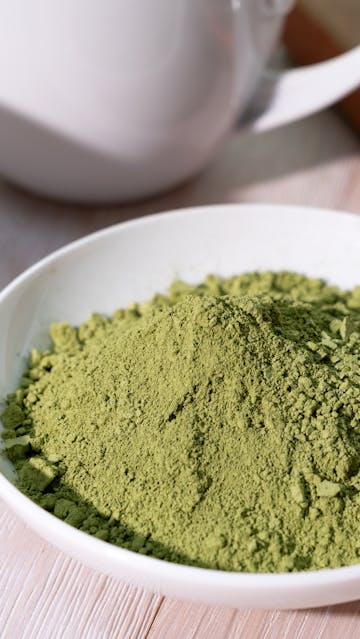 My experience:
I started using the Peach & Lily Matcha Pudding Antioxidant Cream about 6 weeks ago.
With its formula rich in antioxidants, I thought the best time to use it would be in the morning (although it can be used morning and evening). Its formula is indeed a true anti-pollution shield, perfect to limit the aggressions of free radicals that make us age prematurely!
Its texture is also ideal as a makeup base; it leaves my skin comfortable but after a few minutes it's absorbed and my skin is matte, and feels like velvet.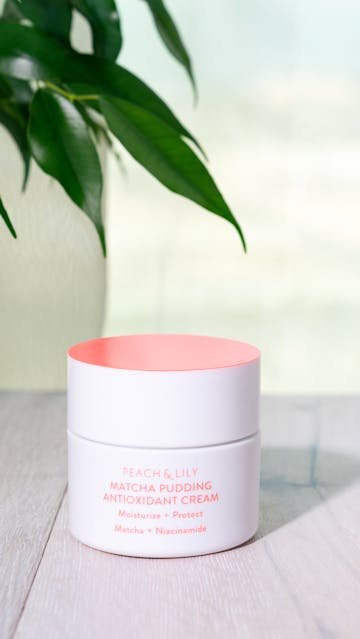 I find it absolutely perfect for the season (in winter, you may need to add a little bit of oil underneath if your skin feels tighter than usual), and its moisturizing effect is long-lasting. The comfort feeling lasts all day long!
I also love the name "Matcha Pudding" that perfectly reflects the texture and color of this product! It's a yummy product, which I really enjoy using in the morning.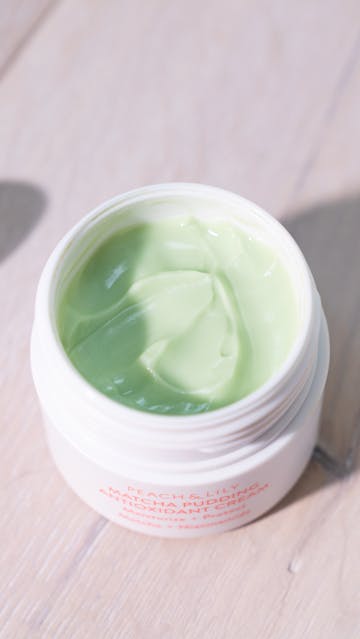 I think the price is fair, especially considering the quality of this cream! The formula is well done, with many good ingredients that are carefully chosen.
I don't need to apply much (a small amount is enough for my face and neck), so I think the jar will last me for a few more months.
A small detail that may be important to some, it does not contain silicones in its formula.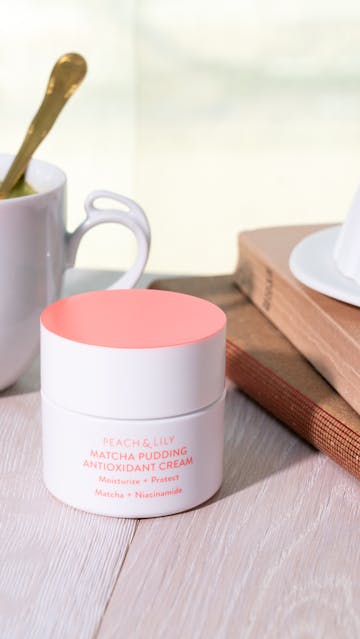 In conclusion:
You probably guessed it, I really like this Peach & Lily Matcha Pudding Antioxidant Cream and I'll certainly repurchase it in the future!
I also really want to try other products from the collection, such as the Glass Skin Refining Serum, which has raving reviews, and their very attractive Power Calm cleanser. If I end up buying them, I'll definitely let you know! 😉
The Peach & Lily Matcha Pudding Antioxidant Cream retails for $40 for 50ml.
Product Review in detail
Summary
Peach & Lily Matcha Pudding Antioxidant Cream
"Peach & Lily's velvety Matcha Pudding Antioxidant Cream addresses real-life problems. If you've ever wondered why you might be seeing premature and rapid signs of aging, you're not alone. Our skin faces increasing stress from heightened pollution, fast-paced stressful lives, excess sun exposure and lack of sleep. All of this leads to free radical damage, which can accelerate signs of aging. This indulgent formula addresses all of this by drenching skin with powerful antioxidants, creating a protective barrier to help fight free radical damage at all layers of the skin. Spiked with Matcha, Cape Lilac Extract, Niacinamide and Adenosine, skin is blasted with antioxidants and brightening and firming ingredients. The delightful pudding texture delivers deep hydration without sitting heavy on the skin."
Pros
- a great formula with many good skincare ingredients in good concentrations,
- a nice simple, chic but still colorful packaging,
- a lot of antioxidant ingredients for protection against free radicals,
- the long-lasting moisturizing effect (and it doesn't feel heavy on the skin),
- the texture is really nice, creamy and indulgent (it makes me want to eat it),
- the cream smells so good, it's really very pleasant to use,
- the price is good for the quality.
Cons
- I would have preferred an air-less jar packaging, for hygiene reasons,
- the brand is not accessible everywhere, you have to place an online order if you don't live in the United States.
product name
Matcha Pudding Antioxidant Cream
packaging
A pretty white plastic jar with the top of the cap colored in bright orange.
fragrance
A natural fruity scent, yummy but not sickening at all.
texture
A delicious "pudding" texture, super yummy. Creamy, but not greasy, it really looks like a dessert!
For Who
All skin types, all ages.
Concerns
– need for hydration,
– need for environmental protection,
– wrinkles, fine lines,
– dullness,
– hyperpigmentation.
Method
I use it in the morning but you can use it morning and/or evening.
I take the equivalent of a pea size of cream using the spatula provided with it, and I apply it on my face and neck at the end of my routine, after my serums.
I wait for a few minutes and then apply my sunscreen.
Key Ingredients
The composition is really interesting and there are plenty of great skincare ingredients in the formula, including these ones:
– Matcha tea: soothing and antioxidant,
– niacinamide: smoothing effect, anti-oxidant, radiance-boosting, anti-aging, purifying…
– antioxidants: green tea, vitamin E, Cape lilac extract,
– anti-aging adenosine and betaine,
– moisturizing glycerin,
– soothing ingredients: panthenol (pro-vitamin B5), allantoin, dipotassium glycyrrhizate (liquorice derivative).
Ingredients
Water (Aqua), Ethylhexyl Palmitate, Glycerin, Niacinamide, Cetearyl Alcohol, 1,2-Hexanediol, Dicaprylyl Carbonate, Butylene Glycol, Glyceryl Stearate, Sorbitan Stearate, Camellia Sinensis Leaf Extract, Juniperus Communis Fruit Extract, Melia Azadirachta Flower Extract, Melia Azadirachta Leaf Extract, Moringa Oleifera Seed Extract, Nelumbo Nucifera Flower Extract, Panthenol, Tocopherol, Adenosine, Allantoin, Betaine, Caramel, Chlorphenesin, Eriobotrya Japonica Leaf Extract, Glyceryl Olivate, Cetearyl Olivate, Hydrogenated Rapeseed Alcohol, Propanediol, Pantolactone, Hydroxyethyl Acrylate/Sodium Acryloyldimethyl Taurate Copolymer, Tromethamine, Trisodium Ethylenediamine Disuccinate, Sucrose, Mineral Salts, Acrylates/C10-30 Alkyl Acrylate Crosspolymer, Behenyl Alcohol, Polyglyceryl-4 Oleate, Hydrogenated Vegetable Oil, Dipotassium Glycyrrhizate, Stearic Acid, Sorbitan Olivate, Sorbitan Isostearate, Aniba Rosodora (Rosewood) Wood Oil, Citrus Aurantium Bergamia (Bergamot) Fruit Oil, Citrus Aurantium Dulcis (Orange) Peel Oil, Salvia Sclarea (Clary) Oil, Thymus Vulgaris (Thyme) Flower/Leaf Oil.
Ingredients not included
– Fats, oils, and musks of animal origin,
– Benzalkonium chloride,
– Benzophenone,
– Bisphenol A (BPA),
– Butoxyethanol,
– BHA,
– BHT,
– Chemical sunscreens,
– Coal tar,
– Dyes,
– Disodium EDTA,
– Polysorbates,
– MEA/DEA/TEA,
– Formaldehyde,
– Paraffin oil,
– Hydroquinone,
– Methyl Cellosolve,
– Methylisothiazolinone,
– Methylchloroisothiazolinone,
– Mercury, composed of mercury,
– Mineral oil,
– Oxybenzone,
– Parabens,
– Synthetic fragrance,
– Petrolatum,
– Phthalates,
– PEGs,
– Polysorbates,
– Resorcinol,
– Silicones,
– Siloxanes,
– Sulfates,
– Thimerosal,
– Toluene,
– Triclosan,
– Triclocarban.