Intro
Read my mini-review of the moisturizer Lala Retro Whipped Cream by the American "clean skincare" brand Drunk Elephant.
I discovered Drunk Elephant's clean skincare range a few years ago but oddly enough, it took me a while to try their moisturizer, the Lala Retro Whipped Cream.
I was more interested in the brand's serums at first and it was only after I tried them (and loved them!) that I wanted to discover their moisturizer. I admit it, I'm a little less picky with my moisturizers than I am with my serums and essences. I can spend hours studying the latter's composition, redesigning my skincare routine around them and so on. While with moisturizers, if I'm honest, I expect a lot less from them.

And yet, I grew up with what I like to call "the myth of the miracle moisturizer", which is basically the myth that one single moisturizer could be multi-tasking and give you a perfect skin if you're ready to pay big bucks for it. This myth helped (and still does) to sell tons of jars of "total anti-aging" creams like Sisleÿa and others La Mer.

Clearly, I changed my mind since and become a layering believer. I definitely think that layering different textures and different ingredients are the key to beautiful skin!

In short, I do not deny the effectiveness of a good moisturizer (I still use one!) but for me, it has a protective role more than anything else. It's the last protective layer that will "seal" what I applied underneath.

Of course, this experience with moisturizer is probably due to my age and the needs of my skin. I probably wouldn't say the same thing if I was 20 years younger 😉

So what I'm looking for in my moisturizer are ingredients that provide me comfort and protection above all.

Ideally, if the texture is pleasant and not too greasy, I definitely prefer!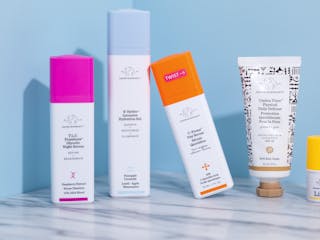 Brands
Focus on: Drunk Elephant, "clean" and innovative skincare
Drunk Elephant is a super trendy American skincare brand: very focused on natural ingredients but which doesn't leave aside neither the technology nor the chemical elements essential for a real effectiveness on the skin. "Clean skincare" sure, but that works!
Read more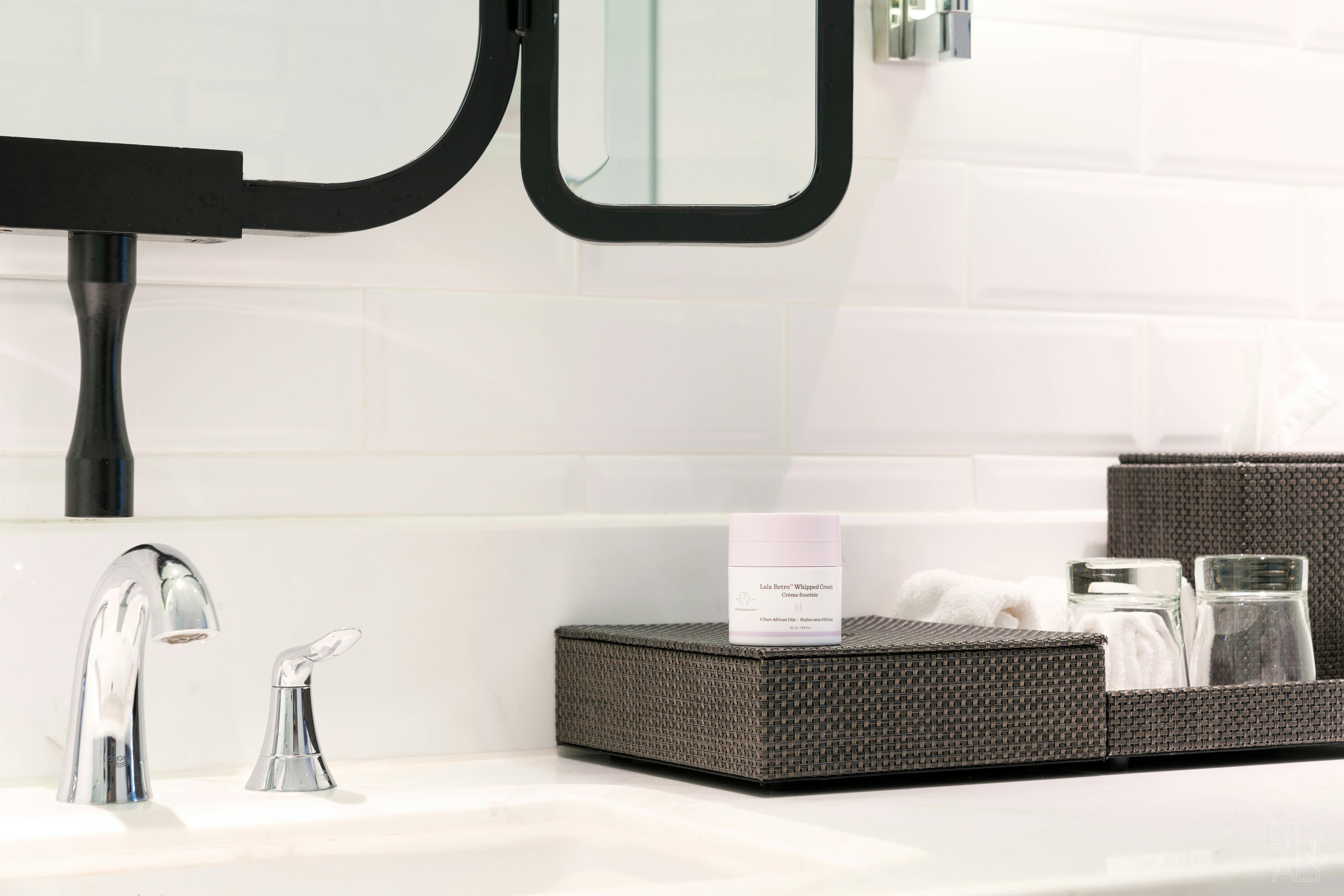 Mini-review:
Drunk Elephant's Lala Retro Whipped Cream fully meets these specifications with its formula. Inside:
– some ingredients are able to deliver a long-lasting hydration (the six African oils and also hyaluronic acid) for a durable comfort effect,
– fermented green tea with an antioxidant effect to help fight against accelerated ageing,
– and as a bonus, a brightening action thanks to some plantain extract.
Like the rest of the Drunk Elephant range, the formula here is quite "clean" (no silicones, dyes and fragrance, no essential oils, and no alcohol either), but the sensoriality is still there. Drunk Elephant remains a luxury skincare brand. Even better, a clean and green luxury skincare brand!
I use Lala Retro in the morning and in the evening, but I prefer it at night, especially this time of the year because it's very nourishing. Its whipped cream texture is super nice to apply. It literally melts on the skin, but as it's quite rich, you need to massage it a bit to make it penetrate. The brand recommends to mix it with its other products. I didn't do it, but I'm sure it can feel great, especially with the B Hydra serum, for example.
The packaging is amazing, super hygienic: an air-less pot you need to press to activate the pump and to obtain the cream. I use only 1/ 2 pumps for my face and neck. The jar lasted me a very long time (about 4-5 months). I used it once a day.
Regarding the results, I find that that Drunk Elephant's Lala Retro Whipped Cream does the job: it's comfortable, maintains skin hydration for a long time and protects my skin very well. I used it while I was traveling to France last winter, in the morning and the evening and it was perfect! This summer, I left it to one side a little but I will go back to it with pleasure when the temperatures go down!
Its price is definitely not cheap. On the other hand, in terms of value for money, I find that it is worth it: a beautiful formula with noble natural ingredients, a good sensoriality which makes the cream very pleasant to use, a pretty and super hygienic packaging as a bonus… this good quality has a price!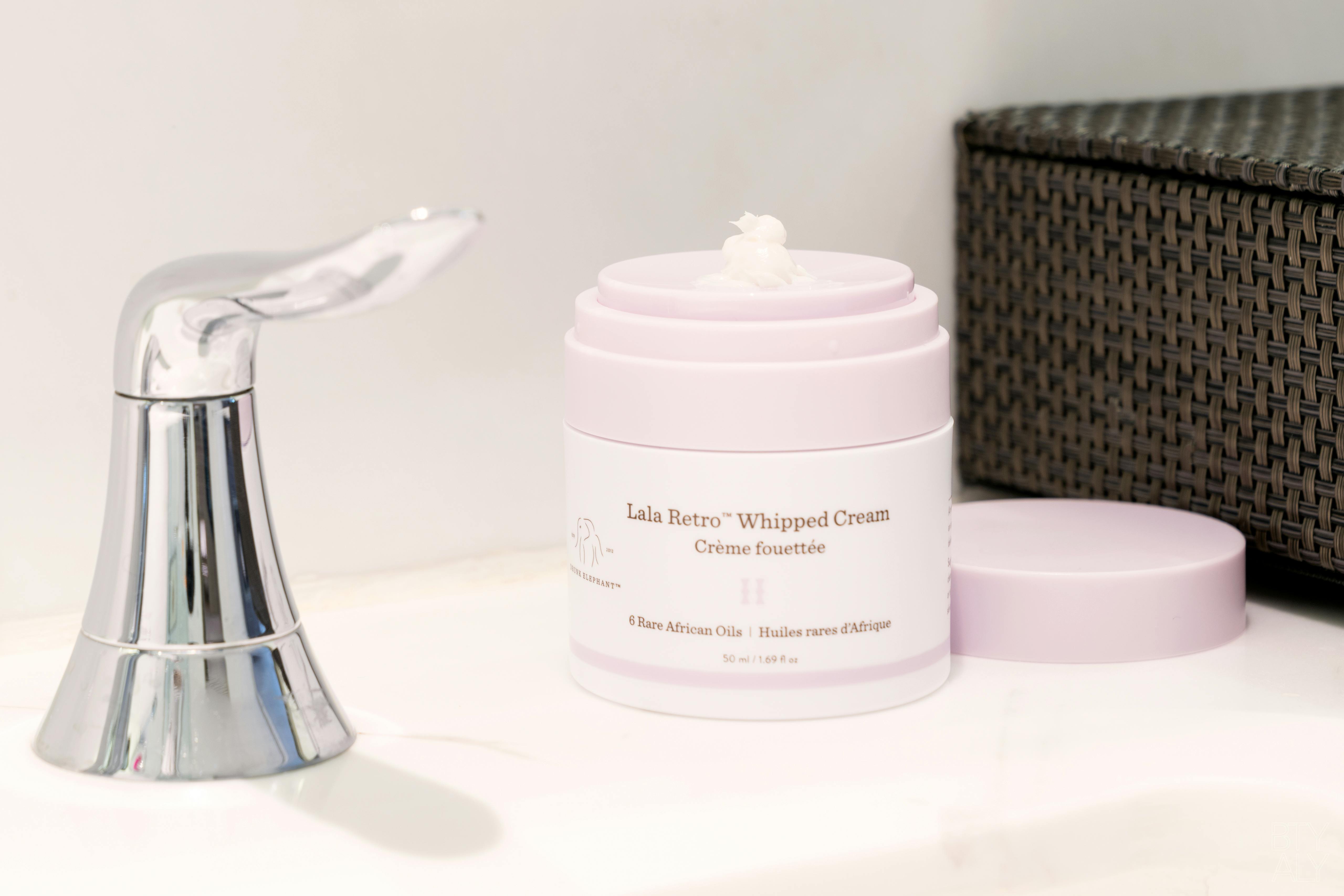 In conclusion:
In short, Drunk Elephant Lala Retro Whipped Cream is a very good option if you want a skincare product with a great clean formula but which also brings a real touch of luxury to your bathroom!
Drunk Elephant Lala Retro Whipped Cream retails for $60 for 50ml.
Product Review in detail
Summary
Drunk Elephant Lala Retro Whipped Cream
"A retro-style moisturizer that rescues dry, dull skin while slowly delivering a steady dose of moisture throughout the day and night."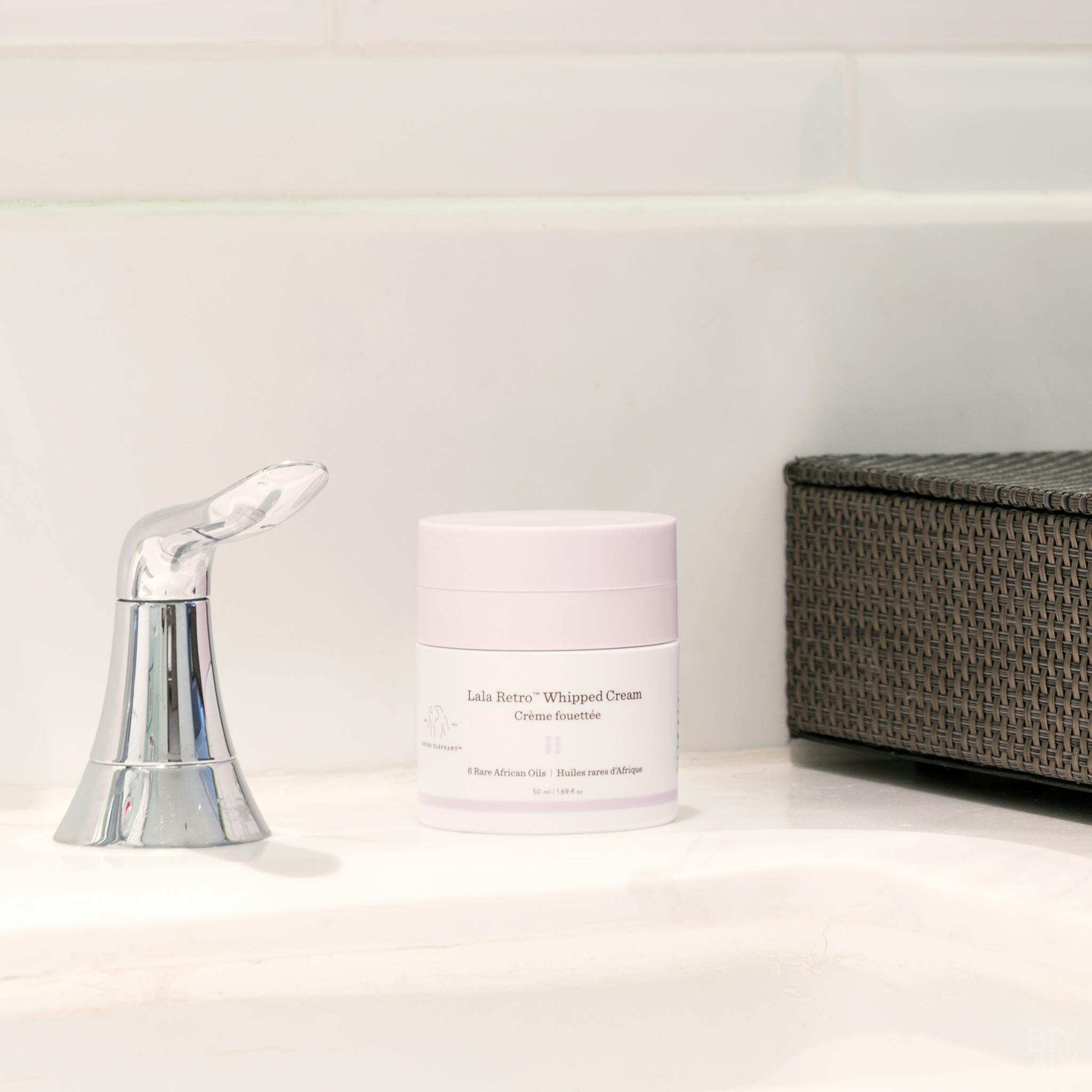 Recommendation
A
A great product if you can afford it
Pros
- the rich formula filled with great ingredients for the skin,
- the super luxurious and lush texture,
- the long-lasting moisturizing and nourishing effect,
- the protective effect when the skin is in extreme environmental conditions,
- the repairing effect when the skin needs comfort,
- the semi-matte finish on the skin after you applied it (even if I still look shiny a few hours later with my combo skin),
- the innovative, beautiful and super hygienic air-less jar packaging.
Cons
- it can feel a little bit too rich depending on the season and your skin type,
- the high-end price, even if the value for money is good.
product name
Lala Retro Whipped Cream
brand name
Drunk Elephant
packaging
A jar of cream with an air-less packaging. The formula isn't exposed to air and bacteria. The jar is closed, with just a small opening that delivers the right dose of product by simply pressure.
fragrance
A very light smell of natural oil.
texture
A yummy texture of whipped cream, quite rich and lush.
For Who
All skin types, including the most sensitive. It's also perfect for your skin if you're lacking comfort.
Concerns
– dehydrated skins,
– dry skins,
– lack of comfort,
– sensitized skins,
– dull skin,
– wrinkles, fine lines.
Method
I use it mainly in the evening because it tends to make me look shiny after a few hours (it's quite rich) but you can use it morning and/or evening.
I use the equivalent of half a pump of product (a full pump is too much for my combination skin) that I apply at the end of my routine. I use it alone but you can mix it with any of the other products from the Drunk Elephant range.
Key Ingredients
– a blend of six African natural oils: with anti-drying, nourishing, repairing, brightening and antioxidant properties.
– plantain extract: moisturizing and lightening effect.
– a low molecular weight hyaluronic acid: deeply moisturizes and reduces the appearance of fine lines and wrinkles.
– some fermented green tea seeds: rich in antioxidants.
Ingredients
Water, Glycerin, Caprylic/ Capric Triglyceride, Isopropyl Isostearate, Pseudozyma Epicola/Camellia Sinensis Seed Oil/Glucose/Glycine Soja Meal/Malt Extract/Yeast Extract Ferment Filtrate (Pseudozyma Epicola/Camellia Sinensis Seed Oil/Glucose/Yeast Extract Ferment Filtrate), Stearic Acid, Glyceryl Stearate SE, Cetearyl Alcohol, Pentylene Glycol, Plantago Lanceolata Leaf Extract, Adansonia Digitata Seed Oil, Citrullus Lanatus (Watermelon) Seed Oil, Passiflora Edulis Seed Oil, Schinziophyton Rautanenii Kernel Oil, Sclerocarya Birrea Seed Oil, Polyglyceryl-6 Ximenia Americana Seedate, Sodium Hyaluronate Crosspolymer, Ceteareth-20, Trisodium Ethylenediamine Disuccinate, Sodium Hydroxide, Citric Acid, Carbomer, Xanthan Gum, Caprylyl Glycol, Chlorphenesin, Phenoxyethanol, Ethylhexylglycerin.
Ingredients not included
– animal oils, fats and musks,
– benzalkonium chloride,
– benzophenone and its derivatives,
– bisphenol A (BPA),
– butoxyethanol,
– BHA (butylated hydroxyanisole) and BHT (butylated hydroxytoluene),
– chemical sunscreens (including retinyl palmitate, oxybenzone and octyl methoxycinnamate),
coaltars (including aminophenol, diaminobenzene, phenylenediamine),
– essential oils,
– ethanolamines (MEA / DEA / TEA),
– formaldehyde,
– synthetic and natural flavors and aromas,
hydroquinone,
– methyl cellosolve,
– methylisothiazolinone and methylchloroisothiazolinone,
– mercury and thimerosal,
– oxybenzone,
– parabens,
– phthalates (DBP, DEHP, DEP and others),
– polyethylene glycol (PEG),
– resorcinol,
– sodium lauryl sulfate and sodium laureth sulfate (SLS and SLES)
– toluene,
– triclosan and triclocarban.