Intro
Discover my detailed review of the cult favorite Miracle Seed Essence from the Korean skincare brand Primera!
The Primera Miracle Seed Essence is a very popular product in South Korea. Personally, I don't know if I would go so far as to say that this essence is a miracle product, but the least I can say is that I was quite surprised!
I remember seeing it during my first trip to Korea, but I didn't buy it at the time. Not that I didn't want to try it, but I had plenty of other essences to try before that one!
You have surely noticed that I suffer from a severe addiction to essences. Since I discovered this product category, it's quite simple, I simply can't live without it! 😉
I adore the application process, the patting motion especially, which I find super pleasant and very refreshing. But I also see results: a clearer and plumped skin, a softer texture… Essences have really improved the appearance of my skin!
Primera Miracle Seed Essence was particularly intriguing to me because it has been one of the most popular in Korea since its launch in 2015, despite its relatively high price compared to its competitors.
During my stay in Seoul last June, I decided to give it a chance and the least I can say is that it definitely kept its promises!
Skincare
Do you need an essence?
Recently, and probably thanks to the influence of Asian beauty, a new type of product appeared on most skincare addicts radar: essences. Like a kind of "beauty water" or "liquid skincare", an essence is a hybrid liquid product that is a cross between a toner and a serum. Can it replace them or do you have to add it to them? I'll tell you everything you want to know about essences!
Read more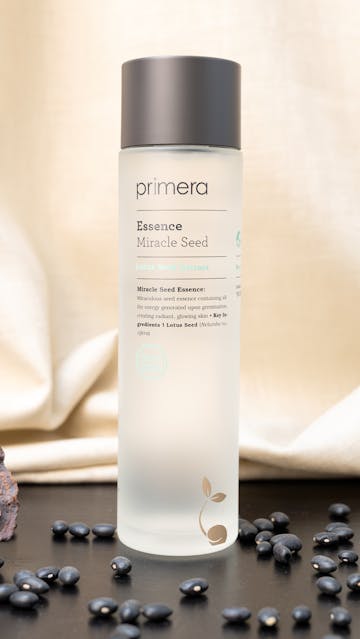 The brand Primera:
Primera is a brand that belongs to the gigantic Korean company Amorepacific. Created in 1990, the brand is one of the group's most "natural" brands.
Just to be clear, I am talking about an "old-school" definition of "natural brand". Primera products contain many plant extracts in their formulas but they're not "clean" or organic.
On the other hand, the brand definitely enhances the ethical manufacturing process of its products, and also eco-responsible packagings. The containers of glass and plastic products are fully recyclable, as are the packaging it comes in, printed in soy ink.
Primera is a brand that puts innovation and technology at the service of nature.
The formulation of Primera products is based on the power of seeds and germinated plant extracts, grown by the brand in organic farms in the South Korean peninsula and harvested when they are the most potent.
The benefits of seeds and sprouted plants have always been known in Korea, as they are part of the diet and are also used in traditional medicine.
But Primera being under the umbrella of Amorepacific, this means that they can bring these ancestral ingredients into the 21st century, with particularly innovative extraction technologies, that are also environmentally friendly.
The Miracle Seed Essence is a perfect example, with its formula that enhances the benefits of germinated lotus seeds!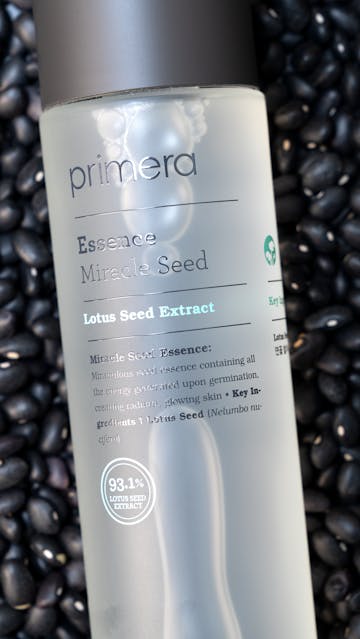 Product Presentation: Primera Miracle Seed Essence
The Miracle Seed Essence is a First Essence. In the category of Korean essences, it means that they are "pre-essences", i.e. they have to be applied before the rest of your routine (yes, it means before one or even several other essences).
This is a product category that is quite specific to Asia. Indeed, by their name "First" essences, they imply a rather complex layering routine, with potentially other essences afterward.
In general, the main claimed action of First Essences is their brightening effect, which is a very important concern among Asian customers.
They also have the property of boosting the effectiveness of the products applied on top (hence the idea of using them early in a layering routine).
This is one of the properties of the main ingredient of this Miracle Seed Essence, the germinated lotus seeds!
The latter are also very moisturizing, and have an antioxidant and repairing action on the skin. They are indeed naturally rich in amino acids, which are nourishing ingredients, naturally present in the NMF (= the natural protection of the skin) and which therefore help to strengthen the skin barrier!
The formula is quite short, focusing on moisturizing and repairing ingredients (niacinamide, glycerin, hyaluronic acid…) that strengthen the action of the germinated lotus seeds.
My experience:
I started using Primera Miracle Seed Essence mid-September. I added it to my evening routine, using it as a First essence (before my other essences) (yes, I use several essences, I love essences!) and at the beginning, like I usually do. A few drops in the palm of my hand, pat pat pat on my face and I moved on to my next essence.
And then (after 2 weeks, I'm not fast), I looked at my bottle and was intrigued by the graduation on the side. And I also remember that my essence came with 70 cotton pads.
So I went and read the instructions on the brand's website (raise your hand if you're like me and you never read the instructions before using anything 😛).
Light bulb moment! The brand advises using a really important quantity of product with each use. 2.5ml of essence to be precise. Hence the cottons. Try pouring 2.5ml of the product into the palm of your hand, and you'll see that it's not easy!
And this amount must be applied twice a day! Yup, that's 5ml of product per day. And the 150ml bottle of essence, therefore, lasts 30 days at this rate.
Well, obviously, suspicious as I am, I thought it was probably a trick to sell more products but, for the sake of the review, I decided to try. That being said, I didn't want my bottle to only last one month so I decided to still use it only once a day, but in the amount specified by Primera.
I first tried using a cotton pad, as recommended by the brand, but I always feel like I'm wasting too much product in the cotton pad, it's just not my favorite way to apply it…
So I tried to layer the product, using my hands (like the " 7 skin method"). So I applied 2-3 layers of the essence to get to 2.5ml and indeed, the plumping effect was clearly visible from the first time I used it that way. It's definitely much more hydrating as well!
After 2 weeks, I saw a difference in the radiance of my complexion too. My skin seemed more "transparent", but I also had a more even color, a softer texture. I even find that this essence has a soothing effect!
I guess my current retinol product is also helping to improve the overall condition of my skin, but I was really able to see this result before I introduced it more regularly into my skincare routine.
Well then obviously my bottle was emptying way faster. But really the result on my complexion makes me think it's still worth it!
But if Primera would like to launch a bigger size of this essence (a 300ml bottle maybe?), I would actually like that! Up to you, Primera 😉
In conclusion:
I really like this essence and I understand better why it's so popular in Korea! I find it more effective than the famous SK-II Pitera that everybody praises (and it's cheaper).
I've already repurchased a second bottle because I'm not ready to stop using it just yet !
The Primera Miracle Seed Essence retails from $43 to $58 for 150ml depending on the retailers.
Product Review in detail
Summary
Primera Miracle Seed Essence
"This concentrated essence, packed with amino acid-rich lotus seeds, helps to smooth texture, improve tone, increase hydration, and help protect from environmental stressors at the same time."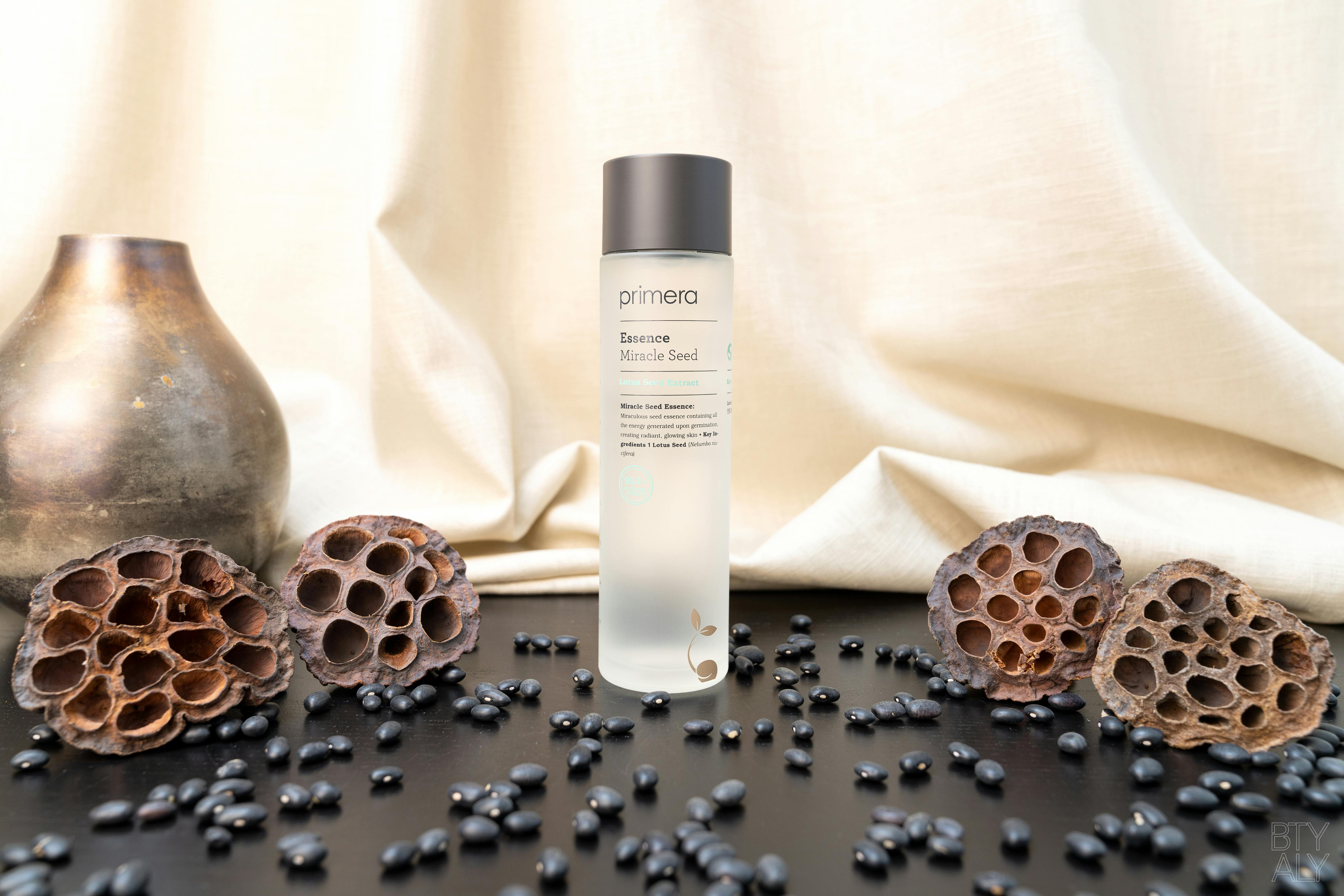 Pros
- the elegant and simple packaging,
- the short and sweet formula, but with many great skincare ingredients,
- the soft, cushiony and super comfortable texture,
- the comfort it gives, the skin is intensely and durably hydrated,
- the really visible effect on my complexion's clarity, my skin is more radiant and even,
- the antioxidant effect, always interesting.
Cons
- it's an expensive product to buy, and you have to use a lot of it to see a true result on the skin, so the bottle doesn't last very long (2 months max for me).
product name
Miracle Seed Essence
packaging
A frosted glass bottle with a dark brown lid, very elegant and simple.
fragrance
Fragrance-free (and it doesn't smell anything)
texture
A soft liquid texture, quite cushiony but non-greasy and that leaves the skin really comfortable.
For Who
All skin types, all ages.
Concerns
– dull skin,
– uneven skin texture, visible pores,
– loss of firmness and elasticity,
– dark spots and hyperpigmentation.
Method
I use the Miracle Seed Essence in the evening (but the brand recommends to use it morning and evening), after I cleansed and quickly pat dry my face. If I use acids, I use it after this step (I usually leave 1 or 2 minutes to let the acids do their magic on my skin).
I use this essence in two different ways:
– I completely soak a cotton pad with it (as recommended by the brand) and I press the product into my face and neck,
– or I layer 2 or 3 layers of product directly with my hands on my face and neck. I press it in (it's quite fast, the product absorbs rather quickly).
I then continue with the rest of my routine (in my case, treating essence(s), serum(s), facial oil and night cream most of the time).
The brand emphasizes that you need to apply a lot of product for each use. There is even a graduation system on the side of the bottle to indicate the quantity to use, namely 2.5 ml per use, both morning and evening (yes, it's a huge quantity, I know).
At first, I didn't apply as much, and the results were less visible. When I started using more product, I clearly saw a difference with my skin! More hydration, it feels plump and glowy!
Well, that being said, I only use it only once a day whereas the brand recommends to use it twice, but I still saw a great result!
Key Ingredients
It's a rather short formula and it focuses on the main ingredient, namely:
– Lotus germinated seed extract (Nelumbo Nucifera Germ Extract): moisturizer, antioxidant, it repairs and boosts the effectiveness of other ingredients used with or after it.
But in this essence, you can also find:
– some Niacinamide, which helps to reduce the visible signs of aging, improves skin firmness, reduces hyperpigmentation, helps to blur acne scars, regulates sebum production… A real cosmetic rock star!
– moisturizing ingredients such as glycerin and low molecular weight hyaluronic acid,
– Saccharomyces ferments that help to tighten the skin texture while giving the complexion a lot of radiance,
– soothing and regenerating adenosine.
Ingredients
Water, Propanediol, Nelumbo Nucifera Germ Extract, Niacinamide, Glycereth-26, Glycerin, 1,2-Hexanediol, Methyl Gluceth-20, Citric Acid, Xanthan Gum, Ethylhexylglycerin, Sodium Citrate, Adenosine, Disodium Edta, Sodium Hyaluronate, Saccharomyces Ferment, Potassium Hydroxide, Acetic Acid.
Ingredients not included
– alcohol,
– mineral oils,
– fragrance,
– dyes,
– silicones.