Intro
My detailed review of the mild cleanser Cleanse Me Softly Milk Cleanser from the "clean" Korean skincare brand Sioris.
For the past few months, cleansing milks have made a huge comeback in my bathroom, after being left aside in my facial cleansing ritual for at least 10 years! When I requested cleansing milk recommendations on my Instagram account, the Sioris Cleanse Me Softly Milk Cleanser was one of the top suggestions. So I decided to give it a try and share my thoughts about it here…
Last spring, I significantly intensified my retinoid experiments and even started tretinoin earlier than planned (what can I say, I'm not going on holiday this summer and I'm bored, so I decided to destroy my skin barrier instead lol).
And soon enough, I had to face the fact that my skin couldn't really tolerate my morning foaming cleanser anymore. Even my most gentle ones…
When I went to Paris this winter, I used the opportunity to buy the Lait U from Biologique Recherche to try out a different cleansing method (I wrote about this product in my morning skincare routine article) and I was thrilled to have it on hand when my skin started to act up!
When I finished it, I wondered if I shouldn't try to stop cleansing my face in the morning. I've read a lot of different opinions on the subject and I know that some dermatologists advocate simply rinsing your face with fresh water in the morning, especially if you have dry and/or sensitized skin. This method has both detractors and worshippers; I personally don't really have an opinion on the topic, I just think that if you don't cleanse your skin in the morning and it works for you, it's great and you should keep on doing it!
I gave it a try. I stopped using a cleanser in the morning and just rinsed my face with tap water and then with thermal water for 3 weeks. After this test, I came to the conclusion that it wasn't for me. Even though my skin is sensitized, it remains a combination skin, with an oily T-zone and if you add to that my workout every morning, I really didn't feel that my skin was "clean" enough when I simply rinsed it off with water.
When I thought about it, the cleansing milk seemed to be an excellent compromise between not cleansing my skin at all (and not feeling "clean") and using a cleansing foaming gel that could over-strip my skin at the moment.
I haven't completely stopped using a cleansing gel, but now I've reduced it to using it once a day, in the evening. Twice a day is definitely too much for my skin right now…
I started looking for alternatives to the Lait U from Biologique Recherche, which is certainly very good but a little complicated to find at a decent price if you don't live in Paris. And that's when I asked my dear Instagram subscribers to help me out! I asked them for recommendations of some good cleansing milks. And well, apparently the Cleanse Me Softly Milk Cleanser from Sioris is a popular option!
I'm lucky, there is a store of this lovely natural Korean brand in Dubai, so I was able to find it very easily. Let me tell you all about my experience with this gentle cleansing milk!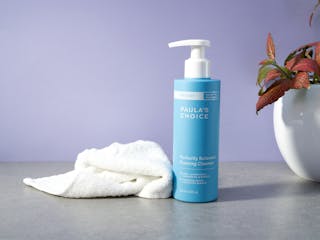 Skincare
How to cleanse your skin properly
Facial cleansing isn't always done properly, yet it's probably the most important step in a skincare routine. Today let's take a closer look at the best way possible to cleanse your skin, and all there is to know about it!
Read more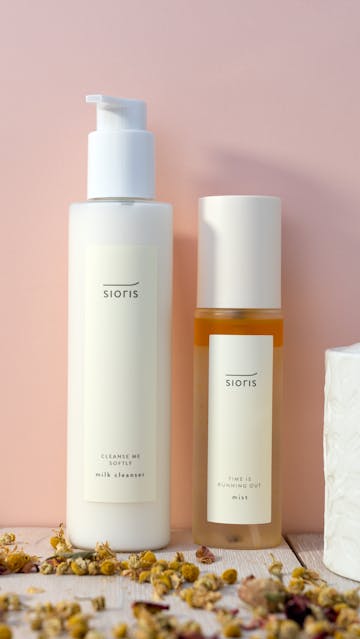 The brand Sioris:
Sioris is a natural and vegan skincare brand from South Korea, self-described as "clean".
Sioris skincare products are made with natural ingredients of organic origin (wherever possible), which mainly come from South Korea.
Sioris emphasizes the importance of respecting seasonal harvests to guarantee optimal freshness and effectiveness of their ingredients. A unique feature of the brand, some ingredients will vary in the formulas from one season to another!
This is the case with the Cleanse Me Softly Milk Cleanser which, depending on the harvest, contains either organic grapefruit water from Jeju or organic green plum water from Gwangyang!
The Sioris brand also insists on the way it obtains its ingredients. Indeed, the extraction process of the natural ingredients used by the brand is ideally done by cold extraction to respect their integrity and ensure a better efficiency in the formulas.
Finally, Sioris favours eco-friendly and recyclable packaging for a better respect of the environment.
The range is quite short, and includes fairly simple products that can suit all skin types, even the most sensitive. I nevertheless find them very pleasant to use, with lovely textures and great aromatic scents (just be careful if you're sensitive to essential oils, however, some formulas contain them).
The packagings are very minimalist, quite "Instagram-friendly" (I like it very much!). I know it shouldn't matter, but for me who has to photograph them, it counts 😉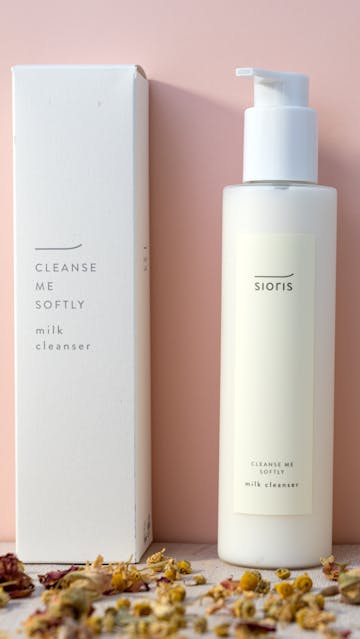 The Sioris Cleanse Me Softly Milk Cleanser, my test and thoughts:
At the moment in South Korea, cleansing milks are super popular!
I know, me too, I couldn't believe it… Personally, I stopped using them the day I discovered the existence of makeup cleansing oils / balms that remove makeup so much better than the old school combo of cleansing milk + toner with cotton pads (Who's still using them in 2020 to remove their makeup? Speak out! 😉 ).
So let's be clear, I'm talking about cleansing milks, used to wash the face, not really our grandmothers' traditional milk makeup removers! The textures of these new generation cleansing milks are much lighter than those that were on the market 20 years ago!
The idea here is to gently cleanse the skin without stripping it. No need for cotton pads with these. You apply them on dry skin and massage them gently with your fingertips before rinsing them off with lukewarm water.
They can also be used to remove makeup, but only in the case of a very light makeup. If you use a sunscreen underneath, I'm frankly not sure that it's very effective to remove it properly (I recommend an oil or balm instead to make sure you get rid of everything).
This Korean cleansing milks' comeback trend surprised me a bit at first, but when you think about it, it makes a lot of sense. There are more and more sensitive or sensitized skins in Korea (like there are in the rest of the world, for that matter). And the cleansing step can definitely be tricky for sensitive skins. You can quickly strip your skin with products that are too harsh, with a pH that is too high, etc. (I talk about it in more details in this article on How to cleanse your skin properly if you want more info).
So a gentle cleansing product that doesn't foam, that cleanses without stripping and that leaves the skin's protective barrier intact, is really the holy grail for sensitive skin!
In the French pharmacies, these kinds of products have been available for a long time (I plan to test some of them, I'll probably talk about them here!) but you know me, I can't resist Korean products!
When I was told that the Sioris Cleanse Me Softly Milk Cleanser could be suitable for me, I didn't hesitate long before ordering it!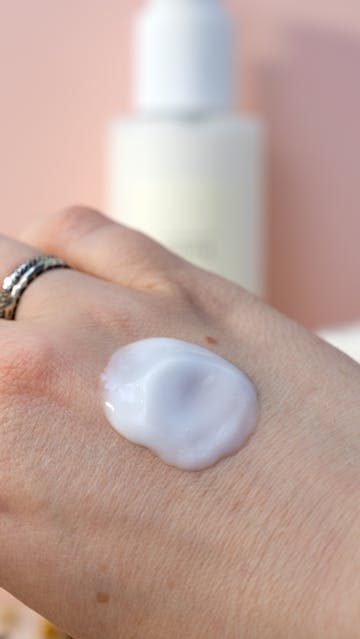 And indeed, this Sioris cleansing milk is a real joy!
I use it in the morning, it's one of the first things I do when I wake up and I love its super fluid and fresh texture that cleanses my skin while soothing it. Its fresh and aromatic fragrance is also very pleasant, it's slightly lemony, perfect for a zesty awakening!
It doesn't leave a greasy film at all like some of the richer milks I've tried in the past. After rinsing, the skin feels clean and fresh but still comfortable!
Its formula contains several moisturizing and soothing herbal extracts (the details of the ingredients are below), as well as a very gentle cleansing ingredient, the Lauryl Glucoside, which gently washes the skin. Its pH is acidic (5.7), which is ideal for the skin.
And believe me, I really need some gentle products right now with my retinization (= my skin is peeling slightly)!
In short, I thank those who recommended it to me, you were right, I like it a lot and I'm very happy to have it in my bathroom this summer!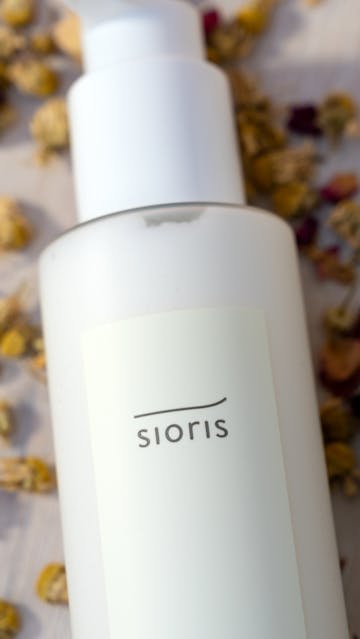 In conclusion:
An effective cleansing milk that does the job very gently and is also very pleasant to use… I'll definitely repurchase!
The Sioris Cleanse Me Softly Milk Cleanser retails between $20 and $35 for 200ml depending on the retailers.
Product Review in detail
Summary
Sioris Cleanse Me Softly Milk Cleanser
"Fresh and organic ingredients are the stars of this soothing milk cleanser/makeup remover by Sioris. This low pH, 100% natural cleanser is made with organic green plum water/ grapefruit water which is full of nutrients and minerals to invigorate skin. Macadamia seed oil which is high in antioxidants and fatty acids, along with natural plant-based surfactants, effectively cleanse while adding hydration. All the natural ingredients are sourced in Korea and harvested in peak season for optimal freshness and effectiveness. This cruelty-free Sioris Milk Cleanser is great for all skin types especially those with dry, dehydrated skin."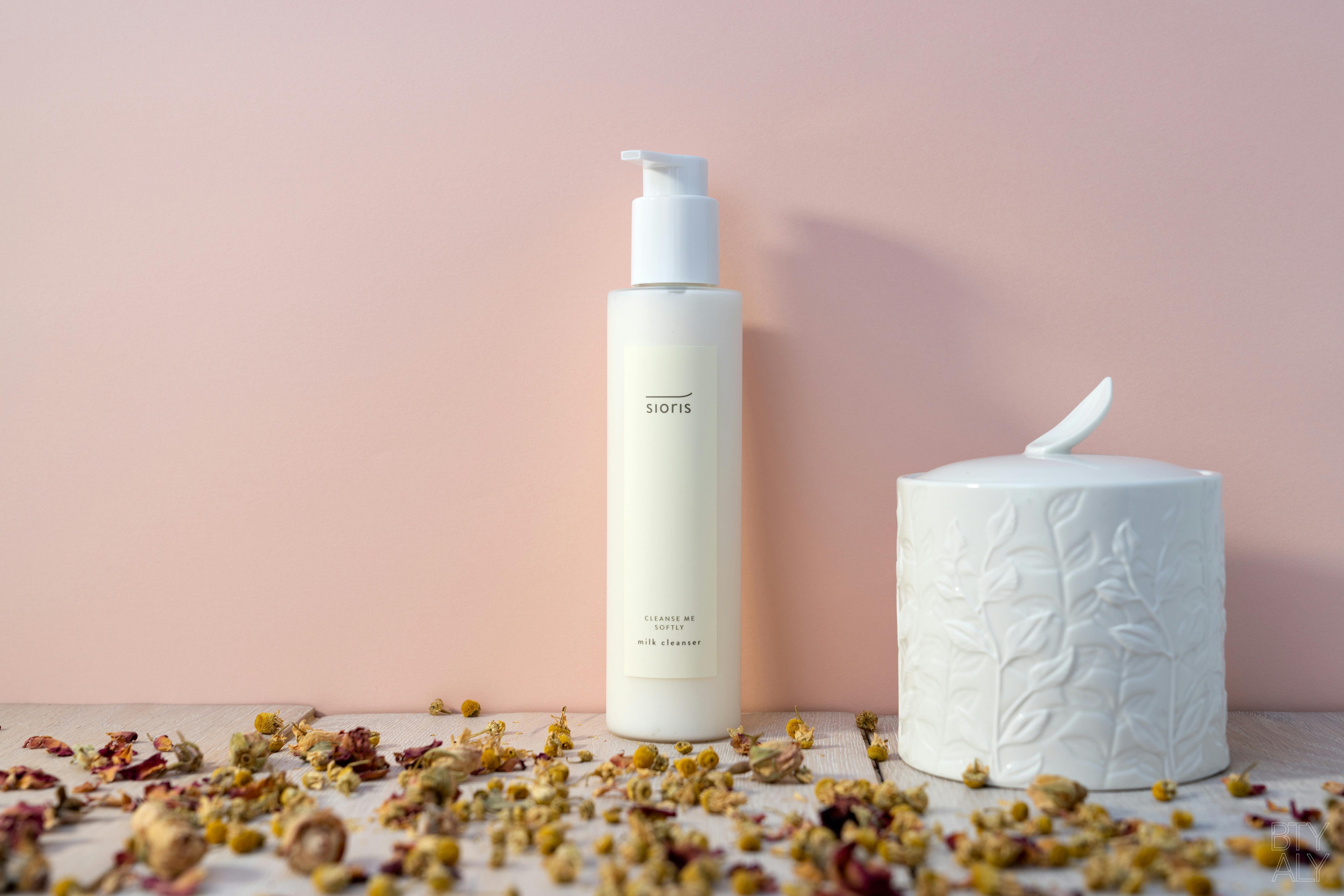 Recommendation
A+
A lovely soft milk cleanser!
Pros
- the fluid milky texture is really pleasant, soft and hugging,
- you can massage it into the skin without any issues,
- its aromatic perfume is very fresh and nice without being overpowering,
- this milk is super soft and doesn't sting my eyes at all (despite the presence of essential oils),
- it leaves the skin clean and fresh without stripping it,
- it's very easy to rinse, and leaves the skin comfortable and refreshed.
Cons
- it contains very few preservatives, it must be used quickly (within 6 months after opening).
product name
Cleanse Me Softly Milk Cleanser
packaging
A transparent plastic bottle with a pump.
fragrance
Aromatic and fresh, it contains essential oils. Personally, I like it very much.
texture
A fluid, easy-to-massage milk that is easy to rinse without leaving a greasy effect on the skin.
For Who
All skin types, all ages.
Concerns
To cleanse the face or to remove makeup (but only if it's a light one).
Method
I use the Sioris Cleanse Me Softly Milk Cleanser in the morning at the very beginning of my skincare routine (you can use it morning and evening if you want).
I take three pumps of product and apply it to my face and neck, on my dry skin. Its milky texture liquefies on contact with the skin and I can then gently massage it with my fingertips on my face and neck for one minute.
I then rinse it off with warm water. It's very easy to remove. I then pat my skin dry (not too dry!) and proceed with the rest of my morning skincare routine 🙂
Theoretically, it can also be used as a makeup remover, but in this case you need to use a little more product (4-5 pumps). I have tested it and I find it a little less effective than my usual makeup cleansing oils and balms. But I guess that if you just have a light makeup (which is rarely my case), it can work! 🙂
Key Ingredients
The formula of this milk is very natural, with a lot of plant extracts in a good position, such as:
– depending on the season, organic green plum water or organic grapefruit water, which serves as the basis for the formula. Both are rich in vitamins and minerals.
– Macadamia nut and sunflower oils for a nourishing effect,
– broccoli extract and Scutellaria root extract for an anti-oxidant effect,
– Aloe Vera and glycerin for a moisturizing effect,
– flavonoids, allantoin and licorice root for a soothing effect (the latter also acts on the complexion's radiance),
– and some repairing arginine.
The cleansing effect of this product is mainly due to Lauryl Glucoside, a very mild surfactant.
Ingredients
* Citrus Junos Fruit Water (61%) or *Prunus Mume Fruit Water (61%), Macadamia Integrifolia Seed Oil (10%), Water, Lauryl Glucoside, Glycerin, Isoamyl Laurate, Polyglyceryl-10 Oleate, Hydrogenated Vegetable Oil, Cetearyl Alcohol, Glyceryl Oleate, Cetearyl Olivate, Aloe Barbadensis Leaf Extract, Bioflavonoids, Brassica Oleracea Italica (Broccoli) Extract, Propanediol, Allantoin, Tocopherol, Sorbitan Olivate, Glyceryl Stearate Citrate, Xanthan Gum, Citric Acid, Arginine, p-Anisic Acid, Scutellaria Baicalensis Root Extract, Paeonia Suffruticosa Root Extract, Glycyrrhiza Glabra (Licorice) Root Extract, Helianthus Annuus (Sunflower) Seed Oil, Pelargonium Graveolens Flower Oil, Citrus Aurantium Dulcis (Orange) Peel Oil, Amyris Balsamifera Bark Oil, Anthemis Nobilis Flower Oil (* indicates organic farming).
Ingredients not included
– alcohol,
– mineral oil,
– silicone,
– SLS,
– soap,
– dyes.