Intro
I described my current morning skincare routine, with its skin goals, and the ingredients I prefer to use!
Well, my friends, it looks like everything can happen at the moment, apparently! I've finally decided to share my morning skincare routine (and maybe I'll even write a second article with my evening routine, let's go crazy!). Let me show you the skincare products I'm using at the moment!
Let me be very clear, it's not a "quarantine" routine, it's my usual routine.
Yes, it's very long. Yes, it's complicated. Yes, it's decadent (= there are a few very expensive products in it). But above all, it's very personalized, for my skin needs, and it also matches what I want for my skin at the moment.
I explained in great detail how I build my skincare routine a little over a year ago. If you missed the post, I'd really recommend taking a look at it, because today, I'm mainly going to show you the products I use, not go into details about why I chose them (well, actually, I did, but just a little bit 😉 ).
I thought I'd avoid sharing my routine too often, because it's not a tutorial. I know it's always tempting to reproduce someone's routine (I've done it a lot myself in the past) but it's rarely a good idea.
We all have different needs, a different skin type, access to different products and we even possibly live in a different climate. So what works for me may not necessarily work for you.
But still, I must admit that "routine" articles are always pleasant to read (for me anyway), and it may inspire you, especially for the order of the different steps 😊.
I decided to split this article in two parts, because otherwise it will be really long. I'll start with my current morning routine!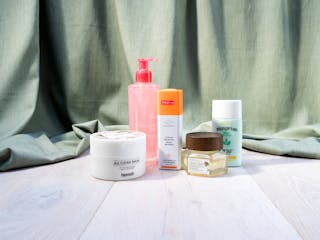 Skincare
How I build my skincare routine
Building a skincare routine tailor-made for your skin, your needs, your desires, and your budget… Not an easy task. In this article, I explain in detail how I do it!
Read more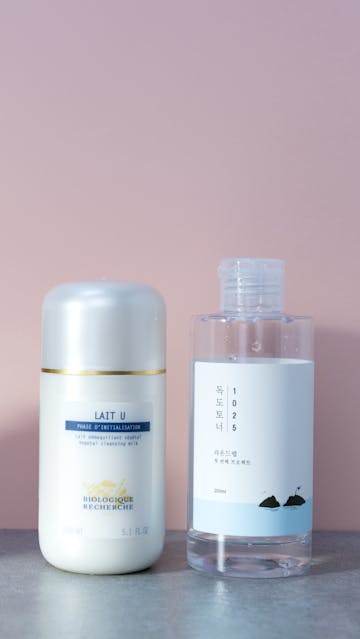 My morning skincare routine goals:
In the morning, my routine is pretty simple (I feel you're going to roast me when you see what I mean by "simple" 😆).
I focus on 3 main goals:
– gentle cleansing, an optional step for drier skin than mine, but for my combination skin, I don't want to skip it,
– hydration and comfort, to prevent my skin from feeling tight during the day,
– and the protection of my skin with anti-oxidant products to protect it against external aggressors, and a sunscreen of course.
If necessary, I add one or two specific products to soothe and purify my skin, depending on my needs at the time.
This routine fits well the needs of my dehydrated, combo, 40-year-old acne-prone skin, which is also a little more sensitive than usual at the moment.
My routine changes about every 3-4 months and I try to introduce new products one by one as much as possible.
This one is my winter routine, which I have been doing pretty much since early January.
In Dubai where I live, the winter is quite nice and warm, I don't especially need richer textures like when I used to live in France. So my winter routine would probably work very well for spring in a more temperate climate.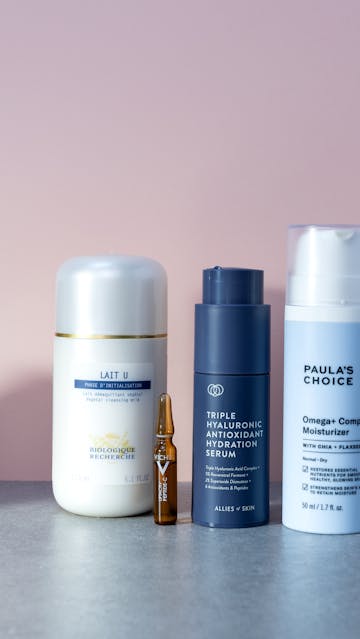 The favorite ingredients in my morning skincare routine:
Have you noticed? I'm not so much talking about products here, rather about ingredients. For me, it's what's inside the products that's the most important!
There are two categories:
– the non-negotiable, which are always part of my routine,
– and the optional ones, which I add or remove according to the current needs of my skin.
The essential ingredients of my morning routine, the non-negotiable ones:
– Moisturizing ingredients, to plump up my wrinkled morning skin and hydrate it deeply.
Examples: hyaluronic acid, beta-glucan, glycerin.
In general, these are ingredients that you can find in serums, and essences.
– Antioxidants, to protect my skin from daily aggressors and prevent accelerated ageing.
Examples: vitamin C (my favourite antioxidant), vitamin E, green tea, polyphenols, resveratrol, ferulic acid… There is a wide choice! I've talked about them in this Paula's Choice serum review, where I explain what they are and how they work.
Again, they're mostly in serums.
– Emollient ingredients to retain moisture in my skin and keep it comfortable all day long.
Examples: vegetable oils, squalane, fatty acids, vegetable butters, waxes, glycerides, ceramides, fatty alcohol, silicones…
You can find them in facial oils or moisturizers.
– and of course sunscreen, my best weapon of massive anti-aging prevention. I won't elaborate any further, I've already covered the topic at length and in depth here!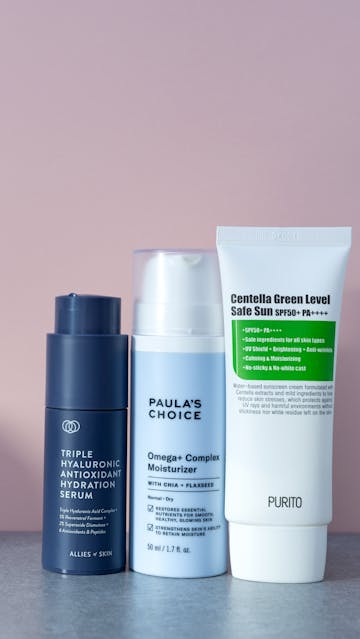 The optional ingredients, depending on my current skin needs:
– Soothing ingredients, which will calm my skin and soothe it right away.
Here are a few examples: Centella Asiatica, mugwort, azulene, chamomile, probiotics…
I prefer them in the form of serums or essences.
– Purifying, anti-bacterial ingredients, when my skin is having a bad breakout (it happens to me less and less, but at the moment, with the stress, I feel like I'm a teenager again 🙃).
Examples: propolis, azelaic acid, salicylic acid…
I generally use them in serums.
For those optional ingredients, I add them to my morning and my evening routine as well, it doesn't really matter.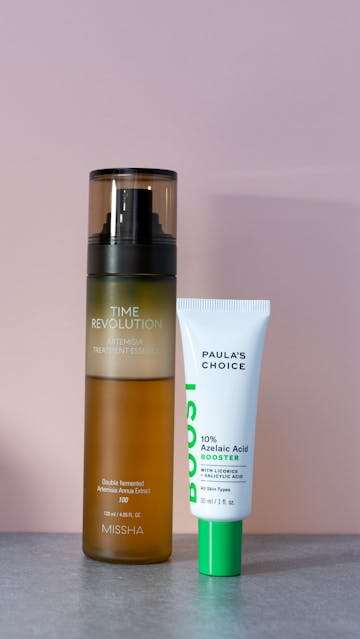 My morning skincare routine steps:
As you will see, I sometimes use several essences and serums in my morning routine. As I mentioned earlier, I like long and complex routines 😉
Clearly, I reiterate, this routine that is strictly personal to me, and works very well for my skin and its current needs. The idea here is to share it with you to show you what I'm using at the moment (I regularly get requests for this) but it's not a guide, nor a tutorial.
I've been practicing layering and long routines for many years now and my skin likes them a lot!
It consists of 10 to 12 steps.
a) Cleansing steps:
➢ Gentle cleanser
➢ Toner
b) Treatment and hydration steps:
➢ Vitamin C serum
➢ Moisturizing essence
➢ Soothing and purifying essence
➢ Moisturizing eye contour serum
➢ Moisturizing and anti-oxidant face serum
➢ Purifying treatment
c) Moisturizing steps:
➢ Nourishing facial oil
➢ Eye contour cream
➢ Moisturizing face day cream
d) Protection step:
➢ Sunscreen
Note:
I always apply my vitamin C serum first after the cleansing step because it's the most potent product in my morning routine. So I don't want to "dilute" it with my essences.
My morning skincare routine, the detail and the products:
I prefer creamy cleansers, often non-foaming in the morning, to stay soft and not strip my skin as soon as I wake up.
I am alternating at the moment between Paula's Choice Resist Optimal Results Hydrating Cleanser Cream Cleanser that I have already mentioned in several articles (including this one on how to cleanse your skin properly) and the Biologique Recherche Lait U Cleanser I just started.
Paula's Choice Resist Optimal Results Hydrating Cleanser:
A milky jelly texture, and it doesn't foam. Extremely soft, it contains some nice moisturizing agents (like glycerin, for example) and leaves the skin super comfortable. It has a pH of 6 and feels very nice on the skin, especially if you want a comfortable cleanser (but one that cleanses perfectly as well!). Ideal for dry and/or dehydrated skin types. I bought the big bottle, and put it in my shower 😉
Biologique Recherche Lait U Cleanser:
I just started this cleansing milk (it's been one or two weeks). At first, I thought I would use it to remove my makeup, but honestly, compared to a cleansing oil, it doesn't do the job as well (especially on my eyes). However, I find it very nice in the morning, it's very soft and it makes the skin feel fresh and comfortable.
Its texture is very creamy, it contains several nourishing ingredients such as wheat germ, jojoba extract, coconut, squalane and vitamin E. I use it on dry skin, massage it and then emulsify it with water before rinsing. It's especially nice to use for the season!
Note:
I use my micro-current device, if I have to use it that day, after I have cleansed my skin.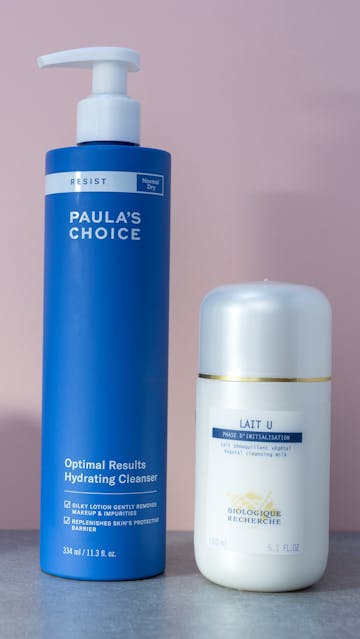 I am finishing the last few drops of my Dokdo Toner 1025 from the Korean brand ROUND LAB, which I reviewed in detail a few months ago. It's a very gentle enzymatic toner that I find pleasant to use in the morning for its soothing and refreshing effect.
I'm not sure I will continue this step once it's finished though. Even I find this toner a bit useless 😅
Last time I went to France, I bought another two boxes of Vichy LiftActiv Specialist Peptide-C Anti-Ageing Ampoules and I'm now using the third and final one!
I still find them as effective as ever (on radiance, in particular), and I also appreciate their anti-oxidant effect. My complete review if you want more info: Vichy LiftActiv Specialist Peptide-C Anti-Ageing Ampoules
Note:
I leave my vitamin C on for a few minutes to give it time to work on my skin. (More info on vitamin C, how I choose it and how I use it in my dedicated Focus article).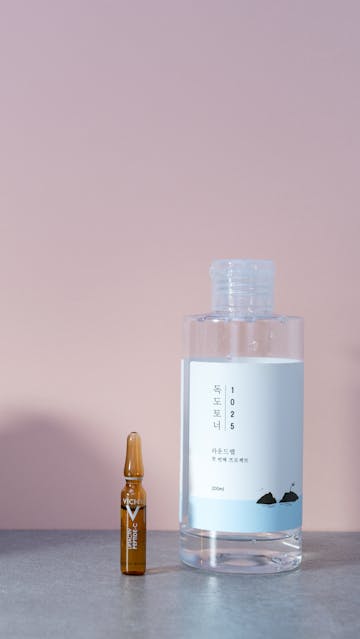 Unbelievable but true, I still have some Iunik Rose Galactomyces Essential Toner (at least for a few weeks), which I love to use in the morning because it's fresh, moisturizing and smells like rose… Yummy! 🥰
More details in my dedicated review: Iunik Rose Galactomyces Essential Toner
Soothing and purifying essence:
I repurchased the Missha Time Revolution Artemisia Treatment Essence, but in a mist version, and I love it!
It helps to calm my skin with mugwort extract and I love its herbal, medicinal scent!
You can find the review of my first bottle here: Missha Time Revolution Artemisia Treatment Essence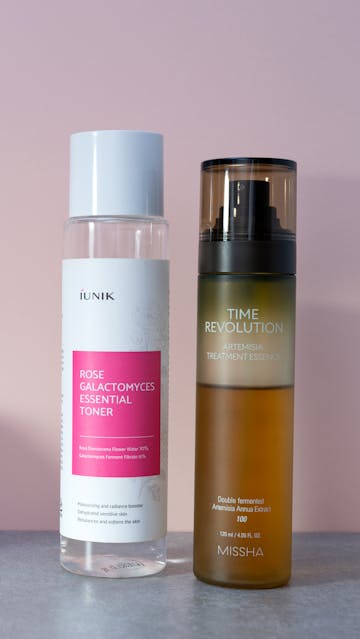 Moisturizing eye contour serum:
I'm on my second bottle. I still love my Mineral 89 Eyes from Vichy! It's just hydration, but sometimes that's all you want!
I talk more about it in my review: Vichy Mineral 89 Eyes
Moisturizing and anti-oxidant serum:
The Allies of Skin Triple Hyaluronic Antioxidant Hydration Serum is a good 3 in 1 product (moisturizing, anti-oxidant and with anti-aging peptides) but lacks a bit of sensoriality, and I find it quite expensive. In fact, I'm making a point of finishing it because of its price 😅
I'd be happy to move on (in a few days hopefully, I'm finally getting to the end).
I'll tell you more in my review: Allies of Skin Triple Hyaluronic Antioxidant Hydration Serum
I haven't had the opportunity to review this product yet, but I'll probably have the opportunity to tell you more about it. I have been using Paula's Choice 10% Azelaic Acid Booster for several weeks now to soothe my sensitive skin and smooth out my imperfections. I will have to explain why and how I decided to introduce it into my routine in more detail later on, in a dedicated review!
What I can already tell you is that I have seen encouraging results on my skin 😉.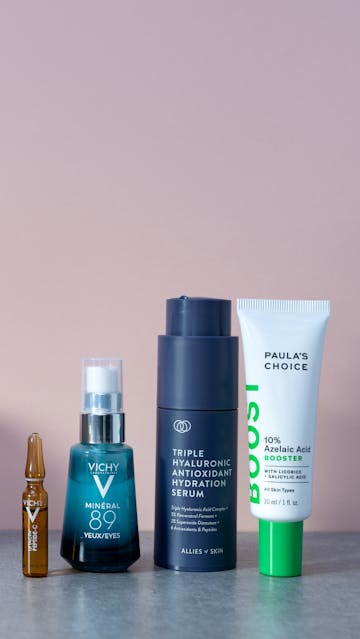 To seal in the moisture and keep my skin comfortable longer, I like to use a facial oil, especially when its texture is very fine and non-greasy!
This is the case of this "oil-in-serum" from Iunik, the Noni Light Oil Serum. It's a tad too light for me, as I mentioned in my review, but it's not unpleasant to use.
Note:
I prefer to apply my facial oil before my moisturizer because I find it absorbs better into my skin. When I do the opposite, I always feel like it stays on top of my skin, and I don't like the feeling. Regarding the effectiveness, it makes absolutely no difference. I know lots of people who like to do the opposite, it's really a question of individual preference.
I can't tell you how many bottles of Drunk Elephant C-Tango Multivitamin Eye Cream I've used… It's a product I really like, especially in the morning! It gives me a glow that I've never seen with other similar products, no doubt thanks to the 5 vitamin C derivatives it contains 🙂
My detailed review is here: Drunk Elephant C-Tango Multivitamin Eye Cream
So, I'm going to be secretive, but the one I'm currently using hasn't launched yet! I'll tell you about it when the time comes 😉
Before this one, I used Paula's Choice Omega + Complex moisturizer, which I love and is perfect for a long-lasting hydration and protection of the skin.
I raved about it it in my review a few weeks ago: Omega + Complex by Paula's Choice.
Note:
I usually wait about ten minutes before applying my sunscreen. That's when I use my LED mask.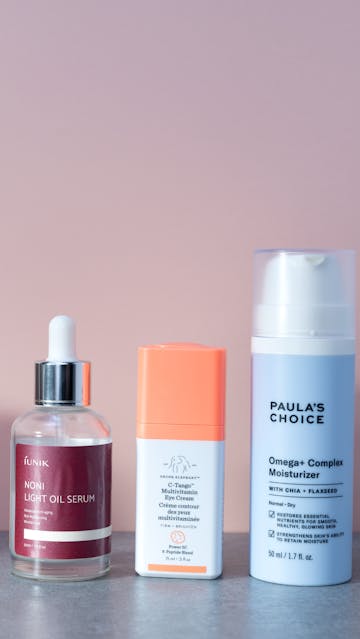 I never skip it, I say it over and over again! I have several sunscreen products that I use at the moment, depending on my mood or what I do during the day.
I talk about my favourites in my 2019 Sunscreen Guide. I discovered two other ones since then that are very nice, and I recently placed an order on YesStyle to try new ones, I will surely have the opportunity to tell you more about the new products in my future 2020 sunscreen guide 😉
Note:
I wait about 20 minutes before applying my makeup (when I do apply makeup) (at the moment with what is going on, it's not often… And you?). This way, it allows my sunscreen to form a more homogeneous and protective layer on my skin.
Usually, after all this, is the time I choose to eat my breakfast 🙂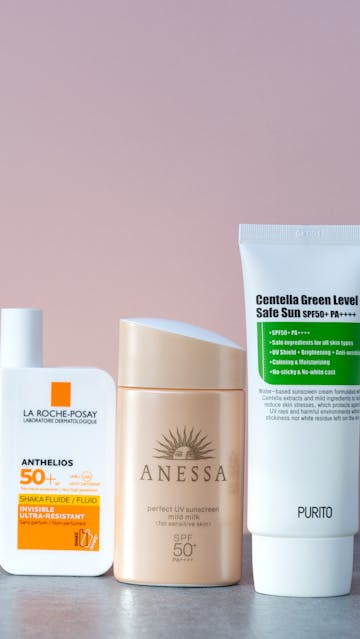 A few comments:
My routine usually takes me 10-15 minutes, but when I use my skin devices, it can take a lot longer (between 20 and 45 minutes). I love spending time taking care of my skin, so for me, it's not long at all, it's self-care 🥰
I generally apply my products from the lightest to the thickest texture, so that they are better and more deeply absorbed into my skin.
Most of the time, I change my products once they are empty so that I have a stable routine for as long as possible. I find it hard to believe that you can see if a product is effective after only a couple of weeks. You have to give them time (minimum one month).
If I really think a product isn't great for me, I try to use it at another time of day if possible, or in another way. And if it still doesn't work, I end up using it on the body (I have a very elaborate decolleté routine sometimes lol)
I don't like to throw away my products, especially since I usually spend a lot of time choosing them and I have paid for them!
In conclusion:
This was my morning routine!
In my next post, I'll introduce you to my evening skincare routine, and if you thought this one was complicated, wait until you see the evening routine (can't wait to hear your reactions 😆).