Intro
Discover my detailed review of Sisley's cult skincare product, the Black Rose Cream Mask. Is it worth the price?
Sisley Black Rose Cream Mask has been a cult product in the beauty press for years. It has received multiple awards of excellence from various prestigious magazines. As you can imagine, I really wanted to check it out to see if it was worth the hype!
Sisley Black Rose Cream Mask is not a new product, however, it was released in 2011.

I must admit that, usually, when a product is unanimously hyped up, it makes me a little suspicious…

It may be because of my contradictory spirit, who knows, but I still have the feeling that these kind of products may be a little bit overrated, especially when their price is very high, as it is the case for this Sisley mask.

But last time I was in France, I came across this mask and I realized it was cheaper there, plus I had a discount code so I finally took the plunge.

And I'm so glad I did, because it was a very pleasant surprise!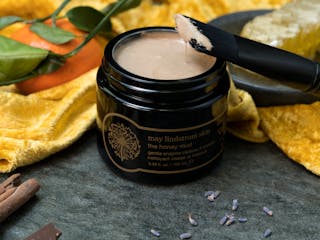 Skincare
Review: May Lindstrom The Honey Mud
I was quite surprised by May Lindstrom's The Honey Mud treatment. To be honest, I didn't expect to love it as much!
Read more
The brand Sisley:
Sisley is a French luxury cosmetics brand, created in 1976 by the d'Ornano family. The brand still belongs to them.
Sisley has always been a special brand for me, and for a long time!
When I started my beauty career in France and working with skincare products at beauty counters, it was my favorite brand! And not necessarily because of its prices, because I wasn't really into the other high-end brands (when I received a Chanel or Dior skincare cream to try as a work allowance, I usually gave it to the people around me).
No, what I liked most were the formulas. I was already sensitive to their concept of phytotherapy and aromatherapy. Of course, the fact that these formulas full of great natural extracts are also luxurious and very pleasant to use was definitely a plus!
Indeed, Sisley claims not only an excellent knowledge of plants, their composition and their effects on the skin, but also a true understanding of the skin's mechanisms (and in particular the aging process).
The brand very carefully selects the plant ingredients in their products. Moreover, Sisley doesn't release new products very often, like many of its competitors. It can take them years to develop a new formula!
I don't talk about it much, but I worked almost 10 years for a French cosmetics brand that had a very similar state of mind. It was also an independent brand, which did not belong to a large cosmetics group and took the time to develop their formulas.
So I can definitely understand and appreciate the savoir-faire of Sisley, and the aim to excellence in their products.
Even if I must admit that their prices seem quite OTT, and, as a result, I don't purchase their products that often!
But sometimes, as with the Black Rose Cream Mask, I have to try, just to check that the brand still deserves its reputation! ?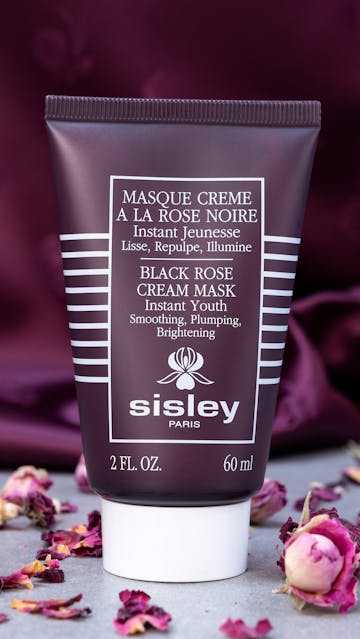 Product presentation: Sisley Black Rose Cream Mask
Sisley Black Rose Cream Mask is a moisturizing, anti-aging and revitalizing cream mask.
It contains many plant extracts in its formula and in particular 3 different rose extracts:
– Damascus Rose oil, for its balancing and repairing effect,
– a black rose extract, for its smoothing and antioxidant action,
– and also soothing rose essential oil.
The rest of the formula is composed of many emollient and repairing ingredients (shea butter, glycerin, squalane, vitamin B5…).
Sisley is not a "green" brand in case you're wondering. Even if the brand likes to highlight the plant extracts they use, there are quite a few conventional synthetic ingredients in the formulas (which is totally OK for me).
In this mask, for example, there is a little bit of silicone at the end of the ingredient list. Personally, it doesn't bother me at all and my skin didn't react badly to it anyway.
This mask is primarily aimed at dry, dehydrated and/or mature skin, but it's also great for damaged and devitalized skin (in winter, it works wonders!).
It's a creamy mask, which can be used when the skin feels the need or as a treatment (every evening for a few days, if the skin lacks of comfort a lot. It can be used instead (or even over) your night cream!
It comes in a squeezing purple plastic tube, not necessarily the most luxurious packaging but rather practical to use!
It contains 60ml of product (which is an average size).
My experience:
I have been using Sisley Black Rose Cream Mask for a few months now, about 2-3 evenings a week. I think it's going to last me around six months at this rate.
I use it mainly as a sleeping mask, at the end of my evening routine. I apply a fine layer over everything, and I let my skin absorb it. It usually replaces my night cream, but I can also add it on top of it, if I need more moisture.
Considering its price, there is no way in Hell I'm removing the excess from the skin as the brand recommends! I also categorically refuse to rinse off a $162 mask. At this price, it stays on my skin, thank you very much! ?
The texture is silky and gorgeous. It's both rich and lightweight, which sounds opposite but it really helps the skin to feel super comfortable without feeling heavy at all.
It smells divine, especially if you like rose perfume (I love it!). I know it's very subjective, but it's the type of product that really gives me a pure impression of luxury when I use it. It's like a princess's mask (or prince's mask, it also works great if you're a guy! 😉 ).
Even though my skin is combination and acne prone, I have never had any issues with this mask. I wake up in the morning with my skin as fresh as morning dew, and without any greasy residue! The mask is usually completely absorbed.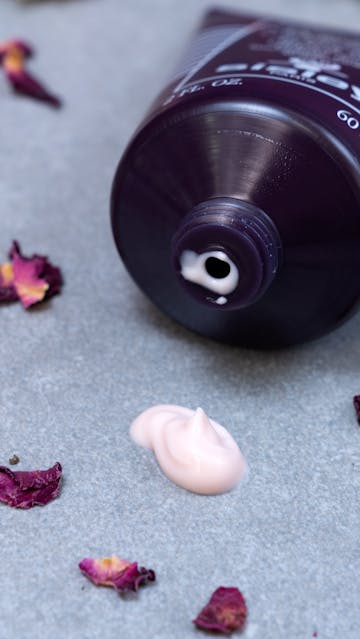 Result:
The first thing I notice when I wake up, after using the Sisley Black Rose Cream Mask the night before, is the softness of my skin. My skin feels very comfortable and calm.
I started to use more retinol in my skincare routine, so this type of product is definitely welcome because my skin is drier than usual right now! This feeling of comfort generally lasts all day long.
The action on the complexion's radiance is also undeniable. My skin looks more radiant after I used this mask.
I also tried it a morning, after a sleepless night. In addition to the delicious feeling of wrapping yourself in a cocoon of roses that is particularly appreciated when you haven't slept enough, I found the result on the radiance of my complexion very appreciable!
Value for money:
This product is extremely pricey, I'm not even going to try to justify it.
That's why I stubbornly refuse to rinse it or remove the excess, even if I use a thicker layer. I prefer to spend more time massaging it so that this precious cream stays into my skin!
That being said, I can definitely confirm that the experience is particularly pleasant and luxurious. The quality of the formula, the pleasure of using it (it smells so good!) and of course the result, make me not regret my skincare "investment".
I probably won't repurchase it right away, but occasionally, I'll be really happy to have it back in my routine!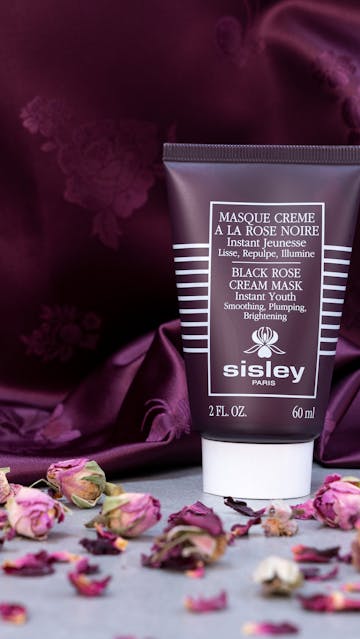 In short:
The Sisley Black Rose Cream Mask amply deserves its reputation as a "hero product" in my opinion. It's a real pleasure to use and my skin loves it, apparently!
I also love its versatility, it's nice to have a product that you can use in many ways according to your needs/ desires at the moment.
I also really like its formula, with its repairing ingredients but also nice natural plant extracts. And what can I say, I just love rose-based skincare products!
Yes, this mask is clearly a luxury product and if you can afford it, it makes you feel like a million bucks!
The Sisley Black Rose Cream Mask retails for $162, for 60ml.
Product Review in detail
Summary
Sisley Black Rose Cream Mask
"The Black Rose Cream Mask offers the skin the look of "instant youth". Rich in anti-aging ingredients (Black Rose, Padina pavonica, and Alkekengi calyx extracts), it immediately works on diminishing signs of fatigue and leaves the skin looking more youthful and energized.
It brings together three actions to restore a luminous complexion in just 10 to 15 minutes:
- a smoothing and plumping action
- a revitalizing action
- a softening and hydrating action
Deliciously scented with rose, this soft, creamy mask creates a moment of relaxation and pleasure.
Immediately hydrated and plumped, the skin appears visibly smoother, the signs of aging are minimized, and the face appears less fatigued. The complexion regains its radiance."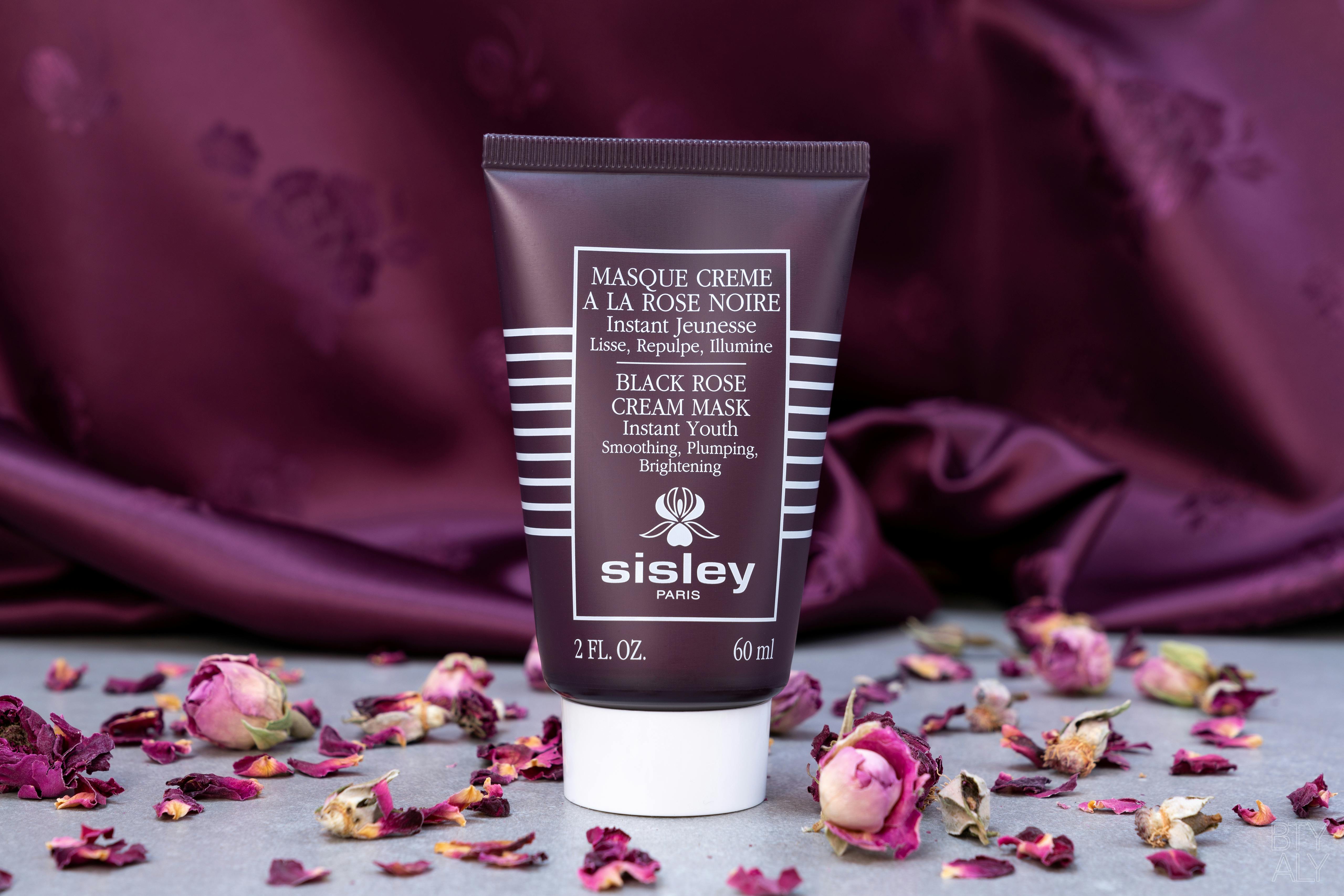 Recommendation
A
A true luxury! (with the price tag that goes with it)
Pros
- the formula rich in natural ingredients,
- the rose scent (I looove it!), so luxurious and enveloping (and it's a natural one),
- you can rinse it off (but for me, at this price, no way!) or keep it on the skin,
- it can replace your night cream and be used as a sleeping mask,
- it gives an immediate radiant and refreshing effect,
- it smoothes the fine dehydration lines,
- the skin feels comfortable in a few minutes,
- with its soothing effect, it helps to calm the skin right away,
- the comfortable feeling, the skin feels nourished but not heavy,
- the feeling of using a "true luxury product" (yes, I know, it's very subjective, but I feel like a million bucks when I'm using it).
Cons
- the squeezing tube packaging is very practical, but considering the price, I find it a little bit too "simple",
- it's extremely expensive (I usually buy it in France, because it's "cheaper" there and with a discount, or in a duty-free),
- it contains a little bit of silicone but I had zero problems of pimples or pores clogged with it.
product name
Black Rose Cream Mask
packaging
A squeezing plastic tube in a burgundy color, with a screw cap.
fragrance
A wonderful rose scent, which is not synthetic at all. A real pleasure if you are a rose fan!
texture
A silky, comfortable cream not heavy at all.
For Who
For all skin types, even sensitive skin and more particularly:
– dull skins, who need more radiance,
– tired skins,
– dry and/or dehydrated skins,
– mature skins.
Concerns
– tired skins,
– sensitive, damaged skins,
– wrinkles, fine lines,
– dullness,
– dryness.
Method
You can use the Black Rose Cream Mask as a classic moisturizing mask, which you apply to clean skin (ideally exfoliated beforehand) in a thick layer. You leave it for 10-15 minutes and you just remove the excess with a tissue or you can also rinse it if you prefer.
Personally, I prefer to use it as a sleeping mask.
So I apply it on my face and neck at the end of my evening routine, in a medium layer and after 10-15 minutes, I just massage the excess (usually I don't have much left) and sleep with it!
Key Ingredients
There are many interesting ingredients in this mask! Here are the main ones:
– shea butter that nourishes, repairs, soothes, softens and protects the skin,
– moisturizing vegetable glycerin,
– emollient and moisturizing squalane,
– Pro-Vitamin B5 (panthenol) which softens and hydrates,
– Damascus Rose oil to soothe, balance and moisturize,
– Black Rose extract: smoothing, anti-aging and anti-oxidant,
– Alkekenge Calyx extract: an antioxidant, which stimulates the synthesis of collagen fibers,
– Padina Pavonica which promotes the synthesis of glycosaminoglycans (for an effect on skin tone),
– White Bouillon extract that protects and soothes,
– Red Vine extract that restores radiance,
– some anti-oxidant and soothing Chlorella extract,
– antioxidant Vitamin E acetate,
– stimulating Geranium essential oil,
– soothing Rose and Magnolia essential oils.
Ingredients
water/eau (aqua), butyrospermum parkii (shea) butter, glycerin, hydroxyethyl acrylate/sodium acryloyldimethyl taurate copolymer, squalane, butylene glycol, tocopheryl acetate, panthenol, physalis alkekengi calyx extract, verbascum thapsus extract, algae extract, rose extract, vitis vinifera (grape) leaf extract, padina pavonica thallus extract, michelia alba leaf oil, pelargonium graveolens oil, rosa damascena flower oil, simmondsia chinensis (jojoba) seed oil, glyceryl stearate, peg-100 stearate, ethylhexylglycerin, pentylene glycol, polysorbate 60, sorbitan isostearate, disodium edta, citric acid, sodium hydroxide, peg-12 dimethicone, phenoxyethanol, sodium benzoate, potassium sorbate, bht, iron oxides (ci 77491), linalool, citronellol, limonene. il#3a
Ingredients not included
– alcohol,
– mineral oil,
– synthetic perfume,
– parabens.