Intro
My test and thoughts about the cult favorite moisture barrier repairing treatment, Liquid Gold by the US indie skincare brand Stratia.
Is your skin dehydrated, sensitive, uncomfortable, in short, completely unbalanced and your natural moisture barrier is compromised? Well, first of all, it happens to the best of us, and second, the following product review might interest you. Today, let's have a look at the cult favorite skincare treatment for damaged skin, Stratia Liquid Gold!
I was expecting a bumpy road when I started tretinoin, but I think you have to experience it to realize how bumpy it can get! It can take time to adjust your skin to this ingredient, which is known to be very effective, but also very strong…
I'm almost 6 months into the treatment and I'm in the " tough " part of the treatment ( I think, but there might still be a long way to go!
I am trying to slowly increase the frequency of my application and in a few months, I will also try to increase the concentration of tretinoin (if my doctor is OK of course, remember it's a prescribed medication).
In short, all this to say that this adjustment phase is still a little complicated for my skin! It peels, it's quickly irritated and I even have breakouts because of the irritation…
Add to that the fact that we all have to wear a mask at the moment (which also causes a lot of skin irritation and breakouts aka "mascne"), and you'll have the whole picture!
If you have sensitive skin, it's your everyday life and I definitely feel for you! In my case, it means that my skin barrier, which is usually rather robust, is suffering at the moment. That's why I'm looking for treatments that can restore my skin's health and strength!
And that's exactly what the Liquid Gold treatment from the US indie skincare brand Stratia is all about. So I tried it and these are my thoughts!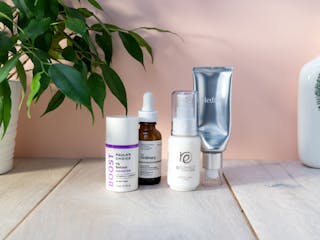 Skincare
How do I use retinol effectively?
Now that the theory about retinol is out of the way, let's move on to the practical side of things, shall we? In this article, I'll tell you more about my experience with retinoids and I'll also share some tips that have helped me to optimize their usage in my routine without messing up my skin!
Read more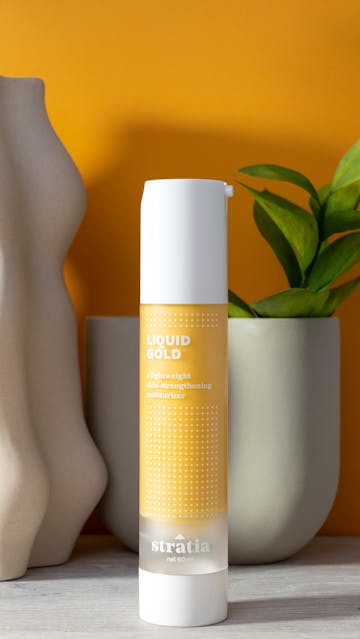 Stratia Liquid Gold, product presentation:
I've been wanting to try this brand for so long!
Stratia was created recently (2016 or 2017), but the brand gained an excellent reputation amongst the "skincare community" on social media from the very beginning.
It was founded by Alli Reed, a young American cosmetic chemist. And the approach of the brand is everything I like: super well designed formulas, focused on effectiveness above all, with no frills and at very decent prices.
Less marketing, more well-made formulas, what's not to love?
The ingredients are carefully chosen, and hallelujah, no "clean" or "green" marketing campaigns like nearly every other skincare launch from the last 5 years.
Stratia mixes natural and synthetic ingredients without making a fuss. And to preserve the formulas, efficiency and common sense prevails so they use good old parabens (when I saw them in the list, I almost teared up a little with joy 😅. Finally, a brand that is brave enough to resist the "clean" misinformation about them!).
The Liquid Gold treatment is the first product that Alli Reed created, and to this day, it is still the brand's best-seller.
I call it treatment because it's really quite a unique product. It can be used as a serum (that's what I do) but also as a moisturizer if you prefer.
There's a lot of talk these days about the skin's moisture barrier, which is a kind of mixture of fatty substances located in the upper layers of the skin that allows it to better retain moisture.
When the skin is dry, sensitive or very dehydrated, this barrier function is no longer ensured. This famous "barrier" is not even, not strong enough and the skin loses its moisture much faster.
The formula of Liquid Gold allows to restore this barrier thanks to its "magic" trio of ingredients: ceramides + cholesterol + fatty acids, the three main ingredients of the moisture barrier of our skin.
This trio allows to repair the epidermis intensely, without greasing, and the skin tolerates it perfectly (since they are ingredients that it contains naturally). Among the ceramides it contains is phytosphingosine, which also has anti-bacterial properties, perfect for acne-prone skin (and mascne!)!
Liquid Gold also contains 4% niacinamide, for its anti-aging effect and radiance!
In short, it's a really great formula that suits my skin needs perfectly at the moment!
Stratia Liquid Gold, my experience:
When I started to realize that tretinoin was messing up my skin, I started looking for SOS treatments, to try to reduce the drying effect of the treatment.
By doing some research, I quickly realized that ceramides would probably be my best allies, but if in addition they were combined with essential fatty acids and cholesterol, it was just the perfect combo!
And since I've been eyeing Stratia products for a long time, this was the perfect opportunity and I placed an order for Liquid Gold on their website at the end of spring.
I started using Liquid Gold a little later, mid-August. I had tried other products that were a bit similar but I didn't find them strong enough (sorry, NIOD Modulating Glucosides, you're too lightweight for me right now :/ ).
I've been using Liquid Gold now for a good month and even if the smell is a bit strange, I'm enjoying it more and more!
It does the job, it really helps my skin to cope with tret and it soothes it very quickly. I'm wearing the famous respiratory mask (#2020, great year, really…) more often these days, and I find that it also helps to reduce the famous "maskne" breakouts.
I use it more in the evening, I particularly appreciate its repairing and comforting effect at the end of the day.
Its texture is rich but my skin absorbs it without trouble and it leaves it super soothed. I still use a night cream on top of it or even a sleeping mask but if my skin was still combo, the Liquid Gold treatment could very well be used as my night moisturizer!
The bottle is 60ml, so it will last me a while, and I will probably repurchase!
If your skin is very sensitive, or even sensitized, I definitely think that this "SOS" treatment could be really interesting for you!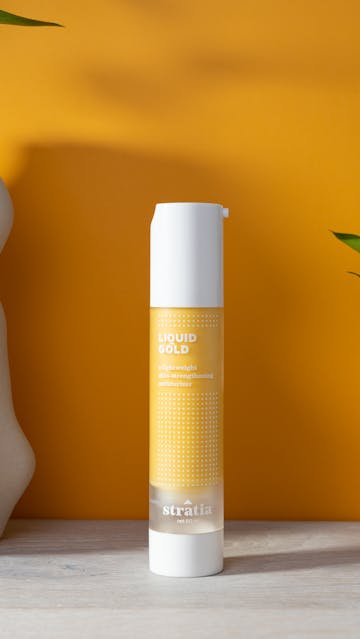 In conclusion:
The reputation of Liquid Gold wasn't usurped! It's really as effective as everyone says it is and I totally understand why it has so many loyal fans!
I'm not sure if it will always be part of my routine for eternity however, but I will know what to use when my skin is suffering and needs a good healing treatment that works!
Since I think it will take a few more months for my skin to get used to tretinoin (I heard it takes at least a year; I'm only 5 months into it!), Liquid Gold will be around in my routine for a little while, I can already tell! And honestly? I'm OK with it 😉
Stratia Liquid Gold retails for $27 for 60ml.
Product Review in detail
Summary
Stratia Liquid Gold
"A lightweight but powerful moisturizer that heals, hydrates, strengthens, and soothes.
Liquid Gold is a one-stop skin-saving powerhouse that belongs in every skincare routine. It's formulated with ceramides, cholesterol, and fatty acids, the three main ingredients that make up your skin's moisture barrier. No matter what shape your skin is in, Liquid Gold keeps your face healthy, clear, and resilient."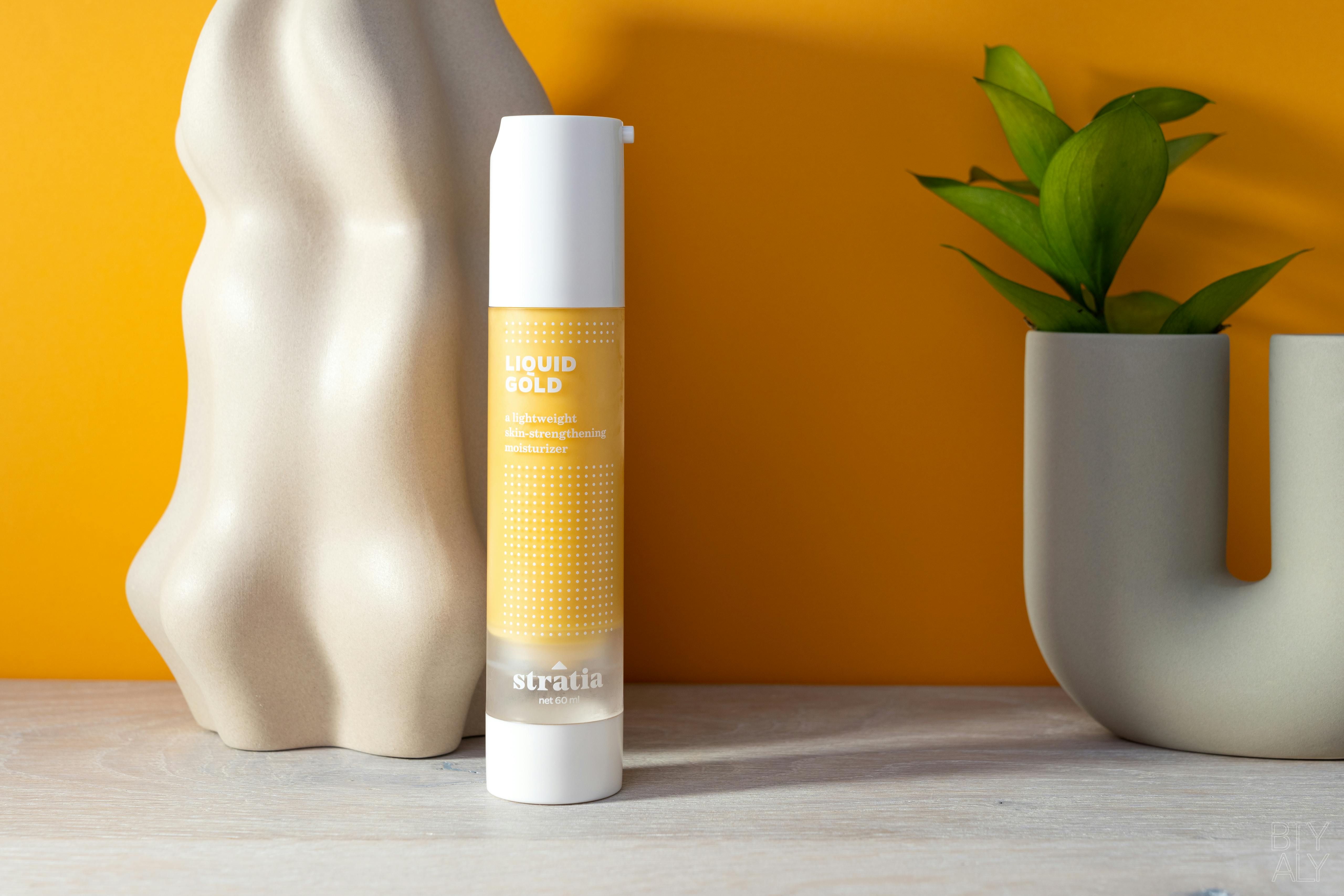 Recommendation
A
A great and effective healing product!
Pros
- a great formula, full of great skincare ingredients!
- a lovely texture that leaves skin comfortable but not oily or sticky,
- the almost immediate soothing effect, it's a great SOS product,
- the repairing effect on the skin barrier thanks to the trilogy ceramides + cholesterol + fatty acids (and no, I promise, it won't clog your pores!),
- it moisturizes and nourishes lightly, the skin feels comfortable,
- its antioxidant effect thanks to sea buckthorn and niacinamide,
- its effect on the radiance of the complexion,
- the formula is appropriate for the most sensitive and sensitized skins,
- the brand uses effective preservatives (thanks parabens!),
- the practical bottle, and that allows not to lose a drop of product,
- a good value for money (there is 60ml of product).
Cons
- the smell is not amazing, it smells like a raw potato!
- you have to order it on the brand's website, it isn't available elsewhere (they deliver internationally, though!).
packaging
A transparent plastic air-less pump bottle, very practical and simple.
fragrance
Fragrance-free but it smells a bit like raw potato (it's a bit weird but it doesn't linger!).
texture
An emulsion texture (like a fluid cream) that is rich but not greasy at all; it leaves the skin comfortable and not sticky.
For Who
– all skin types,
– all ages.
Concerns
– damaged skin,
– irritated skin,
– sensitive and/or sensitized skin,
– acne prone skin,
– dry and/or dehydrated skin,
– skin in need of comfort,
– dull skin,
– mature skin.
Method
The Stratia Liquid Gold treatment can be used morning and night (be careful if your skin is very pale, it may tend to tint the complexion very slightly). At the moment, I use it in the evening, and it's perfect to soothe my skin at the end of the day.
After applying my aqueous serum(s), I take the equivalent of 2 pumps and massage my face and neck with it for a few seconds. Once it's absorbed, I apply my night moisturizer on top.
Key Ingredients
I love this formula! It really has everything I need to repair my skin, like for example:
– the golden trio of ceramides + cholesterol + fatty acids, the three main ingredients that constitute our skin's moisture barrier. This trio allows to repair the skin intensely, without making it greasy, and the skin tolerates it perfectly (since they're ingredients that it contains naturally). Among the ceramides it contains, there's phytosphingosine, which also has anti-bacterial properties.
– 4% niacinamide which in this case helps stimulate the production of the skin's natural ceramides to boost its repair; it also has radiance, anti-oxidant and anti-aging properties.
– sea buckthorn oil gives the product its beautiful golden yellow color; it has antioxidant and repairing properties!
– rosehip oil rich in essential fatty acids, repairing and anti-oxidizing,
– squalane oil, nourishing,
– low molecular weight hyaluronic acid and glycerin, moisturizers,
– and soothing panthenol.
Ingredients
Water (Aqua), Propylene Glycol, Ethoxydiglycol, Niacinamide,Polyglyceryl-3 Methylglucose Distearate, Rosa Mosqueta (Rose) Hip Oil,Hippophae Rhamnoides (Sea Buckthorn) Seed Oil, Hippophae Rhamnoides (Sea Buckthorn) Fruit Oil, Panthenol, Dimethicone, Glycerin,Squalane (Olive-Derived), Cetyl Alcohol, Vaccinium Macrocarpon (Cranberry) Seed Oil, Tocopherol, Camellia Sinensis Leaf Extract,Ceramide NP, Ceramide AP, Ceramide Eop, Phytosphingosine, Cholesterol, Sodium Hyaluronate, Sodium Lauroyl Lactylate, Carbomer, Xanthan Gum, Diazolidinyl Urea, Methylparaben, Propylparaben, Disodium EDTA.
* Note that it contains parabens and that makes me so happy! Yay for parabens!
Ingredients not included
– mineral oil,
– fragrance,
– dye,
– alcohol.