Intro
My review and test of the firming and hydrating Peptide Moisturizer from the British brand The Inkey List.
Once again, The Inkey List is trending with its new peptide moisturizer, the Peptide Moisturizer!
Indeed, the British skincare brand often releases products that meet the latest ingredient trends! (I already mentioned their concept in my review of their Multi-Biotic moisturizer.)
However, peptides are not exactly newcomers to cosmetics. They have been added to skincare formulas for years, but until recently, they were rarely spoken of.
And then, in the last few years, marketing caught on to them and products with peptides have been on the rise!
I've already mentioned them in several of my posts, peptides are tiny molecules made up of amino acids, which are protein precursors, and act on the skin as a trigger to provoke specific reactions.
Basically, they can mimic the signals from the brain sent to the epidermis via natural peptides. For example, some of them signal the skin to regenerate itself, or to stimulate the production of collagen and elastin; others will influence hydration, for example…
There are many different types of peptides! Generally speaking, however, they are expensive ingredients, but they have the characteristic of being effective at tiny concentrations. No need to use tons of them, which explains why they are often found at the very end of ingredient lists!
In this Peptide Moisturizer cream from The Inkey List, we'll see that peptides are really the star ingredients of the product! Let's take a closer look at this product.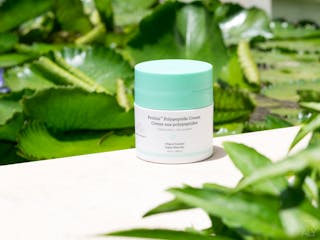 Skincare
Mini-review: Drunk Elephant Protini Polypeptides Cream
When Protini, an anti-aging cream from the American "clean" and innovative skincare brand Drunk Elephant was released, I was very excited. A face cream with an irreproachable composition, but packed with innovative high-tech anti-aging ingredients? Sign me in!
Read more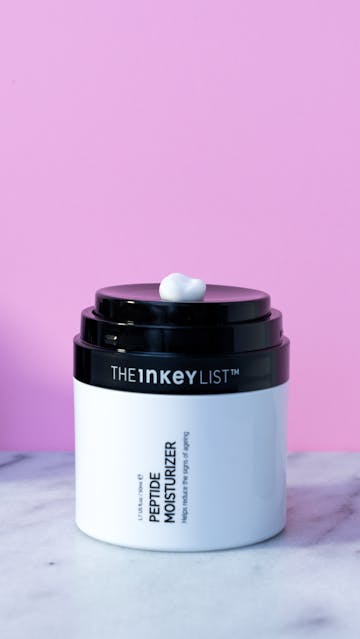 The Inkey List Peptide Moisturizer, my thoughts:
When I saw this Peptide Moisturizer cream from The Inkey List in Cult Beauty's new releases section a few months ago, I thought it reminded me of something… Not only with the formula, but with the packaging as well.
Indeed, many compare this product to Drunk Elephant Protini moisturizer, which I reviewed here almost 2 years ago.
So clearly, the concept is quite similar: in both cases, it's a moisturizing cream that contains peptides. But let's be clear from the start, this The Inkey list moisturizer is not really a dupe for Protini. Protini's formula is more complex (and consequently more complete) than The Inkey List cream.
The Inkey List Peptide Moisturizer contains only 5 key skincare ingredients:
– two moisturizing ingredients: glycerin and betaine,
– a nourishing ingredient: shea butter,
– and two anti-aging and repair peptides: Acetyl Hexapeptide-37, Pentapeptide-48.
The stars of the formula here are the two peptides:
– 2% royal epigenetic peptide (Pentapeptide-48): provides a nourishing effect to help reduce the appearance of fine lines and wrinkles,
– 1% hexapeptide solution (Acetyl Hexapeptide-37): provides a moisturizing and stimulating effect on collagen production.
The brand highlights them to claim a firming effect, but clearly, if you look at their properties more closely, these two peptides are more about hydration and moisture!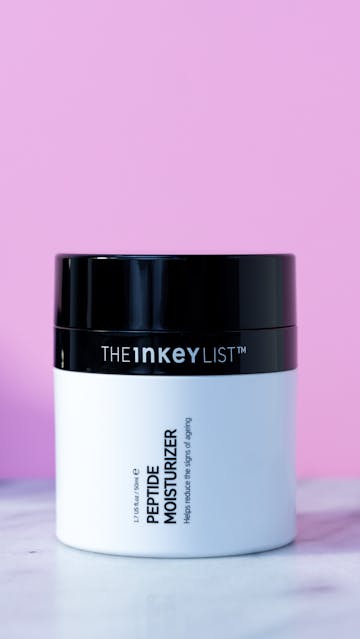 In short, considering the formula, The Inkey List Peptide Moisturizer is a relatively basic moisturizing and nourishing product.
But it's not necessarily a bad thing! Especially if you have a great routine with lots of other products rich in active ingredients and/or have a sensitive skin, simplicity in a product is great! 😉
But don't expect miracles with this product, especially on anti-aging! Just to be clear. Even if the brand claims effects on firmness, I don't really believe in it, especially in the short term. For me, this product is great to pair with other stronger treatments, like retinol or acids for example, but it definitely won't be the star of the show in your anti-aging program.
And if I'm being picky, I would have appreciated at least one antioxidant ingredient in the formula 😜.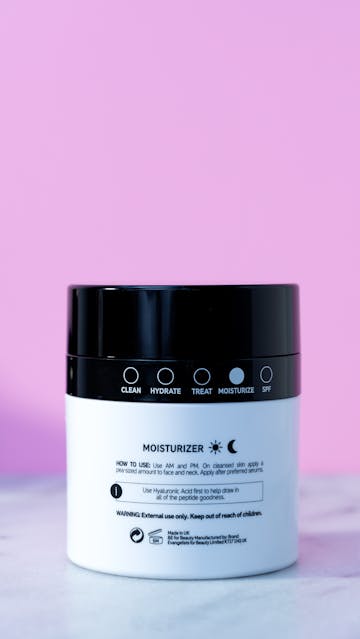 I've been using The Inkey List Peptide Moisturizer for just over 2 months now. I apply it in the morning (but it can be used in the morning and/or evening).
I'm a big fan of its super smart packaging: a closed jar, with just a small opening that delivers the right amount of cream by simply pressing on the top of the jar. Much more hygienic than all the classic jars with their formulas that are exposed to air and bacteria every day when you use them!
The texture is quite rich, but it doesn't leave me my skin feeling greasy at all; it absorbs quite quickly but leaves my skin comfortable all day long!
Well, clearly, right now in Dubai temperatures are peaking at 46 degrees with 80% humidity, so the texture is a bit too much for me and my combination skin. I'll probably have to switch to a super light gel moisturizer like I usually do this time of year! But so far, this Inkey list cream has done a splendid job for me!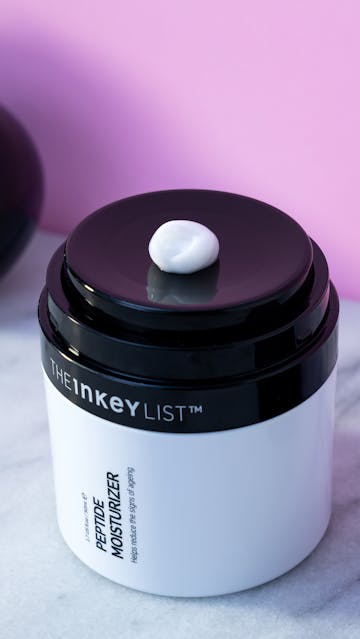 In conclusion:
In short, it's not necessarily the most exciting moisturizing cream formula I've seen, but it's still an excellent product, simple and effective. Also, big plus, it doesn't cost an arm & a leg, and it comes in a super practical packaging, too!
The Inkey List Peptide Moisturizer retails around $15 for 50ml.
Product Review in detail
Summary
The Inkey List Peptide Moisturizer
"A nurturing yet fast-absorbing daily moisturizer with a peptide duo that helps support natural collagen and hydrate skin."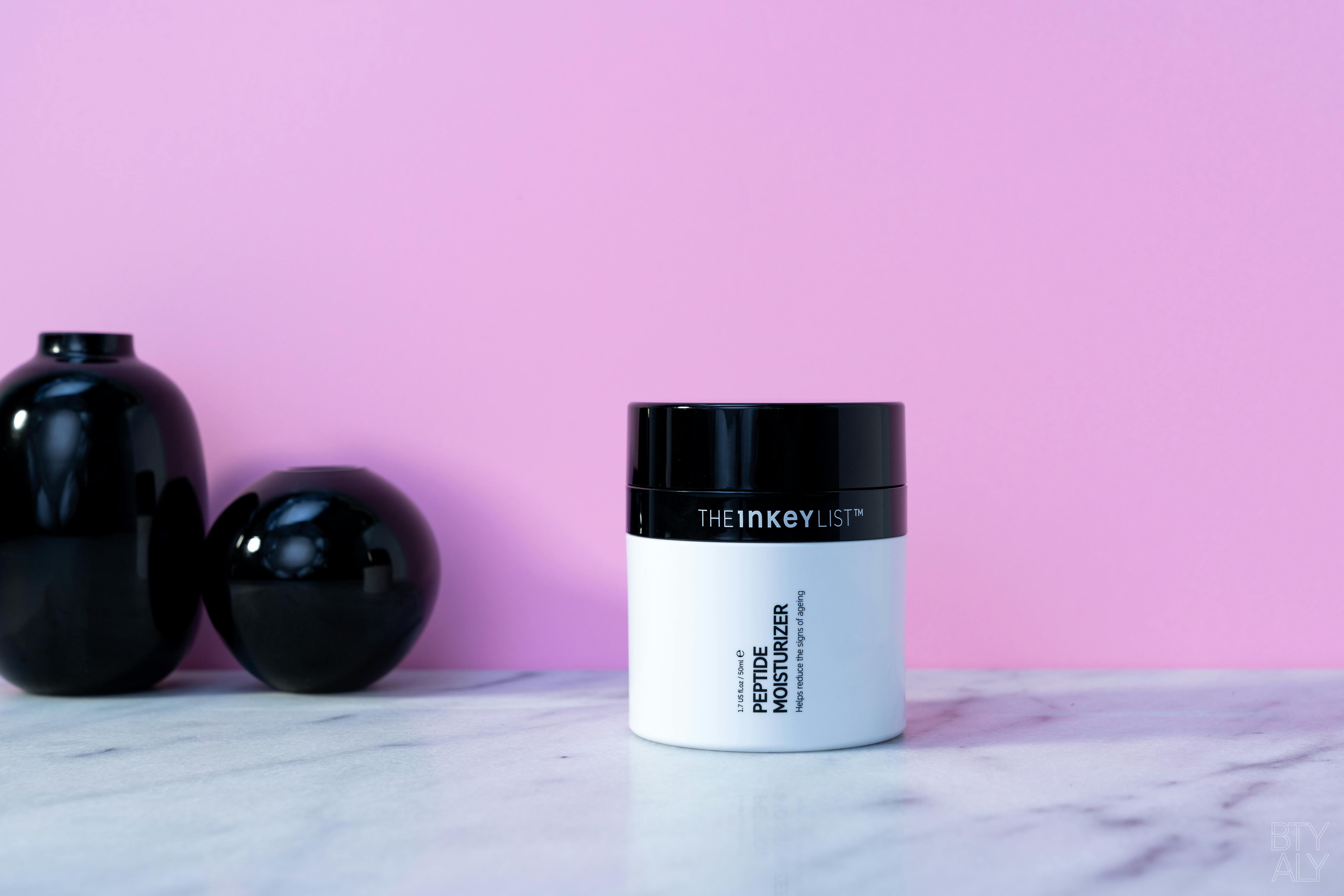 Recommendation
A-
A basic moisturizer that does the job.
Pros
- the simple formula, that gets to the point,
- I love this airless jar packaging, so practical and hygienic!
- the moisturizing and nourishing effect,
- the anti-aging and restorative peptides,
- the texture is very nice to use; it feels quite balmy, but it's absorbed very quickly, without leaving the skin feeling greasy,
- its very affordable price.
Cons
- the formula is a bit too simple for me, I would have liked some antioxidants in the formula if I have to be picky! ;)
product name
Peptide Moisturizer
brand name
The Inkey List
packaging
A jar of cream with an air-less packaging. The formula isn't exposed to air and bacteria. The jar is closed, with just a small opening that delivers the right dose of product by simple pressure.
texture
A rich, almost balmy texture that absorbs very quickly, without leaving the skin feeling greasy.
For Who
For all skin types but especially mature skins.
Concerns
– dehydration,
– dryness,
– lack of firmness,
– wrinkles, fine lines.
Method
I use it in the morning but you can use it morning and/or evening.
I use one to two pumps of product that I apply at the end of my routine, after my serum(s).
I wait a few minutes and then apply my sunscreen.
Key Ingredients
Clearly, the formula of this moisturizer is very basic/ simple!
It contains only 5 skincare key ingredients:
– two moisturizing ingredients: glycerin, betaine,
– a nourishing ingredient: shea butter,
– and two anti-aging and repair peptides: Acetyl Hexapeptide-37, Pentapeptide-48.
Ingredients
Aqua (Water/​Eau), Caprylic/​Capric Triglyceride, Glycerin, C12-15 Alkyl Benzoate, Cetearyl Alcohol, Glyceryl Stearate SE, Betaine, Butylene Glycol, Phenoxyethanol, Benzyl Alcohol, Carbomer, Butyrospermum Parkii (Shea) Butter, Sodium Stearoyl Glutamate, Sodium Hydroxide,Ethylhexylglycerin, Sodium Gluconate, Tocopheryl Acetate, Dehydroacetic Acid, Hydrogenated Lecithin, Phenethyl Alcohol, Acetyl Hexapeptide-37, Maltodextrin, Pentapeptide-48.
Ingredients not included
– alcohol,
– mineral oil,
– silicone,
– fragrance,
– dye.