Intro
Discover my mini-review of the anti-age Protini Polypeptides Cream, by the "clean" and innovative American skincare brand, Drunk Elephant.
When Protini, an anti-aging cream from the American "clean" and innovative skincare brand Drunk Elephant was released, I was very excited. It's a face cream with an irreproachable composition, but packed with innovative high-tech anti-aging ingredients? Sign me in!
Because to be honest, this trend with skincare products "X-free" is becoming very boring. I want my skincare products with all the ingredients, not without them! A very safe cosmetic is cool, but if it's not effective, I don't really see the point!

I ordered Protini when it was released (last January) and I used two jars since. They lasted me about 4 months each.

Protini gets its name from the star ingredients it contains, peptides, which are often talked about at the moment. They are very small molecules, precursors of proteins, acting on the skin as a trigger with a very precise reaction. In the case of Protini, the selected peptides stimulate the collagen production.

The product also contains extracts of pygmy waterlily stem cells that stimulate the skin cells renewal and are also an excellent source of antioxidants for the skin. Perfect cream for a good environmental protection!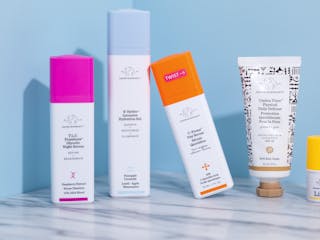 Brands
Focus on: Drunk Elephant, "clean" and innovative skincare
Drunk Elephant is a super trendy American skincare brand: very focused on natural ingredients but which doesn't leave aside neither the technology nor the chemical elements essential for a real effectiveness on the skin. "Clean skincare" sure, but that works!
Read more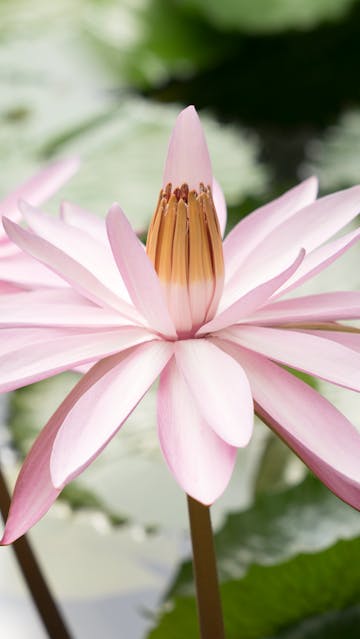 Mini-review:
I started introducing peptides into my skincare routine a year or two ago, usually in the form of serum.
I already talked about it in my review of Drunk Elephant's Lala Retro cream, I tend to turn to serums when I want a targeted and effective product. I'm a little more careless regarding my day or night creams. For me, face creams have a more protective role. They generally contain more "occlusive" ingredient in their formula which remains on the surface of the skin (because that's what you want with a face cream, protection!). For a deeper effect, serums with their usually more liquid texture are a better fit!
Protini has a gel-cream formula and the brand does not really promote it as an anti-aging occlusive face cream but rather as a product to add into your routine to boost it. The brand's creator, Tiffany Masterson, had the idea to create Protini because of the protein powders she added every morning to her breakfast smoothie!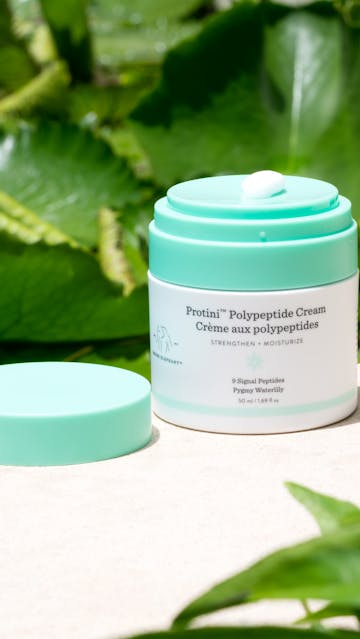 In conclusion:
Except when you have a combination skin like me, this principle doesn't really work well. Unless it's very very cold, I can't add another cream on top of Protini, my skin wouldn't absorb it. So I used Protini as a day cream, not really as a concentrate to add to my routine.
And maybe that's why Protini left me a little bit unsatisfied. I wasn't really expecting incredible results on my wrinkles (they're not very pronounced anyway) but I didn't find that this cream had more effect than my other peptide serums (that are not the same price). I know that peptides, like many other anti-aging cosmetic ingredients, require regular and long-term use. That's why I'm gonna keep using them in my routine. But I also think that the fact that Protini is in a cream format bothers me a little…
In short, Protini is not a bad product at all, and I think I'll probably repurchase it occasionally because I really enjoyed using it (its texture is a real joy, a super silky gel-cream!) but it hasn't become a must-have in my routine.
The Drunk Elephant Protini Polypeptides Cream retails around $68 for 50ml.
Product Review in detail
Summary
Drunk Elephant Protini Polypeptides Cream
"This breakthrough protein moisturizer combines an unprecedented array and concentration of signal peptides, growth factors, supportive amino acids and pygmy waterlily for visible and immediate improvement in the appearance of skin's tone, texture and firmness."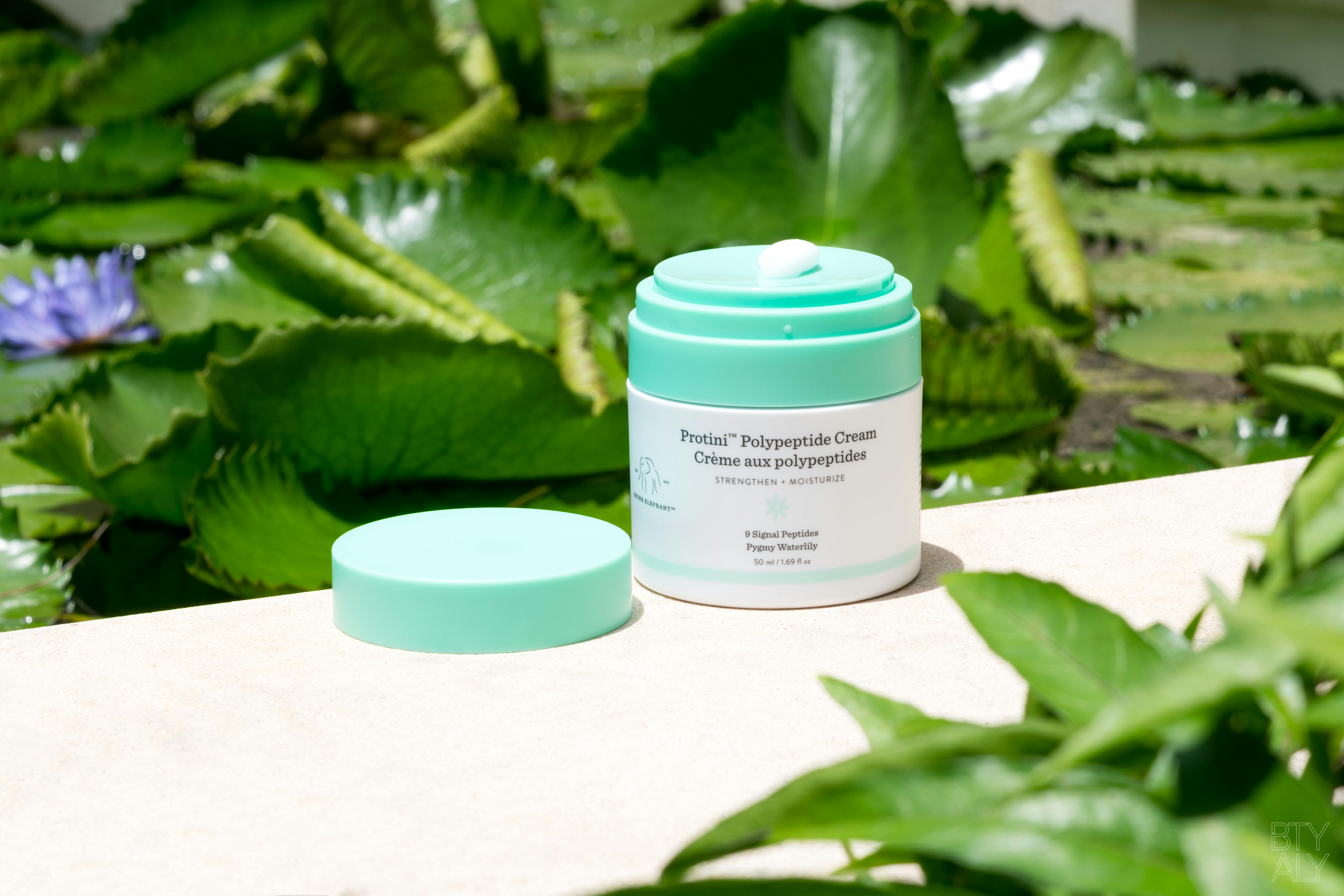 Pros
- the formula packed with good ingredients, with very few "filling" ingredients,
- the innovation of the formula with its high tech anti-aging ingredients,
- the really nice texture to use, this gel-cream is ultra silky and non-greasy,
- the semi-matte finish on the skin after application, perfect for a daytime use,
- the innovative, beautiful and super hygienic air-less pot packaging.
Cons
- even if I want to believe in the effectiveness of this product and I know that the ingredients it contains require a very long-term use to make a difference on the skin, the lack of visible results after more than 8 months of use tends to make me a little bit doubtful,
- for this type of product, with so much technology and powerful anti-aging ingredients in its formula, I prefer a serum format that has a better penetration, rather than a cream, which tends to stay more on the surface of the skin,
- the high-end price, even if the value for money is good.
product name
Protini Polypeptides Cream
brand name
Drunk Elephant
packaging
A jar of cream with an air-less packaging. The formula isn't exposed to air and bacteria. The jar is closed, with just a small opening that delivers the right dose of product by simple pressure.
fragrance
Fragrance-free.
texture
A very silky gel-cream, which is very easy to spreads and penetrates quickly into the skin.
For Who
For all skin types but especially mature skins.
Concerns
– anti-aging,
– dull skins, with an uneven texture,
– lack of firmness,
– wrinkles, fine lines.
Method
I use it in the morning but you can use it morning and/or evening.
I use half a pressure to 1 full pressure of product that I apply at the end of my routine, after my serum(s). I use it on its own but you can mix it with any of the other products in the Drunk Elephant range, even with the Lala Retro cream if you have very dry skin.
I wait a few minutes and then apply my sunscreen.
Key Ingredients
– Dicaprylyl carbonate:
A silicone-like ingredient that gives Protini a silky touch. It's derived from coconut oil. It enhances the penetration of other active ingredients contained in the product. And it's ecological because it's perfectly biodegradable, unlike silicones (or mineral oils)!
– Soybean folic acid ferment extract:
Folic acid or Vitamin B9 has a repairing action on the skin, especially on the damages caused by sun exposure.
– Pygmy waterlily stem cell extract:
Stem cells stimulate cell renewal and are also an excellent source of antioxidants and skin nutrients.
– 9 Signal Peptide complex (growth factors):
Peptides are widely used in anti-aging treatments. A peptide is a chain of amino acids, very small precursor protein molecules. The peptides used here act as a kind of "signal" that activates the stimulation of collagen synthesis. They have an action on sagging skin and wrinkles. They're very expensive molecules and Protini contains 9 different ones, which is quite impressive!
– Arginine:
An anti-wrinkle ingredient.
– Low molecular weight hyaluronic acid:
A deep moisturizing ingredient that helps to reduce the appearance of fine lines and wrinkles.
Ingredients
Water, Dicaprylyl Carbonate, Glycerin, Cetearyl Alcohol, Cetearyl Olivate, Sorbitan Olivate, Sclerocarya Birrea Seed Oil, Bacillus/Soybean/ Folic Acid Ferment Extract, Nymphaea Alba Root Extract, sh-Oligopeptide-1, sh-Oligopeptide-2, 
sh-Polypeptide-1, sh-Polypeptide-9, sh-Polypeptide-11, Copper Palmitoyl Heptapeptide-14
, Heptapeptide-15 Palmitate, Palmitoyl Tetrapeptide-7, Palmitoyl Tripeptide-1, Alanine, Arginine, Glycine, Histidine
, Isoleucine, Phenylalanine, Proline, Serine, Threonine, Valine, Acetyl Glutamine, Coconut Alkanes
, Coco-Caprylate/Caprate, Sodium Hyaluronate, Aspartic Acid, Linoleic Acid, Linolenic Acid, Lecithin, Butylene Glycol
, Polyvinyl Alcohol, Sodium Lactate, Sodium PCA, PCA, Sorbitan Isostearate, Carbomer
, Polysorbate 20
, Polysorbate 60, Lactic Acid/Glycolic Acid Copolymer, Hydroxyethyl Acrylate/Sodium Acryloyldimethyl Taurate Copolymer, Xanthan Gum, Isomalt, 1,2-Hexanediol, Caprylyl Glycol, Chlorphenesin, Phenoxyethanol, Tocopherol, Sodium Benzoate, Phenylpropanol, Glyceryl Caprylate, Symphytum Officinale Callus Culture Extract.
Ingredients not included
– animal oils, fats and musks,
– benzalkonium chloride,
– benzophenone and its derivatives,
– bisphenol A (BPA),
– butoxyethanol,
– BHA (butylated hydroxyanisole) and BHT (butylated hydroxytoluene),
– chemical sunscreens (including retinyl palmitate, oxybenzone and octyl methoxycinnamate),
coaltars (including aminophenol, diaminobenzene, phenylenediamine),
– essential oils,
– ethanolamines (MEA / DEA / TEA),
– formaldehyde,
– synthetic and natural flavors and aromas,
hydroquinone,
– methyl cellosolve,
– methylisothiazolinone and methylchloroisothiazolinone,
– mercury and thimerosal,
– oxybenzone,
– parabens,
– phthalates (DBP, DEHP, DEP and others),
– polyethylene glycol (PEG),
– resorcinol,
– sodium lauryl sulfate and sodium laureth sulfate (SLS and SLES)
– toluene,
– triclosan and triclocarban.