Intro
Read my detailed review of the Multi-Biotic moisturizer from the British brand The Inkey List, that contains a lot of "biotic" ingredients, great for the skin microbiome.
A moisturizing and soothing cream that does wonders for the skin's microbiome, with its trendy "biotic" ingredients. And you won't even break the bank! This is the promise of the British brand The Inkey List with its Multi-Biotic moisturizer.
I'm not gonna lie, I looked down on The Inkey List at first… When the brand launched two years ago, I thought their concept seemed so similar to The Ordinary's and I didn't really see what was novel about their products.
And then, driven by curiosity, I looked at it more closely and well, let's say that my opinion on this brand changed quite a bit.
So I ended up ordering some of their products to get a proper idea and I started with this cream with "biotic" ingredients.
Its 30ml small size seemed perfect for my travel kit this summer, and once I got back from vacation, I still used it at home. I already repurchased a new bottle since then!
I'll explain why I like this Multi-Biotic moisturizer, but before that, I want to tell you more about the brand The Inkey List! 🙂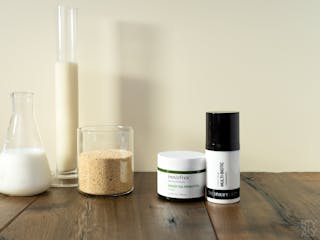 Ingredients
Focus on: microbiome and probiotics cosmetics
Bacteria in skincare products… This idea is a bit scary! However, at the moment, probiotic-based cosmetics are literally proliferating in the beauty industry. Today, let's talk about this trend, which is only just starting but is already very promising!
Read more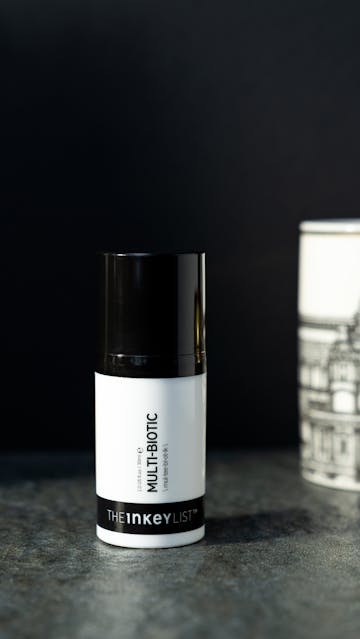 The Inkey List:
Created in 2017, the British brand The Inkey List has one main goal (OK maybe two, the first being to have the same success as the brand The Ordinary!): break through beauty jargon with a range that includes the most effective and renowned ingredients in the industry!
The name wasn't chosen at random, and refers to the INCI list with a play on the word "key". The Inkey List wants to give you the keys to a better understanding of the cosmetics!
This concept is emphasized by the very minimalist visual of the products (in black and white), with the name of the product and its function written like a dictionary definition. On the cardboard packaging, the key ingredients are "translated" in terms that are easier to understand, as a "beauty translator", which is the original idea of The Inkey List.
The brand highlights simple and short formulas, focused on one or a family of star ingredients. These ingredients can be renowned ones, such as retinol or hyaluronic acid for example, but also others that are less well known and more innovative.
And that's where I make a difference with The Ordinary. The Inkey List is for me a little more focused on the "trendy" and promising ingredients, while with Deciem (the company to which The Ordinary belongs), innovations are usually for their other brands (especially the most advanced in their catalogue, Niod).
In the case of The Inkey List, you can personalize your routine with products with known and effective ingredients, but you can also get to try a formula with the latest innovation in the cosmetic industry!
And it won't break the bank because the price of the products remains very affordable!
The Inkey List launches new products very regularly, which is something I really like (I'm addicted to new launches!).
When I started to take a closer look at the "biotic" ingredients trend, I was delighted to see that The Inkey List offered a moisturizer containing them, so I was able to try it at a lower cost!
My thoughts on the Multi-Biotic moisturizer below!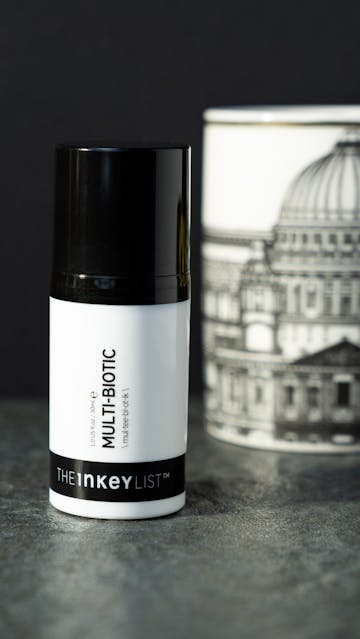 The Inkey List Multi-Biotic, my review:
I started to use the Multi-Biotic moisturizer at the end of my stay in Canada, in August, and once back in Dubai, I kept on using it because I really liked its light and fine texture.
It's ideal if, like me, you have combination skin and you are looking for a lightweight moisturizer, especially great during the day.
As its name suggests, it contains many "biotic" ingredients, pre-, pro- and post-biotics (it is therefore "multi" biotic).
The prebiotic used here is inulin, which helps to feed the good bacteria in the skin. Oat derivative is also a prebiotic ingredient, as it contains a lot of fibers that good bacteria particularly appreciate!
The 5% yogurt powder acts here as a probiotic in the formula and helps to promote the growth of good bacteria.
And finally, as post-biotic ingredients, hyaluronic acid and heptapeptide-7 are used in the formula for their moisturizing and soothing effects.
The Multi-Biotic cream also contains squalane and glycerin for the skin's comfort.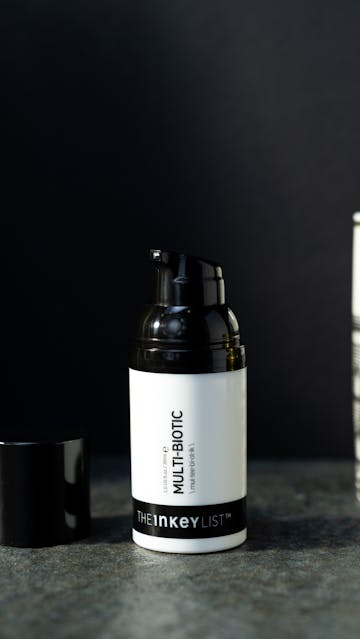 The bottle is smaller than average, only 30ml (which makes me think that the price is not so low after all, by the way…).
I used the Multi-Biotic moisturizer for about 2 months every morning. Despite its peculiar smell (it really smells like homemade yoghurt powder), I really appreciated it!
It's comfortable without being heavy, rather soothing and not greasy at all (if you have dry skin, it probably won't be enough for you, though).
I already repurchased, because I find it convenient to have it on hand, especially if I go on holiday somewhere .It will be perfect with its small size, and I already know that my skin likes it!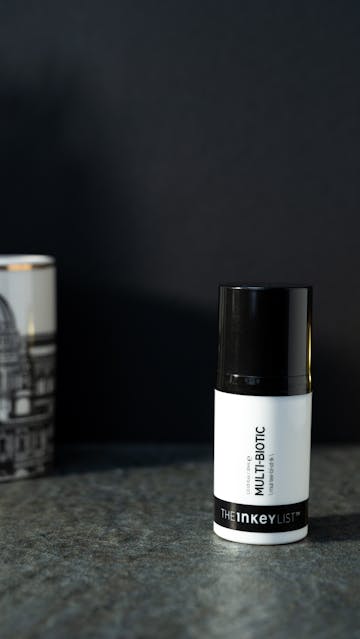 In conclusion:
I had a little trouble with the concept of The Inkey List at first, but I'm glad I looked further into it!
The Multi-Biotic cream is a moisturizer that does the job, and I must admit that my cosmetics nerdy self likes the idea of using "biotic" ingredients! 😉
Even if its small size means that the price may not be as low as it seems, it's still an affordable product, which is always a plus!
The Inkey List Multi-Biotic moisturizer retails between $13 and $18 for 30ml depending on the retailers.
Product Review in detail
Summary
The Inkey List Multi-Biotic
"A multi-biotic moisturizer (pre-pro and post) that helps to brighten, balance the skin pH level, and promote healthy skin."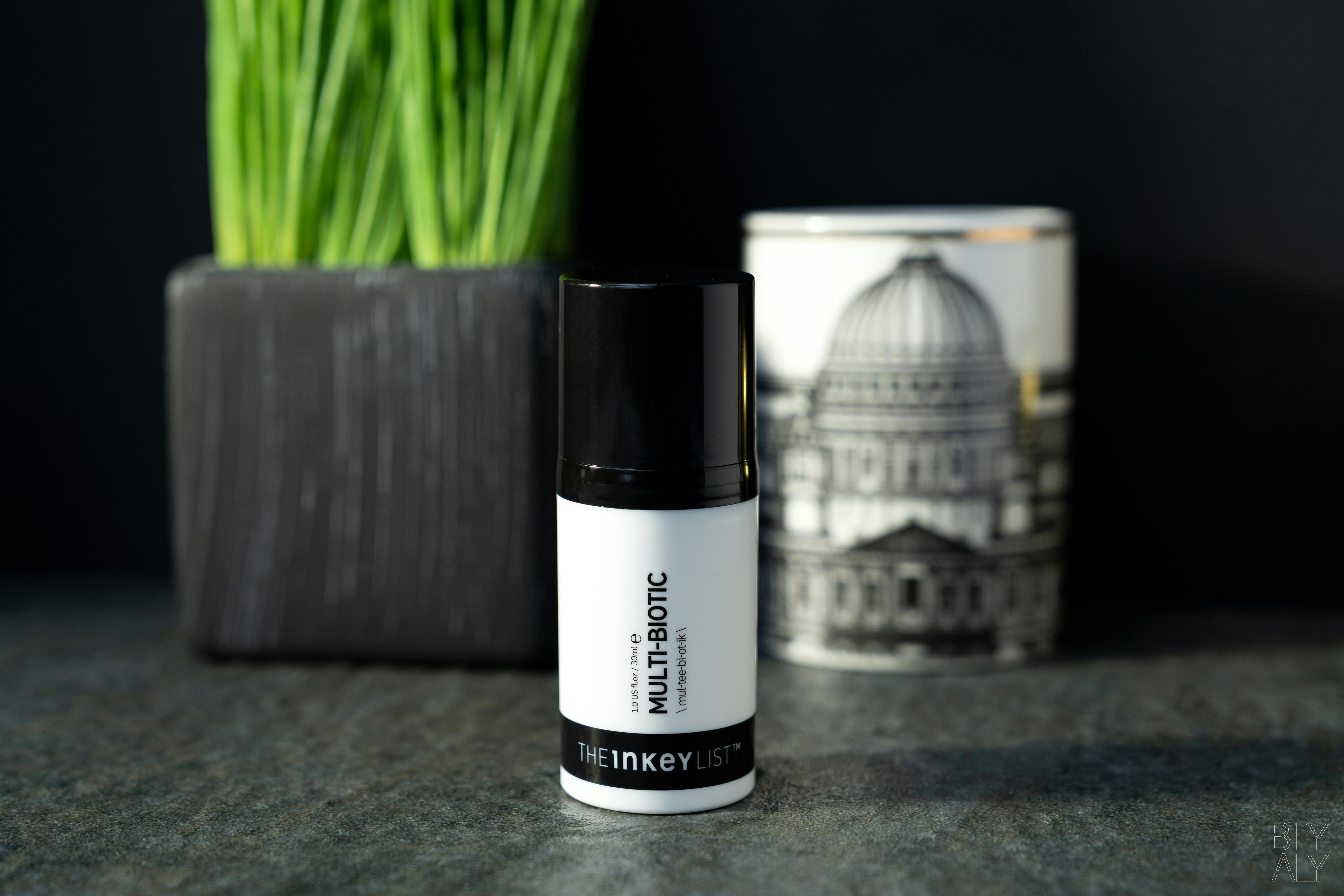 Pros
- a simple and effective formula, with interesting ingredients (biotics) and other great skincare ingredients,
- a simple and practical packaging (I love the pump),
- the moisturizing effect without heaviness,
- the light and quickly absorbed texture,
- the soothing effect, that I definitely appreciate at the moment,
- the brand is available at Sephora (so it's easily accessible).
Cons
- the smell of yoghurt powder is quiet overpowering at first, and not necessarily very pleasant (but I got used to it after a few days),
- if you have a drier skin type than mine, it will probably be too lightweight for you,
- its size, 30ml for a moisturizer, it's not much!
product name
Multi-Biotic
brand name
The Inkey List
packaging
A black and white plastic bottle with a pump.
fragrance
A strong yogurt powder scent.
texture
A lightweight cream, that is quickly absorbed.
For Who
– dehydrated skin (including combination to oily skin),
– dull skin,
– sensitive and/or sensitized skins.
Concerns
– lack of hydration,
– lack of radiance,
– redness, sensitivity.
Method
I use the Multi-Biotic moisturizer in the morning but you can use it morning and/or evening.
I use 2 pumps of product for my face and neck, which I apply at the end of my routine, after my serums.
I massage my face and neck for a few seconds until the cream is absorbed.
Key Ingredients
The formula is quite short and highlights several "biotic" ingredients (pre, pro and postbiotics) but not only:
– inulin, a natural fructose polysaccharide found in the roots and rhizomes of several plants, such as chicory. It's used in cosmetics for its prebiotic activity, so it reduces the growth of bad bacteria in favour of good microorganisms naturally present on the skin,
– an oat derivative for a soothing effect, and it also plays a prebiotic role
– Yogurt powder (or Yogurtene ®), a probiotic ingredient that, especially in combination with inulin, helps to rebalance the skin's bacterial flora and potentially reduce inflammation,
– as post-biotics (= ingredients that give the skin beneficial substances that a healthy microbiome would normally produce on its own): hyaluronic acid, heptapeptide-7 peptide and squalane,
– there is also a complex of water, glycerin and gallic acid, which the brand calls Brightenyl ®, supposed to have a unifying and radiant effect on the complexion.
Ingredients
Aqua (Water), Inulin, Glycerin, Isoamyl Laurate, Propanediol, Squalane, Cetearyl Olivate, Sorbitan Olivate, Avena Sativa (Oat) Kernel Oil, Phenoxyethanol, Yogurt Powder, Sodium Caproyl Prolinate, Carbomer, Isoamyl Cocoate, Benzyl Alcohol, Sodium Hyaluronate, Sodium Stearoyl Glutamate, Ethylhexylglycerin, Diglucosyl Gallic Acid, Trisodium Ethylenediamine Disuccinate, Dehydroacetic Acid Polysorbate 60, Dehydroacetic Acid, Citric Acid, Heptapeptide-7, Lecithin, Potassium Sorbate, Propanediol, Sodium Benzoate, Xanthan Gum, Sorbitan Isostearate.
Ingredients not included
– mineral oil,
– silicones,
– perfume,
– dyes.