Intro
What are Korean cushion foundations, who are they designed for, how to choose them, how to use them… Everything you want(ed) to know about Korean cushion foundations is in this post!
Cushion foundations… Still not very well known outside Asia, but I definitely believe they really deserve more attention! So today, let's take a closer look at what a cushion foundation is exactly, why (in all objectivity) the best of them are the Korean ones, who can use them (not only Korean people!), how to choose them and the best way to use them! I will tell you everything and I will also show you my small (lol) collection in today's post!
Like many Westerners, I first heard about K-Beauty with BB creams, those 3-in-1 makeup/skincare/sunscreen with high coverage, base products. Popular in Korea since the 90s, they arrived elsewhere 20 years later and are now a classic face makeup product.
I don't know if cushions will follow the same path, but I wouldn't be surprised! It would not be the first time that K-Beauty transforms a niche product for Korean customers into a cult product appreciated worldwide (sheet-masks, essences, night masks… there are many examples!)
This lightweight and spongy liquid foundation in a compact format is still not very well known in the West, but cushion foundations have been a leading product in Korea for several years now (almost 10 years!). Recently, it has taken China by storm, where Korean and Western brands are releasing all their most popular liquid foundations in cushion format.
Western brands have already tried with more or less success to launch their own versions in Europe and the US (4 or 5 years ago) but as often, I think it's a matter of good timing and that it was maybe a bit premature.
Anyway, personally, I'm a self-proclaimed cushion-addict, and it would be nice if this format was more accessible and appropriately developed (= with more shades) in all markets!
In the meantime, just in case the cushion craze does happen, I thought it would be nice to give you an introduction to cushion foundations. That way, you'll be in the know before anyone else 😉
In this article, I'll mostly talk about Korean cushions, which are the ones I'm most familiar with and have experimented with the most 🙂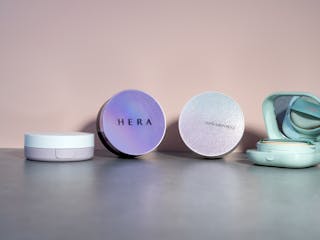 Makeup
The best Korean cushion foundations
Now that you've all seen my "small " collection of cushion foundations, I have no choice but to tell you a little more about them! What are my favorites, why do I like them and what do they look like in action on my skin. So here's my best-of of Korean cushion foundations, 2021 edition!
Read more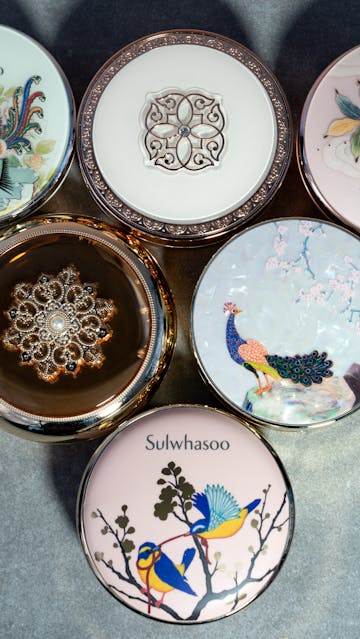 History of cushion technology:
Yes, we're going to get a little technical because cushion foundations are a Korean cosmetic technology gem and I find their history absolutely fascinating! And it will also help you to understand what a cushion is, if cushions are new to you 🙂
Cushion foundations are a relatively new product and they were created by the giant Korean cosmetic group Amorepacific.
Amorepacific started research for manufacturing its first cushion foundation in 2007.
The group's original goal was to develop a multifunctional sunscreen product that would be easier to transport and apply (and reapply) during the day than conventional products in tubes, jars or pump bottles.
Important notice:
I've said this many times before, but a foundation with SPF, like a cushion for example, is not a sufficient sun protection if you're using it alone. The amount you're using is not enough. However, it's a very convenient product to reapply some protection during the day, as a touch-up, on top of the sunscreen you applied in the morning 🙂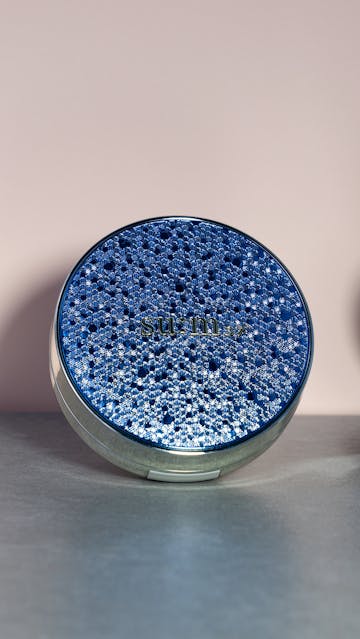 What is a cushion foundation?

A cushion foundation is a 3 in 1 hybrid product: sun protection, foundation, and skin care product in the same formula. All that in a compact, practical, easy to carry packaging.
The idea of the sponge, which is the famous "cushion", came from the need to keep a liquid and lightweight formula, that could be easy to carry. They wanted to create something different from the conventional compact cream foundation, that was already well known and used, but that left a finish that was too thick and heavy for the desired effect.
The cushion foundation is a logical continuation of the BB cream trend and it was first marketed in Korea as its lightweight version, ideal to use during the summer (also because you can easily reapply it to keep a good sun protection throughout the day).
But it soon became clear to marketers that Korean users preferred compact cushions to BB creams because of their ease of use and their light, natural, glowy coverage.
Over the years, the appearance of compacts has become important as well; some Korean cushions are real collector's items, especially the super pretty limited editions!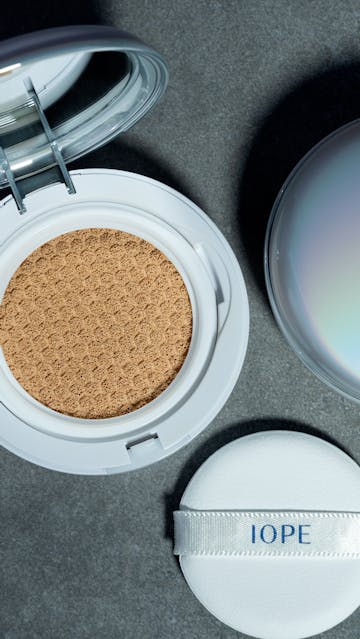 To make their first cushion, AmorePacific claims to have conducted over 3,600 tests with 200 different types of sponges, ranging from latex used in bedding to the type of material used to make bath sponges. They finally choose a polyurethane foam/sponge.
In March 2008, the group launched its first cushion for their IOPE brand. This was the first original compact cushion foundation and also an immediate success! It's still a bestseller; one is sold every 30 seconds on the Asian continent (It has just been reformulated, and I already have its new version 😉 ).
Very quickly after this first success, the AmorePacific group developed this format in its other brands (LaNeige, Hera, AmorePacific, Sulwhasoo…).
In Korea, cushion foundations became mainstream in 2014, when it appeared in the hit K-Drama My Love From the Star, where the show's female lead actress Jun Ji-Hyun, is seen applying the IOPE cushion foundation in one of the scenes. In the same year, Amorepacific brands sold 26 million units of their cushions, which represented 10% of its total sales at the time.
The company has since continued with its research and continuously improved the technology and quality of its cushions with more than 15 reformulations since its first launch.
AmorePacific has filed more than 400 patents in Korea, China, Japan, Europe and the United States around its cushions technology. Many Western brands also have their cushions manufactured on AmorePacific's production facilities in Korea (this is the case for Dior, for example).
The technology behind AmorePacific cushions is indeed very specific. Among other things:
– they have a fresh effect when you apply them because the liquid product formula contains cold air and the cushion sponge is also cooling,
– the cold also has a role in preserving the skincare active ingredients contained in the product formula,
– the puff used to apply the product collects the right amount of product and allows to apply it evenly on the skin,
– the same sponge is designed not to be too absorbent, unlike a conventional sponge which tends to retain too much product, which can generate a significant waste,
– the packaging of the compact has a seal to prevent evaporation of the formula (AmorePacific cushions often dry less quickly than those from their competitors).
For a long time, AmorePacific kept a near-monopoly of this technology but this changed recently, after the group had to face a lawsuit from several Korean companies that wanted to use this technology to manufacture cushions. They challenged the validity of some patents held by AmorePacific, and in 2018, they won their case.
This explains why the gap between AmorePacific and its competitors is narrowing, and that you can find very efficient and innovative cushion foundations in many other brands now!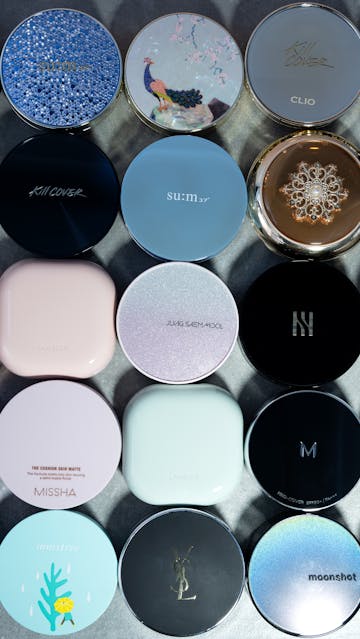 The different types of Korean cushion foundations:
Full disclosure: before I experimented with cushion foundations on my first trip to Korea in 2016, I thought they were not for me.
I thought their formulas were always satiny, with even a sheer glowy finish for some of them. In my head, I pictured them more for dry skin, without too many blemishes to cover up, as the formulas didn't look very full coverage.
… you can find cushion foundations to suit everyone's needs.
Their compact size made me assume it was essential to take them with you to reapply during the day (which is not completely wrong but not for the reasons I thought). So I thought that their lasting power probably wasn't great. With my combination skin, and living in a warm country, I've been wearing rather long-lasting foundations with a matte finish for several years now.
On the one hand, my tastes have changed quite a bit in the last few months and I'm not against a nice satin finish anymore, much more flattering on my "aging" skin.
On the other hand, having been able to try several cushion foundation formulas, most of them are now as long lasting as classic liquid foundations! The progress made in the recent years is quite spectacular and nowadays, you can find cushions foundations to suit everyone's needs.
Basically, cushion foundations have become over the years a product equivalent to other foundations, where you can find several finishes, several types of coverage…
The major categories of cushion foundations:
Satin finishes:
Perfect for dry skin or those who like the "glowy" effect. They are often very moisturizing, which is why in Korea, some people call them "winter" cushion foundations.
Some examples:
– Clio Kill Cover Glow Cushion
– Espoir Pro Tailor Be Glow Cushion
– Hera Mist Cushion Ultra Moisture Cushion
Matte finishes:
For combination to oily skin, and to avoid looking shiny during the day. Depending on the formula, they have a matte or semi-matte finish, and some even have an almost powdery finish. These cushions are quite popular for summer, as it's quite humid during summer in Korea.
Some examples:
– Espoir Pro Tailor Be Powder Cushion
High coverage cushions

(matte or satin):
Very popular with young people who suffer from acne or those who want a "perfect skin" effect.
Some examples:
– Clio Kill Cover All New Cushion
– Hera Mist Cushion Cover Cushion
– Laneige Layering Cover Cushion
Anti-aging cushions:
Very appreciated by mature skin people, their formula resembles skincare more than makeup and they're generally quite rich and moisturizing (therefore not especially matte or long-lasting). You can find them in premium Korean hanbang brands (= that use the precepts of traditional Asian medicine).
Example:
Sulwhasoo Perfecting Cushion EX (my review of this cushion is available here; this specific packaging was a limited edition from a few years ago but the formula is still the same).
Whitening" / "tone up" cushions:
These are amplifying the "porcelain skin" effect that is very much appreciated in Korea. They have a fairly pronounced brightening effect, with sometimes a pink undertone to enhance the "pale glow" aspect of the complexion.
Example (I haven't tried this one because tone up is not my jam):
Espoir Water Splash Tone Up Cushion…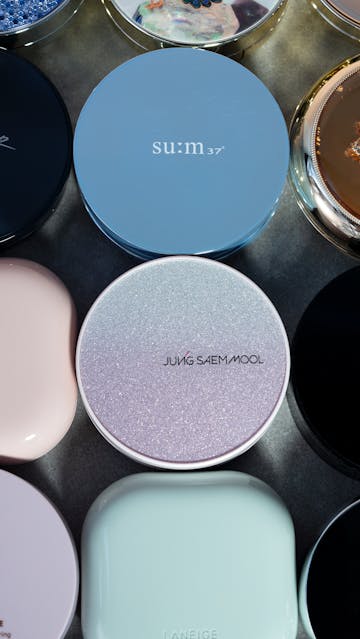 The different price ranges of Korean cushion foundations:
You can find cushions at all prices in Korea because most makeup brands carry them!
– whether they're from "road shop" brands which would be the equivalent of drugstore brands in the US, such as for example: Missha, The Saem, Etude House, Innisfree…
– or more luxury brands, sold in department stores, with much higher prices, like Sulwhasoo, Hera, AmorePacific, Su:m 31, The History Of Woo or even French brands like Dior, Chanel or Yves Saint Laurent which are very popular!
– there are also professional makeup brands that have exclusive versions of cushions only sold in Korea like MAC or Nars, or even Too Faced, Urban Decay…
– but also all the "niche" brands sold only online or by home shopping (I know little about these, they are hard to find when you don't live in Korea)…
In short, a makeup brand sold in Korea that isn't selling a cushion foundation, is missing out! 😉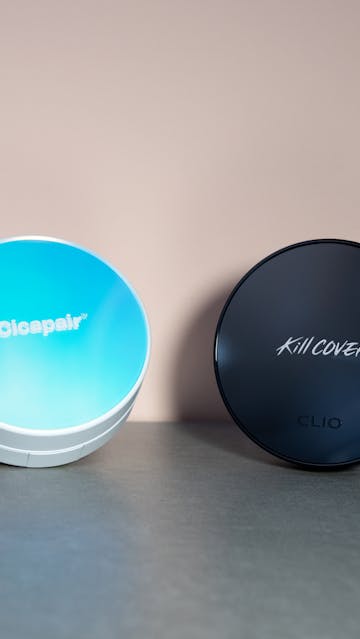 How to choose the right Korean cushion foundation for me?
It's not easy to find your way in the jungle of cushion foundations, I'll admit it. The choice is wide and clearly, it can be intimidating at first!
I've been navigating in cushions' waters for a bit know, and I've been learning about the brands I like and where to look for reviews of the products I'm interested in, but if I were to "break down" my process for choosing a cushion foundation, it would probably be these steps:
I choose the finish:
It's not uncommon to find different finishes declined in the same range, so depending on my current mood/needs, I choose a glowy, matte or more high coverage finish.
Usually, the name of the product is a good indication to know which finish you are dealing with (there are often names like 'glow' for a satin finish, 'matte' for a matte finish and 'cover' for a more high coverage effect).
… not really an inclusive product.
I choose my shade:
So, I haven't mentioned it until now but the shade ranges of Korean cushions are very, very limited… If you were hoping for a 40 shades range in cushions, unfortunately, it doesn't exist (maybe Fenty will come out with one soon? Honestly, I hope so!).
This is also one of the reasons why Korean cushions are so difficult to export. It's not really an inclusive product! I guess if western brands decide to jump on the bandwagon, there will be more shades on the market. But for now, if you don't have fair skin, you probably won't find a shade that suits your skin tone.
In general, in the cushions' shade range, there are only 3 to 5 shades available depending on the brand and they are all very light. The Korean cushion foundation is primarily aimed at local Korean customers, where there is a relative homogeneity of skin tones. And it's usually very pale. Some are even voluntarily whitening, so clearly, the idea of alabaster complexion is what customers there want.
But I want to believe that there may be change on the horizon! This year, a cushion foundation brand made in Korea for POC has launched, Dr Gio Seoul. They only have 6 shades for now, but they are primarily aimed at darker skin tones! In the US, there's also EMcosmetics and its Daydream Cushion Tinted SPF, which also has 6 shades, including 3 for darker skin tones.
To give you an indication, I'm a MAC NC15-20, with a pretty neutral undertone. In most cushion brands, I use the shade 21 or 22 if it's available. I'll also sometimes go with shade 23 if shade 21 has a pink undertone (I don't like it on me).
But hey, it's not an exact science, and sometimes brands use a different shade system so you have to spend some time researching via Google Images or YouTube to look for swatches. Buying a foundation online is never easy, and it's the same for cushions!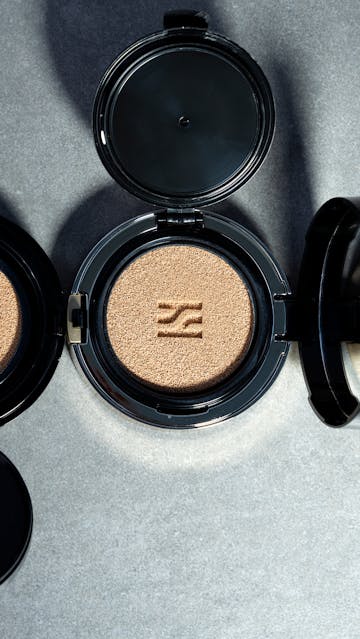 How to use your Korean cushion foundation?
Once you've found your perfect cushion, you still need to know how to use it correctly 🙂
How to apply your cushion foundation:
The first thing to know is that with a cushion, you have to use the puff that comes with it!
This one was developed to allow an optimal application of the cushion foundation so no need to use your Beauty Blender sponge (which will just suck up all your product in record time!), you already have the perfect tool to apply your cushion foundation that comes with your product 🙂
There' s definitely technology involved behind cushion puffs, and in general, they' re designed to pick up just the right amount of product and make it easy to apply to the skin. Usually the puffs are round, but in the last few years, you can find more and more of them with a pointed or octagonal shape for more precise application.
But I must also point out that there is a particular technique to adopt when applying your cushion with a puff!
After having slipped three fingers behind the puff, you start by pressing the puff on the cushion sponge. No need to press too hard, the goal is to cover about 2/3 of the inside of the puff.
Important note: you don't wet your puff before using it, no need!
For the application, it's easy: you tap, tap, tap on the skin with the puff to apply the foundation. This motion allows to deposit the product on the skin and to blend it at the same time. So it's a different way of using than a classic makeup sponge, which is used more by swiping and smoothing the foundation (however, if you already use a Beauty Blender type sponge, it's a similar movement 😉 ).
The benefit of this method is that it's super fast. In 2 minutes max, the complexion is done. I use the sides of the puff without product to blend the edges and voilà!
As for quantity I use, I usually press back my puff on the sponge 2 or 3 times to do my whole face. No need for more. Personally, I use a concealer on top, but with some of the more opaque formulas, I don't need it.
What about hygiene?
I've read here and there that cushions are not a very hygienic makeup product because you leave it exposed to the air while you use it, and you press the puff back onto the sponge several times after using it on the skin.
I understand these observations, but I can reassure you: first, the formula includes preservative ingredients that are intended for this use and this particular application technique. And also, you should use a clean puff for each use.
Personally, I wash my puff after each use for hygiene but also to avoid reducing the quality of application of my foundation. If I'm too lazy to clean, I always have extra puffs (you can buy them from most Korean makeup brands; they are sold individually or in packs of 5 or 10).
I clean it by soaking my dry puff with liquid soap and squeezing the product into the puff and then adding water gradually into the puff to get the foundation out of the puff (it sounds laborious when you put it that way, but it takes me 1 minute at most).
Do you have to use powder on top of a cushion?
It depends! It's the same as with any other foundation, it's really a personal preference and/or your skin type.
If your skin is dry and/or you like the satin effect of your foundation, you don't need to use powder. If your skin tends to look shiny during the day, if you want to improve the lasting power of your makeup and/or if you prefer a more velvety/matte look, you can apply powder.
With my combination skin, I use loose powder on top of my cushion, as usual 😉
Do you have to reapply your cushion during the day?
At the beginning, the foundation was designed as a portable product because the idea was to be able to reapply your sunscreen protection during the day. The formulas were also rather emollient and did not necessarily have the best staying power.
Now, almost all formulas are long-lasting. And since the pandemic, brands have designed the formulas to be transfer-free so they can resist the friction from the mask.
Personally, I don't reapply it during the day; especially since I usually powder, blush and bronzer on top… It would look too messy!
But I know that in Korea, some people prefer to reapply, especially on the T-zone to keep their complexion fresh and perfect until the evening.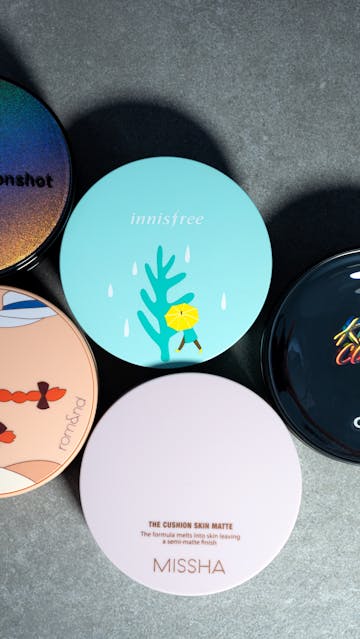 Korean cushion foundations, tips and tricks:
How to make your cushion last longer:
If you feel like your cushion sponge isn't as soaked as it was when you first got it, you can flip it over to use the foundation left in the bottom of your compact!
Just gently remove the sponge from the compact with sanitized tweezers, and flip your sponge over before placing it back in the compact! You clean the edges a bit before closing the case, and voilà, you have several more weeks of use of your cushion! 🙂
Limited edition packaging:
Cushions' cases are often beautiful, but they can be even prettier!
This is especially true for the best-selling cushion foundations, which have been around for several years. Korean brands love to launch new products, even if they are not new. So regularly, they release limited editions of their star product!
It can be to celebrate the Chinese New Year, or for a collaboration with an artist… So if you are a collector or you just like the idea, it's worth watching out for these limited editions, which are often absolutely exquisite!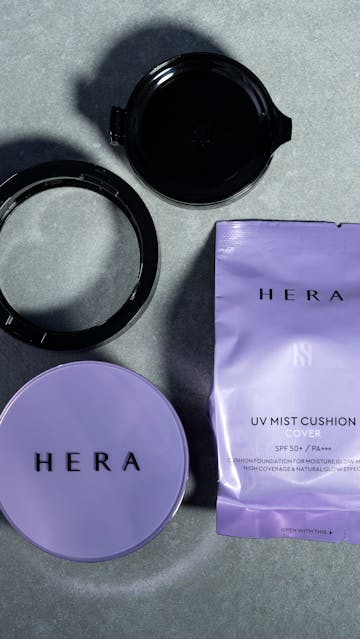 Cushion foundations are refillable:
A particularity of cushion foundations: they are refillable! When you're done with your cushion, there's no need to repurchase the whole compact, you can simply buy the refill, which is available alone in most brands 🙂
This is not always the case, be warned! Luxury brands (especially western ones) tend to sell their cushion compact without refill (which means it's very expensive and not ecological!).
Mixing & matching compacts and refills:
Something good to know: some compacts may hold refills from other brands. It's not always easy to know which brands are compatible with each other, but it can be nice if you have a compact you think is pretty to buy a cushion refill from another brand to test and still use your pretty compact 😉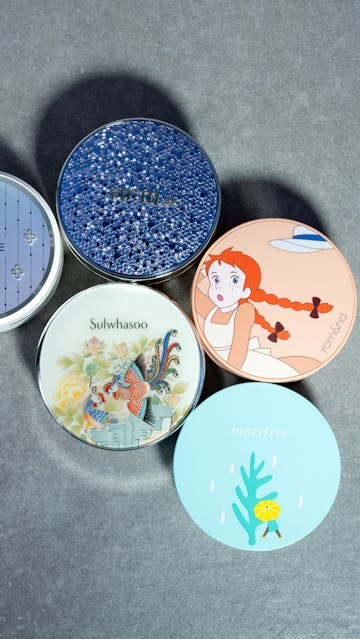 Reformulations:
This is not only for cushion foundations, it's quite common with Asian cosmetics.
While in the West, a reformulation of a popular product is often experienced as a betrayal from the brands' customers (I'm barely exaggerating!), in Asia, it's usually not a concern at all, on the contrary! Popular products have to evolve with the cosmetic progress and they have to be always up to date, with the latest technologies, the latest trending ingredients!
Cushion foundations are no exception to the rule. And brands don't hesitate to completely reformulate their products on a regular basis (every two years in general) to be always on the cutting edge. Even a super popular formula that's a top seller all over the country isn't immune from total reformulation/transformation.
This was very much the case this year, in 2021, where because of the crisis caused by the pandemic, brands have preferred to invest in innovation for their popular products rather than taking the risk of releasing a complete new product. The customers of these products being already established, it is easier for brands to convince them to buy their beloved product in its improved version.
As an example, I can mention Hera, from the AmorePacific group, which just launched a new version of its very popular Black Cushion (which I of course ordered when it was released 😉 ). Or the king of drugstore cushion, the Clio Kill Cover Founwear EX, which has become the "Clio Kill Cover Founwear All New" in the last few weeks. These two formulas, precisely, have been adapted to meet the new demands of consumers, who now want products that can resist mask friction.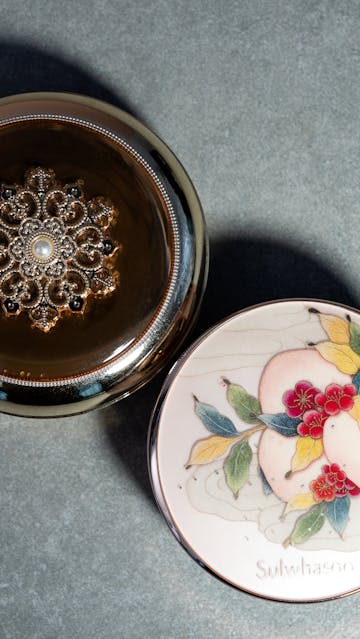 In conclusion:
I hope this detailed guide has helped you to better understand this crowded yet fascinating category of products that are cushion foundations!
I'm preparing a second article that will be an overview of the best cushions I've had the opportunity to try.
So stay tuned for the rest of our adventures in the magical land of cushions 😉