Intro
Discover my detailed review of the cushion foundation My Armani To Go Cushion Foundation: my test, my thoughts, as well as photos and swatches.
Armani Beauty base makeup products have always had an excellent reputation. So when I saw that the brand released a cushion, I couldn't resist. This is my review of the My Armani To Go Cushion Foundation!
I tried some of Armani's cult foundations in the past (Luminous Silk, Maestro, Power Fabric) but they didn't leave me with a lasting impression, especially for their price!

Their finishes were always far too luminous for me, I was invariably ending up shining like a disco ball after a few hours…

But since then, two things happened.

First, I got older, so I started to like satin finishes more because they're flattering on my 40-year-old skin!

And I also developed a deep (and growing) addiction to cushion foundations!

I promised myself I would show you my collection in an article one day (and I'm working on it!).

This collection is almost exclusively composed of Korean cushion foundations, but today I wanted to give you my thoughts about a cushion you can also find outside of Korea, for a change.

The few reviews I read about this My Armani To Go Cushion Foundation were raving ones so I was very curious to see how it compares to my beloved Korean cushions!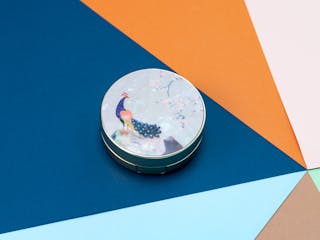 Makeup
Mini-review: Missha Cho Gong Jin Cream Foundation Compact (Sweet Flower collection 2019)
I suspect this review will mainly interest collectors today, but I had to show you this little gem from the Korean brand Missha! So, here is my mini-review of the Cho Gong Jin Cream Foundation Compact (from the Sweet Flower 2019 collection), a limited edition.
Read more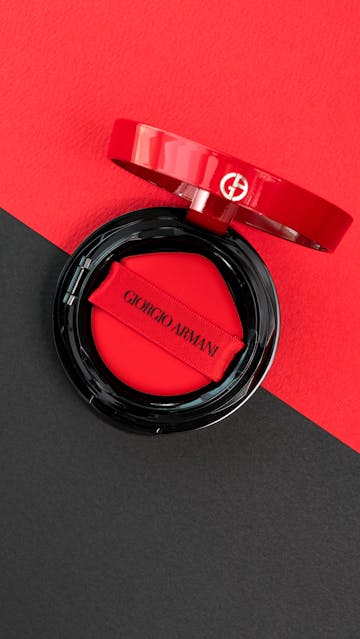 Product presentation: My Armani To Go Cushion Foundation
I became more interested in cushion foundations after my trip to Korea in 2017.
Having seriously upgraded my skincare routine, I really liked the idea that my foundation was a continuity of it, with both skincare and makeup benefits.
The cushion foundation is indeed a 3 in 1 hybrid product: sun protection, foundation, and skin care product in the same formula. All in a compact, practical and easy to carry packaging, for a simple make-up/protection/care application.
The cases are usually super pretty and desirable, so you can understand that as a true packaging obsessed beauty addict, I can't really resist them!
My Armani To Go Cushion Foundation is one of the latest launches from the brand in its makeup range. It's not completely new, it was launched in Asia at the end of 2017. But it has just been released in other continents. In Dubai, for example, they just received it a few weeks ago.
The brand describes it as a "no makeup sensation" finish, so quite natural.
It also includes a UV filter in the formula (SPF23, so fairly low protection) and some moisturizing skincare ingredients.
I already mentioned it in my article about sun protection, I don't think that a cushion foundation is enough to provide sufficient sun protection, but it can complement the sunscreen product that you applied in the morning and it can also be interesting for touch-ups during the day, for example.
Clearly, especially if I compare it to the other Korean cushions I own, this one is more like an "interpretation" of a cushion by a Western brand than a "real" cushion foundation. In short, this is more like a makeup product than a 3 in 1 product with skincare and sun protection.
After all, if it's a good foundation, why not? ?
However, I also noted that unlike most Korean cushions, this one is sold without an extra refill. Usually, when you buy a cushion foundation, you have a refill of the product sold with it, so you have a total of 30g of product (which is equivalent to a 30ml/ g bottle of foundation).
And another bad point, the color range is very limited. There are only 8 very light colors (my shade is number 4, which is one of the darkest, so you can imagine!).
The usual excuse that this type of product is only intended for the Asian market no longer holds in 2019! Many Asian consumers have dark skin. If you go to Thailand or Malaysia, the diversity of skin colors is very wide. I would love to see more inclusiveness in the cushion foundation shade ranges!
The packaging of the My Armani To Go Cushion Foundation is a compact oblong case, in red and black with the Armani brand logo on top.
It's absolutely stunning, very elegant. Not necessarily the most practical to slip into your handbag though, because it's a bit bulky but because I don't do any touch-ups during the day, I don't mind.
Usually, a cushion lasts me about 2 to 3 months if I use it every day. You don't have to repurchase the entire compact if you finished the product, you can buy the refill on its own (the price is around $50).
The fact that Armani sells this cushion without an extra refill makes it the most expensive cushion in my entire collection. My Armani To Go Cushion Foundation foundation is sold around $80, depending on the retailers, for 15g.
I must admit that this is the reason why I find it difficult to recommend it, especially if I compare it to some Korean equivalents, which generally have higher sun protection, more skincare ingredients in their formula and are sold with a refill…
My experience:
Obviously, I love its packaging, which for me is part of the user experience! It's a very beautiful compact.
If I'm extra picky, I couldn't help but notice with the compact finish being shiny and lacquered, it's very "fingerprinty" and I would also have preferred a magnetic closure!
The cushion itself is very different from the other cushions I tried before. There's a kind of "mesh" at the top that guarantees a homogeneous distribution of the product on the puff. This effectively allows for better control, no risk of taking too many at once!
The puff has also a different shape compared to others. It's pointy, which I love because the application is more precise even in more difficult to access areas of the face such as the wings of the nose for example!
The foundation is very fluid and super lightweight, you can barely feel it on the skin, and it remains comfortable all day long.
It has a buildable coverage which means that you can add more in the places you want to correct and it won't look cakey.
It blurs the pores and doesn't emphasize dry skin areas too much.
The finish is natural, semi-matte and luminous. With my combination skin, I prefer to set it with powder but the glow still remains visible. It becomes shinier after a few hours but I just blot the excess shine with a blotting paper, and it stays put until the end of the day!
It's long-lasting and fades nicely without emphasizing the skin's texture.
It's slightly perfumed, which doesn't bother me too much, but just be aware, if you're sensitive to perfume in cosmetics. The smell is pleasant, it's a fresh one, quite discreet.
Regarding the skincare effect, I imagine it's rather minimal but I do find that it leaves the skin comfortable and doesn't dry it out.
I chose the color 4, which is a light shade with a yellow undertone (it's a bit too light for me but the shade above was too orange on me). For reference, I'm a MAC NC20.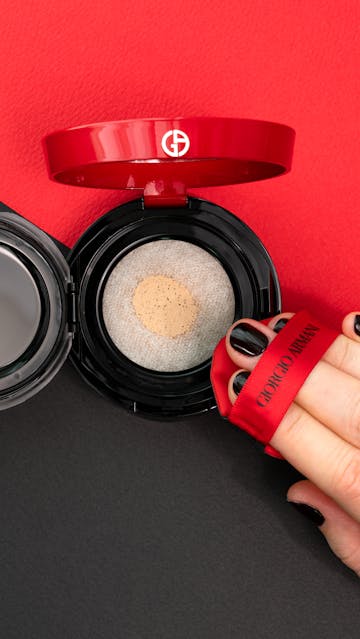 The result in pictures:
I used the puff provided with it to apply the My Armani To Go Cushion Foundation.
You can also use a brush or a sponge like a Beauty Blender but after I tried all three, I prefer by far using the puff, specially designed to get the right amount of product and apply it evenly onto the skin. The Beauty Blender "pumps" far too much product and frankly, at this price, I refuse to waste it in my sponge!
Swatches:
Here is the product swatched and blended on my arm: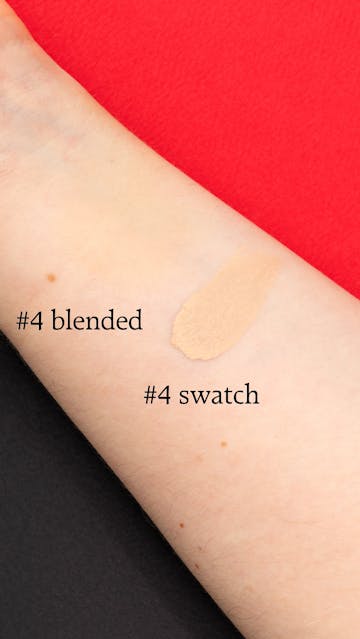 Before/ After:
On the first picture on the left, my skin is bare, and on the second picture on the right, I wear My Armani To Go Cushion Foundation alone.
Complete look:
And here it is with a complete makeup look (with powder, blush, bronzer and highlighter).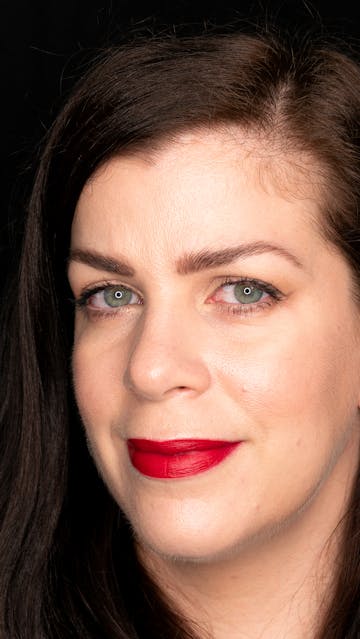 I would like to point out that my skin is a little drier than usual on these pictures because I had a bad reaction to a product a few days before taking the pictures so if you see that my skin looks dry, it's not really due to the foundation 😉
You can click on the images to enlarge the photos.
Value for money:
As I mentioned earlier, I find it very expensive, especially for the quantity.
Unfortunately, to put it in context, it is no different from the cushions offered by other Western luxury brands. Most of these high-end cushions (like Yves Saint Laurent, Dior etc.) are sold without refills.
That's one of the reasons I prefer Korean cushions most of the time! ?
That being said, it's still a very good product and I really appreciate it, but clearly, it's overpriced for the quantity.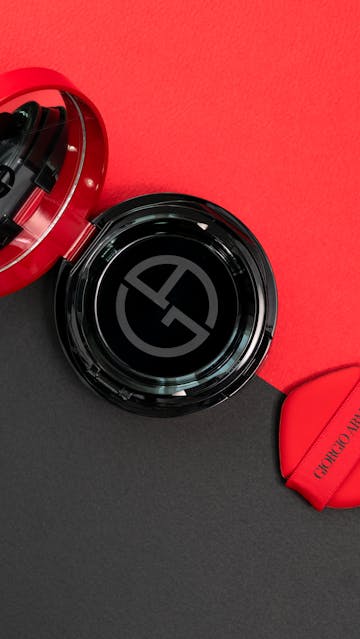 In summary:
It's a good foundation cushion, I can't deny it. The finish is pretty and natural and I love the fact that it is long lasting.
But I find that the contract is half fulfilled: it contains very few skincare ingredients and its sun protection is really low.
And it doesn't contain a refill when you buy it the first time, so it makes it difficult for me to recommend it.
I think there are other more interesting options in the cushions market and hopefully, I'll have the opportunity to talk more about them soon! ?
My Armani To Go Cushion Foundation retails between $69 and $88 depending on the retailers, for 15g of product.
Product Review in detail
Summary
My Armani To Go The Cushion Foundation
"The Armani secret to stay perfect on the go. More than a Cushion compact, a must-have accessory for face to be beautifully perfect anytime and anywhere.
A next-generation makeup essential that brings together a truly advanced formulation, a sleek, travel-friendly compact foundation with a professional applicator.
Skin is instantly transformed with one simple gesture. A high-tech essence-in-foundation formulation - the essential accessory is complete.
Supreme coverage, comfort & silk glow: with the precision of a couturier, formulators of MY ARMANI TO GO CUSHION COMPACT, strikes the perfect balance between tailor-made, buildable coverage and a light, "no make-up" sensation. "
Recommendation
B+
Good product but super overpriced (no refill)
Pros
- The sleek and elegant packaging, it's so beautiful!
- The good pigmentation.
- The texture is easy and quick to apply. With the puff provided for this purpose, it applies very quickly.
- The luminous semi-matte finish, very natural and skin-like.
- It's buildable, you can choose the coverage depending on the amount you apply and it will look good in any case.
- It blurs the pores nicely.
- It doesn't enhance dry patches.
- It's very lightweight, you can barely feel it on the skin.
- It lasts all day and fades nicely without looking blotchy.
- It doesn't oxidize on my skin, the color doesn't darken.
- It doesn't make me break out.
Cons
- The choice of shades is very limited (the 8 shades are all for fair skin, it's very bad).
- Its price, especially when you consider that it doesn't contain a refill, is ridiculously expensive.
- It's not sold everywhere, and not available in every country.
product name
My Armani To Go Cushion Foundation
size
15g (there is no additional refill)
packaging
A compact case with a mirror, red and black, with a lacquered effect, and the brand logo on top. It's absolutely stunning!
fragrance
A light fresh scent.
texture
Liquid and light.
Concerns
For those who want to wear makeup while protecting their skin.
Method
I use the puff provided with the compact to take some product by pressing it lightly on the cushion, then I apply it by pressures on my skin. The product blends quickly and homogeneously thanks to the puff.
I don't feel the need to reapply it during the day (especially since I use powder on top) but technically, you can do it without any issue, it's very buildable. For hygiene reasons (I have acne-prone skin), I clean the puff after each use. It's very easy to clean especially if you use a little bit of cleansing oil and/or water and soap. Armani also sells puff refills if you want to replace it.
Key Ingredients
There's not a lot of skincare ingredients in this cushion. It's clearly a makeup product above all.
However, in its composition, you can still find:
– some moisturizing glycerin,
– a moisturizing low molecular weight hyaluronic acid,
– a Litchi extract (Litchi Chinensis Pericarp Extract), also moisturizing,
– Octinoxate (Ethylhexyl Methoxycinnamate) which is a chemical sunscreen (not the most effective, nor the most stable, by the way).
For sensitive skin, I would like to point out that it also contains moisturizing. I didn't have a problem with it, but if you're sensitive to it, maybe you should patch test it if you can.
Ingredients
Aqua / water, cyclopentasiloxane, isononyl isononanoate, alcohol denat., ethylhexyl methoxycinnamate, phenyl trimethicone, peg-10 dimethicone, glycerin, bis-peg/ppg-14/14 dimethicone, sodium hyaluronate, phenoxyethanol, magnesium sulfate, ethylhexyl hydroxystearate, talc, nylon-12, dimethicone, limonene, benzyl salicylate, benzyl alcohol, linalool, parfum / fragrance, disteardimonium hectorite, disodium stearoyl glutamate, butylene glycol, litchi chinensis pericarp extract, bht, butylphenyl methylpropional, aluminum hydroxide, hexyl cinnamal.
Ingredients not included
– parabens,
– mineral oil.