Intro
Let's focus on the Korean skincare brand JAY JUN, well known for the quality of its sheet-masks, which I also describe in this article!
A Korean skincare brand known for its high-quality sheet masks, and tailor-made for demanding consumers, of course, I had to look more into it! Let me introduce you to JAY JUN cosmetics, one of my K-Beauty obsessions!
I encountered JAY JUN cosmetics during my first stay in Korea, more than 2 years ago.
Before I set foot in Korea, I had never heard of it!
Yet in Seoul, the brand was everywhere! And I could see that it was definitely popular with Chinese tourists, who bought entire suitcases of their sheet-masks (I'm not even exaggerating, if you've ever been to Incheon airport in Seoul, you'll know!).
I didn't buy anything from them at first but I had the chance to see the brand at a beauty trade show in Dubai where they had a booth a few months later.
There, I was, able to ask more information from the people from the brand and I was also able to buy some of their best-sellers (mostly sheet-masks) to get a better idea of their products.
Clearly, after I tried them out, I totally understood their popularity!
Today, JAY JUN is a little easier to find than it was 2 years ago, so I wanted to introduce you to the brand a little more!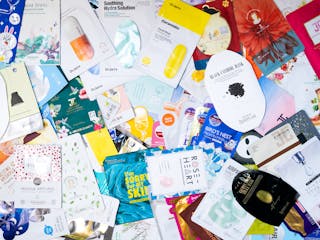 Skincare
Sheet masks: the complete guide
Sheet masks are one of the steps that I really appreciate in my skincare routine. They are efficient, easy to use and there is now a huge choice of sheet masks the market! It can be a little overwhelming at first! Today, I'm going to help you figure it out and better understand how to choose between all these different sheet masks.
Read more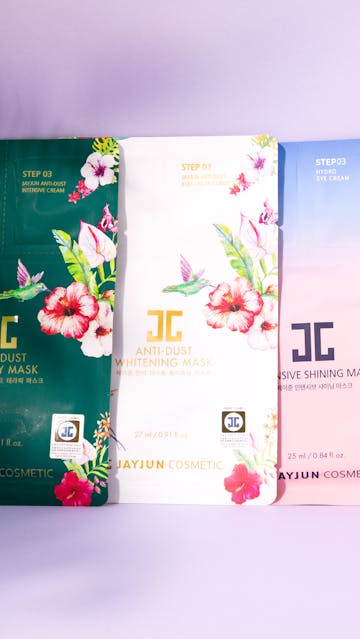 JAY JUN Cosmetic:
JAY JUN Cosmetic is a skincare brand founded in 2014 by a team of skin specialists: dermatologists, cosmetologists and plastic surgeons.
At first, the brand was designed for people with skin issues, like hyperpigmentation for example, which is a recurring demand in the Asian market.
JAY JUN is renowned for its products made with high-quality materials and ingredients. Regarding their prices, they're mostly mid-range.
They're quite conventional in terms of cosmetic approaches, the formulas of their products contain some natural ingredients but they cannot really be described as "clean". Some formulas contain a few silicones, sometimes also alcohol and most contain perfume. I don't have a problem with these ingredients, but I just wanted to mention them, so you are aware.
They offer several types of products (cleansers, essences, facial creams…) but they are mainly known for their sheet masks that made the brand famous in Korea.
The brand has more than forty sheet masks in its catalog, and they meet all the possible and unimaginable needs!
For the record, the American actress Drew Barrymore, a K-Beauty enthusiast for years, has partnered with JAY JUN for a collection of exclusive sheet masks.
Another completely unexpected collaboration, JAY JUN also made a collection with the Museum of Modern Art in Troyes (France) (!).
The brand has recently been acquired by Korea's largest pharmaceutical and cosmetics group, Kolmar (in Korea, there are not a lot of them, 3/4 of the products are made by the same companies, which explains why there are so many similarities between certain products in certain cases).
This acquisition has enabled Kolmar to considerably increase its production capacity in terms of sheet masks. In Korea, there is indeed a lot of competition in this sector, and brands definitely want to be the best because it's a very popular segment where innovation makes a huge difference.
Sheet masks companies must be dynamic, with frequent launches and a lot of advanced innovations!
Sometimes, the difference can be made with the packaging (JAY JUN is very good at this), through regular collaborations with popular artists, fashion illustrators and even French museums (as mentioned above 😉).
A cosmetic brand that does not renew itself quickly enough in Korea can mean that it will no longer be there the following year. The competition is definitely fierce in the land of the calm morning!
This acquisition will also undoubtedly allow JAY JUN to be distributed more widely, particularly in South Asia, a territory very coveted by Korean companies at the moment, but also in North America, where interest in K-Beauty has been growing considerably in recent years.
JAY JUN includes several types of skincare products in its range, as mentioned above, but today I wanted to focus on their big strength, sheet masks!
JAY JUN sheet masks:
If JAY JUN sheet-masks are so popular, it's indeed for several reasons.
First one, their super neat packaging! Clearly, some sheet masks are targeting a more "mature" clientele, so the choice of colors and designs won't be to everyone's taste, but like many Korean brands, JAY JUN understood very clearly that the visual aspect is essential in the era of social media and Instagram!
They're also very practical! Some of these sheet masks include trial doses of skincare products, not just the sheet mask, which in some cases are like a mini skincare routine. They're perfect for travel, for a flight or just for those evenings when you want to settle for a more minimal routine.
Regarding their formulas, as mentioned above, JAY JUN is rather a conventional cosmetics brand, which uses both natural extracts and synthetic ingredients in their formulas (they sometimes contain a little bit of silicone for example, but I have no problem with that). The idea here is to focus on efficiency first and foremost!
Most formulas contain a lot of glycerin and niacinamide, which are two ingredients I'm very fond of! 🙂
Many of the "fabric" in the JAY JUN sheet masks are made from biodegradable materials. Of course, that doesn't mean there isn't a lot of unnecessary packaging around, but let's say that it's somewhat of an improvement compared to other brands…
If I had to blame them for anything, however, it would probably be the significant presence of fragrance in their products. I'm not anti-fragrance, and my skin tolerates it quite well, but I admit that in a sheet-mask, I tend to prefer the fragrance-free versions…
I won't go over the particularities of sheet masks in general again, nor on how to use them, I have already covered the whole question in my complete guide to sheet masks a few months ago 😉
Let me introduce some of them, among the most popular of the brand!
Presentation:
It's probably my favorite JAY JUN sheet mask, and it's also their bestseller by the way! It's an extremely moisturizing sheet mask that also gives a lot of glow to the skin.
This mask consists of 3 distinctive steps:
a slightly exfoliating cleansing foam (it contains papaya extracts, with an enzymatic exfoliating effect),
a fairly nourishing and lightening essence, which contains niacinamide and adenosine (among others things!),
and finally a black sheet mask, containing a very moisturizing essence, rich in hyaluronic acid, betaine and repairing ceramides.
The sheet mask exists in several versions, one of which has an extra neck part. In all versions, there is also a part to cover the eyelids, for a radiant effect also on the eye contour area.
My test:
I'm not a fan of the cleansing foam, which I find too stripping but I adore this mask!
The fabric of the mask is very soft and quite stretchy, which makes it easy to fit my face and it's very soft and pleasant during the application time.
I like the eyelid part, I don't always use it, but it's nice to have the option!
As far as results are concerned, I find Real Water Brightening Black Mask very effective on long-lasting hydration and also on the radiance of my complexion. I can see it right after the removal, my skin is very comfortable and I find it more radiant!
In short, for me, it totally deserves its popularity!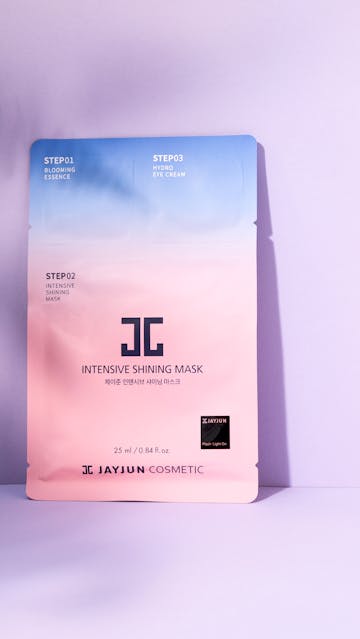 Presentation:
This sheet mask is probably the most moisturizing of the bunch! If your skin is thirsty, this is the one for you!
Here too, it contains several steps:
a moisturizing essence based on rose water, but also several plant oils and aloe vera,
the sheet mask which contains many moisturizing ingredients (niacinamide, hyaluronic acid, ceramides, Beta Glucan, collagen etc) but also a complex of brightening, and soothing active ingredients (such as lavender in particular)
and finally a nourishing eye cream with shea and cocoa butter.
My test:
I've used the Intensive Shining Mask a lot when I'm traveling, because it's absolutely perfect after (or during) a long flight but I also enjoyed it a lot during the winter, for its intense moisturizing and repairing effect!
The fabric is very pleasant, soft and quite stretchy, you can leave it on for a long time (generally 30 minutes instead of the 20 recommended) because it's drenched in the product!
It's an extremely rehydrating sheet mask, and very pleasant to use! It leaves my skin completely refreshed and soothed.
And also, a tip, I use the eye cream provided with the mask all over my face, because it's perfect to seal all the moisture provided by the mask!
Presentation:
A super luxurious and bling gold sheet mask!
The Gold Snow Black Mask is a cotton mask covered with a layer of gold foil, which is in 2 parts (one for the upper part of the face and one for the lower part).
You'll get an impressive look with this sheet mask worn, it's the perfect opportunity to take a stunning sheet mask selfie 😉
The essence formula of this sheet mask is very much focused on hydration, with several molecular weights of hyaluronic acid, but also several soothing and refreshing plant extracts. It also contains gold particles, which are supposed to have an antioxidant effect and help to boost the complexion's radiance.
The gold foiled support of this sheet mask allows the moisturizing ingredients to penetrate even deeper and to have an occlusive effect during the mask application. You can really wear it for a long time, on average I leave it for 40 minutes. And even after all this time, I still have plenty of essence on my face when I remove the mask!
My test:
I love the Gold Snow Black Mask!
First of all, it's pretty fun to do, I'm not going to lie. I feel like Iron Woman and it's a cool feeling 😉
But apart from the fun aspect, this gold foiled mask really intensifies the effectiveness of the skincare ingredients applied underneath, and this is also pretty cool!
It's very soothing and moisturizing without being too rich. It's just a great mask to relax and chill at the end of the day, while looking absolutely fabulous and golden! 🙂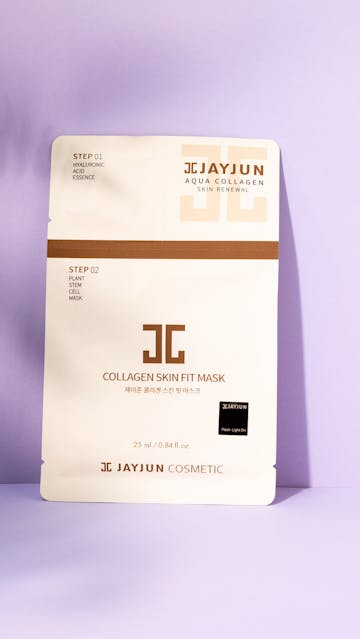 Presentation:
Clearly, this Collagen Skin Fit Mask has been designed for a "mature skin" target population. Just by looking at its texture (very rich) and its fragrance (an old lady scent), you know what type of product it is!
The same goes for the formula, which is concentrated in firming skincare ingredients (like rice stem cell extract) and antioxidants (ginseng). It also contains very moisturizing and repairing ingredients (hyaluronic acid and collagen).
It consists of 2 steps: an essence concentrated in hyaluronic acid, and the sheet mask.
My test:
Even if I find the ingredients of this mask very interesting, it's perhaps the one I appreciate the least of all the ones I've been able to try.
First, the mask fabric is a little more "stiff" than the others and as a result, a little less soft. And it's too big for me, so I have trouble feeling the "firming" effect claimed by the brand.
The essence of the sheet mask is also very, very rich, a little too much for my combination skin. So I reserve it for special occasions when my skin feels really tight and dry.
And finally, the fragrance is quite strong and not really my favorite.
It's still a good sheet mask, but I think it will be more suitable for drier skin than mine.
Presentation:
The sheet mask Rose Blossom Mask is one of the simplest of the range. But beware, the formula may be shorter, but it's still great!
This one retails on its own, without any additional product bag.
The essence of the mask contains mainly rose water, very soothing, but also moisturizing and repairing ingredients such as hyaluronic acid, beta glucan, betaine, and allantoin.
If you have sensitive and dehydrated skin, look no further!
My test:
I really like this mask. It's super soft!
Its fabric is soft and stretchy, and its formula is moisturizing, fresh and soothing.
It's an easy-to-apply mask, suitable for almost everyone and it does a great job. In addition, it smells like a bouquet of roses, which I particularly enjoy!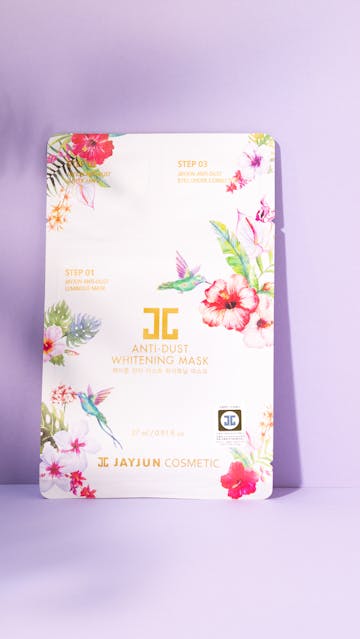 The Pollution-Proof masks clearly have the most beautiful packaging of the JAY JUN range! All these beautiful flowers, it's so pretty!
There are two of them, and they have protective anti-pollution properties. This is a big demand in Korea, whose inhabitants suffer a lot from micro-dust pollution from China.
Presentation:
The Pollution-Proof Mask Luminous contains 3 steps:
a hydrating and anti-pollution ampoule/serum,
the sheet mask,
and an eye cream (which can be used on the face).
Here, the ingredients highlighted are ginger oil (purifying), but also a pearl extract that boosts the complexion's radiance and another ingredient that protects against pollution, ectoine.
My test:
I really enjoy this sheet mask!
The fabric of the mask is really nice, thin like a second skin. It's quite stretchy and soft, and full of essence (which looks like an emulsion, but quite lightweight).
I can keep it on for 30 minutes without any issues and my skin is comfortable and super bright when I remove it!
Presentation:
The Refreshing version of this mask is very similar to the Luminous version! The only difference is that the essence of the sheet mask contains a complex of soothing ingredients and the fabric of the mask is green!
The additional products that are included with it are also different:
a cleansing foam, very soft and fresh,
and a protective anti-pollution face moisturizer.
My test:
It really looks a lot like the Luminous version, so I didn't notice a huge difference when I tested it. It's maybe more refreshing?
In any case, I find my skin comfortable and soothed after 30 minutes.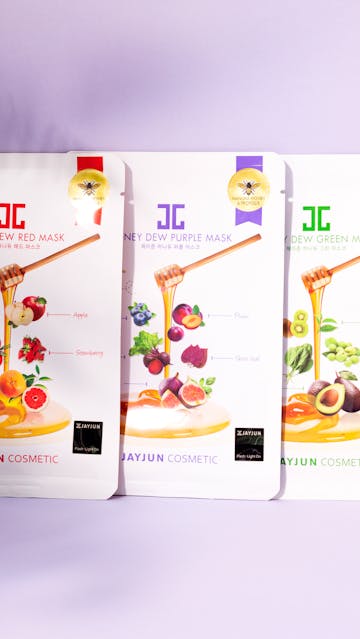 I won't describe the three versions separately because the basis of the formula is quite similar, only the complexes of "color" ingredients change. All three retail alone, and you get the sheet mask alone, no additional products.
Presentation:
These three masks conations a base of Manuka honey and propolis in their formulas. These two ingredients are very repairing and anti-microbial.
They are available in 3 versions:
the red one, rich in antioxidant fruit extracts (apple, cherry, grapefruit, strawberry, tomato)
the green one, based on a complex of soothing ingredients (green tea, kiwi, avocado, spinach, Japanese apricot)
the tonifying purple one, based on fruits and firming plants (blueberries, plums, beetroot, figs, shiso leaves).
My test:
These Honey Dew sheet masks are very nourishing, perfect for winter! I find them quite rich and a little bit sticky. I never rinse my sheet masks but with these ones, I wanted to, even after 40 minutes.
That being said, they feel super nice and really give a lot of comfort to my skin! They smell very good too, which is always a plus!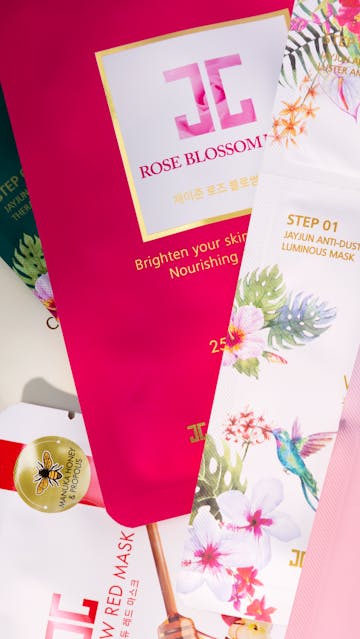 In conclusion:
You can easily understand why JAY JUN is one of my favorite sheet mask brands!
The formulas are usually great and complete, the result on the skin is definitely there and there are many sheet masks options to choose from!
I really hope that the brand will be easier to find soon, because these masks are really worth discovering!