Intro
Discover my mini-review of the Vinoperfect Concentrated Brightening Essence from the French skincare brand Caudalie!
I almost didn't write this mini-review. I wasn't sure how inspired I felt to talk about the Caudalie Vinoperfect Concentrated Brightening Essence…
Indeed, I have a weird relationship with Caudalie.

I feel attracted to this skincare brand like a magnet and almost every time they release something, I can't resist and I feel like I have to buy it.

Especially if it's an essence (one of my big obsessions at the moment!), my ability to resist them is close to zero.

But very often, I end up being quite disappointed with my purchases.

Even if I want to love them so much!
Skincare
Do you need an essence?
Recently, and probably thanks to the influence of Asian beauty, a new type of product appeared on most skincare addicts radar: essences. Like a kind of "beauty water" or "liquid skincare", an essence is a hybrid liquid product that is a cross between a toner and a serum. Can it replace them or do you have to add it to them? I'll tell you everything you want to know about essences!
Read more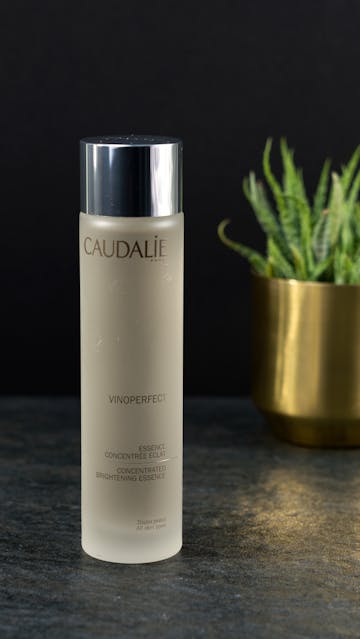 The brand Caudalie:
I still appreciate many things about Caudalie. First, this brand is Oh, so French and it touches my French expat's heart.
I'm sure you already know their story by now, but just in case, here's a little reminder: Caudalie was born in the Bordeaux region, when Mathilde and Bertrand Thomas, the founders of the brand, both from winemaker families, met Professor Joseph Vercauteren, during a visit of their estate of Château Smith Haut Lafitte, in the Graves. He told them about his research on polyphenols, powerful anti-aging ingredients with a strong anti-oxidant effect, which is found in grape seeds!
They immediately decided to create a cosmetic company with the purpose of using this ingredient (they already had all the grapes they needed!) and Caudalie was launched a few years later, in 1995. The brand quickly became very popular in France. The founders kept on studying in depth the benefits of plants from the vine. They also discovered other effective anti-aging ingredients such as resveratrol and viniferine.
Caudalie popularized the concept of "Vinotherapy", which uses ingredients from grapes and vines in general. This concept is very easy to export abroad (French wines and French cosmetics are well appreciated all around the world so when you combine the two, it's even better!) and the brand is now very successful worldwide.
If you add to this concept very elegant packagings and quite "clean" formulas (no mineral oils, SLS, phthalates, parabens, phenoxyethanol…), I should be obsessed with Caudalie products!
But sometimes, what seems ideal on paper doesn't always work well in real life… And unfortunately, it summarizes pretty well my experience with the Caudalie Vinoperfect Concentrated Brightening Essence.
Caudalie Vinoperfect Concentrated Brightening Essence, mini-review:
This is not a bad product, far from it! It's just that I was left longing for more. I felt like this product was like an "all-in-one" essence, with a lot of different claims but I found that at the end, it wasn't efficient enough to give visible results on my skin.
The Caudalie Vinoperfect Concentrated Brightening Essence was created to boost the action of a star product from the brand, the Vinoperfect Radiance Serum. I did a review on my blog a long time ago, I really like this product.
This essence preps the skin to receive the other skincare products you add on top thanks to its exfoliating action (it contains glycolic acid, an AHA), it's also moisturizing (with the organic grape water) and it's supposed to have a brightening effect on the pigmentation (with the white peony extracts). (I tell you more here, if you don't know what an essence is).
The full ingredients list:
Aqua/water/eau, vitis vinifera (grape) fruit water, citrus aurantium amara (bitter orange) flower water, glycerin, methylpropanediol, glycolic acid, caprylyl/capryl glucoside, sodium hydroxide, vitis vinifera (grape) juice, caprylyl glycol, citric acid, arginine, sodium benzoate, paeonia lactiflora root extract*, phenylpropanol, potassium sorbate, sodium phytate, linalool, limonene.
So maybe it's because I didn't use it with the serum from the same range, but I wasn't impressed with this product. I didn't expect a result on the pigmentation of my skin (I managed to get rid of my sun spots a while ago thanks to my regular use of sunscreen, acids, and retinol) but more for an action on the radiance of my complexion. And I wasn't against there being a little bit of hydration!
And in the end, after I finished my bottle, I didn't really see a big difference in the radiance of my skin. Certainly, it was moisturizing, but again, nothing extraordinary…
Let's say that for the price of a bottle of the Caudalie Vinoperfect Concentrated Brightening Essence (around $42 in the US), I much prefer to use a good exfoliating toner with a stronger acid concentration like the Glycolic Acid 7% Toning Solution from The Ordinary for example.
Or the Pixi Glow Tonic
And why not add an Asian essence that has a great effect on hydration and radiance? You can find some great options for all budgets but two I really like is:
the Secret Key Starting Treatment Essence Rose Edition
and the Missha First Treatment Essence I spoke about in my essence article.
You can use the acid toner in the evening and the Asian essence in the morning, and oh, hey glowy skin!
I feel like Caudalie wanted to take advantage of the current trend of essences (and acid toners too) with this product but especially compared to other similar products of the market, I'm definitely not convinced…
The packaging also disappointed me a little. On the bottle, there is supposed to be a pretty bunch of grapes in a silver edging, that I thought was engraved on the bottle. In fact, it's a sticker and it peeled off in a few days… Too bad for my photos!
On the other hand, a good point: the product lasts a very long time (5-6 months if I use it once a day). I applied it with the fingertips, dabbing it into the skin but you can use a cotton pad if you prefer (I usually don't do it because I think it's a waste of product).
In conclusion:
In short, the Caudalie Vinoperfect Concentrated Brightening Essence is not a bad product, but I don't think it compares well with the other essences I tried.
If you tried it, I would be curious to know your thoughts. Feel free to leave me a comment!
Product Review in detail
Summary
Caudalie Vinoperfect Concentrated Brightening Essence
"Both effective and gentle, the Concentrated Brightening Essence soothes the skin and boosts radiance.
Inspired by the Asian skincare routine, this lightweight, refined formula is both gentle and effective, leaving skin feeling smoothed and illuminated. Glycolic Acid works to eliminate dead skin cells, whilst extracts from White Peony revitalises the skin to reveal a more even, healthy-glow. Enriched with Caudalie's signature grape water, the Vinoperfect Concentrated Brightening Essence also contains hydrating, soothing and moisturising properties for a beautifully flawless complexion."
product name
Vinoperfect Concentrated Brightening Essence