Intro
Discover my mini-review of the Propolis Light Ampule by the Korean skincare brand Cosrx.
Cosrx Propolis Light Ampule is the first propolis essence I tried. It's definitely the product which made me want to explore and discover all the other propolis essences, so popular in South Korea.
Cosrx is quite a recent brand (it was created in 2014) but it's also one of my favourite K-Beauty skincare ranges: minimalist and chic packaging, simple but incredibly effective formulas, high-quality ingredients that are often used in short formulas to respect even the most sensitive skins, very few "filler" ingredients (no perfume, mineral oil, etc)…

In short, a brand with a rather minimalist concept but which focuses on the most important: a good formulation with great ingredients.

Moreover, a little detail that I love, the brand is not gendered at all, it's for everybody and its mascot is even a cute little man with a mustache: the facetious Mr. RX!

The name Cosrx comes from the conjunction of two words: COSmetics + RX (an abbreviation for the word "prescription" in English).

The brand is well known and appreciated in South Korea to offer solutions for skin "in distress", such as sensitized, dehydrated, or acne-prone skins. Among the brand's best-known ingredients, you can find snail mucus, ceramides, acids, centella asiatica, hyaluronic acid… and also honey and propolis!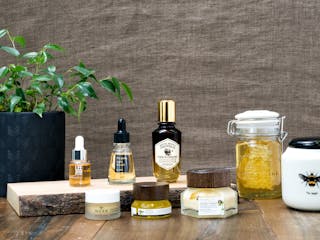 Ingredients
Focus on: Honey and Propolis
Skin products rich in hive ingredients such as honey and propolis have always been popular, especially amongst sensitive skins. The use of these ingredients in cosmetic is definitely not new, but skincare products made in Korea put a spotlight again on these very powerful and effective natural ingredients.
Read more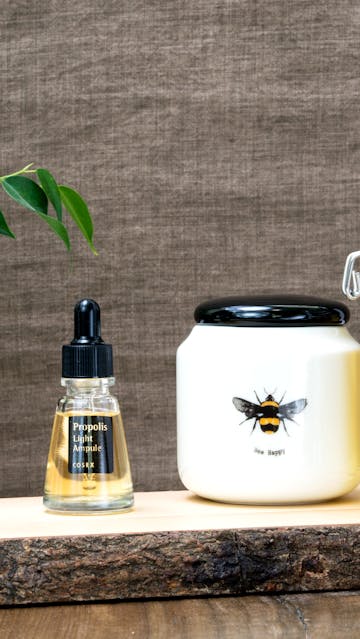 Mini-review:
Cosrx Propolis Light Ampule is one of the first products I tried from the brand. This ampoule/ essence/ serum with a slightly viscous texture is a perfect treatment for sensitive skin that is also acne prone. Indeed, propolis is very soothing and repairing but it's also anti-bacterial so it can be effective on both these skin issues.
I started using Cosrx Propolis Light Ampule on my way back from Korea last fall. And I added it to my routine again this summer. Its texture is super light and quickly absorbed, so it's ideal for the warm season (or should I say the disgustingly hot season we have here, in Dubai).
Its formula reflects the concept of the brand: simple, but gets right to the point! The major ingredient here is propolis extract, which represents 83.25% of the formula according to the brand.
The bottle is not huge (20 ml) so it doesn't last me more than 2 and a half months maximum. During the treatment, my skin feels more balanced, and I also find it well hydrated.
I think this ampoule could be great for younger skins, in addition to a heavier acne treatment for example, to repair the skin while helping to rebalance it. But for people like me, with more mature but acne-prone skin, it's also a good fit.
I don't know if I would recommend it in very cold weather because there are other propolis essences that I find more comfortable than this one. But right now, for example, it's absolutely perfect for me!
In conclusion:
To sum up, Cosrx Propolis Light Ampule is a very good option if you want a good propolis treatment, especially if you prefer light and quickly absorbed formulas. It's also very affordable, which is always a plus (between $18 and $25 euros depending on the retailers)!
Product Review in detail
Summary
Cosrx Propolis Light Ampule
"Restore moisture to your skin from the inside out with the superior hydrating properties found in all-natural Bee Propolis. Formulated with 60% Propolis Extract, the antibiotic and antifungal benefits help to protect and purify the skin, while also keeping it conditioned and calm. Dry, or irritated skin is instantly replenished to leave you with a bee-autifully brighter and radiant skin tone."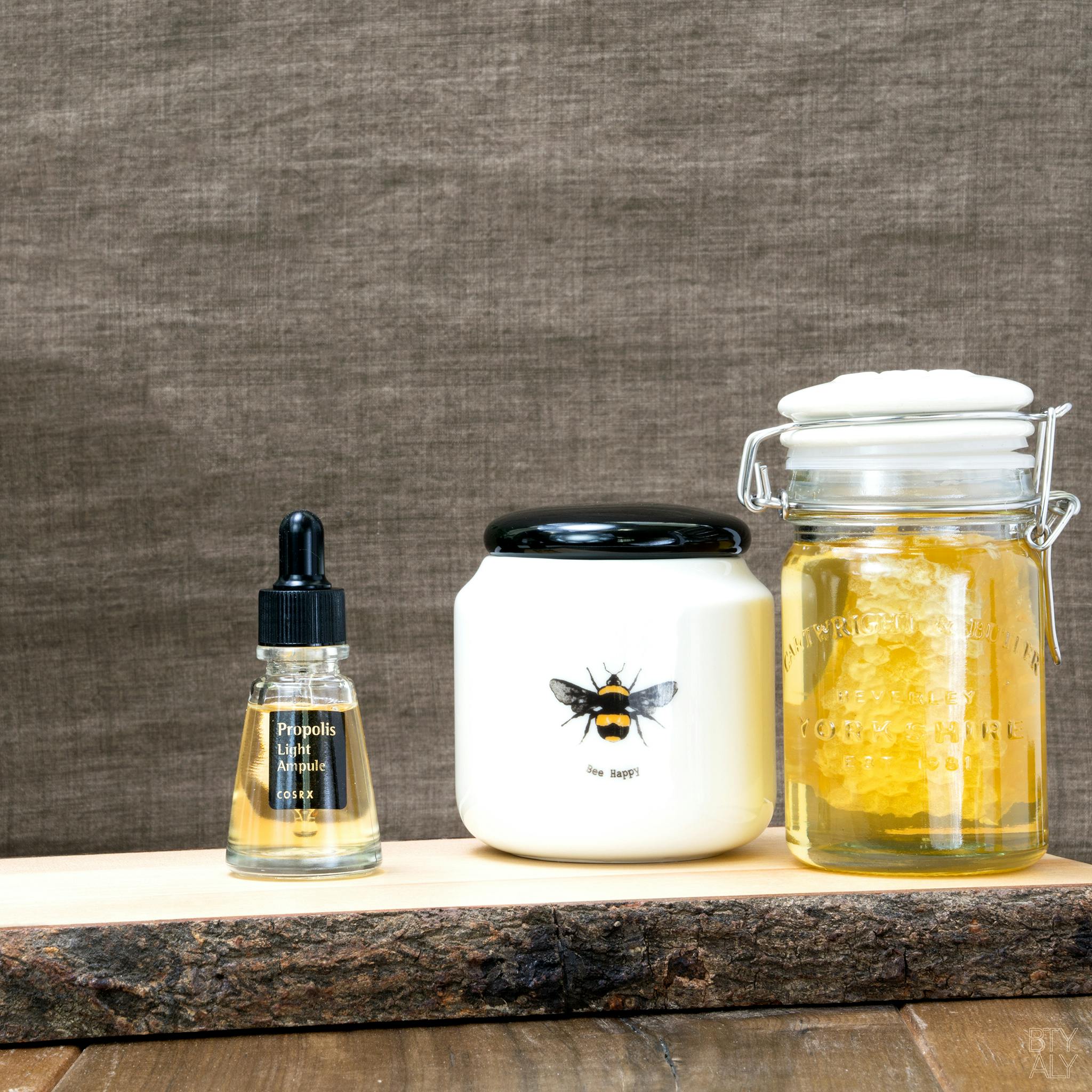 Pros
- the simple but effective formula with many great ingredients for the skin,
- the short and simple formula, well adapted to sensitive skin,
- the moisturizing and soothing effect without being greasy at all,
- the effective rebalancing effect.
Cons
- the bottle is small (20ml) so it empties quite quickly (it lasts me 2 1/2 months maximum),
- the brand is not always easy to find depending on where you live (I would love to see Cosrx more widely distributed worldwide. If there is one K-Beauty brand that has a great potential for success, it definitely is this one! Please, Cosrx, make it happen! ;) ).
product name
Propolis Light Ampule
packaging
A glass bottle with a pipette droper
texture
A gel, with a texture that is a little viscous but which is quickly absorbed
For Who
For all skin types, especially combination to oily skin but also sensitive and acne-prone skins.
Concerns
Perfect for:
– rehydrating "thirsty" skins,
– repairing damaged skins,
– rebalancing combination to oily skins,
– soothing inflammation and help heal acne-prone skins.
Method
I used this Cosrx Propolis Light Ampule for about 2 1/2 months, 1 pipette every night with my first bottle, then in the morning for the second one, like a serum (= before my day cream). I used it alone the first time and at the moment, I'm mixing it with a few drops of face oil (the AC 24/7 is terrible for my skin, so I have to layer all the skincare).
The product has a texture close to a serum, a little viscous, and which is absorbed very quickly into the skin. It doesn't leave any greasy residue on the skin. I massage it quickly to spread it on my face and I press it into my skin.
Key Ingredients
In its formula:
– propolis extract (83%): anti-bacterial, antioxidant, repairing and helps to rebalance the skin,
– Glycerin: moisturizing
– Betaine: moisturizing and soothing
– Cassia Obtusifolia seed extract: antioxidant, anti-inflammatory and anti-redness,
– Hyaluronic acid: moisturizing,
– Panthenol: repairing and soothing,
– Arginine: moisturizing effect.
Ingredients
Propolis Extract, Butylene Glycol, Glycerin, Betaine, 1,2-Hexanediol, Cassia Obtusifolia Seed Extract, Sodium Hyaluronate, Hydroxyethylcellulose, Carbomer, Panthenol, Arginine.
Ingredients not included
– Parabens,
– Propylene Glycol,
– Alcohol,
– Silicones,
– Sodium Lauryl Sulfate,
– Dyes,
– Synthetic fragrance,
– PEG,
– Mineral oil.