Intro
Disclosure:
We, or the author, purchased this item.
We may receive commission (from a sale) if you click on and purchase from affiliate link(s) below. You'll be helping to support the magazine.
The company requested or expected us to write a review of this.
We have an affiliation system in place with the brand / company.
My detailed review of the By Wishtrend Pro-Biome Balance Cream soothing moisturizer. Finally a moisturizer that can repair the skin barrier without being too rich, and which is perfect for daytime use!
I don't know about you, but when I hear "skin barrier repair product", I always think of something rich, rather emollient and that I would have trouble using in the morning without looking like a disco ball…
Well, I have good news! The Korean skincare brand By Wishtrend has just launched a product that is ideal for people with sensitive skin who prefer lightweight textures! Let me introduce you to the By Wishtrend Pro-Biome Balance Cream!
Actually, Wishtrend launched this moisturizer last June, but I thought it would be absolutely perfect for Fall! That's because it contains propolis extract, which I love to use in the colder season (yes, you can laugh, as if there was a colder season in Dubai! 😆).
I wrote tons of reviews and even a Focus article dedicated to products that use ingredients from the hive. My skin loves them!
Whether it's honey, royal jelly or propolis, I appreciate their moisturizing, soothing and purifying effect that perfectly fit the needs of my dehydrated combination acne-prone skin!
I have previously tried the two other products in this Wishtrend line: the Quad Active Boosting Essence and the Polyphenols in Propolis 15% Ampoule serum, which I really liked!
So I was curious to try the moisturizer from this By Wishtrend's Propolis line 😉 Here is my review of the By Wishtrend Pro-Biome Balance Cream moisturizer!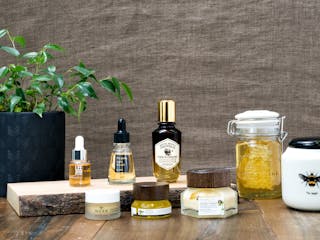 Ingredients
Focus on: Honey and Propolis
Skin products rich in hive ingredients such as honey and propolis have always been popular, especially amongst sensitive skins. The use of these ingredients in cosmetic is definitely not new, but skincare products made in Korea put a spotlight again on these very powerful and effective natural ingredients.
Read more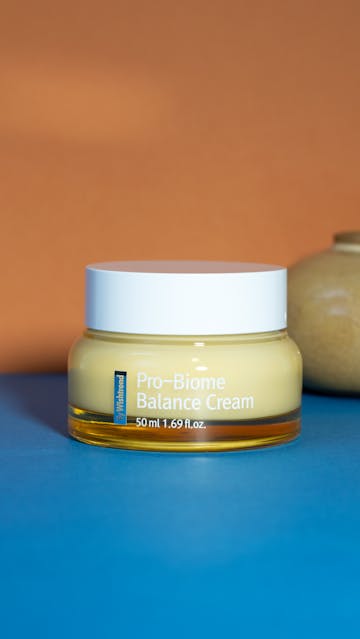 By Wishtrend Pro-Biome Balance Cream moisturizer, product presentation:
I've already introduced the By Wishtrend skincare brand a few times (including in this article if you're curious), so in short, it's a Korean skincare brand created by the same company as the eponymous online store, that highlights certain ingredients to meet specific skin needs in its range.
Here, with the By Wishtrend Pro-Biome Balance Cream moisturizer, the brand focus on propolis, a perfect ingredient to soothe and purify blemish-prone skin, but not only!
The formula is also great to repair and soothe sensitized skin with ferments and other "biotic" ingredients that we've been hearing a lot about lately because they're very interesting to preserve the harmony of our skin microbiome. (I explain what the microbiome is in this dedicated article: Focus on: the microbiome and cosmetics with probiotics )
And a healthy microbiome usually means a healthier, stronger skin that is more resistant to external aggression, altering its natural balance (pollution, stress, or a more challenging climate for the skin…).
Add to that a lot of moisturizing ingredients, and it gives us a nice balanced formula, ideal for sensitive combination skin, or sensitive dry skin types that appreciate light textures!
The texture of this Pro-Biome Balance Cream is indeed a melting gel-cream. I understand why the brand launched it this summer, because that's usually when these types of textures are popular. But personally, I like it a lot right now, because I find it really moisturizing and my skin is finally starting to recover from the endless, super drying Dubai summer!
You can use it as a day moisturizer, or a night cream, as you like but I love the nice glow it gives my skin in the morning!
By Wishtrend Pro-Biome Balance Cream moisturizer, my experience:
I guess it's quite obvious: I really like this moisturizer!
Its melting texture is very pleasant, and it's a genuine pleasure to apply it on my skin in the morning. It's super comfortable without being too heavy, I find it perfect for the season!
For me, it's an ideal daily moisturizer: it leaves my skin plumped and hydrated without feeling greasy, it soothes my dehydrated and sensitized combination skin in a light way but the comfort it provides is long-lasting. It's also great as a makeup base. In short, it has it all!
It reminds me a lot of the Farmacy's Honey Drop moisturizer, except it's more soothing and half the price 😁
My jar lasted me almost 3 months and I've already repurchased it!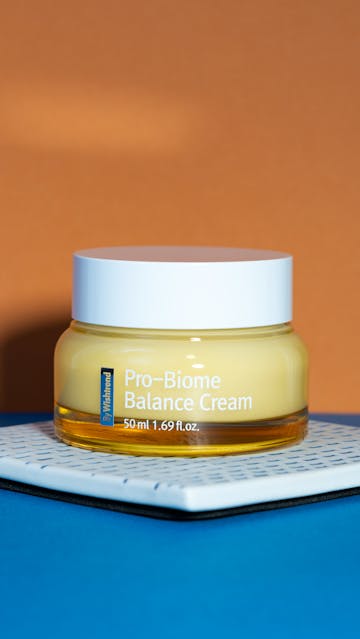 In conclusion:
A moisturizer with a good, well-made formula, suitable for sensitive skin and that is pleasant to use: what's not to love?
Well OK, it could have been in a tube to be perfect but honestly, I'm just nitpicking (and the jar is cute, so it's fine 😉 ).
The By Wishtrend Pro-Biome Balance Cream moisturizer retails between $23 and $28 for 50ml depending on the retailer.
Product Review in detail
Summary
By Wishtrend Pro-Biome Balance Cream
"This daily moisturizing cream is recommended for anyone who has sensitive, troubled skin. It contains Propolis extract, which is rich in antioxidant and known for soothing, anti-inflammatory effects. With the synergistic effect of the Probiome Complex, it enhances moisturizing effects and restores the skin barrier. Due to its light and refreshing texture, it is perfect for those who have oily, combination skin."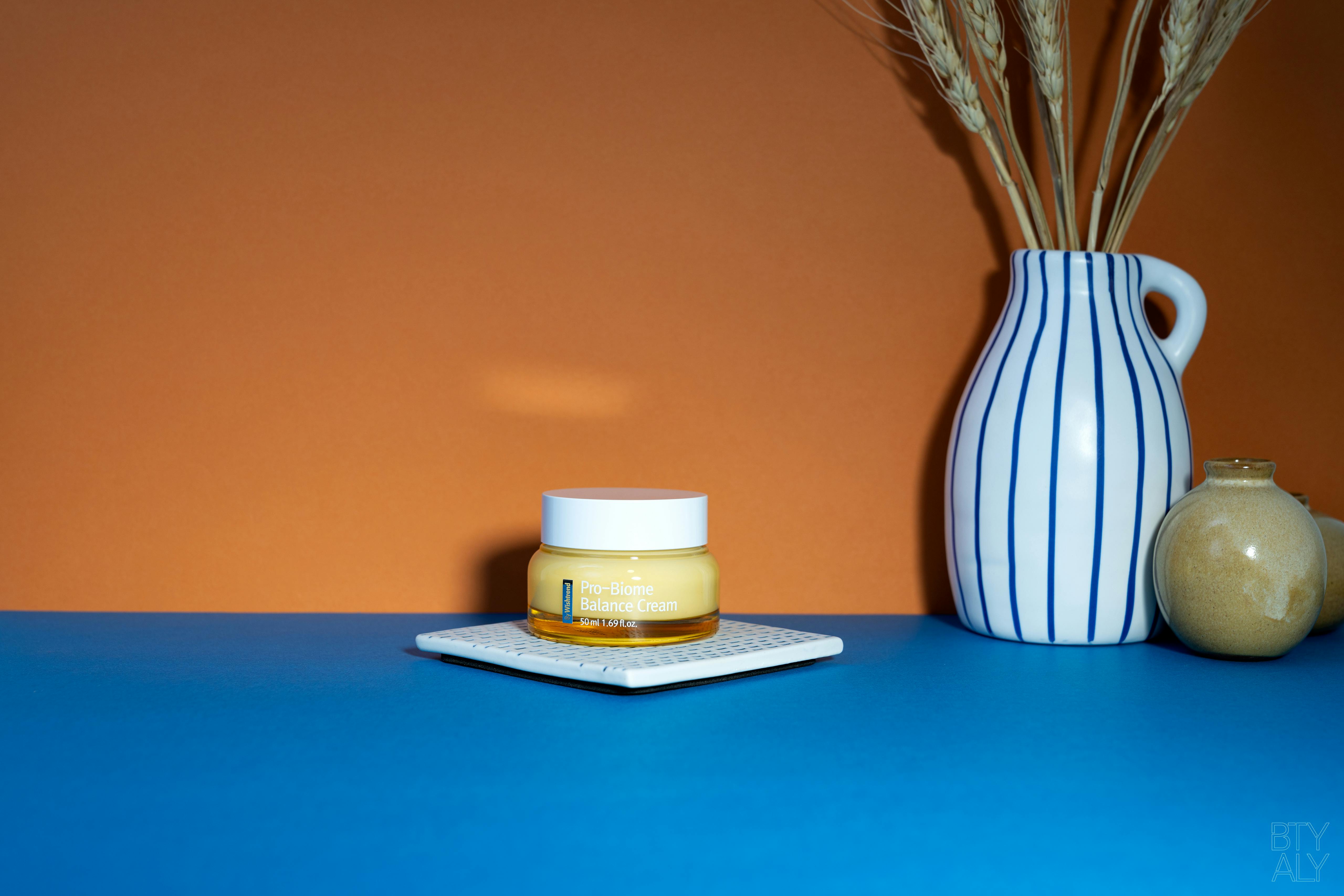 Recommendation
A
A great daily moisturizer!
Pros
- the formula is well done, with many great skincare ingredients,
- the soothing and repairing effect is effective,
- combo and oily skin will appreciate its light texture,
- the glossy but non greasy moisturizing effect,
- the long-lasting comfort it provides.
Cons
- I would have prefer a tube packaging.
product name
Pro-Biome Balance Cream
packaging
A transparent yellow glass jar with a white cap, rather simple and pretty.
texture
A gel-cream texture, fresh and melting, which leaves the skin well hydrated.
For Who
All ages.
For combination to oily skin types, and especially:
– sensitive or sensitized skin, with a damaged protective barrier,
– reactive skin, which flushes easily,
– acne-prone skin.
Concerns
– dehydration,
– sensitized, damaged skin,
– acne-prone skin,
– feeling of discomfort because of irritation.
Method
I use the By Wishtrend Pro-Biome Balance Cream at night for its soothing effect, but you can use it morning and/or evening.
I take the equivalent of a small amount of cream with a spatula and apply it on my face and neck, at the end of my routine, after my serums.
I wait a few minutes and then apply my sunscreen.
Key Ingredients
In this formula, there are many soothing and moisturizing ingredients, such as:
– Bifida Ferment Lysate extract (probiotic ingredient): soothing effect, it also helps strengthen the skin barrier. It's an ingredient that helps maintain the harmony of the skin microbiome.
– Propolis extract: calming and anti-inflammatory, it also helps to purify acne prone skin.
– what the brand calls the Pro-Biome Complex, which comprises a complex of different ingredients (Saccharomyces + Honey Ferment Filtrate + Bifida Ferment Lysate + Lactococcus Ferment Lysate): soothing, repairing, increases skin regeneration and reduces inflammation.
– Squalane oil: a light nourishing oil, great for combination skin
– Glycerin, betaine and xylitol: hydrating,
– extracts of various soothing plants: mallow, garlic, potato pulp…
Ingredients
Lactobacillus Ferment Lysate, Propolis Extract, Butylene Glycol, Glycerin, 1,2-Hexanediol, Caprylic/Capric Triglyceride, Squalane, Helianthus Annuus (Sunflower) Seed Oil, Saccharomyces/Honey Ferment Filtrate, Bifida Ferment Lysate, Lactococcus Ferment Lysate, Asparagus Officinalis Extract, Allium Sativum (Garlic) Bulb Extract, Pisum Sativum (Pea) Seed Extract, Malva Sylvestris (Mallow) Extract, Glycine Max (Soybean) Seed Extract, Solanum Tuberosum (Potato) Pulp Extract, Tocopherol, Betaine, Aqua (Water), Glyceryl Stearate, Xylitol, Caprylic Acid, Xanthan Gum, Sodium Polyacrylate, Disodium EDTA
Ingredients not included
– mineral oil,
– silicone,
– alcohol,
– fragrance,
– essential oils,
– dyes.