Intro
Read my detailed review of the soothing and purifying serum Polyphenols In Propolis 15% Ampoule, by the Korean skincare brand By Wishtrend.
Soothing and repairing, but also very rich in antioxidant ingredients, the By Wishtrend Polyphenols In Propolis 15% Ampoule serum seems to be an ideal product for the cold season! I'll tell you more in my detailed review.
If you've been reading my reviews regularly, you already know my passion for propolis. It's one of my favourite ingredients, and I especially like it when my skin is more irritated than usual.
Propolis is ideal if, like me, you have a combination, dehydrated and sensitive skin (or a sensitized skin because of certain actives). It is repairing, soothing and purifying effects are exactly what my skin needs right now!
Propolis is not the main ingredient in the 'By Wishtrend Polyphenols In Propolis 15% Ampoule', despite its name. As we'll see, there are other purifying and also antioxidant ingredients that I'm very interested in!
I've been using it for several months now, I'll give you my thoughts, but first, let me tell you more about the company behind the product: By Wishtrend!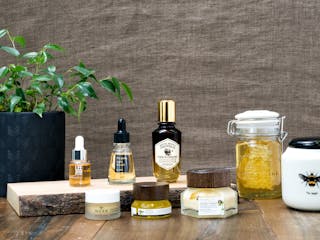 Ingredients
Focus on: Honey and Propolis
Skin products rich in hive ingredients such as honey and propolis have always been popular, especially amongst sensitive skins. The use of these ingredients in cosmetic is definitely not new, but skincare products made in Korea put a spotlight again on these very powerful and effective natural ingredients.
Read more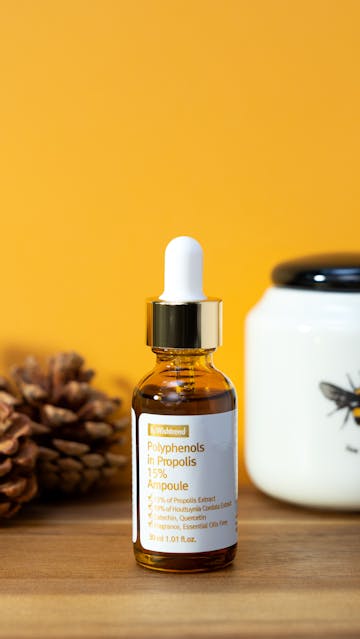 The skincare brand By Wishtrend:
When I first started to look more closer on By Wishtrend, what I discovered really surprised me!
Considering the name, I thought at first that it was probably a "private label" brand, sold exclusively on the eponymous K-Beauty online store, Wishtrend, based in South Korea.
But in reality, Wishtrend, or rather Wishcompany, which is the company behind Wishtrend, is a bit more than just a K-Beauty online store.
Wishcompany is actually a kind of cosmetic incubator.
They have created different brands: By Wishtrend, which bears their name but also the brand Klair's that I love and that I have often talked about here. And a third one, rather specialized in body care, which I know little about, Jungle Botanics.
They're also specialized in cosmetics-related content, including a website/blog with several articles related to hot topics in the beauty industry (Wishtrend Glam.) as well as a YouTube channel with over 1 million subscribers, Wishtrend TV, which comes in 4 versions (the main one in English and Korean, but there're also Japanese, Vietnamese and Indonesian versions).
Add to this mix, an online shop, Wishtrend, where you can find these three brands and also a selection of Korean cosmetics in the same spirit (i.e. skincare products rather focused on nature-based ingredients, with simple and quite ingredients-focused formulas).
By Wishtrend was developed in response to recurring requests from their online customers who wanted products that could meet their specific needs. The brand is defined as a "cosmeceutical" brand (= at the crossroads between cosmetics and pharmaceutical products).
It's a trend I see a lot of at the moment, especially among Korean/U.S. retailers, who use their customers' data to create skincare (or make-up) brands that are tailor-made to meet their expectations.
Two examples come to mind: Glow Recipe, which stopped distributing other brands on their e-shop to devote themselves to the development of their eponymous brand, and Soko Glam with their brand Then I Met You. But there are others!
With By Wishtrend, you can find the brand on the Wishtrend website, but not only! It's widely distributed on different online K-Beauty platforms and in several physical retail shops.
The brand has just signed an agreement with the fashion stores & Other Stories (which belong to the same company as h&m) to distribute their products in their European points of sale in 2020. They will also soon be available at LookFantastic.
One thing is for sure, Wishcompany is particularly focused on expanding K-Beauty internationally!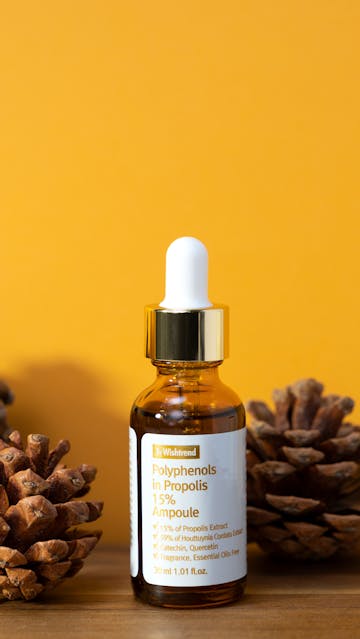 The By Wishtrend Polyphenols In Propolis 15% Ampoule, my thoughts:
By Wishtrend is, as you will have understood from above, a brand that highlights certain ingredients well suited to meet some specific needs.
The first thought I had with the Polyphenols In Propolis 15% Ampoule serum, was that the brand had formulated a product targeting acne prone skin. This is partially true because the propolis mentioned here in the name of the product is a perfect ingredient to soothe and purify at the same time, two effects you definitely need if your skin is breaking out!
However when you inspect the formula, this serum is much more complex than that, with the ability to cover more than just one need!
In the name alone, there is also the word "polyphenols", which definitely puts the product on my "interesting product radar".
Polyphenols are very powerful antioxidant ingredients, and they always have a special place in my skincare routine!
The two polyphenols used here, Catechin and Quercetin, are naturally found in the propolis used by the brand By Wistrend. This propolis doesn't come from Korea but from Auvergne, in France (Cocorico! as we say in France)(it means Cock-a-doodle-doo!, and it's a victory roar in France 😉 ).
This serum is therefore not only soothing and purifying, it's also an excellent product to preserve the youth of the skin!
In addition to propolis, there are also several other purifying and soothing ingredients, such as Houttuynia Cordata extract, which is super trendy in K-Beauty at the moment. It's also naturally rich in antioxidants and has anti-inflammatory and anti-bacterial effects.
There is also witch hazel and zinc, used here for their purifying effect, combined with soothing panthenol and betaine!
In short, a well-balanced formula with a triple soothing, purifying and antioxidant action!
I started using the Polyphenols In Propolis Serum 15% Ampoule about 1 and a half/ 2 months ago (I'm halfway through the bottle now).
I used it after the Missha Time Revolution Night Repair Probio Ampoule serum (which I didn't find soothing enough, so I stopped using it).
I find the By Wistrend Serum much more soothing than Missha's! Its formula is also better suited to my skin needs at the moment.
I find it very comfortable, but not heavy. Its texture is like a liquid gel, quite silky. It looks a little oily at first, but it's quickly absorbed into the skin, without leaving a greasy or sticky effect.
At the moment, I use it in the evening, just before my retinol serum to prepare my skin and prevent it from being too irritated (I'm still testing retinoid derivatives, I'll probably do an article at the beginning of the year to tell you more about my experience, but it's typically a category of ingredients that requires a lot of patience before being able to see a visible result on the skin!)
I'm really happy about it and I took advantage of the Black Friday promotions to repurchase a second bottle! It will allow me to finish the winter without too many skin issues, hopefully 😉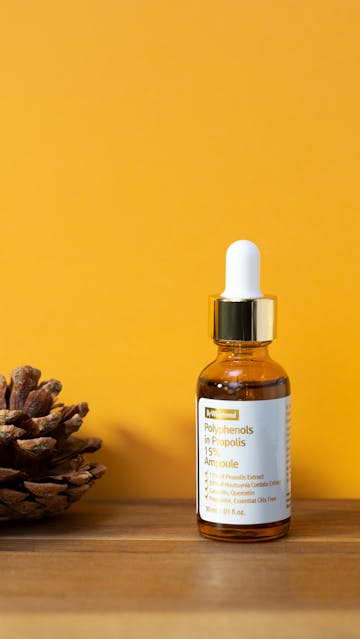 In conclusion:
The Serum By Wishtrend Polyphenols In Propolis 15% Ampoule is really a great product to gently soothe and purify the skin while moisturizing it and giving it a good antioxidant protection.
In short, a true complete serum if like me you have a combo, acne-prone skin, which needs comfort, but a lightweight one!
I was very pleasantly surprised with this product and it makes me want to take a closer look at the other By Wistrend products!
The By Wishtrend Polyphenols In Propolis 15% Ampoule retails between $25 and $32 for 50ml depending on the retailers.
Product Review in detail
Summary
By Wishtrend Polyphenols In Propolis 15% Ampoule
"This ampoule contains Houttuynia Cordata Extract effective in soothing acne instead of water and 15% Propolis with powerful antioxidant effects. The product improves acne and sensitive skin through powerful anti-inflammatory and antioxidant effects and immune system enhancement."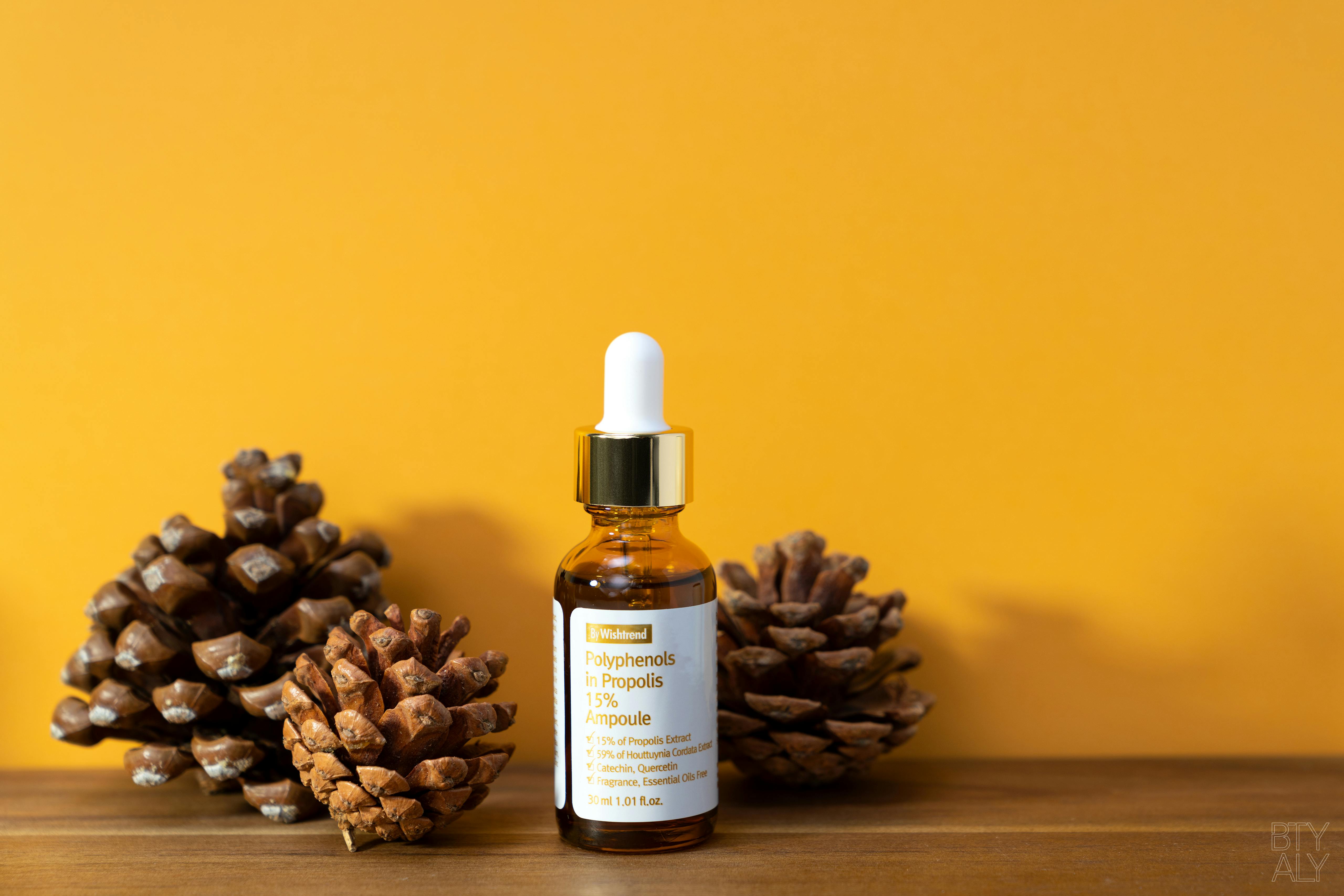 Recommendation
A
A soothing serum, very effective and nice to use!
Pros
- the great formula full of interesting skincare ingredients,
- the silky, comforting texture,
- it has a non-greasy effect on the skin,
- the visible soothing effect,
- the anti-oxidant action (which provides an indirect anti-aging effect).
Cons
- the price tag is a bit high, but you can find discount codes regularly.
product name
Polyphenols In Propolis 15% Ampoule
packaging
A glass bottle with a pipette.
fragrance
It's fragrance-free but there is still a very slight scent of honey, which you can barely smell.
texture
A slightly thick gel-liquid texture. At first, it feels almost greasy, but in a few seconds, the skin absorbs it and it doesn't leave any "oily" effect or sticky feeling.
For Who
– dehydrated skin,
– sensitive and/or sensitized skin,
– mature skin,
– acne-prone skin.
Concerns
– acne,
– redness, inflammation,
– irritated skin,
– dehydration,
– wrinkles,
– dull skin.
Method
I apply the Polyphenols In Propolis 15% Ampoule in the evening at the moment, but you can use it morning and/or evening.
After applying my essence(s), I take the equivalent of 1/3 of the pipette and massage my face and neck with it. Once it's almost absorbed, I finish with some hand pressures on my skin and continue with the rest of my routine.
Key Ingredients
The formula is quite natural, with many interesting skincare ingredients, like for example:
– Propolis extract (from the Auvergne region inFrance): soothing, repairing, anti-bacterial and purifying effects. This Propolis extract also contains two antioxidant polyphenols (Catechin and Quercetin).
– Houttuynia Cordata extract, a very soothing and anti-bacterial plant,
– some plant extracts, very rich in antioxidants: Ocimum Sanctum (Holy Basil/ Tulsi), Corallina Officinalis (Algae), Portulaca Oleracea (Purslane), Punica Granatum (Granada), Melia Azadirachta (Neem), Perilla Frutescens (Shiso) and Turmeric.
– Witch Hazel: purifying action.
– Zinc PCA: purifying and anti-bacterial effect.
– Lactobacillus Ferment (a probiotic ingredient): soothing effect.
– ans some moisturizing ingredients: Glycerin, Betaine, Hyaluronic Acid, Purslane (Portulaca Oleracea), Panthenol.
Ingredients
Houttuynia Cordata Extract, Propolis Extract, Glycerin, Propanediol, Isopentyldiol, 1,2-Hexanediol, Water, Sodium Hyaluronate, Ocimum Sanctum Leaf Extract, Corallina Officinalis Extract, Portulaca Oleracea Extract, Punica Granatum Fruit Extract, Hamamelis Virginiana (Witch Hazel) Extract, Melia Azadirachta Flower Extract, Panthenol, Perilla Frutescens Extract, Curcuma Longa (Turmeric) Root Extract, Lactobacillus Ferment, Melia Azadirachta Leaf Extract, Butylene Glycol, Ammonium Acryloyldimethyltaurate/VP Copolymer, Betaine, Xanthan Gum, Ethylhexylglycerin, Disodium EDTA, Zinc PCA, Pantolactone.
* Please be aware that ingredient lists may change or vary from time to time. Please refer to the ingredient list on the product package for the most up to date list of ingredients.
Ingredients not included
– mineral oil,
– silicones,
– alcohol,
– dyes,
– fragrance.