Intro
Disclosure:
A sample or samples were provided by the brand / company.
The company requested or expected us to write a review of this.
My test and thoughts about the vitamin C serum Pure Vitamin C 15% with Ferulic Acid by the K-Beauty skincare brand By Wishtrend.
By Wishtrend Pure Vitamin C 15% with Ferulic Acid is the first K-Beauty Vitamin C serum with L-Ascorbic that I've tried! So you can imagine how high my expectations were… Unfortunately, this product didn't really live up to them, as I'll explain in this review.
I've been a fan of vitamin C L-ascorbic serums for many years now! They have become part of my daily morning routine and they're my secret weapon to give radiance to my complexion and to prevent aging!
I explain it in each of my reviews, I' m quite demanding when it comes to this category of products. I even have a detailed list of these ( many ) requirements 😅
In general, the vitamin C serums I am interested in have:
– a formula that contains pure vitamin C, meaning L-Ascorbic vitamin C (I prefer this ingredient to its derivatives, less effective on me),
– a concentration of L-ascorbic acid high enough to be effective (between 10 and 20%),
– other antioxidant ingredients in its formula (vitamin E, ferulic acid …) to make it more stable over time,
– a formula with a pH of 3.5 or less, to guarantee a better stability of the formula,
– a water-based, non-greasy, liquid texture for a better absorption and efficiency on my combination skin,
-a bottle that protects the formula from air and light (no transparent glass and a bottle that closes well),
– a fair price (ideally less than $40), and a decent quantity of product (ideally 30ml, more I'm afraid the formula will oxidize).
The reason I have all these criteria is because I know that a water-based L-Ascorbic Vitamin C serum formula (my favorite type of formula) is by definition unstable. Vitamin C L-Ascorbic doesn't like water very much, and it must be stabilized for the serum to remain effective throughout the entire treatment.
If the formula oxidizes, it loses all its effectiveness. And it's a bit of a shame to spend money on a product that becomes ineffective too quickly!
Unfortunately, that's exactly what happened to me with this By Wishtrend Pure Vitamin C Serum 15% with Ferulic Acid… Let me tell you what happened!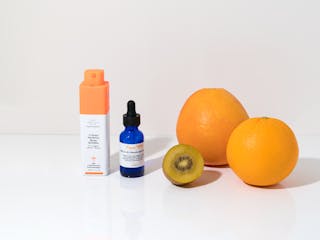 Ingredients
Focus on: Vitamin C (L-ascorbic acid)
Vitamin C (L-ascorbic acid) products are everywhere at the moment. It's not really surprising because this ingredient is really magic to give radiance to the complexion, the famous glow that everybody wants these days. But it's also a very unstable ingredient that needs a certain environment to be able to deliver all its benefits.
Read more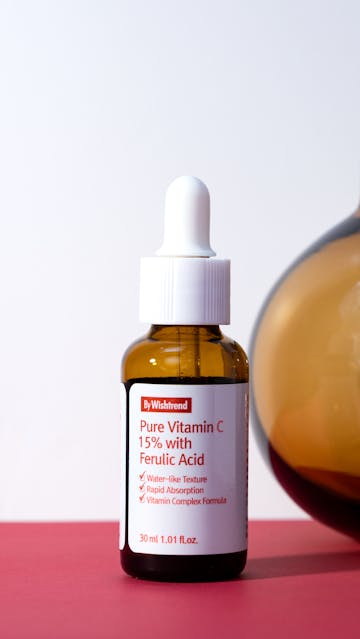 By Wishtrend Pure Vitamin C 15% with Ferulic Acid, product presentation:
I have previously mentioned the brand By Wishtrend in my review of their Polyphenols In Propolis 15% Ampoule Serum, which I really liked.
By Wishtrend is a Korean skincare brand, designed by the company behind the Wishtrend online store. It was developed as a response to recurrent requests from customers of the e-store, who wanted products that could meet very specific skin needs. The brand actually describes itself as a "cosmeceutical" brand (= between cosmetics and pharmaceuticals).
So here, we're dealing with quite specific products, which are also aimed at a rather well informed clientele.
With its Pure Vitamin C 15% with Ferulic Acid serum, which is an antioxidant serum based on pure vitamin C, the brand offers a classic anti-aging product. And when they launched it a few months ago, I was clearly super interested!
Personally, I consider vitamin C serum to be an indispensable part of my anti-aging routine. I use one every morning, to give my complexion radiance and especially to help my skin protect itself from the environmental aggressors during the day.
With its 15% concentration of L-Ascorbic Vitamin C, it's also supposed to reduce pigmentation spots (but I don't really have any, so it's difficult for me to give you my thoughts). It's also supposed to boost the production of collagen for a younger looking skin but since the results are visible on the very long term, we'll talk about it again in about ten years, OK? 😉
Regarding the ingredients, if I use the criteria listed above, the formula is very promising!
it contains 15% L-ascorbic acid,
it also contains vitamin E and ferulic acid, with other vitamin C derivatives and niacinamide, a true cocktail of antioxidants which here will help to stabilize the formula and also benefits the skin,
its pH is between 2 and 3.5,
its water-based texture is liquid and non-greasy,
its bottle isn't transparent (it's tinted glass),
it has a 30ml content and it retails for $28.
But then, why didn't this product work for me?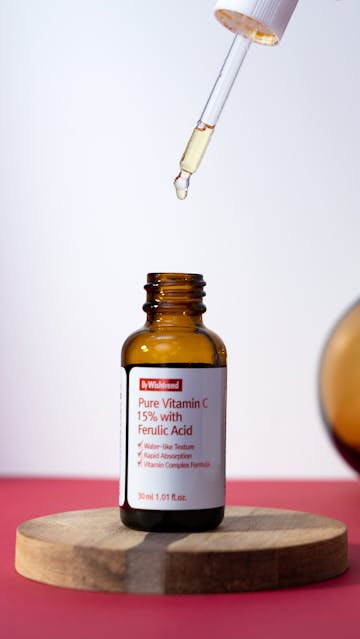 By Wishtrend Pure Vitamin C 15% with Ferulic Acid, my experience:
For the first few weeks of use, I was pretty happy with it.
I use it at the very beginning of my morning routine, after I cleansed my skin and before the rest of my products. It's very liquid and absorbs quickly into the skin, leaving it comfortable.
The brand talks about a formulation designed for sensitive skin and I must say that even on my skin sensitized by the use of tretinoin, it didn't irritate me at all, despite its low pH.
I also had good results on the radiance of my complexion, which is always a plus 🙂
But soon enough, something in the packaging bothered me. Every morning, when I picked up my bottle, I noticed that the cap was almost completely loose. I tried to close it by screwing it tighter, but it didn't work. It just doesn't close well.
And with this kind of very air-sensitive formulas, it's unfortunately quite fatal…
Note:
Usually, water-based vitamin C L-ascorbic serum formulas are transparent when you start using them. With time, and exposure to air and light, they gradually turn yellow, then orange, then brown. This indicates that they're oxidizing. Typically, a stable formula begins to turn yellow after 2-3 months of use. And a 30ml bottle lasts about 3 months, which means that you should have time to use up your product without it oxidizing, if the formula is well stabilized. If your formula has changed from transparent to orange, it means that it's oxidized and therefore no longer effective.
Unsurprisingly, I saw the formula of the By Wishtrend Pure Vitamin C 15% with Ferulic Acid turning yellow faster and faster. I'm about halfway through my bottle, I started it a little over 6 weeks ago and I see it's already oxidized. In 2 weeks, it'll probably be orange at this rate…
I will probably be able to use it until the end of the month of September but I already know that its effectiveness is very diminished and that I won't be able to finish it.
The brand sent me the product, so I didn't pay for it but I intended to try it and I can tell you that I would have been really disappointed if I had paid $28 for a product that oxidizes halfway through its use…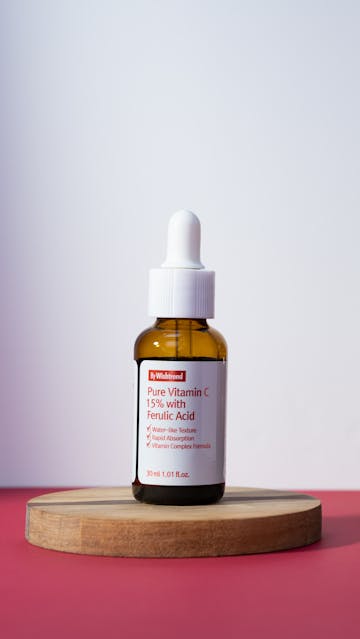 In conclusion:
This product is really a missed opportunity! And according to the reviews I've read here and there, I'm not the only one it happened to.
I really hope that the brand is going to fix it and change the packaging because the formula is really nice and it looks effective, but the packaging is a total fail!
And with L-Ascorbic Vitamin C, this is not gonna fly, unfortunately…
The serum By Wishtrend Pure Vitamin C 15% with Ferulic Acid retails for $28 for 30ml.
Product Review in detail
Summary
By Wishtrend Pure Vitamin C 15% with Ferulic Acid
"This vitamin C serum contains 15% pure vitamin C which helps with antioxidant care, skin brightening, acne prevention, boost collagen, and recovers the skin from UV rays. As it contains ferulic acid, it maximizes the antioxidant and antibacterial effect of vitamin C. Recommended for oily and combination skin and for vitamin C beginners."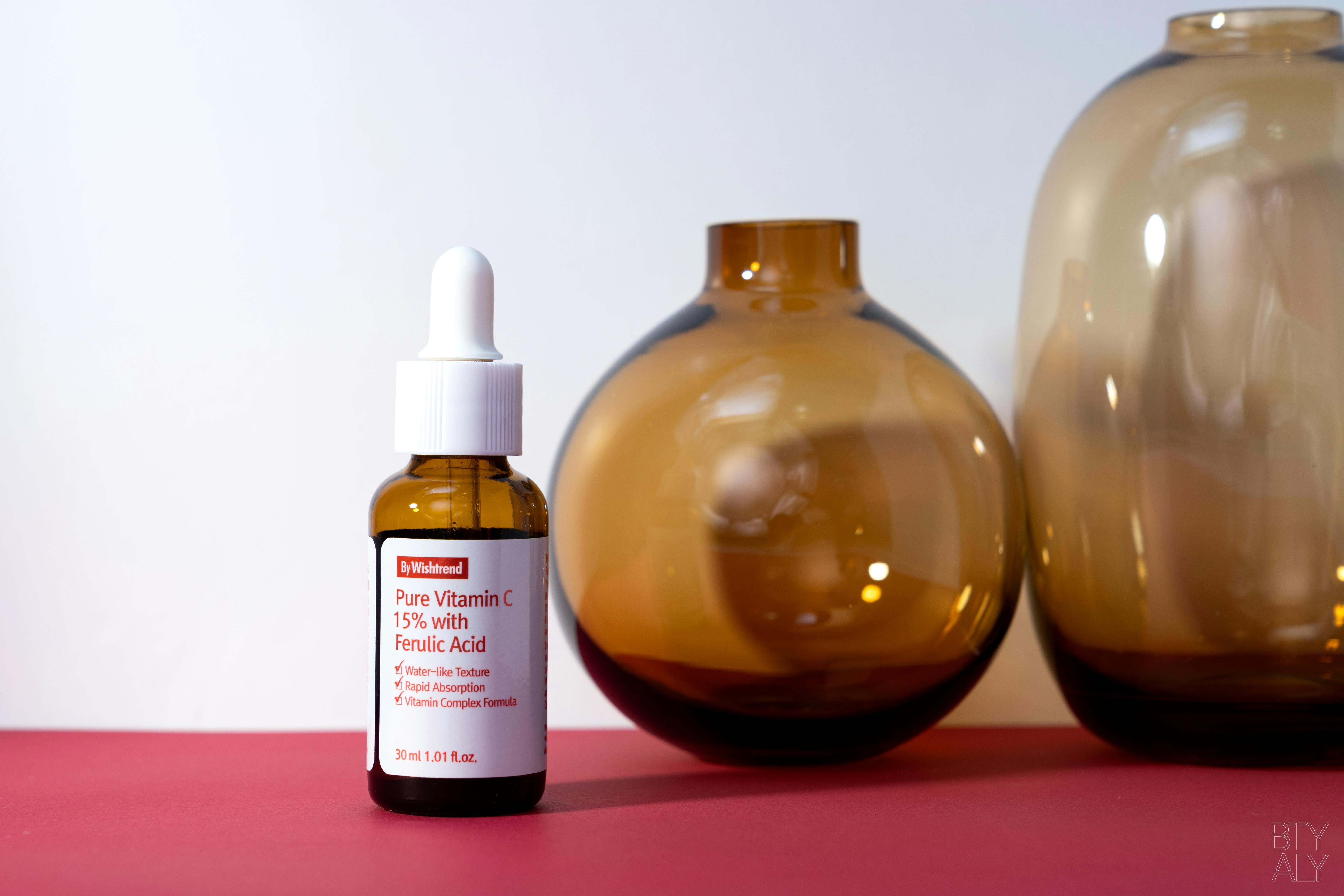 Recommendation
C
Good formula but terrible packaging!
Pros
- the 15% concentration of vitamin C L-ascorbic, supported by other vitamin C derivatives,
- the presence of vitamin E and Ferulic acid in the formula, which theoretically helps to stabilize vitamin C (but here, it was not enough, because the packaging is not appropriate),
- its pH is between 2 and 3.5, which is ideal for this type of product, as it guarantees a better stability (but again, because of the packaging, it wasn't enough),
- it doesn't dehydrate the skin (there are other moisturizing active ingredients in the formula),
- its anti-oxidant, preventive anti-aging effect,
- its price is quite affordable, especially compared to its competitors on the market.
Cons
- the big issue with this product is definitely its packaging. The cap doesn't close well, and after a few hours the cap loosens, which makes the air pass through very easily and the formula oxidizes faster,
- this inappropriate packaging alters the stability of the formula. In my case, it oxidized in 6 weeks.
- I was only able to use half of the bottle. Hard to measure its real efficacy in this case!
- and as a result, the value for money is also biased! It's expensive for a product that lasts only 6 weeks!
product name
Pure Vitamin C 15% with Ferulic Acid
packaging
A tinted glass bottle with a pipette. The cap losens after a few hours, it' s not tight enough.
fragrance
It's fragrance free, but it smells like "bacon water" like every vitamin C L-Ascorbic acid serum.
texture
A liquid texture, quickly absorbed but that leaves my skin comfortable.
For Who
– all skin types, including the most sensitive,
– tired, dull skin, smokers or people living in a highly polluted environment,
– skins with uneven texture,
– skins with hyperpigmentation,
– skins with a lack of firmness and elasticity.
If you have acne prone skin, just be aware that vitamin C can sometimes trigger a reaction. It may vary according to people. I have acne-prone skin and this product didn't make me break out.
Concerns
– tired skin
– lack of radiance
– smokers
– skins exposed to pollution
– mature skin
– lack of firmness
– wrinkles, fine lines
– scars
– pigment spots
– hyperpigmentation
– if the skin is exposed to UV (but you have to pair it with a sunscreen).
Method
I use it every morning on my face and neck after I cleansed my skin with a low pH foaming cleanser. I use it first in my routine, before my essences, because I want to enjoy its benefits without it being "diluted" by my essences that I apply on top.
I apply 5 to 7 drops of product on my face and neck and I let it absorb for a few minutes (1-2 minutes) before carrying on with the rest of my routine.
Key Ingredients
The key ingredients of this serum:
– a complex of antioxidant ingredients containing 15% L-ascorbic acid, ferulic acid and vitamin E: these three combined ingredients boost the antioxidant effect of vitamin C and also make it more stable ( the combined vitamin C is more effective and can be used over a longer period of time without oxidizing too quickly) (well, that's when the packaging is appropriate).
The pH of the formula is between 2 and 3.5 which allows the vitamin C to be more stable and effective for a longer period of time.
– hydrating and antioxidant sea buckthorn fruit water,
– two other vitamin C derivatives and niacinamide for their antioxidant effects,
– hydrating glycerin.
Ingredients
Hippophae Rhamnoides Water, Ethoxydiglycol, Ascorbic Acid, Diglycerin, Methylpropanediol, 1,2-Hexanediol, C12-14 Pareth-12, Ethyl Ascorbyl Ether, Tromethamine, Ferulic Acid, Ethylhexylglycerin, Aqua (Water), Niacinamide, Calcium Pantothenate, Maltodextrin, Sodium Starch Octenylsuccinate, Sodium Ascorbyl Phosphate, Tocopheryl Acetate, Pyridoxine HCl, Silica
Ingredients not included
– alcohol,
– mineral oils,
– silicones,
– dyes,
– fragrance and essential oils.