Intro
Discover my detailed review of the anti-aging and antioxidant serum with vitamin C, the Vitamin-C Serum from the British skincare brand Pixi Beauty.
When I saw that the British brand Pixi was launching a vitamin C serum, I was full of hope! The brand recently widened its skincare offer and it seemed very promising. Unfortunately, the Vitamin-C Serum didn't live up to my expectations… Let me explain why!
I've been a fan of using vitamin C serums in my morning routine for several years now.
I especially enjoy those that contain vitamin C L-Ascorbic! It's indeed an ultra-effective anti-oxidant ingredient for the complexion's radiance, and I also use it for its longer-term anti-aging effect (it helps to boost collagen production).
I talked about it in my Focus article about vitamin C L-Ascorbic and my many reviews on products using this ingredient, it's not easy to find a good serum with vitamin C at an affordable price, especially in the type of formulas I like the most.
In general, I prefer fairly liquid (or gel-based) water-based formulas, which I find more pleasant to use than water-free vitamin C products, usually too oily for my combo skin.
But these liquid water-based formulas are quite complicated to stabilize because vitamin C L-Ascorbic is very unstable in the presence of water.
In this product category, the "grail" is still the Skinceuticals C E Ferulic (which I reviewed). A great product but definitely too expensive for me, especially considering it only lasts me a maximum of 3-4 months!
When it was released, the Pixi serum seemed to be a more reasonable alternative in terms of price and it has a big advantage compared to the ones I found so far (especially the Maelove serum I love), it's much easier to find in many different countries. In Dubai, it's available at Sephora for example.
So I tried it and unfortunately, as you'll see below, it didn't really convince me.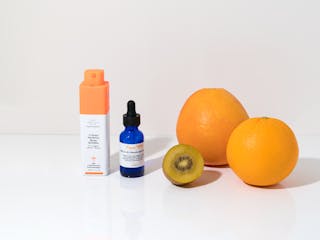 Ingredients
Focus on: Vitamin C (L-ascorbic acid)
Vitamin C (L-ascorbic acid) products are everywhere at the moment. It's not really surprising because this ingredient is really magic to give radiance to the complexion, the famous glow that everybody wants these days. But it's also a very unstable ingredient that needs a certain environment to be able to deliver all its benefits.
Read more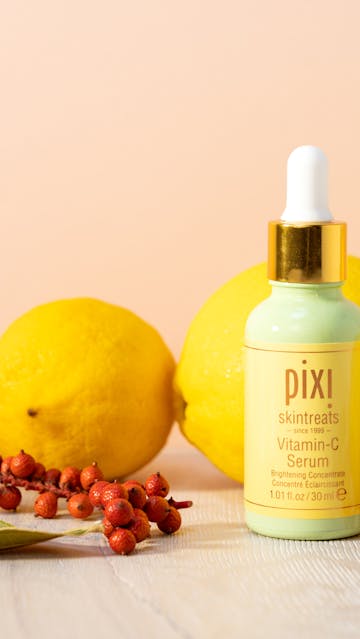 Product presentation: Pixi Vitamin-C Serum
Pixi Beauty is a British cosmetics brand created about twenty years ago by a make-up artist, Petra Strand.
The brand is best known for its makeup, but some of its skincare products are cult favorites. Ever heard about Pixi Glow Tonic ? 😉
At the beginning of 2019, Pixi considerably widen its range of skincare products with no less than 5 different and completely new ranges! There are products with retinol, others with glycolic acid, rose and also vitamin C.
I'll be honest, I found it a little disturbing for consumers to launch so many new products all at once. And I myself didn't have time to study everything up close yet, but a lot of their products seem promising!
The one that caught my eye first was the Vitamin-C Serum that I hoped would be a correct alternative to the other, often too expensive, vitamin C serums available on the market (and not always easy to find when you live in Europe).
Before reviewing this Pixi product, a little reminder of what I expect in a water-based vitamin C serum:
a formula with a pH of 3.5 or less,
a good concentration of L-ascorbic acid (minimum 10%, maximum 30%),
ideally other antioxidant ingredients in its formula (vitamin E, Ferulic acid…) for more stability,
a bottle that protects the formula from air and light (I avoid transparent glass).
Of course, it's better to use it quickly (maximum 6 months after opening). And don't bother stocking up on this product in advance, you buy it when you need it to avoid using a product that isn't "fresh" .
On paper, the Pixi serum met many of my expectations, particularly because it contains 15% L-ascorbic acid, and there is Ferulic acid and vitamin E in the formula.
But the least I can say is that it was complicated to get information from the brand. After I basically harassed them (lol), I managed to learn the concentration of L-ascorbic acid but for the rest (especially pH), no way to know… I understand that the brand doesn't want to reveal all its formulation secrets but the percentage of L-ascorbic acid is usually a piece of information given by brands nowadays, it's even a selling point!
But what can I say, it's their choice after all…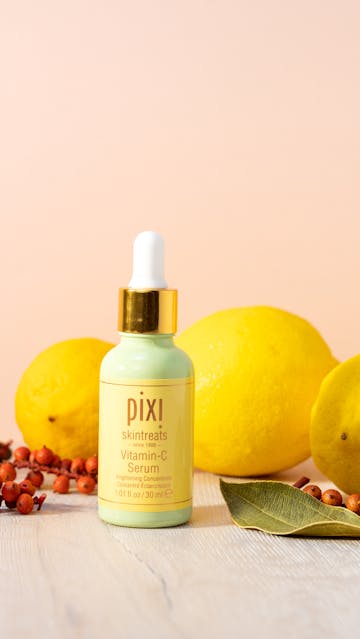 My experience:
To be honest, I kinda blame myself for not looking more closely at the composition of this serum because several things are quite problematic in this formula.
Of course, the concentration of ascorbic acid and the presence of antioxidants are good points. But it's important to look at the rest of the formula as well. And here, there's one thing I have a hard time explaining.
The product is full of essential oils. It's very fragrant, which is not unpleasant but can cause some issues.
First, people with sensitive skin can react to these types of ingredients, but most importantly, some of the essential oils chosen by Pixi can be photo-sensitizing. In particular, the lemon essential oil (in the INCI list, Citrus Limon Peel Extract) that is here in a prominent place in the ingredients list. Not great for a product recommended for daytime application!
I always apply a sunscreen product on top of it so I limit the risks, but it's still a curious choice from the brand IMO…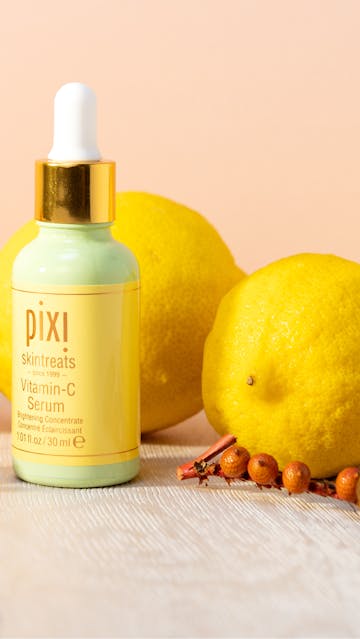 Also, I had the opportunity to test this product twice (once at the beginning of the year and the second time this autumn because I wanted to give it a second chance) and each time, the formula changed color/oxidized in 6 weeks.
It has gone from light yellow to very dark yellow and I must admit that I didn't expect the product to oxidize before 3 months of use (that's usually how it works with a more stable formula). So I have serious doubts about the stability of this formula and, consequently, about its effectiveness.
It's complicated to give you a detailed review of a product I've only used for 6 weeks… In general, especially with a vitamin C serum, I can tell it's fine (or not) after 2 or 3 months of use.
It's such a shame because this product is not super expensive for its size and it's also quite easy to find for me, without having to go through an online order.
But honestly, I don't recommend it and personally, I'm going to stop using it (my bottle is still half full).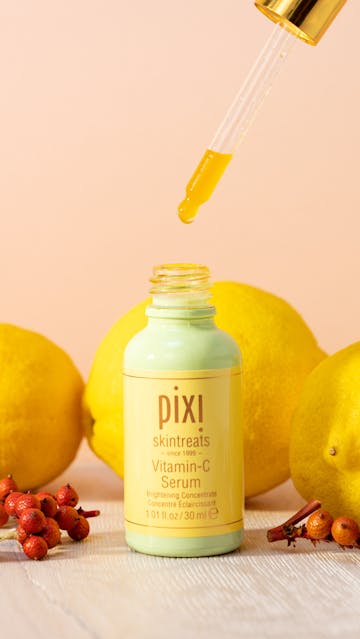 In conclusion:
It's such a shame and it's definitely a great missed opportunity for Pixi Beauty!
I know that many other products from the brand are also very perfumed with citrus essential oils (after this disappointment, I looked into other formulas from the brand) so I really advise caution if you use these products during the day and if you expose your skin to the sun. Personally, I wouldn't recommend it…
The Pixi Vitamin-C Serum retails from $25 to $30 for 30ml depending on the retailers.
Product Review in detail
Summary
Pixi Vitamin-C Serum
"Brightening & antioxidant serum provides a boost of immediate and long term radiance."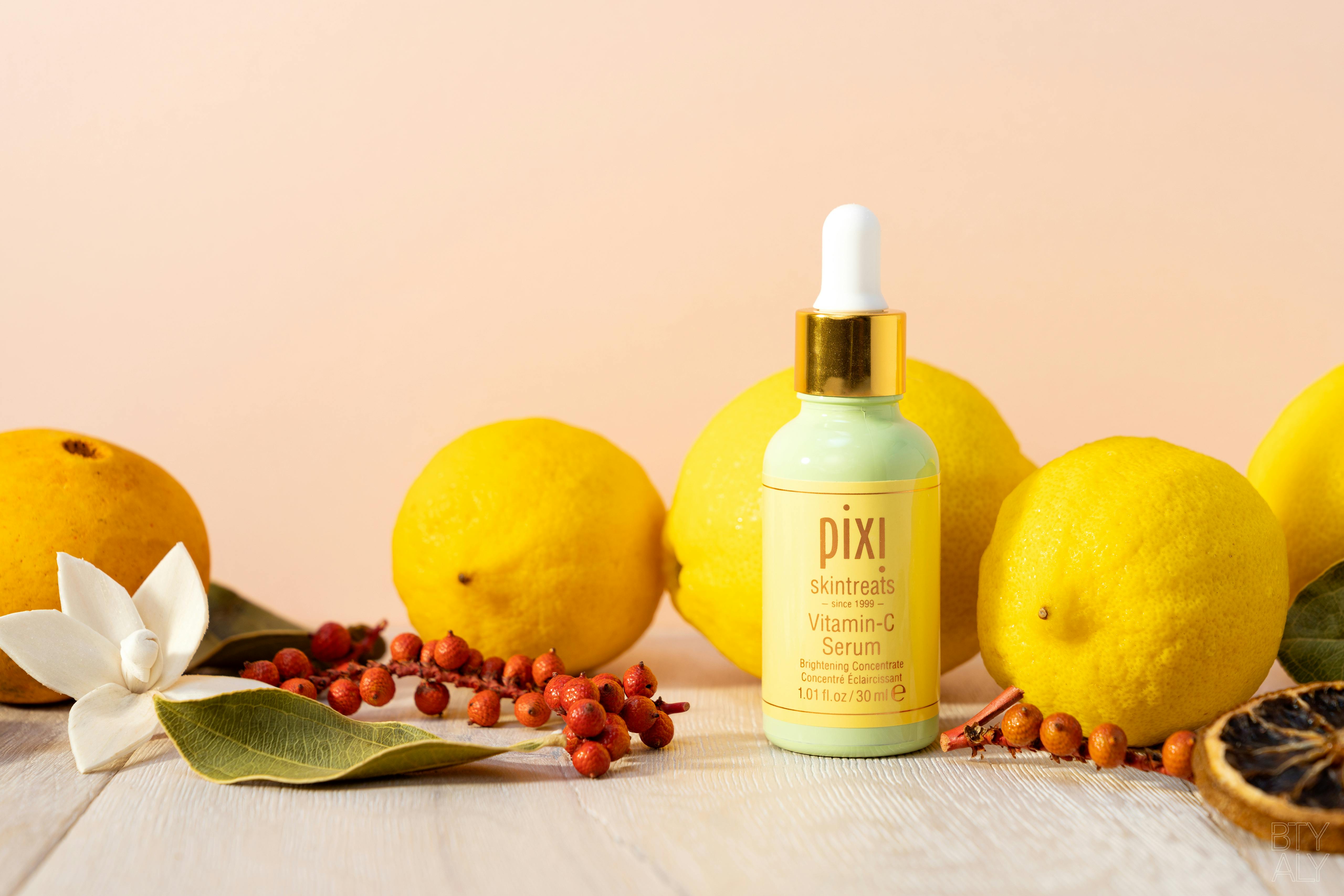 Recommendation
C
I'm disappointed with this formula.
Pros
- the 15% vitamin C L-ascorbic concentration,
- the presence of vitamin E and Ferulic acid in the formula which theoretically helps to stabilize vitamin C (here apparently, it wasn't enough),
- it doesn't dehydrate the skin (there are moisturizing active ingredients in the formula),
- its antioxidant effect,
- its price. It's rather affordable, especially compared to its competitors in the market.
- the brand is very easy to find, it's a very accessible product.
Cons
- I don't know its pH (this is important information because a low pH allows the formula to be more stable),
- the brand remains very opaque about the concentrations of its ingredients (I sent several messages and had a lot of trouble getting any information),
- the texture is a little thick, which I can feel a little bit too much on my combination skin,
- the important and for me unjustified presence of a lot of essential oils in the formula, especially the lemon one which can be photosensitizing, I don't understand why they are using so many for a product people will use daily!
- a big concern for me, the lack of stability of the formula, which meant that the two times I used it, it oxidized in 6 weeks (leaving me with half a bottle I couldn't use).
product name
Vitamin-C Serum
packaging
An opaque glass bottle with a pipette.
fragrance
A strong essential oils scent, especially citrus and mint.
texture
A liquid texture that is a little thick. You can definitely feel it on the skin. I have to let it absorb a bit otherwise it's pretty sticky on me.
For Who
– all skin types, including the most sensitive,
– tired, dull skin, smokers or people living in a highly polluted environment,
– skins with uneven texture,
– skins with hyperpigmentation,
– skins with a lack of firmness and elasticity.
If you have acne prone skin, just be aware that vitamin C can sometimes trigger a reaction. It may vary according to people. I personally have acne-prone skin and this product didn't make me break out.
Concerns
– tired skin
– lack of radiance
– smokers
– skins exposed to pollution
– mature skin
– lack of firmness
– wrinkles, fine lines
– scars
– pigment spots
– hyperpigmentation
– if the skin is exposed to UV (but you have to pair it with a sunscreen)
Method
I use it every morning on my face and neck after I have cleansed my skin with a low pH foaming cleanser and toned my skin. Usually, I wait a few seconds for my face to dry a little because the skin moisture can decrease somewhat the effectiveness of vitamin C. I use it first in my routine, before my essences, because I want to enjoy its benefits without it being "diluted" by my essences that I apply on top.
I apply 5 to 7 drops of product on my face and neck and I let it absorb for a few minutes before carrying on with the rest of my routine.
Key Ingredients
The key ingredients of this serum:
– an antioxidant complex that contains 15% of L-ascorbic acid (I got the info of the percentage after I basically harassed the brand but this is not mentioned anywhere), Ferulic acid and Vitamin E: these three combined ingredients boost the antioxidant effects of vitamin C and also make it more stable (paired vitamin C is more effective and can be used over a longer period of time without it oxidizing too quickly). Pixi brand doesn't give the percentages of Ferulic acid and vitamin E (probably to avoid being sued by L'Oréal for patent infringement like Drunk Elephant).
I couldn't get the information on the pH of the product and that's too bad because a pH of 3.5 or less allows vitamin C to be more stable and more effective for longer (well, in this case, it wasn't very stable anyway).
– Glycerin: a humectant active ingredient that retains the skin's natural moisture.
– Aloe Vera juice: moisturizing and anti-inflammatory.
– soothing panthenol,
– there is also a little bit of retinol in the formula but in my opinion, it just has an antioxidant effect to protect the formula and I don't think it has a skincare effect in this case,
– but there are above all many essential oils and citrus extracts which, as I understand it, have no other interest than to perfume the product. I must admit that, even if I don't usually mind essential oils, I have difficulty understanding their advantage in this formula. Especially since citrus fruits can potentially have a photo-sensitizing effect so for a product used daily, I really don't see the point at all.
Ingredients
Aqua/Water/Eau, Ascorbic Acid, Ethoxydiglycol, Propanediol, Glycerin, Citrus Grandis (Grapefruit) Water, Sodium Hydroxide, Aloe Barbadensis Leaf Juice, Sodium Hyaluronate, Citrus Limon (Lemon) Peel Extract, Citrus Nobilis (Mandarin) Orange Fruit Extract, Ferulic Acid, Tocopherol, Caffeine, Microcitrus Australis Fruit Extract, Microcitrus Australasica Fruit Extract, Beta-Carotene, Lecithin, Citrus Glauca Fruit Extract, Panthenol, Daucus Carota Sativa (Carrot) Root Extract, Citrus Aurantium Dulcis (Orange) Peel Extract, Citrus Grandis (Grapefruit) Fruit Extract, Citrus Junos Peel Extract, Mentha Piperita (Peppermint) Extract, Melaleuca Alternifolia (Tea Tree) Flower/Leaf/Stem Extract, Retinol, Xanthan Gum, Leuconostoc/Radish Root Ferment Filtrate, Punica Granatum Extract, Phenoxyethanol, Hydroxypropyl Cyclodextrin, Polysorbate 20, Phospholipids, Glycine Soja (Soybean) Oil, Caprylic/Capric Triglyceride, Sodium Acrylates Copolymer, Sodium Benzoate, Potassium Sorbate, Sodium Sorbate, Citric Acid, Ethylhexylglycerin.
Ingredients not included
– parabens,
– alcohol,
– mineral oils,
– silicones,
– synthetic fragrance,
– dyes.