Intro
A detailed review of the Drunk Elephant B Hydra Intensive Hydration Gel with a thorough description of its ingredients, my experience while using it and more about the brand philosophy.
The Drunk Elephant B Hydra Intensive Hydra Gel product is a little bit complicated to understand, at first. Is it a serum, a daily moisturizer? Should it be used alone or with other products? Well, as we'll see in this review, it's a bit of all of the above!
I've been moisturizing my skin differently for several months now. Before then, I had been sticking to the application of a daily moisturizer, day and night, sometimes with a serum underneath but clearly, I mainly relied on my face cream to hydrate my skin.
I then started getting more interested in K-Beauty and even more interested in skincare ingredients in general, so I wanted to try other ways to hydrate my skin.
I realised that I could obtain a much better result with my skin, by applying several products, with lighter textures, than just one thicker one.
Indeed, thicker products have a tendency to remain on the surface of the skin too much. I noticed I was achieving a much better absorption through my skin with lighter and/ or liquid products.
But that doesn't mean that your daily moisturizer is useless, or that you must stop using it. A good hydration of the skin must be done on the surface and deeper! The moisturizer is very useful to protect the skin and prevent hydration from evaporating. It's basically like a protective layer for your skin.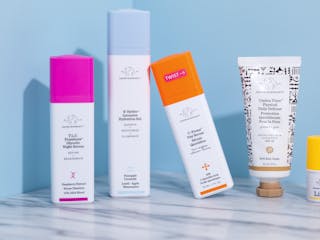 Brands
Focus on: Drunk Elephant, "clean" and innovative skincare
Drunk Elephant is a super trendy American skincare brand: very focused on natural ingredients but which doesn't leave aside neither the technology nor the chemical elements essential for a real effectiveness on the skin. "Clean skincare" sure, but that works!
Read more
And, by the way, the Drunk Elephant B Hydra gel can play both roles: it can be used as a serum or even on its own, instead of your day (or night) cream. It's a great multi-tasker!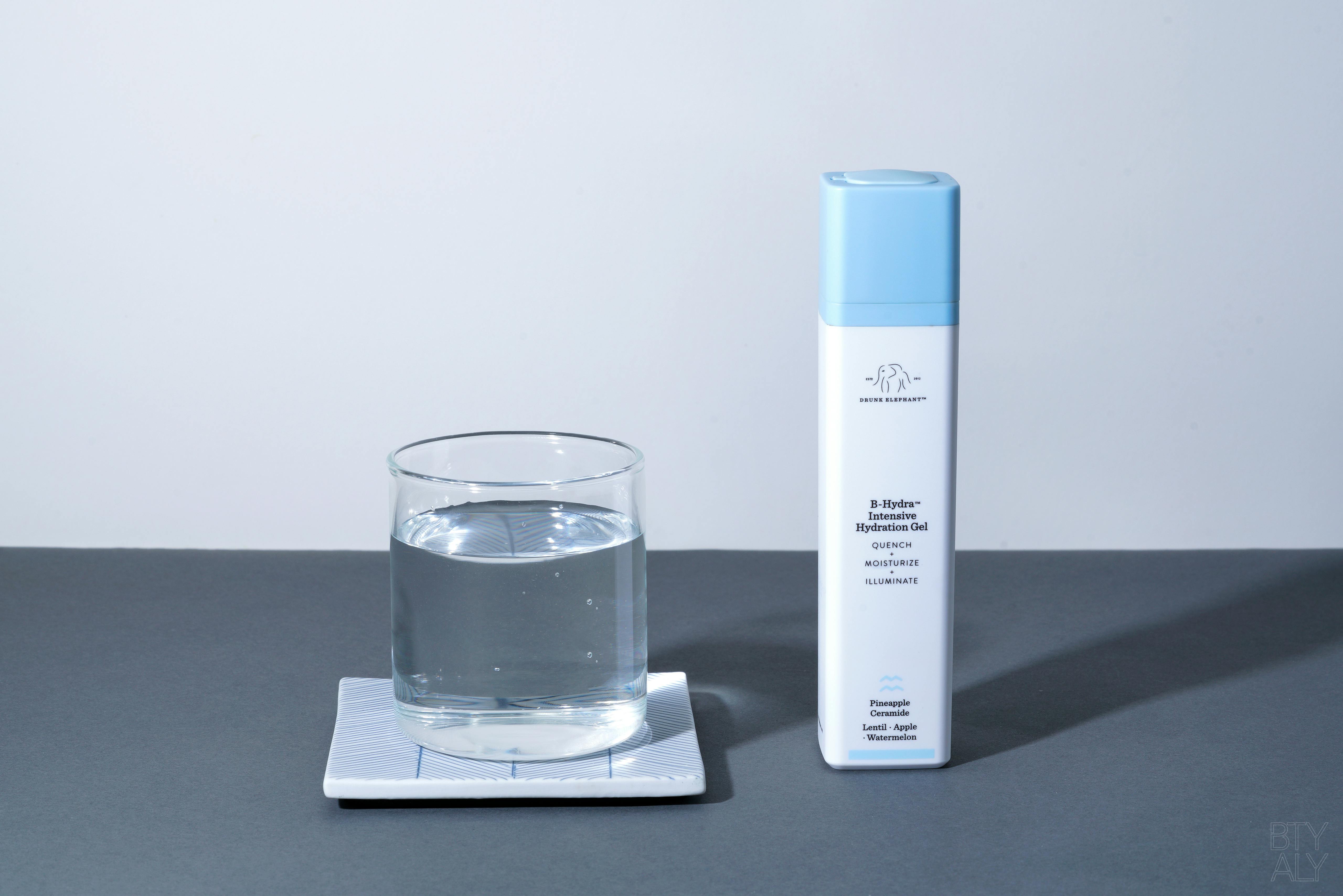 Product presentation: Drunk Elephant B Hydra Intensive Hydration Gel
It's a moisturizing product, that can be used as a serum or instead of your day (or night) cream. Its very light texture is intensely moisturizing for the skin and it has the ability to hydrate the surface of the skin but also in its deeper layers.
For some skin types (usually combination to oily) and in some climates (the humid ones), it's a great daily moisturizer to use instead of a conventional day cream, no need to add anything on top. Personally, I have used it both as a serum, and as a daily moisturizer and I have found it effective in both cases.
Like most Drunk Elephant products, it can also be mixed with other products from the brand. I like it a lot when mixed with their Marula Oil. The combo of the two gives a very silky serum, that is very easily and well absorbed by my dehydrated combination skin.
In short, it's a fairly versatile product in terms of use and it can be used by all skin types.
My experience:
This is not my first ever moisturizer, far from it, but most of those I used before this one, had a rather different type of texture. In the past, I used serums, creams, fluids but not a lot of gels. The ones I used didn't really meet my expectations, to be honest: they were quite watery, and even if I appreciated the fresh feeling they left on my skin, they weren't very comfortable over time.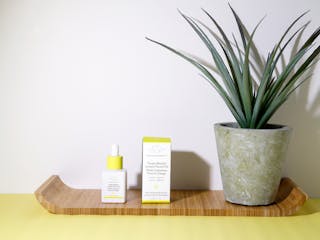 Skincare
Review: Drunk Elephant Virgin Marula Luxury Facial Oil
Marula oil is the new trendy face oil, of the moment. This natural oil is supposed to be highly beneficial for the skin, especially from an anti-aging perspective. There are several Marula oils, at very different prices (from one to ten times the price!). The Drunk Elephant Oil, Virgin Marula Luxury Facial Oil is probably among the most expensive options. Let's see if it worth its price!
Read more
Recently, I also decided to introduce more hyaluronic acid-based products into my skincare routine. I talked about it in the past on my blog in my article Focus on Hyaluronic Acid.
Unlike other moisturizers that I used, the Drunk Elephant B Hydra Intensive Hydration Gel is really super nice to use. There's no comparison with its "dupe" from The Ordinary, for example. The latter is quite sticky when you apply it while the B Hydra Intensive Hydration Gel literally melts into the skin in a few seconds and leaves you with a comfortable feeling all day long.
So when you have a fairly extensive skincare routine (like me), even if you apply several layers of other products after, this gel doesn't prevent the other products I apply on top from penetrating into my skin.
And in the case of a more minimalist routine, it also works perfectly, especially mixed with an oil if you have a drier skin type.
I was especially impressed when I used it mixed with the Marula Oil from the same brand. This combo is very comfortable without being greasy and it leaves your skin super comfortable throughout the day.
I sometimes apply a moisturizer on top, but especially during the summer, I don't always need it.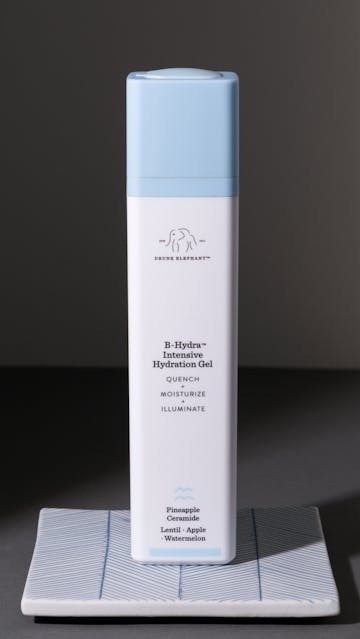 Result:
My skin is supple and well hydrated with this product. It doesn't feel tight throughout the day. About its anti-aging action, it's obviously difficult to tell because the result is generally only visible after using it for a very long time, but what is certain, is that I like the appearance of my skin when I use this product.
This is my second bottle of B-Hydra. It's one of my favourite moisturizing products on the market. Obviously, there are a lot of cheaper options out there, but the texture is rarely as nice (or if it is, it's full of silicones, and my skin can't stand it, it clogs my pores, so I prefer avoiding them).
Value for money:
For me, it's good value for money, because even if the price is rather high, the formula is really excellent quality and very pleasant to use.
My skin loves it! I like that it's not "just" a moisturizing product, there is really an added value in terms of anti-aging and protective effect on the skin.
The packaging is also excellent, it's pretty and preserves the good quality and ingredients of the formula. A bottle usually lasts 4 months.
In summary:
In short, it's an excellent product, very well formulated and effective. I have repurchased it several times already and I intend to keep on using it in the future!
The Drunk Elephant B Hydra Intensive Hydration Gel retails for $52 (50ml).
Product Review in detail
Summary
Drunk Elephant B Hydra Intensive Hydration Gel
« B-Hydra™ is a cool glass of water for your thirsty skin. This ultra-hydrating vitamin B5 gel replenishes nutrients, visibly brightens and improves the appearance of skin texture and tone, while delivering intense skin hydration throughout the day.
Uniquely formulated with provitamin B and pineapple ceramide, B-Hydra™ attracts and holds moisture to the skin, helping improve barrier function for skin that looks healthy and illuminated. A watermelon rind/apple/lentil complex provides 24 hour continuous skin hydration and significantly reduces the appearance of fine lines, while increasing moisture retention. Barberry extract adds soothing properties. Sodium hyaluronate crosspolymer soaks in easily to provide unsurpassed hydration and acts as a free radical scavenger and powerful antioxidant. Drabness, dryness, uneven texture and fine lines will appear diminished and the skin will look brighter and more youthful upon every application. This lightweight, hard-hitting gel has a pH level of 5.5 and is ideal for all skin types. B-Hydra is vegan and gluten free.
Did you know? Wheat amino acids are weightless, yet super hydrating ingredients for skin. They're also hydrolyzed to remove their gluten proteins, making B-Hydra™ a gluten-free formula. »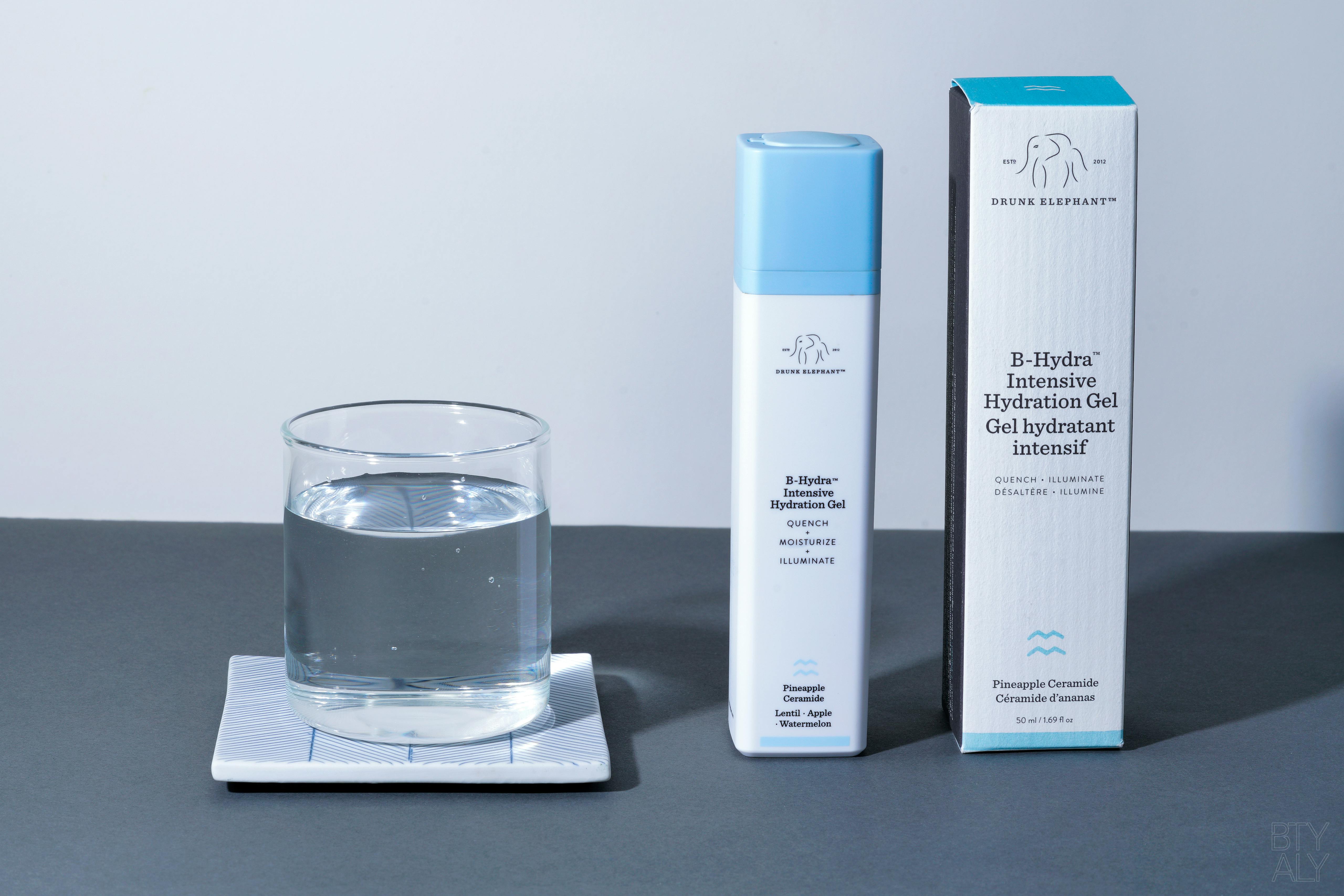 Recommendation
A-
Excellent product if you can afford it.
Pros
- the two hyaluronic acid weights, to be able to hydrate the skin at the surface and deeper,
- the smoothing effect on wrinkles and fine lines,
- the physiological pH for an excellent tolerance of the skin,
- the different hydrating ingredients for a long-lasting hydration,
- fragrance and dye-free,
- the packaging is very well designed: it's pretty, protects the formula very well and allows an optimal use of the product,
- I love mixing it with the Marula Oil by the same brand,
- it can also be mixed with all the other Drunk Elephant products if you want,
- it can be used as a serum or instead of your moisturizer (especially if you have a combination skin). It's a multi-tasker.
product name
B Hydra Intensive Hydration Gel
brand name
Drunk Elephant
packaging
An opaque plastic bottle with a pump. You need to twist it to open it.
For Who
All skin types, and most specifically the dehydrated skins.
Concerns
– dehydrated skin,
– dry skin,
– fine lines, wrinkles,
– lack of comfort,
– those with a combination skin who love a lightweight texture.
Method
I use it every morning on my face and my neck, after my toner and essence.
I apply the equivalent of 2 pumps and most of the time, I mix it with the Marula oil from the same range. I love this combo because it gives a moisturizing / nourishing / antioxidant effect without being greasy at all. In a few minutes, my skin absorbs it and it leaves a very a nice glow.
Usually, I apply a moisturizer over it but not always. Sometimes I just apply my sunscreen and that's enough.
Key Ingredients
Like the other Drunk Elephant products, the formula is very well done without any additions of unnecessary ingredients. Hydra B includes a lot of powerful moisturizing ingredients:
– Glycerine:
a moisturizing ingredient that helps retain water in the skin (a bit like a sponge).
– Pineapple ceramide:
a moisturizing ingredient that improves the intercellular cement and therefore the protective/ barrier function of the skin. It's also a brightening ingredient, which gives radiance to the skin.
– a moisturizing complex of watermelon peel, apple and lentil:
it provides long-lasting hydration, limiting the natural water loss of the skin and also has a smoothing effect on dehydration lines.
– two types of hyaluronic acid (with different molecular weights):
these ingredients provide surface and deep hydration. Hyaluronic acid with a low molecular weight works on the deep hydration and the one with a larger molecular weight stays on the surface to protect the skin and smooth the appearance of wrinkles and fine lines.
– pro-vitamin B5 (or panthenol / panthethonic acid):
it's also a humectant ingredient and it helps to improve the protective barrier of the skin.
Ingredients
Water, Butylene Glycol, Glycerin, Ammonium Acryloyldimethyltaurate/VP Copolymer, Pentylene Glycol, Ananas Sativus (Pineapple) Fruit Extract, Berberis Vulgaris Root Extract, Citrullus Lanatus (Watermelon) Fruit Extract, Lens Esculenta (Lentil) Fruit Extract, Pyrus Malus (Apple) Fruit Extract, Sclerocarya Birrea Seed Oil, Coconut Alkanes, Panthenol, Sodium PCA, Sodium Hyaluronate Crosspolymer, Sodium Lactate, Dipotassium Glycyrrhizate, Coco-Caprylate/Caprate, Cyclodextrin, Trisodium Ethylenediamine Disuccinate, Citric Acid, Chlorphenesin, Caprylyl Glycol, Phenoxyethanol, Ethylhexylglycerin.
Ingredients not included
– animal oils, fats and musks,
– benzalkonium chloride,
– benzophenone and its derivatives,
– bisphenol A (BPA),
– butoxyethanol,
– BHA (butylated hydroxyanisole) and BHT (butylated hydroxytoluene),
– chemical sunscreens (including retinyl palmitate, oxybenzone and octyl methoxycinnamate),
coaltars (including aminophenol, diaminobenzene, phenylenediamine),
– essential oils,
– ethanolamines (MEA / DEA / TEA),
– formaldehyde,
– synthetic and natural flavors and aromas,
hydroquinone,
– methyl cellosolve,
– methylisothiazolinone and methylchloroisothiazolinone,
– mercury and thimerosal,
– oxybenzone,
– parabens,
– phthalates (DBP, DEHP, DEP and others),
– polyethylene glycol (PEG),
– resorcinol,
– sodium lauryl sulfate and sodium laureth sulfate (SLS and SLES)
– toluene,
– triclosan and triclocarban.