Intro
Marula oil is the new Argan oil, of the moment. It has many great beneficial skin properties, including anti-aging. In this article, I detail the action on the skin of the Drunk Elephant's Virgin Marula Luxury Facial Oil and I also compare it with other Marula oils available on the market.
Marula oil is the new trendy face oil, at the moment. This natural oil is supposed to be highly beneficial for the skin, especially from an anti-aging perspective. There are several Marula oils, at very different prices (from one to ten times the price!). The Drunk Elephant Oil, Virgin Marula Luxury Facial Oil is probably among the most expensive options. Let's see if it's worth the price!
When I first read about the benefits of Marula oil for your skin, I thought, this oil was made for me: anti-oxidant, anti-bacterial, protective and that also improves the skin texture, that's all I want in a beauty product!

It may sound odd that the Virgin Marula Luxury Facial Oil is only the latest Drunk Elephant product I've bought, after trying (and mostly loving) all the others.

In fact, I had a hard time understanding how this product, which contains only one ingredient, Marula oil, could cost between 5 to 10 times more than other Marula oils available on the market.

So I tried the other Marula oils first and after a while, I ended up buying this one from Drunk Elephant because, you know, I'm curious.
I must admit, I was also afraid to become addicted to the more expensive version (= the story of my life…).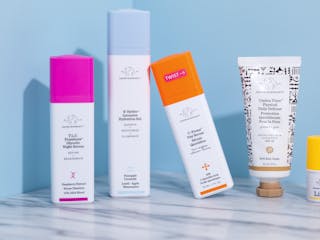 Brands
Focus on: Drunk Elephant, "clean" and innovative skincare
Drunk Elephant is a super trendy American skincare brand: very focused on natural ingredients but which doesn't leave aside neither the technology nor the chemical elements essential for a real effectiveness on the skin. "Clean skincare" sure, but that works!
Read more
Marula oil is clearly the hero product in the whole Drunk Elephant skincare range!
Product presentation: Drunk Elephant Virgin Marula Luxury Facial Oil
Drunk Elephant Virgin Marula Luxury Facial Oil is a face oil, ideal to nourish dry skin or if like me (I have dehydrated combination skin), you want natural nourishing but also anti-aging treatment. I'm 39 years old so I'm more than interested in anti-aging products!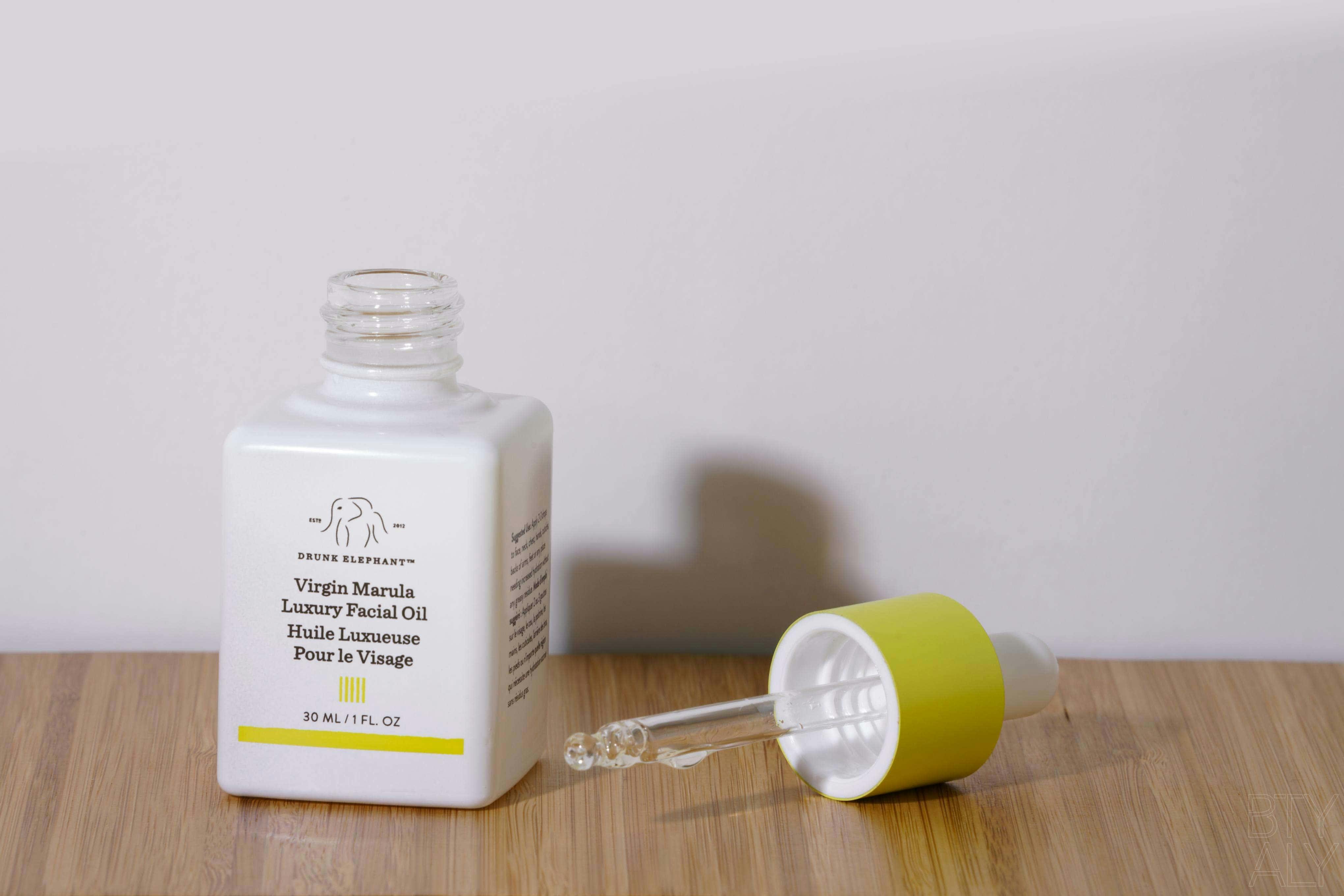 Usually, I use the Marula oil as I would a serum: before my day and / or night cream. Sometimes instead of my serum, sometimes mixed with it, it depends on the state of my skin. You can also use Marula oil instead of your daily moisturizer, but on my oily skin, I'm not a fan. But on a drier skin type, you could even use the oil on top of your day cream for an extra dose of comfort.
In short, face oil is a super versatile product, very easy to use and suitable for many different skin types/ problems.
This oil is 100% natural and composed exclusively of Marula oil. No additives, no preservatives, just Marula oil.
Marula oil is extracted from the fruit seeds of a South African tree, the Marula.
It naturally contains antioxidants (vitamin C, vitamin E, tannins, flavonoids, phytosterols). These are very effective in protecting the skin against free radicals (caused by stress, fatigue, lack of sleep, UV, pollution) responsible for accelerated aging.
But Marula oil is also an interesting source of essential fatty acids such as linolenic (omega 6) and oleic (omega 9) acids, providing nourishing and repairing qualities.
It also has anti-microbial virtues, which is interesting for acne-prone skin (like mine).
It's supposed to give a lot of radiance to the skin. It's therefore ideal for tired skin, which needs a little boost. As if we'd turn that opportunity down…
The texture of this oil is super fine, it's almost a dry oil, and the skin absorbs it very quickly. It's, therefore, suitable for all skin types and can be used morning and/or evening, alone or mixed with one of the other Drunk Elephant products.
My experience:
A few years ago, I would never have agreed to apply oil to my face, no way.
I have a combination to oily skin that tends to be quite shiny during the day. So the idea of adding more oil on my skin already highly capable of producing it in large quantities by itself seemed incongruous to me, to say the least.
But since living in Dubai, my skin has become much more dehydrated. I spend a lot of time indoors with the air conditioning and when I go outside, the sunny weather is quite drying.
After doing some research on the issues I was facing with my skin, I realized that adding an oil in my routine, could be very beneficial for my oily skin.
Indeed, oily skin can secrete excess sebum in response to some triggers:
– the skin is irritated by harsh cleansing,
– there aren't enough hydrating steps in the skincare routine,
– when you're in an environment that is too dry,
– an hormonal imbalance.
And when you apply an oil during your skincare routine, your combination to oily skin identifies its presence as the protection it needs, whereas usually your skin compensates by overproducing sebum. So with the addition of an oil, the skin considers that it doesn't need to secrete more sebum and therefore, it becomes less oily.
Marula oil seemed a perfect candidate for my skin type and needs: a fine oil, with anti-aging properties, that's all I needed.
So I decided to add it to my routine this summer, having already spent two months locked at home (believe me, during summer in Dubai, you don't want to go outside!). My skin really needed a boost of moisture!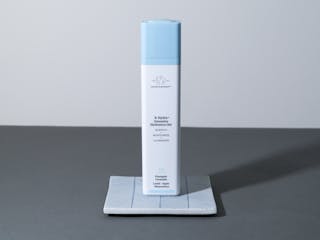 Skincare
Review: Drunk Elephant B Hydra Intensive Hydration Gel
The Drunk Elephant B Hydra Intensive Hydra Gel is a little complicated to understand as a product, at first. Is it a serum, a daily moisturizer? Should it be used alone or with other products? Well, as we'll see in this review, it's a bit of all of the above!
Read more
Since it's also antioxidant, I chose to apply it in the morning, to benefit from its protective virtues during the day. I love to mix it with my moisturizing serum.
Result:
I really like this oil. Having a combination skin, I still have some reluctance to use oils on my face, even more during the day.
Yet, Drunk Elephant Marula Oil is ideal for this use, and perfect for a skin type like mine. It actually leaves my skin soft, nourished, but not feeling greasy and with a nice glow. And it doesn't make me look shiny throughout the day, so it's all good!
Value for money:
The price is quite high, especially compared to the other Marula oils on the market but the formula is really an excellent quality and very pleasant to use. Its fine texture is definitely its greatest asset.
The packaging is also excellent, as always with Drunk Elephant. It's very luxurious, preserves the good quality of the formula and allows an optimized use of the product. A bottle usually lasts for 6 months, because I only need 2 to 3 drops a day.
In short, it's an excellent Marula oil if you can afford it.
Drunk Elephant's Virgin Marula Luxury Facial Oil retails for $72 for 30ml. It also exists in a 15ml bottle, for $40.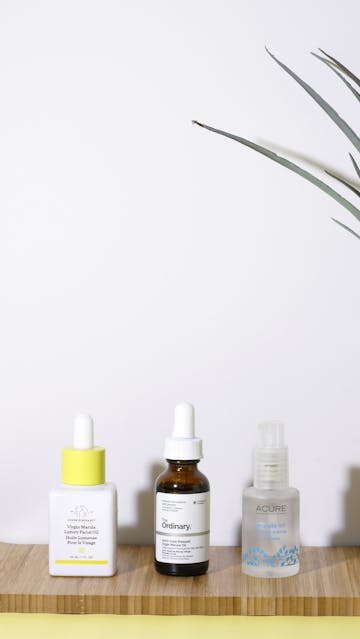 Comparison: Drunk Elephant's Virgin Marula Luxury Facial Oil compare to other Marula oils
I would also like to compare this Marula oil with the other Marula oils available on the market. How do you explain that the Drunk Elephant Marula oil is sold for $72 while other brands have products retailing between $10 and 20? At first sight, Marula oil is Marula oil. What can explain this price difference?
The brand's answer:
The extraction process of Marula oil used by Drunk Elephant is apparently unique and exclusive to the brand. They use an extraction process with cold water, so as to keep the essential nutrients of the plant, which are very rich in omegas (essential fatty acids) and antioxidants. This process also extends the shelf life of the product. It means that Drunk Elephant's Marula oil is more stable. After opening it, you can use it for about 1 year. In addition, Drunk Elephant doesn't add any additives to their Marula oil, so it stays completely pure.
The packaging is also made to keep the product in the best possible way: an opaque glass bottle, which perfectly protects the product from the light. In addition, the inside of the bottle and its dropper have been designed to allow you to use the product right up to the last drop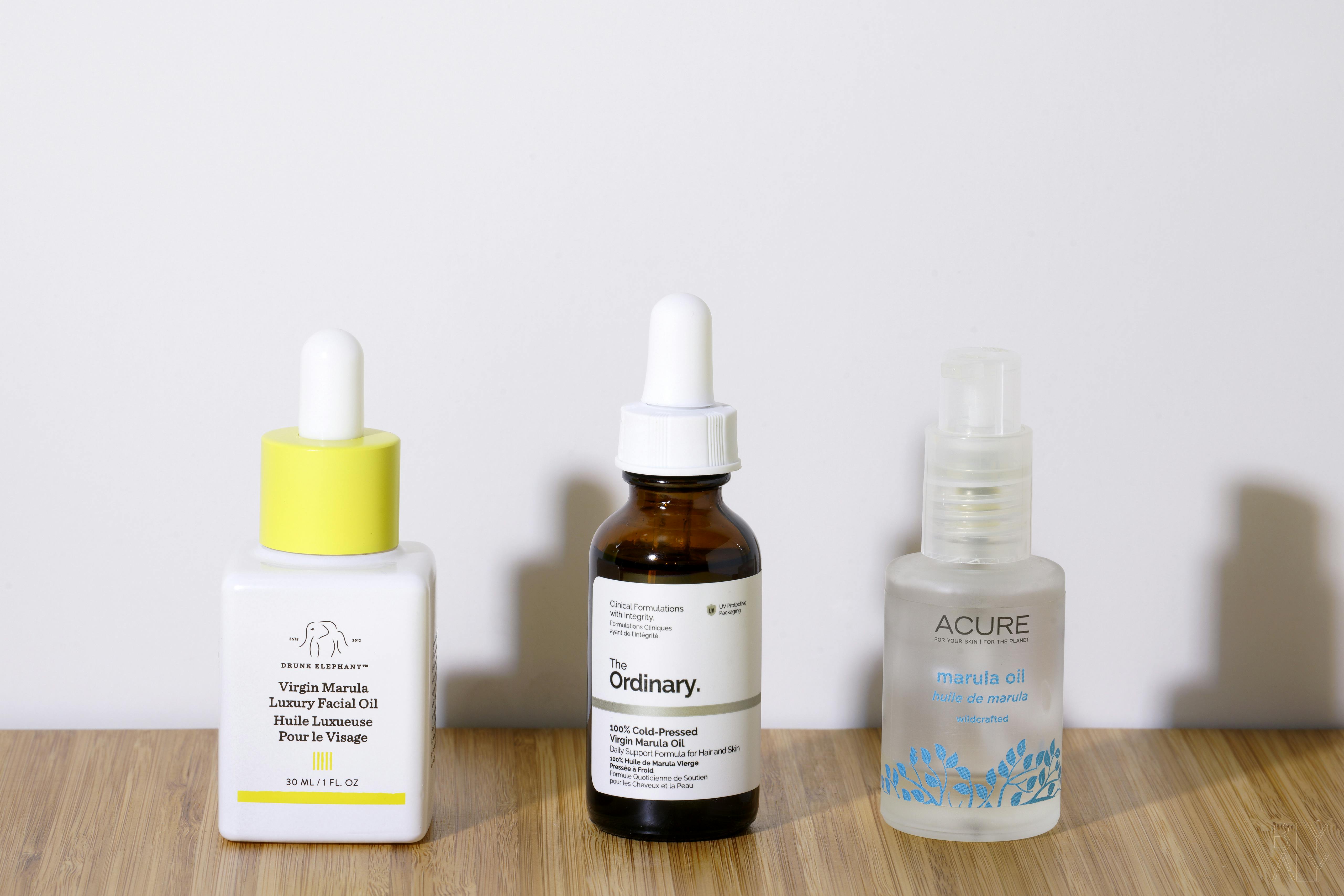 My experience with others Marula oils:
I didn't use all the Marula oils on the market but I tried the ones from Acure and The Ordinary.
I didn't like the Acure Marula oil, which is thicker than the others and leaves a greasy film on my skin. In addition, it gets rancid quite quickly (in less than 6 months).
However, The Ordinary's Marula Oil is a serious challenger for the Drunk Elephant Marula oil.
I did a detailed review of The Ordinary's Marula Oil on my blog but to compare it with the Drunk Elephant one, I would say that:
– even if The Ordinary (TO) Marula oil is fine in texture, the one from Drunk Elephant (DE) is still finer and more watery. It is also absorbed faster into the skin,
– the smell of the TO is slightly more intense, the one from DE has a super light scent,
– the bottle of the DE is clearly more luxurious and better designed than the TO one,
– the shelf life of both is exactly the same, 12 months,
– the extraction process used by Deciem / The Ordinary is also a cold process. In addition, TO enhances the fact that its Marula oil is pure and unrefined.
In short, I'm not a fan of the Acure's Marula Oil the one from The Ordinary is a great option and a good value for money
and finally, the Drunk Elephant one is clearly a more luxurious version in a lot of aspects.
In Summary:
If you like oils, are interested in Marula oil, love luxurious skincare products and can afford it, the Virgin Marula Luxury Facial Oil from Drunk Elephant is a really great option.
Personally, it's my favorite Marula oil among all those I've tried so far.
Drunk Elephant's Virgin Marula Luxury Facial Oil retails for $72 for 30 ml. It also exists in a 15 ml bottle, for $40.
Product Review in detail
Summary
Drunk Elephant Virgin Marula Luxury Facial Oil
« Like rehab for your skin, this wonder-working, luxury facial oil, high in critical antioxidants tocopherol (vitamin E), tochotrienol, phenolic compounds and flavonoids, and rich in omegas 6 and 9, helps to moisturize, rejuvenate and nourish skin while restoring a youthful glow. Straight from the "pip" of the marula fruit, our Virgin Marula Luxury Facial Oil is untouched by any chemical or fragrance, natural or synthetic and remains in its purest form.
Our Virgin Marula Oil is cold-pressed using a patented process of unheated water extraction, ensuring the oil remains nutrient-dense and stays fresher longer. We don't cut, bleach or deodorize, nor do we add scented essential oils, which can act as irritants and disrupt the many benefits of this pure and unrefined oil. Highly absorbable, Virgin Marula Oil delivers advanced defense against environmental stressors and free radicals. Look for a noticeable reduction in the appearance of fine lines, wrinkles, redness, and blotchiness, with a marked improvement in skin's elastic feel. It is naturally anti-microbial and appropriate for all skin types.
Our Virgin Marula Oil is totally pure, which is the way it is used by the African women. So close your eyes and pretend you're sitting under a beautiful Marula tree...your skin will never know the difference! With regular use as part of your complete Drunk Elephant skincare routine, your skin will be balanced and optimized to look and feel it's healthiest.»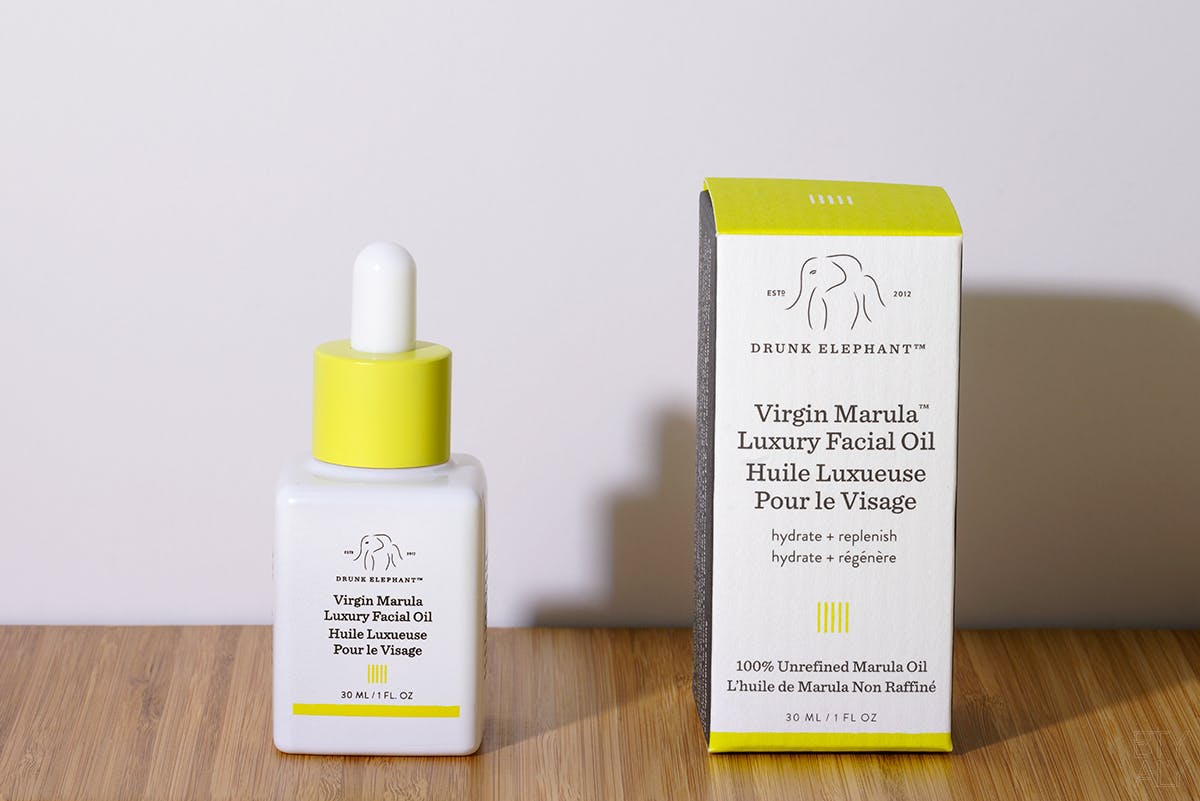 Recommendation
A-
Excellent product if you can afford it.
Pros
- the Marula Oil used is high quality,
- it nourishes the skin without it getting greasy,
- it protects the skin thanks to its antioxidant properties,
- it repairs and helps to heal the skin,
- the texture is ultra fine and easily absorbed by all skin types, even oily skins,
- non-comedogenic and doesn't clog the pores,
- without added perfume or dye,
- the packaging is very well thought out: it's pretty, protects the formula very well and allows an optimal use of the product.
Cons
- the very high-end price.
product name
Virgin Marula Luxury Facial Oil
brand name
Drunk Elephant
packaging
An opaque glass bottle with a dropper.
fragrance
Without any added fragrance, it barely smells like anything.
texture
The texture is extremely fine, it's very liquid and it's completely absorbed in the skin in a few minutes.
For Who
All skin types, including the most sensitive ones because it's quite soothing.
It's ideal to nourish dry skin or if like me (I have a dehydrated combination skin), you want a natural nourishing but also anti-aging treatment. It's repairing and healing.
It's also anti-microbial so it's perfect if you have an acne-prone skin.
Concerns
– dry skin
– combination skin
– oily skin
– acne-prone skin
– sensitive skins
– mature skin
– dehydrated skin
– scars
– lack of radiance
– wrinkles, fine lines
– irritated skin
– after sun exposure
– redness
Method
I use it every morning on my face and neck, after my toner, essence and serum. I chose to use it at that moment because I want to enjoy its antioxidant effect during the day.
I apply about 3 drops of product (as recommended by the brand) and usually, I mix it with the Hydra B gel from the same range. I love to mix these two products because it gives a moisturizing / nourishing / antioxidant effect and without being greasy. In a few minutes, my skin absorbs it and it leaves a beautiful sheen on the skin.
Usually, I apply a moisturizer on top but not always. Sometimes, I just apply my sunscreen and that's enough.
It can be used in the morning and evening if you prefer, alone or mixed with other products, before your moisturizing cream, or over if you prefer or even mixed with it. This is the big advantage of face oils, they're very versatile!
Personally, I always apply my face oil after my "watery" products (lotion, essence, gel serum). This is because the way I apply my products in my skincare routine is, I always apply the lightest texture before the thicker ones. And an oil is by definition "thicker" than a water-based product, such as a toner or a serum.
Key Ingredients
It's going to be pretty simple for once since the only ingredient in this product is Marula Oil!
The benefits of this Marula oil:
– it's very fine in texture and has a low molecular weight so it's absorbed very quickly in the skin, even by combination to oily skin. And it doesn't clog the pores.
– it's very effective to limit the natural water loss of the skin so it indirectly has a moisturizing effect. It's also nourishing.
– it naturally contains vitamin C (4 times more than an orange, for example).
– it's rich in sterols, "good fats" that help to protect the skin and calm inflammation. It's therefore ideal with treatments such as acids and retinol, to limit their side effects.
– it's naturally very rich in antioxidants ((Vitamin E, flavinol, procyanidin, catechins), which are anti-aging ingredients that protect the skin against free radicals.
– it's rich in fatty acids and essential fatty acids (omega 6 and 9) (more precisely: oleic acid 73%, linoleum 9%, stearic 3%, palmitic 15%) which are nourishing and repairing for the skin.
– it has antimicrobial properties, so it can be interesting if your skin is acne prone.
– it's a very stable oil, which oxidise less quickly than other oils. This Marula oil by Drunk Elephant can be kept for 2 years without being opened, and can be used up to 12 months after opening.
– it's 100% pure, without the addition of essential oils and it has been extracted cold to maintain its purity. It's not refined.
– it's cruelty-free, vegan and gluten-free.
Ingredients
Sclerocarya Birrea Seed Oil (Marula oil)
Ingredients not included
– animal oils, fats and musks,
– benzalkonium chloride,
– benzophenone and its derivatives,
– bisphenol A (BPA),
– butoxyethanol,
– BHA (butylated hydroxyanisole) and BHT (butylated hydroxytoluene),
– chemical sunscreens (including retinyl palmitate, oxybenzone and octyl methoxycinnamate),
coaltars (including aminophenol, diaminobenzene, phenylenediamine),
– essential oils,
– ethanolamines (MEA / DEA / TEA),
– formaldehyde,
– synthetic and natural flavors and aromas,
hydroquinone,
– methyl cellosolve,
– methylisothiazolinone and methylchloroisothiazolinone,
– mercury and thimerosal,
– oxybenzone,
– parabens,
– phthalates (DBP, DEHP, DEP and others),
– polyethylene glycol (PEG),
– resorcinol,
– sodium lauryl sulfate and sodium laureth sulfate (SLS and SLES)
– toluene,
– triclosan and triclocarban.