Intro
A detailed review of Drunk Elephant's vitamin C serum, the Firma Day Serum C with an overview of the formula and its ingredients and the brand philosophy.
The Drunk Elephant Vitamin C serum, the C-Firma Day Serum is supposed to be one of the best vitamin C serums on the market. Does it deserve its excellent reputation?
A few months ago I started to search online for a good skincare product because I found my skin quite dull and I discovered that vitamin C was a great ingredient to give more glow to the skin.
However, I also discovered that not all vitamins C products are equal and neither are the ingredients they contain.
All the formulas are not the same quality, far from it, and a higher percentage of vitamin C doesn't necessarily mean that the product will be more effective.
One of the products that kept coming up in my research was the Vitamin C serum from Drunk Elephant, C Firma Day Serum.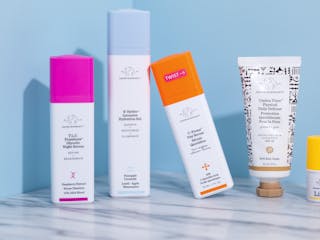 Brands
Focus on: Drunk Elephant, "clean" and innovative skincare
Drunk Elephant is a super trendy American skincare brand: very focused on natural ingredients but which doesn't leave aside neither the technology nor the chemical elements essential for a real effectiveness on the skin. "Clean skincare" sure, but that works!
Read more
I chose to pick the Drunk Elephant C-Firma Day Serum up because the formula was interesting and didn't contain several unwanted ingredients that can be found in other vitamin C serums (alcohol, dyes, perfumes etc). I wanted a product with a high concentration of active ingredients, that were also the most effective possible.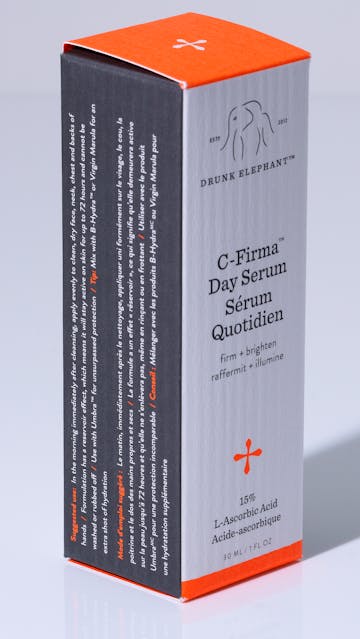 Vitamin C benefits:
The vitamin C used in Drunk Elephant C Firma Day Serum is L-ascorbic acid, the most effective and researched form of vitamin C.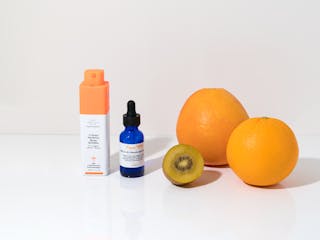 Ingredients
Focus on: Vitamin C (L-ascorbic acid)
Vitamin C (L-ascorbic acid) products are everywhere at the moment. It's not really surprising because this ingredient is really magic to give radiance to the complexion, the famous glow that everybody wants these days. But it's also a very unstable ingredient that needs a certain environment to be able to deliver all its benefits.
Read more
I wrote a whole article on the topic but in a nutshell, vitamin C is beneficial to the skin because it:
– protects it from accelerated aging thanks to its antioxidant effect,
– increases the protective power of sunscreens applied on top (hence the advantage of using a sunscreen with it, which is also essential to protect the skin from photo-aging),
– boosts the production of collagen and preserves the density of the skin,
– reduces the pigmentation spots and even helps your skin complexion,
– gives a healthy glow to the skin by improving the cutaneous microcirculation.
It's not always the percentage of vitamin C that you should look at […] to know if a serum with vitamin C is going to be effective or not.
It's, indeed, an ideal ingredient for tired smokers along with dull looking skins. It's usually recommended after 30 but if you want to boost the complexion radiance, you can totally use it before, as a brightening treatment 2 to 3 times a year.
In the Drunk Elephant formula, the vitamin C/L-ascorbic acid is at a 15% concentration, which is an average percentage for this ingredient, but the fact that it is paired with other antioxidant ingredients (vitamin E and ferulic acid) makes all the difference here, because these antioxidants really help to boost the effectiveness of vitamin C! They also help to stabilize it as L-ascorbic acid is quite unstable in water-based formulas.
Indeed, it's not always the percentage of vitamin C that you should look at but more the other ingredients in the formula to know if a serum with vitamin C is going to be effective or not. For example, a vitamin C serum that contains only water and 30% L-ascorbic acid without any other ingredient to stabilize it won't be as effective as a serum that contains "only" 15% but contains other antioxidant ingredients. A higher percentage doesn't necessarily mean that the product is better in the case of vitamin C.
Also, the pH of the formula is super important because a pH that is too high doesn't allow vitamin C to be effective. Ideally, a pH of 3.5 is required. Drunk Elephant C-Firma Day Serum has a pH between 3.3 and 3.5, which is perfect!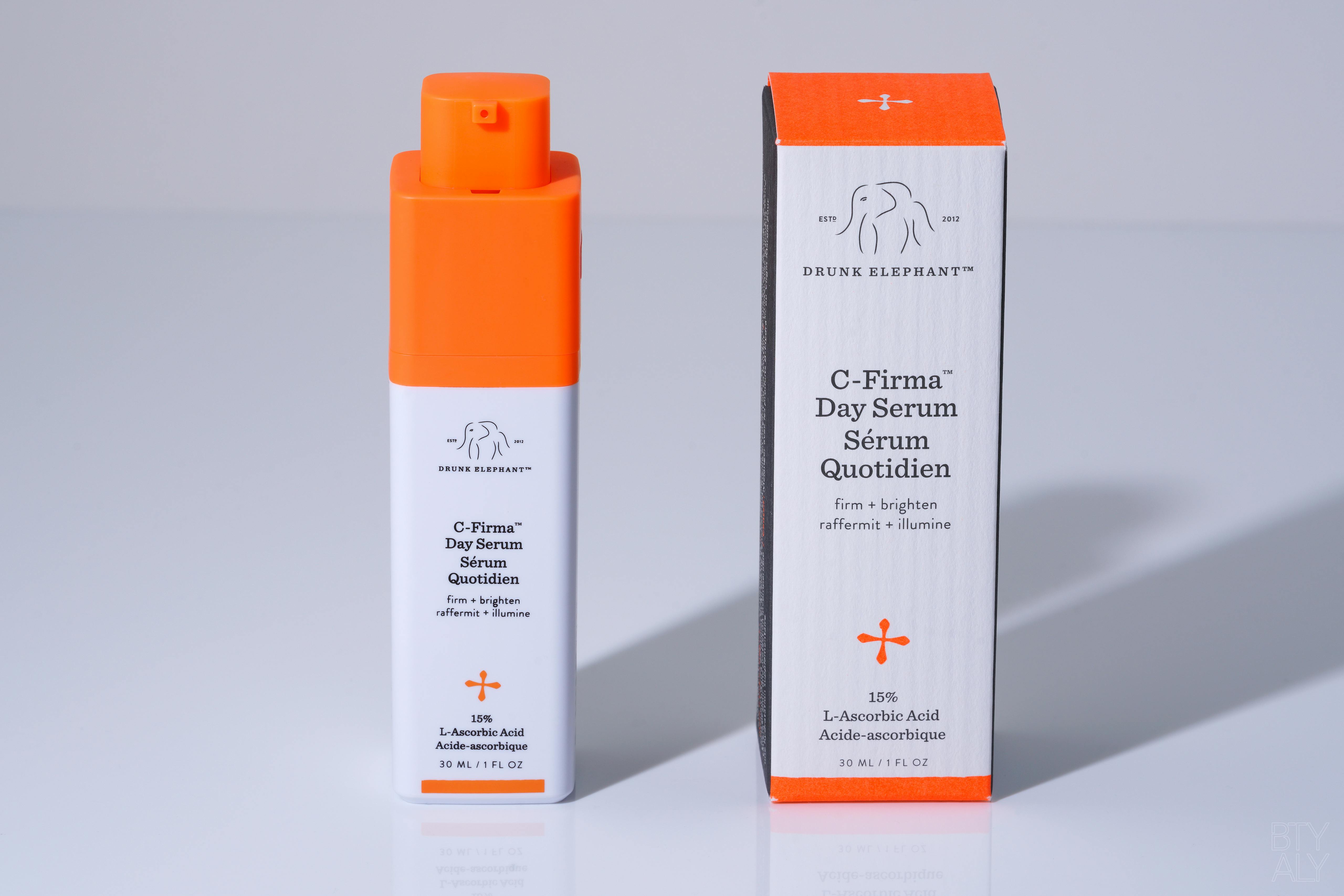 Product presentation: Drunk Elephant C-Firma Day Serum
It's an anti-aging, antioxidant serum to use during the day, for its protective properties against the sometimes harsh environment we live in.
Unlike other vitamin C serums, Drunk Elephant doesn't only promote vitamin C in its formula, but introduces this serum as a real antioxidant shield with other powerful protective ingredients that support and complement the vitamin C.
If you have combination to oily skin, the C-Firma serum is very comfortable for the day. Of course, it's better to apply at least one moisturizing product on top, but unlike many other vitamin C serums, it's not drying.
The texture of C-Firma is a slightly oily gel, thicker than many other products on the market, often very liquid. It's pretty confusing at first because when you apply it, especially if you have combination skin like me, it feels like it will be difficult to absorb in the skin and not leave a residue but in reality, not at all: in a few seconds, it's completely absorbed and leaves the skin matte.
The packaging of C-Firma is also very well designed: it combines an aesthetic appearance with its touch of bright orange and it's also super convenient. The packaging protects the formula from air and daylight. The top of the bottle twists at the opening and it's an opaque plastic pump bottle. This "twisted" opening prevents exposing the formula to the air too often.
In the case of a serum with vitamin C, it's indeed essential because the air and the light make it oxidize quite quickly. This serum must be used within 4 to 6 months after opening. Generally, it lasts me 2 to 3 months using it once a day.
About the color of the product and its shelf life:
The brand indicates that when the product is "fresh", its color is a light golden hue. If the serum is dark orange / brown, it's probably oxidized and should no longer be used.
Drunk Elephant also recommends to not wait too long before starting to use it after you purchased it. So if you just bought it and its color seems too dark, feel free to contact the brand directly for an exchange! If you're unsure about the date of its release, you can also send an e-mail to the Drunk Elephant's customer service department. They can find it through the batch number of your product.
The C-Firma serum has a size of 30 ml. It lasts about 2 to 3 months when you use it every day. The brand recommends using it within 6 months maximum after opening. To keep it fresh, you don't necessarily need to put it in the fridge. Just store it in a place that is not too hot or too humid. Mine is in my bathroom and it doesn't oxidise too quickly.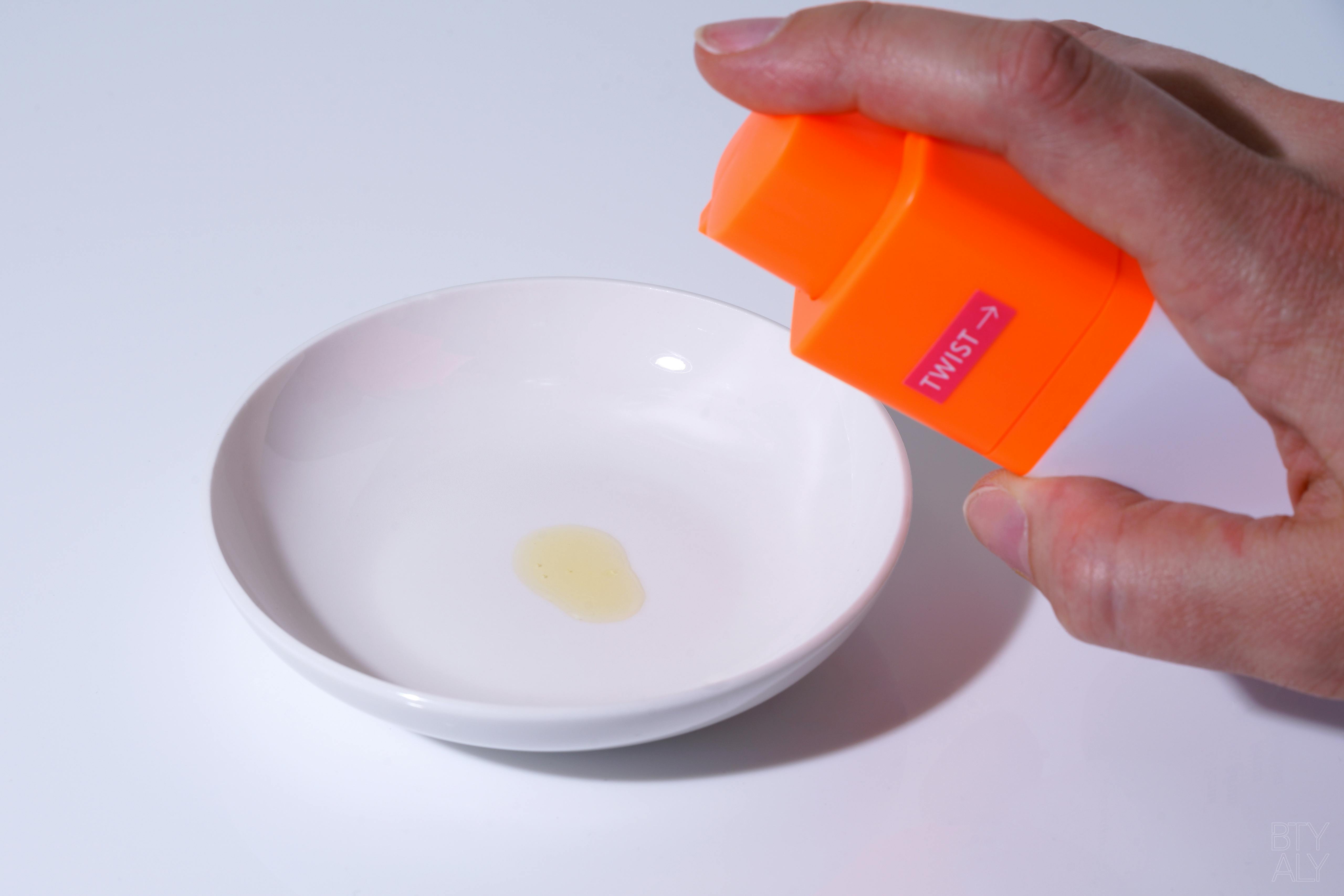 My experience:
I've used antioxidant products before, ones that contained vitamin C but not necessarily this "variety" of vitamin C (in this serum, it's L-ascorbic acid) and not at such a high concentration either.
Antioxidant products (which contain vitamin A, C, E, resveratrol, ferulic acid …) have been part of my skincare routine for almost 15 years, because one of my "skincare principles" has always been to insist on protection in the morning. Indeed, the antioxidant ingredients preserve the youth of the skin by limiting free radicals/ damages created by pollution, stress, tobacco (even if I' don't smoke), fatigue, lack of sleep and UV rays.
At the time, I had just moved to Paris after growing up in the countryside and I could definitely feel that pollution tended to "attack" my skin. For the last 4 years, I've been living in Dubai where the pollution is less present, but, the UV rays are extremely intense. In addition to a daily sun protection, using an antioxidant product is essential in my skincare routine.
But with this serum, I really feel like I'm going beyond the simple anti-aging protection of my skin. It's much more than that.
Result :
I already used this serum, it's my second bottle. I can't really speak of any real effect on wrinkles because despite my age (I'm 39), I don't have a lot. It's also difficult to measure its antioxidant protective effect because this only really shows in the very long term.
But I can definitely see the result in the radiance of my complexion. After a few days of use, my skin was significantly less dull than it was before. I'm not yet at the point where I can completely go out in the world foundation-free but I switched to much lighter formulas than I used to before, so it's a good start!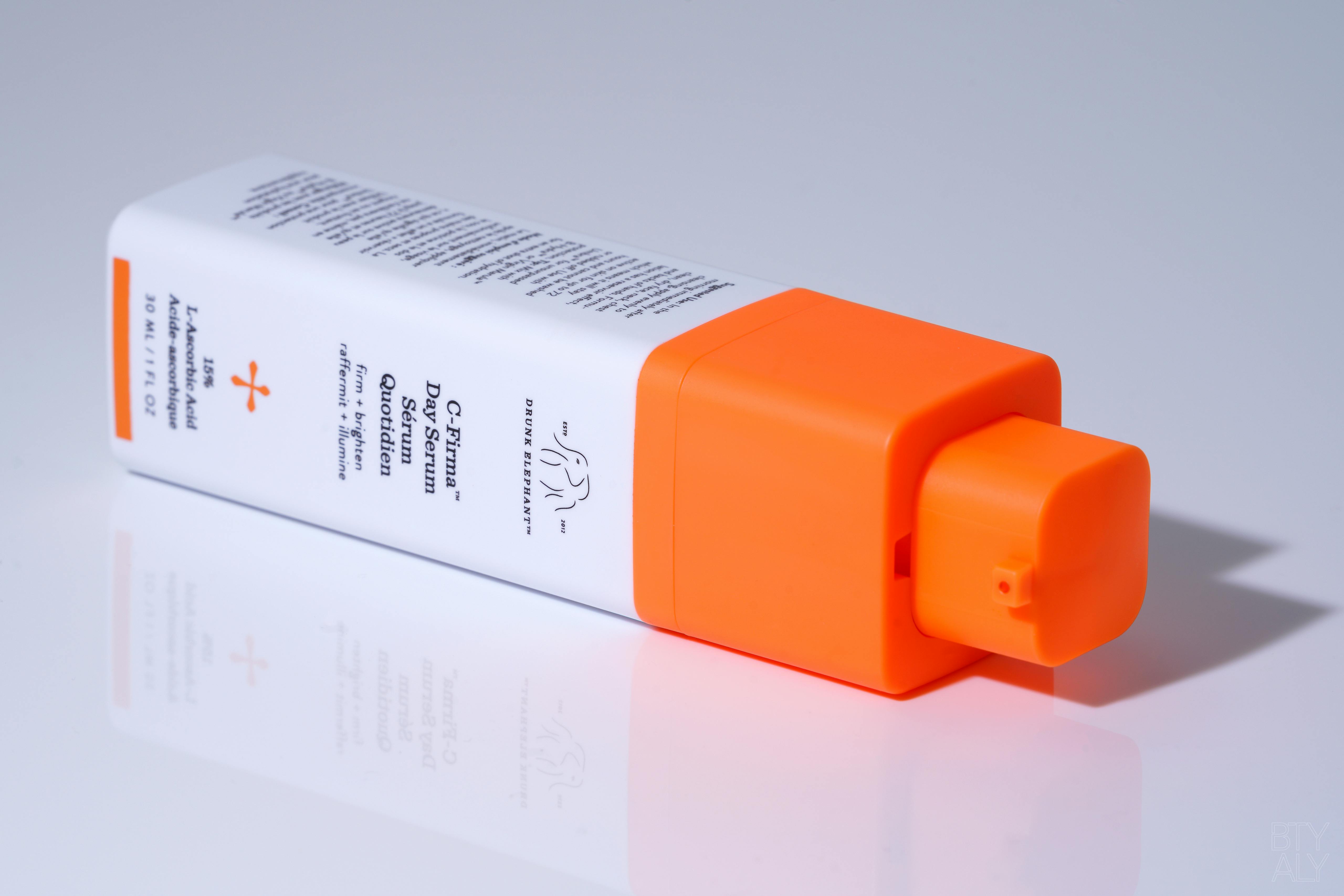 Value for money:
For me, the C-Firma Day Serum is a good value for money because the formula is really excellent quality. No ingredients were used randomly and you can definitely feel it! The packaging is also excellent, it's such a nice bottle that also preserves the formula very well. A bottle usually lasts me 3-4 months.
Also, compared to other vitamin C serums, the price isn't that high. Of course, you can find cheaper formulas (The Ordinary does some, for example). But if you look at the formula of these other serums closely, it's not that easy to find a true dupe. Indeed, many don't contain the additional antioxidant ingredients, or even moisturizing ingredients and the pH can also be too high. There is, therefore, no guarantee that another serum would be as effective and stable during its use.
And the bottles are sometimes smaller (for example, the new Vichy serum, Liftactiv is only 10 ml for $32 and the Paula's Choice Resist C15, is 20 ml for $49).
In summary:
In short, it's an excellent product, very well formulated and effective. I've already bought it and I intend to continue to use it in the future.
The Drunk Elephant C-Firma Day Serum retails at $80 for 30ml.
Product Review in detail
Summary
Drunk Elephant C Firma Day Serum
« A super-potent vitamin C day serum packed with a powerful antioxidant complex, essential nutrients, fruit enzymes and a chronopeptide that provides the benefits of vitamin D, all working together to firm and brighten the appearance of skin while improving the signs of photoaging.
This revolutionary serum, jam-packed with a 15% potent antioxidant complex of l-ascorbic and ferulic acids plus vitamin E, helps neutralize pollution, environmental stressors and damaging free radicals while replenishing lipids and visibly reducing the appearance of dark spots and wrinkles. Uniquely formulated with pumpkin ferment and pomegranate extracts, C-Firma™ enzymatically dissolves dead surface skin cells for a smoother texture. Sodium hyaluronate crosspolymer quickly penetrates the skin and provides intense hydration. The result is a noticeably diminished appearance of photodamage, replaced by incredible radiance and luminosity.
C-Firma™ has a reservoir effect, which means it will stay active on the skin for up to 72 hours and cannot be washed or rubbed off. C-Firma™ has a pH level of 3.3 - 3.5, which Drunk Elephant believes is the key to a non-irritating, effective formulation that delivers real results.»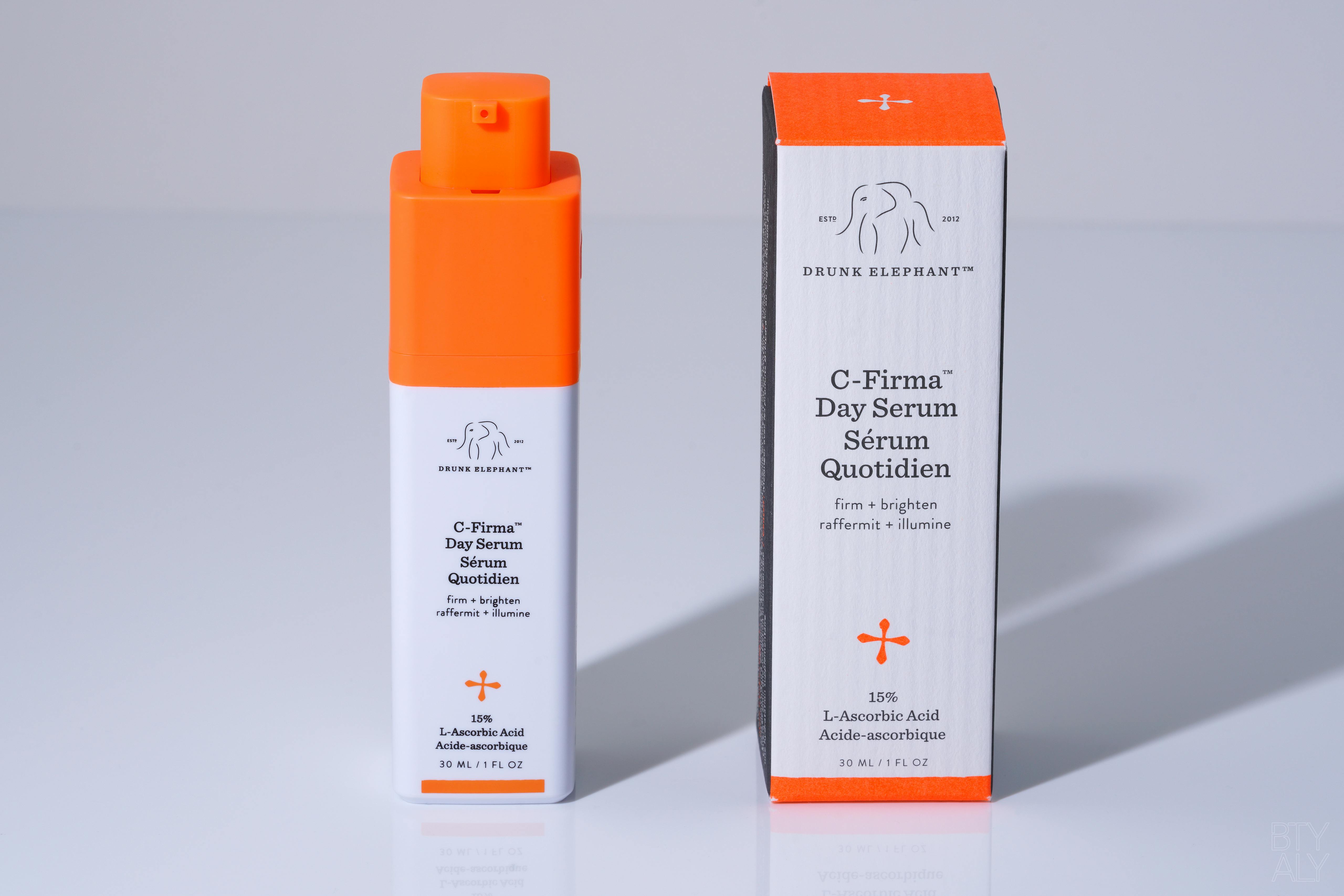 Pros
- the vitamin C L-ascorbic concentration of 15%,
- the low pH which allows the formula to be effective (between 3.3 and 3.5),
- the presence of vitamin E and ferulic acid in the formula which stabilizes vitamin C,
- it doesn't dry the skin out (thanks to the moisturizing ingredients in the formula),
- it protects the skin thanks to its antioxidant properties,
- it's very brightening,
- it evens the skin texture,
- the boosting effect of the protection when it's paired with a sunscreen product,
- the texture seems oily at first but it's actually quite light and easily absorbed by all skin types, even oily skin,
- non-comedogenic, doesn't clog the pores,
- without added synthetic fragrance or dye,
- the packaging is very well thought out: it's pretty, protects very well the formula and allows an optimal use of the product,
- theoretically, it can be mixed with the other products of the Drunk Elephant range to save time during the application (I don't do it because I don't want to reduce its strength but the brand recommends it).
Cons
- this goes for all the vitamin C L-ascorbic acid serums, but you can't keep the product very long (6 months maximum after opening) because this ingredient isn't very stable,
- you have to apply a high SPF during the day when you use this product (personally, it's something I do regardless but some may see it as a con),
- the price (even if, when you compared to the competition, the other vitamin C serums are usually at the same price range for the same quantity).
product name
C Firma Day Serum
brand name
Drunk Elephant
packaging
An opaque plastic bottle with a pump. You need to twist it to open it.
fragrance
No added fragrance but it smells slightly fruity.
texture
A slightly oily gel.
For Who
All skin types, including the most sensitive.
If you have acne prone skin, just be aware that vitamin C can sometimes trigger a reaction. It may vary according to people. I personally have acne-prone skin and this product never made me break out.
The main skin conditions which can benefit from this treatment are:
– tired, dull skin, smokers or people living in a highly polluted environment,
– skins with uneven texture,
– skins with hyperpigmentation,
– skins with a lack of firmness and elasticity.
Concerns
– tired skin
– lack of radiance
– smokers
– skins exposed to pollution
– mature skin
– lack of firmness
– wrinkles, fine lines
– scars
– pigment spots
– hyperpigmentation
– if the skin is exposed to UV (but you have to pair it with a sunscreen)
Method
I use it every morning on my face and neck after I cleansed my skin with a low pH foaming cleanser and toned my skin. Usually, I wait a few seconds that my face has dried a little because the skin moisture can decrease somewhat the effectiveness of the vitamin C (for a question of pH).
I apply the equivalent of 2 pumps and I let it absorb around 2 minutes before carrying on with the rest of my routine.
The brand explains that this serum can be mixed with the other products of the brand to save time during the routine, but personally, I prefer to use it as is, alone, to really benefit of all the vitamin C power.
I especially appreciate that it leaves my skin comfortable and not feeling greasy.
Key Ingredients
The formula of this serum is super complete and allows to deliver maximum results on the skin thanks to carefully selected ingredients:
– the antioxidant complex contains 15% of L-ascorbic acid, 0.5% of ferulic acid and 1% of vitamin E: these three ingredients help to boost the antioxidant effects of vitamin C and make it more stable ( the vitamin C combined is also more effective and can be used over a longer period of time without it oxidizing too fast).
– chronocylin: a chronopeptide that transforms into vitamin D, a protection ingredient against photo-aging of the skin.
– a pumpkin ferment and a pomegranate extract: two exfoliating enzymes which smooth the surface of the skin and eliminate dead skin cells on the surface of the skin to improve the absorption of vitamin C in depth into the skin.
– grape juice: an antioxidant to protect the skin.
– licorice extract: lighten and homogenize the complexion tone.
– indian gooseberry: an antioxidant superfruit.
– low molecular weight hyaluronic acid: moisturizes the skin deeply, reduces the appearance of fine lines and wrinkles.
– Marula oil: a very fine oil, with a high absorbency, rich in omegas 6 and 9, to nourish the skin and preserve its glow.
The C-Firma serum formula also has an acidic pH that allows the vitamin C to be more stable and perform longer.
In short, this serum contains a pure, highly concentrated and stabilized vitamin C, as well as many other antioxidants and also moisturizing ingredients to preserve the comfort of the skin.
Ingredients
Water/Aqua/Eau, Ethoxydiglycol, Ascorbic Acid, Glycerin, Laureth-23, Lactobacillus/Pumpkin Ferment Extract, Sclerocarya Birrea Seed Oil, Ferulic Acid, Sodium Hyaluronate, Chondrus Crispus Extract, Camellia Sinensis Leaf Extract, Lactobacillus/Punica Granatum Fruit Ferment Extract, Glycyrrhiza Glabra (Licorice) Root Extract, Vitis Vinifera (Grape) Juice Extract, Phyllanthus Emblica Fruit Extract, Hydrolyzed Wheat Protein, Tocopherol, Caprylhydroxamic Acid, Acetyl Glucosamine, Hydrolyzed Quinoa, Glutamylamidoethyl Imidazole, Dipotassium Glycyrrhizate, Tetrahydrodiferuloylmethane, Tetrahydrodemethoxydiferuloylmethane, Tetrahydrobisdemethoxydiferuloylmethane, Sodium Hyaluronate Crosspolymer, Glycine, Sucrose, Maltodextrin, Propanediol, Caprylyl Glycol, Sodium Hydroxide, Xanthan gum, Hydroxyethyl Acrylate/Sodium Acryloyldimethyl Taurate Copolymer, Isohexadecane, Polysorbate 60
Ingredients not included
– animal oils, fats and musks,
– benzalkonium chloride,
– benzophenone and its derivatives,
– bisphenol A (BPA),
– butoxyethanol,
– BHA (butylated hydroxyanisole) and BHT (butylated hydroxytoluene),
– chemical sunscreens (including retinyl palmitate, oxybenzone and octyl methoxycinnamate),
coaltars (including aminophenol, diaminobenzene, phenylenediamine),
– essential oils,
– ethanolamines (MEA / DEA / TEA),
– formaldehyde,
– synthetic and natural flavors and aromas,
hydroquinone,
– methyl cellosolve,
– methylisothiazolinone and methylchloroisothiazolinone,
– mercury and thimerosal,
– oxybenzone,
– parabens,
– phthalates (DBP, DEHP, DEP and others),
– polyethylene glycol (PEG),
– resorcinol,
– sodium lauryl sulfate and sodium laureth sulfate (SLS and SLES)
– toluene,
– triclosan and triclocarban.